October, 13, 2014
Oct 13
8:52
AM ET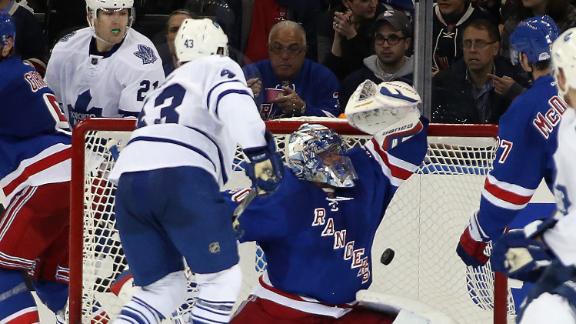 Trending up
Habs on fire: Strong start out of the gate for the Montreal Canadiens. The Habs have rattled off three straight wins to begin their 2014-15 campaign, including opening night against the Toronto Maple Leafs and two shootout victories over the weekend.
Plekanec putting up points: The production of Tomas Plekanec has helped lead the charge for the Habs. The veteran center is tied for first in the league with four goals following the first week of action.
Leafs looking better: After faltering in their first two games of the season, the Leafs rallied back to secure their first win of the season with a 6-3 rout against the defending Eastern Conference champion New York Rangers Sunday night. It was a three-point night for Phil Kessel as Toronto chased goaltender Henrik Lundqvist from net.
Trending down
Bruins stumbling: It has not been an ideal start for coach Claude Julien and his Boston Bruins squad. Regarded as one of the teams to beat in the East, the team has dropped two of its first three games. Playing without top-line center David Krejci isn't helping matters.
Beleaguered Sabres: You have to feel for Sabres netminder Jhonas Enroth, who has been under siege for the first two games of the season. The 26-year-old Swede has faced 87 shots in the first two games after earning the starting job in training camp.
Injury update
Krejci on the mend: After missing the first three games of the season, Krejci appears poised to make his return to the Bruins' lineup this week. The top pivot has been practicing with the team following an undisclosed injury sustained in the club's preseason finale.
Datsyuk still out: Detroit Red Wings star Pavel Datsyuk has yet to be cleared for contact as he remains out with a shoulder injury that was expected to sideline him four weeks.
Drouin anxiously awaiting debut: The Tampa Bay Lightning appear to be erring on the side of caution with top prospect Jonathan Drouin, who suffered a slight fracture in his right thumb. He's hoping to make his way into the lineup soon and may have a shot this week.
What to watch for
Rivals reunited: Remember the last time the Boston Bruins and Montreal Canadiens shared the ice? That would be the now-infamous handshake line following their meeting in the Eastern Conference semifinals last spring. Some harsh words were exchanged and you can expect that bad blood to resurface when the rivals reconvene Thursday night in Montreal.
Ekblad's progression: Florida Panthers coach Gerard Gallant raved about 2014 No. 1 pick Aaron Ekblad's NHL debut Thursday, telling reporters that the highly touted defenseman had an "excellent" first game. The rookie will get at least a nine-game look from Panthers management before the team decides whether to keep him around.