December, 23, 2014
Dec 23
3:10
PM ET
By
ESPN Stats & Analysis
| ESPN.com
Tyler Seguin
is on a blistering offensive pace for the
Dallas Stars
. Through 32 games, he leads the NHL with 25 goals on 131 shots, tied for third most in the league. How is he doing it? He has a 19.1 shooting percentage, which is tops in the NHL among players with at least 100 shots.
Last season, Seguin shot 12.6 percent, which might lead some to believe that his current pace is unsustainable. However, there is evidence to show that Seguin may be able to sustain his current level of shooting.
Consider Seguin's 2013-14 Hextally shot differential chart, which is a map of where players are taking shots relative to their peers. According to war-on-ice.com, Seguin was good at getting shots in great scoring areas.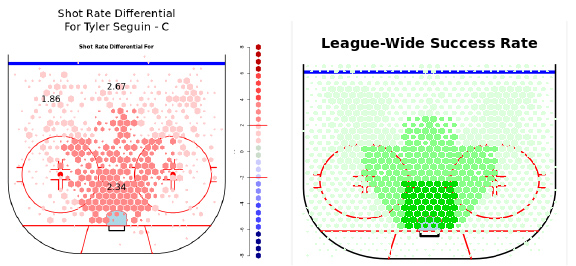 ESPN Stats & Analysis
While Seguin's Hextally chart shows that he was taking shots from scoring areas, he was still taking many shots from beyond prime scoring real estate, such as the high slot.
As the league-wide success Hextally chart shows, the best area to score is within the slot. This season, Seguin has taken his shots closer to the net with more frequency, producing a net relative shot rate of 3.56 from the slot, meaning he's shooting from high-scoring areas more frequently than the rest of the league.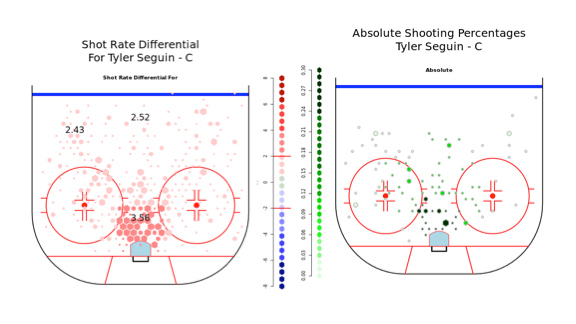 ESPN Stats & Analysis
Moving his game closer to the net has done wonders for Seguin's shooting percentage. In 2013-14, Seguin shot under 25 percent from everywhere on the ice, with his strongest success rate coming from the low slot. This season, Seguin is shooting upwards of 30 percent on shots from the slot area.
It is fair to believe that Seguin has had great fortune on his shots, as very few players that shoot as frequently as Seguin maintain such great shooting percentages. Among players with at least 200 shots last season,
San Jose Sharks
center
Joe Pavelski
led the league at 18.2 percent. Pavelski also plays Seguin's position at center and achieved it much in the same way Seguin has, with a 2.87 relative shot differential from the slot.
As Seguin improves at finding ways to get shots in the slot, he should continue to generate great opportunities to score. Seguin is currently on pace to score 64 goals, a number that hasn't been reached since
Alex Ovechkin
scored 65 for the
Washington Capitals
in 2007-08.