The familiar Vezina Trophy candidates are far from the pack and, in some cases, have been left in the dust early this season. Instead, some old-timers and fresh young faces are dominating the pipes as the NHL moves into its second month. Here's a look at our top five contenders and some honorable mentions:

Another nice turn by Kari Lehtonen in a big road game against Washington on Tuesday night led the Stars to a 5-2 victory. Lehtonen earned his league-best 11th win, and his 11-1-0 record leads all other netminders by at least three victories. His .936 save percentage is pretty darn good, too. It's been almost a decade since the Atlanta Thrashers made Lehtonen the second overall pick in the 2002 draft. A month into this season, he looks like he is finally ready to make good on the "franchise netminder" label that has thus far eluded him.

The Oilers needed a solid turn in net to keep their confidence going during an arduous road schedule (they are playing 10 of 12 away from home). No problem. Khabibulin turned aside 28 of 29 shots in Tuesday's 3-1 win against Montreal and remains unbeaten in regulation with a 7-0-2 record. Khabibulin's 0.98 goals-against average and .964 save percentage both rank second overall in the NHL. Khabibulin's career looked to be on the rocks due to injuries and off-ice legal problems; the fact Edmonton remains one of the surprise teams in the league (9-3-2, second overall in the tough Western Conference) is a testament to the goalie's resilience.

The owner of a new seven-year, $49 million contract showed right away he is worth the big bucks. He is 4-0-1 in his past five starts, has made the second-most saves in the NHL and his three shutouts are tied for the league lead. A Vezina Trophy finalist last season, Rinne is well on his way to earning another trip to Las Vegas in June for the NHL awards show.

Despite the absence of many of their top players, including captain Sidney Crosby, the Penguins have proved to be one of the most resilient teams in the NHL. That resiliency starts in goal. Fleury, 8-2-1 with a .931 save percentage and an impressive 1.95 GAA, has been a rock. Building on his strong second half last season, Fleury looks like he's ready to ascend to the top of the goaltending charts.

Although the sample is smaller than other NHL netminders, Harding has almost single-handedly dragged the Wild into the playoff picture in the Western Conference. With starter Niklas Backstrom struggling (pitching a shutout Tuesday night against Calgary notwithstanding), Harding has come off the bench to post four straight victories, has a 4-0-1 record and a league-best .965 save percentage. After missing all of last season with a knee injury, Harding's play makes for an interesting goaltending situation in Minnesota.
Honorable mentions: Mike Smith, Phoenix; Jonathan Quick, Los Angeles; Tomas Vokoun, Washington; Jimmy Howard, Detroit.
Trophy Tracker: Vezina Trophy
---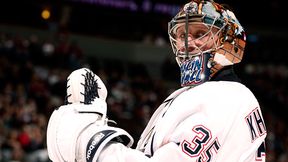 Khabibulin's 0.98 goals-against average and .964 save percentage both rank second overall in the NHL.