Our first Hart Trophy look this season. It's still early, but six weeks into the season, we can start to have fun and identify some candidates. Speaking of fun, thank you to the massive list of Twitter followers who responded to our Hart Trophy question. To show how democratic we are at ESPN.com, your responses have largely influenced this list:

We chatted with Flyers coach Peter Laviolette last week, and what impressed him the most about Giroux was his all-around game. Forget that he's challenging for an NHL scoring title, there's so much more to his game than that. He plays 200 feet, plays the penalty kill and plays against the opposition's top line, and he is out there late in games. Oh, and he's from Hearst, Ontario.
You can make an argument he's just as deserving at this point as Giroux. No question about it. We loved this Hart Trophy response via Twitter from @blairvincent, "As a Habs fan, I hate to say this, but it's got to be Kessel." Well, if a Montreal fan can find it in his heart to say that, you know Kessel is deserving. He leads the NHL with 13 goals and 25 points. His all-around game is not as complete as Giroux, but kudos to Kessel for his plus-9 rating.

Fifth in the NHL in ice time at 26:46 per game and putting up a point a game, we wonder where the Penguins would be without their all-world blue line, given Sidney Crosby's absence and all the other injuries the Penguins have had. He plays in all key situations. He's a horse and he's a huge reason why the Pens keep rolling along.

When you consider that the Kings are only 23rd in the NHL in offense, not to mention some of the overall struggles they've had this season, you have to wonder how much worse things would be without Kopitar's 21 points (8-13) in 17 games this season -- fifth in NHL scoring. Says @potvinrocks via Twitter: "Kopitar has points on like 65% of Kings goals."

The old goat has a .945 save percentage and has spearheaded Edmonton's stingy defensive record and surprising start to the season.
Honorable mentions: Henrik Lundqvist, New York Rangers; Tyler Seguin, Boston Bruins; Kari Lehtonen, Dallas Stars; Thomas Vanek, Buffalo Sabres; Marc-Andre Fleury and James Neal, Pittsburgh Penguins; Jonathan Toews, Chicago Blackhawks; Jamie Benn, Dallas Stars; Shea Weber, Nashville Predators.
Trophy Tracker: Hart Trophy
---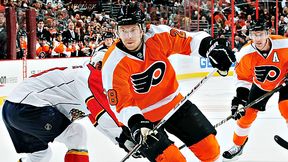 Claude Giroux trails Phil Kessel by three points in the scoring race.