You've got to feel badly for the Edmonton Oilers and their fans.
The once-known City of Champions is now the City of Discontent, or in the case of No. 1 netminder Nikolai Khabibulin, the City of Striped Garb.
Khabibulin was sentenced to 30 days in jail by an Arizona judge Tuesday after the goalie was caught with twice the legal limit of alcohol in his blood Feb. 8 and charged with extreme drunk driving, drunken driving and speeding. Khabibulin appealed the sentence (the minimum allowed under state law), further clouding his already murky future with the Oilers.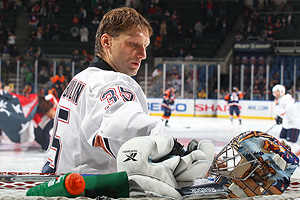 Mike Stobe/NHLI/Getty Images
Nikolai Khabibulin appealed his 30-day jail sentence, which was handed down Tuesday in Arizona.
The appeal is a bit of a curveball for the organization and reveals some significant short-sightedness on the part of Khabibulin and his legal team. He has already left his team in a mighty lurch and may have wanted to coordinate a plan that would have been most agreeable to all parties moving forward.
He didn't, and now the Oilers, already trying to peddle disgruntled defenseman Sheldon Souray and his whopper contract ($10.8 million owed for this season and next), try to start their rebuild without any real idea of when or if their starting netminder will be available to them.
Fair or not, the Khabibulin situation plays differently in Edmonton than in other cities. If Khabibulin was a New York Ranger or a Chicago Blackhawk (again) or a Los Angeles King, the spectacle of racing around the Phoenix area in his black Ferrari would be easier to deal with out of the spotlight. Not that those teams would ignore the issue; they wouldn't, just as the NHL isn't going to ignore this.
But there are certain sensibilities in a market like Edmonton, where the community is small and the role the team plays in that community is more pronounced and vital.
The Oilers aren't just a diversion to people in Edmonton; they are part of the fabric of the community, and ownership/management must take that into consideration moving forward. Again, fair or not, many see the values of the team needing to reflect the values of the community. (When minor league baseball manager Brent Bowers went on a mostly anti-gay rampage against openly gay umpire Billy Van Raaphorst in late July, he was suspended by the Golden Baseball League. The Oilers, who own the baseball team, invited Van Raaphorst to come and speak to a number of local groups, including Oilers management and staff.)
Khabibulin and his advisors should have been self-aware enough to know that. Or maybe Khabibulin doesn't care, in which case the Oilers might be further ahead to explore whether they have a case for trying to have his contract nullified based on the conviction. Oilers GM Steve Tambellini wouldn't address that option Tuesday when he met with local reporters to discuss the ruling, but there will be a segment of the hockey public in Edmonton and beyond that will suggest it's the appropriate course of action regardless.
Yet if we believe the Oilers will be judged by their actions on and off the ice, maybe showing support and forgiveness to Khabibulin is as powerful a tool as trying to run him off the farm. The Oilers must also consider that once you go down that road -- trying to erase the contract -- you can't come back. It's different than trying to trade a player (a la Tomas Kaberle) and having him stay with the team. That's business. Trying to squash a contract suggests something more permanent and personal.
Rest assured, the NHL and the Oilers will be working in concert to come up with a plan to discipline Khabibulin, outside whatever final punishment an Arizona judge metes out. Mark Bell received 15 games on top of jail time after he ploughed into the back of a parked vehicle in San Jose. We're guessing 10 games given the level of intoxication and the alleged speeds Khabibulin at which was reportedly driving.
Which brings us back to the Oilers. Do they try to sign Cup-winning netminder Antti Niemi, who was cast off earlier this summer by Chicago? That would give Edmonton two Cup winners in net (Khabibulin won it all with Tampa Bay in 2004). But it would also leave the Oilers with four netminders with one-way contracts with backups Devan Dubnyk and Jeff Deslauriers on the roster, which is two too many.
Making the playoffs is going to be a stretch for the youthful Oilers after finishing dead-last last season. But not having a true No. l goalie for any stretch of time will pretty much guarantee another trip to the draft lottery table.
No matter how you cut it, things will not get easier in the City of Puck Problems.