Vancouver's Roberto Luongo, Nashville's Pekka Rinne and Boston's Tim Thomas were named the finalists for this year's Vezina Trophy today.
Scott Burnside and Pierre LeBrun weigh in with their picks (a reminder that the league's 30 GMs vote on the award and the winner will be announced on June 22 in Las Vegas):

Burnside: We understand Tim Thomas will likely win this award based on conversations with GMs who vote for the top goaltender. Fair enough. But the fact that Thomas played significantly fewer games than other top netminders (he was tied for 15th in that category) leads me in a different direction.
Although Marc-Andre Fleury, Ilya Bryzgalov and Henrik Lundqvist all deserve more than a little consideration, we're going with the Nashville workhorse, Rinne. Only Antti Niemi in San Jose won more games than Rinne since the end of December. Rinne, who is second in the league in save percentage and goals-against average behind Thomas, was the catalyst for Nashville's sixth playoff appearance in the past seven postseasons.
Winner: Rinne.
LeBrun: My candidates are Thomas, Price, Rinne, Fleury, Roberto Luongo, Henrik Lundqvist, Bryzgalov and Jonathan Quick. Really, I've never had a debate here. Thomas put up the kind of season that reminds one of Dominik Hasek in his heyday. No-brainer for the Vezina this season, although I don't get an official vote because the GMs vote on this baby.
Winner: Thomas.
Vezina Trophy: Your vote?
---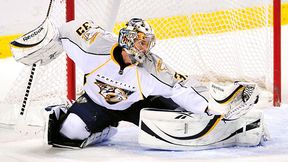 Pekka Rinne was third in GAA (2.12) and second in save percentage (.930) this season for Nashville.