Anaheim's Corey Perry, Vancouver's Daniel Sedin and Tampa Bay's Martin St. Louis are this year's Hart Trophy finalists, the NHL announced Thursday.
Scott Burnside and Pierre LeBrun make their picks:

Burnside: A tough call here with Daniel Sedin having such a stellar season en route to his first Art Ross as the league's top point producer. But Corey Perry was crucial in keeping the Ducks' playoff hopes alive despite the absences of Ryan Getzlaf for a long stretch and No. 1 netminder Jonas Hiller. Perry won the Rocket Richard Trophy as the top goal scorer (50) and was third overall in points (98). His clutch play, game-winning goals, third-period goals and point production since the All-Star break push him over the top for me.
Winner: Perry.
LeBrun: My short list consisted of Jonathan Toews, Carey Price, Tim Thomas, Pekka Rinne, Daniel Sedin, Marc-Andre Fleury, Martin St. Louis and Corey Perry. In the end, I found myself going back and forth between Perry and Sedin.
The dilemma: Sedin, to me, clearly has had the most outstanding season in the NHL, but the award is meant for the player most valuable to his team. Perry's league-leading 50 goals on a surprising Ducks team really strike you, especially with Getzlaf's monthlong injury. Where would Anaheim be without Perry? Then again, despite having last season's Hart winner (brother Henrik) as Sedin's linemate and a No. 2 center who earned MVP consideration earlier this season (Ryan Kesler), where would the Canucks be without Daniel Sedin's 104 points and plus-30 rating?
Winner: Sedin (by a hair).
---
Hart Trophy: Your vote?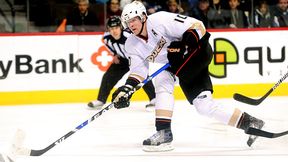 Anaheim Ducks forward Corey Perry led the NHL with 50 goals this season.