Pittsburgh's Dan Bylsma, Nashville's Barry Trotz and Vancouver's Alain Vigneault were named this season's Jack Adams Award finalists Friday. Scott Burnside and Pierre LeBrun make their picks, even if the award is voted on by the NHL Broadcasters Association:

Burnside: No slight to defending coach of the year Dave Tippett, who did another outstanding job in Phoenix, or John Tortorella or Barry Trotz or any of the eight to 10 coaches who deserved a look for this award. But we figure the Penguins' bench boss deserves the hardware. Dan Bylsma kept his squad afloat and near the top of the Eastern Conference standings despite the long-term absences of Sidney Crosby and Evgeni Malkin. Enough said.
Winner: Bylsma.
LeBrun: Luckily, I don't have to vote on this one for real. It is again a deep list of worthy candidates, and I don't envy the broadcasters who voted on this. My list includes Trotz, Bylsma, Tippett, Guy Boucher, Vigneault, Todd McLellan, Bruce Boudreau, Tortorella and Lindy Ruff. Tippett and Trotz (Nashville) once again worked miracles with the talent they had. In his first NHL season, Boucher coached the Bolts to a surprising season. Vigneault coached Vancouver to its greatest season in 40 years. McLellan guided the best second-half turnaround in the league. In the end, I saw this as a three-way fight between Bylsma, Tippett and Trotz, but it's hard to ignore the terrific work by a coach who lost two of the best players in the world halfway through the season.
Winner: Bylsma.
---
Jack Adams Award: Your vote?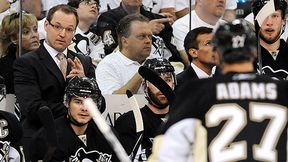 Penguins coach Dan Bylsma led his team to the postseason without stars Sidney Crosby and Evgeni Malkin.