You asked, Alex Ovechkin answered
October, 18, 2010
10/18/10
6:17
PM ET
With Alex Ovechkin visiting ESPN to shoot a special "This is SportsCenter" commercial, John Buccigross and Cross Checks tracked him down to answer some of your questions.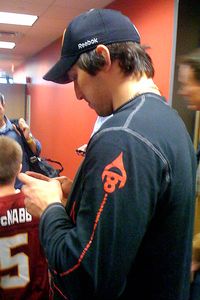 ESPN.comAlex Ovechkin probably wasn't texting Sidney Crosby between interviews on Monday.
The Capitals captain discussed his dream linemates, his least favorite goalies to face, his musical preferences and his favorite milk.
Also, Buccigross did the math and thinks Ovechkin can score 70 goals this season and break Wayne Gretzky's record of 894 goals in his career. At 25 years old, Ovechkin has 273 goals. Is that realistic?
In case you were wondering, Ovechkin texts in both English and Russian. Wonder how much that phone bill costs a month?
After answering your questions, Ovechkin listened as Buccigross gave some fantasy hockey tips: Ovi's penalty minutes and shots on goal make him a clear No. 1 pick.
Keep an eye out for Ovechkin's commercial later this year. The top-secret shoot was taking place at various locations on ESPN's campus.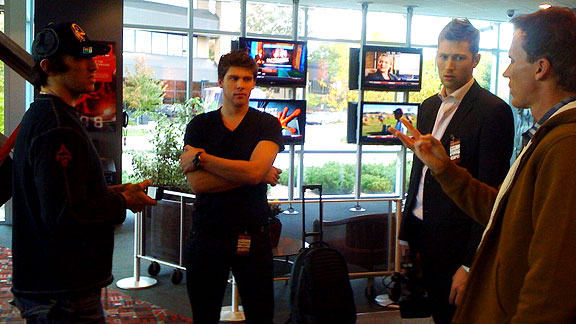 ESPN.comBuccigross discusses the Top 3 picks in his fantasy hockey draft and why Ovechkin is a great pick.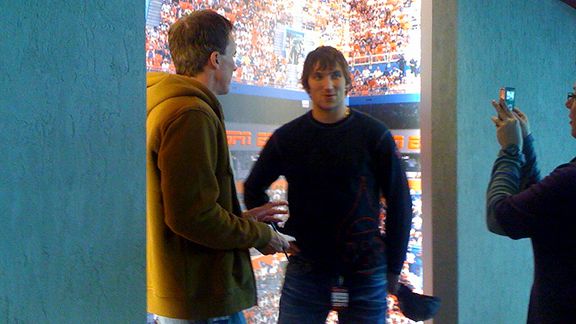 ESPN.comWhat else would Ovechkin wear for a day in Bristol, Conn., but his own clothing line.