Cross Checks:

2011 NHL Entry Draft
June, 25, 2011
6/25/11
7:46
PM ET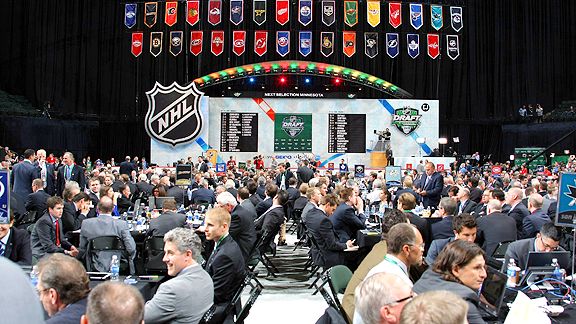 Getty Images
NHL executives filled the Xcel Energy Center floor Friday night and Saturday morning.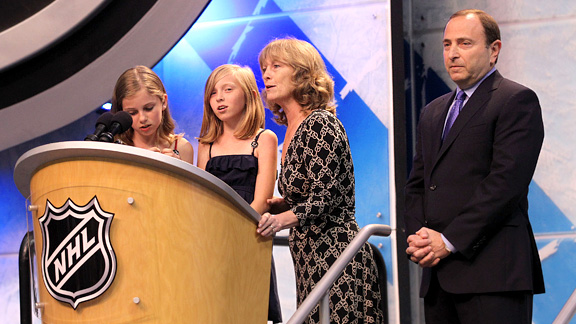 Getty Images
The wife and daughters of late director of NHL's Central Scouting E.J. McGuire, who died of cancer this spring, opened the show Friday night.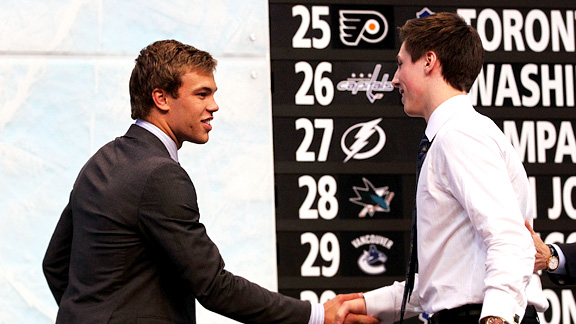 Getty Images
2011 No. 1 pick Ryan Nugent-Hopkins was greeted on the stage by 2010 No. 1 pick and new teammate Taylor Hall.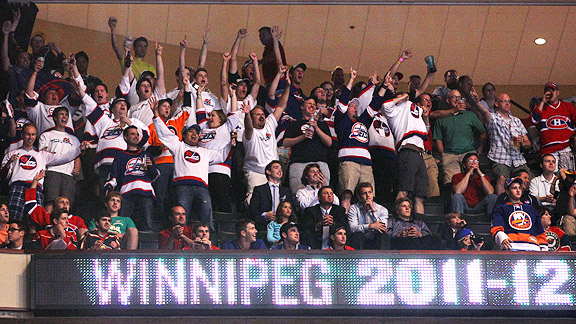 Getty Images
Winnipeg fans were cheering long before the draft started and only got louder as it became official their team's name is the Jets.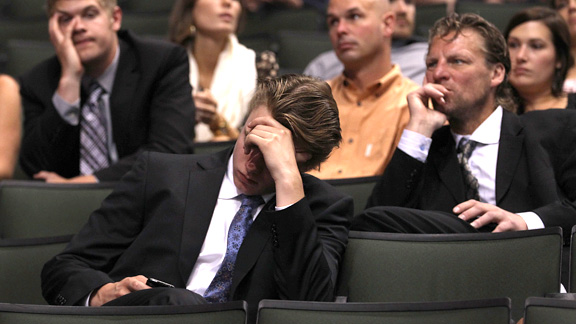 Getty Images
Max Everson sat watching his phone until the Maple Leafs called his name with the 203rd pick.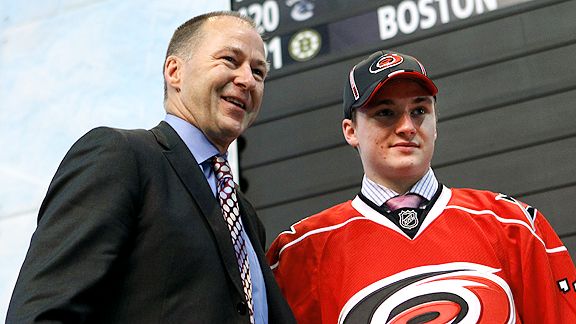 Getty Images
Kevin Lowe, president of hockey operations for the Oilers, smiled with his son after Keegan Lowe was selected by the Hurricanes with the 72nd pick.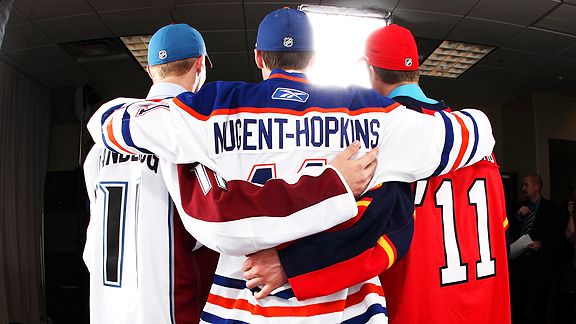 Getty Images
The spotlight is now on Gabriel Landeskog, Ryan Nugent-Hopkins and Jonathan Huberdeau.
June, 25, 2011
6/25/11
6:44
PM ET
ST. PAUL, Minn. -- The movement of Jeff Carter, Mike Richards and Brian Campbell over the past few days raises the issue of long-term deals and whether they are suddenly more portable than many imagined when they became the rage in the past couple of seasons.
Carter's 11-year, $58 million contract extension, which he signed in November, kicks in next season. Richards was into a 12-year contract when he was dealt to Los Angeles, while Campbell heads to Florida with five years left on his eight-year deal.
"When I first saw those long-term deals signed, I was wondering, 'OK, how is this all going to play out?' It's a long time," veteran agent Don Baizley told ESPN.com Saturday. "I act for Mikko Koivu, he's on a seven-year contract. It's the longest contract I've ever done and it's a long time, let alone 10 years, 12 years, 13 years. All kinds of ramifications. There are all kinds of issues associated with this stuff and we're all feeling our way."
The annual jump in the salary cap, coupled with the commensurate rise in the salary floor, has put more teams in a position where they have to spend more than they would like, and that sometimes means bringing in salaries other teams cannot or do not want to continue to pay.
Chicago, tight against the salary cap all last season after winning the Stanley Cup, was looking for more flexibility this season. Getting rid of Campbell's deal that comes with an annual cap hit of just more than $7 million was a bonus. It turned out to be a blessing for Florida GM Dale Tallon, though, who needs to rebuild the Panthers into a playoff team.
"I don't know that I would necessarily say the landscape has changed and I can't really speak for other organizations," Vancouver assistant GM Laurence Gillman said Saturday. "From our perspective, we've been extremely fortunate that we've had players that have decided they wanted to play for Vancouver and worked with us. We feel we have a covenant with these players in the sense that, if they're willing to take less money to play in our organization, we agree that we're going to keep them.
"Now, having said that, things change. Sometimes they change from the player's perspective as well as the team's. Coaches change, sometimes philosophies change. It's a very fluid business."
Former NHLer Bill Guerin, now working in the Pittsburgh Penguins' front office, said teams may be attracted to long-term contracts because they know what they're getting, even if a player doesn't expect to be traded after signing such a deal.
"They're not going to have to deal with a UFA [unrestricted free agent]. It's right there in front of them," Guerin said. "L.A. knows Mike Richards has got 10 years left; they want him, they're happy to pay him for 10 years."
Guerin said loyalty, or the lack thereof, cuts both ways.
"I think it goes both ways. I think maybe we just know more now," said Guerin, who played for eight NHL teams. "There's just more movement. There's very few guys that are going to spend their entire career in one city. It's just the way it is."


Carolina GM Jim Rutherford noted the initial cap after the lockout was about $39 million; next year, the salary floor is going to be $9 million more than that.
"The cap kept going up and people have to view their business model different this year than they did last year," Rutherford said. "We actually have teams that don't have money that [still] have to spend. And not only do you have to spend, you're going to either have to go and sign free agents or take on contracts, which are probably then going into the following year [into a new collective bargaining agreement]. Now, all of a sudden, you're putting things together for this year, but you've also got to look ahead to nobody knows what you're working under next year."
The longtime NHL executive said he wasn't surprised the long-term deals got moved over the past few days.
"I'm just surprised that the players got moved because they're very, very good players," he said. "I thought [those were] players that would probably stay with [those teams] for a long time."
June, 25, 2011
6/25/11
1:20
PM ET
ST. PAUL, Minn. -- Nice work by Calgary Flames GM Jay Feaster in alleviating some of the salary-cap clog he was left by outgoing GM Darryl Sutter last season.
Not only did Feaster move veteran defenseman Robyn Regehr, who has two years left at a cap hit just north of $4 million annually, but he was also able to shed underachieving Ales Kotalik and his $3 million salary. Kotalik was a disappointment in Calgary, splitting time between the AHL and NHL this past season.
"It's not a case where we were looking to unload Robyn. Robyn has been a tremendous hockey player for our club and has been there for a very long time," Feaster said of the deal with the Buffalo Sabres that brought Chris Butler and Paul Byron to the Flames. "It's difficult when you move a guy that is a core player. At the same time, we have been in salary-cap jail for some time. This gives us the opportunity to have some room and get a fresh start and, at the same time, to get younger and bring in two younger players. We think both guys are going to play."
The move also allowed Feaster to sign winger Alex Tanguay to a five-year extension worth $3.5 million annually. Tanguay and captain Jarome Iginla enjoyed significant chemistry a year ago; keeping Tanguay (22 goals in 2010-11) in the fold was a priority.
"He's going to be with us a long time. I think -- no, I know -- the man with the biggest smile in Calgary isn't Alex, it's Jarome Iginla, because that is one guy that Jarome has been very clear that he wants to be able to play with," Feaster said. "Certainly, our entire organization is thrilled to have him back. As we looked at the potential UFA market, we didn't see a player that could be as productive as we believe he can be.
As for the Sabres, Buffalo GM Darcy Regier is hoping Kotalik can regain the form that saw him score a career-best 25 goals with the Sabres back in 2005-06. Regier insisted the Sabres have no plans to buy Kotalik out of the final year of his contract.
New Sabres owner Terry Pegula was involved in convincing former Canadian Olympian Regehr to waive his no-movement clause to come to Buffalo.
"Terry was influential in convincing him it was a good fit for him, the right place for him," Regier said. "I spoke with him; [Sabres coach] Lindy [Ruff] spent a lot of time with him, as well. As Robyn stated, it was never a position where he did not want to come to Buffalo. I think it was more a situation where he was dealing with Calgary in lieu of his no-trade, no-movement clause, having some say in the process."
The Sabres have been a disappointment the past two postseasons, blowing a series lead against Boston in the first round two years ago and failing to close out Philadelphia in the first round this year.
Regehr, 31, will be expected to play big, physical minutes and provide leadership in the dressing room.
"It's not just veteran leadership, it is size and experience. We added size, as well," Regier said. "With the history he has and the age he is at, he has years ahead to play. I think he can really do a lot for our younger defensemen."
June, 25, 2011
6/25/11
1:39
AM ET
ST. PAUL, Minn. -- Almost from the moment the Chicago Blackhawks won the Stanley Cup in 2010, they were up against the salary-cap wall.
They were forced to jettison key pieces of their team literally days after defeating Philadelphia and spent all this past season with little cap room with which to maneuver.
GM Stan Bowman appears determined to chart a much different course this upcoming season. He traded forward Troy Brouwer, a restricted free agent with arbitration rights, to the Washington Capitals for a first-round pick (26th overall) in Friday night's first round of the NHL draft. Then, the GM sent high-priced defenseman Brian Campbell to the Florida Panthers for forward Rostislav Olesz. A source told ESPN.com that Campbell had agreed to waive his no-trade clause to facilitate the deal.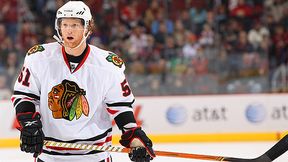 Christian Petersen/Getty ImagesBrian Campbell still has five years remaining on his deal with a $7.142 million annual cap hit.
That move makes sense on a number of levels. Florida GM Dale Tallon was the man who signed Campbell to the whopper eight-year deal worth slightly more than $57 million when Tallon was GM in Chicago. Campbell still has five years remaining with an annual cap hit of $7.142 million. Olesz still has three years remaining on a contract with a $3.125 million annual cap hit, so the net gain against the cap is significant for Bowman.
"It gives us the option to do different things, whether it's through the trade market or through free agency, and I think certainly it's going to be a departure from the last year when we really were kind of [in a] stranglehold all year in terms of being able to do things," Bowman said after the first round was completed. "It's not the worst thing in the world to go into the season with some cap room, as well.
"There are always opportunities throughout the year if you've got some space in your cap," he added. "We didn't have that luxury last year. It'll give a lot of options for us. Once we sort it out, we can figure out how we're going to allocate the money better."
In giving up Brouwer, Bowman said it would create space for some of the team's promising young forwards, such as Kyle Beach and Jeremy Morin.
"We're fortunate in our situation. We've got a lot of young players we need to find spots for," Bowman said. "The time comes sometimes where you've got to make room for players, whether it's Beach or Morin or a lot of other guys in our system that play kind of a similar game as Troy."
Brouwer scored 22 goals during the Hawks' Cup-winning season and was the subject of much interest from a variety of teams, Bowman said.
"He's a player obviously a lot of teams were interested in. We certainly wish him well. He's been a great Blackhawk," Bowman said.
That Brouwer didn't fit the Hawks' long-term plans might be a boon for the Washington Capitals.
Blessed with terrific talent, the Capitals have struggled to get over the playoff hump and were swept in the second round by Tampa Bay this spring. In 2010, they won the Presidents' Trophy and were stunned by Montreal in the first round.
Brouwer's postseason experience should help.
"We like that he's a power forward that plays hard and has played a lot of playoff games and has won a Cup," Washington GM George McPhee told ESPN.com on Friday night. "He's capable of getting 20 goals and can play up and down the lineup, on either left wing or right wing, and seems to be a terrific person and a real good leader."
More notes from Day 1
• Paying tribute: There was a terrific tribute to the late director of NHL's Central Scouting, E.J. McGuire, who died of cancer this spring.
McGuire, whose passion was scouting and the NHL draft, was honored with a video montage before his widow, Terry, and the couple's daughters, Jacqueline and Erin, were introduced and announced the Edmonton Oilers as having the first pick in the 2011 draft.
Likewise, kudos to the New York Rangers, who honored Derek Boogaard by inviting his brother, Aaron, on stage for the team's first selection in the draft. The emotional moment prompted all on the draft floor, and most of those in attendance, to a standing ovation.
Boogaard, who died earlier this spring from an accidental mix of alcohol and oxycodone, was a former Minnesota Wild enforcer who was wildly popular in the community.
• Hometown introduction: A nice touch by the New York Islanders to have Kyle Okposo up on stage when they made their first selection in the draft. Okposo was born in St. Paul and attended the University of Minnesota for two years. He was the seventh overall pick in the 2006 draft.
• Not-so-warm welcome: Good for the local fans to remember the unceremonious departure of the first Minnesota NHL franchise, the North Stars, back in 1993. They booed Dallas Stars GM Joe Nieuwendyk as he made the Dallas Stars' first pick of the draft.
• Sweden stars: Although there has been some concern in Sweden over the state of the nation's hockey development program in the past few years, there obviously remains high-end talent there. Four Swedish-born players were among the first 10 selections Friday, a first in draft history.
Left winger Gabriel Landeskog, a junior player from Kitchener of the OHL, was taken second overall by Colorado; defenseman Adam Larsson was selected by New Jersey with the fourth pick; center Mika Zibanejad was taken by the Ottawa Senators with the sixth pick (that ought to make captain Daniel Alfredsson happy); and defenseman Jonas Brodin went 10th to the local Minnesota Wild. In all, there were six Swedes taken in the first round, tying a draft record.
• And finally: No goaltenders were taken in the first round for the third time in the past five drafts.
June, 25, 2011
6/25/11
12:22
AM ET
Is
Ryan Smyth
headed back home?
A deal that appeared to send Smyth from the
Los Angeles Kings
to the
Edmonton Oilers
on Friday night never was officially announced.
Oilers general manager Steve Tambellini said after the first round of the NHL draft that the deal was still not done. A Kings source also told ESPN.com it wasn't quite done.
Reached via text message, Smyth told ESPN.com late Friday night that he didn't understand what was holding up the deal.
There seems to be confusion over the exact parameters of the conditional draft pick the Oilers would be sending to the Kings.
Gilbert Brule
also would be going from Edmonton to Los Angeles.
Earlier in the day, sources told ESPN.com that Edmonton's provincial rival, the
Calgary Flames
, were close to acquiring Smyth. But the Oilers got back into talks with the Kings as the first round of the draft neared.
Smyth, who asked the Kings to trade him closer to his Alberta home, began his career in Edmonton and made a tearful exit via a trade in February 2007.
Smyth has one year left on his deal that pays him $4.5 million but carries a $6.25 million cap hit.
June, 24, 2011
6/24/11
10:31
PM ET
HOME OFFICE, Toronto -- When we last saw the San Jose Sharks in the Western Conference finals, we left Rogers Arena in Vancouver thinking they had to make acquiring a top-four defenseman their top priority in the offseason.
Well, that didn't take long.
Silky smooth offensive blueliner Brent Burns was acquired by the Sharks on Friday night, as San Jose sent winger Devin Setoguchi, Charlie Coyle and its first-round pick (28th overall) to the Wild. Minnesota also traded its 2012 second-round pick as part of the deal.
Burns has top-two talent on defense, and really strengthens a group that includes Dan Boyle, Douglas Murray, Marc-Edouard Vlasic, Jason Demers and Justin Braun. Burns brings speed and quickness, elements that were noticeably missing (outside of Boyle) against the Canucks in the West finals, especially with Demers injured.
On the surface, it looks like the Sharks gave up a lot, but top-four, puck-moving blueliners who are 26 years old don't come cheap. Burns has one year left on his deal, which carries a $3.55 million cap hit. His agent is Ron Salcer, who clashed with the Wild on Marian Gaborik. Wild GM Chuck Fletcher saw where this was headed and decided to get terrific value one year out.
"The two hardest things to acquire in this business are center men and defensemen, and we're fortunate to be very strong down the middle," Sharks GM Doug Wilson told reporters at the draft in St. Paul, Minn. "We've been looking for a while to add defensemen. ... When this type of guy does become available, it comes at a cost, and you don't want to fill one hole and create another. We feel we're a better hockey team today."
The blockbuster comes only one day after Setoguchi signed a $9 million, three-year extension with the Sharks. He even held a media conference call. Wilson insisted he did not know he was going to trade him when he signed him.
"We didn't negotiate with Devin with the purpose of trading him. I can guarantee you that," Wilson us over the phone Friday night after the deal.
For the Wild, they get a much-needed injection of offense after placing 26th in goals this past season. Setoguchi had 22 goals in the regular season for the Sharks and was clutch in adding seven playoff goals in 18 games. He scored a career-high 31 goals in 2008-09 but now must prove he can perform without all-world playmaker Joe Thornton.
Still, given where the Burns dossier was likely headed, Fletcher did a good job here.
We like this trade for both teams.
ESPN.com's Scott Burnside contributed to this report.
June, 24, 2011
6/24/11
8:21
PM ET
ST. PAUL, Minn. -- We recall a long chat we had with new Toronto Maple Leafs defenseman John-Michael Liles during a trip to Denver last year. The then-Avs defenseman had suffered through a couple of down seasons in Colorado, was a healthy scratch and had been the subject of trade rumors dating back to the 2009-10 season.
He talked candidly about the journey of self-discovery he had been on, even as he turned 30.
Liles, a member of the All-Rookie team in 2004, said he had approached last season with a renewed commitment to diet and conditioning and rebounded with an NHL record nine-game assists streak to start the season. Although injury cut his season short, Liles collected 46 points in 76 games.
His move to Toronto will put Liles squarely in the glare of one of the biggest hockey markets in North America. But given he is joining a team that has failed to make the playoffs since the lockout and will be essentially stepping into a role vacated by the oft-criticized Tomas Kaberle (traded to Boston at the trade deadline), this could be the tonic for the smooth-skating Liles.
Rick Dudley, added to the Leafs' staff Friday, likes what he knows of Liles.
"[He's] a puck-moving defenseman who can join the rush. Today's game, the offensive part of the game, has become predicated on the fourth man joining the rush," Dudley said. "He's someone who can do that. I think he's a player that, maybe a change in scenery to a place like Toronto, it will obviously be very good for him. The fact that the Leafs traded a very good puck-moving defenseman [Kaberle] made it important that they get somebody like him."
It wasn't the first time the Leafs had tried to obtain the former Michigan State standout. They made a pitch at this past season's trade deadline, but the two teams couldn't reach an agreement until Friday. The Leafs sent a 2012 second-round draft pick, a pick that was previously acquired from Boston in the Kaberle deal.
Liles, who has one more year left on his contract at a $4.2 million cap hit, said he is excited at the opportunity.
"Obviously it's a new chapter in my life," Liles said in a conference call Friday night. "I hope it'll be a nice fit."
June, 24, 2011
6/24/11
6:09
PM ET
ST. PAUL, Minn. -- It's not surprising that former
Atlanta Thrashers
general manager Rick Dudley was without work for only a matter of days after the Winnipeg ownership group decided not to bring him to Canada with the team.
What is interesting is that his new posting with the
Toronto Maple Leafs
harkens back to one of the most dramatic draft-day deals in NHL history.
At the time of the 1999 draft, Dudley was the GM of the
Tampa Bay Lightning
. He worked closely with his new boss, Brian Burke, who was then the GM of the
Vancouver Canucks
, in a complicated series of moves that saw Burke obtain the Sedin twins, Henrik and Daniel.
"The day that Winnipeg notified me and the world that I wasn't going to Winnipeg, Burkie got in touch with me and we started talking at that point and it evolved from there," Dudley said Friday shortly before the start of the 2011 entry draft at the Xcel Energy Center.
Burke finessed a number of teams, including Tampa Bay and the Atlanta Thrashers, into a series of deals that resulted in Burke selecting the Sedins with the second and third picks in that fateful draft.
"We had to spend a lot of time together, and we got a certain trust level because a lot of that deal was based on handshakes. A lot of the parameters were based on a handshake. I think from that time on, we got along pretty well," Dudley said.
"If we hadn't had that relationship, the deal would never have gotten done."
It's unknown exactly what Dudley will do for the Leafs, although you can bet it will involve driving thousands of miles to chilly, dark arenas to scout hockey talent.
"I see the team as evolving into something good. And I'd like to be part of that, to be honest," Dudley said.
Does the longtime NHL player, coach and GM see any similarities between the Leafs and the
Chicago Blackhawks
, whom he joined as a talent evaluator and worked with GM Dale Tallon to help build the 2010 Stanley Cup champs?
"Well, the Leafs are ahead of where Chicago was when I arrived," Dudley said. "There are some pieces in place. There are some very likeable pieces in place. That's a key thing."
One issue unresolved, though, is whether Dudley, a Toronto native, will be paid gas mileage in Canadian or U.S. funds.
"We haven't talked about that," he said.
June, 24, 2011
6/24/11
2:51
PM ET
The Calgary Flames had the lead Friday afternoon in the pursuit of Ryan Smyth, a source told ESPN.com.
That's far from saying it's a done deal, however.
The Edmonton Oilers also had talks with the Los Angeles Kings to bring back their former star winger; but, as of Friday afternoon, the rival Flames were looking more like his future home.
Smyth, who asked for a trade, has a no-movement clause and must OK any deal.
More rumblings
• We caught up with Penguins GM Ray Shero on two fronts.
First, Max Talbot is set to become an unrestricted free agent July 1 and it appears he's bound for the market.
"I think he's probably headed to July 1, that's probably the way it's going to go," Shero told ESPN.com on Friday. "We made a three-year offer. I wish the best for him; he was drafted by the Penguins. We'll see what happens. We have our limitations to what we can do."
And, of course, we had to ask Shero about No. 68, Jaromir Jagr.
"I talked to [Jagr's agent] Petr Svoboda a couple of times," said Shero. "I talked to Jagr a few days ago; Mario also talked to him. I touched base again yesterday with Petr. That's really where it is. We haven't made an offer at this point, so we'll see where it goes. It's an intriguing player for sure. He's 39, but I saw him at the World Championships and he's still a good player."
• Kevin Epp, the agent for pending RFA blueliner Josh Gorges, said Friday he had not spoken to Montreal Canadiens GM Pierre Gauthier in weeks, but hoped to meet with him sometime this weekend at the draft in Minnesota.
• Bill Zito, the agent for UFA-to-be Ville Leino, told ESPN.com Friday he would probably run into Flyers GM Paul Holmgren in Minneapolis. Now that Holmgren has moved major cap space with the Jeff Carter/Mike Richards trades, he not only gave himself room to sign Ilya Bryzgalov on Thursday, but he also has room to get Leino under contract if both sides can find the right number and term.
June, 24, 2011
6/24/11
12:55
PM ET
The
Tampa Bay Lightning
should announce today the re-signing of veteran blueliner
Eric Brewer
to a four-year contract, a source told ESPN.com.
The deal is expected to be worth in the ballpark of $4 million per year. Brewer, who had a solid postseason for the Bolts after coming over from St. Louis at the trade deadline, would have been an unrestricted free agent July 1.
More rumblings
April, 10, 2011
4/10/11
9:49
PM ET
A drawing to determine the draft order for the 2011 NHL draft will take place Tuesday at 8 p.m. ET.
Only teams that did not qualify for the postseason will be involved in the drawing, unless a playoff team acquired the first-round pick from a non-playoff team.
NHL rules dictate that a team cannot move up more than four positions in the draft order, so only the five teams with the lowest regular-season point total are eligible to receive the first overall pick.
Percentage chance of a team being selected in the draft drawing:

Edmonton - 25.0 percent

Colorado - 18.8 percent

Florida - 14.2 percent

NY Islanders - 10.7 percent

Ottawa - 8.1 percent

Atlanta - 6.2 percent

Columbus - 4.7 percent

New Jersey - 3.6 percent

Boston (from TOR) - 2.7 percent

Minnesota - 2.1 percent

Colorado (conditional/optional from STL) - 1.5 percent

Carolina - 1.1 percent

Calgary - 0.8 percent

Dallas - 0.5 percent

The draft will take place at the Xcel Energy Center in St. Paul, Minn., June 24-25.