March, 28, 2011
3/28/11
1:00
PM ET
1. Handicapping the playoffs -- despite injuries
We were talking to Jim Schoenfeld, assistant GM of the New York Rangers, last week about the Rangers' torrid play of late. But one of the reasons Schoenfeld refused to be drawn into any playoff discussion was the boards in his office. Like many NHL executives, Schoenfeld and the rest of the Rangers brain trust monitor all of the NHL and AHL rosters. Injured players are denoted by a red dot, and Schoenfeld told us he'd never seen the board as covered by red as he has this season. And it's not getting any less red, and that has made handicapping teams' playoff chances almost impossible. Not that it'll stop us from trying.
Here is a list of top-end talent and crucial role players that may miss time for their teams in the playoffs:
Manny Malhotra and Dan Hamhuis have both recently departed the Vancouver lineup with Hamhuis lost to a reported concussion Sunday.
Pavel Datsyuk has been slow to return from yet another injury, this one a lower body variation, while Todd Bertuzzi and Johan Franzen have both been out for the Wings, although Franzen was hoping to play Monday.
Sharp is out for the playoff-hopeful Blackhawks, as we noted.
The Kings suffered a double-whammy in the past couple of weeks, losing Justin Williams and Anze Kopitar until well into the postseason.
Pittsburgh captain Sidney Crosby continues to skate and looks like he might try to return at some point this season, but that is pure conjecture. Evgeni Malkin is done for the duration.
Chris Pronger should be back for the Flyers.
Buffalo's Jordan Leopold is out with a broken hand.
Mike Green hasn't played since Feb. 25 after having his bell rung by Derek Stepan of the Rangers, while new Washington center Jason Arnott has been out, too, but should return before the playoffs.
There are the long-term injuries to the Montreal blue line, although reports indicate forward Max Pacioretty could return for the playoffs.
Phoenix is hoping to see Ed Jovanovski and Martin Hanzal back in the lineup, although Hanzal hasn't skated in two weeks.
All of which goes to say that the balance of power once the playoff tournament starts will be affected in no small way not just by injuries, but by those who return from injury. For instance, the Pens will be difficult to dislodge from the postseason even without Crosby, but have suddenly become favorites along with Washington, Philly and perhaps Boston if Crosby returns. The Kings' chances look bleak given the loss of two key offensive pieces. The hard-working Coyotes' chances go up exponentially if Hanzal and Jovanovski return. The Caps' offensive arsenal is significantly improved with Arnott and Green in the lineup. And so it goes.
2. Less is more with Premiere Games
We're not really surprised that the NHL's pulling back from three sets of Premiere Games in Europe next year to two.
[+] Enlarge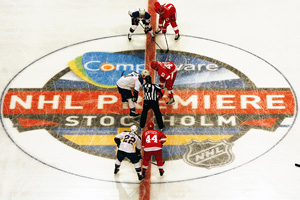 Paul Gilham/Getty ImagesThe Red Wings-Blues game in Stockholm in 2009 was terrific because of Detroit's strong complement of Swedes.
In fact, we wonder if this isn't a way of slowly scaling back the European invasion after a period of oversaturation.
Having been on hand for the first three Premiere events in London, Prague and Stockholm, one had to wonder where the process was headed.
Initially with the Stanley Cup-winning Ducks and Los Angeles in London in the fall of 2007, there was a definite feel of something outside the norm, and while there was no real rooting interests, the seats at London's O2 Arena sold well.
But having ramped it up to include first four teams and then six in three European locales, there was a definite drop-off in the buzz. And we're not just saying that because last fall marked the first time we opted not to cover the event. Indeed, part of that decision was based on the "been there done that" factor.
The matchups didn't provide much oomph and we know our friends at the NHLPA were disappointed they weren't involved more in the discussions.
And really with only three or four viable options for hosting the games: Helsinki, Stockholm, Prague and perhaps every few years Berlin, Bratislava and London, the idea of sending six teams every year and trying to create a sense of event is a tall order.
Having the Red Wings and their strong complement of Swedes in Stockholm was terrific.
And Prague was a nice venue for the Rangers and Tampa a couple of years back, even though Jaromir Jagr was long gone to the Kontinental Hockey League by then.
And having Teemu Selanne in Finland with the Ducks next season would be a terrific moment. But there are only so many "moments" that may capture the European hockey fan, and it's a long way to go to play two games if the returns are going to be diminished by repetitiveness.
Russia remains the last unconquered frontier as far as these games go, but as our friend and colleague Pierre LeBrun reported Saturday, the NHL and KHL couldn't agree on a format, so that has gone by the boards.
One wonders if we might not see the NHL pull back even more dramatically in the future and go for specific "event" games like when Alex Ovechkin and the Washington Capitals do play a regular-season game in Russia, perhaps against Crosby and the Pittsburgh Penguins.
In the end, sometimes less is more, and it may open the door to more innovative ways to kick off the NHL season on this side of the Atlantic.
3. Coaching carousel
It's not too early to think about what the offseason coaching carousel might look like in the NHL. The assumption has been that Cory Clouston is for the high dive as soon as the Ottawa Senators' regular season ends in two weeks. But you have to acknowledge Clouston has done a nice job with a lineup that was stripped down by GM Bryan Murray in advance of the trade deadline and by injury.
Did Clouston do enough to earn a reprieve? He's not the most popular guy in Ottawa, but with youngsters like Bobby Butler and Erik Karlsson looking like they're ready to blossom, maybe some consistency behind the bench wouldn't hurt. Not suggesting the leash should be long, but why not give Clouston a shot next fall to carry on what he's done in the final third of a lamentable season in Ottawa?
Most Avs fans are hoping to see a new face behind the bench after the team's monster collapse this year. But you've got to figure Joe Sacco deserves another shot given his yeoman work a year ago. Up to GM Greg Sherman, assuming he's still at the controls, to give Sacco a legitimate starting goalie and see if he can get the job done early next season, assuming the team isn't crippled by injury as it was this season.
Love what Jack Capuano has done with the Islanders, and that means the Islanders will whack him (OK, just kidding). But Capuano sure deserves a shot to get the Isles out of the blocks next season.
Not sure how things will go in Florida for Pete DeBoer, who hasn't had a lot to work with but hasn't gotten all that much out of what little he's had. Given that he's not GM Dale Tallon's man, it could be time for a change. My guess is that DeBoer won't be looking for work for long. He was highly sought-after when the Panthers signed him -- the Sens also courted him, among others -- and his time in Florida shouldn't diminish his standing that much.
4. Win or go home for Blackhawks
Talk about crunch time for the defending Stanley Cup champs. The Chicago Blackhawks woke up Monday morning in eighth place in the Western Conference, one point ahead of Calgary and two ahead of Dallas. The Flames have played three more games than the Hawks, but Dallas has played the same number as Chicago (74 games).
The problem for Chicago is that three of their remaining eight games are against the Detroit Red Wings, starting with a tilt Monday in Detroit. They are in Boston the following night for a tough one against the Northeast Division-leading Bruins. Ouch. In fact, five of the Hawks' final eight games are away from the Madhouse on Madison. Their 17 road wins are the fewest of any of the top eight teams in the Western Conference. The Blackhawks must consider all this without dressing room glue guy -- not to mention the team's most consistent scorer all season -- Patrick Sharp.
Coach Joel Quenneville told reporters Sharp was making surprising progress in coming back from a knee injury, but this is truly gut-check time for the Hawks. We're guessing the Hawks need to win at least four of eight to get in (that would give them 96 points) and likely five to make sure. I say they get the job done.
5. Red Wings' goaltending shortage
We recall having a debate with the inestimable Mr. LeBrun around the trade deadline about the Red Wings' goaltending depth. I suggested that GM Ken Holland might be trolling for some depth between the pipes given Chris Osgood's uncertain status with a recurring groin problem. Mr. LeBrun pooh-poohed the notion, and even when netminders like former Wing Ty Conklin became available -- the Blues at one point put Conklin on waivers before the deadline -- GM Ken Holland stood firm, not wanting to carry three netminders.
Understandable. But now Osgood remains sidelined after it was hoped he would be back days ago, and Jimmy Howard suffered a shoulder injury against Toronto. Howard is expected back either later this week or as late as next weekend. But the fact the Wings will hit the ice against Chicago on Monday night with Joey MacDonald and Thomas McCollum as the tandem of record should be a sobering thought for Wings fans everywhere.
January, 31, 2011
1/31/11
3:16
PM ET

1. It's not just about Crosby
Considering he wasn't even at the All-Star Game this past weekend, we sure heard a lot about Pittsburgh captain Sidney Crosby. The game's best player is expected to begin light exercise as he struggles to come back from a concussion.
Toronto GM Brian Burke insisted that the recent focus on concussions and blows to the head was directly related to Crosby's situation.
"The concussion thing is the topic du jour," Burke said this past weekend in Raleigh, N.C. "It'll be shoulders next year if there's a rash of shoulder injuries. And frankly, I think the biggest reason we're focused on concussions is because of Sidney. If Mike Brown got that concussion, would you guys all be around with cameras asking about concussions? I don't think so."
Not sure that's fair. We seem to recall a lot of attention on the topic when Marc Savard got hurt, and David Booth before him. That said, if the fact that the game's most marketable asset has been sitting on the sideline for almost a month because of a concussion sparks more interest in the topic, so be it.

2. The playoff picture (who cares if it's early!)
So, we were checking out the standings this morning as we head into the unofficial stretch drive.
With most teams having about 30 games remaining, the playoff picture won't come into focus until the final week of the regular season. That said, if the playoffs began Monday, you would have these first-round matchups: Pittsburgh-Washington, Boston-New York Rangers, Detroit-Chicago and Vancouver-San Jose. And for all those who have been pining for those Vincent Lecavalier-in-Montreal storylines, the Lightning would face the Canadiens in the opening round.
Bring it on!

3. Here come the Red Wings
Hate to fall back on that old adage about "whatever doesn't kill you makes you stronger," but it applies to the Detroit Red Wings.
Detroit has managed to keep a solid cushion over Nashville in the race for the Central Division title and is also within striking distance of Vancouver for the top seed in the West. (The Red Wings are five points out with a game in hand.) All this despite missing key personnel like Pavel Datsyuk, Daniel Cleary and Brad Stuart, among others. Well, sound the bugle, the cavalry is coming over the hill in the form of Cleary and Datsyuk, both of whom are expected back in the lineup this week.
The Wings are 6-4-1 in 11 January games, and coach Mike Babcock has seen impressive play from players who might not otherwise get much time on the power play or penalty kill or see top-six forward minutes. Four of the team's victories in January came in overtime or the shootout. The team must still deal with its goaltending depth, as Chris Osgood is out long term with a groin injury. (It failed in its efforts to land Evgeni Nabokov, who was picked up by the Islanders via waivers.) Still, watch for the Wings to take their game up a notch in the coming days. Interesting to note that the Wings play the Predators twice in their first five post-All-Star break games.

4. Tampa Bay and the Southeast race
The Tampa Bay Lightning will continue their monster homestand now that the All-Star break is over. The Bolts won the first two of a 12-game mother-of-all home respite, but the coming days will feature key clashes, including visits from the Flyers and Capitals this week. The Lightning lead the Caps by four points in the Southeast Division race.
Behind Dwayne Roloson, the Bolts have shut out the Caps in the past two meetings, and those head-to-head games will be crucial when it comes to deciding the division crown. It's not just bragging rights on the line in the Southeast, though. The team that fails to secure the division title likely will fall to fourth or fifth in the East and earn a likely first-round matchup with Pittsburgh or Philadelphia. Win the division, and you're likely looking at playing Atlanta, Carolina, Montreal or the New York Rangers. On paper, at least, that's a lot more palatable.
A couple of players to watch during this homestand will be Lecavalier and Simon Gagne. Both have struggled with injuries and inconsistency this season but have shown signs of life lately. Their productivity will be crucial to a long playoff run.

5. The players have spoken
Interesting stuff in a wide-ranging poll released this past weekend by the NHL Players' Association and "Hockey Night in Canada." What caught our eye was the list of teams for which players do not want to play.
The Islanders were first in this category, which is understandable. The Isles play in an awful arena and are a mess organizationally. Edmonton was also near the bottom of the list, and that, too, is no surprise. Long winters, small market ... it's just not a sexy hockey place. Not anymore.
But our eyebrows rose in seeing Atlanta and Toronto next in the least desirable of NHL markets. It wasn't that long ago when the Maple Leafs brought in sought-after free agents like Gary Roberts, Alexander Mogilny, Shayne Corson, Curtis Joseph and Ed Belfour. And there was winning in Toronto. Under coach (and sometimes GM) Pat Quinn, the Leafs advanced to the Eastern Conference finals in 1999 and 2002. They beat Ottawa pretty much every spring. But the same dynamics that made Toronto a cool place during those years -- a lot of media and fan attention -- now make it a place that players want to avoid.
The Leafs haven't been to the playoffs since before the lockout and won't be going again this season. The culture of losing has turned all that attention into a perpetual black cloud. It creates a situation where the Leafs run the risk of having to overpay for free agents, making Burke's task of rebuilding the team even more onerous.
And onerous pretty much sums up the situation in Atlanta. That's what a decade of losing will do for you. But it shouldn't be this way. The climate is great, it's a great place to fly in and out of, and there are all kinds of cultural entertainment options and plenty of green space for families. Yet players want to avoid Atlanta like the plague. GM Rick Dudley is hoping to change the perception, but it's a big challenge, especially with an incompetent ownership that spends more time in court than trying to build a winning franchise.
One final note on the player poll: It was no surprise to see Crosby as the player other players would build a franchise around. But it was interesting that Crosby's coach, Dan Bylsma, was who other players most identified as the coach they'd like to play for. The coach they'd least like to play for: Toronto's Ron Wilson.
November, 29, 2010
11/29/10
1:32
PM ET
1. Model for stopping staged fights
Funny how sometimes it's the kids that get it right while the NHL dawdles. And once again it is major junior hockey that provided what should be a model for the NHL by moving to eliminate so-called staged fights. The Ontario Hockey League has introduced a midseason rule change to punish fights at the start of a period or before the start of a game that calls for offending players to be tossed out of the game in question and be suspended automatically for the next game. Teams are also subject to a $500 fine with increased sanctions for repeat offenders. The Western Hockey League has had a similar rule for the past two seasons and has practically eliminated the so-called staged bouts.
The NHL's GMs tried to stamp out this nonsense that regularly drags out NHL games and has zero impact on the outcome of contests. But the NHLPA, after impassioned pleas from thugs like Georges Laraque (now out of the game and deputy leader of the Green Party in Canada), balked at the change and the competition committee squashed the idea. How forward-thinking. No wonder NHL GMs in general believe the competition committee is irrelevant. Speaking of fighting, wonder how the Colorado Avalanche like the age-old manner of resolving a dispute now that star forward Chris Stewart is out indefinitely with a fractured hand thanks to a pointless fight in Saturday's 7-4 rout of Minnesota.

2. Howard still providing quality starts
Not so fast for those who were prepared to anoint the
Columbus Blue Jackets
this year's dark horse contender a la last year's
Phoenix Coyotes
. The Blue Jackets have been impressive, no doubt, but the
Detroit Red Wings
served notice that the old dogs can still hunt by sweeping a home-and-home affair from Columbus over the weekend.
It was an interesting clash given some of the parallels between the two teams.
Two years ago, Columbus netminder Steve Mason jumped from junior hockey to NHL stardom, winning the Calder Trophy as rookie of the year and adding a Vezina Trophy nomination to his youthful resume. Last season, Mason imploded and the Blue Jackets faded back into obscurity.
Last season, Detroit netminder Jimmy Howard emerged from a four-year apprenticeship in the AHL and shocked many by leading the injury-plagued Red Wings from deep in the standings into the playoffs for the 19th straight season. Howard was nominated for the Calder Trophy and received our top vote, although he was bested by Buffalo defenseman Tyler Myers (by the way, how's that sophomore season going, Tyler?).
Unlike Mason, though, Howard has continued to provide both consistency and quality between the Detroit pipes in his sophomore campaign.
Although peers Carey Price, Michal Neuvirth, Tim Thomas and Sergei Bobrovsky have received most of the goaltending attention through the first quarter of the season, Howard has quietly compiled a sparkling 13-2-2 record and the Wings are considered by most to be the best team in the Western Conference at the quarter pole (and among the top two or three teams in the league).
"He's earned the right to feel confident about himself," head coach Mike Babcock said recently.
Now, there is a fine line between confident and cocky, something Mason learned the hard way last season.
Howard, perhaps because he is older at 26, is quick to deflect praise for his play and just as quick to accept responsibility when he doesn't play well.
Babcock said that when he meets with the media after a game, "if he [Howard] hasn't played well he's already told the press he wasn't very good."
"He's accountable," the coach said.
For his part, Howard said it's easy not to become complacent in a dressing room with guys like Nicklas Lidstrom, having a Hart Trophy kind of season at age 40, and hard-working stars like Pavel Datsyuk and Henrik Zetterberg.
But here's the dilemma for the Wings: With Chris Osgood trying to rehab a lingering groin issue and not having played well when he was healthy, there are issues about the team's goaltending depth.
"He can't play every night," Babcock said of Howard.
With the Wings hard against the salary cap, it's going to present a dilemma for GM Ken Holland moving forward. That's to say nothing of the fact that Howard can become an unrestricted free agent at season's end. Stay tuned.
3. West remains the best
It is generally accepted that once again the Western Conference boasts the greatest concentration of talent in the NHL. While teams like Pittsburgh, Washington and Philadelphia have established themselves as the crème de la crème in the Eastern Conference, it's fair to ask whether their records are skewed by regularly beating up on some of the worst teams in the league like the
New York Islanders
,
New Jersey Devils
and
Toronto Maple Leafs
.
In the Western Conference, there are far fewer patsies as just nine points separated first-place Detroit and 13th place Nashville as of Monday morning.
The Western Conference is dominating inter-conference play, as well, with a 150-127-37 record as of Monday. Only Edmonton and Calgary have managed to compile a losing record against the 15 Eastern Conference teams.
Meanwhile, almost half of Eastern Conference teams (seven) had a losing record or were .500 when playing their western confreres.
What does it mean?
In general, it means teams in the West can expect to pay more dearly for losing streaks and inconsistent play.
As of Monday, the San Jose Sharks, considered by most a Cup contender at the start of the season, were in 10th place even though they were 5-2-3 through their past 10 games.
Disappointing? Yes. But the Sharks were also just one point out of the Pacific Division lead heading into play Monday.
4. Top eight tough to crack
The first quarter of the NHL season is in the books and the consensus among many hockey folk is that cracking the top eight in either conference becomes increasingly difficult through the balance of the season with the number of three-point games going up as the season moves along. Interesting to compare the standings on Dec. 1 last year to how things looked when the dust cleared last April 11 at the end of the regular season.
Over that period of time, just two teams per conference shuffled out of the top eight over the last 4½ months of the regular season.
In the Eastern Conference, the Atlanta Thrashers (fifth place as of Dec. 1) and the Tampa Bay Lightning (eighth) were the two interlopers who could not hang onto a postseason berth through the final three-quarters of the schedule. Atlanta and Tampa were replaced by the Montreal Canadiens, mired in 12th place in the conference at the start of December, and the Philadelphia Flyers, who were on the verge of making a coaching change (Peter Laviolette was named to the post on Dec. 4).
Of course, the Canadiens and the Flyers didn't just qualify for the playoffs, they ended up facing off in the Eastern Conference final.
In the Western Conference, the Calgary Flames were actually leading the Northwest Division on Dec. 1 before free-falling out of the playoff picture altogether. And the Columbus Blue Jackets were holding onto the eighth and final playoff spot at the start of December 2009. Detroit, which hit December in 10th place in the conference, and Vancouver (11th) supplanted those two teams.
What of this season?
Given the tightness of the standings (see above) it's not hard to imagine even more fluidity in the Western Conference standings between now and April. It would be shocking if the Sharks don't right the ship and make the playoffs. Likewise, the Los Angeles Kings, surprisingly in ninth place as of Monday, should be a playoff team given their talent.
Who would fall out?
We'll fall back on our preseason predictions and suggest that Dallas and Columbus may have the most difficulty sticking with the top eight in spite of impressive first-quarter starts.
In the Eastern Conference, we're not sure there will be any movement whatsoever given the inconsistency that has plagued New Jersey, Ottawa and Buffalo, three playoff teams from last season. Boston is currently in eighth place but has played fewer games than any other team in the conference, so that skews its current placing. In the end, it will come as little surprise if the current eight are the final eight come April in the East.

5. Hawks hope to rewind last season
Fans of the
Chicago Blackhawks
are hoping there is a sequel in the making as far as the team's goaltending situation goes.
After an up-and-down start to the season, the defending Stanley Cup champs are starting to round into form, but they are doing so with rookie netminder Corey Crawford backstopping the club instead of veteran free-agent acquisition Marty Turco.
Crawford was riding a four-game winning streak as the week began and has played in three of the past four games for the Hawks, including back-to-back victories over Los Angeles and Anaheim last week. Crawford, who started the season 1-4, has allowed just five goals in his past four starts and has stopped 98 of the past 103 shots he's faced.
Turco, meanwhile, has failed to find a groove since coming over from Dallas in the offseason. The veteran netminder has just one win in his past five starts and overall has a pedestrian 2.90 GAA and .904 save percentage.
Of course, Blackhawk fans have seen this movie before, and everything certainly turned out OK in the final reel last season.
Last season, Antti Niemi nudged Crawford out of the backup role during training camp and then supplanted veteran starter Cristobal Huet as the go-to guy for the Hawks midway through the season. Niemi and the Hawks, of course, ended up carting off Stanley Cup rings. Niemi signed with San Jose when the Blackhawks wouldn't agree to an arbitrator's ruling on salary, and Crawford, a 25-year-old Montreal native, was handed what was expected to be a supporting role behind Turco.
November, 22, 2010
11/22/10
11:42
AM ET
1. Handling Campbell situation
At this stage there are no plans for the league's owners and other big brains to discuss the Colin Campbell fiasco and/or the broader issue of how the league handles supplemental discipline at the Board of Governors' meeting two weeks hence in Florida.
The league's position on this is simple, there are no plans to discuss either topic because neither is an issue.
OK then, off to the first tee.
But surely among the 30 owners there is at least one who, having watched all of the discussion surrounding the embarrassing revelation that Campbell made snide if not wholly inappropriate comments to the former head of officiating about, among other things, his son NHLer Gregory Campbell, Marc Savard and the incompetence of some on-ice officials, might raise his hand and say, uh, wait a minute.
Surely at least one owner is wondering if Campbell is the right man to continue in the job. Surely at least one owner is wondering if some discussion of the entire process might actually benefit the game.
Anyone remember the old television series (and before that hit movie) "M.A.S.H."? One of the ongoing bits in that popular series was Col. Henry Blake blithely signing any number of documents Cpl. Radar O'Reilly placed in front of him, a human rubber stamp. The NHL's governors are viewed in much the same way. They receive information, recommendations and the like from the GMs and the competition committee and, generally speaking, nod their heads as one without so much as a single note of opposition.
In this situation, given that the integrity of one of the league's top executives has been brought fairly or not into the spotlight, it would be refreshing to see at least one of the 30 have the temerity to raise his hand and offer up some level of concern. Heck, maybe even ask for some sort of review of the entire process. Even if the league continues to insist the issue doesn't exist.

2. Semin changing perception
Regardless of just how many goals he scores and how many points he puts up, there has always been a temptation to be dismissive of
Washington Capitals
winger
Alexander Semin
. In general he was considered a strictly one-dimensional player that, while wildly gifted, couldn't be counted on in the crunch.
Quietly, that notion is changing, at least internally, as head coach Bruce Boudreau turns to Semin more and more in key situations, including using him more frequently on the penalty kill even as he continues to pile up the points.
"It was a work in progress last year," Boudreau said this week. Sometimes Semin would cheat while killing penalties, worried more about creating a scoring chance.
"Now he's a lot better at it," said Boudreau, who recalled that GM George McPhee watched Semin in a more complete role for Russia at the World Championships two years ago and that sparked the idea that he could take on a bigger role with the Caps.
Boudreau and regular linemate Brooks Laich both pointed to a maturity in Semin's game.
"I think he's become consistent which is the opposite of streaky I guess," Boudreau said.
Laich thinks Semin's game can be marked by what he's not doing and not necessarily by what he is doing.
"I think he's limited his faults," Laich told ESPN.com, like cutting down on bad penalties and turnovers and knowing when to make the simple play.
How good is Semin, who began the week tied for second in the league in goals (14) and tied for third in points (26)?
The temptation is to suggest the sky is the limit. Two years ago today, for instance, Semin had 13 goals, 14 assists and was second in the league in scoring behind Evgeni Malkin, but injuries cost him 20 games and he still finished with 79 points in 62 games.
Laich, for one, thinks the 26-year-old deserves to be considered among the best in the league.
Laich rhymes off the names of captain Alex Ovechkin, center Nicklas Backstrom and Semin and said, "I would put those three guys up against anybody."
"They have to be top five in the NHL," he said.
Even though he's been in the league since the 2003-04 season, Semin's command of the English language remains rudimentary at best. Still, through new PR staffer Sergey Kocharov, Semin told ESPN.com that he feels honored Boudreau has enough confidence in him to use him in a variety of situations, including killing penalties.
"I'm very excited that he's trusted me to be on the penalty kill," Semin said. "I'm happy that he's given me that responsibility."
What makes the Semin situation so intriguing is that if he can indeed remain a consistent contributor, the Caps' chances of getting over the playoff hump increase dramatically. It won't hurt Semin's bankbook, either, as he can become an unrestricted free agent at the end of the coming season.

3. Ladd is Thrashers best choice
Although the
Atlanta Thrashers
waited until the season was almost a quarter over to make a decision on naming a captain, head coach Craig Ramsay and GM Rick Dudley made what appears to be the only logical choice in sewing the "C" on
Andrew Ladd
's jersey.
Ladd, a role player on Cup-winning teams in Chicago and Carolina, has blossomed into a go-to guy in the Thrashers' locker room, leading the team with 21 points in 21 games.
When we sat down with Dudley before the season, the new Thrashers GM pointed to Ladd as a crucial piece to the evolving Atlanta puzzle. Although Ladd has never hit the 20-goal mark in his career, Dudley felt the former fourth overall pick in the 2004 draft had the potential for that and more given the expanded role envisioned for him in Atlanta. And Ladd has thrived under Ramsay. Not that Ladd's point totals were the only factor or even a consideration in honoring him with the captaincy.
"I think he plays hard every night," Ramsay said. "He's done everything. We've used him in every situation and he's responded. He earned the right."
Ladd's calming presence in the Atlanta locker room will be key in prodding the young team into the playoffs for just the second time in franchise history. But if there's one thing going for Ladd, it's his ability to draw from his own experience.
He's watched a young captain in Jonathan Toews grow into the role in Chicago. And he watched veteran Rod Brind'Amour set the tone for a Carolina team that won a Cup coming out of the lockout.
The challenge, he told ESPN.com, will be finding the right moments to say something and when to hold back, when to address a player in private as opposed to saying something publicly.
One thing that will come naturally to Ladd will be the ability to lead by example, a characteristic that all great leaders seem to possess.
4. Hall selection committee under spotlight
With the passing of much-loved former coach Pat Burns to cancer on Friday, Burns' snub by the Hockey Hall of Fame selection committee has once again became a talking point. We, like almost every hockey fan and/or observer with an opposable thumb, lamented the selection committee's oversight last June when Burns did not secure enough votes for enshrinement in the Hall of Fame. Instead the committee saw fit to induct marginal (in terms of Hall of Fame credentials) player
Dino Ciccarelli
along with former
Calgary Flames
owner D.K. "Doc" Seaman and longtime Detroit executive Jim Devellano in the builder category, along with two women, Angela James and Cammi Granato, in the newly established women's category.
The selection process, often under assault from the outside, has never had its integrity more questioned than with the Class of 2010.
With Burns' passing, the selection committee will once again be under the spotlight and things don't look to get any easier for a group that includes some of the most respected men in the game.
Let's assume they get it right and induct Burns next year.
Once again the committee will come under a hail of criticism for having waited a year too long to honor Burns. Worse, it will look as though they simply knuckled under to the pressure of missing the chance to induct Burns while he was still alive, even though everyone knew he was gravely ill.
The only way the Burns induction does not become sullied is if the selection process undergoes a significant change before the 2011 class is announced next June. A number of members of the selection committee have been lobbying for changes to the process.
Ultimately, if the Hall wants to avoid tarring future inductees with needless controversy, the committee needs to find a way to do away with the Byzantine process that marks the current process. The selection committee needs to make the selection process more transparent, as is the case with other sports.
Here's hoping they can find a way to do the right thing if for no other reason than to ensure that Burns enters the Hall of Fame as the worthy inductee he is without having the moment diminished by the Hall's own flaws.

5. Richardson family tragedy
A final word on an inconceivably difficult week for former player and current Ottawa assistant coach Luke Richardson and the Senators. Richardson's teenage daughter Daron, 14, took her own life last weekend. Instead of following what would have been the natural reaction, to close ranks, to turn in and away from the tragedy, the family bravely turned outward. The Richardsons celebrated their daughter's life at a memorial attended by some 5,000 people. The decision not to ignore what happened -- a press release confirming Daron's death included the cause of death, a marked departure from how these matters are normally handled -- allowed for greater discussion of the issues of teen suicide and mental health.
Who knows what good will come from an indescribably difficult time for the Richardsons, but one has to believe their handling of the moment ensures that some good will indeed come from this pain. Beyond that, kudos to the Senators, who changed their travel plans to return home for the service and then jetted to Carolina for a game that night. That the Senators lost in Carolina that night will be but a footnote to the greater story of how an organization rallied to be at the side of one of its own. There are some NHL teams that could learn a valuable lesson from the Ottawa Senators on what it means to be professional.
November, 15, 2010
11/15/10
11:18
AM ET

1. Leadership lacking in Edmonton
It seems everyone is prepared to give the Edmonton Oilers a free pass this season no matter what they do. While the red flares are shooting up all over the league, at least as far as the media are concerned, with teams from Calgary to Long Island to Toronto, everyone seems to pretty much shrug their shoulders at the Oilers' foibles. Fair enough. We get that they are rebuilding after a dead-last finish last season. We are a big fan of coach Tom Renney, and we think he has the perfect temperament to coach a young team that has miles to go before they sleep. But, youthfulness doesn't excuse lethargy and downright incompetence on the ice and there have to be hard questions asked about the ancillary parts of this team and the example they're setting for the team's young cornerstones, Taylor Hall, Jordan Eberle and Magnus Paajarvi.
During a just-completed four-game Eastern road trip, the Oil were crushed 7-1 and 6-2 by Carolina and Detroit, respectively. They blew a 3-1 lead against woeful New Jersey, allowing the Devils to win their first home game of the season. Then to close out the trip, they led the New York Rangers 2-1 before giving up seven unanswered goals en route to a 8-2 shellacking on Sunday. And this with backup Martin Biron in goal for the Rangers.
So, just who is setting the example in Edmonton? Dustin Penner? He was minus-4 on Sunday and has shown little inclination to use his size or his abilities for the greater good. Defenseman Tom Gilbert? Likewise minus-4 on Sunday and minus-10 on the road trip.
The Oilers' sorry plight brings into sharper focus the questionable decision to banish veteran defenseman Sheldon Souray to the AHL after his squabble with management last season.
Could Souray's presence in the lineup (when he's not injured, as he is now) have been any worse an example than what the Oilers' "leadership" core has shown thus far? One would think not.

2. On the road again
Coaches in general don't like to discuss the schedule because, like the weather, what else are you going to do but get your umbrella out when it rains? Yet you could hardly blame Tampa head coach Guy Boucher for shaking his head as he packs for yet another first-quarter road trip.
After dropping a 4-1 decision to the Minnesota Wild on Sunday in Tampa, the Lightning are back on the road this week for games in Long Island, Philadelphia and Buffalo.
Before Christmas, they will have completed their second trip to the West with a swing through Calgary, Edmonton and Vancouver. By the time Canadians finish celebrating Boxing Day on Dec. 26, the Lightning will have played 36 games, 22 of which will have been played away from the St. Pete Times Forum.
Throw in the crippling spate of injuries that has seen the Lightning lose captain Vincent Lecavalier and Simon Gagne long term along with Steve Downie (he returned to action Sunday), and Boucher acknowledged these are difficult times for the team.
"It's survival time. Let's not kid ourselves, until Christmas it's survival time. We know it. We knew it. What we didn't know is that we were going to get all these injuries and all these guys that were sick," Boucher said.
The Lightning began the season as one of the top offensive teams in the NHL but have managed just 13 goals in their past seven games.
On Sunday the Lightning outshot Minnesota 38-18 but couldn't take control of the game when it was there to be taken.
"We want to see through the clouds. We're in a cloud right now," Boucher said.
Not that the Bolts are the only team that longs for some home cooking. As of Monday morning, the New York Islanders had played a league-low five home games and a league-high 12 road games. They have not won a game anywhere since Oct. 21, 11 games ago.

3. Wild becoming legit contender
Slowly but surely, the Minnesota Wild are edging themselves back into a position where they may be more than just a team that hovers around the edge of the playoff bubble.
Although they still rank 27th in goals per game, they have managed to lop off almost a goal per game from last year's weak defensive effort.
They currently rank sixth in goals allowed per game and combine that with two top-rated special teams and it's easy to see why the Wild are pleased with how they've turned things around as they began the week in second place in the Northwest Division, four points back of Vancouver.
"That's the strength of our team right now, our specialty teams play and our goaltending," GM Chuck Fletcher told ESPN.com.
Improving the team's goals against was a top priority from Day 1 of training camp. But Fletcher also understands there is more than a little impatience in the State of Hockey given that the team hasn't won a playoff round since 2003 and has missed the playoffs the past two seasons.
Even though the team has been without five to seven regulars pretty much since the start of the season, they still have managed to ice a squad that boasts the NHL's top power play and a penalty-killing unit that is ranked seventh.
On Sunday, the power play accounted for two more goals in a 4-1 victory, a game in which they were badly out-chanced.
"We bend a lot but we don't break," Fletcher said. "It's hard when you lose skilled players," he said. "It's been a bit of a challenge for us."

4. Elliot earns Senators' confidenceFunny how things go when it comes to goaltending. Two years ago when the Ottawa Senators added Pascal Leclaire from Columbus, they hoped the deal would solidify a position that had been in turmoil since Ray Emery's fall from grace after the 2007 run to the Stanley Cup final. But Leclaire has been prone to injury and when healthy, prone to playing poorly. In his place has stepped Brian Elliott, who was drafted in the ninth round by the Sens back in 2003. How long ago was that? They don't even have a ninth round anymore. Yet Elliott has earned the confidence of a Senators team that has surged back into the hunt for the Northeast Division crown with a 9-4 record that includes five straight victories and seven wins in his past eight appearances.
Saturday, Elliott backstopped the Senators to a 2-0 win over Boston with 31 saves in a game that saw Tim Thomas suffer his first loss of the season.
The victory also saw the Sens leapfrog Boston in the Northeast Division standings.

5. Odd man out in PhiladelphiaJust in case you thought life was fair, we bring you the soon to be uncomfortable issue confronting Philadelphia GM Paul Holmgren.
Netminder Michael Leighton is back skating and will soon be healthy enough to rejoin the Flyers after surgery to repair a herniated disc in his back. When he does, the red-hot Flyers will have three netminders and Holmgren will be in the unenviable position of having to dispose of one of the goaltenders who helped make the Flyers' improbable run to the Stanley Cup final last spring possible. Barring a setback to Leighton, it is likely Brian Boucher will find himself sent to the AHL as the odd man out in the rotation. Of course, it was Boucher who stoned the New York Rangers in a shootout in Game 82 last year to get the Flyers into the playoffs. He was the goalie who helped the Flyers dispose of New Jersey in five games and was the goaltender that started the Flyers' historic comeback from a 3-0 series deficit against Boston before he was injured and Leighton carried the freight the rest of the way.
Regardless of that valiant effort, Boucher will likely be set out with the trash in the coming days thanks to the impeccable play of rookie netminder Sergei Bobrovsky who has 10 wins, tied for second in the NHL, and boasts a save percentage of .932 and 2.08 GAA.
The Flyers could carry three netminders, but that makes little sense vis a vis the salary cap, so when Leighton gets clearance to play one will have to go. Fair? No. Reality? Indeed.
November, 8, 2010
11/08/10
1:32
PM ET

1. Coaching hot seat
With New Jersey off to its worst start since 1983-84, Buffalo in disarray, Calgary struggling and the New York Islanders and Toronto in freefall, there is a lot of discussion about potential coaching changes around the NHL. So, let's handicap the potential coaching replacements.
We have to start with Ken Hitchcock. His résumé includes a Stanley Cup in Dallas and two Olympic gold medals as an assistant in 2002 and 2010. While offense isn't necessarily his forte, he's tactically terrific and defensively among the best. And he's got instant credibility for teams looking for just that.
Running a close second will be Michel Therrien and Bob Hartley. We put the two French Canadian coaches together not just because they're long-time pals, but because they bring a measure of old-school "beat them in the alley" mentality with their top organizational skills. Both have rubbed players the wrong way, but what do they say about breaking eggs and making cakes? Therrien has had more recent success in remaking the Pittsburgh Penguins into Cup contenders, while Hartley won a Cup in Colorado.
Craig MacTavish's name will also come up in these discussions and represents a different personality than the three aforementioned coaches-in-waiting. The cerebral coach may represent a kinder, gentler option to fill a void created by a taskmaster.
In the minors, what about Don Lever, who won an AHL championship in Hamilton and is now coaching the AHL Chicago Wolves? He's had NHL experience as an assistant for many years.
And then there's longtime NHLer Kevin Dineen, who was thought to be in line for the Columbus job, but whom many believe deserves a shot at a head-coaching gig. He's currently the coach in Portland of the AHL.

2. Kings following Pens' progression?
Are the Los Angeles Kings ready to take a page from the Pittsburgh Penguins' Stanley Cup playbook? Remember how the Pens matured far more quickly than anyone imagined they would, making the playoffs in 2007, going to the Cup finals the following season and then winning it all in 2009?
Many were expecting the Kings to take another big step forward this season after losing in the first round to Vancouver. What has been so impressive about their 10-3-0 start has been their commitment to team defense, the bedrock of almost all championship teams. Even with Norris Trophy nominee Drew Doughty out of action for a chunk of time (Doughty has missed six of the team's 13 games, but returned to the lineup last week), the Kings remain one of the most difficult teams in the league to play against.
They are third in the league in goals allowed per game with an impressive 2.00 team GAA after finishing ninth in that category last season. They are second in the league and first in the West on the penalty kill, another area that has shown improvement from last season (they were 20th on the PK). Yes, Jonathan Quick has been terrific in goal, but the entire team has bought into coach Terry Murray's system.
Is there room for improvement? Sure. Offensively, the Kings are 12th in the league and are relying on scoring by committee, with Anze Kopitar off to a rather pedestrian start (four goals in 13 games). Doughty, by the way, has yet to score and has just one assist. But the early signs suggest this could be the Kings' season to make a big playoff splash for the first time since the Wayne Gretzky era.

3. We don't get these Habs
OK, we admit, we don't quite get the Montreal Canadiens. The Habs are a respectable 8-5-1 and were sitting atop the Northeast Division as of Monday morning. Yet they are a team that has a lot of passengers when it comes to putting the puck in the net. Andrei Kostitsyn is the team leader with six goals, while the heart of the team's offense -- playoff scoring hero Mike Cammalleri, captain Brian Gionta and Scott Gomez -- has just six goals between them. That's not good.
The Habs rank 25th in goals per game, but the power play remains the most vexing issue for coach Jacques Martin. Last season, they ranked second on the man advantage and used an opportunistic power play to upset Washington and Pittsburgh in the postseason. This season, the power play has managed to connect just three times. Three. Even with top defenseman Andrei Markov back in the lineup, the Canadiens are dead last in the league. Markov has just one assist in four games and the Montreal blue line has chipped in exactly three goals to date. The bottom line is unless things pick up for the Canadiens offensively, their stay atop the division will be a short one.

4. Why is NHL ignoring this no-brainer?
We must admit a certain sadness that GMs will not discuss the issue of being able to hold back salary in making trades when they meet Tuesday in Toronto.
This has been Toronto GM Brian Burke's quixotic quest for a number of years, but he has grown tired of banging his head against the league wall.
"Dead horse until the next CBA," Burke told ESPN.com. "Even I know when a great and noble cause has become an exercise in futility."
Still, the logic behind Burke's great and noble cause remains impeccable: If a team wants to move a player, it should be able to agree to pay a portion of that player's salary to make the deal work.
The players' association has never voiced a complaint about the proposal because it doesn't affect hockey-related revenues; the money all stays in the pie, it's just how it's divvied up. And since trades are exciting and can be helpful to players and teams, it should be a no-brainer that GMs have this ability. A look at how few trades get done ahead of the trade deadline reinforces that this would be an important piece of hockey legislation.
Another GM recently told ESPN.com he remains mystified that this continues to be an issue. He thinks it's a no-brainer that GMs should be able to eat portions of a salary they're trading away. Further, this GM said, the notion that this would somehow favor big-market teams is flawed; small-market GMs could benefit from picking up a player and not having to pay the full salary.
In the end, it is the fans that pay the final price for the league's refusal to make what appears to be a logical change. Wouldn't the NHL be a better place for having guys like Sheldon Souray and Wade Redden playing somewhere rather than toiling in obscurity in the AHL?

5. The Frolov factor
It was interesting to listen to New York Rangers coach John Tortorella try to describe what was going on with Alexander Frolov the other day.
"He is strong on the puck. I think that's his biggest strength," Tortorella said last week. "He is really strong underneath the hashmarks, and it's really good in the way we're trying to play. That fits in exactly what we want do. I just want him to take the opportunities.
"I just want him not to look for something better when there's a shot available," he said. "We need to get more shots with him from further out when they're available."
Frolov has skills; there is no question of that. He has twice topped the 30-goal plateau with the Los Angeles Kings, but fell into disfavor with coach Terry Murray and ended up with just 19 goals last season.
When he was signed as a free agent this past summer, it was thought he might mesh nicely with Rangers scoring star Marian Gaborik. But Gaborik has been injured and Frolov has managed only two goals and has taken just 22 shots in 14 games.
With Ryan Callahan out of Friday's game, Frolov played with Brandon Dubinsky and Artem Anisimov and played well on the team's top line. On Sunday, with Callahan back in the lineup, Frolov appeared to score in a 2-0 loss to St. Louis, but the goal was waved off when it was ruled that a Blues player had touched the puck with a high stick and then netminder Ty Conklin played the puck just before Frolov pushed it into the goal.
"I'm not upset with his effort at all," Tortorella said. "He has worked very hard. I just want him to get rewarded."
November, 1, 2010
11/01/10
4:12
PM ET

1. Briere's suspension
The NHL on Monday handed down a three-game suspension to Danny Briere after he gave New York Islanders forward Frans Nielsen a shot to the head with his stick in the waning minutes of the Flyers' 6-1 rout Saturday.
The two players were jawing at each other before the draw and Briere then swing his stick cross-check-like and grazed Nielsen's noggin. Despite the "five games minimum" howls from some in the hockey media, I must admit I could have gone either way on this one.
I didn't like the league's assessment that Jordin Tootoo's flying hit on Carlo Colaiacovo late in the Blues' victory over Nashville on Thursday night was justly penalized on the ice (major for charging) and warranted no supplemental discipline. Having seen the league's handling of that incident, I believed the same standard could have been used on Briere. Both Briere and Tootoo have histories of being suspended and both plays were reckless, but neither Colaiacovo nor Nielsen was seriously injured. Briere was issued a major for the stick infraction and thrown out of the game.
Bottom line for those who think the league plays favorites with its talented players: The Briere suspension reiterates that inconsistency in discipline doesn't take into account how many goals a player has (Briere leads the Flyers with six); inconsistency is just a fact of life with the league as it tries to figure out what the line is between "a bad thing" and "a really bad thing."

2. Blue-line Byfuglien
There was a lot of discussion about how the Atlanta Thrashers were planning to use former Chicago power forward Dustin Byfuglien after they acquired him from the defending Cup champion Chicago Blackhawks in the offseason.
GM Rick Dudley spoke with Byfuglien's stepfather, a former teammate and roommate of Dudley's from the World Hockey Association, and was told Byfuglien preferred playing on the back end. Despite his success as a forward, the Thrashers were intrigued by Byfuglien's size, shot and mobility, and hoped his presence on the blue line would complement an improving group of defensemen.
"He was moved to forward out of necessity," Dudley told ESPN.com on Monday. The fact he played well at forward "didn't mean that he couldn't play defense," the GM added.
So far, the experiment is paying dividends for the improving Thrashers. Byfuglien leads the NHL with three game winners, including a spectacular end-to-end rush against Buffalo on Friday night. He leads all defensemen in shots and is averaging 22:13 a night in ice time, playing mostly with former all-rookie team member Tobias Enstrom. The two have combined for 20 points in this young season.
"Buff is a difference-maker," Dudley said. "I'm not going to say he's perfect defensively, but he's getting better."
So are the Thrashers. They have collected points in four straight games (2-0-2) and are 5-4-2 overall.

3. Don't forget the Sabres
Much of the early-season attention has been focused on the New Jersey Devils' woes, and with good reason. Heading into Monday's tilt against Vancouver, they are a league-worst 3-8-1. Yet, hiding in the shadows of the Devils' miserable start are the Buffalo Sabres, who aren't much better off with the first month of the NHL season in the books. The Sabres (3-7-2) are riding a three-game winless streak and have been outscored 14-6 over that stretch.
Even with defending Vezina Trophy winner Ryan Miller in goal, the Sabres are 23rd in goals allowed per game and are 27th on the penalty kill. On the other side of the puck, the Sabres aren't faring much better (22nd in goals per game and 20th on the power play).
Over the past couple of years, much of the discussion about the Sabres' woes has centered on personnel, especially after they were bounced in the first round of the playoffs last season. And certainly the Sabres have seemingly suffered from an acute leadership void since the departure of players like Daniel Briere, Chris Drury, Brian Campbell and Jay McKee, among others.
The team has been ultraconservative in its approach to free agents, preferring to wait on the development of homegrown talent like Thomas Vanek, Derek Roy, Drew Stafford and defending rookie of the year Tyler Myers. Thus far, Myers has struggled in his sophomore campaign. He has been a healthy scratch and has committed a series of defensive gaffes, including being stripped of the puck and giving up a short-handed goal against Dallas on Saturday.
But beyond the personnel, the Sabres may also be victims of the league catching up to their style of play. Coming out of the lockout, Buffalo coach Lindy Ruff and his staff found a way to attack the offensive zone with speed that, combined with a talented roster, made the Sabres one of the most dynamic teams in the NHL.
"The game has changed. Teams don't play it the way they did a year ago," Ruff said during a recent chat with reporters. "I saw from two years ago where there was maybe three or four teams playing the same. Now, probably in the East, you've got 13 teams that are defending the rush the same way, which has changed."
Sadly for the Sabres, they haven't managed to stay ahead of that learning curve.

4. Gotta have backup
The face of goaltending in the NHL is changing before our very eyes. Philosophies are now divided over whether a team is better off allocating precious cap space to a topflight goaltender like Roberto Luongo or Martin Brodeur, or putting that money in team defense or scoring and spending less on competent (if not lower-profile) goaltending.
Last season, the Blackhawks and Flyers showed that low-profile netminding can get you to the Cup finals. Detroit won a Cup behind Chris Osgood in 2008 and then went to Game 7 of the finals the next season against Philadelphia with a goaltender often given little regard around the league.
This season, we are seeing more evidence that regardless of which side of the goaltending fence you favor, having a capable backup is crucial and, conversely, the lack thereof can spell big trouble.
Montreal's Carey Price and Dallas' Kari Lehtonen have combined to play in 19 games this season, but both their backups (Alex Auld and Andrew Raycroft) came on to provide important relief last week. Auld allowed just one goal in his first start of the season as the Habs topped the Islanders, while Raycroft helped the Stars stop a three-game slide with a 34-stop shutout of the Buffalo Sabres.
Without Craig Anderson, who's hurt in Colorado, Peter Budaj is going to have to carry the freight, and the perennial backup has played well thus far with a 3-0-1 record. The best example of a backup making a difference can be found in Pittsburgh, where Brent Johnson has turned in a sparkling 5-0-1 record with 1.16 GAA and .960 save percentage while starter Marc-Andre Fleury works out some kinks in his game.
It hasn't always worked out perfectly for the backups and their squads, though. Martin Biron got a win against Toronto, but looked soft in a loss to Atlanta last week. So, Rangers coach John Tortorella went with Henrik Lundqvist in back-to-back games even though Lundqvist had lost the first one to Carolina. It turned out to be a good move as Lundqvist shut out Toronto on Saturday (hey, who doesn't shut out the Leafs these days?). Calgary backup Henrik Karlsson earned a win in his first NHL game while giving Miikka Kiprusoff a rest, but then was ineffective in a 6-5 loss against Colorado.

5. The 'other' Sedin
Hovering in the shadows of last season's superlative effort by Vancouver Canucks forward Henrik Sedin -- a 112-point campaign that saw him take home the NHL scoring title and the Hart Trophy as league MVP -- was his brother Daniel. Although he suffered a foot injury that limited him to 63 games, the "other" Sedin collected 29 goals and 85 points.
So much for the shadows. So far this season, Daniel Sedin has managed to collect at least a point in every Canucks game with seven goals and 12 points. Not that Henrik has been any slouch -- he's just a point behind with 11. But after that, things drop off pretty quickly for the Canucks, who don't have any other player with more than six points.
Should the Sedins continue to produce at this level (they began the week just outside the top 10 in league point production), it will be interesting to see if they split the vote when it comes time to pick an NHL MVP next spring.
As for Daniel's point streak, he has a long way to go to match the all-time points streak from the start of a season -- that was 51 games by Wayne Gretzky in 1983-84.