Cross Checks:

Adam Larsson
November, 23, 2011
11/23/11
12:32
PM ET
There's been a lot of see-sawing through the first quarter of the NHL season when it comes to the top rookies in the NHL and there are lots of exciting first-year players making significant impacts throughout the league. Don't doubt there will continue to be ebb and flow as that's the nature of rookie play, but here's a look at our top five rookies and some honorable mentions.
Really didn't have much trouble assigning the first overall pick in June's draft with the top spot in our Trophy Tracker, given the tear Nugent-Hopkins has been on. With eight points in his past three games, Nugent-Hopkins has opened up a seven-point lead over Craig Smith of the Nashville Predators with 22 points in 21 games. Pretty impressive for the 18-year-old phenom.
Nugent-Hopkins is in a unique position in that the Oilers continue to lean heavily on their cadre of young players as opposed to having their youngsters learn the ropes while veterans do the bulk of the heavy lifting. When it looked like the Oilers had hit a significant wall during a recent road trip, it was the kids and especially Nugent-Hopkins, who answered the bell, and that bodes well for an Oilers team that continues to enjoy an unexpected place in the middle of the Western Conference playoff mix.
A little older at age 25, Read is part of a promising group of youngsters playing significant roles with the Flyers. Read has scored in five straight games and now leads all rookies with nine goals. He has 14 points in 17 games and is plus-7. Perhaps as impressive is that head coach Peter Laviolette trusts Read in important situations, including the penalty kill, where he is averaging almost three minutes a game. Talk about a confidence-booster for the undrafted native of Ilderton, Ontario.
No first-year defenseman has had the impact Larsson has had with the Devils. He leads all first-year players in average ice time by a significant margin. Head coach Pete DeBoer employs him on average 23:02 a night. No other rookie exceed 21 minutes a night in ice time. Larsson leads all rookies in even-strength time on ice and all rookies in power-play time per game. Pretty impressive for the 19-year-old who was the fourth overall pick and is playing in his first season in North America.

Although Henrique is somewhat overshadowed by Larsson in New Jersey, the 21-year-old already has had point streaks of three and four games for a Devils team that was desperate for scoring punch down the middle with the injury to Travis Zajac. In just 16 games, Henrique has 11 points on four goals and seven assists, good for fifth in rookie scoring. He has scored two game winners.
5. Craig Smith, Nashville Predators
Smith has hit a bit of a dry patch with just one assist in his past five games and still he ranks second among all rookies with 15 points. His three power-play goals is first among rookies. We recently spoke with GM David Poile and head coach Barry Trotz about Smith's rapid evolution as a player and they credit his experience at the University of Wisconsin under head coach Mike Eaves as a major factor.
Honorable mentions: Sean Couturier, Philadelphia; Slava Voynov, Los Angeles; Justin Faulk, Minnesota; Colin Greening, Ottawa; Gabriel Landeskog, Colorado.
October, 19, 2011
10/19/11
4:35
PM ET
Is two weeks into the season too early to discuss the Calder Trophy race? Not at ESPN.com! We're a little crazy that way. So let's take a look at the early race as we see it with our top five contenders as of Wednesday afternoon (Oct. 18):

The 21-year-old native of St. John's, Newfoundland, is tied for the NHL rookie scoring lead with six points (3-3) in five games. The second-round pick (44th overall in 2008) has begun the season centering the top line between Thomas Vanek and Jason Pominville. Not bad at all. At 6-foot-2 and 203 pounds, Adam has the size and strength to stand the rigors of an NHL season.

The Swedish blueliner, drafted fourth overall this past June, doesn't have a point yet, but so what? At 18, he leads all NHL rookies in ice time at a whopping 24:14 per game. That's unreal. He's got tremendous vision and is going to be a star in this league for a long, long time.

The native of Burnaby, B.C., of course, was taken first overall in June. The Oilers haven't officially announced he is here to stay, but we'd be shocked otherwise. He already has a hat trick under his belt (as of Wednesday afternoon he led all rookies with four goals) and is showing terrific chemistry with second-year winger Taylor Hall.

At 25, he's certainly the elder statesman of the freshman NHL class this season, but he's still a rookie. A free-agent signing by the Flyers out of Bemidji State University, Read is tied for the NHL lead with six points (2-4) in five games. He's also plus-4 on the season.

The 18-year-old Swede was taken second overall in June and doesn't look out of place at all despite his age. Playing the wing on a third line with Ryan O'Reilly and Daniel Winnik, Landeskog has displayed a solid, two-way game and his hockey smarts are obvious. He's got three points (2-1) in six games, but his game is more than offense.
Honorable mentions: Sean Couturier, Flyers; Jonathan Blum, Predators; Cody Hodgson, Canucks; Craig Smith, Predators.
Trophy Tracker: Calder Trophy
---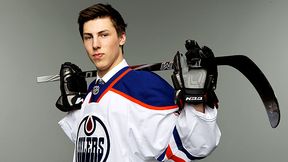 The Oilers must decide whether to keep Ryan Nugent-Hopkins with the big club or send him down to junior before the nine-game mark.