Cross Checks:

Alain Vigneault
December, 2, 2013
12/02/13
2:19
PM ET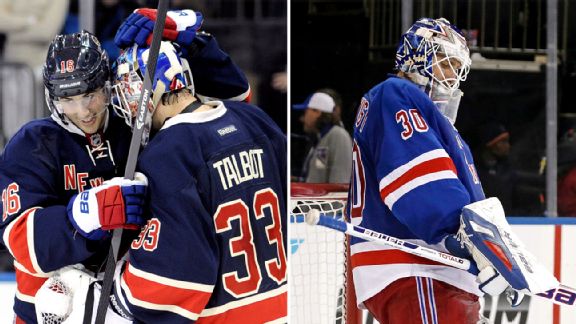 AP PhotoIs Talbot for real, or is he just a pretender to Lundqvist's throne?
NEW YORK -- What we have here is not quite a full-blown goaltending controversy.
Not yet, at least.
But
the decision to start
Cam Talbot
over incumbent
Henrik Lundqvist
was a big one, a bold one for new
New York Rangers
coach Alain Vigneault, and it will surely cause some ripples in the days ahead.
Vigneault, who so expertly left tongues wagging over the weekend after declining to reveal Monday's starter, sufficiently doused the flames when he came out and endorsed Lundqvist as the team's go-to guy -- declaring the former Vezina Trophy winner as "definitely" the team's No. 1 goaltender -- but it would be na´ve not to think that this might change things for "The King."
Because here is the elephant in the room: While Lundqvist's play has dipped and Talbot has emerged as a steady and reliable presence on the ice, there is a potentially contentious situation brewing.
That is, of course, Lundqvist's contract.
The 31-year-old Lundqvist, the team's undisputed MVP in recent years and one of the best goaltenders in the league, is on the last year of a six-year, $41.25 million contract. He's seeking a significant pay raise from the $6.875 million he makes annually, and it's hard to argue that he hasn't deserved it.
Yet, preliminary discussions between the Rangers and Lundqvist's camp have yielded little. How might this recent development change the landscape for negotiations moving forward?
The Rangers seemed to take a hard line in negotiations -- a somewhat surprising stance considering Lundqvist has often been considered their most valuable asset -- but in doing so, may have acquired some leverage. Lundqvist is not performing on par with previous seasons and Talbot is giving the club something to think about. Lundqvist is 31, which may make a max eight-year contract prohibitive. Meanwhile, Talbot is burgeoning into a bona fide NHL goaltender worthy of consideration.
That said, Lundqvist's past performance is not something that should be discounted by any means. Few goaltenders have been as steady, consistent, and durable as Lundqvist has been over the last eight years for the Rangers. Keeping in mind an ill-advised preseason schedule, a grueling nine-game road trip to start the year, and a lingering injury that kept him out for a pair of games in the first month, Lundqvist's brief decline should, in relation to his entire body of work, probably be viewed as an anomaly.
This is a franchise goaltender who has carried the team on his back for many years. Do you risk shattering his confidence, undermining his stake with the team over a rookie who has had a phenomenal, but brief, seven-game debut?
These will be important questions the Rangers must address as the season progresses and contract discussions loom. It seems inconceivable that Lundqvist would ever be traded, but who knows what can happen if a club chooses to play hardball with a guy as fiercely competitive and proud as Lundqvist.
It is premature to call Monday's decision a turning point, for the franchise or Lundqvist's future with the club, but it is fair to consider it a precursor for a developing situation that has the potential to mushroom into something much bigger.
June, 21, 2013
6/21/13
5:01
PM ET
And when the music stopped, all the coaching chairs were taken.
A whirlwind Friday in the NHL coaching world saw all the vacancies filled up, pretty much anyway.
The
Vancouver Canucks
still haven't officially named their new head coach, but all signs point to John Tortorella being their man.
Across the continent, former Canucks coach Alain Vigneault was officially introduced as the
New York Rangers
' new boss, meaning the Blueshirts and Canucks will end up simply swapping coaches if the Tortorella deal goes through in Vancouver.
Nobody said the hockey world was boring, right?
I like the Vigneault hire a lot. Having coached in Montreal and Vancouver, there's nothing Vigneault hasn't seen. New York is a bigger town but a smaller hockey market than those two previous stops. He's a terrific coach and a great communicator, and I think the Rangers struck gold with that hiring.
Not so sure I feel the same way about Tortorella in Vancouver. I've always gotten along with the man called "Torts," but I feel that a year away from the game to decompress and recalibrate would have served him better. And there aren't many more demanding markets than Vancouver, where the media spotlight will be even more intense than it was in New York.
I understand what the Canucks are doing. Their brass loves Tortorella's fiery disposition and believe he will demand more accountability from the players. This hire isn't about whether he's going to play nice with the media but rather is focused on what the Vancouver players need from their coach.
Still, this is a gamble from GM Mike Gillis in what is his first coaching hire.
Meanwhile, Lindy Ruff landed in Dallas while Dave Tippett re-upped with the
Phoenix Coyotes
.
It is not a coincidence that Vancouver and Dallas zeroed in on their guys just as Tippett announced he was staying put.
I believe the Stars and Canucks were keeping tabs on the Phoenix situation before moving on with their coaching hires, because both teams would have wanted to speak with Tippett had he been available.
Instead, Tippett waited as long as he could to see what would transpire with the Coyotes ownership situation and finally re-signed Friday. It's still not a guarantee that the Coyotes will stay put -- much of that is still being decided as the city of Glendale and the prospective Coyotes owners negotiate a lease agreement that would cement the team's future there -- but the rumors of Seattle being a solid Plan B if the team relocates were enough for Tippett to sign anyway.
In other words, Tippett certainly hopes the team doesn't move, but Seattle wouldn't be a terrible place for him. He has a daughter who lives there.
With Tippett unavailable, Dallas and Vancouver certainly hired some accomplished men, Tortorella winning a Stanley Cup with Tampa Bay in 2004 and Ruff having a successful track record with an underdog Sabres team in Buffalo, including a trip to the 1999 Stanley Cup finals.
The Stars are going through a rebuild of sorts with new GM Jim Nill -- one of the game's top talent evaluators -- and I think the patient Ruff is a good fit for a team that might need some seasoning before it is ready to win.
I feel bad for John Stevens, who appears to be the runner-up in Vancouver. The Canucks informed him over the past day that he was out of the running, a source confirmed Friday. Stevens is ready to be a head coach again, and it's disappointing he didn't get that chance this offseason.
His work with the Kings as an assistant coach is reflected in the team's sparkling defensive game. Stevens is a cerebral coach who thinks the game extremely well. He deserves another shot in a top job, and he'll just have to wait his turn. Other openings will undoubtedly beckon a year from now.
June, 12, 2013
6/12/13
6:54
PM ET
NEW YORK -- The Rangers' coaching search continues, and their list of candidates has been whittled down with Wednesday's news out of Pittsburgh of Dan Bylsma's extension.
Another candidate the Rangers had sought out, former Toronto Marlies coach
Dallas Eakins
, was announced as Ralph Kruger's replacement in Edmonton on Monday.
Rangers general manager Glen Sather, looking for a coach to replace the recently dismissed John Tortorella, was believed to have been keenly interested in Bylsma. The 2011 Jack Adams Award recipient is no longer available, though, as Penguins general manager Ray Shero bucked mounting pressure following his team's third-round exit and backed Bylsma.
At a news conference Wednesday morning, Shero announced that the Penguins had given Bylsma a two-year extension.
So, who is left?
Alain Vigneault, the former coach of the
Vancouver Canucks
, appears to be the front-runner, although the Rangers are not the only team in hot pursuit.
It is believed that the Stars are also enamored with Vigneault, though they have recently expressed interest in others (such as Tortorella, as ESPNNewYork.com reported Tuesday).
Vigneault interviewed with Sather and fellow Rangers executives at the team's annual organizational meetings in La Quinta, Calif., on Tuesday.
The Rangers have also obtained permission from Buffalo to speak with Lindy Ruff, though it is not immediately clear whether they have set a firm date to interview the former Sabres coach.
And let's not forget the Rangers' own
Mark Messier
, who emerged as a bit of a surprising candidate on the heels of Tortorella's dismissal two weeks ago.
The former captain, now an executive within the organization, expressed interest in the position, though he has no NHL coaching experience.
The Rangers could also be interested in
Phoenix Coyotes
coach Dave Tippett, should he become available. Though Coyotes GM Don Maloney told ESPNNewYork.com via email recently that the organization intends to keep Tippett, the team's tenuous future could be an obstacle.
During a news conference in Chicago on Wednesday afternoon prior to Game 1 of the Stanley Cup finals, NHL commissioner Gary Bettman discussed the possibility of relocation for the Coyotes. Quebec City and Seattle are believed to be the front-runners should the team leave Glendale, but multiple sources indicated to ESPNNewYork.com that Tippett might not necessarily be on board should the club move.
On a conference call with reporters following the Tortorella decision, Sather said he'd like to have a coach in place by the NHL draft on June 30.
May, 22, 2013
5/22/13
8:43
PM ET
So
Vancouver Canucks
GM Mike Gillis fed head coach Alain Vigneault and assistants Rick Bowness and Newell Brown to the lions.
Hardly a surprise.
That's what happens when a talented, Stanley Cup-hopeful team goes 1-8 in the playoffs over the past two years. The Canucks owned home-ice advantage in both series, and lost the first two games of the series at home both times.
Someone has to pay the price for that kind of underachievement.
And let's not forget, Vigneault was inherited by Gillis when Gillis took over five years ago. Every GM should get to hire at least one coach before any final judgments are issued on his tenure.
But does anyone anywhere think this was strictly a coaching issue? Does anyone think that as this team stands now it's simply a matter of getting a new voice behind the bench?
Maybe Gillis, who met with the media in Vancouver on Wednesday afternoon and opined that people have been after both him and Vigneault for the past five years, actually believes that.
And while Vancouver does have its own unique dynamic with the media and a fan base still waiting for the franchise's first Stanley Cup, is there a GM in Canada or any major American market who doesn't feel the same kind of pressure to produce and, moreover, to answer when there are failures?
Maybe in the coming days and months Gillis will be vindicated with this move.
Maybe someone like
Dallas Eakins
comes in and takes this team to the greatness foretold when the Canucks advanced to the seventh game of the 2011 Stanley Cup finals. Or maybe it's Lindy Ruff who does it. Or Dave Tippett, pending the resolution of ownership issues in Phoenix.
[+] Enlarge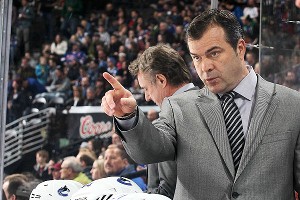 Michael Martin/NHLI via Getty ImagesAlain Vigneault took the fall for Vancouver's recent failures, but there's more blame to go around.
But if the media and the fans are this day feasting on Vigneault, this is without question a failure that extends far beyond Vigneault's game plans and his inability to get his team to play at a higher level in the postseason.
Gillis shares that burden of failure, having presided over a team that has fallen in a shocking manner from the ranks of the NHL's elite.
Gillis grossly miscalculated the trade market for goalie
Roberto Luongo
and in the end couldn't even give the veteran netminder away at the trade deadline, despite his best efforts to peddle Luongo to Toronto for a couple of draft picks.
And so the one issue that absolutely needed to be dealt with -– moving Luongo in order to allow
Cory Schneider
to fully grow into the starting role bequeathed to him at the end of the disappointing first-round loss to Los Angeles last April -- remained the elephant with pads that never left the Canucks' dressing room.
Think the Luongo market will pick up before the start of free agency? Ha.
When you get swept as the Canucks did at the hands of the
San Jose Sharks
, with Schneider allowing nine goals on 75 shots in two losses to close out the series after Luongo started and played well enough in the first two games, let's just say no other GM is going to be throwing Gillis a life preserver.
Unless he is prepared to use a compliance buyout on Luongo, which brings with it a host of salary-cap issues, Gillis is going to have to eat some of Luongo's salary and/or take on some other team's contract baggage.
And it's not as if the Canucks don't already have some of that kind of baggage. Winger
David Booth
has two more years at $4.25 million, defenseman
Keith Ballard
has two more years at $4.2 million, and Vancouver has five more years of
Jason Garrison
at $4.6 million, for the former Florida Panther who recorded zero points in the playoffs after taking a long time to get going during the regular season.
According to Capgeek.com, the Canucks are already at the cap threshold for next season with 17 players under contract.
The addition of center
Derek Roy
at the trade deadline didn't pan out at all –- he had one assist in the Sharks series -– and Roy will likely be headed somewhere else this summer as an unrestricted free agent.
So this promises to be an interesting and perhaps seminal summer for Gillis and the Canucks.
There are still too many elemental pieces on the Canucks' roster to dismiss them entirely. The Sedin twins -- Henrik and Daniel -- are cornerstone players, even if they combined for zero goals in the four-game sweep by the Sharks.
Center
Ryan Kesler
has proved to be as good a two-way forward as there is in the game, but his durability remains a nagging problem.
Kevin Bieksa
,
Alexander Edler
and
Dan Hamhuis
represent what should be the defensive foundation of a contending team.
But there remains the overwhelming feeling that this isn't a team that has simply hit a speed bump like the
Pittsburgh Penguins
or
Chicago Blackhawks
have the past couple of years. Rather, Vancouver is a team that with no obvious second wave of young talent on the horizon is on the verge of seeing its window to glory quickly closing and a window to uncertainty opening.
Maybe it was time for Vigneault to go. He won a Jack Adams Award as coach of the year, and led the Canucks to a pair of Presidents' Trophies and a Cup finals berth, but they blew series leads of 2-0 and 3-2 to Boston in the 2011 Cup finals and couldn't get out of the first round the next two years.
It was likely time for change, even as it seems likely Vigneault will find NHL employment elsewhere quickly, whether in Dallas or Colorado, depending on whether the Avalanche hire
Patrick Roy
.
But if the clock ran out on Vigneault in Vancouver on Wednesday, then the same clock is now ticking loudly in the ear of Mike Gillis.
May, 8, 2013
5/08/13
12:01
PM ET
It was always going to be the "window" series, two of the Western Conference's long-standing contenders facing off in the first round, with the losers having to face questions about their immediate future.
The
San Jose Sharks
and
Vancouver Canucks
have been kicking at the contender can for a long time, and folks in both cities this year began to wonder if things were getting a little stale.
Heck, the Sharks even retooled on the fly this season, trading away pending UFAs
Ryane Clowe
,
Douglas Murray
and
Michal Handzus
(while adding
Raffi Torres
and
Scott Hannan
) as GM Doug Wilson publicly acknowledged the need to begin the "reset" of his roster.
So a first-round loss to Vancouver would have spurred more moves -- no doubt toward youth -- for the Sharks, who have played the second-most playoff games in the NHL since 2004, behind only the
Detroit Red Wings
.
Instead, the re-energized Sharks are very much alive, thinking once again about their title hopes, after a four-game dismantling of the Canucks. It's Vancouver that has to answer very difficult questions after a debacle of a series.
The Canucks' window appears to be closing. Back-to-back first-round playoff losses since their run to the Cup finals in 2011 suggest the recipe isn't right anymore.
And getting rid of the cook may not be the only solution.
Everyone who has an opinion seems to think coach Alain Vigneault will pay the price. Certainly, it's a bullet GM Mike Gillis has kept in the chamber ever since he took over the club in April 2008, having inherited "AV" as coach.
Gillis has to shoulder some blame here, too, as all GMs whose teams have higher expectations must after being swept in the first round.
In retrospect, he should have taken whatever the
Toronto Maple Leafs
' best offer was last summer and divested himself of
Roberto Luongo
, as the goalie drama did not serve the team well at all, even if both netminders stayed on good terms with each other.
Of more concern is that Luongo was the better goalie in the series than
Cory Schneider
, whose confidence has to be rattled after the way things worked out.
But the problems here run deeper.
Henrik
and
Daniel Sedin
deserve some scrutiny here as well. Neither scored a goal in the four-game sweep. They looked tired and head into the final years of their contracts next season ($6.1 million per year). The Canucks will have an interesting decision to make -- one would think as soon as this summer, so as not to have the twins' pending UFA status hang over the team next season.
The defense is set, which is either a good thing if you like this group or a bad thing if you're a Canucks fan who wants change. But
Kevin Bieksa
,
Jason Garrison
,
Dan Hamhuis
and
Alex Edler
all have contracts that run at least through 2015-16. Unless they trade some of these big contracts, that's the Canucks' core blue line for a while.
The Canucks also have the highest payroll in the league, and the salary cap is going down to $64.3 million next season. Obviously divesting themselves of Luongo's $5.33 million cap hit via a trade or a compliance buyout will help in that regard, with
Keith Ballard
($4.2 million a year for two more seasons) another buyout candidate as well.
And because of the years of contending and going for it, there isn't a deep pool of prospects in the pipeline, either.
So, to recap:
• Do the Canucks have a bona fide No. 1 goalie in Schneider moving forward?
• Should this team still be built around the Sedins?
• Will
Ryan Kesler
ever be injury-free?
• Does this team have the right supporting cast to still contend?
• Is it time to retool, rebuild or be patient for one more run with this core?
Many questions at this point, but very few answers.
The only thing for certain is that it won't be dull in Vancouver this offseason.