Cross Checks:

Ales Hemsky
March, 27, 2013
Mar 27
3:31
PM ET
Here's something important to keep in mind as the
Ryane Clowe
situation plays itself out before next Wednesday's trade deadline.
Clowe has a full no-trade clause. The
San Jose Sharks
have to run this thing by him in order to get a deal done.
Which means if, for whatever reason, Clowe doesn't believe a certain team is a good fit, he can nix it. Although, in the same vein, Sharks GM Doug Wilson did well by
Douglas Murray
in the move to Pittsburgh, and the sense is that Wilson and Clowe have a good line of communication on what's transpiring.
A solid playoff performance on a top contender would augment Clowe's UFA market value this summer, so he's not against a trade if it makes sense for him.
Of interest is where Montreal fits into all this. Boston is tracking Clowe, among other players on its short list, as a possibility in case it strikes out on
Jarome Iginla
.
Clowe, though, is exactly what the Habs need, a power forward to complement the skill they have up front. But GM
Marc Bergevin
isn't terribly keen, I think, about the idea of giving up prime, future assets for a rental player. He knows his team, despite its success this season, isn't in the all-in mentality of Boston and Pittsburgh when it comes to the trade deadline. And the Canadiens don't have the same depth of prospects in the organization as the Bruins and Penguins do.
The early price on Clowe, I'm told, is a first-round pick and another young asset. There's zero chance the Canadiens trade a first-round pick. Bergevin wants to continue to build his base. He's got the long-term view in mind.
So my sense is that the Canadiens keep tabs on the Clowe situation but, unless the price comes down, they're not getting him.
The Rangers are also interested in Clowe.
One more interesting twist here on the Clowe situation: Don't just assume he's 100 percent headed to an Eastern Conference team. I'm told there are Western Conference teams, the
Vancouver Canucks
among them, that also covet Clowe.
Given that the Sharks may make the playoffs, you wouldn't think Wilson would want Clowe in his own conference come playoff time, but I guess it all comes down to who steps up the most in trade talks.
I know this: Clowe is a warrior. Despite his struggles this season, he would be a big-time addition to any contender. The games become more of a grind in the playoffs and he's the type of guy who excels in that context.
Jokinen clears waivers
Jussi Jokinen
cleared waivers Wednesday and that seemed to come as a surprise to many given the reaction on Twitter.
Certainly there are teams out there looking to add a top-nine forward, no question.
But as one NHL GM told ESPN.com Wednesday morning, he would have loved Jokinen more if he were an unrestricted free agent after the season. That extra $3 million left on his deal for next season made him hesitate, so he didn't put in a claim for the player.
What's at play here is that the salary cap next season goes down to $64.3 million from this season's $70.2 million maximum. Teams will be careful and picky in the kind of dollars they add to next season's payroll over the next week.
It's not over on the Jokinen front though. There are teams interested in him but they want Carolina either to eat some of his salary or take a player back in return.
Meanwhile, how about Boston claiming
Kaspars Daugavins
off waivers from Ottawa on Wednesday? He's the same player, of course, who had Bruins players raising their eyebrows earlier this month with a shootout move heard around the world. Now he brings his shootout skills to Beantown. Go figure.
Extension talk with Visnovsky
New York Islanders
GM
Garth Snow
, I'm told, reached out to Lubomir Visnovsky's camp Tuesday to see if there was any interest on the player's part in talking extension.
It's not clear whether it will lead to a deal, but agent Neil Sheehy's answer was sure, let's talk.
Visnovsky, 36, is slated for UFA status this summer, a five-year, $28 million deal expiring ($5.6 million cap hit).
If contract talks don't produce a deal, you can bet Snow's phone will ring April 3. As a rental, Visnovsky is the kind of puck-moving blueliner that many playoff-bound clubs covet and, in fact, other teams have already been calling on him.
Of course, the Islanders themselves aren't out of the playoff running -- they pulled off a huge win Tuesday night in Washington -- so Snow might not have any inclination in moving Visnovsky even if he's not signed.
Cowen on the mend?
The
Ottawa Senators
might make their best late-season addition from within.
Local media were stunned Wednesday when they arrived at the rink and saw
Jared Cowen
practicing with teammates.
The top-four blueliner originally was expected to be out for the season after undergoing hip surgery in mid-November.
Sens GM Bryan Murray, while watching Cowen skate Wednesday, told ESPN.com over the phone that there's a possibility of a late April return, although truthfully he said it wasn't clear at this point if/when the player could return.
Still, a welcome sight for the Senators on Wednesday; Cowen has been missed this year.
Tell you what, if the Senators can get Cowen, goalie
Craig Anderson
and star center
Jason Spezza
all back in time for the playoffs, hold on to your seats.
Hemsky, again
It wouldn't be a trade deadline without banter about Ales Hemsky's availability. A year ago the rumors were put to bed when Hemsky signed a two-year, $10 million extension. Now his name is surfacing, although almost it seems out of habit in media commentary as opposed to actual signs that the Oilers are shopping him.
I don't think Edmonton is actually going out of its way to shop him, but I do think they're taking phone calls on him and at this point, they have to be receptive to many things because the rebuild is lasting a bit longer than the ticket buyers had hoped in Edmonton.
The Oilers want to get tougher/grittier in their top-six forward group and they also need more help on defense. They've got lots of skill in their top-six forward group, but a little more room to skate for
Jordan Eberle
and
Ryan Nugent-Hopkins
would go a long way. Acquiring a power forward, however, is easier said than done.
I suspect you'll hear Hemsky's name out there right up to the deadline. He's got one more year left on his deal at $5 million and he does not have a no-trade clause, so Edmonton is free to do what it wants with him.
No guarantee he moves, though.
Meanwhile, there have been contract talks between the
Ladislav Smid
camp and Oilers brass. Smid is UFA after the season. He's a dependable blueliner, but if they can't sign him before April 3 and the Oilers remain out of a playoff spot, he could be a trade target. But the hope with the Oilers right now is to sign him and keep him.
Ribeiro's future
So what do you do if you're the
Washington Capitals
?
Mike Ribeiro
is a pending UFA who also happens to be leading your team in scoring.
The 33-year-old center told Washington reporters earlier this week that he'd like a long-term deal, whether that's staying put or hitting the free-agent market.
There has been a conversation between the Caps and Ribeiro's camp and word is veteran agent Don Meehan is slated to circle back to GM George McPhee before the end of the week.
The decision here isn't just intriguing from the Caps' point of view, in terms of whether they want to invest long-term in a 33-year-old Ribeiro. The player has a call to make here, too. The free-agent market isn't terribly deep this summer and he might enter the marketplace as the top-scoring player available.
It all depends, in the end, on how far Washington is willing to go with him.
March, 21, 2012
3/21/12
9:04
AM ET
By
Elias Sports Bureau
| ESPN.com
•
Evgeni Malkin
recorded his fourth five-point game of the season with two goals and three assists in the Penguins' 8–4 win over the Jets. Malkin, who had three five-point games in his career entering this season, is the first NHL player to score five or more points in a game four times in one season since 1995–96, when the man who now signs Malkin's paychecks,
Mario Lemieux
, had six such games for Pittsburgh, and
Peter Forsberg
did it four times for Colorado.
•
Ales Hemsky
recorded the first hat trick of his NHL career in the Oilers' 6–3 win at Nashville. Hemsky is the fifth Edmonton player to score a hat trick this season, following
Ryan Nugent-Hopkins
(Oct. 15),
Taylor Hall
(Nov. 19),
Ryan Jones
(Nov. 19) and
Sam Gagner
(Feb. 2). The Oilers are the first NHL team to have five or more players score hat tricks in one season since the Canucks had six in 2009–10. The last time the Oilers had five hat-tricksters in one season was 1989–90, which was Edmonton's last Stanley Cup-winning season.
Glenn Anderson
,
Martin Gelinas
,
Adam Graves
, Normand Lacombe and
Mark Messier
turned the tricks for the Oilers that season.
•
Ilya Kovalchuk
's 400th career goal was the only entry in the scoring summary of the Devils' 1–0 win at Ottawa. Kovalchuk is only the second player in NHL history to score a century milestone goal numbered 400 or higher in a one-goal game. The first was
Luc Robitaille
, whose 600th career goal came in the Red Wings' 1–0 victory at Anaheim on Nov. 9, 2001.
• The Panthers extended their winning streak to five games with a 2–1 victory at Philadelphia. It's the Cats' longest winning streak since March 2008, when they won seven consecutive games. Florida's fifth straight win leaves only two NHL teams without a winning streak of five games or more over the last four seasons: the Islanders and Maple Leafs.
•
David Jones
scored in overtime to give the Avalanche a 2–1 victory against the Flames. It was the fifth overtime goal of Jones' five-year NHL career and all of his extra-time tallies have come since January 2011. That's the most regular-season overtime goals by any NHL player over the last 15 calendar months.
February, 25, 2012
2/25/12
11:44
AM ET
Some quick nuggets from Saturday morning as I make my way from Toronto to Bristol, Conn., where the ESPN team will assemble (picture Ron Burgundy assembling his team) for trade deadline coverage:
Hemsky Signing Changes Things
Ales Hemsky
's re-signing with the
Edmonton Oilers
on Friday night eliminated the most sought-after rental for teams hoping to add a top-six forward.
Notably, it eliminated a target for the
Nashville Predators
, who had their eye on the slick Czech winger.
Now what?
There isn't much left out there.
Andrei Kostitsyn
of the
Montreal Canadiens
is on the block. Kostitsyn will be an unrestricted free agent July 1, and he needs a change of scenery. But he's had a mediocre season. My sense is that the Preds have discussed him internally.
There would be pros and cons in bringing him in. On the one hand, you'd be getting a three-time 20-goal scorer with a chip on his shoulder, hungry to prove himself again in a new setting. On the other hand, having the two Kostitsyn brothers together in Montreal proved to be a handful for the Habs (
Sergei Kostitsyn
is now with the Preds). But that was then, when they were young players, and now they're a little older. Isn't that what the
Los Angeles Kings
were betting on with
Jeff Carter
and
Mike Richards
?
And so I'd say it's a 50-50 bet that Kostitsyn ends up in Nashville before Monday's 3 p.m. ET trade deadline.
Veteran Preds GM David Poile, as is the custom, refused to discuss names from other teams Saturday when reached by ESPN.com, but generally pointed to a difficult trade market.
"We'd like to add a forward, but right now there's not a lot going on," Poile said. "Look at last night again with the teams winning. The standings are so close on both sides. There aren't a lot of sellers. It's not really your normal trade deadline situation compared to other years."
Certainly, between players re-signing with their teams and the parity in the standings, it has not created the buyer/seller market of most years. Some teams on the bubble, such as Dallas and Buffalo, are trying to make "hockey deals," where roster players are dealt for roster players, as opposed to players dumped for futures.
As for the Predators, they'll keep working the phones looking for a forward. And you don't have to worry about
Ryan Suter
, who is slated to be an unrestricted free agent July 1. He's not going anywhere.
Stars at the Deadline
The
Dallas Stars
keep winning and the playoffs look more real than ever, so it's hard to imagine they'll be too eager to move
Mike Ribeiro
or
Steve Ott
, two players other NHL sources told ESPN.com earlier this week were in play for the right price.
Unless, of course, the Stars can entice the
Philadelphia Flyers
when it comes to young winger
James van Riemsdyk
. As I reported earlier this week, my understanding is that the Stars really covet JVR and will continue to pursue him. No question, he'd be a terrific long-term fit alongside
Jamie Benn
.
And what about
Sheldon Souray
? He's UFA July 1 and the Stars would certainly be getting offers on him from contenders. But he's a popular player in the Stars' dressing room, and as pointed out above, the Stars could be playoff-bound. My sense is that it will be an 11th-hour decision on him before Monday's deadline.
Goalie Talk
The
Toronto Maple Leafs
and Edmonton Oilers had a conversation regarding
Nikolai Khabibulin
, although I don't think the Leafs are too keen on the extra year on Khabibulin's contract. I think
Evgeni Nabokov
(UFA July 1) remains the best bet, if the Leafs do indeed do anything in goal. That's no sure thing after
James Reimer
played well in a 2-1 loss to San Jose on Thursday night, which might have cooled off GM Brian Burke's desire somewhat. Then again, the Leafs host Washington on Saturday night, so let's see how that goes. Nabokov might not go anywhere. His agent, Don Meehan, was slated to resume contract talks with Isles GM
Garth Snow
on Saturday. But even if there's no extension, Snow might just decide to keep him.
The
Ottawa Senators
are without
Craig Anderson
for a bit after he suffered a hand injury using a kitchen knife. My sense is that despite the fact that
Dwayne Roloson
and
Marty Turco
could be options, GM Bryan Murray will make a deal only if he can find a younger netminder who can grow along with Anderson over the next few years.
February, 24, 2012
2/24/12
3:54
PM ET
More nuggets from Friday afternoon as we march toward the trade deadline:
February, 21, 2012
2/21/12
10:53
AM ET
For one week only, we will dissect trade rumors, trying to guide you with what we know. Daily Debate will return next week.
One of the names that has been in the air vis-a-vis the trade deadline for literally weeks is that of
Edmonton Oilers
winger
Ales Hemsky
. The Oilers have been out of the playoff race for a long time and, with a stable of young forwards trying to learn on the job in Edmonton, it has seemed clear for some time that Hemsky doesn't fit into the team's long-term plans there. At age 28, Hemsky will become an unrestricted free agent July 1. He is blessed with jaw-dropping talent and is one of the very few players on the market who is both a straight rental and could, in theory, pay immediate dividends on a team's power play or playing with other skilled players.
The problem is that, well, he's Ales Hemsky and that means he comes with more than a little baggage, including a stunning lack of durability and a questionable work ethic. Hemsky is one of those trade-deadline gambles who has the potential to make a general manager look like a genius or a bum. The upside of Hemsky is that his asking price is going to be fairly modest now that he has gone 16 straight games without a goal as of Tuesday morning and collected 10 assists during that period (he's also minus-8 during that stretch). Hemsky wouldn't require a roster player and would likely command a small collection of mid-round draft picks and/or a prospect.
In comparison, a player like
Tuomo Ruutu
would draw a higher price, and his status remains in limbo in Carolina. Ruutu is expected to discuss his contract with Carolina GM Jim Rutherford in the next day or so and isn't expected to return to the lineup from injury until the second week of March.
The major knock on Hemsky, according to a number of GMs from contending teams contacted this week, is that he is perceived as soft and that means he won't be considered by some teams regardless how great their need is for offensive help. But Hemsky, who is making $5 million this season but comes with a slightly lower cap hit of $4.1 million, also remains attractive almost by default given how few skilled players look to be available by Feb. 27. One GM of a playoff team told ESPN.com that Hemsky might be a player they look at late in the going on the 27th.
Here's a look at a couple of potential landing places for Hemsky:
New York Rangers
The Rangers are still mulling the
Rick Nash
scenario but would like to add more pop to an offense that currently boasts the 27th-ranked power play in the league. Not sure Hemsky is a John Tortorella guy, but he might thrive in the high-speed game favored by the acid-tongued coach. The upside for the Rangers is that they wouldn't have to upset their every-day roster to acquire Hemsky, something that stands as a major roadblock to discussions about acquiring Nash.
Nashville Predators
GM David Poile has bulked up on the blue line by adding highly coveted defenseman
Hal Gill
but would like to give his offense a shot in the arm. Head coach Barry Trotz has the perfect temperament for getting maximum production from players who may need some extra coaxing -- his work with former Montreal whipping boy
Sergei Kostitsyn
who now plays on the Preds' top line is a case in point -- so there wouldn't be as much hesitation in bringing in a player like Hemsky as there might be in other markets. Because there is no exposure financially beyond the end of this season, this is attractive given Poile's need to get defensemen
Ryan Suter
and
Shea Weber
under contract long-term.
Boston Bruins
The defending Stanley Cup champs have struggled of late and they are now dealing with the loss of top-six forwards
Nathan Horton
and
Rich Peverley
for weeks, all of which may be causing a slight broadening of GM Peter Chiarelli's shopping needs. Hemsky definitely doesn't fit the Bruins' DNA in terms of work ethic and snarl, but it's worth noting that head coach Claude Julien has also been adept at getting production out of players who are seen as underachievers like
Michael Ryder
, who produced some crucial goals for the Bruins last spring. Hemsky may not seem like an obvious fit for this team but circumstance may make him more attractive to the Bruins now than, say, three weeks ago.
Los Angeles Kings
Interesting dilemma for GM Dean Lombardi, whose Kings have fallen beneath the playoff surface in the Western Conference almost entirely due to a lack of production. They are 30th in goals per game and 24th on the power play, and Lombardi faces incredible pressure to address that problem. The Kings, needless to say, are looking into the possibility of acquiring Rick Nash, but failing that, Lombardi will need to search elsewhere for help. The issue for Lombardi is that, having acquired the lamentable
Dustin Penner
at the trade deadline a year ago -- Penner has been a monster disappointment and recently a healthy scratch -- he will be loath to bring on another player who may not be able to play for the demanding Darryl Sutter, no matter how cheaply he might come.
Detroit Red Wings
The Wings have loads of cap space and wouldn't mind adding a piece or two, but for a team that sits atop the standings in the Western Conference and currently leads the race for the Presidents' Trophy as the top team in the league, Detroit's needs are certainly minor compared to those of other teams. Hemsky's name has been connected to the Wings at various times in recent weeks, but it's believed their interest in the winger has cooled. That could change as the hours tick away to 3 p.m. EST on Monday.
February, 3, 2012
2/03/12
11:42
AM ET
Tim Gleason
was a man in demand.
Philadelphia, Boston, Chicago, Nashville and Detroit were just some on a long list of the teams that were believed to have some level of interest in the rugged defenseman.
Slated for unrestricted free agency on July 1, he was an obvious target for playoff-bound contenders, and the trade rumors were hard to ignore.
"I was pretty much going somewhere every day," Gleason laughed Thursday night in a chat with ESPN.com.
Hurricanes GM Jim Rutherford knew he could get very good value for Gleason, but he wrestled with the thought of having to replace him next year.
[+] Enlarge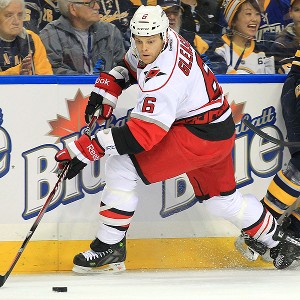 Kevin Hoffman/US Presswire "The last 10-15 games, we're moving in the right direction," Tim Gleason says of his decision to stay in Carolina. "We're in every game. It's only going to get better I believe."
"Despite what the rumors were, I don't think at any time we had made a decision we definitely wouldn't keep him," Rutherford told ESPN.com Thursday night. "As we studied it, we just felt if we let him go that he'd be hard to replace. So we met during the All-Star break and we're able to get something done."
Said Gleason of the four-year, $16 million extension announced Monday: "It got done pretty quickly."
The deal includes a no-trade clause for the first two seasons of the deal, but it doesn't kick in until July 1. Because of that, Gleason's veteran agent, Pat Morris of Newport Sports, protected his client by getting in writing Rutherford's assurance that he wouldn't move Gleason between now and July 1.
Rutherford looked Gleason right in the eye and promised him as much.
"I shook Jimmy's hand, it was a promise," Gleason said. "You have to respect that, obviously. Jim is well respected by myself and my family. We were happy to get the negotiations finished."
The grass can often look greener in pro sports. Gleason knew some of the teams rumored to want his services had a serious shot at winning a Cup. But he said he the Canes are turning things around, and he wants to stick around for it.
"The last 10-15 games, we're moving in the right direction," Gleason said. "We're in every game. It's only going to get better I believe. That was part of my decision."
The other part? Gleason and his family have been in Raleigh since 2006. It's home now.
"I've been here for a while and you get to know people inside and outside of hockey," he said. "Friendships are hard to find here and there around the hockey world. We're happy here."
Red Wings' shopping list
The
Detroit Red Wings
remain on the hunt for a top-six forward, but I'm not so sure they're as keen on Oilers winger
Ales Hemsky
as they were earlier this season.
I was told Friday that now they're more inclined to try to pick up a forward who has more edge to his game.
Forward
Tuomo Ruutu
of the
Carolina Hurricanes
is one of several names on the Wings' short list. But, will he be available in the end? The Hurricanes could always pull a Gleason with Ruutu and talk extension with the forward before deciding whether to trade him.
The Wings are like many of the contenders right now, they haven't done anything because the buyers outnumber the sellers on the trade market.
As for Hemsky (UFA on July 1), I believe Los Angeles and Nashville still have interest in him.
I wrote earlier Friday that perhaps
Dominic Moore
would be another name the Wings were interested in, completely forgetting
the history between the Moore family
and
Todd Bertuzzi
. Scratch that idea.
Schneider's future
Cory Schneider
's trade value continues to soar with each and every impressive performance.
But judging from what sources around the league are telling ESPN.com, I would be stunned if the
Vancouver Canucks
moved him before Feb. 27.
It's not impossible, but my understanding is that the Canucks would have to be absolutely blown away by an offer.
My sense is that the Canucks are more than happy to have a 1-A and 1-B situation in goal with
Roberto Luongo
and Schneider entering the playoffs, giving themselves tremendous insurance should Luongo either get injured or struggle.
Come summer, the Canucks can revisit their situation in goal and capitalize on their depth on the trade market.
I also think it's brilliant that coach Alain Vigneault started Schneider for a key game in Boston earlier this season, as well as in this past week's win over the rival Blackhawks. It gives Vigneault the necessary confidence to know that if he has to go to Schneider in a playoff game, he can do so without worry.
Jagr's extension talks
The Flyers and Jaromir Jagr's agent, Petr Svoboda, had preliminary conversations last month about a possible extension.
Jagr wanted some time to think about things before getting back to the Flyers.
"I'll be talking to [Flyers GM] Paul Holmgren again within a week probably," Svoboda told ESPN.com Wednesday.
Jagr, who turns 40 on Feb. 15, signed a one-year, $3.3 million deal last summer. He'll be an unrestricted free agent on July 1, but there's obvious interest in staying in Philadelphia if both sides can come to agreement.
"It's a good situation for him there," Svoboda said.
Blackhawks not done
Chicago's acquisition of veteran center
Brendan Morrison
doesn't mean the Blackhawks are done before the trade deadline.
The Hawks, I'm told, would like to acquire a defenseman to play on their third pairing. After allowing eight goals in Edmonton on Thursday night to sit 25th in goals against in the league entering the weekend, help on defense should indeed be a priority.
And despite getting Morrison, they'd still be willing to add a forward, one with grit. With the rugged
Daniel Carcillo
out for the season, they'd like a little sandpaper in any forward they acquire.
Predators' recent success
One of the reasons for Nashville's torrid run of late might surprise some, given that people assume defense to be the team's top priority. Fact is, the Preds were middle of the pack in early January in goals against but have really tightened up over the past month.
"Defensively we've been much better than we were earlier in the year," Preds coach Barry Trotz told ESPN.com this week.
Trotz also pointed to the leadership on the team as a major contributing factor.
"The young guys are playing more like poised veterans, and the veterans are doing a really [good] job in terms of helping them out," Trotz said.
"Our core of leaders is as strong as it's ever been here in terms of character and work ethic. Also in terms of accountability to teach others, they don't take any days off; they're very professional."
January, 24, 2012
1/24/12
11:51
AM ET
Scott Burnside and Pierre LeBrun discuss Tim Thomas not going to the White House, Alex Ovechkin hitting Zbynek Michalek and the Pacific Division standings.
Burnside:
Good morning, my friend. Well, no shortage of things to kick around today as we head into the final games before the All-Star break. First of all, I'm wondering what you, as a Canadian, thought of
Tim Thomas
not joining the
Boston Bruins
on their visit to the White House, citing his disapproval with how senior politicians have performed in the United States.
"This was not about politics or party, as in my opinion both parties are responsible for the situation we are in as a country," Thomas said in a statement released on his Facebook page. "This was about a choice I had to make as an INDIVIDUAL."
Thomas, of course, is a U.S. citizen, one of just two American-born skaters from the team last spring. And the reigning Vezina Trophy and Conn Smythe Trophy winner's absence was keenly felt by his team. I know team officials were disappointed at Thomas' choice, but if ever there was a moment where free speech should have been respected, it's as it relates to a visit to the White House. Talk about bringing the constitution to the people. But you know that free speech never plays all that well in pro hockey locker rooms, so my question for you is how you think this will play out. Thomas gets lots of leash because of who he is and how he's played, but I wonder if this is the kind of thing that suggests Thomas thinks he's bigger than the team, and for a team whose hopes of a repeat championship rest on the collective as opposed to the individual, Thomas' split from his team on a very public stage bears watching. Your thoughts?
LeBrun:
One of the reasons politics and sport never mesh too well is that fans escape the real world when they passionately enter the sports world. It's about forgetting your job, the stresses in your life, the money you owe the bank, the violence in your city and, yes, the politics that divide society. Sports fans don't want to be reminded of real life when they're zoned in on their sports world.
Monday should have just been about Bruins fans enjoying one final, glorious moment from last spring's Cup triumph. That Thomas chose to politicize that moment will rub some fans the wrong way. As you mentioned, it disappointed members of the organization and no doubt some teammates. It might have also confused a dressing room consisting of 17 Canadians, a Czech, a Slovak, a Finn and a German. I can't imagine those dudes are too well-polished on American politics.
Joe Corvo
and Steven Kampfner are the only other American-born players on the current roster.
Still, I will say this, there are few players in the league I've enjoyed writing about over the years more than Thomas. His journey is well-documented. But his honesty has always been unquestionable. You never feel like you're being fed a line from him. He speaks from the heart. So on this I will at least say, it took stones to stand up for his beliefs when a lot of athletes would not have bothered. I just don't think, in the end, it was appropriate. Thomas would have still made his point by scrumming after the White House event and delivering his message. People would have respected him for that. But to snub it altogether took away from the team. And the team is what Thomas has always stood for, first and foremost.
Burnside:
Chemistry is such a delicate thing, and it would seem improbable that Thomas' choosing to be a conscientious objector to the team's White House visit would upset a team that, I think, is even better than the one that won the Cup last spring, but stranger things have happened, no? Still, I'll be shocked if we see the Bruins veer off course because of this incident.
Speaking of veering (or leaping), Washington captain Alexander Ovechkin will cool his blades for the next three games for leaping into the air and crunching Pittsburgh's
Zbynek Michalek
against the end boards in Sunday's shootout loss to the Penguins. (Ovechkin
pulled out of the All-Star Game
on Tuesday afternoon.) This is the fifth suspension/fine for reckless behavior Ovechkin has incurred in his career or roughly one a year. I didn't like the hit. As league disciplinarian
Brendan Shanahan
noted in his video explanation (I hope he's getting paid by the video hit, he's been so busy), Ovechkin didn't need to leave his feet to make the play on Michalek, which suggests a guy that still doesn't get it.
That strikes at the heart of my disappointment at how the league's supplementary discipline has degenerated into more of the same after such a promising start. You and I spoke to Shanahan in the fall. He insisted that his mandate, reinforced by discussions with GMs and players around the league, was to go after the repeat offenders. Well, hard to imagine that three games is anything more than an extended All-Star break for Ovechkin. This is a guy who saw his teammate
Nicklas Backstrom
go down, thanks to a dangerous elbow from
Rene Bourque
a few weeks ago, and Backstrom still hasn't played. Obviously that had little impact on Ovechkin. You know what might have made an impact? A 10-game stint on the sidelines. Time to start making both teams and players pay for their dangerous work.
LeBrun:
Ten games? That is crazy. I actually think that hit didn't warrant more than one game, but Ovechkin got three because of his two prior suspensions and two prior fines. The test on Shanahan was always going to be how he reacted to a star player in supplemental discipline. I think we can safely agree now that he's not shy about suspending a star player. Still, I suspect the general issue of supplemental discipline will once again be brought up for discussion at the March GM meetings in Boca Raton, Fla. From talking to GMs, some are pleased, some believe the judgments should be harsher and some want to see more consistency. They handed Shanahan his mandate, so we'll see what comes out of those meetings.
Burnside:
Well, I think you're dead wrong on the Ovechkin thing, but that's not the first time I've believed that of you. Guy jumps into the air -- that's an obvious no-no -- and he hits another guy in the head when the puck is long gone -- another no-no -- and he's a repeat offender. Uhm, five games minimum, but if you want to be a catalyst for change you have to do something other than the status quo, and a three-game knock for the loose-cannon captain of the Caps (a little alliteration for you this morning) isn't going to change much, sadly.
But before we close, you and I have long been watching to see how the Pacific Division was going to take shape in what has been a curious season for the once hotly contested grouping. The
San Jose Sharks
are still technically in first place in the Pacific after picking up a point in a shootout loss to Edmonton (huh? Really? Edmonton?), while Los Angeles moved into a tie with the Sharks in points with a big win over Ottawa at home. The Kings have played four more games than the Sharks, but the Sharks have to be worried about
Brent Burns
after he was involved in a knee-on-knee hit with
Ales Hemsky
that saw Hemsky ejected and Burns hobbled. A key offseason acquisition, Burns isn't expected to play in the Sharks' last contest before the All-Star break Tuesday in Calgary. If he's lost long term, it will further blunt the team's ability to either jump up in the Western Conference standings (it is just four points back of Vancouver for the second seed with two games in hand) or, more importantly, hold off the Kings for the division title and home ice in the first round. The Sharks have been wildly unimpressive of late, winning just once in five games, and the loss of Burns would only make a murky situation even more convoluted.
LeBrun:
The Sharks can ill-afford to lose Burns long term, no question about it. He's third on the team in ice time at 22:25 per game and is third in power-play ice time and short-handed ice time. In other words, he's hardly replaceable. My sources tell me the Sharks were already on the lookout for a forward in trade talks before this injury happened, so you wonder if they add a defenseman to that shopping list if the injury is serious or if they simply increase the workload on a youngster such as
Justin Braun
.
As for Hemsky, I was told this morning he will avoid any suspension, although he might get fined or at least get a warning from Shanahan.
Until tomorrow, my friend.
February, 26, 2011
2/26/11
9:02
PM ET
The clock is ticking toward Monday's 3 p.m. ET trade deadline, and the focus centers more and more on the Los Angeles Kings.
Ever since they lost out on Ilya Kovalchuk last summer, the cap room has been there, sitting and waiting to use for a sizable addition up front. The idea was to scour the market and jump on a chance to add a top-flight winger.
The early-season target was Jarome Iginla, but the Calgary Flames told Los Angeles their captain wasn't going anywhere. The Kings then spoke to the Dallas Stars about James Neal, but the price tag of Jack Johnson was too high for them.
[+] Enlarge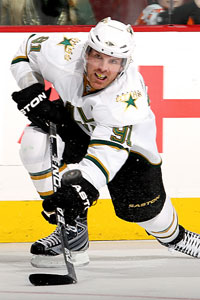 Jim McIsaac/Getty ImagesMarquee free agent Brad Richards signed a $60 million, nine-year contract in July.
Now, the deadline is almost here and the Kings still haven't made their move. They have targeted Brad Richards, Ales Hemsky and David Booth, in that order. The Kings really covet Richards, but it's a complicated situation because of the star center's concussion (he skated again Saturday but there's still no timetable for his return) and no-movement clause, plus the fact he is property of a rival Pacific Division team.
Still, expect the Kings to monitor him right to the deadline. The New York Rangers are also quite interested in Richards. Despite Saturday's acquisition of Bryan McCabe, a source told ESPN.com the Rangers could still swing a deal for Richards, but it would be "tricky" cap-wise.
A source close to the situation figured this will be a Monday trade, if there's a move at all. The Stars won their second straight game Saturday and are very much alive in the West playoff race. GM Joe Nieuwendyk may look at what he's being offered Monday and decide that keeping Richards is a better investment for his team's playoff run, even if that means losing him for nothing July 1. The Stars have not yet gone to Richards with any offers, but it will have to happen soon, possibly Sunday night.
I still think July 1 is the best play for Richards. One NHL GM I spoke with Saturday said while he can't make a play for him now, he'll certainly get into the fray July 1. And this is a team that hasn't been remotely linked to Richards this season. Translation: July 1 will be a bonanza for Richards, who will clearly be the top UFA in a weak market.
If Richards doesn't pan out for Los Angeles, what then? We've been telling you all along about the interest in Hemsky. But until the Oilers move off their demand of prized Kings prospect Brayden Schenn, forget about it.
Crosby update
People in the media are speculating over Sidney Crosby's return, but the truth is, no one knows, not even him. It doesn't look good since he's been out nearly two months; but, at this point, no one has made the call to shut down his season.
"Sidney is still not symptom-free," his agent, Pat Brisson, told ESPN.com on Saturday. "We have to go a day at a time. Anyone in the media speculating that his season is over is jumping the gun. No one knows. That's the truth. All we know is that we have to be extremely cautious."
Thanks to a tip from my "Hockey Night in Canada" colleague Elliotte Friedman, I was able to confirm the Vancouver Canucks and Ottawa Senators exchanged a call over the past few days. A source told us one of the names that popped up during the conversation was Chris Phillips, but it didn't go very far. Nothing real serious at this point.
The Senators still aren't sure what they'll do with Phillips. There were more contract talks Saturday between Ottawa and his agent, J.P. Barry, but both sides still can't bridge the gap. Meanwhile, the Sens lost Montreal as a potential trade partner for Phillips. I'm told the Canadiens phoned Ottawa on Thursday and said they couldn't wait anymore, so they instead dealt for Brent Sopel.
Maple Leafs
The Leafs continue to covet Avalanche defenseman John-Michael Liles, but Colorado isn't totally sure it wants to move him at this point.
Meanwhile, regarding Toronto winger Clarke McArthur, the Leafs have taken calls on him from other teams while still holding out hope they can sign the RFA-to-be. The Leafs and McArthur's agent, Don Meehan, held contract talks earlier this week, but still weren't close as of Saturday.
Don Meehan and Craig Oster of Newport Sports met with the Predators' brass Thursday in Nashville and had serious contract discussions regarding Shea Weber. The Preds have their ownership house in order and attendance is up. Now, the biggest priority is to sign their star captain and franchise player, who is set to become a restricted free agent July 1. We'll see if they can get it done.
This and that ...
• Despite internet chatter linking the Red Wings to veteran goalie Ty Conklin, I'm told Detroit will not him off waivers. Chris Osgood is about 7-10 days away from returning. They don't want to carry three goalies and then have to send down a skater.
• My Hot Stove colleague Eric Francis chatted with the Colorado Avalanche on Saturday and they told him neither center Paul Stastny nor captain Adam Foote will be traded.
• After losing Nick Boynton on waivers Saturday, the Blackhawks are more resolute than ever to pick up a depth defenseman if they can.
• Why Marco Sturm? The Caps believed they needed a little more offensive punch and hope he can provide it. They thought it was a risk worth taking since they gave up nothing. Plus, the Caps can still make another move if something pops up that interests them.
• The Phoenix Coyotes are looking for defensive depth before the deadline.
February, 25, 2011
2/25/11
3:29
PM ET
The Los Angeles Kings raised eyebrows Friday when they put Marco Sturm on waivers, prompting many to believe that perhaps cap space was being cleared for an imminent trade.
Not so. Not yet, anyway.
"This is strictly for roster flexibility at the deadline," Kings GM Dean Lombardi told ESPN.com on Friday.
The Chicago Blackhawks did the same thing with Nick Boynton on Friday.
Right now, both clubs are carrying the maximum 23 bodies at the NHL level. Should L.A. or Chicago want to acquire a player between now and Monday's 3 p.m. ET trade deadline, it could demote Sturm or Boynton without either player needing 24 hours to clear waivers. That's the key.
Lombardi, meanwhile, also told us at 2:15 p.m. ET on Friday that no trade was imminent. Of course, as I've learned throughout the years, it takes only one phone call to change that.
What now for the Kings? Lombardi would not say.
As I reported earlier this week, the Kings have interest in Brad Richards, Ales Hemsky and David Booth. Other NHL sources confirm that the Kings have had talks this week with all three of their teams. At this point, a trade for Richards does not sound like it has much of a chance, so it would appear that Booth or Hemsky is the best bet.
Stay tuned.
The Minnesota Wild, meanwhile, are knocking on the playoff door and could use some help on offense. Yes, GM Chuck Fletcher is looking closely at the NHL trade market, but he's not sure anything will come his way.
"It's not a real deep market,'' Fletcher told ESPN.com on Friday. "There are more buyers than sellers. The prices for players are a little inflated right now. ... Our focus is on getting our injured players back."
Most notably, top-six forward Guillaume Latendresse and star captain Mikko Koivu. Fletcher said that Latendresse, out most of the season, might be back in seven to 10 days, while Koivu is two to three weeks away.
"There's some games we can use an extra goal, no question, but you look at the players we have out, and they would upgrade our offense by a lot," Fletcher said.
Elsewhere Friday afternoon:
• As expected, the Buffalo Sabres put defenseman Craig Rivet on re-entry waivers Friday. There's a good chance he'll be claimed because a team would have to pay only half of his remaining salary. (CapGeek says his remaining cap hit for a claiming team would be $404,570 this season.) A handful of teams told me, on the condition that I not name them, that they were considering claiming him. We'll find out at noon ET Saturday.
• J.P. Barry, the agent for Chris Phillips, spoke again with Senators GM Bryan Murray on Friday. Still no resolution at this point. The UFA-to-be blueliner could sign an extension or be dealt.
• Will defenseman John-Michael Liles move? The Colorado Avalanche continue to get calls about him. Liles has one more year on his deal next season paying him $4.55 million ($4.2 million cap hit). Liles has a limited no-trade clause; last season he listed 12 teams he'd be willing to be traded to. Toronto and Buffalo are among those teams.
I mention those two teams because Sabres goalie Ryan Miller is best friends with Liles going back to their Michigan State days. The Leafs, as we reported earlier, have made inquires on Liles in part because GM Brian Burke had Liles in the U.S. lineup at the 2009 world championships. The blueliner put up nine points (1-8) in nine games that year in Switzerland.
• Penguins forward Mike Comrie has been out most of the season. He's on the mend, however. "Trying to get back by April," Comrie texted to us.
February, 25, 2011
2/25/11
12:43
PM ET

Stock Up
Ales Hemsky, Edmonton Oilers:
Is the talented Hemsky heating up at just the right time for the Oil to cash him in for some more assets moving forward? Hemsky, who has skill to burn but has had trouble staying healthy, has four goals and six assists in his last seven games. Hmmm. Think L.A. GM Dean Lombardi has noticed? What about Pierre Gauthier in Montreal?
Matt Moulson, New York Islanders:
We spend a lot of time hammering the Islanders for their various faux pas, but there are lots of interesting things happening on Long Island, including the high-end work of big forward Moulson. Kudos to GM
Garth Snow
for getting Moulson under contract as opposed to trading him -- something that had been rumored earlier in the season. Moulson has rewarded the Isles' faith in the form of a three-year contract extension with eight goals and three assists in his last eight games.

Stock Down
Brian Boyle, New York Rangers:
Boyle has been one of the surprising bright lights for the Rangers this season, chipping in 19 goals from the center position, a thin spot for the boys from Gotham. But Boyle's production has slowed of late with just one goal in his last 10 games. No coincidence that the Rangers have also found points hard to come by in the standings.
Tomas Plekanec, Montreal Canadiens:
Plekanec remains the Habs' leading scorer by a wide margin but will need to get back on track to keep the Canadiens pointed in the right direction. Plekanec has just one goal and three assists in his last nine games. Lack of production from him and the team's top line puts additional pressure on a banged-up defense and netminder
Carey Price
.
February, 11, 2011
2/11/11
5:15
PM ET

Kings interested in Hemsky?
As the trade deadline approaches, the Los Angeles Kings haven't changed their target since the season began: Add a top-six forward before Feb. 28.
There isn't a whole lot on the market right now in terms of top-six forwards, but one name I am told intrigues the Kings is Ales Hemsky of the Edmonton Oilers.
The problem is, it's not clear whether Hemsky will be dealt. The Oilers are listening, but they are not desperate to move him. The 27-year-old has one year left on his deal, next season at $5 million with a $4.1 million cap hit.
Hemsky would fit the Kings' need to add offensive creativity up front. If the Oilers decide to keep Hemsky, Los Angeles will have to hope more teams drop out of the playoff race between now and Feb. 28, introducing new names to the market.

Stars and the trade deadline
The slumping Dallas Stars have big weekend games against the Chicago Blackhawks and the Columbus Blue Jackets, and every game from here on out might affect the way GM Joe Nieuwendyk approaches the trade deadline.
A month ago, the Stars were leading the Pacific Division and challenging Vancouver for top spot in the West. But after they dropped six of seven games, the entire Pacific Division is back in contention for first place. As of Friday morning, the Sharks were tied with the Stars, and the last-place Kings were only five points out. What's even more nerve-racking -- the skid has left the Stars only five points clear of the postseason cutoff point in the conference. What a race in the West!
So what now for Dallas? Help on the blue line is the likely target, but with the club still seeking a new owner, adding another piece after pushing the envelope with the Jamie Langenbrunner acquisition won't be easy.
"I'm listening to everything, if something makes sense ... but our biggest challenge is the money and whether we could do it,'' Nieuwendyk told ESPN.com on Friday. "They [bank lenders who control the team] were good enough to let us do Langenbrunner, so we'll see."
The question is, what position will the Stars' GM be in by deadline time? Will he be a buyer, like he is now, or a seller, if the Stars keep losing games and sliding down the standings?
It's a relevant question when it comes to star No. 1 center Brad Richards, who is set to become an unrestricted free agent July 1. For most of the season, it was assumed Richards wouldn't be going anywhere with the Stars flying out of the gates and that Nieuwendyk likely would take his chances at re-signing the forward following a potential long playoff run with Richards in the lineup.
But if the Stars are only one or two points clear of the danger zone come Feb. 28, do they not at least seek out what kind of package is out there for Richards, something that potentially could set up the Stars for five years?
Richards has a no-movement clause, but I'm guessing if the right team calls, he might be willing to waive it. Take Boston, for example. The B's now are armed with the Marc Savard cap savings and could offer him a chance at a Cup run.
It all depends on how the Stars do over the next two weeks. Did we mention they have big games this weekend against the Hawks and Jackets?

What about the Red Wings?
My colleague Darren Dreger at TSN had an interesting tidbit in his daily roundup Friday, reporting that the Detroit Red Wings might be active on the trade front in order to shake up a slumping squad.
I reached out to Wings GM Ken Holland on that.
"We haven't played very well defensively the last month, and I'm going to watch the next two weeks to decide if I'm going to try to do something," Holland told ESPN.com. "We're getting players back the next week, so let's see where we are as we get close to the trade deadline."
In other words, maybe a trade, maybe not. If he does pull the trigger, it likely will be on defense.

Fisher fallout
During a media call Thursday evening, Sens GM Bryan Murray said the Mike Fisher sweepstakes involved about four teams at one point, but it really came down to two teams and the runner-up pulled out Wednesday night because it wouldn't pay the price. That runner-up was not the Los Angeles Kings. Yes, the Kings inquired about Fisher, a source confirmed Thursday, but they were out of the picture about 10 days before the trade.
Murray also explained that conditional pick his team got in the deal. It's a third-rounder in 2012 if the Preds win a playoff round this season; it improves to a second-rounder in 2012 if the Preds win two playoff rounds. But what if the Preds don't win a playoff round at all? A pertinent question since, well, the Preds have never won a playoff series. No conditional pick, Murray confirmed. Ah, those tiny details details.
Meanwhile, I asked Murray about the latest with Chris Phillips, set to be UFA July 1 but armed with a no-trade clause. Murray confirmed he recently had a chat with the veteran blueliner and was waiting to hear back from him as to whether he wanted to waive his NTC and explore a trade. Reached via text Friday, Murray said he still "wasn't sure'' how the Phillips situation would play out.

Sharks GM keeping quiet
Sharks GM Doug Wilson is about as coy as they come this time of year. When he makes a big trade, it's usually without anyone having a clue about it beforehand. He keeps his cards close to his vest. So, when I reached him Friday on his cell, he politely declined any comment regarding the trade deadline.
We'll dub him "Lou Lamoriello, West."
And like Lamoriello's Devils team, which the Sharks were playing Friday night in Newark, San Jose has been absolutely on fire of late, riding a 9-0-1 run.
A couple of minor moves last month -- picking up Kyle Wellwood and Ben Eager -- have had a nice impact. Meanwhile, several players who struggled in the first half have picked it up, most notably Marc-Edouard Vlasic and Joe Pavelski.
I think it has lessened the pressure on Wilson to do anything before the trade deadline. Yes, adding a top-four blueliner would be nice, but there's big-time market competition on that front. I suspect Wilson will continue to monitor the defensemen rental market closely, but he's got another card up his sleeve. Young blueliner Justin Braun has really impressed this season in the AHL, so don't be surprised if he gets a late-season call-up, just like the Sharks did with Logan Couture a year ago.
Braun had a taste of the NHL earlier this season when the Sharks were hammered with injuries, and he didn't disappoint, putting up nine points (1-8) in 15 games with an even rating.

Seabrook not moving
Somehow Brent Seabrook's name got swept up in trade rumors this past week. Well, I guess it's that time of year. Maybe it's because he still hasn't signed a contract extension (he's set to become a restricted free agent July 1). But a Blackhawks source told ESPN.com on Friday that the trade rumors involving Seabrook were a total fabrication and the team is still in the process of trying to re-sign him.