Cross Checks:

Alex Burrows
January, 12, 2012
1/12/12
11:42
PM ET
Before Thursday's entertaining tilt between the
St. Louis Blues
and the top-ranked
Vancouver Canucks
, Blues general manager Doug Armstrong told us he was curious about how the Blues would respond in the second half now that they are regarded as not just a playoff contender, but a Cup contender.
The answer after watching the Blues' 3-2 overtime loss Thursday: the Blues look like a team that is "that" close. But what is close worth?
With a chance to move into a tie for first overall in the Western Conference, the Blues were just a little short. No shame in that.
[+] Enlarge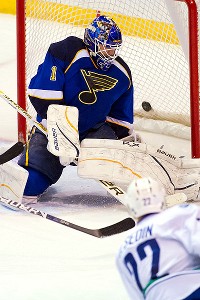 Scott Rovak/US PresswireDaniel Sedin beat Blues goalie Brian Elliott just 46 second into overtime.
Or maybe it was more a case of the Canucks being just a little taller.
No shame in that from a Canucks team that is now 7-2-1 in its past 10 games. Still, an interesting night all around and here's a look at how it played out:
One of the interesting elements of this matchup was the relative strengths of each team on display and how they contributed to the final outcome.

The Canucks rule when given the man advantage, leading the NHL in manpower efficiency. The Blues, however, are one of the most efficient teams playing five-on-five. After trading five-on-five goals through regulation, the Canucks' power play was the difference as they converted on a late power-play goal by one of the All-Star-bound Sedin brothers, Daniel.

St. Louis captain David Backes didn't like the boarding call he received with 20 seconds left in regulation after Alex Burrows tumbled into the boards in the Blues' zone, which set up the winning goal. Does Burrows, who scored the first two goals of the game for the Canucks, have a reputation for embellishing? Sure. Was this a well-earned penalty? Sure was. We're not talking suspension, but we are talking a check from behind. Simple call, really, in spite of what the locals might have thought.

Did the Blues deserve better? Maybe. They outshot the Canucks 23-12
through the last two periods. They outshot Vancouver 7-2 in the third and it was the work from the oft-maligned (but remarkably steady) Roberto Luongo that kept the game close. The Blues, riding a 9-0-1 streak at home, out-hit the Canucks and carried most of the play through the final two frames.

One of the elements that Armstrong hopes will serve the Blues well down the stretch as they continue to battle Detroit and Chicago for the top spot in the Central Division will be the presence of guys like Jamie Langenbrunner and Jason Arnott, both former Stanley Cup winners brought in during the offseason. Now, neither are going to produce offensively like they have in the past, but Arnott delivered two key goals for the Blues on this night and now has 12 on the year, while Langenbrunner added an assist.

Lots of interesting parts of this game, but was there anything more
curious than the last couple of minutes of the second period when, with Vancouver's vaunted power play at work, the Canucks gave up not one but two shorthanded breakaway chances. In the first instance, Backes stole the puck at the St. Louis blue line but was denied by Luongo. Then moments later, T.J. Oshie broke in alone but couldn't quite settle the puck and ended up with the puck rolling into Luongo. In a game that ended up being decided by one goal in overtime, this was a moment that could have been for the Blues.

The Blues' power play has been better in recent days (they were 9-for-30 in their past seven games) but in the end, it came up empty on four occasions and that cost them. Let's not forget that along with rolling with the man advantage, the Canucks also rank fourth overall on the penalty kill.

Weird end to this one. The Blues were playing shorthanded 4-on-3 and one of the Blues defensemen lost his stick. Oshie gave up his stick and when he thought the puck was going to leave the Blues' zone, he turned to make a change. But the puck remained in the zone, leaving the Blues essentially down 4-on-2 and Daniel Sedin made no mistake on the pass from brother Henrik (also headed to the All-Star Game later this month) just 46 seconds into the overtime session.
June, 9, 2011
6/09/11
2:40
AM ET
BOSTON -- Tim Thomas won't let the Vancouver Canucks score, and he's also sending them messages.
The Boston Bruins netminder dropped 'em with Canucks winger Alex Burrows late in the third period of Wednesday night's Game 4, bringing the TD Garden crowd to its feet.
Thomas, who also body-checked Henrik Sedin to the ice in Game 3, said he was tired of Burrows and other Canucks going after the butt end of his stick all night long.
"They did it a couple of times on the power play in the first period also," said Thomas. "I don't know who it was, I was focused on the puck. That was like the third time that he had hit my butt end on that power play. We were up 4-0, the game was getting down toward the end, so I thought I'd give him a little love tap and let him know, 'I know what you're doing, but I'm not going to let you do it forever.' So that's all that was. It was a typical battle."
Burrows was not available after the game to comment.
"We were on the [penalty kill] ... and [Burrows] came too close for Timmy's feeling or judgment, so he kind of whacked him in the back of the calves and Burrows turned around and went after him," Bruins defenseman Dennis Seidenberg said.
Canucks coach Alain Vigneault shrugged it off.
"That's hockey," he said during his French media availability.
Burrows was at the center of controversy earlier in the series. Bruins forward Patrice Bergeron accused him of biting his left index finger during Game 1 of the Cup finals. Burrows denied biting Bergeron and the league did not suspend Burrows, saying it found "no conclusive evidence that Alex Burrows intentionally bit the finger of Patrice Bergeron."
June, 3, 2011
6/03/11
6:47
PM ET
Alex Burrows
had a couple of hectic days as he waited out a call from the acting lord of discipline for the final series, Mike Murphy, to see whether he would be suspended for biting
Patrice Bergeron
's finger in Game 1.
"It's the Stanley Cup finals right now. I've been working all my life to be in this position. Obviously with the last incident, league's made a decision. I've moved on. Now I'm focusing on a big game tomorrow night," Burrows said Friday.
"That's what we've been doing all year: taking it one game at a time. Now, we're getting ready. I'm really excited about tomorrow night's game," Burrows said.
As for the call with Murphy, Burrows said he wasn't too nervous.
"Well, I've had a few calls with the league in the years. They've always been great. I really respect those people. They have a tough job. They have tough decisions to make. At the end of the day, he did a good job. I respect his decision. He was great. That's all I can say about it," Burrows said.
June, 2, 2011
6/02/11
9:36
PM ET
VANCOUVER, British Columbia -- While we're not in the least condoning Alex Burrows' decision to make Patrice Bergeron's right index finger an in-game snack in Game 1 of the Stanley Cup finals, we also believe there's been a vast overreaction in some sectors to the bite felt 'round the world.
Burrows was not suspended after league officials decided Thursday that they couldn't prove he deliberately bit Bergeron's finger in the Canucks' series-opening 1-0 victory Wednesday. Both players were penalized after their in-game scuffle, with Burrows receiving a double minor for roughing.
It was all the media here could talk about Thursday in the first off day before Saturday's Game 2. But we have to provide a little perspective.
On the list of infractions in the history of hockey, this hardly ranks among the most violent or disgraceful. Post-whistle scrums are a part of the sport. Let's not make this Mike Tyson mistaking Evander Holyfield's ear for a potato chip.
It's every man for himself in these post-whistle scrums. It is sometimes a chance for a player or team to make a statement. Think about an NFL player going after a fumbled ball. Think about what can happen in that pileup with players fighting for possession. You might not always see what happens in there, but you know it's not pretty.


[+] Enlarge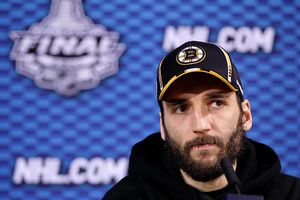 AP Photo/Julie JacobsonPatrice Bergeron said Thursday he wants to move on and not 'whine' about the Alex Burrows incident.
NHL scrums also are a moment in the game when humor sneaks in. Remember what microphones captured in HBO's "24/7"?
"I don't remember any biting, but I remember a guy like Ken Baumgartner being always comical," Hall of Famer Joe Nieuwendyk, now GM of the Dallas Stars, told ESPN.com on Thursday. "He would skate into a scrum after the whistle and say, 'All right, boys, daddy's home. Anyone want a spanking?'"
Canucks fourth-liner Alex Bolduc, a French-Canadian player like Burrows and Bergeron, put his own spin on the bite.
"I was telling the guys in the room this morning, that's how French guys say hi," Bolduc said. "If you really respect a guy, you stick a finger in his mouth. That's how you show respect in Quebec."
Bolduc was kidding ... we think.
Bergeron took the high road Thursday, saying he did not want to waste any more time on this Game 1 tale. Burrows, for the record, was not made available to the media Thursday.
"I'd like to just move on here. ... I don't want to whine about it," Bergeron said.
Bruins coach Claude Julien, who was not pleased with Burrows' act, said Thursday that he's seen a lot worse in scrums from his playing days.
"Obviously, things were a lot different in those days," said Julien, who didn't back down from anyone as a player. "In those days, I remember a lot of gouging, a lot of biting. It was fair game at that time. Obviously, the rules have gotten a little tighter. Those kinds of things right now are deemed unacceptable. Like I said, I just find that it's too bad that something like that has to happen in the Stanley Cup finals. I think there's better ways of resolving issues than getting to that issue. It is what it is, and, like I said, we're moving on here."
Coaching counterpart Alain Vigneault, interestingly, had a different memory of those playing days and what it was like in scrums. The coaches were teammates in Salt Lake City.
"Back then, you didn't have a lot of scrums after the whistle," the Canucks' coach said Thursday. "If something was going to happen, it was going to be a fight. It wasn't a lot of pushing and shoving. It was either, 'Let's go,' or guys went back to their benches."
Boston president and Hall of Fame player Cam Neely wasn't thrilled with the league's decision not to suspend Burrows given some compelling video and pictorial evidence that Burrows did bite Bergeron.
"Never been bitten, and I've never bitten anyone," Neely told ESPN.com on Thursday. "Everybody hopes they get everything right all the time, but it just doesn't happen that way."
Scrums aren't going away. This likely isn't the last time we'll see a player bite an opponent, in any sport. But this isn't going to become an epidemic in the NHL. The league has bigger issues -- hits to the head and concussions to name a few.
We've talked about it for the day. Now, it's time to move on.
June, 2, 2011
6/02/11
7:45
PM ET
Alex Burrows
was certainly a hot topic of discussion Thursday, given how he displayed a game with "bite" in his encounter with
Patrice Bergeron
. But Burrows has traveled a hard road to become a key forward for the NHL's top regular-season team.
"You know, you talk about perseverance, hanging in there, finding a way to get yourself to be a player. You got a great example in Alex Burrows," head coach Alain Vigneault said Thursday. "There's a guy that played in the Quebec junior major league as a 19-year-old and 20-year-old, went to the East Coast, came to Winnipeg with me, and in Winnipeg signed a contract with Vancouver, found his way on one of the best lines in the NHL, can contribute both offensively and defensively, is a very big part of our team."
"I think he's done that through hard work. He gets the game. He understands what you need to do out there. He does a great job for us."
Burrows has found a great chemistry playing with
Henrik
and
Daniel Sedin
, and the twins were certainly happy that Burrows wasn't going to be suspended for his nibble on Bergeron.
"He brings a lot to the line. I think people in the past thought we need a big body that goes to the net and stands there," Henrik said Thursday. "But, I mean, he's good in the forecheck. He turns a lot of pucks over for us. He knows where to go. He's involved in our game and he finds those spots where he can get shots away."
Torres makes most of clean slate
The lone goal scorer in Game 1 of the Stanley Cup finals,
Raffi Torres
, wasn't made available to the media on Thursday, but Vigneault had nothing but praise for a player that has bounced around the NHL since the
New York Islanders
made him the fifth overall pick in 2000.
"Surely we knew we were getting a very motivated player," Vigneault said. I mean, went very late before we signed him. One of the things that we did as soon as we met Raffi, Mike [Gillis] and I, was to tell him he had a clean slate, just to come here and work hard, play to his strengths.
"We know Raffi sometimes plays a little bit outside the box, and we knew that. But you got to let him go to his strengths. His attitude and his overall commitment have been real good since day one. We've had no issues with him."
January, 13, 2010
1/13/10
2:24
PM ET
Reality check on Aisle 11, please.
Don't get us wrong. We love a good hyperbolic rant as much as the next person. Heck, we've engaged in our own frothing-at-the-mouth rants in the past -- mostly when it comes to how the National Hockey League metes out discipline, or doesn't, as is usually the case. And, hockey gods willing, we likely will engage in similar rants in the future.
But during the past 48 hours, we have watched with some mild amusement and more than a little consternation as l'affaire Burrows et Auger has gone from fallout from a poorly officiated game to Watergate on Ice or the hockey version of the Black Sox scandal.
OK, everyone, back off from the ledge. That means all of you Vancouver Canucks fans who believe poor Alexandre Burrows has been wronged, first by referee Stephane Auger and then by the league. The forward was fined $2,500 for complaining after Monday's game that Auger had threatened during pregame warm-ups to pay Burrows back for making the referee look bad during an earlier game and following through with a series of ill-deserved calls that led to a 3-2 loss to Nashville.
After a quick investigation headed by lead disciplinarian Colin Campbell, the NHL decided Wednesday there wasn't enough evidence to support Burrows' statements and fined him for criticizing an official. Auger apparently was not disciplined. But just like the core issue at play here, there are different ways to make your point, and it's entirely likely the NHL will display its displeasure at the unwanted publicity by denying Auger any postseason work this season.
Failing any verifiable third-party account of the alleged little chat Auger had with Burrows before Monday's game, Campbell was forced to assess each man's account of the event before coming up with his conclusions.
Had Sidney Crosby or Nicklas Lidstrom made the allegations, we would be a whole lot more skeptical of Auger's part in this. But it was Burrows who famously let the vendetta genie out of the bottle, and he has never been shy to trash-talk, dive, whine, complain and generally make a nuisance of himself, mostly to opposing players and officials but occasionally, no doubt, to his teammates. Is it possible Burrows, embarrassed at his role in his team's defeat, embellished whatever was said before the game? It wouldn't be the first time Burrows had embellished, no?
In short, consider the source.
But rather than considering the source and trying to put the incident in some sort of perspective, some have drawn a straight line from this hockey incident to Tim Donaghy, the NBA referee who disgraced himself and his profession by betting on NBA games and went to prison as a result of his engaging in criminal activity. Sorry, we don't see the connection.
Over the course of the 70 or so games that each NHL referee and linesman works every season, we can only imagine the interplay that goes on between them and the coaches and players. We know and understand the things NHL referees put up with -- the comments, the taunts, the patience they must show -- all in the name of being, and appearing to be, impartial.
If Auger let down the side in some way, well, shame on him. The NHL clearly didn't think so, and this is a league that hasn't been shy to discipline officials for making on-ice mistakes.
By trying to suggest this flash point speaks to a larger issue of credibility does a great disservice to the men in stripes who keep the games in check and do so unfailingly for the most part. Perhaps this will reinforce to on-ice officials that so much is riding on not only how they call a game but also how they appear to be calling a game.
That's not a bad thing.
But it's also wrong to suggest this is a body blow to the NHL, that this somehow mitigates the good work by officials every night.
The Phoenix Coyotes being dragged into bankruptcy and nearly dragged off to Hamilton, Ontario, in the middle of the night? That was a body blow.
The lockout? That was a body blow.
This is a blip on the radar.