Cross Checks:

Alex Chiasson
July, 1, 2014
Jul 1
12:25
PM ET
Maybe you wondered if Jim Nill, who spent all of those years working behind the scenes with the
Detroit Red Wings
, would have the stuff to be a big-time NHL general manager on his own with the
Dallas Stars
.
Maybe you'll stop wondering now.
In one calendar year, Nill has stocked his team with two elite centers and has the Stars in a strong position to not just build on this season's surprise berth in the playoffs, but to make some noise next spring.
Nill followed his July 2013 acquisition of
Tyler Seguin
from the
Boston Bruins
in a blockbuster deal by acquiring disgruntled Ottawa center
Jason Spezza
on Tuesday, about an hour before the start of the free-agency period.
[+] Enlarge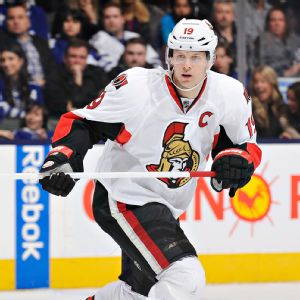 Graig Abel/Getty ImagesJason Spezza gives the Stars a potent 1-2 punch at center alongside Tyler Seguin.
The Stars sent
Alex Chiasson
, Alex Guptill, Nicholas Paul and a second-round 2015 draft pick to Ottawa, which continues to reshape its roster. The Senators have lost their past two captains in successive years, with
Daniel Alfredsson
signing as a free agent last summer with Detroit.
The Stars also got prospect Ludwig Karlsson in the deal.
Chiasson, a 6-foot-4 winger, looks to have the most upside of the group, enjoying a strong start in his rookie season with the Stars but cooling off in the second half, finishing with 13 goals and 35 points (including six power-play goals and four game-winners).
He'll presumably get a chance to play top-six minutes with a team that must redefine itself offensively. The Senators are coming off a disappointing season in which they missed the playoffs despite remaining relatively healthy. They made surprise postseason appearances in each of the previous two seasons.
The Stars, of course, get the best player in the deal in Spezza, the second overall pick in 2001 who had spent his entire career in Ottawa and had grown tired of playing there.
Still, the move doesn't come without question marks for Dallas. (Is there a deal of this magnitude that ever gets done without some questions about the players involved?)
Spezza has had injury issues, most notably back problems that limited him to just five regular-season games in the lockout-shortened 2012-13 season. He has played 80 or more games in a season just twice in his career.
Spezza remains a top talent, though, and has managed to collect 52 points in 56 postseason games. Those are numbers that will be important to the Stars, who pushed the
Anaheim Ducks
to six games in the first round of the playoffs this spring.
That series was instructive to Nill and Lindy Ruff, who was in his first year as the Stars' coach.
Teams in the Western Conference must have the goods down the middle if they're going to compete with the defending Stanley Cup champion
Los Angeles Kings
, and Anaheim struck pivot gold by acquiring
Ryan Kesler
from the
Vancouver Canucks
before the June 27 draft. Teams like the
Chicago Blackhawks
,
St. Louis Blues
and
Nashville Predators
have been scrambling to fill in down the middle as well.
The Stars began the draft period looking like it wouldn't be in the running for players such as Spezza, who identified 10 teams to which he wouldn't accept a trade.
And yet Nill and Ottawa GM Bryan Murray managed to get a deal done that gives the Stars a nice complement to Seguin, who blossomed with 37 goals (eight game-winners) last season after spending two tumultuous years in Boston, where the No. 2 overall pick in 2010 spent much of the time playing wing.
Now look around the Western Conference and contemplate these center combinations:
Anze Kopitar
and
Jeff Carter
in Los Angeles;
Ryan Getzlaf
and Kesler in Anaheim;
Logan Couture
and
Joe Thornton
(if he stays) in San Jose; and now Seguin and Spezza in Dallas.
In a matter of days, the balance of power has been dramatically altered in the West, home to a preponderance of the NHL's top teams.
Spezza has one year left on a deal that pays him just $4 million in real money but comes with a $7 million cap hit. Nill will presumably be looking to extend Spezza, but that's something to consider down the road. And if the Stars hit the skids, they could of course consider flipping Spezza at next season's trade deadline.
And let's be honest: Frankly, the Stars aren't quite there yet. But when you factor in Seguin, Spezza and
Cody Eakin
, who had 16 goals last season, the Stars' complement of centers is impressive. Throw in
Jamie Benn
(34 goals), emerging Russian talent
Valeri Nichushkin
and new signing
Ales Hemsky
(who played some with Spezza after going to Ottawa at the trade deadline last season) on the wings and the Stars will be able to go toe-to-toe offensively with most of the competition in the West.
Defensively, the team is still maturing and we must admit a certain ongoing skepticism about goalie
Kari Lehtonen
staying healthy enough to carry the Stars beyond the first round of the playoffs.
Still, as the free-agent market opens, there is little question the Stars are better than they were a few hours ago and are forcing teams to scramble for other options.
April, 21, 2014
Apr 21
11:31
PM ET
DALLAS -- The
Dallas Stars
earned their first playoff victory since 2008, beating the
Anaheim Ducks
, 3-0. It was the Stars' first home game of the series, played in front of a sellout crowd of 19,120.
Some quick thoughts:
How it happened:
The Stars got goals late in both the first and second periods.
Jamie Benn
, the Stars' second-leading goal scorer in the regular season, scored after
Shawn Horcoff
's shot from the left circle hit the pads of Ducks goalie
Frederik Andersen
and came right out to Benn on the right circle and he deposited it in the net. The goal was scored with 35 seconds left in the first period, allowing Dallas to take some momentum into the dressing room.
The teams were physical in the second period and both had some scoring chances. But it wasn't until the clock got under three minutes left that the Stars expanded their lead.
Tyler Seguin
's speed and puck-handling created the opportunity. He skated into the zone and left it for Valeri Nichuskin, who managed to get the puck through Andersen.
Dallas added another insurance goal midway through the third period.
What it means:
The Stars earned their first shutout since April 10, 2008, at Anaheim in Game 1 of the first-round and in the process are back in the series. It was an opportunity lost for the Ducks to take a stranglehold in the series. The result also guarantees that the series will go back to Anaheim for Game 5 on Friday.
Player of the game:
Kari Lehtonen
was terrific when it mattered most. He made several key saves on some point-blank chances, including
Saku Koivu
and
Nick Bonino
early in the second period. That kept it a 1-0 game and the Stars were able to add to it later in the period. Lehtonen was in a good rhythm and not afraid to come out and challenge shots. And he saw a lot of them. The Ducks vastly outshot the Stars, but just couldn't get anything past Lehtonen, even when they got some traffic in front of him. He made 37 saves, earned his first playoff victory and did so in a shutout.
Stat of the game:
The Stars' penalty kill was 5-for-5 and became a big momentum-booster for Stars goals late in the first and second periods. The Stars didn't allow rebound chances, blocked shots and Lehtonen was able to keep everything out. The Ducks haven't had a power-play goal since Game 1.
Injured defenseman:
Stephane Robidas
fractured his right leg early in the second period after getting tangled up with
Ryan Garbutt
in front of the Ducks' net. It's the same leg Robidas fractured in November when he was with Dallas, causing him to miss four months.
What's next:
Game 4 is Wednesday at 8 p.m. ET at American Airlines Center before the series shifts back to Anaheim for Game 5 on Friday.
December, 6, 2013
12/06/13
2:30
PM ET
A year ago
Alex Chiasson
was a third-line forward in the AHL, learning the ropes in his first pro season.
To suggest even for a moment that 12 months later he would have racked up 14 goals in 34 NHL games, well, he never would have believed it.
Not when even his best year in college hockey was 15 goals.
"I'll be the first one to admit it, I didn't expect it to be like that," Chiasson, 23, said this week. "But you know what? It just feels right, here with this team. I've been fortunate to play with some really good players here.
"Yeah, I didn't expect a start like this, but now that you're in it, you want to keep it going."
The second-round pick (38th overall) in the 2009 draft has played most of the season with
Cody Eakin
and the Wizard, veteran winger
Ray Whitney
.
"He's given me a couple of tap-ins," Chiasson said of playing with Whitney. "It's been great. His experience has helped me a lot."
There are certainly worse ways to break into the NHL than having a creative, savvy player like Whitney on your line.
"He's a good kid, a humble kid, he works hard," Whitney, 41, said of Chiasson. "I like to have fun and make him laugh as much as I can. But he's a guy who goes up and down the wing, he's not flashy, he's not going to toe-drag anybody, but he's going to go to the hard areas, go to the front of the net, he's good in his own zone along the wall; all the little things that coaches love. He's willing to do all the tough things, just a complete all-around player."
Chiasson, a right winger, was brought up late last season as a checker/penalty killer. Then he went out and became the first player in Stars franchise history to record six goals in his first six games with the team.
"It was quite the experience," Chiasson said. "When it was happening, you don't really realize it, we were focused on trying to make the playoffs, but this summer I looked back on it and it was kind of neat to do that."
And the Stars, well, they wondered what exactly they had on their hands heading into this season.
"Coming into camp we liked him, but [thought] can he keep it going?" said Stars GM Jim Nill. "He came in from day one and showed he deserves to be here. Like anybody, he's hit the wall a few times scoring, but he's getting back there now."
At 6-foot-4 and 205 pounds, his game is about net presence.
"He's a north-south, up-and-down guy, goes in front of the net, knows his role," said Nill. "He's got a real good shot. A real honest player."
And right now, he's a young player just trying to soak it all in. A year ago, he was just trying to improve as an AHLer with the Texas Stars. Today he's a full-fledged second-line player in the NHL.
What a rush.
"They say a lot has to do with opportunity and timing, and for me it was the best I could ask for," said Chiasson. "I started on the third line in the American League last year, [Stars AHL head coach] Willie Desjardins did a great job with me pushing my game and getting me to another level. When the lockout ended, my role grew on the team. And then they called me up. I tried to jump on the opportunity as best I could."
April, 15, 2013
4/15/13
9:33
AM ET
Sell, sell, sell ... win, win, win!
The
Dallas Stars
continued their mystifying ways over the weekend with wins Friday night at
Nashville
and Saturday at home against
San Jose
. This stretches their season-high winning streak to five games and very much keeps their playoff hopes alive.
The winning streak began after the April 3 trade deadline came and went, the Stars using the annual transaction window to shed three big-name UFAs from their roster. They dealt longtime captain
Brenden Morrow
to
Pittsburgh
, future Hall of Famer
Jaromir Jagr
to
Boston
and No. 2 center
Derek Roy
to
Vancouver
.
White flag? Hardly.
The Stars have reeled off win after win since the deadline passed and are just two points out of a playoff spot with less than two weeks to go in the regular season.
"It's been good, I think the young guys like
[Alex] Chiasson
and
[Matt] Fraser
have stepped in and have really added a lot of spark," Stars GM
Joe Nieuwendyk
told ESPN.com. "But one of the keys, too, has been the veteran guys and how they've responded, guys like
Vernon Fiddler
,
Eric Nystrom
and
Erik Cole
and
Ray Whitney
-- those guys have been terrific. They've really stepped up their games."
Here's where it gets tricky: the schedule. The Stars have some mighty tough games left, starting Monday night at
Chicago
, followed by a home date Thursday with Vancouver, then Friday at
St. Louis
, Sunday at
Los Angeles
, April 23 at San Jose, April 25 at home to surprising
Columbus
, and the finale at home April 27 versus
Detroit
-- the club the Stars are chasing for eighth in the West.
If the Stars make it in, they will have earned it, that's for sure.
Of late, goaltending has been central in the winning streak. The Stars have been outshot in four of their five wins during the streak, but
Kari Lehtonen
and
Richard Bachman
have been outstanding in net.
Bachman has filled in lately as Lehtonen rests a sore groin. Bachman is just part of the unlikely starring cast for Dallas, which also includes rookie Chiasson with six goals in six games, and veteran center Fiddler putting up 10 points (2-8) in his past six games. (Veteran Stars beat writer Mike Heika had a
nice piece on Fiddler
in Monday's Dallas Morning News.)
"Going back to the last five we've won in a row, they were not easy games, they were heavy games against divisional opponents," said Nieuwendyk. "We've been battling hard, we know the road ahead is tough, too. But we're playing a good brand of hockey right now and I think the guys feel pretty confident with it."
The schedule suggests Dallas will fall short, but it would be ironic if the Stars made the playoffs after shedding their UFAs before the trade deadline. I say ironic because the Stars were also on the playoff bubble in 2010-11 and 2011-12 but chose to not trade away assets at those deadlines in the hope of making the postseason, only to fall just short each time.
Is karma at play here? We will soon find out.