Cross Checks:

All-Star Game
November, 16, 2010
11/16/10
3:07
PM ET
The All-Star ballot snubs riled you puck heads up really good! Thanks for the great rants everyone. Here we go:
cwlare02: How in the world was Claude Giroux left off of the All-Star ballot!?! This guy dazzles night in and night out, even with opposing jerseys draped all over him (that is, when they can catch up to him). Imagine the show he'd put on in an offensively minded format like the All-Star Game...
My take: I had more than a dozen similar rants, insert different name, etc… Yes indeed, Giroux should have been on, same with Chris Stewart, Jimmy Howard, Carey Price, Loui Ericksson, and plenty more… Hey, the league needs to limit the ballot or else there would just be too many names. I understand that. But some of the snubs this year, especially, Stewart and Howard, are head-scratchers.
wmryan96: When can we substitute the mid-season NHL All-Star Game/Break with some other corporate boot-licking activity?
My take: There already is one -- the Jan. 1 Winter Classic. That's why I would dump the All-Star Game if I were commissioner. Especially when there's now a second outdoor game this season in Calgary, the Heritage Classic. There should be enough corporate shoes to shine at both outdoor games so that we don't need the All-Star Game anymore. But maybe that's just me.
musicnowsleeps07: I'd like to know why all of these people care about the All-Star Game?
My take: Good question!?!?
Whalers_in_2020: This isn't the NBA. Get Colin Campbell out now before officiating and discipline become a mockery. Never again can a controversial decision be made with any credibility. Casual fans will dismiss the legitimacy of the game. From now on, regardless of his past, Campbell's decisions will only serve to damage the sport.
My take: I got a few rants on this subject, as well, and no surprise there. First of all, I should underline that those e-mails are more than three years old and were already exposed last year in the Toronto Star during the Dean Warren hearing; not sure if most people understand that. So it's interesting to see those same e-mails resurface in a blog this week. Second, the league released a statement Monday saying Campbell has the right to be candid in league e-mails about players because of the job he does as disciplinarian, and, on that point, I agree. But… you knew a but was coming, I think Campbell should know better than to involve his son Gregory in any form or capacity in any league business or communication. In my book, there's no excuse for that. Zero. And believe me, Campbell knows that and will never, ever make that mistake again. He's also been a lot more careful with e-mails since the Warren hearing. But as for Campbell's character, I've known him for a long time and sometimes "Colie-speak" confuses those who don't speak it. He's a quirky man. While I don't always agree with his reasoning or his decision-making on league discipline, I know him to be an objective person who cares about the game a great deal. Perhaps the most telling thing is that there are 30 GMs who vouch for him and those are the same guys who get angry at some of his discipline decisions. But I suspect no matter what the truth is, Monday's buzz about those three-year-old e-mails will forever haunt Campbell.
LesHabs25: Everyone is focusing on the hot start by Jaroslav Halak and the Blues, but Carey Price has done as well if not better than last year's playoff hero Halak to start the season. Under tremendous pressure and scrutiny to start the year, they handed the job to a kid who had not taken the bull by the horns, per say, in the past given multiple chances to do so. He couldn't beat out Huet. He was badly outplayed by Halak. Now the kid is starting to shine. Have you seen some of the highlight reel saves he has made? People were writing him off, and what people don't realize is that the kid is only 23. Price is 10-5-1 with two shutouts and just finished a week beating the Canucks, Bruins and Hurricanes in succession. He didn't even make the All-Star ballot, Pierre? What gives? Can you or anyone outside la belle province give my man Carey some love? Sincerely, Robbie in New York
My take: Robbie, you'll be happy to know I'm in Montreal as we speak to do a Carey Price story. It should be posted on Thursday. Because you're right, he's a heck of a story right now. There was a world of pressure on him in this hockey-mad city after the Canadiens traded the playoff hero, Halak. Price only had one single option to win back the fans here in Montreal -- win, baby, win. And he's done that. Both Halak and Price are having terrific seasons, which is the best possible follow to the trade. Like I said, more on Thursday.
ArtfulMcDodger: How long is Washington going to wait to give Alexander Semin a contract extension? There is no doubt that he has been the best Alex on the team since the season started. And, unlike the Semin of past years, he's not needlessly playing from the penalty box! Are we going to see an extension for him, or are the Caps riding him out for trade fuel?
My take: Artful, as per terms of the CBA, players on one-year contracts cannot negotiate new extensions until the following Jan. 1. Hence the silence right now from the Caps and Semin's camp. But I can tell you that Semin's agent Mark Gandler told me last week he anticipated talks with the Caps once Jan. 1 rolls around, which doesn't mean a deal will get done, but certainly there will be a conversation.
big_jim2211: As a lifelong Oiler fan, I am tired of the Oil fans that were screaming for a rebuild last year and now when we are full rebuild mode, infused with youth and a terrible D-core, they are throwing up their arms wondering where the effort is and constantly complaining that the team is playing poorly. It's a rebuild people!! There are three rookies in the top nine and the average age in the top nine is 23 years old. When Ryan Whitney is your cornerstone D-man and your second pairing is guys who should be fourth or fifth D-men, we are gonna give up shots, chances and yes, GOALS, lots of them. Although this team is exciting to watch, don't expect them to come in and compete for the playoffs this year. If we can be fortunate enough this year to see some flashes of brilliance and be entertained and still have a shot at Adam Larsson in next years draft, the foundation will be better for it. Be patient and quit trying to have it both ways.
My take: Totally agree Big Jim. This is exactly what you should want if you're a true Oilers fan -- another lottery pick. Imagine how stacked this team will look if they draft either center Sean Couturier, center Ryan Nugent-Hopkins or defenseman Adam Larsson next June? What you're cheering for if you're an Oilers fan is one more stud, franchise player to go along with Taylor Hall, Jordan Eberle and the rest of the youthful core. So the team is losing right now. Big deal. Think of the big picture, Oilers fans!
lahockey_98: I'm actually concerned as a Kings fan that if they continue this great play, and maybe even make/win a Stanley Cup, that the Kings' fan base will get overwhelmed by the Laker-esque bandwagon fans. Hockey in SoCal has always felt like a small club of enthusiasts, from the fans all the way to the team that has sort of adopted the underdog, small market personality, even though they operate in one of the biggest markets in the country. Right now, Kings games are a blast because everyone in the arena feels like we all know a secret that no one else in L.A. knows, that hockey is actually the best sport on the planet when seen live. I'd hate to lose that.
My take: So… you'd rather they go back to sucking? (Tough loss by the way Monday night in San Jose) Hey, you make a valid point about the bandwagon jumpers. They're not fun to have around. I'm a diehard Dallas Cowboys fan. I know about bandwagon jumpers. They broke their ankle leaving us on the sinking Cowboys' ship this season. The Kings are no longer a secret, live with it. Didn't a certain ESPN.com hockey writer predict the Kings would win the Pacific Division back in his September preview? Just embrace the rise of the Kings. Ignore the rest.
crazedmathman17: The Islanders current 10-game losing streak pains me just as much as the next fan, but I have to say that the firing of Scott Gordon this morning truly angered me. Since the failed attempt to sign Ryan Smyth (which was not a bad move), GM Garth Snow has preached "patience" to Isles fans as they "build through the draft." Undoubtedly, many fans had higher expectations than last in the East prior to training camp injuries to Mark Streit and Kyle Okposo. But given those injuries to two of their top three players (Tavares the other), Isles fans and their "Snow-preached-patience" were hanging in and NOT calling for Gordon's firing. His talent as a young coach in this league is evidenced by his role as an assistant to Team USA at this year's Olympics. It is simply devastating to watch Snow place this "blame" on Gordon prematurely as he tries to spark the team, as we fans must watch a team well under the salary cap, hindered by injuries to top players, knowing Alexei Yashin is still the highest paid person on the payroll. I have to say that I feel betrayed by the team's management, as we have endured two eight-game losing streaks during Gordon's tenure, but also watched the exciting development of young players like Tavares, Okposo, Josh Bailey, Andrew MacDonald, among others -- and now they cite "changing things up" and "making the playoffs" as reasons for dismissing Gordon. I must say, their lack of patience here reeks of hypocrisy. Smells a lot like Fish Sticks.
fladtheimpaler76: LOL. Pierre Pierre Pierre… I give UP. Just last week, I blew a gasket over DP. Now I come to see the Islanders brain trust has fired Scott Gordon. LOL. Gordon has hardly anything to work with. Didn't we learn from firing Stanley Cup Champion Peter Laviolette that the coach is NOT the problem!!! I like what Snow has done for the most part up until this morning. This firing reeks of desperation. I can only hope the root cause of this move wasn't over the handling of DP or my head will explode. Don't fault Gordon for wanting to roll the goalie that actually stops the puck.
My take: Two Islander rants to answer. Guys, don't blame you for being frustrated. All Islanders fans must be. But I can tell you that I spoke with Isles GM Garth Snow on Monday, and he said the only reason for the firing was that the team truly needed a change after going winless in 10 games. Snow also told me it was a very difficult decision because he's close with Gordon and says they remain close. But the GM felt this was needed to jolt the team. Snow also said the team was only six points out of a playoff spot and it wasn't too late for a turnaround, so from that perspective, the change also made sense.
CDiercksen: How the heck does Sean Avery get away with that sucker punch? I woefully understand the brilliance it takes to be such an effective pest but at a certain point does it cross the line from "effective" to just plain dishonorable? The NHL needs to get over the revenue he brings into MSG with his sunglasses and suspend him for such reprehensible behavior.
My take: Sean Avery broke the unwritten rule regarding "rules of engagement" by waiting until Smid was looking away and punching him. But, I didn't think it warranted a suspension.
November, 10, 2010
11/10/10
4:53
PM ET
Well, they got it halfway right, anyway. At least the rookie game was canceled.
If I had my way, the NHL All-Star Game would have been canceled, too.
Honestly, with the immense success of the Winter Classic, which now has a Canadian duplicate, why is there still an All-Star Game?
Well, first, because there's a corporate tie-in to All-Star weekend that remains important despite the outdoor games. Second, because for certain markets, hosting the All-Star Game remains an important event that helps showcase the game and reach out to new fans. That's certainly the case this season in Raleigh, where the Carolina Hurricanes no doubt will do a terrific job hosting this thing.
So, given that canceling the event wasn't an option, kudos to NHL executive Brendan Shanahan and Mike Ouellet of the NHL Players' Association for making lemonade out of lemons.
Seeing the All-Star captains pick the players in a Friday draft Jan. 28 is a terrific touch, one that young hockey fans in general will get a real kick out of.
And really, when it comes to the All-Star Game, if you're older than 25 and you actually care about the outcome of that game, odds are you'll be living in your parents' basement until you're 40. This is for the kids. And certainly as a kid growing up in Northern Ontario, I truly looked forward to the All-Star Game. Wayne Gretzky's hat trick at the 1983 All-Star Game and Mario Lemieux's six-point effort in 1988 (plus Mats Naslund's five assists) were two highlights of my youth.
Mind you, by far my favorite All-Star Game ever was 1987 in Quebec City. Rendez-Vous '87, pitting the former Soviet Union against the NHL's best at Le Colisee, that's untouchable.
It's why, when Shanahan a few months ago asked me for my opinion (charitable on his part, I know), I suggested this for a new format: KHL's best from Russia against the NHL's best. You'd certainly get a real game out of it. Anyone watch the preseason game in St. Petersburg between SKA and the Hurricanes?
Fact is, the relationship isn't yet where it needs to be between the KHL and NHL for that to be a possibility. And I don't think NHL GMs would want to send their top players into a "real" game in which they could potentially get injured.
So in the meantime, let's live with what we've got. The draft Jan. 28 will be fun. The game will be what it is, nothing more, nothing less. Will I be watching? Only because I will be there working.
October, 30, 2010
10/30/10
9:06
PM ET
Two of the highest profile restricted free agents this summer would certainly be Steven Stamkos and Drew Doughty, both of whom will see their entry-level contracts expire.
How time flies. Wasn't it just yesterday in June 2008 that they went 1-2 in the NHL entry draft?
In any case, their respective NHL teams will work to make sure they never get to restricted free agency.
The Tampa Bay Lightning, a source told ESPN.com Saturday, will approach Stamkos' representation "within the next couple of weeks" to kick-start contract talks with the NHL's leading scorer.
The Los Angeles Kings, meanwhile, have been drafting and analyzing different contract extension models, which they'll present to Dougthy and a number of their other free agents in the not-too-distant future, another source said Friday.
Interestingly, both young superstars are represented by the same player agency firm, Don Meehan's Newport Sports.
In both cases, I think the hope was that the process would have begun over the summer, but I believe the Ilya Kovalchuk saga postponed things as teams around the league kept a close eye on how that all turned out and the implications of the CBA amendment regarding long-term contracts.
Kings have eyes for Iginla?
Sticking with the Kings, it's well understood around NHL circles that since Los Angeles didn't spend the money it had budgeted for Kovalchuk last summer, there is indeed room in the budget and under the salary cap for an important acquisition before the Feb. 28 trade deadline. I believe
Jarome Iginla
is among the list of players the Kings have in mind.
[+] Enlarge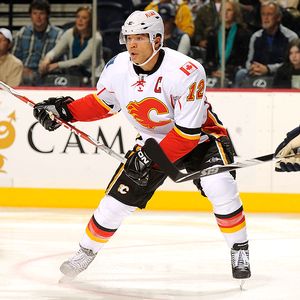 John Russell/NHLI via Getty ImagesJarome Iginla is signed with the Flames for two more seasons at $7 million per year and has a no-movement clause.
That would go along with the character-type guys the Kings have added over the last two years, players like
Ryan Smyth
and
Willie Mitchell
. At this point, I don't see any indication at all that the Flames would even entertain the thought of moving him. But I bring all this up given the stories out of Calgary this week regarding a possible rift between the Flames captain and the head coach (which was denied by both in the papers).
Iginla is signed for two more seasons at $7 million per year and also has a no-movement clause, so he controls his fate.
Of course, Smyth also had a no-movement clause in his contract, but the Kings persisted for almost a year before getting him out of Colorado in the summer of 2009. Food for thought ...
Leafs refuse to rush Kadri
As the Maple Leafs continue to work the phones in the search of scoring help, some Toronto fans and media wonder why the team doesn't just call up highly touted prospect
Nazem Kadri
from the AHL.
On Saturday, the team instead called up forward Christian Hanson.
I asked Leafs GM Brian Burke on Saturday about the feeling from some fans and media that they should call up Kadri.
"No, we will not rush Kadri," Burke said. "He's still very much on a learning curve. Look up how many games [Ryan] Getzlaf and [Corey] Perry played in the AHL [when Burke was GM in Anaheim]. Bobby Ryan spent parts of two seasons in the AHL. So I don't rush guys. I want to get Kadri ready to play 10 years in the NHL, not 10 games."
Crosby holds players-only meeting
The Penguins, 5-5-1 before Saturday night's game in Carolina, held a players-only meeting Friday night after lossing to Philly. I spoke to a Pittsburgh player about it Saturday, and he said the message was that everyone needed to get on the same page, that the team has very high standards and the effort through Friday night was not nearly good enough. In my books, that's big-time leadership from captain
Sidney Crosby
. Most teams wouldn't bat an eye at a .500 start, but Crosby wants to nip something in the bud before it snowballs.
Coach's challenge debate
You saw Scott Burnside and I debate it in our
Friday Faceoff video
, but the idea of a "coach's challenge," like in the NFL, is garnering attention in hockey circles. It's come to light after last Tuesday night's controversial winning goal by
Colton Orr
in which in the Maple Leafs tough guy bowled over Panthers goalie
Scott Clemmensen
before the puck was shot in. Panthers GM Dale Tallon then spent the week wondering whether a coach's challenge video review would work well in the NHL to eliminate botched calls like Orr's goal.
A majority of NHL coaches polled by TSN's Darren Dreger this past week supported the idea but with limitations.
Tallon told ESPN.com via text message Saturday that he's "probably" going to table the idea for the Nov. 9 GMs meeting in Toronto.
The problem with the idea is where exactly does it end? Could a coach challenge an off-side call or an icing call? A line would have to be drawn.
Last March at their meetings, interestingly, GMs examined the idea of video replay for four-minute high-sticking calls but ultimately decided it wasn't worth pursuing. Two years ago, one NHL GM tabled the idea of extending the current jurisdiction of video replay so that it included goalie interference when it didn't generate enough support in the group.
But, this leads to a possible alternative to instituting an NFL-style coach's challenge. Why not just expand the powers of video replay with the war room in Toronto? If that were the case, the war room could have called down last Tuesday night to advise that Orr's goal should not have counted.
And here's a third alternative: one NHL referee, who requested anonymity, told ESPN.com via email Saturday that he'd like to see on-ice officials have the ability to watch video in-game (just like NFL referees). So in the case of a controversial play like Orr's goal, at least he could watch the video himself before dropping the puck at center ice.
Finally, here's another thought: There are 1,230 games in an NHL regular season. How many plays like Orr's goal are we really going to see? Is there the risk of overreacting to an one-off occurrence?
Guerin contemplates front-office future
As veteran winger
Bill Guerin
continues to contemplate his playing future, he spent the weekend alongside
Tom Fitzgerald
, assistant to the GM in Pittsburgh. Guerin was getting a look at whether there's a future for him in either coaching or scouting or player development and perhaps even with the Penguins.
Shanahan looks to change All-Star Game
League executive
Brendan Shanahan
has spent months polling people all over the industry in the hope of finding some good ideas to improve the All-Star Game. He's talked to players, broadcasters, fans -- you name it.
He's come up with something, although he wouldn't tell me Friday. I don't expect any radical changes but rather some interesting nuances to improve what's there.
His focus has been on trying to find what makes players so competitive, for example, when they play a shinny game at the end of practice or even a ping-pong game between teammates. The players often get hugely competitive even in those settings. So how do you carry those natural competitive traits over to the NHL All-Star Game?
"For some reason, that's missing in the All-Star Game until there's three minutes to go," Shanahan said. "How do we capture those competitive juices?"
Rob Blake, who has yet to be formally announced as an NHL hire by the league office, has helped Shanahan with the project.
Kings honor Norstrom
In a classy move, the Kings honored former standout defenseman
Mattias Norstrom
in a pregame ceremony Saturday night. Norstrom played 780 games as a King, the second-most ever for a blueliner in Los Angeles behind only Blake. Norstrom was also captain of the team for seven seasons, and, in my view, one of the league's vastly underrated players during his heyday.