Cross Checks:

Anders Lindback
April, 14, 2014
Apr 14
12:11
PM ET
From the official NHL release:

LINDBACK, GIBSON AND JOHANSEN NAMED NHL 'THREE STARS' OF THE WEEK


NEW YORK (April 14, 2014) – Tampa Bay Lightning goaltender Anders Lindback, Anaheim Ducks goaltender John Gibson and Columbus Blue Jackets center Ryan Johansen have been named the NHL's "Three Stars" for the week ending April 13.

FIRST STAR – ANDERS LINDBACK, G, TAMPA BAY LIGHTNING

Lindback posted a 3-0-0 record with a 0.67 goals-against average, .975 save percentage and one shutout to help the Lightning (46-27-9, 101 points) earn four consecutive victories and clinch home-ice advantage in their first-round playoff series against the Montreal Canadiens. He stopped all 25 shots he faced in relief of Ben Bishop in a
3-0 win over the Toronto Maple Leafs April 8. Lindback then made 34 saves in a 4-2 victory over the Philadelphia Flyers April 10. He capped the week by recording 18 saves, and denying all three attempts he faced in the shootout, to pick up his third career shutout and first since Dec. 13, 2010, in a 1-0 triumph over the Washington Capitals April 13. The 25-year-old native of Gävle, Sweden, appeared in 23 games this season, compiling an 8-12-2 record with a 2.90 goals-against average and .891 save percentage.

SECOND STAR – JOHN GIBSON, G, ANAHEIM DUCKS

Gibson went 3-0-0 with a 1.33 goals-against average, .954 save percentage and one shutout to help the Ducks (54-20-8, 116 points) post four consecutive victories and clinch the top seed in the Western Conference for the first time in franchise history. He made 18 saves in a
3-0 win over the Vancouver Canucks April 7, becoming the first goaltender to record a shutout in his NHL debut since April 1, 2009 (Al Montoya).
Gibson then stopped 36 shots in a 5-2 triumph over the San Jose Sharks April 9, helping the Ducks clinch their second consecutive Pacific Division title and the third in franchise history. He closed the week with 29 saves, including 12 in the third period, in a 3-2 overtime victory over the Colorado Avalanche April 13. The 20-year-old native of Pittsburgh was selected by the Ducks in second round (39th overall) of the 2011 NHL Draft and helped the team set franchise records for wins (54) and points (116) this season.

THIRD STAR – RYAN JOHANSEN, C, COLUMBUS BLUE JACKETS

Johansen tied for third in the NHL with six points (2-4—6), finding the scoresheet in four consecutive games to help the Blue Jackets (43-32-7,
93 points) clinch their second playoff berth in franchise history (2008-09). He registered 1-1—2, including the winning goal at 3:33 of overtime, in a 4-3 victory over the Phoenix Coyotes April 8. Johansen then posted an assist in each of the next two games: a 3-1 triumph over the Dallas Stars April 9 and a 3-2 loss to the Tampa Bay Lightning April 11. He closed the season with 1-1—2, including his fifth game-winning goal and 16th multi-point performance, in a 3-2 victory over the Florida Panthers April 12. The 21-year-old native of Vancouver played in all 82 games this season, leading the Blue Jackets and posting career highs in goals (33), assists (30) and points (63).


April, 5, 2013
4/05/13
10:23
AM ET
My favorite trade of the deadline was easily the
Ben Bishop
deal.
It was a win-win for both teams, with the
Ottawa Senators
getting a young top-six forward in
Cory Conacher
, and the
Tampa Bay Lightning
making a huge gain by adding another potential starting goaltender.
This isn't about ending the
Anders Lindback
project, as some of the knee-jerk reaction on social media suggested Wednesday.
This is about doubling your chances that between two young, promising goaltenders, one of them emerges as a 1A.
And who knows, maybe both do. Or maybe neither does.
But why not improve your odds twofold?
"Good move, with good potential," a Western Conference team executive told ESPN.com Thursday, requesting anonymity. "The big test is if one of them can grab the job and become a legit No. 1 starter. Looks like Lindback isn't there yet; now it's up to Bishop to be that guy."
They'll both get a shot.
"By no means am I giving up on Anders Lindback, not a chance," Lightning GM
Steve Yzerman
told ESPN.com Thursday. "He's a good young goalie. And I made a commitment by trading for Anders Lindback, and I believe Anders Lindback has the ability to become a good starter in this league.
"I want to provide him with the support he needs, and part of that support is having a good partner. I want the best possible tandem I can put together moving forward."
In Lindback, 24, and Bishop, 26, Tampa has a young 1-2 punch in goal heading into next season, giving the team a shot at finally rising up the ranks in goals against.
"Both of them will get a great opportunity to play," Yzerman said. "I'm not going to sit here and designate who the starter is next year. They'll both get a chance to play and play a lot, and it'll work itself out."
Veteran
Mathieu Garon
has been a pro as the backup, but with his contract up after this season, Yzerman began to look ahead. Garon is a solid backup on a team whose starter is more solidified, like a
Carey Price
or
Pekka Rinne
.
But with Lindback still finding his way, I think Yzerman felt he needed to give him more protection moving forward.
"If I had one of these guys who plays 70 games a year, then I can be a little more conservative with the second goalie. But I've got a really young goaltender in Lindback that we think has a lot of promise, and I don't want to put him in a position where he has to play 70 games. Ben Bishop provides that support and Ben Bishop has a tremendous upside as well.
"I'm not designating either one the starter. They'll both get tremendous opportunity to play."
I suspect, though I can't confirm it, that Tampa also kicked the
Los Angeles Kings
' tires on
Jonathan Bernier
before the deadline and that the price was too high.
Frankly, given
Jonathan Quick
's up-and-down season, it made more sense for the Kings to keep Bernier as insurance for another Cup run, then figure out what to do with him this summer.
In the end, Yzerman got a guy in Bishop who has starter potential written all over him, just as Lindback still does.
It's a win-win in my mind.
March, 5, 2013
3/05/13
9:57
AM ET
Promising starts for two Eastern Conference teams have been rendered moot by goaltending issues ranging from poor play to a lack of durability.
That theme was on display Monday night in both cases. The New Jersey Devils extended their winless streak to five games (0-4-1) in a 4-2 loss to the
Toronto Maple Leafs
, and the
Tampa Bay Lightning
were edged 4-3 in Pittsburgh by the Penguins.
Johan Hedberg
has been in goal for all five games during the Devils' current slide as the winningest goaltender of all time,
Martin Brodeur
, recuperates from a back injury. This isn't all on Hedberg, a stand-up guy if there ever was one, but the numbers speak for themselves. The Devils have been outscored 19-9 (not counting shootout goals) during the five-game stretch. And while the goaltending hasn't been strong, the power play has gone dry, going 0-for-17 in the past five games, putting even more pressure on the defense and goaltending. At one point the Devils led the Atlantic Division and were in the hunt for the top spot in the conference. As of Tuesday morning, New Jersey had sunk to seventh place in the conference and is now looking over its shoulders at division rivals Philadelphia and the
New York Rangers
. Brodeur did not accompany the team to Toronto, and there is no definite timetable for his return, which can't come soon enough for a team that advanced to the Stanley Cup finals last June.
Meanwhile, the Lightning began the season 6-1-0 and since then have gone 3-11-1, including Monday's loss, their fifth in a row. The defeat was further marred by the loss of netminder
Mathieu Garon
, who left the game early in the second period. Garon was expected to be the backup to
Anders Lindback
, who was obtained by the Lightning in the offseason from Nashville, but has actually been the steadier of the two and had recently assumed the starting role. Now it will be up to Lindback, who allowed two goals on 18 shots to take the loss Monday, to try to turn the tide. Lindback has an unhealthy 3.27 GAA and .890 save percentage for the Lightning, who rank 27th in the NHL in goals allowed per game. (They also called up netminder Cedrick Desjardins from their AHL affiliate to serve as backup.) The Lightning began Tuesday in 13th place in the Eastern Conference but just four points out of eighth and six points out of first in the weak Southeast Division. Oddly enough, they play Tuesday night in Newark against the Devils.
January, 16, 2013
1/16/13
10:24
AM ET
Steve Yzerman
stopped this reporter in his tracks halfway through an opening prelude to what was going to be an opening question.
When I began to talk about how I felt we might all look back one day and feel that Tampa Bay's acquisition of
Anders Lindback
might end up being the best move of the entire 2012 NHL offseason, the
Tampa Bay Lightning
GM jumped in and, although I couldn't see him across the phone line, I pictured Yzerman waving his hand down at me as if to calm things.
Whoa, Nelly, let's not put the cart before the horse.
"In fairness to Anders, he's shown great potential when you watch him play in the games that he's played in," Yzerman said this week. "Let's just see how it plays out and not put any undue expectation on him."
In other words, quiet down with the franchise goalie talk, the kid doesn't need that kind of pressure right now.
Point taken.
But let's also be fair. The Lightning are hoping this 24-year-old is the answer to their goalie prayers.
With him having played only 38 career NHL games, it's a gamble, for sure. But at 6-foot-6 and coming out of the Nashville Predators organization having played and learned behind the great
Pekka Rinne
, it sure seems like a worthy gamble.
"I think he's got real nice skill and ability," said a goalie coach from a Western Conference NHL team. "But I do feel like there's some holes there with his game. They've got fine-tuning to do, technically, with him. They've got a good goalie coach there who has the ability to do it. They're rolling the dice a bit with that goalie, but they needed somebody and there is absolutely a chance he turns out to be a stud."
Hey, Yzerman knows it's no sure bet. But what is in this business, especially when it comes to the quirky world of goaltending?
"New Jersey has had Marty Brodeur for 20 years," Yzerman said. "The Devils and their fans have been able to sleep well at night for 20 years knowing they've had an elite starting goaltender. Every team is searching for that. Our goal is to find that. We're hoping with the group of young guys we have -- Anders and Andrey Vasilevskiy, Adam Wilcox,
Dustin Tokarski
and
Riku Helenius
-- out of that group, we're hoping at least one of those guys will emerge into that starting goaltender that will be here for a very, long time."
For now, Lindback gets the first crack. It was a long search by Yzerman.
Jonathan Bernier
in L.A. might have been another option, but I don't believe Tampa Bay and L.A. ever went very far down that patch.
For starters, the Kings' price for Bernier began with a first-round pick. The Bolts got Lindback for a pair of second-round picks plus a third-round pick.
And in the end, I believe Lindback is the guy Yzerman wanted all along.
"We took everything into account," Yzerman said. "No. 1 is the player's ability and his upside, then his contract situation (a bargain this year and next at $1.8 million per season) and the cost of acquiring the player. All those things get taken into account. With Anders, we like the fact he's a young goaltender with potential to be here a long time. His contract situation fit well for us in our payroll structure at this point. And of course, we really like the goalie."
Now, would Yzerman have loved a shot at
Roberto Luongo
? He won't say, but I'm guessing that in a perfect world, of course. You'd always take the more established goalie, one who helped you win Olympic gold in Vancouver three years ago. But in a nontraditional market that already has some big contracts on the books in the form of
Steven Stamkos
,
Vincent Lecavalier
,
Martin St. Louis
,
Matt Carle
and
Victor Hedman
, there are only so many of those babies you can carry on your payroll, and that's obviously why Luongo was never a real possibility for Tampa.
And so the bet is on Lindback, who, for the first time in his young career, gets to step out of Rinne's shadow and prove he can be a No. 1 goalie.
"I think it takes time for a goaltender to adjust to playing a lot of games," Yzerman said. "We're fortunate to have
Mathieu Garon
, a veteran guy that can play a good number of games, as well, to ease the burden on Anders and let him just gradually get comfortable playing a lot of games."
Garon, the veteran backup, was a smart pickup by Yzerman before last season. He knows his role as the backup, and he delivers in his role.
"He's a really good guy," Yzerman said. "He's well-liked by his teammates; he has a good demeanor. Mathieu's personality, I think, [can] really help a young goaltender like Anders."
Life without Lidstrom
It begins. Life at Joe Louis Arena without No. 5 calmly skating out onto the ice and slowing the fastest game on earth down like nobody else could during his era.
The
Detroit Red Wings
officially open a season this weekend without legendary
Nicklas Lidstrom
on the back end.
"We got 20 incredible years from Nick; I look at it like we got five bonus years from him," Wings GM Ken Holland said this week. "A lot of European players go back home when they're 35 or 36; he stayed until he was 43 and won a Norris at 41. I'm not looking back. We were so fortunate. That 20 years is in the [NHL] Guide and Record book."
So now what? Well, you obviously don't replace him, just as Bobby Orr wasn't replaced in Boston.
"We're defense by committee," Holland said.
The veteran GM, who has done an incredible job keeping the Wings among the NHL's elite for so, so long, is realistic but upbeat when he talks about life after Nick.
The "committee" on defense starts with Detroit's top defender, talented and bruising
Niklas Kronwall
. No need to elaborate there; he's Detroit most dependable force on defense.
"I think, in the last year,
Jonathan Ericsson
established himself in our mind, finally becoming the player that we thought and hoped he would," Holland said. "He became a good penalty killer, a good matchup guy. He's a guy that we think can eat up more minutes."
The Wings signed veteran
Carlo Colaiacovo
this past summer, adding him to a group that already included
Kyle Quincey
and
Ian White
.
"Those three guys are legitimate, solid NHL players," Holland said. "We've got
Brendan Smith
, who we think can play in the top four. We've got
Jakub Kindl
, as well. So it's going to be defense by committee."
Smith, 23, is being counted on to take the next step in his career. He'll be given plenty of opportunity to do so.
It's not as bad as some people would have you believe, but there's no denying that, when you lose Lidstrom, plus another quality veteran in
Brad Stuart
(who signed with San Jose), the Wings aren't what they had been on defense.
"That's obviously the question mark on the Detroit Red Wings," Holland said.
They're solid in goal with the
Jimmy Howard
-
Jonas Gustavsson
tandem, and I believe they're deeper up front than they were last season.
Therefore, it's obviously on defense where I think Holland will tinker if he has a chance to add help.
A source told ESPN.com Wednesday that the Wings were mulling the merits of approaching
Wade Redden
once he becomes an unrestricted free agent and is officially bought out by the Rangers. But it wasn't clear whether Detroit would go ahead and do so.
Life without Zach
Sometimes the story line isn't so obvious on some teams in preseason.
For the
New Jersey Devils
, it hits you like a jackhammer.
Life without
Zach Parise
will be the huge test of the 2013 season.
"Absolutely," Devils coach Pete DeBoer told ESPN.com this week. "Not only was he your captain but that's 30 goals out of your lineup. And not just the goals but the other opportunities he creates for other people by his work ethic and his forecheck. It's a big hole. We're obviously not filling it with one person. It's going to have to be by committee."
There's that committee thing again.
But it's also reality. New Jersey simply did not replace Parise on any level.
But the Devils' way is not to pout or cry over spilled milk. Lou Lamoriello's teams always seem to find a way to get over obstacles. The Devils have been the ultimate definition of the team concept in the NHL the past two decades.
So, forge on without Parise they will.
"We're going to need another
Adam Henrique
this year to surprise out of the minors," DeBoer said. "And we'll need more career years from people like
David Clarkson
and
Travis Zajac
and people like that."
Add in
Petr Sykora
's exit and that's another 21 goals out of the lineup in addition to Parise's 31 goals. With
Alexei Ponikarovsky
's seven goals after coming over to New Jersey last season, suddenly that's 59 goals the Devils have to replace this season.
Bobby Butler
,
Mattias Tedenby
,
Jacob Josefson
, veteran invite
Mathieu Darche
and 18-year-old prospect/rookie
Stefan Matteau
are the candidates who might have a chance to try to replace some of those missing goals.
"Those are the names that are probably at the forefront for those jobs," DeBoer said.
DeBoer, who did a masterful job behind the New Jersey bench last season en route to a surprise Stanley Cup finals berth, changed the team's style in 2011-12, and not only was it more fun to watch but it produced results.
"We were more aggressive last year, and we did that by maintaining our defensive integrity," DeBoer said. "I think we were second or third in shots against per game. I think we showed we played a pressure game and still [were] responsible defensively. But ... we're going to have to find some goals somewhere."
Henrique, DeBoer said in our Monday interview, was still 10 to 14 days from being healthy, but once that's the case, the coach figures his two main offensive pairs up front will be
Ilya Kovalchuk
with Zajac on one line and Henrique with veteran
Patrik Elias
on the other.
"Those are our two pairs at the top that I want to keep together, but who rides shotgun for those guys are the jobs that are up for grabs," DeBoer said.
As Tom Gulitti noted in
the Bergen Record this week
, it might be that the Devils eventually try to add offense in a trade and deal from the club's surplus on defense. I agree with that notion. I don't think Lou will sit back too long and do nothing if his team can't score early on.
April, 4, 2012
4/04/12
10:11
AM ET
By
Elias Sports Bureau
| ESPN.com
• The Rangers completed a clean sweep of their six-game season series against the Flyers with a 5-3 win at Philadelphia on Tuesday night. It's the fifth time that a team has won every game in a season series of six or more games against the Flyers. The other Philadelphia opponents to do that were the Bruins in both 1970-71 and 1971-72 (both six games), the Rangers in 1971-72 (six games) and the Penguins in 2006-07 (eight games).
•
Sidney Crosby
tallied two goals and one assist to lead the Penguins to a 5-3 win at Boston. Crosby has scored 22 points in 12 games (5 goals, 17 assists) since March 15, when he returned to action after being sidelined for more than three months due to a concussion. That makes him the NHL scoring leader since that date, one point ahead of teammate
Evgeni Malkin
(21 points)
• Coyotes goalie
Mike Smith
's 54 saves Tuesday night are the most in a shutout in the expansion era (since 1967-68).
•
Patrik Elias
scored the first goal in the Devils' 3–1 win over the Islanders and he set up New Jersey's second goal with an assist, his 50th of the season. Elias, who will turn 36 years old on April 13, has recorded 50 or more assists in one season only once before and that was 11 years ago (56 assists in 2000–01). He's the first player in Devils franchise history (including the team's years in Kansas City and Colorado) to register 50 or more assists in one season at age 30 or older. Before Elias, the oldest player in team history at the time he notched his 50th assist of a season was 29-year-old
Scott Stevens
in 1993–94.
• Maple Leafs rookie
Matt Frattin
scored a goal, recorded an assist and picked up the first fighting major of his NHL career all in the first period of Toronto's game in Buffalo. Frattin was only the second rookie in the last 18 seasons to register a "Gordie Howe hat trick" in a single period of one game.
Brandon Dubinsky
did that for the Rangers in the first period at Montreal on Feb. 19, 2008.
Derek Roy
's second goal of the game capped the Sabres' comeback from a 3-0 deficit at the end of the first period and earned Buffalo a 6-5 overtime victory against the Maple Leafs. It was the sixth regular-season overtime goal of Roy's NHL and Sabres career, tying the Buffalo team record established by
Thomas Vanek
earlier this season (Nov. 8). Roy's two-goal performance was the 20th multiple-goal game of his NHL career and his fourth multigoal game against Toronto, his highest total versus any opponent.
• Carolina goaltender
Cam Ward
, who made 38 saves in his 2-1 win at Ottawa, is 12-2-6 with a 2.02 goals-against average and .945 save percentage in the last 20 games in which he faced 30 or more shots on goal, dating back to Jan. 12.
•
Andrew Ladd
scored his second overtime goal in five days to cap the Jets' comeback from a 3-0 deficit and enable Winnipeg to post a 5-4 victory against the Panthers. Ladd, who beat Carolina in overtime last Friday, is the first player in Thrashers/Jets history to score two OT goals in such a short time frame. The previous record of two overtime goals in 11 days was set by
Ilya Kovalchuk
in 2002-03 and matched by
Marian Hossa
in 2007-08.
•
Logan Couture
ended his 10-game goalless streak with a power-play goal late in the second period that proved to be the game winner for the Sharks in their 5-2 victory at Dallas. Couture's 10-game dry spell matched the longest previous goal drought of his three-year NHL career. He went goalless in 10 consecutive games in 2009-10.
•
Anders Lindback
made 25 saves and went unscored upon in the shootout that earned him and the Predators a 2-1 win over the
Minnesota Wild
in Nashville. It was the Predators' first regular-season or playoff win on home ice that was recorded by a goaltender other than
Pekka Rinne
since Dec. 15, 2010, when Lindback beat San Jose, 3-2. Rinne, who missed Tuesday's game due to illness, recorded 40 regular-season and two playoff wins in Nashville between those two home-ice wins by Lindback.
February, 23, 2012
2/23/12
10:28
AM ET
Brian Burke has shown time and time again in his GM career that he's not afraid to act, and the man who runs the
Toronto Maple Leafs
has decided to add more drama before Monday's 3 p.m. ET trade deadline.
Burke broke the news on TSN 1050 Radio in Toronto on Wednesday evening -- later confirming it with ESPN.com during a phone call -- that the club has decided to explore what's out there on the goalie market in the wake of recent netminding struggles of
Jonas Gustavsson
and
James Reimer
.
It doesn't mean for sure they'll get a goalie, but they are going to see what's out there and judge the price tags. Burke said the front office discussed it for the first time Wednesday. It had not looked at outside goaltending until this point, just a few days removed from the trade deadline.
That doesn't allow for much time to get something done, and the prices are usually high at this time of year, but let's look at the possibilities for the Leafs:
Evgeni Nabokov, New York Islanders:
At 36, Nabokov has had a bounce-back season as proved by his .925 save percentage. He's slated for unrestricted free agency July 1, so he's the ideal rental player. My understanding is that he would gladly waive his no-trade clause for a move to Toronto. And don't forget he played for Leafs coach Ron Wilson during their San Jose days. Here's the catch, however: The Isles are in negotiations with Nabokov agent Don Meehan regarding an extension. And even if Nabokov doesn't sign, Isles GM
Garth Snow
has shown in the past he doesn't just give away rental players, so it's no sure thing he will move him, even if he can't sign him over the next few days. Still, this would be the most obvious target for Toronto.
Josh Harding, Minnesota Wild:
Like Nabokov, Harding is a UFA July 1, so he's a rental. Thing is, like the Isles, the Wild haven't quite decided what to do ahead of Monday's trade deadline. It's really going to depend, I think, on the quality of the trade offers and where Minnesota sits in the standings. But the club is certainly open to listening.
Anders Lindback, Nashville Predators:
I believe there's interest here on the part of the Leafs, but there's also the realization that the Predators aren't about to give away a 23-year-old goalie who holds lots of promise. It's not that he's unavailable; the Preds would move him, but only in the right deal. Translation: high price.
Curtis Sanford, Columbus Blue Jackets:
Sanford is another rental, and frankly he's played reasonably well for the league's doormats this season. The question you have to ask yourself if you're Toronto is, how much of an upgrade is he on what you have?
J.S. Giguere, Colorado Avalanche:
The former Leafs netminder is healthier now than he was last season in Toronto but he's not a rental player, having another year left on his contract, at $1.25 million. He's played well for Colorado this season, he's been a good tonic for
Semyon Varlamov
, and I'm not sure how interested the Avs would be to change that.
Antero Niittymaki, San Jose Sharks:
You can bet your bottom dollar that Sharks GM Doug Wilson would love to dump his discarded No. 3 netminder on the Leafs. Niittymaki has an .891 save percentage in nine AHL games this season. He's fully recovered from a surgically repaired hip, but teams are obviously wary. He's been a very effective netminder in the past, but I doubt the Leafs would go here unless it was a last resort.
Scott Clemmensen, Florida Panthers:
He's a UFA July 1 and a former Leafs farmhand, in 2007-08. He's played decently in Florida this season, with a .908 save percentage, but I think the Panthers would move him if a team called. Two questions here: 1) Would Florida move him to a team it is battling with in the East playoff race? and 2) Is this really an upgrade for Toronto?
Ben Bishop, St. Louis Blues:
Total wild-card entry. It would be a big-time gamble for the Leafs to hand the keys to another young and inexperienced netminder, one with only 13 NHL games under his belt -- none this season. But some people around the league are high on the 25-year-old's abilities.
December, 8, 2010
12/08/10
11:15
PM ET
DETROIT -- In the childhood bedroom of Anders Lindback in his hometown of Gavle, Sweden, was a poster of Nicklas Lidstrom, a hero to many in his native country.
Facing the legendary blueliner, along with Swedish star Henrik Zetterberg, for the first time in his young NHL career Wednesday night, the 22-year-old Lindback made it a night to remember with a 35-save performance at Joe Louis Arena in a 3-2 victory for his Nashville Predators.
[+] Enlarge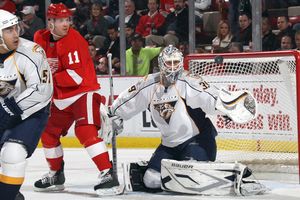 Bruce Bennett/Getty ImagesAnders Lindback made 35 saves as the Predators handed the Wings their third straight loss.
Was that Lindback or Pelle Lindbergh in net?
"It was pretty cool," Lindback, the game's first star, told ESPN.com. "Those are two of the best players in the world. It was a big win for me and for the team. I think we played a great game."
The strapping, 6-foot-6 Lindback improved to 5-1-2 on the season with a .919 save percentage and 2.64 goals-against average, and the Preds need him to run with it after the latest injury to starter Pekka Rinne. The Finnish No. 1 is out two to four weeks with a knee injury, opening the door for Lindback to establish himself.
"It's a big, big opportunity for me to show the coaches --" Lindback said, searching for a word. "I just have to win games for them."
Well he certainly did on this night. The Wings outshot the Preds 37-24, including 16-4 in the third period. But the kid from Gavle stood tall.
"He's a good goalie," his countryman Zetterberg said. "He was good in Sweden. I had heard a lot of good things about him."
If Lindback pans out and he's off to an impressive start, chalk one up again to Preds GM David Poile, assistant GM Paul Fenton and the rest of the scouting staff. The frugal Preds stay competitive year in and year out and it's largely based on some of the best drafting and development in the league. Lindback? A seventh-round pick by the Preds, 207th overall in the June 2008 NHL entry draft.
The second part of that equation is great coaching. And once again this season, Barry Trotz and his staff are coaching their butts off. Consider that Nashville's prime offseason acquisition, Mathew Lombardi, has played exactly two games this season before suffering a concussion that has left him out indefinitely. There goes your No. 1 center, on a team not flush with offensive talent. Add to that No. 2 center David Legwand missing nine games with a lower body injury. He came back Wednesday night here in Detroit only to leave the game after reaggravating the same injury. Top-pair defenseman Ryan Suter has missed 11 games with an injury. Did we mention the No. 1 goalie, Rinne, is also out?
"It's been our top guys getting hurt," Trotz said after Tuesday's big win. "It's no different if Datsyuk and Zetterberg got hurt for Detroit. Those are our top guys getting hurt, especially at center ice and defense. Just getting in any kind of rhythm has been difficult."
But here they are, now 13-8-6 despite the injuries, and Wednesday night very much one of those barometer games in a tough joint at Joe Louis Arena against the top seed in the Western Conference.
"They're obviously one of the top teams in the league yet again this year and this is a tough building to come in," said Preds blueliner Shea Weber, who was solid as a rock Wednesday night and named the game's second star. "We were fortunate to get that two-goal lead and I think we did a pretty good job playing with it after that."
In the other dressing room, the Wings (17-6-3) suddenly have hit their first three-game skid (0-2-1) of the entire season after flying out of the gates. Nothing to worry about, of course, but nevertheless the first bump in the road.
"We got to find our way out of this," the captain, Lidstrom, said. "The way we're playing right now ... the other night we had a good start and fell off. Tonight we did the opposite. We don't have to have the letdowns we've had the last couple of games."
Should be a good one here on Friday night as the Montreal Canadiens make a rare visit to Joe Louis Arena, a clash of two Original Six teams off to terrific starts this season. And the Habs better be ready -- the Wings have no intention of stretching this skid to four games.
October, 28, 2010
10/28/10
4:25
PM ET
Nashville -- Lots of jokes are floating around the
Nashville Predators
' dressing room these days, not just about the quality of their goaltending but, well, the size of that goaltending.
Certainly, the Predators are the only NHL team in history that can boast of having just shy of 13 feet of goaltending.
And it's a good thing that if 6-foot-6 rookie netminder
Anders Lindback
forgets his suit jacket, he can just borrow one from 6-foot-5 colleague
Pekka Rinne
.
"Yeah, about the same size. I guess that's one more positive thing," Rinne acknowledged Thursday morning before the 5-0-3 Predators were to play host to Central Division rival St. Louis.
OK. Maybe it's not all that funny. But the fact remains that the Predators, the only NHL team that began play Thursday without a regulation loss, are able to crack some jokes about a goaltending situation that could easily have been a nightmare.
During the offseason, the Predators made a conscious decision to eschew the many free-agent goalies on the market and see who might emerge as Rinne's backup.
The thinking was that if the backup couldn't get the job done, GM David Poile would start beating the bushes looking for some veteran help.
Already goalies like
Thomas Greiss
and
Erik Ersberg
, both of whom have NHL experience with San Jose and Los Angeles, respectively, have passed through waivers, but the Predators weren't interested.
Not surprising.
As it turned out, Lindback, an undrafted, unheralded 22-year-old out of Sweden earned the backup job to Rinne out of training camp. Had things gone according to plan, head coach Barry Trotz might not have called Lindback's number to give Rinne a rest until Game 8 or so of this season.
But, as Poile pointed out Thursday morning in an interview, things didn't go quite according to plan.
In the third period of the Predators' season opener, Rinne went down with a knee injury.
And in came Lindback for his first NHL action, and he never missed a beat.
He helped preserve that victory over Anaheim and went on to post a 3-0-1 record with a .925 save percentage.
"Oh yeah, that was a bit overwhelming," Lindback admitted. "It went so quickly I don't have the time to think. I just went out there."
The Predators boast the NHL's third-best goals-against average heading into play Thursday at 2.12.
A unique situation?
Poile has been around the game a long time and acknowledged turning over the goaltending reins to two relatively untested netminders isn't how they tell you how to do it in the GMs' operating manual.
"It was not historically what hockey managers have chosen to do," he acknowledged.
And specifically, the ascension of Lindback runs contrary to how the Predators have done business over the years.
"Traditionally, the road to Nashville has always run through Milwaukee," Poile told ESPN.com, noting the team's American Hockey League franchise.
That's where most of the Predators' top homegrown players honed their skills before coming to the NHL. It's where Rinne honed his skills before becoming one of the game's top young goaltenders.
When Rinne blanked Dallas 1-0 last weekend, it marked his 15th shutout since Dec. 1, 2008, most in the NHL over that period.
Although he will turn 28 in November, this is just Rinne's third full season in the NHL. But, he has quickly moved from NHL newcomer to mentor for young Lindback.
"Things happen quickly," Rinne said. "All these few years have gone by really fast and a lot of things have happened. But it's great to see a guy like Anders coming in and being ready like he is. Being only 22 years old, it's amazing and just really happy to have him [as] my goalie partner. Obviously, I do anything to help him if he needs any advice but he's a smart kid and works extremely hard and I think that's just a key thing, to have that work ethic," he said.
Lindback is currently living with teammate
Patric Hornqvist
, although Hornqvist is helping Lindback find his own apartment [and not one in Milwaukee as it turns out] and his first North American car.
As for nerves, Lindback seems unaware that he should be feeling any.
"Actually, I have really hard [time] to get nervous and that might be a good thing. I don't remember I got nervous the last time, really. I just get excited and just try and do my best every day," he said.
Has there been anything that's been difficult in the transition from anonymous netminder to front-line NHL player?
Apparently not.
"Everything's really been ... just living the dream," he said with a smile.
Just like the Predators.