Cross Checks:

Andrew Ference
September, 30, 2013
9/30/13
3:54
PM ET
DENVER -- You've no doubt read my colleague Pierre LeBrun's popular "rumblings" blog. Well, this is more a rambling than a rumbling. To whit:
Cheat deals:
Like most people, we're fascinated to see how the
Daniel Alfredsson
experiment turns out in Detroit. But the one thing we still can't get over is that the NHL decided not to act on Alfredsson's blunt acknowledgment that his previous contract with the
Ottawa Senators
was, in fact, a blatant attempt to circumvent the salary cap under the previous collective bargaining agreement. Alfredsson told reporters before training camp that when the four-year deal was signed, neither side expected Alfredsson would play in the contract's final year -- worth only $1 million in real money even though the cap hit was $4.875 million annually. It was exactly that kind of wink, wink, nudge, nudge deal that the league had been warning teams about for years -- Alfredsson made $7 million in each of the first two years of the pact -- and which ultimately cost the
New Jersey Devils
mightily in their first attempt at a contract for the erstwhile
Ilya Kovalchuk
. The so-called cheat deals were, in theory, eliminated by new parameters put on contracts in the new collective bargaining agreement, and the league's position is that they are going to look forward instead of back. Good news for the Senators, but maybe in the spirit of CBA détente, the league should forgive the Devils the first round draft pick they must forfeit next spring for having done no worse than what Alfredsson admitted the Senators did in his case.
Captain Ference:
I love the idea of
Andrew Ference
wearing the captain's 'C' in Edmonton. Head coach
Dallas Eakins
has many options, but Ference has the right temperament for what promises to be a demanding job. Yes,
Taylor Hall
may yet be the Oilers' captain of the future, but Ference comes from a culture of winning in Boston, and in Calgary before that when winning was something the Flames actually did. He's won a Cup and been to two Stanley Cup finals. He's smart, thinks through the game well and interacts well with the public and the media. When we spoke to Eakins during training camp, he talked about the variety of skill sets that Ference brings to an Oilers' table that has not seen a taste of the playoffs since 2006, and he was speaking as much about the off-ice skill set as the on-ice toughness and ability to move the puck.
Not so fast, rookie:
I must admit I was surprised to see the
Tampa Bay Lightning
ship No. 3 overall draft pick
Jonathan Drouin
back to junior where the folks in Halifax will be happy to see the skilled winger. His junior teammate and No. 1 overall pick
Nathan MacKinnon
has long been penciled into the
Colorado Avalanche
's opening lineup. Likewise, No. 2 pick
Aleksander Barkov
will start in Florida, and
Seth Jones
, No. 4 in one of the greatest top-heavy draft classes in recent memory, will stick in Nashville. But GM
Steve Yzerman
and the Lightning staff obviously didn't feel Drouin was ready. As desperate as the Bolts are to return to the playoffs after missing since their surprise berth in the 2011 Eastern Conference finals, the team decided it was best for Drouin's overall development to return to junior, where he will play significant minutes as well as be a part of Canada's effort at the World Junior Championship. Given that Yzerman spent his entire career playing in Detroit, a franchise whose trademark for the past two decades has been one of patience and never (or rarely, anyway) rushing a player to the NHL, maybe the move isn't all that surprising. As he explained to reporters in Tampa, Yzerman wants his young players playing all the time, not relegated to fourth-line minutes in the NHL or sitting in the press box. In that same vein, the Lightning also sent former No. 6 overall draft pick
Brett Connolly
back to the Bolts' American Hockey League affiliate in Syracuse.
The young and the discarded in South Beach:
Is it just us or does this year's version of the
Florida Panthers
bear a striking resemblance to the one that two years ago went from a rag-tag bunch of summer signings to an unexpected Southeast Division title? We didn't have the gumption to pick the Panthers to be that kind of team this season, but with new ownership taking control last week, GM Dale Tallon has locked up former Vezina Trophy winner and playoff MVP
Tim Thomas
to a one-year deal, while adding useful players
Brad Boyes
and
Tom Gilbert
-- both of whom were on tryouts -- to one-year deals. Boyes played top-line minutes with the
New York Islanders
last year, and Gilbert will add some depth to a blue line that is still very much in transition with
Erik Gudbranson
hoping to evolve into a franchise blueliner. Now, a lot can go wrong, but it's interesting that two summers ago when Tallon brought in a bevy of newcomers, including
Brian Campbell
,
Kris Versteeg
,
Ed Jovanovski
,
Tomas Fleischmann
and
Sean Bergenheim
, few people gave head coach
Kevin Dineen
a chance to make it work then. With an emerging Gudbranson, defending rookie of the year
Jonathan Huberdeau
and Barkov, there is an intriguing blend of the young and the discarded.
Vokoun's health:
We were pleased to read agent Allan Walsh's comments to Pittsburgh writer Rob Rossi regarding the health and potential recovery of netminder
Tomas Vokoun
, who required surgery during training camp to deal with a blood clot issue. It's not the first time Vokoun has dealt with the medical issue, but Walsh told Rossi that reports out of the Czech Republic that Vokoun's career is over and he nearly died as a result of the illness were not true. Not a knock on reporters in other countries, but a reminder that sometimes stuff gets lost in translation. Walsh told Rossi that Vokoun is looking forward to resuming his NHL career, although an exact timetable remains unknown. Vokoun's story is inspirational, as he's overcome many hurdles to carve out a solid NHL career. He was nothing but a gentleman as he took over for
Marc-Andre Fleury
in the first round of the playoffs for the Penguins last spring and guided the Pens to the Eastern Conference finals. Here's hoping he makes a speedy return to the game.
Kings of depth:
One of the reasons to like (or fear, if you're a Western Conference opponent) the
Los Angeles Kings
is the kind of depth GM Dean Lombardi has assembled in LA. The team sent
Tyler Toffoli
to the minors over the weekend after the youngster made a strong impression last season. He was especially impressive in the playoffs, collecting six points in 12 postseason games and earning time on the Kings' power play. Toffoli will start the season in Manchester along with talented linemates
Linden Vey
and
Tanner Pearson
-- a group Lombardi has likened on a number of occasions to famed LA Dodgers Ron Cey, Bill Russell, Steve Garvey and Davey Lopes, who all blossomed together in the Dodgers' farm system before becoming star major leaguers. In short, you may not see them in a Kings jersey in October, but it won't be a surprise when, at some point this season, you see not just Toffoli, but perhaps all three making their case for a permanent stay in Hollywood.
Goalie buzz:
And finally, of all the goaltending drama unfolding around the NHL -- Tim Thomas in Florida, the
Jonathan Bernier
/
James Reimer
duel in Toronto, Roberto Luongo's return as the erstwhile starter for the
Vancouver Canucks
-- perhaps none has been as curious as the decision to find the heir apparent to
Miikka Kiprusoff
in Calgary. Now, expectations are low for the Flames (OK, that's a bit of an understatement, especially with Mike Cammalleri's availability for the start of the season now in jeopardy thanks to injury) but with journeyman
Joey MacDonald
, Swiss sensation
Reto Berra
and former Lightning prospect
Karri Ramo
jostling for the right to start on opening night, it has created at least a little buzz around the team. If we had to guess, we would go with Ramo, who got rave reviews for his play in the Kontinental Hockey League and is now trying to prove he's NHL-ready. Our guess is he's about to find out.
August, 2, 2013
8/02/13
10:33
AM ET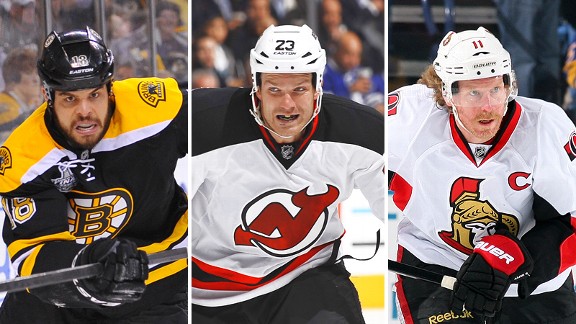 Getty ImagesBig things are expected out of big-buck signings Nathan Horton, David Clarkson and Daniel Alfredsson.
Let's end this week of questions with a lightning round, and that's not a reference to the team based in Tampa. Here we go. Give us your biggest question for 2013-14 in the comments section.
Daniel Alfredsson in Detroit:
Does Alfredsson, 40, have enough left in the tank to make a difference in the Motor City? He will get every opportunity to prove he was worth the gamble by the Red Wings and will do his darndest to win a Stanley Cup and prove the Senators were messing with him all those years.
Vincent Lecavalier in Philadelphia:
Lecavalier, 33, isn't as washed up as some people believe. It just feels like he's been in the league forever because he started so young. He has won a Stanley Cup and will be similarly motivated to show people he still has something left. But he won't be as good as the Flyers need him to be or as Flyers fans expect him to be (tough crowd), especially while carrying a $4.5 million cap hit.
Ray Emery in Philadelphia:
Montreal, Toronto and Philly are the toughest markets on goalies. Emery, 30, will do well but won't live up to lofty expectations. Again, tough market. Two reasons he could prove me wrong: He's still got a lot of hockey left in him, and he's on a one-year deal at a reasonable $1.65 million.
Jaromir Jagr in New Jersey:
Jagr, 41, loves the game, and it's loving him right back. But can you imagine him thriving while playing for Lou Lamoriello? Neither can I.
David Clarkson in Toronto:
Man, tough go there. Clarkson, 29, says
Wendel Clark
was his idol growing up and many Leafs fans are going to want a similar level of play. No disrespect intended, but Clarkson is a solid 15- to 20-goal scorer at his top end who will be a $5.25 million cap hit in his first season. He's no Wendel Clark (few are).
Matt Cooke in Minnesota:
Not going to work. Cooke, 34, is not a good value at $2.5 million, especially on that team.
Andrew Ference in Edmonton:
Ference, 34, still has some game left in him and is the kind of defenseman the Oilers have been seeking for years. He will help that young dressing room hit the mature button a lot sooner than it would have without him. This is a great move for the Oilers.
Valtteri Filppula in Tampa:
Filppula, 29, will have the same cap hit on the Lightning ($5 million) as Ryan Kessler does for the Canucks and
James Neal
does for the Penguins. Which player would you rather spend that cash on?
Nathan Horton in Columbus:
If his shoulder surgery heals properly, Horton could be a catalyst for the Blue Jackets. The biggest issue will be to see how he adapts to not having
Milan Lucic
and
David Krejci
making room for him every game.
Jarome Iginla in Boston:
Iginla, 36, will like being in the Eastern Conference, with all its relatively cushy travel, and is one of the best guys in all of sports. But, sadly, it appears his better days are behind him, so a $6 million cap hit is outright robbery.
Dustin Penner in Anaheim:
Penner, 30, was a frequent healthy scratch with the Kings last season, is on a one-year contract and could be on his way to further marginalization if he doesn't step it up.
Mike Ribeiro in Phoenix:
Ribiero, 33, is on his third team in three seasons and clearly wants to show what he's capable of when not playing one the same side as the most talented winger in the game (
Alex Ovechkin
, by the way). It is an odd choice, though, considering that the Coyotes' lack of talent likely will result in lower numbers. Still, it's nice to see a team owned by the league support the PA with such a crazy-good contract ($5.5 million cap hit) for a player who has topped 80 points just once.
Michael Ryder in New Jersey:
Ryder, 33, is usually good for 30 goals every season, which means he'll probably get 25 on the Devils. He's on his fourth team in five seasons, though, which is a concern.
Viktor Stalberg in Nashville:
Stalberg, 27, wasn't going to get that kind of coin ($3 million cap hit) from the Blackhawks, but he is talented and has a chance to show his former team that he would have been worth it by signing with a team in the same division. He'll put up decent numbers with lots of ice time.
Stephen Weiss in Detroit:
People likened Weiss to
Steve Yzerman
when he broke into the league, so this is a full circle of sorts. Weiss, 30, should fit well into the Red Wings' way of thinking. GM Ken Holland doesn't spend that kind of money ($4.9 million cap hit, fourth on the team) very often, so you know he's scoped this out from all angles.
July, 5, 2013
7/05/13
6:46
PM ET
We often describe the first day of free agency as a frenzy.
Guess what?
Friday, they finally got the frenzy part right.
From the moment the marketplace officially opened at noon ET, there was a non-stop acquisition of horseflesh from virtually every corner of the NHL map.
And in the wake of a five-year deal for
Valtteri Filppula
worth $25 million in Tampa and the five-year deal
Stephen Weiss
signed in Detroit for essentially the same amount and the $36.75 million the
Toronto Maple Leafs
committed to
David Clarkson
over the next seven years -- and a total of 63 deals worth a record $411.9 million -- remind us again why we had a lockout?
If that doesn't confound your puzzler, well, more than a few things did on this most active of free-agency days.
Herein a look around the league at the events that made sense, made little sense and made no sense after the dust had cleared.
Ottawa Senators
The Senators said goodbye to their venerable captain,
Daniel Alfredsson
, who signed a one-year deal with the
Detroit Red Wings
. But within a couple of hours, GM Bryan Murray had landed an elite top-six forward in
Bobby Ryan
from Anaheim. Ryan will be a great fit on and off the ice in this Canadian market. It cost Murray big-time in the form of
Jakob Silfverberg
, a first-round draft pick, and former first-round pick Stefan Noesen. But the Sens, who also signed
Clarke MacArthur
to a two-year deal, are well-armed for a playoff battle in what looks now to be the toughest division in the newly realigned NHL.
Detroit Red Wings
It was a curious day for the Wings as they signed an aging Alfredsson to a one-year deal worth $5.5 million, evoking memories of the disastrous turn in Detroit by an aging
Mike Modano
, and then signed Weiss to a big five-year deal at $4.9 million a season, even though Weiss has toiled in relative obscurity in Florida his entire career. He's played in just seven playoff games, all in 2012. The Wings also failed to immediately re-sign veteran
Daniel Cleary
or bring back impressive first-year player
Damien Brunner
or center
Valtteri Filppula
, who signed in Tampa. In other words, a few steps in a circle.
Tampa Bay Lightning
And since we're on a Red Wings kick, let's look at the Filppula signing. Five years at $5 million a year is a lot for a guy who had 17 points in 41 games this season (he did register 66 points in 2011-12). As a second-line center in Tampa who will ostensibly replace
Vincent Lecavalier
, is Filppula up to the task, or were those 66 points a mirage and will he settle back to his career norm of 40 or less? Let's put it this way, for GM Steve Yzerman's sake, Filppula better be on the ascending arc of his career or this is going to look pretty ugly in the wake of the Lecavalier buyout.
Columbus Blue Jackets
Still don't quite get why
Nathan Horton
was in such a hurry to get out of Boston but guess all those trips to the finals must have been annoying somehow. Horton signed a whopper seven-year deal worth $37.1 million with the Blue Jackets, who are trying to build off last season's dramatic if ultimately unsuccessful run to a playoff berth in the Western Conference. Still, is Horton really ready to be the guy in Columbus after being able to exist in the shadows for the most part in Boston? Streaky doesn't really describe Horton's history offensively and that won't cut it for a team that has made the playoffs just once in its existence and has never won a postseason game.
Nashville Predators
Good bounce-back day for GM David Poile after just missing out on Daniel Briere as he added versatile veteran center
Matt Cullen
and hardworking
Matt Hendricks
along with
Viktor Stalberg
to bolster the Preds' anemic offense. The Preds will, seemingly, always be about success by committee and these three additions should make the whole greater than the sum of its parts. Cullen shortly after he signed his two-year deal worth $7 million told us it was difficult to leave his home state of Minnesota, but that the Preds' hardworking style was attractive to him. Although injuries slowed Cullen at the end of this season, he can do it all, including taking important draws, working the power play and killing penalties.
Phoenix Coyotes
How rich is this? Two days after nearly having to relocate, with new ownership assured for at least the next five years, the Phoenix Coyotes were major players, snagging the top-producing free-agent forward, center
Mike Ribeiro
. The skilled Ribeiro signed a four-year deal worth $22 million and will rejoin head coach Dave Tippett, for whom he played in Dallas. The Coyotes have long been lacking depth down the middle. No more. Phoenix also signed
Thomas Greiss
to back up
Mike Smith
.
Pittsburgh Penguins
Just when you think GM Ray Shero is all out of cards up his sleeve, he pulled out "The Piece" -- or rather repatriated "The Piece," defenseman
Rob Scuderi
, who was a key part of the Pens' runs to the 2008 and 2009 Stanley Cup finals. Scuderi, who also won a Cup with the
Los Angeles Kings
in 2012, signed a four-year deal with the Pens for a total of $13.5 million and will help solidify the blue line of a team that once again looks Stanley Cup-ready with
Kris Letang
,
Chris Kunitz
and
Pascal Dupuis
all re-signing deals in recent days.
Carolina Hurricanes
On a day when lots of bigger names were signing a lot bigger contracts, we liked the additions in Carolina of defenseman
Mike Komisarek
, who was bought out by the Toronto Maple Leafs and who has a ton to prove as he tries to get his NHL edge back. And then there was the signing of backup netminder
Anton Khudobin
, formerly of the
Boston Bruins
. Lots of folks believe Khudobin, the former ECHL goaltender of the year, has NHL starter stuff. Pending
Cam Ward
's durability, Khudobin might be among the steals of the free-agent market.
Toronto Maple Leafs
Few players were pursued as vigorously as former New Jersey Devil winger David Clarkson. Edmonton, Ottawa and Boston were among the teams interested in the rugged winger with the scorer's touch. But the Toronto native ended up coming home and signing a whopper seven-year deal with the Leafs worth $36.75 million. With the addition of
Jonathan Bernier
and
Dave Bolland
, the Leafs look to have better depth than a year ago (they also re-signed
Tyler Bozak
to a five-year deal on Friday worth $21 million). They are still thin down the middle but Clarkson will give Randy Carlyle the tools to ice three potentially potent scoring lines, which will be crucial to the Leafs' efforts to return to the playoffs for a second straight year.
New Jersey Devils
Speaking of the Devils, their big signing of the day,
Ryane Clowe
for five years for a total of $24.25 million, seemed to illustrate the difficulty the franchise continues to have in attracting top-end talent. Clowe, like Clarkson, is a rugged forward with a nose for the puck, but he is also coming off a series of concussions, so his durability -- especially given his brand of game -- has to be suspect. Bottom line is the Devils needed someone to help fill the void created by Clarkson's departure, and they had to overpay a player with health issues to get that done. Not sure how that strategy sustains itself long-term. The Devils did add another proven scorer in
Michael Ryder
, who signed a two-year deal worth $7 million late Friday afternoon, joining fellow Newfoundlander Clowe in New Jersey. This is a lateral move, the Devils being Ryder's third team in the past four years having gone from Boston, with whom he won a Cup in 2011, to Dallas and now to New Jersey.
Philadelphia Flyers
It didn't turn out to be much of a surprise when the Flyers signed
Ray Emery
to a one-year deal worth $1.65 million. Emery wanted a chance to earn back a starting job and the Flyers represented one of the few teams with that kind of dynamic. The fact Emery had played for the Flyers was a bonus. But the big question is whether Emery, who was so good as Corey Crawford's backup with the Stanley Cup-champion
Chicago Blackhawks
-- going 17-1 with a .922 save percentage during the regular season, has the durability to become a starter again. Emery will split time with
Steve Mason
, and given Mason's up-and-down career, there's no reason to think Emery can't be the man, as long as his body goes along with the plan. And, oh yeah, the Flyers remain over the salary cap so GM Paul Holmgren still has a little work left.
New York Islanders
Weird day for goaltenders. With
Ilya Bryzgalov
and
Tim Thomas
still looking for a place to land late Friday, the Isles re-upped netminder
Evgeni Nabokov
for one year at $3.25 million. Apparently no one in the Islander front office bothered to look at tape of the Isles' first-round playoff loss to the Pittsburgh Penguins. Perhaps GM
Garth Snow
has a Plan B that will reveal itself at some point, but right now the Isles do not possess enough goaltending to get in the top four of their division despite adding character forwards
Cal Clutterbuck
at the draft and signing
Pierre-Marc Bouchard
on Friday.
Edmonton Oilers
Loved the Oilers' addition of veteran defenseman
Andrew Ference
to a four-year deal worth $13 million. If it's one thing the Oilers need, it's some maturity on the blue line. Ference won a Cup with Boston in 2011 and was part of the Bruins' run to the finals this spring, logging more than 24 minutes a night in the postseason. Not sure about
Boyd Gordon
signing at $3 million a year for three years, but someone had to take on the departed
Shawn Horcoff
's role (the former Edmonton captain was dealt to Dallas).
Jason LaBarbera
was inked to a one-year deal to come in to back up
Devan Dubnyk
, which is fine if you believe Dubnyk is the guy to lead this team out of the wilderness, but right now the Oilers look to have no better than the sixth-best goaltending in their new division.
Boston Bruins
You can't beat the irony of this one. The Bruins were spurned by
Jarome Iginla
at the trade deadline when Iginla waived his no-trade clause and joined the
Pittsburgh Penguins
. Then the Bruins waxed the former Calgary captain and the Penguins in four games in the Eastern Conference finals, allowing just two goals in four games and leaving Iginla without a point in the series. Of course, Friday afternoon Iginla signed a one-year deal worth a $6 million cap hit (the final compensation is dependent upon bonuses) with the Bruins because, well, why not? The Bruins, shut out of the Alfredsson talks, among others, as they tried to plug the holes that have opened up on the right side of their lineup, are actually a nice fit for Iginla. As was the case at the trade deadline. And would it surprise anyone if the rugged winger lights it up after having a difficult time with the Penguins especially against the Bruins? Of course not.
Minnesota Wild
Interesting afternoon for GM Chuck Fletcher, who unloaded salary in
Devin Setoguchi
, essentially giving the winger away to the
Winnipeg Jets
for a second-round pick, and then picking up rugged winger
Matt Cooke
, signing him to a three-year deal worth $7.5 million. Setoguchi has one year left on his deal worth a $3 million cap hit. He started slowly with the Wild this season but playing with
Matt Cullen
ended up with 13 goals and 27 points but Setoguchi was never the perfect fit in Minnesota and so he joins a Jets team that continues to collect other teams' castoffs. Cooke, a part of the Penguins' Cup-winning team in 2009, will ostensibly replace
Cal Clutterbuck
, who was dealt to the
New York Islanders
at the draft. Cooke is well-known to Fletcher and to head coach Mike Yeo, both of whom were with the Penguins during that Cup run.
June, 21, 2013
6/21/13
8:06
PM ET
CHICAGO -- It is a measure of
Jaromir Jagr
's place in the game, and his complex personality, that much from Tom Renney's time coaching the Czech star in New York has stayed with the veteran coach through the years.
It is likewise a measure of the two cerebral men that much of what has stayed with Renney is not so much the hockey, but the man himself.
Renney recalled that he and Jagr would have long chats, very little of which would revolve around the game but would include all manner of other topics.
"We'd spend maybe six or seven minutes talking about hockey and then 50 minutes on other stuff. That's a special relationship to say the least," Renney told ESPN.com this week. "There's a real mutual respect there."
Renney, now an assistant coach with the
Detroit Red Wings
, has paid close attention to Jagr's march toward his first Stanley Cup since his second year in the league, with Pittsburgh in 1992. In fact, Renney feels that as much as he might have helped Jagr's career coming out of the 2005-06 lockout, Jagr was a catalyst for Renney's coaching career.
"He really helped me get traction again as a coach," Renney said.
"It obviously helps when you're best player is all-in. I think he kind of felt I had his back and he mine."
It is that way in Boston now, just as it was in Jagr's previous stops in Philadelphia and Dallas. Renney praised the work of Bruins coach Claude Julien and his staff in integrating Jagr into their system and their close-knit dressing room after acquiring him at the trade deadline.
Renney asked how a player could not give his all when he's been shown the respect Jagr's been given by Julien and his staff, but that's easier said than done.
Like any other artist (and he is just that), Jagr does not behave like a run-of-the mill player, and thus cannot be treated like one.
He played for the Rangers from late in the 2003-04 season to the end of the 2008 season. In 2005-06, the first year after the last lockout, Jagr had 54 goals and 123 points playing for Renney, who was the Ranger coach when Jagr arrived and who lasted until late in the 2009 season. Jagr was nominated for the Hart Trophy as league MVP in that season and was voted MVP by his fellow players.
"Jaromir has a little different take on the game," Renney said.
That has led some to malign Jagr at times and suggest he was uncoachable, especially earlier in his career. But if that was ever the case, Jagr is no longer that kind of player.
"He likes to do things a certain way," Renney added.
[+] Enlarge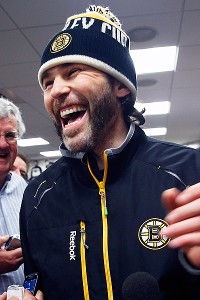 AP Photo/Michael DwyerJaromir Jagr is enjoying his time with the Bruins, even though he's not scoring goals.
Playing on a line with Conn Smythe Trophy candidate
Patrice Bergeron
and
Brad Marchand
this postseason, Jagr has played an important role for the Bruins, although he is far from the dominant player he used to be.
But like
Mark Recchi
for the Bruins' Cup-winning team in 2011, there is something about the presence of the 41-year-old Jagr that transcends the points he produces or the goals he has scored (which is a good thing, given that Jagr has yet to score in this year's playoffs).
That's not to say he hasn't been close.
Jagr rang one off the crossbar in overtime of Game 2 in Chicago, after which he stared longingly at the rafters of the United Center. He made a terrific play to win a puck battle behind the Chicago net in Game 4 and feed Bergeron for a goal.
Jagr has spoken lovingly of his time with Boston and became quite emotional talking about coach Claude Julien's decision to have him on the ice in the waning moments of Game 3 with the Bruins nursing a 2-0 lead. Both he and Julien joked after that it was more about trying to get Jagr his first goal of the playoffs, but Jagr quipped that he doesn't mind the monkey at all.
"I love the monkey, man," he said.
He has offered thoughtful assessment of his own play and the play of opponents.
"[Jagr] doesn't varnish anything. He's a very, very proud man," Renney said.
Still, there remains an element of the enigmatic to Jagr. There are his midnight skates at TD Garden in Boston, often with a weighted vest. We asked the Bruins' communications staff when we might next expect to see Jagr in a media setting and the honest answer was that they didn't know.
He wasn't expected to talk after Game 4, but he did, and then he was not present for media sessions the next two days.
At this stage of his career, though, it's easy to cut Jagr some slack. Even if his star has dimmed slightly, his presence and profile still remain larger than life.
"I played with him for a long time. Started my career playing for Pittsburgh and then playing in New York with him, so I know him very well," Chicago defenseman
Michal Rozsival
said Friday. "In the hockey world back home, he's definitely the biggest figure that has ever been and probably ever will be.
"He has a lot of fans there. He's high profile here and even more in the Czech Republic," Rozsival added.
Andrew Ference
played with Jagr early in his career in Pittsburgh and said he thinks Jagr listens to the coaching staff a lot more now. At the time, Jagr had a reputation as a player who really looked after himself, but Ference said he sees that much more readily now.
"When I was in Pitt, you kind of heard of those stories but never really saw it. Now you see it. You see all the extra work," Ference said.
"Now you almost pull the reins on him a bit to say to back off a little. He puts in so many hours just trying to improve himself on everything, on every little thing," he said.
One conversation Renney recalled happened just as Jagr was about to embark on a three-year, self-imposed exile to the Kontinental Hockey League, with Renney telling Jagr he could come back to the NHL anytime he wanted and play another five years.
Turns out Renney was absolutely right.
June, 13, 2013
6/13/13
7:36
PM ET
CHICAGO --
Marian Hossa
figured it was around 3 a.m. Thursday before the adrenaline finally seeped out his body and allowed him to fall asleep.
Which made his neighbor's home improvement activities a few hours later a rude reminder of Hossa's long night at the office.
"Woke up early. I think my neighbor decide he was going to drill in the morning. That was unpleasant," Hossa told reporters who gathered at the United Center some 13 hours after he and the Blackhawks had completed a monumental comeback and defeated the
Boston Bruins
4-3 in triple overtime to win Game 1 of the Stanley Cup finals.
"You know, hopefully he is going to get the message for next time, he won't drill," Hossa quipped. "Feel a little tired today."
In general, we're against having an extra day off during a playoff series. For the most part, the elongated break taxes players and fans and the media covering the series. Too much time covering the same old ground, too little hockey.
But in this case there was pretty much universal agreement from both teams that having Game 2 scheduled for Saturday night in Chicago was the perfect tonic for the Game 1 marathon.
And so instead of a day of thumb-twiddling, Thursday was a day of reflection and recovery after a game that took 112:08 to sort out before
Michal Rozsival
's point shot deflected first off
Dave Bolland
and then
Andrew Shaw
, and past
Tuukka Rask
to give the Blackhawks the win.
[+] Enlarge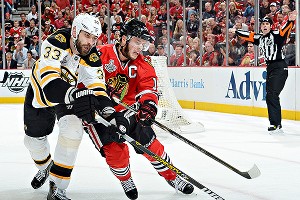 Bill Smith/NHLI/Getty ImagesZdeno Chara and Jonathan Toews leaned on each other for nearly six full periods, making an extra day off before Game 2 a blessing.
Players from both teams described the behind-the-scenes frenzy in the respective dressing rooms in overtime as trainers and other team staff worked to make sandwiches, prepare drinks, and get dry jerseys, gloves and other garments ready as the players came in after each of the overtime sessions.
Portable dryers, hair dryers and anything else that could help in the drying process were employed.
"It's a long game. You know, I think guys were really focused on getting drinks in their system. Guys were eating stuff. Guys were changing out of wet equipment and all that," Chicago defenseman
Brent Seabrook
said. "We got a great equipment staff, great trainers that give us every opportunity to get good things in our body, taking care of drying equipment out, drying skates and stuff like that."
"Everybody in overtime was running for us whatever we needed. It was unbelievable," added Hossa.
"Seems like we had more trainers than the players in the dressing room at that time. So that was nice to see," he said. "Basically anything we asked for we got. So we are pretty lucky."
Neither team skated on Thursday, understandable given the rigors of Game 1. And the extra day off will help both squads internalize all that took place, all of the missed opportunities, all of the fortunate and unfortunate bounces.
Naturally, that's a process that should be easier for the Blackhawks after having won a game in which they trailed 2-0 and 3-1. Still, as
Patrick Kane
pointed out, having come back that way, it would have been tough to swallow had they lost.
"It's one of those games being down 3-1, you come back to tie it 3-3, you feel like something was left on the
table if you didn't come back and win it," Kane said. "It's definitely a good feeling winning in the third overtime when it does go that long. Huge win, for sure."
The Bruins, of course, will make the more interesting case study, having uncharacteristically blown those leads and then being unable to close the deal in overtime in spite of a handful of glittering chances.
"Yeah, there's no question that it's a tough loss. At the same time, it was a game that could have gone either way," said Boston defenseman
Adam McQuaid
. "Take the positives from it. Today is a new day. We kind of start over and just have to get ready for Game 2."
Indeed, if there is a team that is built to turn away from such a gut-wrenching loss, it's the Boston Bruins.
This battle-tested team two years ago dropped the first two games of its opening-round playoff series against Montreal at home, then won that series in seven games. Later in 2011 the Bruins lost the first two games of the finals to Vancouver, then won that series in seven games to claim their first Stanley Cup since 1972.
"We've been through a lot," head coach Claude Julien said Thursday at a press briefing at the team's downtown hotel. "I don't think much is going to rattle our team. We're a pretty resilient group of guys. We live in the moment. This was a game we all know that it could have gone either way. Both teams had great chances and we could be sitting here today up 1-0 as easily as we are down 1-0.
"Wasting our time thinking about what could have and should have been is a lot of wasted energy," Julien said. "What's done is done."
Funny how the game goes sometimes.
In Game 1 the two teams went hammer and tong at each other for the equivalent of almost two regulation games, and yet some of the most pivotal moments seemed to come down to plain old luck.
Both the tying and winning goals came on deflections. Still, no one on the Boston side was suggesting the Bruins had been the victims of bad luck. Nor were they lamenting the missed opportunities or breakdowns.
"Ah, that doesn't matter. You'd drive yourself crazy at this point. I might have when I was 22 or something like that, but at this point it was out of my mind on the next shift," said Boston defenseman
Andrew Ference
, who inadvertently had the tying goal go in off his skate at the side of the Boston net in the third period.
"At this point you almost kind of shake your head at it and say, 'What can you do?' You hope somewhere down the line you shoot one off of one of their feet. That's the way playoffs go," Ference said. "There are certain plays you can control and there are certain plays you wouldn't change a single thing you did and the puck goes in. I'm not wasting any energy thinking about that."
May, 31, 2011
5/31/11
8:49
PM ET
Bruins defenseman Andrew Ference discusses being the underdog and Boston's five-on-five play with ESPN.com's Scott Burnside.
April, 22, 2011
4/22/11
1:11
AM ET
February, 27, 2011
2/27/11
11:18
AM ET