Cross Checks:

Andrew MacDonald
February, 20, 2015
Feb 20
11:56
AM ET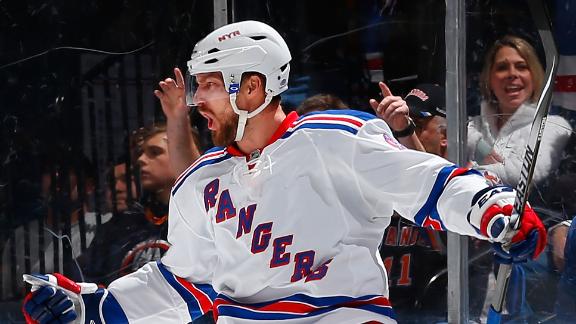 FORWARDS
Trending up: Nicklas Backstrom, Washington Capitals
-- The steady Swede has propelled the Capitals to three consecutive wins with his torrid production. He had a pair of goals and an assist in the Caps' 5-1 beatdown of the
Winnipeg Jets
Thursday night, giving him six points in his past three games.
Trending down: Sean Bergenheim, Florida Panthers
-- While the rest of the Panthers have to be amped to be back in the thick of things in the Eastern Conference playoff race, Bergenheim is itching to get out of South Florida. The gritty Finnish forward has been a healthy scratch and has not played since Feb. 12. There appears to be at least a few teams who have shown interest in the hard-nosed Bergenheim, whose agent has already asked general manager Dale Tallon for a trade. Bergenheim could be a nice pickup for a team looking to add some jam to their forward group.
Surprise of the week: Andrew Desjardins, San Jose Sharks
-- The 28-year-old forward has only five goals this season, but he tallied two of the biggest in a huge, morale-boosting victory over the
Dallas Stars
on Thursday. With the losses piling up for San Jose, a team teetering among the top eight in the West, Desjardins' inspired performance could not have come at a better time.
DEFENSEMEN
Trending up: Nick Leddy, New York Islanders
-- Leddy, acquired in early October by general manager
Garth Snow
, was instrumental in the pivotal victory over the
Nashville Predators
Thursday night. Leddy's three-point performance helped in the 5-2 win against the league-leading Predators, in a statement game for the Islanders, who are now tied with the
Montreal Canadiens
in points (79) for the Eastern Conference lead and are just five points behind the dominant Preds.
Trending down: Andrew MacDonald, Philadelphia Flyers
-- Boy, things are seeming tenuous in Philly for MacDonald, a healthy scratch for the third consecutive game Thursday night. The 28-year-old finds himself the odd man out now that
Kimmo Timonen
's impending return leaves the Flyers with a glut of healthy defensemen. Flyers coach
Craig Berube
clearly feels emboldened to sit whomever he chooses, regardless of contract, but the fact that MacDonald is in the first year of a six-year, $30 million deal has to be making some folks in Philly uncomfortable.
[+] Enlarge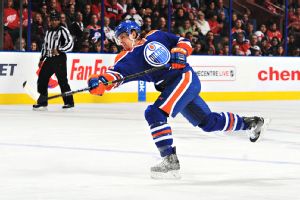 Andy Devlin/NHLI/Getty ImagesYou might not have heard a lot about Jeff Petry, but his stock is high leading up to the trade deadline.
Surprise of the week: Jeff Petry, Edmonton Oilers
-- Yes, this seems to happen every year. A not-so-big name all of a sudden gains a lot of attention in the weeks leading up to the NHL trade deadline. That is certainly the case for Petry, who may be one of the most coveted commodities as teams look to bolster their defense for the playoff push. He remains one of the few right-handed shots out there for teams looking to add a defenseman as a rental. A few years back, it was the
Ryane Clowe
sweepstakes. Could we see the same phenomenon with Petry on March 2?
GOALTENDERS
Trending up: Roberto Luongo, Florida Panthers
-- When Tallon acquired the veteran last spring, he did so with the intention of bringing steadiness, experience and consistency to a young, rebuilding Panthers squad. Well, Luongo has done just that, leading the Panthers to within one point of the last wild-card spot in the East. Most recently, Bobby Lou led them to a 3-2 win over the high-flying Canadiens on Thursday, turning away 37 of 39 shots. Luongo has posted a save percentage of .931 or above in four of his past five starts.
Trending down: Alex Stalock, San Jose Sharks
-- The Sharks' backup has been saddled with three straight losses, including another eyesore this week, when he gave up five goals to the Predators Tuesday night. Certainly the Sharks need to tighten up defensively, but Stalock has surrendered 15 goals in his past four appearances, which is not good enough for a team that is fighting for a playoff spot. All this complicates the goaltending situation in San Jose. Many expected Stalock to unseat
Antti Niemi
for the starting job this season, but he hasn't been able to establish his rhythm like he did last season. With Niemi potentially on the trading block, that leaves a lot of questions for San Jose.
Surprise of the week: Andrew Hammond, Ottawa Senators
-- The Sharks are not the only team with serious concerns at the goaltending position; the Senators' situation is looking similarly murky, albeit because of injury. But with both
Craig Anderson
and
Robin Lehner
on the shelf, Hammond, a rookie, notched the first NHL win of his career Wednesday, making 42 saves to help the Sens to a 4-2 win over the Canadiens.
March, 18, 2014
3/18/14
11:58
AM ET
There was an enthusiasm in the voice of
Philadelphia Flyers
captain
Claude Giroux
we hadn't heard much last season or earlier this season.
But when you're on a 9-2-1 run and you've rescued a season that began 1-7-0, you're certainly in a better frame of mind.
"Man, it's been fun," the star center told ESPN.com by phone Monday night.
No time to rest, though, because a weekend home-and-home sweep of the rival
Pittsburgh Penguins
is already old news and the
Chicago Blackhawks
are in town Tuesday night, followed by other tough tests with the playoff-desperate
Dallas Stars
on Thursday and visits from Stanley Cup contenders St. Louis and Los Angeles.
Quite the home stand, indeed, for a Flyers team beginning Tuesday second in the Metropolitan Division but only three points away from the danger zone.
"It's going to be a good test for us," Giroux said. "I think it's good timing for those teams to come to Philly and play us. We're aware that all of those teams have been playing well this year. We need to get those wins if we want to stay in the playoffs. They're going to be interesting games, and good games, too."
The sweep of the Pens, albeit against a Pittsburgh team missing some key injured players, gave the Flyers an emotional boost.
[+] Enlarge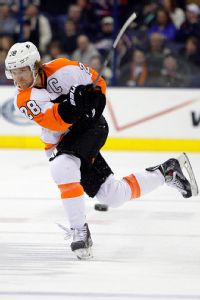 AP Photo/Jay LaPreteClaude Giroux has fueled the Flyers' resurgence this season.
"I think anytime you get a couple of wins in a row against a good team, it builds your confidence, you believe a little bit more in your play," said Giroux, the pride of Hearst, Ontario. "Anytime we play Pittsburgh it's always a good game and I thought we did a pretty good job of it."
Kind of amazing this team began the season 1-7-0, right? It's 34-18-7 since then.
"Once we won a couple of games we started getting our confidence back and we started to believe again," said Giroux, who wore the early season struggles heavily as team captain, just as he did last season when the team missed the playoffs.
No coincidence that the Flyers are soaring just as their top player is, with Giroux entering Tuesday tied for fourth in NHL scoring with 69 points (23-46), playing his best hockey in perhaps two years.
A little motivated after being overlooked by Team Canada for the Sochi Olympics?
"A little bit, but I try not to think about it anymore," said Giroux, who was crushed he didn't make the team that would eventually win gold in Sochi. "Obviously, I was disappointed and wanted to go to play for my country. But now that it's over with, I had a chance to get some rest, had a vacation, mentally and physically it was good and hopefully that's going to help me for the stretch run and the playoffs."
Led by Giroux, the Flyers have been a dangerous offensive outfit and are keeping the opposition on its heels. It's the kind of fluidity in their game that just wasn't there earlier in the season.
"They can get up and go offensively as good as any team in the league," said
Ed Olczyk
, who worked a pair of Flyers games for NBC over the past 10 days. "They're playing a much faster game. Their back end, too, is playing much faster which really helps the way that they're built. That's the one thing that's been very noticeable, they're playing a much faster game. And they're finishing their chances, earlier in the year they were real fragile and weren't doing that.
"The strength of their team is that they can get and up and go and play a real offensive game but they can also play a slugfest, too. If they find a way to make it, and I believe they will, they become a real dangerous team. The only question I have is whether they can defend enough."
Indeed, the team's Achilles' heel remains the blue-line, although veterans
Kimmo Timonen
and
Mark Streit
are playing their best hockey of the season right now and the acquisition of
Andrew MacDonald
has helped stabilize things back there a little.
Still, when push comes to shove, that's going to be their weak spot.
Which is why for the Flyers -- much like the
Colorado Avalanche
in the West -- it's about keeping the puck on the stick of their forwards and spending as little time as possible in their own end.
The Flyers looked slow in transition in early October, but since
Craig Berube
was elevated to head coach three games into the season the club has improved its ability to transition out of its own end.
And it's quite obvious the players on this team are buying what Berube is selling.
"He's good with the players, he really wants to know what we think," said Giroux. "He's really strong on the system and how we play. He's also pretty relaxed behind the bench. People may not think that because of how he was as a player but he's really calm back there."
In a season in which the Eastern Conference appears to be wide open, don't count out this hard-charging Flyers team, folks.
March, 3, 2014
3/03/14
12:57
PM ET
You know I'm intrigued by bubble teams at this time of year -- it's my favorite thing to write about.
The
Dallas Stars
are another team on the bubble, hanging on to a playoff spot by the slimmest of margins.
But it's not posing any issues for Stars general manager Jim Nill. He's got a clear plan, regardless.
He's open to hockey deals, yes, but he's not going to trade for any pending UFAs.
"Correct, we're not going to be in the rental market," Nill told ESPN.com Monday. "But if there's a hockey deal that makes sense, we'll look at it."
He's got pending UFAs of his own, such as veteran winger
Ray Whitney
and center
Vernon Fiddler
.
Given where the team is right now, the sense is he trades those types of players only if the deal makes sense. He wouldn't do it for the sake of gaining a limited asset in return.
"We're open for business, I'm always looking at things, but I'm not rushing to do something just to move a body to get a pick," Nill said.
Veteran defenseman
Stephane Robidas
, out since late November with that horrific leg injury, could be on the mend and is an interesting trade target for a contender, something TSN colleague Darren Dreger brought up Sunday on air.
My sense is Nill likely will get a read off Robidas, both in terms of his health -- there's a thought he could return within two or three weeks -- and what his wishes are in terms of staying put or moving on. I think there's so much respect for what Robidas has done in Dallas that the GM would take the player's lead there.
But that's just my read on it.
Meanwhile, Nill is excited by his team, which has picked it up in the second half to try to get into the playoff race.
"We've had a lot of guys take a step in their game," Nill said. "You saw
Jamie Benn
in the Olympics,
Tyler Seguin
has become a big part of this team,
Erik Cole
has taken charge,
Jordie Benn
on the back end,
Trevor Daley
and
Alex Goligoski
are playing well, so guys have bought into it. A lot of credit goes to the coaching staff, they've done a good job. There's some real excitement in our room."
Blackhawks standing pat?
Things can always change with one phone call, but the feeling I get is that despite the
St. Louis Blues
' big blockbuster trade on Friday, the rival
Chicago Blackhawks
will stick with their group as is.
The Blackhawks picked up
Peter Regin
before the Olympic break and
Kris Versteeg
earlier in the season, and unless something falls in their lap -- which is still possible before Wednesday -- word on the street is that the defending champs like their team and don't feel compelled to act.
I don't blame them. What's not to like?
Wings chasing Ehrhoff?
The Red Wings are believed to be among the teams interested in defenseman
Christian Ehrhoff
, whom the Sabres are shopping. He's got seven more years on his deal after this season, at a $4 million cap hit. What's better, though, is that $22 million of that 10-year, $40 million deal will have been paid off by the end of this season because it was front-loaded.
I don't think the Wings would overpay to get him, but he would fill a need for a top-four, offensively minded defenseman.
Waiting for Phillips
Still no word as of Monday afternoon on
Chris Phillips
and a decision after being offered a one-year contract extension by the Senators.
It's believed Phillips wanted a two-year extension.
If he doesn't sign, Ottawa could trade him before Wednesday's deadline.
As reported last week, the
Boston Bruins
have interest in Phillips but it's not clear whether Ottawa would be willing to deal him to a divisional rival.
The Bruins also are interested in Islanders defenseman
Andrew MacDonald
, among others. MacDonald is a solid, two-way guy who's a pending UFA, and it's clear the Isles are going to move him.
May, 8, 2013
5/08/13
12:51
PM ET
UNIONDALE, N.Y. -- The Islanders are not simply happy to be here.
Proving that they can be more than just competitive with the
Pittsburgh Penguins
, the Islanders edged the top seed in the East
6-4 in a wild romp at Nassau Coliseum
Tuesday night to even the series 2-2.
Scoring six goals against a supremely shaky
Marc-Andre Fleury
, the Isles might also have planted some serious doubt within the Penguins' room about their starting goaltender.
[+] Enlarge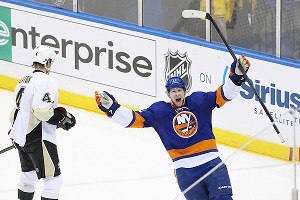 Anthony Gruppuso/USA TODAY SportsThe Islanders evened up the series at two games apiece on Tuesday.
Fleury has now given up 14 goals in four games this series, leading many to wonder whether veteran backup
Tomas Vokoun
will get the start in goal for Game 5 on Thursday in Pittsburgh.
Penguins coach Dan Bylsma declined to say who would start, but he didn't rule out Vokoun as a possibility.
"We're not going to talk about our starting goaltender for Game 5 right now," Bylsma said.
It wasn't just Fleury who gave up questionable goals -- Isles netminder
Evgeni Nabokov
has a few he'd probably like back as well -- in what turned out to be a wildly entertaining game between two teams trading scoring chances at a frenetic pace.
After seeing leads quickly evaporate in the first two periods, the Islanders rattled off three goals in the final frame. Captain
Mark Streit
, who finished with three points, tied the game at 3 with his second goal of the game early in the third, and superstar center
John Tavares
snapped a 4-4 draw to score what would hold up as the game-winner midway through the period.
Tavares stick handled his way to the doorstep and chased his own rebound to beat Fleury's outstretched pad for a 5-4 lead at 10:11. Fourth-line sparkplug
Casey Cizikas
added an insurance goal with less than two minutes remaining -- the final display of Fleury's frustrating night.
Before that bizarre play, in which he was out of position and slow to react to Cizikas cutting to the net, Fleury gave up a real softie to
Kyle Okposo
in the second period.
Okposo threw the puck at the net from behind the goal line and banked it in off Fleury's pads at 18:36.
The handful of blunders was eerily reminiscent of last year's meltdown in the first round of the playoffs, when Fleury surrendered a dizzying 26 goals over six games to the
Philadelphia Flyers
.
"We know how he played last year against Philly, but we just want to go get traffic in front of him, get shots, shoot the puck," Okposo said. "We didn't shoot the puck enough in the second. We came out in the third, peppered him and got in his kitchen a little bit."
Rugged forward
Matt Martin
said the team let Fleury off too easy in Game 1 when he recorded a 5-0 shutout. Since then, they've amped up the pressure.
"Game 1, we didn't test him enough. He had a shutout. Luckily, Game 2 we were able to get some on him and since then, we've been able to capitalize on our opportunities," Martin said. "I think if you take away any goalie's confidence, it's hard to make saves."
By contrast, the Islanders confidence seems to be soaring after Game 4's victory, one that ensures they'll get another game at home in front of a raucous Nassau Coliseum crowd.
"Game 3 was heartbreaking and we found a way to put it behind us, so the nice thing is that we get another game at home here," Martin said. "The crowd's been fantastic for us."
Even without top-pair defenseman
Andrew MacDonald
, who was forced from the game with an upper-body injury in the second period, the Islanders seem encouraged by their chances from here on out.
They'll take momentum into Game 5 and the knowledge that these Penguins are a beatable team.
Although an inexperienced squad, the Islanders have matured, both from earlier this season and maybe even earlier this series, into one capable of managing the momentum swings and surges within a game.
"We put so much effort into getting here, there was no doubt we wanted to make the most of this opportunity," Tavares said. "We weren't just satisfied being here. We believe in this room, obviously. ... There are a lot of guys stepping up for us here and that's what we need."