Cross Checks:

Andrew Shaw
April, 22, 2014
Apr 22
2:53
PM ET
By
Dean Bernardini, Chevelle
| ESPN.com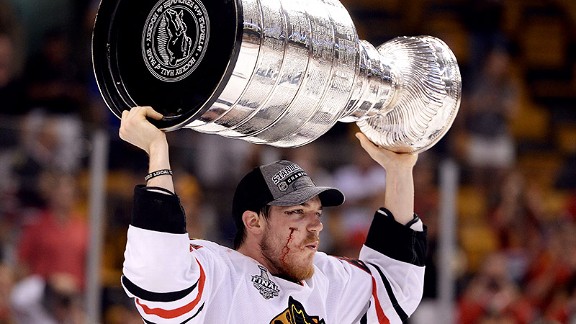 Harry How/Getty Images
When I think about the Stanley Cup, I think of the image of
Andrew Shaw
in the 2013 finals win against the
Boston Bruins
, bloodied up, hoisting the Cup high, full of excitement, dropping F-bombs and not caring who hears it!
To me, that image encompasses what it takes to be a champion. Shaw, being a smaller guy in the size spectrum of the NHL, has made his mark by being a hard-working, physical forward. He had taken a puck to the face in that game and fought through the pain to stay out on the ice and be part of one of the most incredible wins in NHL history.
Being a touring musician for the past decade and in a declining music industry, I have learned that stubborn tenacity is what it takes to be successful in any venture I have attempted.
Cheers!
Dean Bernardini is the bass guitarist for Chevelle.
June, 24, 2013
6/24/13
5:23
PM ET
BOSTON --
Chicago Blackhawks
rookie forward
Brandon Saad
had a nap scheduled between the team's morning skate and Game 6 of the Stanley Cup finals against the
Boston Bruins
on Monday.
Whether he'd actually fall asleep, Saad wasn't sure.
With the Stanley Cup headed for TD Garden on Monday night and the Blackhawks just win away from them hoisting it, Saad and his teammates were in a battle Monday afternoon with their nerves leading into Game 6.
"It's amazing," Saad said after the morning skate. "Trying to keep my nerves down and be excited about it. It's going to be a lot of fun. ... [This afternoon will be] pretty routine. Get a meal in me. Take a nap, or try to take a nap and stay relaxed. It's going to be an exciting one.
"[I didn't sleep Sunday night] as good as usually, but I think it was the best I could, and we're all looking forward to it."
Blackhawks forward
Andrew Shaw
was feeling something similar. Shaw thought handling his emotions would be easier once the game arrived.
"There's obviously going to be nerves," Shaw said. "You can't focus on that. Focus on the game. We know they're a great team. They're going to play their best game of the postseason. You know their backs are against the wall. That's when teams are most dangerous. We got to focus on each shift, in and out, just keep moving forward.
"[The nerves] kind of settle when that puck drops. You're not thinking ahead. You're just playing the game. You're just thinking I'm here now and try to keep pushing it and working for each other."
In hopes of relaxing everyone, a number of the Blackhawks who played on the 2010 Stanley Cup team shared their experiences with their teammates on Sunday night.
"[They said] just to stay calm and live in the moment," Saad said. "Enjoy the process. It's not every year, you might not ever be here again. Lay it all on the line and play your best."
Shaw said, "There were obviously some great words said. We ended it off everyone was excited, ready to get the game started."
Blackhawks coach Joel Quenneville remembered his players sharing similar stories prior to winning the Stanley Cup in 2010.
"I think it's very beneficial," Quenneville said. "We look back, back in 2010, we were in the same situation. Johnny Madden had been there, and [Marian] Hossa had been there, and it was nice listening to those guys that had been in that situation.
"I think it prepares the guys with the right frame of mind. And between [Sunday] and [Monday's] game and [Monday,] and basically it's about the approach. You want to make sure you have confidence going into [Monday's] game, but let's make sure the energy is going to be in the right place. Let's make sure there's a purpose with it. But at the end of the day, we all dream about this challenge and this opportunity, and let's go take advantage of it."
June, 21, 2013
6/21/13
7:11
PM ET
CHICAGO -- What's with the
Patrick Kane
-like hockey mullet, I asked
Brandon Saad
?
"He was looking for guys before the year and I decided to tag along," Saad said through a smile on Friday. "It's been fun."
I'm not sure how I feel about the mullet with the lines shaved into the side, but I like what I'm seeing on the ice from the 20-year-old Pittsburgh native in his rookie NHL campaign.
Saad has only one goal and five assists in the playoffs, but he has come on over the past two rounds when the games have grown in importance.
"The way that he started his regular season and the way he finished it, is very similar to the way he started his playoffs and how he's finishing them now," said TV analyst Ed Olczyk, who works Blackhawks games during the regular season.
"Slow start pointwise, slow start generating a lot, and as the year went on, he became a permanent fixture and that's how he's played in the playoffs," said Olczyk. "A mirror image. Not a lot to show for it early in the playoffs, but a lot to show in important situations as the games have gone on."
Saad was nominated for the Calder Trophy as rookie of the year after putting up 27 points (10 goals, 17 assists) and a plus-17 rating in 46 regular-season games.
He played most of the regular season on the top line with
Jonathan Toews
and
Marian Hossa
, some kind of assignment in your first season in the league.
"Playing with Jonny and Hos during the year obviously helped out a lot, just getting that experience helped out tremendously," said Saad.
[+] Enlarge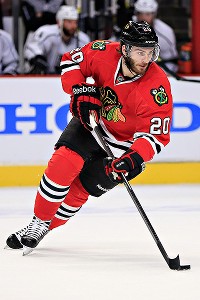 Jamie Squire/Getty ImagesBrandon Saad started the playoffs slowly, but has turned it on lately.
Head coach Joel Quenneville has had him both on the top line and the third line during the playoffs, and Saad has been mostly on the third unit with
Andrew Shaw
and
Viktor Stalberg
of late. For the coach to have that kind of trust in a rookie to play both on the top line or the third line is not something you see every day in this league.
"You don't," Mark Kelley, the director of amateur scouting for the Hawks, told ESPN.com Friday. "But he's a very smart player. He has great character. He's a well-grounded kid. He plays within the whole team concept. He's smart enough when the coach gives him a role he can embrace it, whether that's up on a line with Toews and Hossa or down on a line with Shaw and Stalberg."
To be able to comfortably fit on both the top line and a checking line as a rookie player takes high hockey IQ, agreed Olczyk.
"You have to be a smart player to be able to do it," said Olczyk. "A lot of people think anybody can play with Toews and Kane or Hossa and guys like that, but it's not the case. You have to have a lot of hockey sense and understand how to play with those guys. He just has that ability. He's a real bright kid. His hockey ability allows him to be flexible."
Kelley first saw Saad as a prospect during the 2009-10 season when Saad played for the U.S. national under-18 development team. He was immediately taken.
"He was a dominant player on that team," said Kelley. "At that point, going from his underage year to this draft year, we were as high on him as almost anyone aside from the top few guys in that draft."
Kelley said Saad played hurt for a while during the 2010-11 season, which likely hurt his draft stock a little and allowed the Hawks to get him in the second round in 2011 (43rd overall), which already looks like a steal.
"He was far from being 43rd on our list, I can tell you," said Kelley. "The fact that he was there at 43rd, we were incredibly excited."
Saad's rapid development is something to behold. He went from the Ontario Hockey League last season, to 31 AHL games with Rockford this season during the lockout, to a full-timer with the Hawks right from the start of the shortened NHL season, to a key player in the Stanley Cup finals.
"He's developed unbelievably," said Saad's current linemate, Shaw. "He's a great player now. He was great coming in but he ironed out some kinks. He's done a heck of a job. It's great having him on my line. It's nice having him as a roommate on the road, too. He's a great kid."
Just don't give him the remote control.
"He's pretty bad at flipping through the channels, he channel surfs too much," laughed Shaw. "Sometimes I have to yell at him so he stops and we can just watch something. But we agree on a lot of things, we're great roommates."
Saad admits he's had the odd moment where he's had to pinch himself to make sure this was all really happening, like when the United Center rocked during the anthem for the opening of the Cup finals.
"The anthem is always crazy here," said Saad. "There have been lots of crazy moments in these playoffs. Battling back against Detroit as an example. In general it's been a whirlwind."
At this point, he hardly feel like a rookie anymore. He's played a lot of hockey this year.
"The year's been quick," said Saad. "But with the experience I've had, I feel pretty good out there. I don't feel like a rookie anymore. Can't use that as an excuse. I have to contribute and play well. But it's been a great ride."
June, 13, 2013
6/13/13
7:39
PM ET
CHICAGO --
Chicago Blackhawks
forward
Marian Hossa
could have done without his neighbor's handyman work early Thursday morning, but otherwise the Blackhawks said they were feeling good less than 12 hours after winning one of the longest playoff games in NHL history.

The Blackhawks defeated the Bruins 4-3 in three overtimes in Game 1 of the Stanley Cup finals. The game began at 7:22 p.m. CT on Wednesday and ended at exactly midnight. Blackhawks center
Andrew Shaw
scored the game winner at 12:08 of the third overtime, marking the fifth-longest playoff game in NHL history.
"To tell you the truth, I fell asleep around 3 o'clock, woke up early," Hossa said on Thursday. "I think my neighbor decided he was going to drill in the morning. So that wasn't really pleasant. Hopefully, he's going to get his message for the next time and we won't drill."
Blackhawks forward
Patrick Kane
believes coming out on the winning end of the marathon game also helps everyone feel better physically on Thursday.
June, 13, 2013
6/13/13
7:38
PM ET
CHICAGO --
Chicago Blackhawks
forward
Andrew Shaw
normally defends himself.
He couldn't on Thursday.
Blackhawks defenseman
Brent Seabrook
and forward
Patrick Kane
took light-hearted jabs at their 21-year-old teammate who wasn't present for the team's media availability on Thursday. Shaw scored the game-winning goal in the third overtime of the Blackhawks' 4-3 win over the
Boston Bruins
in Game 1 of the Stanley Cup finals on Wednesday.
Shaw is known for being an energetic player on the ice and one who often tries to get under the skin of his opponents. Seabrook said Shaw is pretty much the same off the ice.
"He's a handful in the dressing room, too," Seabrook said. "Yeah, he's a high-energy guy. He likes to have fun, get guys going, jumping around the room, bouncing around. Yeah, he's pretty much the same as he is on the ice, just without skates on. He brings excitement to the dressing room and is big for us."
Kane took the ribbing a little further.
"Yeah, I sit next to him," Kane said. "There's times where I almost got to tell him to shut up because he just asks questions and doesn't stop talking when you're next to him there in between periods. He's really excited to be here. He's a kid that I think he got passed over twice in two drafts. We picked him up in the fifth round. He came in the next year and played. Speaks to his character, how he can put all that behind him and come in and play in the NHL right away and really be a factor.
"He does a lot of good things for us, whether it's hits, being an agitator, even scoring goals. He probably scores more goals off his shin pads than he does his sticks. I'm sure he'll take them, and we will, any way we can get them."
Shaw expressed gratitude for his shin pads after his game-winner in Game 1. While wearing a microphone for NHL Network for Game 1, he went to
Dave Bolland
, who had the second assist on the winning goal, and said "Bollie, I love you," and then seemed to say "I love shin pads."
Bruins coach Claude Julien said after Game 1 he was aware of Shaw and his game, but he wasn't their focus.
"I don't think we do our game-planning around Mr. Shaw," Julien said. "Our game plan is against the Chicago Blackhawks, so ... We know he's an agitator. We know he's good at embellishing, too, at times. We know all that stuff. We've done our research."
Blackhawks coach Joel Quenneville was asked Thursday if he had any reaction to Julien calling Shaw an embellisher.
"I'm not going there," Quenneville said.
June, 13, 2013
6/13/13
3:09
AM ET
CHICAGO -- In the moment when
Michal Rozsival
's point shot ricocheted first off teammate
Dave Bolland
's stick and then off
Andrew Shaw
's leg and past a helpless
Tuukka Rask
to bring this epic Stanley Cup final tilt to an end came two thoughts.
First: Thank goodness.
Second: Can we do that again? Now?
And again and again and again?
If Game 1 of the 2013 Stanley Cup finals, a 4-3 triple-overtime victory for the host
Chicago Blackhawks
, is any indication, the series the hockey world had been anticipating is going to deliver the goods. And then some.
After both conference finals fell far short in the drama department, Wednesday's final-series opener delivered 112:08 of hockey at its most dramatic. A rollicking back-and-forth affair that left both players and fans limp with exhaustion.
"It's fun being in the finals, the last two teams playing, all the hockey world is watching, and to be put an effort like that from both sides, it was fun to be a part of,"
Patrick Sharp
said.
"And thank god it's over," he added.
An elated Shaw managed to drop an F-bomb on NBC after his big goal, and then found it difficult later to put the experience into words.
"Emotions are high, but [I'm] too exhausted right now to express it," Shaw said.
Forget the idea that these two teams would require time to feel each other out; perhaps start in a cautious manner, as so often happens at the start of a playoff series. The Bruins and Blackhawks started this one in mid-stride, in full flight, if you will. And over the course of a little more than five and a half periods revealed the kind of character one would expect of two teams that have risen above the rest in this playoff spring.
Two battle-tested teams pushing forward, only to be pushed back.
The Bruins would strike first, and then again with two
Milan Lucic
goals.
And how much have the Bruins loved a lead? They never trailed in their four-game sweep of the
Pittsburgh Penguins
in the Eastern Conference finals and were 8-2 this playoff year when scoring first and 5-0 when leading after the first period.
After rookie of the year nominee
Brandon Saad
tallied his first of the postseason to make it 2-1 early in the second period, the Bruins looked like they would coast to a Game 1 victory when
Patrice Bergeron
restored the two-goal lead with a laser on the power play.
It was the first power-play goal for the Bruins since Game 5 of the second round and only the fourth power-play goal the Blackhawks had allowed all spring.
But these Blackhawks are no strangers to adversity, having overcome a 3-1 series deficit against the
Detroit Red Wings
in the second round. There is no crumble in that room.
They scored twice in 4:14 in the third period -- the tying goal coming off a
Johnny Oduya
shot that glanced past Rask off defenseman
Andrew Ference
's skate, setting the stage for a frenetic stretch of overtime hockey.
After tying the game, the Blackhawks appeared as though they would push the Bruins right out of Game 1 altogether.
In the first overtime, the Bruins held the decisive edge in play, with
Corey Crawford
having to come up big on chances by
Shawn Thornton
and
Brad Marchand
.
The Hawks had the better chances in the second overtime frame.
The Bruins twice had power plays thanks to too-many-men-on-the-ice calls against Chicago, one in the first overtime and one in the final minute of the second overtime. In those final seconds of the fifth period, Bruins captain Zdeno Chara's point shot eluded netminder Crawford but hit the post.
In the third overtime,
Kaspars Daugavins
had a glorious chance for the Bruins. The winger, picked up on waivers from Ottawa early in the season, had the puck alone in front and Crawford down, but he could not find the back of the net, tripping to the ice as the puck skittered wide. Television cameras caught him with his head resting on the edge of the bench, a mixture of exhaustion and frustration.
"I was more frustrated that I missed it, and after I missed it I thought maybe a call because it was pretty obvious there was a stick in my foot. But you have to score those chances. You can't let those slide by, especially in triple overtime," Daugavins said.
Moments later, Shaw would make that miss seem exponentially larger.
Punch, counterpunch.
Each team creating a chance, making a defensive play to deny a chance.
Reset. Then go again. Punch, counterpunch.
Chance for chance, hit for hit, save for save.
By the end of the night, Boston had been credited with 59 hits, Chicago 61.
They were virtually equal in faceoff wins and losses.
"I mean, both teams are just kicking, trying to survive. Every time you go back on the ice, you just try and get that feeling that it's just going to be that one chance that makes the difference," Chicago captain
Jonathan Toews
said.
While the Bruins, who have never trailed in a series this spring, will need to regroup by Saturday's Game 2, there was still a sense of having been involved in something remarkable on this night.
"Think about it overnight and you realize we've been down a lot worse. It's one game. It was a fun game to be a part of. It was great hockey out there," said
Tyler Seguin
, who assisted on the Bergeron goal. "By the end of those overtimes, I talked to a couple of guys on their team just saying, 'Someone end it, please.' The boys were getting tired."
A couple of hours before puck drop, commissioner Gary Bettman met with the media, and among the questions were several about the lockout that threatened at one point to scuttle the entire season. The show put on by the Bruins and Blackhawks made it seem as though the labor dispute was a bad dream.
"We said it was going to be a series like that, and [if] the first game's any indication, we weren't wrong," Thornton said. "We had our chances and all of those overtimes; rang one off the post on the power play at the end of the second overtime. It's playoff hockey. It's fun to watch. We'll think about this 'til we get out of here, and then got to shake it off and get ready for Saturday."
The only shame is that we have to wait that long to see how the next one turns out.
June, 13, 2013
6/13/13
2:59
AM ET
CHICAGO -- You wouldn't be wrong to think
Chicago Blackhawks
forwards
Andrew Shaw
and
Dave Bolland
have similar on-ice demeanors. Bolland made his name agitating opponents in the playoffs, and now Shaw is doing the same.
But both have some skill as well.
The two combined for a double deflection of a
Michal Rozsival
shot to end a triple-overtime thriller, winning 4-3 over the
Boston Bruins
in Game 1 of the Stanley Cup finals Wednesday. It was the second of two goals for the two linemates, and it was well into Thursday before Shaw spoke of them.
"Emotions are high but too exhausted right now to express it," Shaw said after the marathon game.
June, 13, 2013
6/13/13
2:17
AM ET
CHICAGO -- Pretty sure if you would have told the
Boston Bruins
before Wednesday night's marathon Stanley Cup opener that
Jonathan Toews
,
Patrick Kane
,
Patrick Sharp
and
Marian Hossa
would combine for just one assist, they would have drawn up a big W in their minds.
Ah, little did they know what
Dave Bolland
,
Andrew Shaw
,
Marcus Kruger
,
Michael Frolik
and
Brandon Saad
had in store for them, the five supporting cast members combining for three goals and four assists as Chicago's bottom-six forwards did most of the damage on this night.
"The checking guys ... those guys have been great for us all year and all playoffs," star blueliner
Duncan Keith
, still catching his breath, said after the triple-overtime 4-3 thriller.
So much has been written over the past few weeks about the deep, four-line Bruins, and that's certainly accurate. It's what has helped Boston get this far, being able to roll four lines with confidence and get contributions from varied sources.
What perhaps had not received as much national attention is a team in Chicago with just as much depth, and the Game 1 heroics of third-liners Bolland and Shaw, in particular, hammered home that point.
You're not guaranteed a win against the Blackhawks, even if you shut down their top-six magic men.
"You always have your star players, but during the playoffs, it comes down to your depth and often to the players on the third and fourth lines," said Bolland, who for my money played his finest game of the playoffs Wednesday night.
Consider what transpired: The Bruins go up 3-1 on a beauty of a power-play goal by
Patrice Bergeron
6:09 into the third period.
Game over, right?
Not so fast.
Bolland ripped a one-timer past
Tuukka Rask
less than two minutes later to cut the lead to 3-2, Shaw with the setup as well as the interception of the puck at the Bruins' blue line moments prior.
The tying goal courtesy of John Oduya's point shot (off
Andrew Ference
's skate) was created thanks to a forecheck by fourth-liners Frolik and Kruger, their work in recovering the puck in the Bruins' zone and getting it back to the point the reason we had a tie game at 12:14 of the third period.
Finally, about two hours later in triple overtime,
Michal Rozsival
's point shot was first tipped by Bolland and then bounced off Shaw for the winner at 12:08, capping a memorable night for the lesser-name players on Chicago's juggernaut squad.
In other words, it felt like the kind of win the Bruins usually pull off.
"It was a grinding game out there," said Sharp. "It seemed like the third and fourth lines were creating stuff out there and contributing some big goals, none bigger than the one by Shawsy. I think it went off his pants or shin pads, but who cares at this point. We'll take it."
Blackhawks coach Joel Quenneville kept rolling his four lines in overtime, having no fear of putting out the fourth unit of
Brandon Bollig
-Kruger-Frolik, even if it was against one of Boston's top two lines.
"All year long, they gave our team ... you're comfortable with them against any line in a defensive-line faceoff, matchups, very responsible," said Quenneville. "They had a lot of energy shifts. Seems like they would always start in our end, end in the other team's end. They haven't been together in a while, but it was like they played all year together today."
Credit Quenneville, who played a hunch in putting Bollig into the lineup instead of
Viktor Stalberg
, which pushed Bolland from the fourth line to the third line as a ripple effect. Both third and fourth lines had an impact. It's the kind of result from a lineup decision a coach dreams of.
Particularly effective was the game's first star, Shaw, who seemed to be everywhere on this night, tying for the team lead with nine hits while picking up two points (one goal, one assist).
"He's a competitor," said Quenneville. "He does things game in, game out. The bigger the stage, the bigger the challenge, he rises to the occasion. He knows where the front of the net is. Doesn't have to be pretty. He's a warrior. He's one of those guys that you appreciate he's on your side, and he's relentless."
Bruins coach Claude Julien is one of the most prepared bench bosses in the NHL, so it makes sense that he would be the last guy surprised by what Chicago's supporting cast could do.
But one thing I've found over the years covering this game is that no matter how many meetings and video sessions you have with your team, the players hear what they want to hear. They have to live it before it really sinks in.
Now the Bruins players know full well that it's going to take more than shutting down the big boys of Chicago to win the Stanley Cup.
June, 10, 2013
6/10/13
5:55
PM ET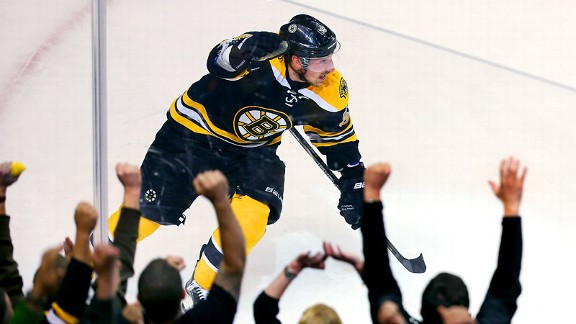 John Tlumacki/The Boston Globe/Getty ImagesThe Blackhawks' focus will be tested by noted agitator Brad Marchand.
CHICAGO -- The
Chicago Blackhawks
are well aware of
Boston Bruins
forward
Brad Marchand
, aka the "Little Ball of Hate," and his reputation heading into the Stanley Cup finals.
The 5-foot-9, 183-pound Marchand has been known to find various ways -- legal and illegal -- of agitating opponents, and the Blackhawks know they can't succumb to that throughout their series which begins Wednesday.
"I've never played against him personally, but I've played against guys like him in the past," Blackhawks forward
Brandon Saad
said after Monday's practice. "We got a couple of players like that on our team. They're good to be on your team and tough to play against. It's something you have to battle through.
"You can go different ways about it, but I think just ignore them, play your game and don't let them get under your skin."
May, 26, 2013
5/26/13
12:47
AM ET
CHICAGO -- It started with a clean win of the draw.
Jonathan Toews
not only beat
Pavel Datsyuk
on the faceoff, he ripped the puck back to
Duncan Keith
at the point of the Blackhawks power play.
And it was on. The most important power play of the Blackhawks' season was off and running, and when it was finished, Game 5 of this Western Conference semifinal would be transformed.
Chicago beat Detroit 4-1 to keep its season alive -- and cut the Red Wings' series lead to 3-2 -- and the Blackhawks wouldn't have done it without the resuscitation of a power play that, until Saturday night, was providing more momentum for the opposition than for the Blackhawks.
Like in the first period, when they ended a strong opening period with a lifeless power play.
"I don't think we had a shot," Chicago defenseman
Brent Seabrook
said. "We were [ticked] off after the first one."
The frustration seeped into the Blackhawks dressing room during the first intermission. They had an early one-goal lead on the Red Wings, but it didn't feel like it. When the Red Wings killed that late holding penalty on
Carlo Colaiacovo
, a few boos emerged from the rafters of the United Center. It looked like more of the same for a power play that had suddenly become the NHL's worst in the postseason with the elimination of the
New York Rangers
earlier in the day. At least for the moment.
While losing three consecutive games to the Red Wings, the Blackhawks power play had gone zero for nine, and the struggles went back further than that. A bit lost in Chicago's incredible regular-season run was that a power play that can roll out high-powered offensive weapons Toews,
Patrick Kane
,
Patrick Sharp
,
Marian Hossa
and Keith was pedestrian too often. They finished the regular season at 16.7 percent, good for 19th in the league.
"It's something we've talked about. We've moved different units around," Keith told ESPN The Magazine. "It's not rocket science, power plays. Sometimes, we've made it like that over the past season. It's taking what they give you. Getting shots when you can take it."
That's exactly how they handled that critical power play that started with 11:39 remaining in the second period. Toews drew a hooking penalty on
Drew Miller
, important not only because it gave the Blackhawks a man advantage but also because it sent one of Detroit's best penalty killers into the penalty box.
Detroit coach Mike Babcock sent out a PK unit of Datsyuk,
Cory Emmerton
,
Jonathan Ericsson
and
Niklas Kronwall
.
Toews won that first faceoff clean, a key moment.
"Toewser had a big draw. You start with the puck. He's so huge," Seabrook said. "I don't think we even had a breakout when we scored. When you start in your own zone and go back and set up, that's when things start spinning."
And it started spinning.
Jimmy Howard
made a save on a Seabroook shot, kicking the puck out near Datsyuk, when the Blackhawks got their first break. In a rare misstep by the Red Wings star, Datsyuk whiffed on a backhanded clearing attempt.
The second break was quite literally a break. Datsyuk broke his stick, leaving the Red Wings with essentially 3½ players trying to kill the penalty. For a split moment, Emmerton thought about giving Datsyuk his own stick but opted not to.
"At that point, I was running around a little bit," Emmerton said. "Just trying to play smart and hope for a good bounce. Or get a whistle."
The Red Wings penalty kill has been so effective against Chicago because of its aggressive play. But a missed clearing attempted and a broken stick wiped out that advantage. The aggressiveness was gone.
Now, the Blackhawks focused on working the puck on the side of the ice where Datsyuk tried to defend without a stick. Seabrook was set up for shots by Keith. He had a slap shot from 54 feet and another from 42.
"He's at a disadvantage. You can pass through him," Seabrook said of the stickless Datsyuk. "Datsyuk has such a great stick and is such a great player defensively. It's hard to pass around him. He's one of those guys who does a great job of taking away lanes."
But not when he's missing a stick. The Blackhawks attacked with desperation, winning battles for puck retrieval, and, at one point with 45 seconds left on the power play, Hossa made a great play at the blue line to keep in a clearing attempt from Ericsson.
By the time
Andrew Shaw
deflected a shot from Keith past Howard for what turned out to be the game-winning goal, the Wings PK was gassed and the Blackhawks power play struggles were over.
There's no such thing as momentum from one NHL playoff game to the next, but the confidence gained in that power play and Toews getting another power-play goal on his surgical shot later in the second, can be carried over. It has to be if the Blackhawks are going to continue their climb past Detroit.
"Tonight was the way we know we can play and the way we can skate," Keith said. "It was nice to see the power play get going. That was a big boost to our team tonight."
And with the success, the Blackhawks pulled out of the basement. Their power play improved to 17.9 percent in the postseason, no longer the worst of any team still playing. At 15.9 percent, that honor now belongs to Detroit.
February, 25, 2013
2/25/13
12:02
PM ET
By
ESPN Stats & Information
| ESPN.com
Blackhawks 1, Blue Jackets 0
* Blackhawks have earned at least 1 point in 18 straight games to start season, extending NHL record (previous mark 2006-07 Ducks, 16 games)
* Blackhawks have earned at least 1 point in 24 straight games dating back to last season, 3rd-longest streak in NHL history
* Blackhawks: 3rd shutout win of season
*
Andrew Shaw
(CHI): 4th goal of season
* Blue Jackets: 2nd shutout loss of season
FROM ELIAS:
Longest Point Streaks To Start Season in NHL History
2012-13 Blackhawks 18 (active streak)
2006-07 Ducks<< 16
1984-85 Oilers<< 15
1943-44 Canadiens<< 14
>>Won Stanley Cup
FROM ELIAS:
Most Consecutive Games With A Point in NHL History
1979-80 Flyers 35
1977-78 Canadiens 28
'11-12/'12-13 Blackhawks 24<<
1975-76 Flyers 23
1940-41 Bruins 23
>>Active Streak
Flames 5, Coyotes 4
*
Jarome Iginla
(CAL): 2 goals (1st multi-goal game this season)
*
Raffi Torres
(PHX): 2 goals (1st multi-goal game of season)
* Both teams scored 2 goals each in 2nd and 3rd periods
* FROM ELIAS: 4 lead changes (most in a game this season); last time there were 4 lead changes in a game came on November 29, 2011 when the Senators beat the Jets 6-4
Ducks 4, Avalanche 3 (OT)
*
Ryan Getzlaf
(ANA): 1 goal, 2 ast (consecutive games with at least 1 goal and 1 assist; Ducks won both)
*
Corey Perry
(ANA): 2 goals (1st multi-goal game of season;
* Ducks: scored in OT on power play (3/5 on PP)
* Avalanche: led 2-0 at end of 1st period
Penguins 5, Lightning 3
*
Sidney Crosby
(PIT): 2 goals, 1 assist; 2nd multi-goal game this season
* Penguins: 1st game since
Evgeni Malkin
's injury
*
Beau Bennett
(PIT): 1st career goal
Hurricanes 4, Islanders 2
* Hurricanes: snap 3-game losing streak
*
Alexander Semin
(CAR): 1 goal, 2 ast (only other game this season with 1+ goal and 2+ ast was in win at Islanders on Feb. 11)
* Islanders: led 2-0 at end of 1st period
*
John Tavares
(NYI): 13th goal of season (most in NHL)
Red Wings 8, Canucks 3
*
Damien Brunner
(DET): 2 goals; 1st career multi-goal game
*
Joakim Andersson
(DET): 2 goals; entered the game with 1 career goal
* Red Wings: season-high 8 goals (previous high was 5)
* Canucks: most goals allowed since April 1, 2010 at Kings (8)
Jets 4, Devils 2
*
Andrew Ladd
(Jets): Team-leading 10th goal (6th goal in last 7 games)
* Jets: 3-1-0 on 5-game road trip
* Devils: 2-4-1 since season-high 5-game win streak
Bruins 4, Panthers 1
* Bruins: 7-1-1 on road this season; only Blackhawks (18) Penguins (16) have more points on the road this season
*
Tuukka Rask
(BOS): season-high 34 saves; most saves in game since blocking 38 shots on 1/16/2012 (also at Panthers)
* Panthers: 1-4-3 in last 8 games
April, 17, 2012
4/17/12
3:05
PM ET
From the official NHL release:
BLACKHAWKS' SHAW SUSPENDED FOR THREE GAMES
NEW YORK (April 17, 2012) –
Chicago Blackhawks
forward
Andrew Shaw
has been suspended for three games for charging
Phoenix Coyotes
goaltender
Mike Smith
during Game 2 of the teams' Western Conference Quarterfinal playoff series Saturday night in Phoenix, the National Hockey League's Department of Player Safety announced today.
The incident occurred at 7:11 of the second period. Shaw was assessed a major penalty for charging and game misconduct.
For a full explanation of the decision, complete with video, please click on the following link:
http://video.nhl.com/videocenter/console?catid=60&id=172552.
March, 19, 2012
3/19/12
10:14
AM ET
If you spent too much time celebrating St. Patrick's Day or cursing your bracket, that's OK. We forgive you. Just don't let it happen again. Here's what you missed in the NHL over the weekend:
Sunday
-- That
Scott Hartnell
did something annoying again. And he also scored a key goal, firing home a blast from the deep slot to give the Flyers a last-second OT win over the Penguins. The heartless Hartnell snapped the Penguins' impressive winning streak. But, really, I'm still laughing at his "Suck it, Phaneuf" line from the All-Star Game and subsequent beatdown. Classic.
-- Nifty note from Elias on the goal: Scott Hartnell scored with 0.9 seconds remaining in overtime to earn the Flyers a 3-2 win over the Penguins and end Pittsburgh's 11-game winning streak. It was the latest regular-season overtime goal in Flyers history and only the third overtime goal at the 4:59 mark in an NHL game over the past five seasons. Remarkably, the two other instances happened on the same day, March 20, 2010, with Carolina's
Jamie McBain
(at Pittsburgh) and Detroit's
Henrik Zetterberg
(at Vancouver) scoring the last-second game-winning goals.
-- The Blackhawks got a pair of goals from checker
Andrew Shaw
-- his assignment was
Alex Ovechkin
--
in a big win over the Capitals
. The Caps better rally or else they face an offseason in a glass case of emotion.
-- Self-referential alert: Love me this
playoffs matchups page
of ours.
-- Outside looking in, with a shot: Winnipeg, Buffalo, Carolina; San Jose, Los Angeles, Calgary.
Wait, Carolina? That can't be right
.
Saturday
-- Dude named
Sidney Crosby
had three assists in the Penguins' win over the Devils. New guy, I think. Has good upside. Must have called him up from Wilkes-Barre or something. Hmph. I'll get back to you with more on this one.
--
Tim Thomas
made a save in the shootout,
Ilya Bryzgalov
didn't. And that's the difference between a win and a loss in today's NHL. But you didn't go to the fridge while it was being decided, did you?
-- Despite the return of
Ryan Callahan
and
Michael Del Zotto
, the Rangers lost at home to the Avalanche. Those pesky Avs temporarily climbed into seventh in the Western Conference (they are eighth as of Monday).
-- The Blues beat up on the Bolts. By the way, the Blues have locked up a playoff spot and are No. 1 in the league. If you predicted that in September, your medication is better than mine.