Cross Checks:

Andy McDonald
January, 5, 2013
1/05/13
11:52
AM ET
October, 11, 2012
10/11/12
11:57
AM ET
Andy McDonald
was driving to the rink in St. Louis on Thursday morning, instead of heading to a pregame skate in Denver where his Blues would have been had the NHL lockout not wiped out his season opener.
"It's pretty disappointing," McDonald told ESPN.com Thursday, en route to a skate involving eight or nine players. "At first everyone thought the season would just be delayed. Now a lot of people think this thing might go all year. I mean, it's shocking, in a sense."
Erik Cole
's
Montreal Canadiens
were slated to open at home to the
Ottawa Senators
on Thursday. Flipping the calendar to Oct. 11 and seeing nothing but dark arenas certainly hits home.
"It makes it more somber, for sure," Cole told ESPN.com Wednesday night. "It's the same for the coaching staff and trainers, too. It's just miserable for everybody."
But he's hardly surprised.
"I told my guys here in Montreal in early July, 'We'll be lucky if we play before December,'" Cole said. "A lot of them didn't believe me until we started doing the NHLPA conference calls."
More games will soon be falling by the wayside unless bargaining talks produce traction. Blues captain
David Backes
was involved in the talks Wednesday in New York City and certainly didn't overlook the significance of Oct. 11.
"I should be at dinner in Denver right now instead of walking down a street in Times Square," Backes told ESPN.com Wednesday night.
"It's frustrating for everyone," Backes added. "But they're where they're at with the heels dug in, we're got our heels dug in; it's a patience game right now."
Backes, a member of the NHLPA's negotiating committee, still sees a chance to play hockey this season.
"I have not succumbed to the notion that there's not going to be a season," he said. "But at the same time, I was in the room all day today ... From where it sits right now, it's not looking like we need to be skating five days a week and getting ready for a camp anytime soon."
Right now, the rhetoric is loud on both sides. The NHL is urging the NHLPA to deliver a new proposal and is frustrated it hasn't happened yet, feeling the union is delaying negotiating. On the flip side, the players feel the NHL has offered them nothing in previous proposals that would make them want to negotiate.
"To me, it's difficult to see how a deal is going to get done when it doesn't appear that we have a negotiating partner," McDonald said. "Their first proposal was so offensive to the players that it's not even like they're willing to make concessions for the sake of the league. And that's the tough part; the players understand there's a revenue disparity among the teams and are willing to make some changes and make some concessions based on that fact. But the league doesn't seem to be willing to do that at this point. So I don't know how a deal happens. The players aren't going to keep giving back and giving back without concessions on their part."
In the meantime, regardless of whether the blame goes to the owners or the players, the fans are undoubtedly paying the price just eight years after an entire season was wiped out by a lockout.
"When you hear Gary Bettman say 'We've got the greatest fans,' yes, hockey fans love the game but at the same time people are only going to take so much," Cole said. "I understand why the last lockout happened in order to end up with the system we have now. But this one really irks me. And it's not so much the fact that we're locked out, but it's just the offers that have come through and what the owners are looking for in terms of concessions. That really irks me this time around."
Commissioner Gary Bettman also expressed frustrations.
"We are terribly disappointed that, at this point, the negotiation process still has not moved forward to enable us to reach agreement," Bettman told ESPN.com via e-mail through a spokesman. "We remain committed, for the good of the game and the fans, to making a long-term agreement on terms that are fair and reasonable for everyone."
McDonald said it's no surprise that the fans are possibly even more upset this time around.
"The owners got the cap and cost certainty last time around," McDonald said. "Since then, the revenues grew every year. Last year [had] record revenues. Fans probably wonder why there could be another season without hockey. And I'm sure they look at players and say, 'You guys make so much money, how can you not just take the deal, you'll be making a pile of money?' The players just feel that we want a fair deal. What's going to happen the next deal? We give back 20 percent this time and next time they'll want 20 percent again? We have to break this lockout pattern somehow. The players recognize there's a revenue disparity among teams. That's why we're willing to make concessions. But we expect some concessions on the owners' side to do the same thing."
The damage to the industry could be more profound this time around if a lockout wipes out the whole season. For starters, the KHL in Russia wasn't around eight years ago, scooping up players and paying them big salaries.
"If we go a whole year, I think there's a lot of truth behind what a couple of Russian guys have said about just staying over there," Cole said. "And I don't blame them. To be quite honest with you, I said this the other say, if we get into Year 2 of this thing, I might be looking to go to the KHL for a year and shut it down and walk away. It's just one of those things that if it continues to go down the path it's going, I'm not so sure everybody wants to be a part of it. That's my feeling, anyway."
As it is, more than 120 NHL players are across the pond playing right now.
Anaheim Ducks
winger
Bobby Ryan
said last week he wouldn't play overseas during the lockout, saying he thought players should stay home and fight the fight on the labor front.
"I don't agree with those comments at all," Cole said. "He's looking at it the wrong way. It's different for everybody. If a guy feels like he needs to go play and if that's going to help him deal with the fact we're not playing over here, you should be encouraging players to go play.
"Look, I don't have a problem with Bobby voicing his opinion. But I think he needs to broaden his view a little bit. The fact of the matter is, everyone's situation is different. Some guys need to play right now and want to be ready if the season starts. If it helps those guys cope, then go play. I've got no issue with it."
In the meantime, NHL markets that have been re-energized over the last few years will now lose momentum as the lockout drags on, starting with a place like St. Louis, where the improved Blues made hockey cool again last season.
"That hit home this week when I was listening to the radio and someone picked up [we were] first in the West," Backes said. "We do have a great team in St. Louis and momentum in a city that's had to go through a rebuild. And now we're ready to reap those fruits from the struggling times. We had a fan base that sold out a record number of games last year. To not be able to continue that momentum, with a new ownership group in St. Louis, for all the support we have from fans and corporate sponsors -- that's just killing everybody."
Nowhere does it hurt more than in Los Angeles, where the Kings, after years and years of frustration, won their first Stanley Cup and galvanized a crowded sports market.
"Absolutely," Backes said. "Or Florida, or Nashville, or Phoenix -- all those teams that were struggling, and suddenly they get some excitement around their franchise and all of a sudden they get a hard stop sign."
For now, it's a waiting game.
"I think if the season starts in November, that would be an extreme surprise for me," Cole said. "I don't see it ending quickly. I'm going to stick with my original presumption that the outdoor game will be the kickoff and we'll play a shortened season. That's the best-case scenario."
March, 11, 2011
3/11/11
11:16
AM ET

Stock Up
David Legwand, Nashville Predators:
With the Preds crippled by injuries down the middle, the pressure is on guys like veteran center David Legwand to answer the bell. A former No. 2 overall draft pick who has never produced the kind of offense one expects from such a coveted prospect, Legwand has points in four straight games and has hit the score sheet in six of his last seven contests (two goals, seven assists) as the Predators continue to scratch and claw their way toward a playoff berth in the Western Conference.
Andy McDonald, St. Louis Blues:
If this is indeed the season of the concussion, it is nice to see Andy McDonald bouncing back after his season was marred by a head injury sustained when he fell into the knee of an opposing player in early December. McDonald has seven goals in his last 12 games and seven points in his last four games. The playoffs are a non-starter for the injury-ravaged Blues, but McDonald's ability to return to form as a skilled player in spite of the concussion has to bode well for the revamped Blues next season.

Stock Down
Kimmo Timonen, Philadelphia Flyers:
One of the reasons folks love the Flyers as a Stanley Cup contender is their depth up and down the lineup, and especially along the blue line. But over the past 15 games, veteran blueliner Kimmo Timonen has managed to chip in just three points (one goal, two assists), as the Flyers have tried to fight off the late-season doldrums. Timonen's dry spell may help explain in part why the Flyers' power play ranks a disappointing 20th in the NHL.
Rich Peverley/Chris Kelly, Boston Bruins:
Just to show you how difficult it can be to move seamlessly from one team to another, we look at the struggles of the Bruins' two forward acquisitions at the trade deadline. Rich Peverley and Chris Kelly have 20-goal potential but between them have managed just one goal in a combined 17 games since arriving in Boston from Atlanta and Ottawa, respectively. The Bruins, meanwhile, are winless in three.
January, 25, 2011
1/25/11
12:40
PM ET
DENVER -- A handful of reporters and broadcasters are gathered around Andy McDonald's locker at the Pepsi Center quizzing him about his new helmet.
It's a model pioneered by Hall of Famer Mark Messier expressly to add additional protection against concussions and other head injuries.
"It's a little heavier than what I was wearing," McDonald explained.
[+] Enlarge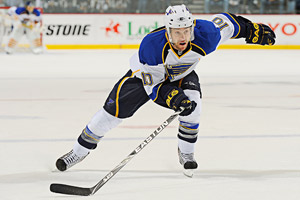 John Russell/NHLI/Getty ImagesAndy McDonald worked out with teammates for the first time Monday. He hasn't played a game since Dec. 4.
The shape is slightly more round to accommodate the additional padding that is supposed to help protect against concussions, something McDonald knows all too well having suffered two serious ones in his career.
It makes the 33-year-old native of Strathroy, Ontario, look a little like the Great Gazoo from "The Flintstones" and there is some good-natured ribbing about whether the look is a good one for McDonald.
"It feels pretty good, I think I'll stick with it," he said. "I don't know if it'll pass the mirror test."
Still, when you haven't played since Dec. 4 and you're trying to get your head back in the game both literally and figuratively, you're willing to sacrifice a little style for maximum self-preservation.
As for the kibitzing in the dressing room, well, that's been a long time coming, too, for McDonald.
The morning skate in Denver on Monday marked his first workout with the rest of the team, and the soft-spoken McDonald is clearly thrilled to be back.
"It's nice to have some company," he said.
Nice to have a goalie to shoot at and teammates to pass the puck to outside of trainer Ray Barile.
"Not that he doesn't pass the puck well," McDonald added.
Unlike too many players suffering concussions this season, McDonald's wasn't the result of a dangerous play but a mishap. He lost an edge and his head hit an Edmonton player's knee or skate.
The results were the same, though, the uncertainty and isolation no different than what David Booth, Marc Savard and others have endured.
"Pure frustration," said McDonald.
Now he has been cleared to practice with the team, it's a matter of getting his timing and conditioning back. He lost six or seven pounds off his already diminutive frame while he was out, so he needs to bulk up a bit as well.
And of course he must remain symptom free.
"This is the next step," coach Davis Payne said before the Blues were clipped 4-3 Monday night by the Avalanche.
"Every day's a test," he added. "Everything's been positive. That's progress."
But McDonald is close. At least he hopes he is.
But he understands the cruelty of the concussion, of not knowing just when all will be right.
In this very arena two days earlier, Savard was taken hard into the boards and is now out again with another concussion.
It's not surprising that McDonald has noted the other injuries around the league and how the league is handling the issue of concussions. But he also added that he tries not to pay too much attention to it, focusing on his own situation.
Certainly, the Blues will welcome McDonald back at the earliest opportunity, likely after the All-Star break this weekend. They have been without key personnel all season, have won just twice in their last 11 games and are rapidly sinking out of sight in the Western Conference playoff race. McDonald, who won a Stanley Cup in Anaheim before being traded to St. Louis, had 17 points in 25 games for the Blues before the injury.
"I try not to set myself dates," McDonald said. "It's not a decision that will be made just by myself."