Cross Checks:

Antero Niittymaki
February, 23, 2012
2/23/12
10:28
AM ET
Brian Burke has shown time and time again in his GM career that he's not afraid to act, and the man who runs the
Toronto Maple Leafs
has decided to add more drama before Monday's 3 p.m. ET trade deadline.
Burke broke the news on TSN 1050 Radio in Toronto on Wednesday evening -- later confirming it with ESPN.com during a phone call -- that the club has decided to explore what's out there on the goalie market in the wake of recent netminding struggles of
Jonas Gustavsson
and
James Reimer
.
It doesn't mean for sure they'll get a goalie, but they are going to see what's out there and judge the price tags. Burke said the front office discussed it for the first time Wednesday. It had not looked at outside goaltending until this point, just a few days removed from the trade deadline.
That doesn't allow for much time to get something done, and the prices are usually high at this time of year, but let's look at the possibilities for the Leafs:
Evgeni Nabokov, New York Islanders:
At 36, Nabokov has had a bounce-back season as proved by his .925 save percentage. He's slated for unrestricted free agency July 1, so he's the ideal rental player. My understanding is that he would gladly waive his no-trade clause for a move to Toronto. And don't forget he played for Leafs coach Ron Wilson during their San Jose days. Here's the catch, however: The Isles are in negotiations with Nabokov agent Don Meehan regarding an extension. And even if Nabokov doesn't sign, Isles GM
Garth Snow
has shown in the past he doesn't just give away rental players, so it's no sure thing he will move him, even if he can't sign him over the next few days. Still, this would be the most obvious target for Toronto.
Josh Harding, Minnesota Wild:
Like Nabokov, Harding is a UFA July 1, so he's a rental. Thing is, like the Isles, the Wild haven't quite decided what to do ahead of Monday's trade deadline. It's really going to depend, I think, on the quality of the trade offers and where Minnesota sits in the standings. But the club is certainly open to listening.
Anders Lindback, Nashville Predators:
I believe there's interest here on the part of the Leafs, but there's also the realization that the Predators aren't about to give away a 23-year-old goalie who holds lots of promise. It's not that he's unavailable; the Preds would move him, but only in the right deal. Translation: high price.
Curtis Sanford, Columbus Blue Jackets:
Sanford is another rental, and frankly he's played reasonably well for the league's doormats this season. The question you have to ask yourself if you're Toronto is, how much of an upgrade is he on what you have?
J.S. Giguere, Colorado Avalanche:
The former Leafs netminder is healthier now than he was last season in Toronto but he's not a rental player, having another year left on his contract, at $1.25 million. He's played well for Colorado this season, he's been a good tonic for
Semyon Varlamov
, and I'm not sure how interested the Avs would be to change that.
Antero Niittymaki, San Jose Sharks:
You can bet your bottom dollar that Sharks GM Doug Wilson would love to dump his discarded No. 3 netminder on the Leafs. Niittymaki has an .891 save percentage in nine AHL games this season. He's fully recovered from a surgically repaired hip, but teams are obviously wary. He's been a very effective netminder in the past, but I doubt the Leafs would go here unless it was a last resort.
Scott Clemmensen, Florida Panthers:
He's a UFA July 1 and a former Leafs farmhand, in 2007-08. He's played decently in Florida this season, with a .908 save percentage, but I think the Panthers would move him if a team called. Two questions here: 1) Would Florida move him to a team it is battling with in the East playoff race? and 2) Is this really an upgrade for Toronto?
Ben Bishop, St. Louis Blues:
Total wild-card entry. It would be a big-time gamble for the Leafs to hand the keys to another young and inexperienced netminder, one with only 13 NHL games under his belt -- none this season. But some people around the league are high on the 25-year-old's abilities.
January, 20, 2012
1/20/12
12:00
AM ET
Is this the year of the top-six forward at the trade deadline?
Sure looks like it so far.
Nearly every buyer you talk to lists a top-six forward as an item on their wish list before the Feb. 27 trade deadline.
General managers are saying that goals are at a premium, since so many games are decided by one goal, so some playoff-bound teams are looking for one more offensive weapon.
"Our team is young and getting better and we see a lot of good things with our team right now, but if we can get a veteran forward or top-six forward, that would help us a lot," veteran
Nashville Predators
GM David Poile told ESPN.com this week.
[+] Enlarge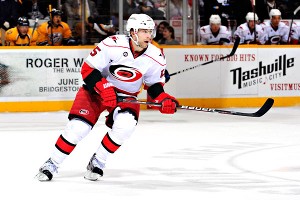 Frederick Breedon/Getty ImagesWith top-six forwards in high demand, could Carolina's Tuomo Ruutu be on the move at the the trade deadline?
Ah, but he's not alone. Other teams confirmed to be looking for a top-six forward include Chicago, Toronto, Minnesota, Los Angeles, Detroit, the
New York Rangers
and, as Poile said, Nashville. San Jose could be in the mix for either a top-six forward or a checking-line forward. Boston and Vancouver are looking for a depth forward.
So, easier said than done when so many clubs are looking for similar assets.
"I'm running into the same thing everyone else is," said Poile, who did at least claim depth forward
Brandon Yip
off waivers Thursday. "There's 15 to 20 teams right now that are aggressively calling the three or four or five teams that they think are appropriate to call. And there's nothing happening with those teams right now."
What the trade market needs is more teams to declare themselves sellers and out of the playoff race. But it's still too early for that. That's what happens with so much parity in the standings.
Potential top-six forwards available? Again, it doesn't mean all these players will move, but these are names we've heard that could be in play:
Derek Roy
,
Brad Boyes
and
Drew Stafford
in Buffalo;
Vaclav Prospal
,
Antoine Vermette
and
Kristian Huselius
in Columbus;
Ales Hemsky
in Edmonton;
Tuomo Ruutu
in Carolina; and the suddenly hot
Jason Blake
in Anaheim.
I believe both Detroit and Nashville are among the teams who like Hemsky, who is a UFA on July 1.
And of course there's potentially
Bobby Ryan
in Anaheim as a trade target for many teams, although you wonder if the resurgence of the Ducks will give GM Bob Murray pause for thought. I still think Murray will take calls on Ryan right up through the deadline, but the offseason might afford a better window to instill more serious change in his lineup.
Blues' depth in goal
It wasn't long after the
St. Louis Blues
announced the signing of
Brian Elliott
to a two-year, $3.6-million extension that some fans hit Twitter wondering whether that meant
Jaroslav Halak
was hitting the trade market.
Not so, says the GM of the Blues.
"We're excited with the tandem that we have," Doug Armstrong told ESPN.com Thursday. "Our players know going into every game they have a chance to win regardless of who is in net. Sometimes when you have a 70-game goalie, when the other guy goes in, the players think it's different. Right now, no matter who is in net for us, there's no difference in our outlook on that game."
Like powerhouses Boston and Vancouver, the Blues are assured of top-notch goaltending every night and that can impact the standings.
"The importance of every point, the compacted schedule and the travel, we have the luxury of being able to count on two goalies every night," said Armstrong. "If it's a four- or six-point difference from making or missing the playoffs, that position [netminder] can change that."
So if Halak and Elliott are both around to stay, what about No. 3 man
Ben Bishop
, currently in the AHL? There are some around the industry that think Bishop is one of the best netminders not in the NHL. He might garner some trade interest for St. Louis before Feb. 27.
Suter's future
Well, it wouldn't be a week without a
Ryan Suter
update, right?
[+] Enlarge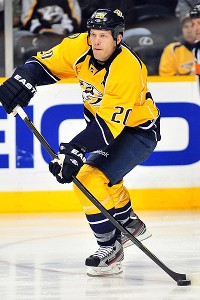 Don McPeak/US PresswireWill Ryan Suter re-sign in Nashville or will the Predators trade him before Feb. 27?
The dialogue continues with the Nashville Predators, Suter's agent Neil Sheehy told ESPN.com Thursday, but there's really nothing new to report. By now everyone should know the star defenseman is slated for unrestricted free agency on July 1.
My take? I think the Suter camp is sitting back waiting to see what Poile can do to improve the team between now and the Feb. 27 trade deadline before deciding whether or not to sign.
So you've got a bit of the chicken and the egg here for Poile.
Most people believe Poile is going to be hard-pressed not to move Suter if he's still unsigned by Feb. 27, but that's not what the veteran GM told ESPN.com on Wednesday night.
"If you're asking what I'm going to do, my gut is that we're going to be trying to add to our team and if we're adding to our team, we certainly don't want to be taking away from it by making a deal like that," Poile said of trading Suter.
Shopping Niittymaki
The
San Jose Sharks
, as I reported earlier this season, would like to find a new NHL home for goalie
Antero Niittymaki
, who earns $2 million this season and will be an unrestricted free agent on July 1.
The Sharks are showcasing him this weekend in the AHL; Niittymaki accepted a conditioning assignment Thursday to Worcester, where he was expected to start twice this weekend. Word is Niittymaki's surgically repaired hip is 100 percent. He'd be a decent pickup for a team needing insurance in goal.
Steckel can't escape Crosby
David Steckel
won't ever shake the questions. At least not unless
Sidney Crosby
returns for good.
Steckel's collision with Crosby heard 'round the world more than a year ago at the Winter Classic is a subject he can't escape.
"I can't fault people for asking," Steckel told ESPN.com this week after a
Toronto Maple Leafs
practice. "There's no way of taking it back. Obviously, I didn't do it on purpose. It's just something that I've lived with for a year and I'm going to have to live with for my career."
The magnitude of Crosby's concussion issues, including a setback this season after only an eight-game return, hasn't escaped Steckel.
"It sucks that the best player in the NHL has been out for what, 11 of the past 12 months basically," said Steckel. "For the game, it sucks. For Pittsburgh, it sucks."
Career will go on for Alfredsson, Brodeur?
With the news this week that
Martin Brodeur
is learning towards playing another season, I approached Senators captain
Daniel Alfredsson
in the same vein.
Like Brodeur, I asked Alfredsson, would your team's success this season spur on a decision to return for another year?
"I think I'll wait for the offseason to make that decision," Alfredsson said. "It's more physical than mental. It's about how my body holds up. So far, it's been great. I'm having a lot of fun. But the toll it takes to play and the preparation it takes to get ready for another season, you have to consider that. But for sure the way we've been playing, I've been having a lot of fun."
Alfredsson, 39, has certainly played like he can stick around. He's already surpassed his point total from last season and there's still half a season to play. I think his heart is telling him he wants to play another season. But he's waiting for his body after the season to concur.
As for Brodeur, I traded text messages with him Wednesday night and he confirmed what the New York Post first reported, that he was thinking about coming back next season.
"Leaning toward it," Brodeur told ESPN.com. "Haven't made decision yet."
Brodeur will be an unrestricted free agent on July 1.
November, 12, 2010
11/12/10
12:21
PM ET

Stock up
Alexander Semin, Washington Capitals
Never quite sure what to make of talented Washington forward Alexander Semin, the Other Alex in the nation's capital. Pretty sure the Caps feel the same way as Semin will be an unrestricted free agent at the end of this season and frankly doesn't really fit into their long-term plans. But Semin sure goes when he's hot, and he's hot now with seven goals in his past five games as the Caps have won six straight and sit atop the Eastern Conference standings. Only Steven Stamkos has more than Semin's 12 goals on the season, and, as of Friday morning, Semin's 21 points were good enough for fourth in the NHL scoring race.
Antero Niittymaki, San Jose Sharks
There hasn't been much to get excited about from the up-and-down Sharks through the first part of the season, but journeyman netminder Antero Niittymaki has quietly laid claim to the starting job between the pipes. Niittymaki is 6-1-2 with a .929 save percentage. Although he was expected to take a backseat to Stanley Cup-winning netminder Antti Niemi, Niittymaki has yet to give up more than three goals in any one outing thus far and his 1.80 GAA is fifth in the league. Given how poorly Niemi has played thus far, the Sharks owe a debt of gratitude to Niittymaki for keeping them afloat.

Stock down
Jamie McBain, Carolina Hurricanes
Remember late last season when the young native of Edina, Minn., came up from the AHL and immediately potted three goals and 10 assists in just 14 games for the Canes? No? It does seem like a long time ago. Entering his first full-time NHL season, Jamie McBain, 22, has found the going significantly more difficult as he has yet to score this season, has just three assists and is without a point in seven straight contests. For a team that relies on its back end to produce points, that's not good news.
Kris Versteeg, Toronto Maple Leafs
You can't swing a cat without hitting someone in the Leafs' room whose stock is down, down, down. But for a team that ranks 29th in goals per game and has one win in its past 11 outings, looking for scoring isn't a bad place to find ways to improve. And taking a look at former Chicago Blackhawk Kris Versteeg is also a good place to look. A former rookie of the year candidate, Versteeg has just two goals on the season and has managed to dent the twine just once in his past 12 games.
October, 28, 2010
10/28/10
5:08
PM ET
Exactly a week ago on Thursday, Todd McLellan ended the experiment. For the time being.
With his team somewhat sluggish out of the gates this season and looking for inspiration, the
San Jose Sharks
head coach halted the divorce of the big boys, reuniting
Joe Thornton
,
Dany Heatley
and
Patrick Marleau
during the second period of a 4-2 win over Colorado.
"And they've been together since," McLellan told ESPN.com.
The Sharks responded since then with three quality victories and that "one stinker in Calgary," McLellan said. But overall getting the top line back together has been the tonic his team needed at this point, punctuated Wednesday night by the Team Canada Olympic trio scoring every single goal in a 5-2 win over New Jersey, the big boys combining for a whopping 13 points.
"For the most part they've done a good job of igniting the team and everyone seems to be falling in line," the coach said. "Maybe that's what they were waiting for. Maybe the coach was the dummy that kept them apart, I don't know."
The coach is no dummy. I like what McLellan did in camp and to begin the season, separating those three star players. His theory was sound: they needed to try and develop chemistry with other linemates because over the course of a long year, whether it's injuries or slumps or matchups, you're going to play with other people. So get to know them better on the ice.
"In the playoffs last year we had to break them up for different reasons, obviously playing against Detroit with Datsyuk and Zetterberg playing on different lines," McLellan sid. "We're going to need that again this year. So the experiment with them being apart is certainly not over. But we'll stick with what we have now and we'll get our game to where it's supposed to be."
San Jose's game is still not up to par, although it's getting there. A middling 4-3-1 start has had its ups and downs. Wednesday's win over New Jersey, to me, was the perfect microcosm of the young season for the Sharks. In the first period, they overwhelmed the Devils, and it looked like they were going to run away with a 9-1 victory. But by my vantage point on the couch three time zones away, they fell asleep in the second period and looked out of sync. It's still a work in progress.
"Looking for some consistency," McLellan said. "We've been pretty good for large portions and then, like you said, we might get a little dopey at times and not execute the way we can."
His precise focus is the team's execution in its own end.
"When we're going out of our end clean, we're a much better team," the coach said. "So we've got some work to do there. I thought the Devils game was a real reflection of that -- when we're able to make a pass or two (from the back end) and get our eyes up and get going, we were a very effective team. When we muddled around in our end and couldn't get the puck off the boards, we became pretty average. Obviously some work to do there."
I still think this blue-line corps needs an addition. The Sharks never replaced
Rob Blake
in the offseason. They need another top-four type. Not that they grow on trees, but I suspect that's something Sharks GM Doug Wilson will continue to monitor between now and the Feb. 28 trade deadline.
In goal,
Antti Niemi
has been outplayed by
Antero Niittymaki
, as underlined by the latter's .932 save percentage and 1.84 goals-against average that places him among the league leaders. Not to mention the most important stat: his 3-0-1 record. It appears McLellan might be leaning a bit more on "Nitty" for now. But fantasy leaguers shouldn't get carried away. The Sharks coach hasn't designated anyone the starter for the rest of the season.
"I think it's way too early for me to declare that, by any means," McLellan said. "Antti Niemi is going to be a very good goalie for us as well. We anticipate that he's going to find his game and continue to work on it. With Nitty right now, he's playing better than Antti. When the team needs to win some games, we'll go with the hot guy and that happens to be Nitty right now."
September, 23, 2010
9/23/10
11:49
PM ET
SAN JOSE, Calif. -- It was late August when Doug Wilson called
Antero Niittymaki
into his office for a meeting.
The
San Jose Sharks
GM had quite the piece of news for Niittymaki: He was close to signing fellow Finnish netminder
Antti Niemi
.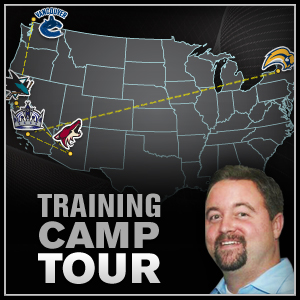 "I said, 'You know what? This has just become available. Obviously, I made a commitment to you and signed you to a two-year deal. I will only do this if you bless it,'" Wilson, sitting in that same office Thursday, recalled to ESPN.com. "And he was great about it. He said, 'This makes us a better team and you've got to do it.'"
And there, in a nutshell, is why there's reason to believe the goalie battle in San Jose won't turn into a distraction. For starters, Niittymaki appreciated the way Wilson included him in the process and didn't blindside him.
"It was a classy move by him," Niittymaki told ESPN.com on Thursday. "It was nice to give me a heads-up. It just shows that this is a first-class organization."
Niittymaki spent all of two months this summer as the unchallenged Sharks starter between his July 1 signing and Niemi's Sept. 2 acquisition. Many a goalie would have freaked out and had his agents jumping up and down Wilson's back. Not Niittymaki.
"It's part of the business," said Niittymaki, who fought for net time in his previous NHL stops in Tampa Bay and Philadelphia. "I'm not going to cry about it. You never know what's going to happen. You just have to deal with it. But it's good that it's a Finn, it really is. It makes it easier for both of us."
They're both Finns -- Niemi from Vantaa and Niittymaki from Turku. They didn't know each other, but have spent the past two weeks getting acquainted. Their dressing room stalls are side by side at the Sharks' practice facility.
"We're sitting next to each other and we're able to speak Finnish. It helps," Niemi told ESPN.com on Thursday.
"We've gotten to know each other a little bit," added Niittymaki. "He's a great guy like all the Finns are. I'm sure it's going to be fine. It's going to be a healthy competition."
As
Chicago Blackhawks
fans found out last season while he won them over en route to a Cup championship, Niemi is a man of few words. But his eyes widened when asked about the battle for net time and whether it would be a good vibe with both goalies pushing each other.
"I'm confident that's what will happen," Niemi said. "I think it's going to be a positive thing for both of us."
Things have settled down for Niemi after a drama-filled offseason. He was celebrating a Stanley Cup championship only to see Chicago dump him after his arbitration hearing. He had to scramble to find a new NHL job.
[+] Enlarge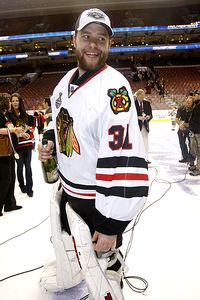 AP Photo/Kathy WillensAntti Niemi joined the Sharks after winning a Cup with the Hawks last season.
The 27-year-old needed a bit of time to digest it all.
"It took awhile, but I'm really happy to be here right now and excited about the season," Niemi said.
So, the question on every fantasy player's mind is how the playing time will be parceled out. Don't ask the head coach.
"The honest response is, I don't know," Todd McLellan told ESPN.com on Thursday. "I've told that to media people and they look at me like I'm from Mars. But we are figuring out what we have, how they fit in, how they respond in certain situations against certain opponents and that's going to take some time. The natural thought outside our locker room is alternate for a while and see what happens, but if somebody gets a hot hand, we might run with him for a while. If alternating is the thing we need to do, then we will."
Bottom line: Nothing is decided yet. Both goalies are new to the Sharks, so both will need time to adjust.
In the meantime, what about
Thomas Greiss
? The poor fellow from Germany was the backup here last season to
Evgeni Nabokov
, going 7-4-1 with a .911 save percentage and 2.69 goals-against average. Where does he fit in all of this? He would need to clear waivers to be sent down to the AHL, where, by the way,
Alex Stalock
won 39 games last season (the Sharks are high on him, too).
"We've managed three goalies before," said Wilson. "People forget we had Nabber and Kipper [
Miikka Kiprusoff
] and
Vesa Toskala
. You can manage it."
Because the Sharks begin the regular season in Europe, NHL rules allow them to carry an extra roster player until they return home. So that affords them extra time to carry three goalies.
Who knows what Wilson really has under his sleeve for Greiss (whether or not it's a trade), but after spending time here Thursday at Sharks camp, it seems clear the Sharks GM does not have a goaltender controversy on his hands. Niittymaki and Niemi want to make this thing work.
"What we like is that these are not entitled people," said Wilson. "They're used to battling for spots and competing. That's something we like all the way through our team."