Cross Checks:

Anthony Stewart
October, 3, 2012
10/03/12
9:06
AM ET
By
Sarah Goldstein
| ESPN.com
September, 1, 2011
9/01/11
1:08
PM ET
The spotlight shines brightly even in the offseason around the NHL.
Christian Ehrhoff
,
James Wisniewski
and the entire
Florida Panthers
roster have all enjoyed some moments in the sun as they prepare to try to make the best of new environs. But what about the under-the-radar guys, the players who may have quietly assumed new addresses but who may be ready to make a significant impact? Here's a look at 10 such players:

OK, so the big former Leafs winger has scored just seven times in his past 77 regular-season games and was a bit of a bust in Pittsburgh and Los Angeles. But Ponikarovsky should find a comfort zone with head coach Paul Maurice, for whom he played for in Toronto. And Ponikarovsky has scored 20 or more goals (and once scored 19) three times in his career, so he has something to bring to a Carolina team that will take all the production it can get.

Given his injury history and uneven play the last couple of seasons, it's easy to forget that Giguere has collected at least 30 wins in four seasons since the lockout. He was, lest people forget, the goaltender of record when the
Anaheim Ducks
won the Stanley Cup in 2007. At age 34, there should still be lots left in the tank, and, given the lack of durability for young netminder
Semyon Varlamov
-- the man tabbed by the Avs as their goaltender of the future -- Giguere could be asked to do a whole lot more than just offer mentoring and open the gate at the end of the bench.

It's easy to overlook the arrival of the big (6-foot-2, 214 lbs.) winger, given all the other moves made by the Flyers this offseason. But if Paul Holmgren is right, people won't be overlooking the contributions of the former seventh overall pick in the 2007 entry draft. Yes, Voracek didn't become the player the
Columbus Blue Jackets
thought he would be -- has anyone in Columbus outside of
Rick Nash
become the player they hoped he would be? -- as he topped out at 16 goals in his three years as a Blue Jacket. But guess what? He's going to play with top-end talent in Philadelphia and get a chance to put that big body to use.

We must admit being a bit mystified that the
Winnipeg Jets
didn't bother to make a qualifying offer to keep the big winger in the fold, and we wonder whether they'll regret playing against him six times a year now that he's landed in Carolina. Admittedly, Stewart -- the 25th overall pick in 2003 -- has been slow to develop, but he did show some good net presence in Atlanta last season, scoring 14 times and finishing with 39 points. Five of those goals were on the power play and, like Ponikarovsky, the 26-year-old Stewart should get many opportunities to improve on those numbers in Carolina.

Another first-round draft pick that didn't show enough promise for the
Edmonton Oilers
, Cogliano may find Anaheim more to his liking. Right now, he's likely a third-line center behind
Ryan Getzlaf
and
Saku Koivu
but he can also play the wing. With a more talented cast around him, the 24-year-old may finally blossom after twice scoring 18 goals for the Oilers. He had just 11 goals a year ago but has never missed a game in four seasons in Edmonton, something the injury-plagued Ducks will be pleased about.

No one is suggesting that White will replace the retired
Brian Rafalski
in the Red Wings' lineup, but White has more tools than he's given credit for possessing; watch for head coach Mike Babcock to take full advantage of them. White had nine points in 17 postseason games for the Sharks last spring -- the Sharks dispatched Detroit in a thrilling seven-game set in the second round -- and will be a nice addition to a Red Wings team that still has plenty of game left.

Will Sidney Crosby be back? How hungry is
Evgeni Malkin
? What does
Steve Sullivan
have left? In a city hungering for a return to contender status after two disappointing playoff seasons, it's a little bit easy to overlook James Neal. The big winger was acquired before the trade deadline from Dallas for
Alex Goligoski
, but, with both Malkin and Crosby injured, Neal never really found a groove for the Pens. He scored just once in 20 regular-season games and then added one more in a seven-game first-round playoff loss to Tampa. Look for a lot more this season from the big winger, who will turn 24 over Labor Day weekend.

Every year, Nashville GM David Poile and head coach Barry Trotz conspire to pull a rabbit out of the proverbial scoring hat. Two years ago it was
Patric Hornqvist
; last year it was
Sergei Kostitsyn
. Could it be Bergfors this season? The former first-round pick (25th overall by New Jersey in 2005) went to Atlanta as part of the
Ilya Kovalchuk
trade and was shipped to Florida at the trade deadline last season before signing with the Preds as a free agent this summer. Bergfors had 21 goals between New Jersey and Atlanta in his first full NHL season in 2009-10, including nine power-play markers. Look for him to get lots of opportunity in Nashville to make good on his potential.

Although there were lots of goalies whose profiles might have been higher, Tampa GM Steve Yzerman went after journeyman Garon as his backup to
Dwayne Roloson
, who signed a one-year deal with the Lightning after a superlative effort in leading the Bolts to the seventh game of the Eastern Conference finals. Roloson will turn 42 before the regular season is a week old, and the Lightning will want to make sure he has plenty left in the tank for what most expect will be another playoff run next spring. That means Garon will have to shoulder the load for, what, 30, 35 games? The two netminders played together in Edmonton, and head coach Guy Boucher said in an interview that he expects them to form a strong tandem.

Talk to Washington GM George McPhee and he'll tell you that one of the main reasons the Caps folded against Tampa in the second round of the playoffs had more to do with the health along the blue line than it did players' efforts. With
Tom Poti
looking like he won't be able to play anytime soon and with
Scott Hannan
departed for Calgary, the Caps added some veteran insurance in the form of Roman Hamrlik. Although he is 37, Hamrlik can still log heavy minutes, as he averaged 22:16 a night during the regular season and then saw that number increase in the Canadiens' first-round loss to Boston. Hamrlik was particularly impressive the previous spring as the Canadiens advanced to the Eastern Conference finals in spite of a badly depleted defensive corps. As for a mentor for rising defensive stars
John Carlson
and
Karl Alzner
, you couldn't ask for a better guy than the classy Hamrlik.
October, 21, 2010
10/21/10
3:43
PM ET
For years, Norm Stewart has mastered the art of keeping one eye on one hockey-playing son and the other eye on the other.
The task has become significantly more challenging in recent days, though, as Stewart risks missing a goal seemingly every time one of sons hits the ice.
It is a nice problem to have, joked Stewart. "It started 17 years ago. I'm enjoying every minute. I'm a third eye," the proud parent told ESPN.com earlier this week.
[+] Enlarge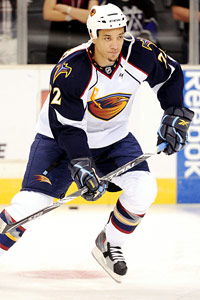 Harry How/Getty ImagesAnthony Stewart is playing a bigger role for the Thrashers this season.
In recent days, the task has meant some frenzied channel juggling with son Chris in Colorado and older sibling Anthony making his mark in Atlanta.
"I think he changes [the channel] in between shifts, so he'll try to catch my shift and his shift," explained Anthony, a winger for the Thrashers. "So it was good that I was on the West Coast last week so he could catch the double-header.
"[Chris and I] talk every day, we text, we BBM, we've got a little running joke with who's leading the goal-scoring race right now," Anthony, the big brother of six siblings, told reporters this week. "It's great. It's great that he's scoring and I'm getting some goals here and there and both teams are being successful. That's the main thing."
The fact Chris is off to an impressive start in Colorado isn't all that surprising. The younger of the two boys, Chris was the 18th overall pick in the 2006 NHL draft. Last season during his sophomore campaign, he exploded with 28 goals and 64 points as the Avalanche surprised pretty much everyone by surging into the playoffs.
Yet the path followed by Anthony has been decidedly more arduous, even if the two have combined for nine goals as of Thursday morning (Chris, who turns 23 next week, leads the way with five). Selected with the 25th overall pick in the 2003 draft, Anthony has needed more time to find this kind of NHL groove.
Up until this season, the 25-year-old had managed just four goals in 105 games. The fact he has equaled that mark in just six contests with Atlanta speaks to equal parts opportunity and determination.
"It's been a hard couple of years, especially being up and down in the minors," Anthony said. "When you feel you can play and you're in the NHL on a Friday night and you're playing AHL on the Saturday and back on Monday, that definitely hurts with the confidence and you sort of get down on yourself.
"But I've been saying since day one that I'm a firm believer in timing and where you are. If you keep working hard, your opportunity's going to come and it's come early, and you've just to got run with it and you can't be looking back.
Last season, opportunity knocked in the form of Rick Dudley, the man who had originally drafted Stewart in Florida. Dudley told the Scarborough, Ontario, native he wanted Stewart in Atlanta, where Dudley was about to move into a full-time GM role with the Thrashers. Stewart didn't get a shot with the Thrashers last season, but he did have a strong playoff for the team's AHL affiliate in Chicago, scoring nine times in 13 games.
"He believed in me almost more than I believed in myself and said that I'm going to have a role here and that [I was] going to get your opportunities," Stewart said.
That opportunity has come this season courtesy of new coach Craig Ramsay, who liked Stewart's size and skating ability in training camp. Stewart, along with big center
Chris Thorburn
, has been handed additional responsibilities with the revamped Thrashers.
"There's a lot of pressure on someone who has been a first pick, there's no question about it," Ramsay said. "They see themselves in a different light, they have been seen by management in a different light, and what happens is [if] they're not a first-line player right off the bat, now you're a failure. That's not the case at all. He has to find out what it's like to play in the league, he has to find out how he can respond to various roles that he's been put into."
The key for Stewart is not to take anything for granted.
"You have to stay focused. I talked to him and I talked to Thorburn about the fact that they're playing in much larger roles. They're important cogs in this team," Ramsay said. "They've demanded more ice time, they've demanded different situations than they've had in the past. They've earned it. But they must understand the responsibility that comes with that, and that's to do it on a game-by-game basis, on an every-night basis and, even more importantly, on an every-shift basis. You can't be one of those top guys and take time off."
If Stewart does continue to pay attention, there is no doubt he's going to make life more difficult for his channel-juggling dad. But that's never a bad thing, is it?