Cross Checks:

Barry Trotz
June, 28, 2014
Jun 28
4:26
PM ET
PHILADELPHIA -- Of all the new coaches -- or rather coaches in new positions -- in the NHL, perhaps no one will face more scrutiny than Barry Trotz in Washington.
After coaching every single game in
Nashville Predators
history, Trotz parted ways with the Predators and was shortly after hired to try to revive the fortunes of the
Washington Capitals
. To do so means dealing with one of the game's most prolific players in
Alex Ovechkin
.
[+] Enlarge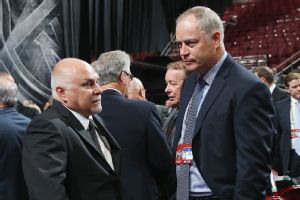 Bruce Bennett/Getty ImagesCapitals coach Barry Trotz said he won't have any problem with buy-in from Alex Ovechkin.
It goes without saying that no one player is bigger than the collective, that no championship team ever becomes a champion based on one single player's presence. But for the Capitals to ascend to that level and return to their previous status as one of the top teams in the Eastern Conference, Trotz must find a way to marry Ovechkin's enormous offensive skill with the need to see his game evolve so that he is less separate from the group.
Perhaps no one single task will determine Trotz's success like this one.
Trotz reached out to his captain via phone and met with him before the NHL awards in Las Vegas.
"He's trying to get a feel for what I bring to the table," Trotz said Saturday as the NHL's draft wound to a close.
For a guy who scored 51 times to win the Rocket Richard Trophy but was an embarrassing minus-35, it might be a simple notion that Ovechkin needs to be better defensively. But it's a little more complicated than that.
Trotz, for instance, suggested that Ovechkin needs to be skating harder into the defensive zone and that may allow him to create offense going the other way via turnovers and the like.
"Alex has a little too much glide maybe in his game," Trotz said. "He's trying to score too much. He's getting not as much space, actually.
"When he's moving, he can do things with the puck, he can beat you with his skill, he can beat you with his size and speed and hold you off. When you're standing still, you're really easy to cover."
The new Caps coach said he thinks there won't be an issue with buy-in from Ovechkin, but the buy-in has to come from everyone on the team.
Trotz has looked at lots of game tape and has been surprised by the depth of talent on the Capitals' roster. But that in and of itself won't take the Capitals to where they need to go.
"There's lots of talent on the club, but we're not a good team. And we need to be a better team," Trotz said.
"I always say, 'If you want to go somewhere fast, go yourself; if you want to go somewhere far, go with a group.'"
It's up to the new coach to make every player on the roster better, he said. That includes Ovechkin.
"I think he's like a coach sometimes," Trotz said. "When they win, he gets a little bit too much credit, and when they lose, he gets too much blame."
He might be the best goal scorer in the game right now, "but at the same time, he's still got to grow his game," Trotz said.
It can't be about staying the same for anyone on the team.
"We didn't make the playoffs, so we can't stay the same, so let's get better," he said.
The coach plans to use Ovechkin on the right side, which is where he has had success the past two years, although Trotz reserves the right to make adjustments as things move along next season.
"It looks shiny and new. But I won't know until I own it," Trotz said.
May, 8, 2014
May 8
10:00
AM ET
Here's the standard pattern when NHL coaches are hired: The new coach sits at a table or stands at a podium and describes how he wants to correct the mistakes of his predecessor, or outlines his philosophies and how he sees good things ahead for Team A or B or J. And then the first question the fan or the radio host wants to know is: Is he a good fit?
It's a great throwaway question and it's likewise prompts a great throwaway answer. But it's at the heart of whether the hire is a good one or not, and there is no way to know when the man is standing at the podium or sitting at the table whether or not it will be a fit. After doing all their due diligence about work ethic, planning and other tangible things, ultimately general managers make a decision based on their gut as to whether the new man will take his new charges places his predecessor couldn't go.
Peter Laviolette
Well, we can do that too: Use our gut to look at the tumbleweed of coaching stories rolling across the NHL prairie. And for what it's worth, we agree with David Poile's gut feeling that Peter Laviolette, a veteran of the hockey wars at many levels, was the right guy for the Predators. Now, some of those wars Laviolette's won spectacularly, and in some he's been vanquished. We have watched him excel in Carolina, where he taught them the "forever" value of a Stanley Cup championship in 2006, and we've watched him in tough places such as Philadelphia, where he somehow managed to guide an odd collection of the aging and the punkish to the Stanley Cup finals in 2010 -- a run that included a historic comeback from a 3-0 series deficit against Boston. Those are the kinds of experiences that will put Laviolette in good stead in Nashville. It will not shock us at all if the Preds are back in the postseason next spring, provided
Pekka Rinne
stays healthy in goal. We're pretty sure Poile's gut told him the same thing.
John Stevens
By a show of hands, who doesn't think
John Stevens
will be behind an NHL bench as head coach somewhere next season? Right now, the question is whether the current
Los Angeles Kings
assistant has another Stanley Cup ring to box up when he makes the move. Last summer, Stevens' name was mentioned as a possible successor to Alain Vigneault in Vancouver, but we know how that turned out. Now that John Tortorella has been dispatched by new hockey boss
Trevor Linden
, many think Stevens is a natural to fill that void. We do too, but it was ownership that steered former GM Mike Gillis away from Stevens and in Tortorella's direction, so through no fault of his own, is Stevens too close to the former regime? Just asking. What might make all this super simple is if Laurence Gillman, the assistant GM to Gillis, gets the job as GM, as he would have been privy to the thought process heading into last offseason and would presumably be a good fit with Stevens (see, there's that term again).
Barry Trotz
Lots of people have linked Barry Trotz to the Vancouver job, although it appears Trotz would like a smaller-market franchise. Hard to imagine a place where Trotz wouldn't be a good fit, but let's say that Vancouver doesn't work out, wouldn't it be interesting to see how the longtime
Nashville Predators
bench boss looked behind the
Florida Panthers
bench? Lots of good young talent there and Trotz is both demanding and a natural teacher. This is a team that needs to move forward and, with
Roberto Luongo
in theory providing the Panthers stability in goal for the first time in a number of seasons, the expectations should be high for this team next season. Trotz has been through those kinds of situations many times over the years in Nashville, and we think he has the perfect personality for that job and the tools that GM Dale Tallon has assembled in Florida.
Kirk Muller, Kevin Dineen, Adam Oates
It's not much of a surprise that new Carolina GM
Ron Francis
cut ties with
Kirk Muller
after the Canes missed the playoffs again. They haven't been to the dance since their surprise run to the Eastern Conference finals in 2009. Muller was the "it" guy a few years back after he was considered a key piece of the
Montreal Canadiens
' coaching staff when they shocked Washington and Pittsburgh en route to the 2010 Eastern Conference finals. Muller, who spent five years as an assistant coach with the Habs, had 17 games of head-coaching experience (with Milwaukee of the American Hockey League) before the Hurricanes swooped him up to replace Paul Maurice. But the Canes were never really a factor in the playoff hunt in the parts of three seasons Muller coached there. Now, Francis must find a coach who can get more from
Eric
and
Jordan Staal
and
Alexander Semin
, and figure out how to improve a team that went from 25th to 19th in goals allowed per game last season but still has miles to go defensively to be a playoff team.
Kevin Dineen
, who did wonders in getting Florida to the playoffs in 2012, is an obvious candidate, but what about a cerebral guy such as
Adam Oates
? Sure, things didn't end up the way anyone wanted in Washington, but you can't argue against the production that Oates got out of
Alex Ovechkin
, at least offensively. Carolina had the 28th-ranked power play this season, and that's right up Oates' alley too, as the Caps were second overall with the man advantage.
Wayne Gretzky?
Speaking of Washington, no real traction to the idea that Wayne Gretzky might end up in Washington in a president of hockey operations kind of role, especially given that it's not entirely clear whether owner Ted Leonsis is even considering such a position (Leonsis did not return an email seeking comment). But let's imagine for a minute that's the route he goes; why wouldn't it make sense to have a guy like Gretzky at the top of your hockey food chain? This isn't about gimmickry or glad-handing or publicity appearances, but making use of one of the greatest hockey minds of all time. Not sure we see Gretzky in a GM role, which is also open in Washington, but in terms of assessing the value of players and the elements that go into making a successful organization, you can't imagine Gretzky wouldn't be a wealth of information for any team. And of course, who wouldn't want to see the dynamic between the greatest player of all time and one of the greatest yet most polarizing players of this generation in Ovechkin? There's nothing to suggest that it'll actually happen, but it doesn't stop us from pining for such a hockey meeting of the minds.
Randy Carlyle
And, finally, we keep hearing that perhaps the
Toronto Maple Leafs
are nearing a decision on whether to bring back Randy Carlyle as head coach. We understand new president
Brendan Shanahan
needs to do his due diligence but, as we noted, won't it all come down to gut for Shanahan and presumably GM Dave Nonis? Does it not come down to the basic question of whether management believes that Carlyle can return to the Leafs dressing room next fall after their precipitous fall from grace down the stretch and command the respect needed to return to the playoffs next spring? Yes, the Leafs are a young team that's still learning. Was this collapse just another part of the learning process? And is Carlyle the man who can help them learn from it, just as he was supposed to help them learn from their collapse in Game 7 against Boston in the first round of the 2013 playoffs? From our perspective, it's hard to imagine that there would be enough confidence in that room to move the team forward if Carlyle returns. And the quality of people available would be the tipping point for us. Regardless of what happens, Shanahan and the rest of the management team owe Carlyle an answer one way or the other, and sooner rather than later.
April, 15, 2014
Apr 15
1:12
PM ET
Barry Trotz might need a new phone battery by the end of this week.
Text messages and voice mails have been flowing in since the announcement Monday that he was no longer going to coach the
Nashville Predators
following 15 seasons (17 years) with the organization.
Lots of those messages were from rival coaches, and the volume of people reaching out certainly touched him.
"I'm going to spend the whole day returning texts and phone calls," Trotz told ESPN.com Tuesday. "I need to hire an assistant."
Not really, but he is seriously thinking about hiring representation. When you're coaching the same team for 17 years, you don't need an agent. But now he's entering the open market, and he's likely going to need someone to handle what he hopes is some level of interest.
Humble to the bone, he wasn't sure what to expect on that front. The reality is that he's the hottest candidate on the coaching market. Teams looking for a head coach would be absolutely crazy not to look at him.
"We'll see if there's anything out there that makes sense," Trotz said. "I want to work with someone, not for someone, to do something special. I want to be part of something meaningful. I want to win a Stanley Cup. But I'm not just going to take the first job offered. It has to be right."
Media and fans in Vancouver and Toronto have already identified Trotz as a target for coaching jobs in those cities, to which Trotz quickly shot down any line of questioning on those fronts out of respect for the coaches who are still employed in those respective markets, John Tortorella and Randy Carlyle.
"I don't wish anybody getting fired," said Trotz. "As coaches we work hard; emotionally it takes its toll. You don't want to ever see a coach let go."
Personally, I feel Vancouver would be a better fit if there's an opening, when you consider the Canucks will likely go younger with a rebuilding lineup, and Trotz's track record on that front speaks for itself.
Meanwhile, Trotz has been offered a job in the Predators organization if he doesn't find another coaching gig.
He made it clear that while Preds GM David Poile "treated me with nothing but class," he wants to be behind a bench, not a desk.
"I want to coach," said Trotz. "I'm looking forward to getting an opportunity that is right."
One question that Trotz will no doubt be asked as opportunities arise, after spending 17 years in a small market where there was one traveling beat writer, is can he handle a bigger market?
"I've coached in the playoffs with the Predators in places like Vancouver. I've been in the league 17 years, I think I could handle it," Trotz said. "Probably not 10 years ago, but now, yes. I've had everything thrown at me for 17 years. I know how to handle people. We're in the people business, from dealing with players and media, I'm good with people. I think I can handle that, if that were to come. Right now, there's nothing open, so I'll sit and wait and see what happens."
On the family front, the timing is good for a new home. His kids have all grown up and are all out of school, other than his 13-year-old son with Down syndrome.
"I'm looking forward to spending some time with the little guy," Trotz said of his son. "My family is in a good place. If we're moving, we're OK with that. Another adventure."
And wherever he lands, he'll remain true to himself.
"Any place I go, I'm going to be me," said Trotz. "I'm going to be involved within the community. I'm going to work my butt off for that NHL team. That's the only way I know. That's how I'm wired."
December, 10, 2013
12/10/13
1:10
PM ET
While we await word on just how big a whack Boston's
Shawn Thornton
will get for hunting down and pummeling unsuspecting Penguin
Brooks Orpik
(the guess is a dozen games for sending Orpik to the hospital with a concussion and to the injured reserve list), league disciplinarian
Brendan Shanahan
got it just about right with the five-game suspension handed down to
James Neal
for kneeing
Brad Marchand
in the head in the same game.
In a game with plenty of ugliness, Neal's cheap shot to an equally unsuspecting Marchand was the most senselessly bizarre. One wonders how the suspension will effect Neal's standing with the Canadian Olympic group. It's not just the five games he'll miss, but the question of whether in a tournament in which special teams will play a prominent role, you can afford to have someone on your team who has so little self-control.
[+] Enlarge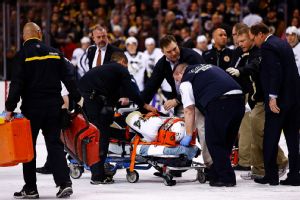 Jared Wickerham/Getty ImagesThe notion that Brooks Orpik should have to defend himself or risk getting injured after a legal play is part of the problem in today's game.
Finally, the Bruins not only lost
Loui Eriksson
to a hit from Orpik in that game, but also
Chris Kelly
to a broken leg courtesy of
Pascal Dupuis
. The replay of Kelly's injury shows that Dupuis isn't even looking at Kelly but is instead trying to make contact with a bouncing puck, but that won't make Kelly or the Bruins feel any better.
One NHL executive at the board of governors' meetings in California suggested that if Orpik had simply fought Thornton -- as Thornton had wanted after Orpik's heavy hit on Eriksson -- none of this would have happened. Oy.
If there is a problem the league's GMs and competition committee need to address, it's the notion that players should have to fight after delivering a legal body check. Whatever happened to simply taking a hit?
The sooner the league moves to punish players who go looking for fights in the aftermath of clean hockey hits -– there was no penalty assessed on the Orpik hit on Eriksson –- the sooner we have fewer incidents like the debacle in Boston on Saturday.
Lightning bitten by injury bug
While the Bruins deal with several injuries and the loss of Thornton (and continue winning, by the way), no team has it quite as bad as the
Tampa Bay Lightning
.
After being relatively injury-free through the first six weeks of the regular season, Tampa Bay lost
Steven Stamkos
to a broken leg in November and has been besieged by other key injuries since.
"It was exactly like the injury dam broke," head coach Jon Cooper told ESPN.com Monday.
The Lightning have piled up 101 man-games lost to injury, and at one point last week had 13 players in the lineup with fewer than 100 NHL games to their credit, and eight with fewer than 50 games.
On the night the Lightning got defensemen
Eric Brewer
and
Radko Gudas
back from injury,
Keith Aulie
and
Victor Hedman
both went down with long-term injuries. The two defensemen join Stamkos and veteran winger
Ryan Malone
among those with significant injuries.
One of the first things Cooper did when talking to his players about the spate of injuries is to make it clear they weren't going to use them as an excuse for on-ice performance.
"The one thing we'll never do is use injuries as an excuse because once you do that, we're done as a team," Cooper said. "The mindset has been, 'These are the 20 guys we're going with on any given night, now how do we get the most out of them?'"
But the rash of injuries that totaled more than 2,800 games of NHL experience has tested the team's organizational depth and forced players to play out of their comfort zone.
Valtteri Filppula
, for instance, is now the team's No. 1 center and
Tyler Johnson
is in Filppula's normal spot on the second line, meaning both are playing against a class of players they're not used to seeing.
Overall, Tampa has four rookies among in the top 30 in scoring among first-year players.
The team has held its own since Stamkos went down, going 5-5-2 overall and 4-1-1 at home. The team defense and goaltending have been excellent, but the team's offense has, perhaps predictably, gone south.
"The problem is we're really struggling to score," Cooper said.
Surprise for Sabres?
Among the interesting names being bandied about for the vacant
Buffalo Sabres
GM job is that of Tim Murray. The current assistant GM in Ottawa, Murray had a hand in building the Anaheim Ducks' Stanley Cup winner in 2007 as director of player personnel responsible for college free agents.
He has also served with the
New York Rangers
and
Florida Panthers
in various scouting capacities. Bloodlines don't hurt, either, and Murray is the nephew of current Ottawa GM Bryan Murray and former NHL head coach Terry Murray.
Fisher making a Selke case
Of all the trophies hockey writers vote on, the one that gives us most pause is narrowing the field for the Frank J. Selke Trophy as the league's best two-way forward. It is always difficult to balance the offensive side of the game with the work a player does killing penalties, taking key draws and shutting down the opposing team's top players.
So we listened with interest as Nashville head coach Barry Trotz talked about his top shutdown center,
Mike Fisher
. The team has struggled and Fisher's offensive numbers (seven goals, 12 points) aren't what he or the team hoped for, but he remains a key figure even though his work goes largely unnoticed.
"He's always been a guy, top centerman in the league, he ends up playing a lot of times head-to-head [against opposing stars] and I think he hasn't got any credit for that here the last couple of years," Trotz said in a recent interview. "He's scored and all that, but he's sort of under the radar and I think this year, especially this year, he's played really back to the level that I think has made him a real hard player, a Selke candidate.
"His numbers are modest, but they're solid for our team. He plays against the top guys almost every night. He plays heavy minutes and he plays a heavy game. He doesn't play a light, shadowy game.
"At the end of the night, you know you played Mike Fisher. At the same time he still operates on the penalty kill, still operates on our power play," Trotz continued. "Plays head-to-head against people, plays in all the key situations, takes key faceoffs, him and
Paul Gaustad
. He really is a guy who is very important to their team, but at the same time contributes on both sides of the puck.
"He's not a pure shutdown guy; that's why I don't think he gets the credit that he deserves. It's a hard league and he's a hard guy to play against."
December, 27, 2011
12/27/11
9:27
PM ET
The Norris Trophy vote could be one of survival as much as performance.
Shea Weber
now joins
Chris Pronger
and
Kris Letang
on the sidelines with a concussion. In a perfect world, they are three of your five top choices for the Norris Trophy as the league's top defenseman.
Pronger is out for the season, Letang remains sidelined indefinitely and now Weber -- who was injured Friday night -- is out with the official word being that there is no timetable for his return.
However,
Nashville Predators
coach Barry Trotz clearly is hoping (praying?) for a
Claude Giroux
-like recovery from his franchise defenseman.
"There's no official timetable for his return but he's feeling better and I'm hoping there's a chance for him to return Friday," Trotz told me Tuesday afternoon. "But we'll see."
By now, most hockey fans have had it ingrained in their hockey lexicon that you can't put a target date on a return from a concussion. It's a day-to-day process in which you hope to string enough good days together to get the green light. For Giroux, that happened quickly. For Letang and many others, it hasn't.
Like others before him this season, including the likes of Letang, Giroux and
Andy McDonald
, Weber didn't become symptomatic until a few days later. Trotz told ESPN.com that Weber was fine after Friday's game and didn't show symptoms until Monday's morning skate.
One thing's for sure, the Preds are not pleased that
Mark Fistric
of the
Dallas Stars
wasn't punished by the league for his forearm (some would say elbow) to Weber that caused the concussion late in Friday's game. The league looked at the play, but the initial lack of quality video for replays limited any compelling evidence and, thus, the league's ability to act.
A source told ESPN.com Wednesday evening that new video of the hit, which the league obtained, showed Weber falling forward just before getting hit by Fistric. So the league feels no discipline was warranted on the play.
Not that a suspension to Fistric would have changed the reality for the Preds. Their franchise player is out. As GM David Poile told ESPN.com earlier Tuesday, not all injuries and not all players are created equally. You don't replace a player of Weber's caliber. He plays 26 minutes a game, anchors the power play, is a key cog on the penalty kill and is matched up as the shutdown D-man against the other team's top offensive weapon. Just ask
Alex Ovechkin
about that from the 2010 Olympic quarterfinals.
It's not a hole in Nashville's lineup, it's a crater.
But if there's a team that understands survival, it's the Preds, who lose key players every offseason and plug those holes with homegrown drafted and developed players.
In this case, Ryan Ellis was called up and played his first NHL game Monday night. Nashville's first-round pick, 11th overall, from the 2009 NHL entry draft is not being asked to replace Weber on his own -- no one can -- but he's getting a chance to play significant minutes and show what he has learned so far at AHL Milwaukee.
"His pace has improved since we saw him at camp," Trotz said. "He's a bright kid and obviously has lots of talent."
There's only one thing, however, that will ease the nerves of the Predators' coach. A quick and healthy return of his captain.
Weber's agent is upset the NHL didn't punish Fistric for his hit.
"It is very disappointing that Mark Fistric's hit on Shea Weber in Dallas last Friday is not being looked at as a suspendable act," Jarrett Bousquet of Titan Sports Management Inc. told my TSN colleague Darren Dreger. "To me this is an illegal hit to the head and in complete violation of Rule 48. Fistric is a repeat offender and regardless of where the puck is, Fistric makes direct contact with Weber's head resulting in a concussion. This is the exact kind of hit that the NHL is trying to eliminate. If the NHL wants to protect its superstars, or any player for that matter, hits like this should result in a suspension."
Reached by ESPN.com after the statement was released to TSN, Bousquet maintained his frustration.
"I just don't understand how that was swept under the carpet," Bousquet said.
The league has pointed to the lack of a quality video replay from the incident last Friday and thus the lack of compelling evidence in its decision not to suspend Fistric. Fistric's agent, Gerry Johansson, declined comment when reached by ESPN.com.
Bousquet didn't think a return this week was likely for Weber.
"He has to follow the protocol first and foremost and certainly has to be completely honest with himself," said Bousquet. "I don't think there's any real time table right now."
April, 29, 2011
4/29/11
12:27
PM ET
Pittsburgh's Dan Bylsma, Nashville's Barry Trotz and Vancouver's Alain Vigneault were named this season's Jack Adams Award finalists Friday. Scott Burnside and Pierre LeBrun make their picks, even if the award is voted on by the NHL Broadcasters Association:

Burnside: No slight to defending coach of the year Dave Tippett, who did another outstanding job in Phoenix, or John Tortorella or Barry Trotz or any of the eight to 10 coaches who deserved a look for this award. But we figure the Penguins' bench boss deserves the hardware. Dan Bylsma kept his squad afloat and near the top of the Eastern Conference standings despite the long-term absences of Sidney Crosby and Evgeni Malkin. Enough said.
Winner: Bylsma.
LeBrun: Luckily, I don't have to vote on this one for real. It is again a deep list of worthy candidates, and I don't envy the broadcasters who voted on this. My list includes Trotz, Bylsma, Tippett, Guy Boucher, Vigneault, Todd McLellan, Bruce Boudreau, Tortorella and Lindy Ruff. Tippett and Trotz (Nashville) once again worked miracles with the talent they had. In his first NHL season, Boucher coached the Bolts to a surprising season. Vigneault coached Vancouver to its greatest season in 40 years. McLellan guided the best second-half turnaround in the league. In the end, I saw this as a three-way fight between Bylsma, Tippett and Trotz, but it's hard to ignore the terrific work by a coach who lost two of the best players in the world halfway through the season.
Winner: Bylsma.
---
Jack Adams Award: Your vote?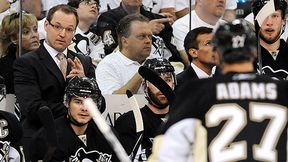 Penguins coach Dan Bylsma led his team to the postseason without stars Sidney Crosby and Evgeni Malkin.
January, 13, 2011
1/13/11
12:06
PM ET
Barry Trotz figures he'll look back someday and shake his head in amazement that he got to coach two studs on defense like Ryan Suter and Shea Weber.
Short of pretending it's what Scotty Bowman feels when he reminisces about coaching the Big Three of Larry Robinson, Guy Lapointe and Serge Savard, in today's 30-team NHL, the Suter-Weber combo is an impressive tandem that drives the little engine that could in Nashville.
"Twenty years from now, I'm going to go, 'It was something to watch those two kids together,'" the Predators' head coach told ESPN.com Wednesday night. "Their combined skill produces the ultimate defenseman."
Between Weber's "physicality, big shot, leadership and nastiness," and Suter's "game management, great escapability, the way he does all the subtle things, these two guys just dominate a game," Trotz added.
[+] Enlarge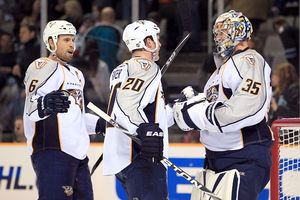 Ezra Shaw/Getty ImagesShea Weber, left, Ryan Suter and Pekka Rinne are most responsible for keeping Nashville in a playoff spot, coach Barry Trotz said.
In short, it's a major reason the red-hot Preds have won six games in a row heading into Thursday night's tilt in Florida.
The Preds are second in the NHL in goals against per game and third on the penalty kill. Those stingy defensive numbers are why they sit fourth in the tough Western Conference.
"We've had really good team defense," Trotz said. "It starts with Suter and Weber on the back end, they've been absolutely fantastic. And we've had great goaltending."
Pekka Rinne's numbers are among the league leaders, and combined with the Suter-Weber star pairing, you're looking at the three guys most responsible for keeping Nashville in a playoff spot.
What irks Trotz just a bit is that people around the league don't seem to recognize the star players on his team.
"Sometimes I think people don't think we have any players, and coaches and management here maybe get too much credit, but we have some really good players," Trotz said. "Suter and Weber are really all-world. I was disappointed because I thought Rinne, Suter and Weber -- all three should have been in the All-Star Game. I'm biased but I see them on a nightly basis, and I know how good they are."
Only Weber got the All-Star nod. Trotz continues to be amazed that Suter isn't regarded as highly as he should be.
"Ryan Suter doesn't get nearly enough credit for how good he is. He is just outstanding," Trotz said.
So is the coach. Although Trotz said that maybe he gets too much credit and his players not enough, the fact is the NHL should implement a rule that stipulates that Trotz is an automatic nominee for the Jack Adams Award every single season he's in Nashville. He coaches the heck out of a roster that every fall has new, unknown faces.
And right now, the team is on quite a roll.
"Our identity has come out in terms of being really resilient," Trotz said. "We've got people out, and people have stepped up."
The team ranks only 23rd in offense (top-notch offensive talent costs money), but the Preds have gotten "timely goals from different people," Trotz said.
"Sergei Kostitsyn, for example, he's been really good for us, stepping up and getting some timely goals," Trotz said.
Kostitsyn, who wore out his welcome in Montreal, has caught fire with 20 points (9-11) in his past 19 games, including five goals in his past six games.
"He's a guy that once he trusted us in what we were doing, he started to buy in," Trotz said. "And he started to play more and got more opportunity. And he's run with it. He's been a real good story for us."
He's had to be because the player Nashville figured would be one of their top offensive forces has been shelved nearly the whole season. Matthew Lombardi, who was signed to a $10.5 million, three-year contract this past summer, lasted two games this season before a serious concussion derailed him. For a team that doesn't spend a lot of money, that one has hurt.
"Lombardi is out indefinitely," Trotz said. "He hasn't been cleared yet to do anything. He hasn't played for us, so we don't know what it feels like to have him on the team. Other guys have stepped in."
Martin Erat could be back this weekend. Steve Sullivan is out until the All-Star break. Jordin Tootoo, who entered the league's substance-abuse program, is also out.
The Preds could use those players. But they won't complain.
"We've been resilient," Trotz said.
Well, of course, it's the Predators way.