September, 12, 2014
Sep 12
11:37
AM ET
Despite a disappointing playoff performance last spring, the
Tampa Bay Lightning
-- who were swept by the
Montreal Canadiens
in the first round -- actually may be one of the most intriguing teams to watch, with training camp just around the corner.
The Lightning should have a healthy
Steven Stamkos
and goaltender
Ben Bishop
, something that was not the case in the 2013-14 Stanley Cup playoffs.
Add some splashy offseason acquisitions -- defensemen
Anton Stralman
and
Jason Garrison
, and forward
Brian Boyle
-- and highly touted prospect Jonathan Drouin, and this could be the sleeper team of the NHL.
Former Lightning defenseman and Stanley Cup champion
Pavel Kubina
is hoping to see his old team emerge as one of top dogs in the East.
[+] Enlarge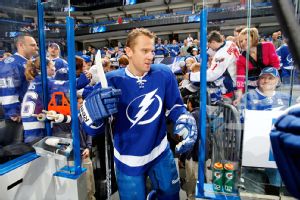 Scott Audette/NHLI via Getty ImagesPavel Kubina still lives near Tampa and runs Private Allstar Cars, a private car concierge service.
"I think it's a great mix," Kubina told ESPN.com in a recent telephone conversation. "[Jeff] Vinik really got behind them -- he's one of the best owners I've ever played for -- and the team has a great future. They'll definitely make the playoffs."
Kubina, who played for Tampa Bay for 10 seasons, still resides in the area and runs Private Allstar Cars, a private car concierge service. Though that passion project keeps him busy, he maintains a close relationship with his former club and keeps tabs on it throughout the year.
Kubina was thoroughly impressed with the play last season of the 6-foot-7 Bishop, who earned a Vezina Trophy nomination after posting a 37-14-7 record with a .924 save percentage and a 2.23 goals-against average. Unfortunately for the Lightning, he went down with a wrist injury right before the playoffs began.
"Obviously with Bishop in net, even when they don't have a good night, he's capable of stealing games and getting them two points," Kubina said. "They have a chance to win every night."
Having Stamkos back at full strength also will be a major bonus. The 24-year-old superstar suffered a devastating leg injury in November, and despite an aggressive rehab plan that allowed him to return in March, he was clearly not playing at full capacity.
After a whole summer to rehabilitate the injury, Stamkos is ready to go, and Kubina can't wait to see the results.
"I could see Stammer having probably 60-70 goals if he plays the whole year and, with Ben Bishop in net and some of their younger players, they could definitely do some damage in the East," said the 37-year-old Kubina, who played in 970 career NHL games. "They don't hold back a lot on offense, they create a lot of chances and they don't sit back and wait to score."
A big part of that, of course, is Jon Cooper, who made a splash in his first full season as the Lightning's coach.
Kubina likes his demeanor and the way he has utilized a young, talented roster.
"He's done a great job with the team," Kubina said. "When he took over, the team started playing fun hockey. What I like about the system is they skate and play hard. They don't sit back on a lot of chances . . . He does a good job with that young group."
April, 25, 2014
Apr 25
11:18
AM ET
From the official NHL release:
BISHOP, RASK AND VARLAMOV NAMED VEZINA TROPHY FINALISTS
NEW YORK (April 25, 2014) --
Ben Bishop
of the
Tampa Bay Lightning
,
Tuukka Rask
of the
Boston Bruins
and
Semyon Varlamov
of the
Colorado Avalanche
are the three finalists for the 2013-14 Vezina Trophy, which is awarded "to the goalkeeper adjudged to be the best at his position," the National Hockey League announced today.
The general managers of the 30 NHL clubs submitted ballots for the Vezina Trophy at the conclusion of the regular season, with the top three vote-getters designated as finalists. The winner will be announced Tuesday, June 24, during the 2014 NHL Awards from Encore Theater at Wynn Las Vegas.
The 2014 NHL Awards will be broadcast by NBCSN in the United States and CBC in Canada.
Following are the finalists for the Vezina Trophy, in alphabetical
order:
Ben Bishop, Tampa Bay Lightning
Bishop set multiple franchise records in backstopping the Lightning to a second-place finish in the Atlantic Division in his first season as a starter. He became the Lightning's all-time leader for wins in a season with his 31st on Mar. 15 against New Jersey and finished the season ranked fourth in the NHL with 37. Bishop also set a franchise mark in save percentage (.924). He tied for fourth in the League in shutouts (five) and placed seventh in goals-against average (2.23). Bishop is a Vezina Trophy finalist for the first time and the first Lightning nominee for the award since
Daren Puppa
placed third in 1996.
Tuukka Rask, Boston Bruins
Rask posted a 36-15-6 record, highlighted by a career-best 10-game point streak from Mar. 20-30 (9-0-1), as the Bruins captured their first Presidents' Trophy since 1990 and led the Eastern Conference in team defense (2.08 GA/game). He allowed two goals or fewer in 37 of 58 starts, set single-season highs in wins and appearances, and was the only goaltender to rank among the NHL's top five in each of the major statistical categories: first in shutouts (seven), second in save percentage (.930), fourth in goals-against average (2.04) and fifth in wins. Rask is a first-time Vezina finalist.
Semyon Varlamov, Colorado Avalanche
Varlamov led the NHL and set a franchise record with 41 victories, surpassing Avalanche head coach Patrick Roy's previous single-season high of 40 in 2000-01, and joins Roy (1996-97) as the only goaltenders in club history to top the League in wins. He ranked first in the NHL in shots faced (2,013) and saves (1,867) and thrived under the heavy workload, posting a 7-1-1 mark when facing 40 or more shots and going 32-4-4 when facing 30-plus shots. Varlamov is a Vezina finalist for the first time and the first Avalanche goaltender nominated for the award since Roy was runner-up to Montreal's
Jose Theodore
in 2001-02.
History
Leo Dandurand, Louis Letourneau and Joe Cattarinich, former owners of the
Montreal Canadiens
, presented the trophy to the National Hockey League in 1926-27 in memory of Georges Vezina, the outstanding Canadiens goaltender who collapsed during an NHL game on Nov. 28, 1925, and died of tuberculosis a few months later. Until the 1981-82 season, the goaltender
(s) of the team allowing the fewest number of goals during the regular season were awarded the Vezina Trophy.
April, 9, 2014
Apr 9
10:14
AM ET
Canucks turning into a circus
Having stable ownership doesn't necessarily denote good ownership, a reality worth keeping in mind as the
Vancouver Canucks
find themselves in a state of chaos. Somehow, in less than three years, the Canucks have gone from being a perpetual Stanley Cup contender to a team in disarray. We're about to find out about the character of this team, and the search for the character (or identity) of this franchise starts at the very top, with owner Francesco Aquilini. On Tuesday, Aquilini fired GM Mike Gillis, ostensibly because Gillis all but came out with a sandwich board that said, "You know, I wasn't so hot on that Tortorella guy to begin with" during a recent radio show. Gillis' comments reinforced the commonly held belief that it was Aquilini, not Gillis, who was driving the bus when it came to hiring coach John Tortorella in the offseason. The comments were bold but ultimately self-destructive for Gillis. So the Canucks are out of the playoffs for the first time in six years and Gillis is gone, which isn't necessarily the wrong call, given how the team's personnel has been mismanaged the past three or four years. Ownership now has to find someone to un-bungle this mess. Whether that means promoting Laurence Gillman to GM or hiring from outside with a proven NHL manager -- which could fall to former captain Trevor Linden, who was named president of hockey operations Wednesday -- this is a defining moment for a franchise that has fallen precipitously from its run to the 2011 Stanley Cup finals. And what of Tortorella? Ownership must also decide if it believes in the combustible coach and, if so, must come out quickly to reinforce that he'll be back. If not, ownership will have to suffer the dual embarrassment of having to fire both a coach and GM less than a year after presenting both with four-year contracts. Sadly, embarrassment is something with which the Canucks are becoming intimately acquainted, and it will be up to ownership to prove it can turn the tide and not simply add fuel to the fires of discontent.
Jets aren't flying high
Speaking of ownership decisions, the
Winnipeg Jets
continue to flaunt the Atlanta Thrashers' DNA as the Jets will miss the playoffs for a seventh straight season (the third straight since moving to Winnipeg). We've known Paul Maurice a long time. He is a smart, forward-thinking coach, and his impact on the Jets after taking over for Claude Noel was immediate and stunning. But it didn't last. After closing in on a playoff berth at the Olympic break, the Jets won their first two post-Olympic games but have not won two in a row since. They went winless in six games shortly after the break and have suffered from periods of listless team defense, mediocre to awful goaltending, and a lack of offensive production. In short, they are what they've been for most of their existence: an average to below-average team that shows flashes but never enough consistent quality play to be a legitimate playoff team. The question for ownership is whether that is a function of coaching or personnel. Jets GM Kevin Cheveldayoff made no significant moves at the trade deadline. That inactivity, coupled with the team's swoon out of contention, raises the question: personnel or coaching? Could the Jets be a playoff team under Maurice next season? Sure. There are a lot of reasons to be optimistic, including the emergence of
Jacob Trouba
as a top-end young defender. The Jets have proved, in some ways, to be a resilient lot, with 15 wins after giving up the first goal, third-most in the NHL. And maybe status quo is the way to go for the Jets, although for a team with so little to show for its efforts over the past decade, "Hang on for another year" is a tough idea to sell to fans.
Not just the shootout for Devils
The
New Jersey Devils
are on a collision course with missing the playoffs for a second straight season after their surprise run to the 2012 Stanley Cup finals. Most will point to their shocking 0-11 record in shootouts and, yes, that's pretty unbelievable. Win just five of those, and the Devils are playoff-bound. But for us, it's not just the breakdown in the skills competition but the team's inability to overcome. As of Wednesday, the Devils were dead last in wins after falling behind in games. In games where they gave up the first goal, the Devils had come up with just five wins. The
Anaheim Ducks
have won 20 games when giving up the first goal, best in the league. The
Detroit Red Wings
, whom the Devils are chasing for a wild-card spot, have 15; the
Columbus Blue Jackets
, the team holding down the final wild-card spot, have nine. Nine is not a lot. But it's four more than five, and for the Devils, that difference represents the difference between being in and being left behind. Again.
Halak makes curious call
Not sure what to make of
Jaroslav Halak
's decision that he'd rather not play Tuesday against his old team, the
St. Louis Blues
, in what was a must-win situation for the
Washington Capitals
. As it turned out,
Braden Holtby
was excellent for the Caps, who came up with a crucial 4-1 win as they kept their slim (and growing slimmer by the day) playoff hopes alive. But "I'm not comfortable" as a reason for not being available to take the ice in a crucial moment leaves us more than a little cold. Kudos to Halak for being honest, and maybe there's a backstory but it's the kind of honesty that we're pretty sure is going to make a lot of GMs take notice as Halak heads for the open market as a free agent this summer. Allan Walsh, Halak's agent, denied in a statement that his client asked out of the game. But it still remains another curious development for a team fighting for its playoff life.
Bishop-less Bolts' hopes are looking grim
What are the chances that the
Tampa Bay Lightning
beat the
Montreal Canadiens
if top netminder
Ben Bishop
is lost to injury? Slim. Sub-slim. Bishop injured his wrist early in Tuesday's 3-0 win over the
Toronto Maple Leafs
and there's no word on when he might return.
Anders Lindback
came on to preserve the shutout and keep the Bolts within two points of Montreal in the hunt for home-ice advantage in what should be a terrific first-round matchup. But Lindback has played sparingly, with Bishop earning Vezina Trophy buzz for his work in keeping the Lightning afloat in spite of injury and turmoil that has enveloped the team at various points of the season. And when Lindback has played, he has been OK. Well, let's be honest, less than OK. The 6-foot-6 Swede has not won back-to-back games all season and boasts a pedestrian .884 save percentage. He has exactly 13 minutes of NHL playoff action to his credit. The upside? Well, not sure it means anything, but recently top NHL analysts suggested to us that the
Minnesota Wild
would have the worst goaltending in the Western Conference come playoff time and maybe the worst goaltending of all 16 teams. Since then,
Ilya Bryzgalov
has gone 5-0-1 and helped the Wild secure the top wild-card spot in the Western Conference. Maybe similar reports of doom and gloom will prompt a similar response from Lindback and the Lightning. Maybe.
February, 25, 2014
Feb 25
9:31
AM ET
By
Sarah Goldstein
| ESPN.com
It's easy to say
Sidney Crosby
is the runaway pick for the Hart Trophy, as he leads the league with 78 points and the Penguins are the only bright spot in a dreadful Metropolitan Division. But there are a lot of other guys having dominating seasons.
Ryan Getzlaf
is having arguably his best season for the Western Conference-leading Ducks with 67 points (29-38) through 56 games.
Ben Bishop
and
Martin St. Louis
have kept the Lightning in the mix since Steven Stamkos' injury.
On the Blackhawks alone, you could say
Duncan Keith
,
Patrick Kane
,
Patrick Sharp
and
Jonathan Toews
all deserve a look. But having so many candidates on one team seems to cancel them all out.
John Tavares
was having a great season, but a season-ending injury in Sochi -- not to mention his team's disappointing place in the standings -- put him out of the running.
And you cannot forget the man who leads the league in scoring:
Alex Ovechkin
. The Capitals' captain should be motivated after the Olympics to get Washington back in the playoff picture and to add to his 40 goals.
Make your voice heard. Go to
Twitter @ESPN_NHL
or
Facebook
to let us know who you think should win the Hart Trophy.
April, 25, 2013
4/25/13
2:55
PM ET
From the official USA Hockey release:
First 15 Players Named to 2013 U.S. Men's National Team
Assistant Coaches, Support Staff Also Announced
COLORADO SPRINGS, Colo. - USA Hockey announced today the first 15 players of the 2013 U.S. Men's National Team that will compete at the International Ice Hockey Federation Men's World Championship May 3-19 in Helsinki, Finland, and Stockholm, Sweden.
The first group of players includes two goaltenders, six defensemen and seven forwards.
Name, Position Most Recent Team Hometown Team USA Experience
Ben Bishop
, G
Tampa Bay Lightning
Denver, Colo. U.S. Men's National Team (2010)
Nick Bjugstad
*, F
Florida Panthers
Minneapolis, Minn. U.S. National Junior Team (2011-12)
Bobby Butler
, F
Nashville Predators
Marlboro, Mass. Debut
Chris Butler
, D
Calgary Flames
St. Louis, Mo. U.S. Men's National Team (2012)
U.S. National Junior Team (2006)
Matt Carle
*, D Tampa Bay Lightning Anchorage, Alaska U.S. National Junior Team (2004)
U.S. Men's National Under-18 Team (2003)
Justin Faulk
*, D
Carolina Hurricanes
South St. Paul, Minn. U.S. Men's National Team (2012)
U.S. National Junior Team (2011)
U.S. Men's National Under-18 Team (2010)
Cal Heeter
, G Adirondack Phantoms St. Louis, Mo. Debut
Matt Hunwick
*, D
Colorado Avalanche
Warren, Mich. U.S. National Junior Team (2004-05)
U.S. Men's National Under-18 Team (2003)
Danny Kristo*, F Hamilton Bulldogs Eden Prairie, Minn. U.S. National Junior Team (2008-09)
U.S. Men's National Under-18 Team (2008)
Jamie McBain
*, D Carolina Hurricanes Edina, Minn. U.S. National Junior Team (2007-08)
U.S. Men's National Under-18 Team (2006)
Jeff Petry
, D
Edmonton Oilers
Ann Arbor, Mich. U.S. Men's National Team (2012)
Craig Smith
, F Nashville Predators Madison, Wis. U.S. Men's National Team (2011-12)
Tim Stapleton
, F HC Dinamo Minsk La Grange, Ill. U.S. Men's National Team (2011)
Paul Stastny
, F Colorado Avalanche St. Louis, Mo. U.S. Men's National Team (2007, 2012)
U.S. Olympic Men's Hockey Team (2010)
Nate Thompson
, F Tampa Bay Lightning Anchorage, Alaska U.S. Men's National Team (2012)
*played with USA Hockey's National Team Development Program
Housley, Army, Cole to Serve as Assistant Coaches; Support Staff Also Named
Tim Army (Denver, Colo.),
Danton Cole
(Pontiac, Mich.) and
Phil Housley
(Stillwater, Minn.) will serve as assistant coaches for the 2013 U.S. Men's National Team.
Housley is serving as an assistant coach for the U.S. Men's National Team for the second time. Previously, he was on the U.S. bench at the 2011 IIHF Men's World Championship in Bratislava and Kosice, Slovakia. Earlier this year, Housley was the head coach of the U.S. National Junior Team that won the gold medal at the 2013 IIHF World Junior Championship in Ufa, Russia. In September 2012, Housley was one of two head coaches for the inaugural CCM/USA Hockey All-American Prospects Game in Buffalo, N.Y.
Army previously served as an assistant coach for the U.S. Men's National Team in 1994 and 1996. He helped the U.S. Men's National Team capture the bronze medal at the 1996 IIHF Men's World Championship. He also served as an assistant with the U.S. World Cup Team in 2004. In addition, Army was the head coach for the U.S. Under-18 Team at the 1995 and 1996 Pacific Cup. Most recently, Army coached the U.S. Under-18 Select Team at the 2010 Ivan Hlinka Memorial Tournament to a second-place finish, the best result by a U.S. team since 2006.
Cole is serving as an assistant coach for the U.S. Men's National Team for the first time. He recently completed his third season as a head coach with USA Hockey's National Team Development Program, guiding the U.S. National Under-17 Team during the 2012-13 campaign. Cole served as head coach of Team USA at the 2012 IIHF Men's Under-18 World Championship in Brno, Czech Republic, where he guided the squad to a perfect 6-0-0-0 record and the gold medal.
USA Hockey also announced that Scott Masters (Colorado Avalanche) will serve as the video coordinator, while Pete Rogers (Nashville Predators) and Scott Aldrich (USA Hockey) will handle equipment manager duties. Additionally, Stan Wong (USA Hockey) and Dave Zenobi (Florida Panthers) will serve as athletic trainers; Dr. Michael Stuart, chief medical officer of USA Hockey, will be the team physician; Pee Wee Willmann will serve as massage therapist; and Dave Fischer (USA Hockey) will handle communications.
Team USA 2013 IIHF Men's World Championship Schedule
May 3-19 " Helsinki, Finland & Stockholm, Sweden
Date Opponent Location Time (Local/EDT)
Sat., May 4 Austria Helsinki 12:15 p.m./5:15 a.m.
Sun., May 5 Latvia Helsinki 8:15 p.m./1:15 p.m.
Tues., May 7 Russia Helsinki 8:15 p.m./1:15 p.m.
Wed., May 8 Finland Helsinki 8:15 p.m./1:15 p.m.
Sat., May 11 France Helsinki 12:15 p.m./5:15 a.m.
Sun., May 12 Germany Helsinki 4:15 p.m./9:15 a.m.
Tues., May 14 Slovakia Helsinki 12:15 p.m./5:15 a.m.
Thurs., May 16 Quarterfinals Helsinki 1:00 p.m./6:00 a.m.
6:30 p.m./11:30 a.m.
Sat., May 18 Semifinals Stockholm 3:00 p.m./9:00 a.m.
7:00 p.m./1:00 p.m.
Sun., May 19 Bronze-Medal Game Stockholm 4:00 p.m./10:00 a.m.
Gold-Medal Game Stockholm 8:30 p.m./2:30 p.m.
Arenas: Hartwall Arena (Helsinki); Ericsson Globe (Stockholm)
NOTES: For a complete list of players, click here ... Six of the 15 players announced have experience playing with USA Hockey's National Team Development Program ... NBC Sports Network will air all Team USA games at the 2013 IIHF Men's World Championship. A complete broadcast schedule will be announced next week ... Seven teams from the National Hockey League are represented ... Joe Sacco, head coach of the Colorado Avalanche, was named head coach of the 2013 U.S. National Men's Team ... The 2013 U.S. Men's National Team is under the direction of the U.S. Men's National Team Advisory Group, led by Jim Johannson, assistant executive director of hockey operations for USA Hockey. Other members include NHL general managers Stan Bowman (Chicago), Paul Holmgren (Philadelphia), Dean Lombardi (Los Angeles), David Poile (Nashville), Ray Shero (Pittsburgh) and Dale Tallon (Florida) and NHL scouts Brian Burke (Anaheim) and Don Waddell (Pittsburgh) ... USA Hockey's international council, chaired by Tony Rossi, vice president of USA Hockey, has oversight responsibilities for all U.S. national teams.
April, 5, 2013
4/05/13
10:23
AM ET
My favorite trade of the deadline was easily the
Ben Bishop
deal.
It was a win-win for both teams, with the
Ottawa Senators
getting a young top-six forward in
Cory Conacher
, and the
Tampa Bay Lightning
making a huge gain by adding another potential starting goaltender.
This isn't about ending the
Anders Lindback
project, as some of the knee-jerk reaction on social media suggested Wednesday.
This is about doubling your chances that between two young, promising goaltenders, one of them emerges as a 1A.
And who knows, maybe both do. Or maybe neither does.
But why not improve your odds twofold?
"Good move, with good potential," a Western Conference team executive told ESPN.com Thursday, requesting anonymity. "The big test is if one of them can grab the job and become a legit No. 1 starter. Looks like Lindback isn't there yet; now it's up to Bishop to be that guy."
They'll both get a shot.
"By no means am I giving up on Anders Lindback, not a chance," Lightning GM
Steve Yzerman
told ESPN.com Thursday. "He's a good young goalie. And I made a commitment by trading for Anders Lindback, and I believe Anders Lindback has the ability to become a good starter in this league.
"I want to provide him with the support he needs, and part of that support is having a good partner. I want the best possible tandem I can put together moving forward."
In Lindback, 24, and Bishop, 26, Tampa has a young 1-2 punch in goal heading into next season, giving the team a shot at finally rising up the ranks in goals against.
"Both of them will get a great opportunity to play," Yzerman said. "I'm not going to sit here and designate who the starter is next year. They'll both get a chance to play and play a lot, and it'll work itself out."
Veteran
Mathieu Garon
has been a pro as the backup, but with his contract up after this season, Yzerman began to look ahead. Garon is a solid backup on a team whose starter is more solidified, like a
Carey Price
or
Pekka Rinne
.
But with Lindback still finding his way, I think Yzerman felt he needed to give him more protection moving forward.
"If I had one of these guys who plays 70 games a year, then I can be a little more conservative with the second goalie. But I've got a really young goaltender in Lindback that we think has a lot of promise, and I don't want to put him in a position where he has to play 70 games. Ben Bishop provides that support and Ben Bishop has a tremendous upside as well.
"I'm not designating either one the starter. They'll both get tremendous opportunity to play."
I suspect, though I can't confirm it, that Tampa also kicked the
Los Angeles Kings
' tires on
Jonathan Bernier
before the deadline and that the price was too high.
Frankly, given
Jonathan Quick
's up-and-down season, it made more sense for the Kings to keep Bernier as insurance for another Cup run, then figure out what to do with him this summer.
In the end, Yzerman got a guy in Bishop who has starter potential written all over him, just as Lindback still does.
It's a win-win in my mind.
April, 1, 2013
4/01/13
1:07
PM ET
On the
Jaromir Jagr
front, it was still unclear as of Monday afternoon what will transpire. The
Dallas Stars
approached the Jagr camp three weeks ago about a contract extension, and the two sides have gone back and forth since. But still no contract extension.
Why? I'm hearing the Stars' front office is debating whether the team should sign or trade Jagr. And that decision had not been made as of Monday afternoon.
Other teams are absolutely calling with interest on Jagr. No surprise there, as he'd be a perfect rental. Hello,
Boston Bruins
?
But the Stars, who already dealt pending UFA
Brenden Morrow
, have to figure out if they should cash in on pending UFA Jagr or keep him around for another season. After all, the Stars were only two points out of a playoff spot Monday morning.
Sign him or trade him? To be determined.
Sens fielding calls on Bishop
A source told ESPN.com Monday that the
Ottawa Senators
have received "several calls" regarding goalie
Ben Bishop
the past day or so.
The Senators, I don't think, feel pressed in moving Bishop before Wednesday's deadline. They're more than happy to wait until the summer to figure out their three-goalie situation with Bishop,
Craig Anderson
and
Robin Lehner
.
However, if a team made a strong enough push on Bishop (hint, hint: top-six forward), then he could certainly be moved over the next few days.
Meanwhile, pending UFA blue-liner
Sergei Gonchar
is more than likely staying put. The Senators need him for the playoff run.
McBain's name comes up
One new name popped up Monday as potential trade bait: defenseman
Jamie McBain
.
I'm told the
Carolina Hurricanes
would be willing to move him if the offer was right. McBain is not a rental; he has one more year on his deal at $1.9 million in salary and $1.8 million on the cap. He's an intriguing name, to be sure, a guy who can provide some offense from the back end.
Speaking of the Hurricanes, I'm also hearing that, despite clearing waivers last week, forward
Jussi Jokinen
continues to generate interest from other teams that want Carolina to take a player back in return. So he could definitely move before Wednesday's deadline.
Jokinen is a player the
Vancouver Canucks
have on their radar, although I would say he's not at the top of their list.
All quiet for Clarkson, Devils
A source told ESPN.com Monday that the
New Jersey Devils
and
David Clarkson
's camp have still not held any talks regarding the pending UFA. Again, not entirely surprising. Veteran Devils GM Lou Lamoriello traditionally doesn't view the trade deadline as any kind of pressure point when it comes to his UFAs.
Jackets willing to trade a first-round pick
My TSN colleague Darren Dreger was first to report this, but I can also confirm that the
Columbus Blue Jackets
, suddenly in a playoff spot, are willing to move one of their three first-round picks in the June 30 draft if they can get a scoring forward in return. (In today's edition, the Columbus Post Dispatch
also reported
that the Jackets would be willing to move one of their picks.) Mind you, they wouldn't do that for a rental player; it has to be a player with term past this season, a source told ESPN.com.
Still, that's a shift in thinking from when new GM
Jarmo Kekalainen
took over earlier this season and had only the long-term view in mind. It seems the incredible run the Jackets have been on over the past month-plus has forced him to try to throw his team a bone.
It also wouldn't surprise me if Columbus was willing to move a defenseman to get that top-six, scoring forward.
February, 25, 2013
2/25/13
12:19
PM ET
From the official NHL release:
VORACEK, STAMKOS AND BISHOP NAMED NHL 'THREE STARS' OF THE WEEK
NEW YORK (Feb. 25, 2013) –
Philadelphia Flyers
right wing
Jakub Voracek
,
Tampa Bay Lightning
center
Steven Stamkos
and
Ottawa Senators
goaltender
Ben Bishop
have been named the NHL's 'Three Stars' for the week ending Feb. 24.
FIRST STAR – JAKUB VORACEK, RW, PHILADELPHIA FLYERS
Voracek led all skaters in points (4-7—11) and assists as the Flyers won three of four games. He opened the week with the first four-point game of his career (0-4—4) in a 7-0 win over the
New York Islanders
Feb. 18 and recorded his first career hat trick, including the game-winner with 1:31 remaining in regulation, in a 6-5 victory at Pittsburgh Feb. 20. Voracek scored his seventh goal of the season in a 5-2 loss to the
Florida Panthers
Feb. 21 and capped the week with three assists in a 5-3 triumph over the
Winnipeg Jets
Feb. 23. The Kladno, Czech Republic, native has points in five straight games (4-8—12) and leads the Flyers in goals (seven), assists
(15) and points (22) this season. Now in his fifth NHL campaign, the 23-year-old Voracek has 64-141—205 in 339 career games.
SECOND STAR – STEVEN STAMKOS, C, TAMPA BAY LIGHTNING
Stamkos scored once in each of his four outings and totaled 4-4—8. He netted one goal in a 4-2 win over the
Toronto Maple Leafs
Feb. 19 and posted 1-1—2 against both the
Boston Bruins
Feb. 21 and
Carolina Hurricanes
Feb. 23. The Markham, Ont., native then recorded one goal and two assists in a 5-3 loss to the
Pittsburgh Penguins
Feb. 24. Stamkos has scored goals in five straight games and has 6-6—12 during a six-game point streak. In 18 contests this season, he leads the League in both goals (13) and points (29). The 23-year-old Stamkos also has scored the most goals in the NHL since the start of the 2009-10 season (169), 41 more than the next-closest player (
Alex Ovechkin
, 128).
THIRD STAR – BEN BISHOP, G, OTTAWA SENATORS
Bishop went 3-0-0 with a 2.03 goals-against average and .931 save percentage as the Senators won all four of their games. He posted 30 saves and denied all three shooters in a 2-1 shootout victory over the
New Jersey Devils
Feb. 18. Bishop then relieved an injured
Craig Anderson
and made 11 stops, plus another six in the shootout, to pick up a 3-2 win against the
New York Rangers
Feb. 21. He closed the week with 26 saves in a 3-2 triumph over the Toronto Maple Leafs Feb. 23. The Denver, Colo., native has played in 28 career NHL games, posting a 10-10-3 record with a 2.63 goals-against average, .906 save percentage and one shutout.
February, 19, 2013
2/19/13
10:41
AM ET
If there is one thing that separates the good teams from the mediocre and the great ones from the good, it's consistency of effort. Poor teams invariably see wild swings in effort and results, sometimes within a few days. Monday was a perfect illustration of that. How do the
New York Islanders
look so good -- dare we say almost playoff-ready? -- in handling New Jersey 5-1 on Saturday night, then turn around and lay a complete egg in a 7-0 shellacking at home Monday afternoon by Philadelphia? Embarrassing. Islanders goalie
Evgeni Nabokov
(is there no Plan B on the island in terms of goaltending?) gave up three in the second and three in the third, and from reports out of the game, he might have been the Isles' best player. It was just the third road win for the Flyers, one of the reasons they're outside the Eastern Conference playoff bubble.
Not a good day in Colorado for the on-ice officials, who blew an offside call that led to a Colorado goal, nor for Nashville backup
Chris Mason
, who has been solid this season but allowed six goals on 18 shots in less than two periods of play as the Predators were nipped 6-5. The game was the first for the Avalanche after blowing a 4-1 lead in Edmonton Saturday night, a game in which they gave up an Oilers-record 56 shots. Things looked like they might follow a similar pattern Monday as the Preds kept eating into Avalanche's leads, launching 38 shots on
Semyon Varlamov
, but the Avs held on. On the disputed goal by the suddenly red-hot
Matt Duchene
, officials mistakenly believed the Predators had played the puck back into their zone, allowing Duchene -- who was offside -- to go in alone and score.
Kudos to the
Ottawa Senators
and coach Paul MacLean for being able to turn attention away from the loss of
Erik Karlsson
for the balance of the season. With
Ben Bishop
giving
Craig Anderson
a break in net, Bishop matched the peerless
Martin Brodeur
save for save as the Senators ended up with a 2-1 victory in a shootout Monday afternoon.
Jakob Silfverberg
scored the only goal of the shootout. Bishop stopped 30 of 31 shots, while Brodeur stopped 29 of 30.
Speaking of the Northeast, it's become a very interesting place to be this season. The
Toronto Maple Leafs
won their sixth in seven games with their 3-0 victory Monday over the hapless
Florida Panthers
. Meanwhile, Montreal was taking care of business against a much-improved
Carolina Hurricanes
team, defeating the Southeast Division leaders 3-0 for its fourth straight win. With starting goalie
Carey Price
feeling under the weather, Canadiens coach Michel Therrien went back to
Peter Budaj
for a second straight time (Budaj beat Philadelphia Saturday). The point totals are a bit misleading because Boston has played two or three fewer games than the rest of the division, but as of Tuesday morning, Montreal assumed the top spot in the Northeast, with Boston, Ottawa and Toronto all among the top eight in the Eastern Conference, as well.
The
Anaheim Ducks
are doing in the Pacific Division what the
Chicago Blackhawks
are doing in the Central: threatening to run away and hide. The surprising Ducks won again Monday, edging Columbus 3-2 to improve to 12-2-1. The win was the Ducks' fifth straight, and their plus-14 goal differential is tied for second in the league behind the Blackhawks. The Ducks lead Phoenix by seven points with a game in hand, as the second-place Coyotes (8-6-2) continued to put their slow start to the season behind them with a 4-0 whitewashing of Calgary on Monday. The Coyotes have won four of five but are proving how hard it is to make up ground in the division. As for the Blackhawks (12-0-3), they have a shot at tying an NHL record for the best start without a regulation loss when Vancouver visits Tuesday night. The record for starting without a regulation loss was set by the 2006-07 Ducks, who went on to win the Cup after starting the season 12-0-4.
March, 20, 2012
3/20/12
12:13
AM ET
Some well-thought-out rants this week. And others that were just plain angry. So we thank you. Let's take a look:
R.DK: POUTINE!!!! Now that I have your attention, do I ever HATE the shootout! It doesn't prove who the better team is on any given night. And the worst part is I know it's not going anywhere. You're an insider, how do we get rid of the gimmick?
My take:
Well, I can't resist a rant that starts with poutine. Mmmm ... But I digress. Yes, the shootout. I'm not a fan of it, either. To me, it's run its course. But the majority of fans still seem to love it, judging from the reaction in the stands when a shootout is happening. That's good enough for the league. Most of the NHL's 30 GMs also are down on the shootout, which is why they voted in favor of adding the "ROW" tiebreaker rule two years ago. That minimizes the importance of the shootout for a standings tiebreaker (only regulation and overtime wins count for the tiebreaker). In addition, Red Wings GM Ken Holland is on record saying he favors extending overtime to including a second five-minute period of three-on-three play. I'm fully in favor of that. Obviously, that would reduce the amount of shootouts held every year. Right now, though, the shootout is here to stay, like it or not.
ClarkAveSTL: I have to rant about the Ben Bishop trade. As a Blues fan, I hate to see him go. He is looking sharp for Ottawa already and I'm not sure Brian Elliott will have the long-term success the Blues are hoping for. The trade is good for Bishop, seeing as how he is 25 and might not have seen any serious playing time for the Blues for at least a couple more years. But I really feel like the Blues let one get away on this one.
My take:
I understand your frustration, because I believe Bishop has No. 1 potential. But the fact is, Bishop was going to walk out the door July 1 as an unrestricted free agent and the Blues would have got nothing in return for him. At least they got a second-round pick. And don't tell me you think the Blues could have re-signed him. I don't think Bishop would have wanted to remain blocked by two goalies in that organization. In Ottawa, he's got a better shot.
hawkfreak1010: As an Avalanche fan, it's extremely frustrating for me to look at the current standings in the Western Conference. To be more specific, it's frustrating that the teams they are battling with for the eighth and final playoff spot all have significantly fewer wins than the Avs, but because they lose more of their games in OT they get rewarded with a point. SJ: 10 OTL, LA: 12 OTL, Phoenix: 11 OTL and Calgary: 13 OTL!!!! The Avs have five OTL and 39 wins, which is three more than San Jose and Phoenix, four more than Los Angeles and five more than Calgary, yet they are all separated by no more than two points!! I understand what the system is supposed to be doing, but it's completely unfair for a team to make the postseason over a team with more wins!! Isn't winning what you're supposed to do in sports, not hold off a team until OT and then lose?
My take:
Totally agree, my friend. Hence
my column a few weeks back
about why
Steve Yzerman
and I favor three-point, regulation-time victories. The bottom line is that three points for a 60-minute win (like in European soccer) would better reflect teams that "win" games. But I understand the league's view on this, which is that the current system keeps closer races to the wire. You can't deny that. Still, I think a truer reflection of the balance of power should be the ultimate goal. And that's what three points for a regulation win would give you.
MJMcGurk: My rant is about the lack of effort night in and night out by the Washington Capitals. They are fighting, not literally of course, for the final playoff spot. Yet they go into Chicago and it takes them over 16 minutes to register a shot on goal. This has been the norm lately, especially on the road, and it certainly doesn't get better at Detroit and at Philly. I can live with the loss at Winnipeg. They came out with some fire. But that is the exception and not the rule for them.
My take:
Easily the most disappointing team of the NHL season when you consider the talent level and expectations. I point to three key reasons, in no particular order:
1.
Nicklas Backstrom
's concussion. He is their best player. There, I said it. Once he went down, it made things all the more difficult for all kinds of reasons. He's their most consistent player. They just can't win regularly without him.
2.
Alex Ovechkin
. He's played better of late, but 32 goals doesn't cut it for a player of his talent and compensation. Until he agrees to commit 12 months a year to his game like his compatriots
Evgeni Malkin
and
Pavel Datsyuk
, the Caps will be worse for it.
3. Goaltending. Veteran
Tomas Vokoun
has been decent, but he was only a one-year stopgap. The hope, or the plan, in the Caps' front office was that
Michal Neuvirth
would react to the Vokoun signing and bring his game to another level. Instead, his 2.85 goals-against average and .900 save percentage have him ranked among the bottom. He's been a huge disappointment.
shelbycoker: I'm tired of all this crap saying the Panthers aren't a legitimate NHL team. They just came off a four-game homestand winning all four while missing their best player for three of those games. They embarrassed the Bruins and Maple Leafs. The Panthers deserve way more credit than they get. In fact, I think they have the talent to make a run for the Eastern Conference championship this year!
My take:
Hey, Tampa reached the Eastern Conference finals last season and Montreal the season before that. So by now we all know that in the mediocre East, anything is possible. As for the Panthers, they have been a terrific surprise. GM Dale Tallon has a tremendous eye for talent, having helped build the 2010 Stanley Cup champion Blackhawks. But you also have to be honest and point out that the Panthers are leading the weakest division in the league in the Southeast. It's not their fault the division is weak, but that is the truth nonetheless.
CalvinMN: You want a real rant? I live in Minnesota, where hockey is ingrained in our culture, and the Wild are absolutely terrible. We lost to Columbus twice -- in the same week. We have fewer points than every team in the Eastern Conference. We've already been shut out three times this month. We're last in goals scored -- by a 16-goal margin. We have no depth at forward. Our defense is inexperienced. Our third-string goalie is now our starter. I don't think any of us expected to stay at the top of the league, but falling to 28th didn't seem possible. Leave it to the Wild to defy the odds! I know we've been brutalized with injuries -- we've heard that excuse before -- but winning teams find a way to win. I know Chuck Fletcher started with a piecemeal roster and an empty prospect cupboard, but when are we going to push through all the excuses and get a winning attitude in Minnesota?
My take:
Cannot blame you one bit for feeling so frustrated. Sitting first overall in early December and now close to the basement of the NHL, that's got to rip a Wild fan's heart out. The biggest problem to me is so obvious: offense. This team needs a serious upgrade in its top-six group. I know that's what Fletcher was trying with
Dany Heatley
and
Devin Setoguchi
, but that hasn't worked out well.
Zach Parise
is a UFA on July 1. I'd be shocked if Parise doesn't include his native Minnesota among the teams he'd consider. That's the move this franchise needs.
obrand6: If I'm a Nashville player right now, I'm absolutely livid that Alexander Radulov is coming back just in time for the playoffs. To think that all year, you battle hard to succeed only to have this guy come in and take a roster spot away from you. You HAVE to think it will mess with team chemistry, right? If I'm Shea Weber I'm letting everyone -- including Radulov -- know that NOTHING will change and that I'm still the undisputed leader of this team.
My take:
To the contrary, in terms of Nashville players' reaction. My understanding is that Weber has actually been totally supportive of Radulov's returning. It's all in the name of trying to win this year. Keep in mind that Weber and fellow stud blueliner
Ryan Suter
are free agents on July 1. This is a big year for Nashville in so many ways. I'm told Weber and Suter totally embraced the idea of Radulov coming back to help the Preds now.
banzai51: Let me leave this here for everyone. Since we're all tribal in our complaints and can't talk about hockey beyond our local. ...

(My team) is not getting the (choose one) love/respect/officiating it deserves! (Player on my team) is having a phenomenal year, but all anyone can talk about is (choose one)the Crosby injury/complain about Crosby coverage. (yep, I'm including that for you Pittsburgh).

Alternative:

When is Brendan Shanahan going to do his job!!!! (My_Player) got machete attacked by (Player I hate) and nothing from the NHL front office. The refs didn't even call a dang penalty!! OUTRAGE!!! (Insert Old Time Hockey nonsense here).
My take:
This was too good to ignore.
GdoubleG22: One word: accountability. Where is it within the New York Islanders organization? How long must I, as a die hard fan of this team for all 20 years of my life, be subjected to this incompetence, mediocrity and sheer buffoonery? At a certain point, you cannot blame the players anymore. Commish Gary Bettman needs to step in and make Charles Wong hire a GM with more experience than just being a career backup goaltender. Capuano is not an NHL coach and Snow is not an NHL GM. After declaring that he fully expects the team to make the playoffs, shouldn't someone within the front office be losing their job after again being a bottom dweller in the Eastern Conference? Pierre, what needs to be done to right the ship?
My take:
It starts at the top. The owner's unpredictability makes it an unstable franchise. I'll actually give GM
Garth Snow
credit for being able to do a passable job under those circumstances. I know this doesn't make any Islander fan feel any better because they've heard it so many times, but I don't think they're that far away. They've got a superstar, cornerstone play in
John Tavares
and a decent supporting cast with some intriguing prospects in the system. But yes, while Wang remains the owner, one never knows if that kind of promise can ever be fulfilled.
Ludlumtc: Good morning, Pierre. I appreciate the coverage you provide here on ESPN.com. I haven't ranted in a while, but my rant this week is in regards to goalie interference, in specific to the call on Tomas Holmstrom Saturday night at the Shark Tank. Reviewing the video of the penalty, to me it seemed Antti Niemi basically stuck his stick out as Homer was skating by. If anything it should've been a delay of game on Niemi. I know there are only eight eyes in real time on the ice that are in control of that aspect of the game, but c'mon that is just a weak call. It seems there is too much grey area in that aspect of the game. The last few years, the NHL has done a pretty good job of cleaning and defining this stuff. When will this issue be clearly defined?
My take:
There was some talk of this last week at the NHL GMs meeting. My understanding is that the league will once again make this a point of emphasis with on-ice officials over the rest of the season.
Goaler82: I hate that LEGAL hits result in fights today in the NHL. I understand defending your teammate if they receive a dirty hit but can't NHL players take legal hits anymore? I think players who start a fight over an unpenalized hit should get an extra penalty. Make the team pay for it with a penalty kill.
My take:
I could not agree more. It's something that crept into the NHL game about a decade ago. If it's a clean hit, there should be a fight. Take his number and hit him harder next shift. Not sure why this has changed.
stlbluenote11:Pierre, this rant is directed towards the media. Saturday the Blues beat the Lightning 3-1, and were the first team to make it to 100 points. They were also the very first team to clinch a playoff birth. Were they on the homepage? No. They at least had to be the lead on the NHL homepage? No. They were fifth on the list. Really? Is the bias really that big? News is news, and the team that is first in the NHL needs to get some respect, regardless of the size of the market. A Journalist's job is to get the story out there, the one that means the most to the league. The Blues were the first to clinch a spot, and that is more newsworthy than any score on that day. Florida can wait. Pittsburgh can wait. The Rangers have had their time. The team that is getting stuff done day in and day out deserves the credit. Get your act together and realize that the Blues are legit this year. Get used to writing about them, they're going to be in the playoffs for a while.
My take
Well, you'll be happy to know that yours truly is planning on beginning his two-month playoff trek in St. Louis come the first round. So there you go, ESPN.com in the house, baby!
February, 26, 2012
2/26/12
11:44
AM ET
With No. 1 netminder Craig Anderson of the Ottawa Senators out of action after slicing his hand in a kitchen mishap, the Senators have moved to fill that gap by acquiring minor league netminder Ben Bishop from the St. Louis Blues, a source confirmed to ESPN.com on Sunday.

The 6-foot-7 Bishop fell down the depth chart with the Blues this season with the emergence of Brian Elliott as an elite NHL netminder. Elliott, who took part in the All-Star Game in Ottawa in January, is sharing time with Jaroslav Halak in St. Louis.

Bishop was the 85th overall pick in the 2005 entry draft. The 25-year-old has appeared in 13 NHL games. He was 24-14 with the Peoria Rivermen of the American Hockey League this season. Bishop is close to signing a one-year extension with the Senators. He would have been a free agent July 1.

The Blues will receive a second-round pick in 2013.
February, 23, 2012
2/23/12
10:28
AM ET
Brian Burke has shown time and time again in his GM career that he's not afraid to act, and the man who runs the
Toronto Maple Leafs
has decided to add more drama before Monday's 3 p.m. ET trade deadline.
Burke broke the news on TSN 1050 Radio in Toronto on Wednesday evening -- later confirming it with ESPN.com during a phone call -- that the club has decided to explore what's out there on the goalie market in the wake of recent netminding struggles of
Jonas Gustavsson
and
James Reimer
.
It doesn't mean for sure they'll get a goalie, but they are going to see what's out there and judge the price tags. Burke said the front office discussed it for the first time Wednesday. It had not looked at outside goaltending until this point, just a few days removed from the trade deadline.
That doesn't allow for much time to get something done, and the prices are usually high at this time of year, but let's look at the possibilities for the Leafs:
Evgeni Nabokov, New York Islanders:
At 36, Nabokov has had a bounce-back season as proved by his .925 save percentage. He's slated for unrestricted free agency July 1, so he's the ideal rental player. My understanding is that he would gladly waive his no-trade clause for a move to Toronto. And don't forget he played for Leafs coach Ron Wilson during their San Jose days. Here's the catch, however: The Isles are in negotiations with Nabokov agent Don Meehan regarding an extension. And even if Nabokov doesn't sign, Isles GM
Garth Snow
has shown in the past he doesn't just give away rental players, so it's no sure thing he will move him, even if he can't sign him over the next few days. Still, this would be the most obvious target for Toronto.
Josh Harding, Minnesota Wild:
Like Nabokov, Harding is a UFA July 1, so he's a rental. Thing is, like the Isles, the Wild haven't quite decided what to do ahead of Monday's trade deadline. It's really going to depend, I think, on the quality of the trade offers and where Minnesota sits in the standings. But the club is certainly open to listening.
Anders Lindback, Nashville Predators:
I believe there's interest here on the part of the Leafs, but there's also the realization that the Predators aren't about to give away a 23-year-old goalie who holds lots of promise. It's not that he's unavailable; the Preds would move him, but only in the right deal. Translation: high price.
Curtis Sanford, Columbus Blue Jackets:
Sanford is another rental, and frankly he's played reasonably well for the league's doormats this season. The question you have to ask yourself if you're Toronto is, how much of an upgrade is he on what you have?
J.S. Giguere, Colorado Avalanche:
The former Leafs netminder is healthier now than he was last season in Toronto but he's not a rental player, having another year left on his contract, at $1.25 million. He's played well for Colorado this season, he's been a good tonic for
Semyon Varlamov
, and I'm not sure how interested the Avs would be to change that.
Antero Niittymaki, San Jose Sharks:
You can bet your bottom dollar that Sharks GM Doug Wilson would love to dump his discarded No. 3 netminder on the Leafs. Niittymaki has an .891 save percentage in nine AHL games this season. He's fully recovered from a surgically repaired hip, but teams are obviously wary. He's been a very effective netminder in the past, but I doubt the Leafs would go here unless it was a last resort.
Scott Clemmensen, Florida Panthers:
He's a UFA July 1 and a former Leafs farmhand, in 2007-08. He's played decently in Florida this season, with a .908 save percentage, but I think the Panthers would move him if a team called. Two questions here: 1) Would Florida move him to a team it is battling with in the East playoff race? and 2) Is this really an upgrade for Toronto?
Ben Bishop, St. Louis Blues:
Total wild-card entry. It would be a big-time gamble for the Leafs to hand the keys to another young and inexperienced netminder, one with only 13 NHL games under his belt -- none this season. But some people around the league are high on the 25-year-old's abilities.
January, 20, 2012
1/20/12
12:00
AM ET
Is this the year of the top-six forward at the trade deadline?
Sure looks like it so far.
Nearly every buyer you talk to lists a top-six forward as an item on their wish list before the Feb. 27 trade deadline.
General managers are saying that goals are at a premium, since so many games are decided by one goal, so some playoff-bound teams are looking for one more offensive weapon.
"Our team is young and getting better and we see a lot of good things with our team right now, but if we can get a veteran forward or top-six forward, that would help us a lot," veteran
Nashville Predators
GM David Poile told ESPN.com this week.
[+] Enlarge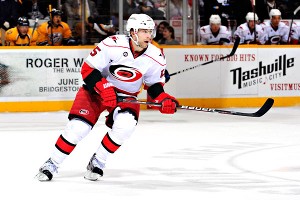 Frederick Breedon/Getty ImagesWith top-six forwards in high demand, could Carolina's Tuomo Ruutu be on the move at the the trade deadline?
Ah, but he's not alone. Other teams confirmed to be looking for a top-six forward include Chicago, Toronto, Minnesota, Los Angeles, Detroit, the
New York Rangers
and, as Poile said, Nashville. San Jose could be in the mix for either a top-six forward or a checking-line forward. Boston and Vancouver are looking for a depth forward.
So, easier said than done when so many clubs are looking for similar assets.
"I'm running into the same thing everyone else is," said Poile, who did at least claim depth forward
Brandon Yip
off waivers Thursday. "There's 15 to 20 teams right now that are aggressively calling the three or four or five teams that they think are appropriate to call. And there's nothing happening with those teams right now."
What the trade market needs is more teams to declare themselves sellers and out of the playoff race. But it's still too early for that. That's what happens with so much parity in the standings.
Potential top-six forwards available? Again, it doesn't mean all these players will move, but these are names we've heard that could be in play:
Derek Roy
,
Brad Boyes
and
Drew Stafford
in Buffalo;
Vaclav Prospal
,
Antoine Vermette
and
Kristian Huselius
in Columbus;
Ales Hemsky
in Edmonton;
Tuomo Ruutu
in Carolina; and the suddenly hot
Jason Blake
in Anaheim.
I believe both Detroit and Nashville are among the teams who like Hemsky, who is a UFA on July 1.
And of course there's potentially
Bobby Ryan
in Anaheim as a trade target for many teams, although you wonder if the resurgence of the Ducks will give GM Bob Murray pause for thought. I still think Murray will take calls on Ryan right up through the deadline, but the offseason might afford a better window to instill more serious change in his lineup.
Blues' depth in goal
It wasn't long after the
St. Louis Blues
announced the signing of
Brian Elliott
to a two-year, $3.6-million extension that some fans hit Twitter wondering whether that meant
Jaroslav Halak
was hitting the trade market.
Not so, says the GM of the Blues.
"We're excited with the tandem that we have," Doug Armstrong told ESPN.com Thursday. "Our players know going into every game they have a chance to win regardless of who is in net. Sometimes when you have a 70-game goalie, when the other guy goes in, the players think it's different. Right now, no matter who is in net for us, there's no difference in our outlook on that game."
Like powerhouses Boston and Vancouver, the Blues are assured of top-notch goaltending every night and that can impact the standings.
"The importance of every point, the compacted schedule and the travel, we have the luxury of being able to count on two goalies every night," said Armstrong. "If it's a four- or six-point difference from making or missing the playoffs, that position [netminder] can change that."
So if Halak and Elliott are both around to stay, what about No. 3 man
Ben Bishop
, currently in the AHL? There are some around the industry that think Bishop is one of the best netminders not in the NHL. He might garner some trade interest for St. Louis before Feb. 27.
Suter's future
Well, it wouldn't be a week without a
Ryan Suter
update, right?
[+] Enlarge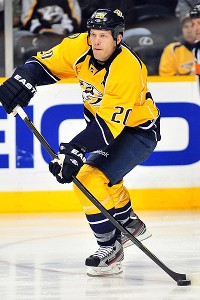 Don McPeak/US PresswireWill Ryan Suter re-sign in Nashville or will the Predators trade him before Feb. 27?
The dialogue continues with the Nashville Predators, Suter's agent Neil Sheehy told ESPN.com Thursday, but there's really nothing new to report. By now everyone should know the star defenseman is slated for unrestricted free agency on July 1.
My take? I think the Suter camp is sitting back waiting to see what Poile can do to improve the team between now and the Feb. 27 trade deadline before deciding whether or not to sign.
So you've got a bit of the chicken and the egg here for Poile.
Most people believe Poile is going to be hard-pressed not to move Suter if he's still unsigned by Feb. 27, but that's not what the veteran GM told ESPN.com on Wednesday night.
"If you're asking what I'm going to do, my gut is that we're going to be trying to add to our team and if we're adding to our team, we certainly don't want to be taking away from it by making a deal like that," Poile said of trading Suter.
Shopping Niittymaki
The
San Jose Sharks
, as I reported earlier this season, would like to find a new NHL home for goalie
Antero Niittymaki
, who earns $2 million this season and will be an unrestricted free agent on July 1.
The Sharks are showcasing him this weekend in the AHL; Niittymaki accepted a conditioning assignment Thursday to Worcester, where he was expected to start twice this weekend. Word is Niittymaki's surgically repaired hip is 100 percent. He'd be a decent pickup for a team needing insurance in goal.
Steckel can't escape Crosby
David Steckel
won't ever shake the questions. At least not unless
Sidney Crosby
returns for good.
Steckel's collision with Crosby heard 'round the world more than a year ago at the Winter Classic is a subject he can't escape.
"I can't fault people for asking," Steckel told ESPN.com this week after a
Toronto Maple Leafs
practice. "There's no way of taking it back. Obviously, I didn't do it on purpose. It's just something that I've lived with for a year and I'm going to have to live with for my career."
The magnitude of Crosby's concussion issues, including a setback this season after only an eight-game return, hasn't escaped Steckel.
"It sucks that the best player in the NHL has been out for what, 11 of the past 12 months basically," said Steckel. "For the game, it sucks. For Pittsburgh, it sucks."
Career will go on for Alfredsson, Brodeur?
With the news this week that
Martin Brodeur
is learning towards playing another season, I approached Senators captain
Daniel Alfredsson
in the same vein.
Like Brodeur, I asked Alfredsson, would your team's success this season spur on a decision to return for another year?
"I think I'll wait for the offseason to make that decision," Alfredsson said. "It's more physical than mental. It's about how my body holds up. So far, it's been great. I'm having a lot of fun. But the toll it takes to play and the preparation it takes to get ready for another season, you have to consider that. But for sure the way we've been playing, I've been having a lot of fun."
Alfredsson, 39, has certainly played like he can stick around. He's already surpassed his point total from last season and there's still half a season to play. I think his heart is telling him he wants to play another season. But he's waiting for his body after the season to concur.
As for Brodeur, I traded text messages with him Wednesday night and he confirmed what the New York Post first reported, that he was thinking about coming back next season.
"Leaning toward it," Brodeur told ESPN.com. "Haven't made decision yet."
Brodeur will be an unrestricted free agent on July 1.