Cross Checks:

Ben Scrivens
November, 28, 2013
11/28/13
2:05
PM ET
Time for a little Thanksgiving rambling session to help digest the turkey and the NHL holiday schedule.
Curses, foiled again:
Is there such a thing as an Olympic curse?
Paul Martin
might think so. A lock to make the U.S. team in Vancouver in 2010, Martin broke his forearm early in the 2009-10 season, and complications kept him from making the team that would go on to earn silver in Vancouver. Fast-forward to this season and once again Martin's strong play for Pittsburgh had virtually assured him a place on the 2014 roster, but on Monday he suffered a broken tibia in a game against the
Boston Bruins
. Amazingly, Martin finished the game but is now sidelined for a month or more. If his rehabilitation goes according to plan -- unlike that of
Steven Stamkos
, who required surgery to repair a broken tibia earlier this month; Martin's injury will not require surgery -- he should be in place for the mid-February tournament in Russia. Still, you couldn't blame Martin, whose renaissance after a couple of subpar seasons with the Pens has been nothing short of inspiring, for wondering if somewhere someone has an Olympic voodoo doll sporting his jersey.
Talking a Blues streak:
Love the idea of a Chicago-St. Louis Central Division finals series next spring, but after listening to the postgame comments involving Colorado coach
Patrick Roy
and counterpart Ken Hitchcock of the
St. Louis Blues
after the Blues' 4-1 win Wednesday night, it makes us pine a bit for a playoff showdown between these two teams. The Blues have rained a couple of times on the Avs' parade this season, including Wednesday, when St. Louis halted Colorado's three-game winning streak. Hitchcock chastised Roy for his season-opening performance against Anaheim when Roy tried to knock down a barrier between the two teams' benches, calling it "junior hockey." On Wednesday, Roy took issue with Hitchcock talking to the referees and jousting with some of Roy's players, behavior Hitchcock had been critical of when Roy did it. "Seems to me that there's different rules for everybody in this league. I guess the old guys are allowed to do whatever they want, and I guess us, because we are younger, we are not allowed to say anything. I am a little [mad] about that," Roy was quoted by Terry Frei of the Denver Post as saying postgame. Hitchcock responded by saying "Oh, give me a break. Tell Patrick to shut the f--- up." Great stuff. Lost in the postgame commentary was Alex Steen's 20th goal of the season, tying him with Alexander Ovechkin for the league lead.
Man down. And another. And another:
It's a grueling time for a handful of teams that are struggling without key players lost to injury while various national teams are also watching with interest in the rehabilitation of said players. The
Minnesota Wild
were initially believed to be without
Zach Parise
for up to three weeks after he blocked a shot with his foot earlier in the week, although he did skate Wednesday morning. He was not in the lineup for the Wild's 3-1 loss to Phoenix. They also lost
Mikael Granlund
, as the previously red-hot Wild dropped their second in a row. Parise is a lock to play in the top six for the U.S. team at the Sochi Olympic Games, and the foot injury shouldn't change that plan, although you'll forgive U.S. GM David Poile if he's more than a little nervous these days (see Martin injury above,
Jonathan Quick
injury below).
Quick questions:
The
Los Angeles Kings
continue to get great goaltending from stand-in
Ben Scrivens
as starter Jonathan Quick deals with a groin injury and won't be available until the last week of December -- assuming all goes according to plan. Scrivens stopped 38 of 40 shots in a shootout loss to San Jose on Wednesday night and is 6-1-4 with a league-best .947 save percentage and 1.48 GAA (albeit with a much smaller body of work). Quick is among the most interesting of the walking wounded, given his importance to both the U.S. Olympic team, where he is still considered the top goaltender assuming good health, and the Kings. Hard to imagine GM Dean Lombardi, who will help pick the U.S. Olympic team, isn't being pulled in two directions. Remember
Dominik Hasek
's injury moments after the 2006 Olympic tournament started in Turin? What did it cost the
Ottawa Senators
, who were considered Cup contenders at the time? No goalie goes side to side as well as Quick when he's on his game. But what impact does Quick's injury have on the Kings' Cup hopes, especially if he aggravates it by rushing back to solidify his place on the U.S. roster? Maybe he's 100 percent by the end of the calendar year, the U.S. wins a gold and the Kings go on a long run in the spring. But if it doesn't go that way, you know there are going to be lots of questions about how this all unfolded.
Speaking of the West:
Yes, we know how good the West is. Pierre LeBrun, the official spokesman for all things Western Conference, reminds us every time we chat or do a podcast. But one of the casualties of the overwhelming concentration of power in the West is a
Vancouver Canucks
team that just can't seem to get it together and, as a result, is finding itself slowly sinking beneath the playoff surface. A team that won two Presidents' Trophies in recent years (2011, 2012) by dominating on both sides of the puck can't find the back of the net, with just one win in their last eight games. In the seven losses, they have managed to score just nine goals. The power play is rancid, ranking 28th, and the bottom line is if the Sedin twins or
Ryan Kesler
don't score, it pretty much doesn't get done. Before realignment, the Canucks were pretty much assured a playoff spot just by stepping onto the ice in the old Northwest Division, what with permanent rebuilds going on in Calgary, Edmonton and Colorado. Now in the tough, tough, tough Pacific, the Canucks woke up Thursday morning five points back of the second wild card. Not an insurmountable deficit but still more than a little worrisome for a Canucks team used to cruising into the postseason.
And on to the East:
If there is one common trait among the flotsam and jetsam in the Eastern Conference, it's the inconsistency. Just when a team looks like it's going to take off -- take Philadelphia, for instance -- it inexplicably stumbles and falls back to the pack. Of the 16 Eastern Conference teams, only four had won six or more games in their previous 10 as of Thursday morning. In the West, seven of 14 teams had won at least six times. We keep waiting for the numbers to even out, but so far it hasn't happened.
One team, one goal:
Maybe they mean nothing, but we always like to check the one-goal game stats. It just seems to make sense that teams that become comfortable in tight, closely fought games are going to be in a good place come the stretch run, when points are at a premium, and beyond that in the playoffs, when the nervousness ratchets up and one-goal games are often the rule. What remains almost inexplicable is the fact that the Senators, one of the best-coached teams in the NHL and one that went to the second round of the playoffs last spring in spite of crippling injuries, cannot get it done in the pinch. Almost half of the Sens' games have been one-goal affairs, and they have the 28th-ranked winning percentage in those games, with a 3-4-4 record. Of the 12 teams with the lowest winning percentage in one-goal games, only the
Montreal Canadiens
owned a playoff spot as of Thursday morning.
November, 18, 2013
11/18/13
12:08
PM ET
From the official NHL release:
FOR IMMEDIATE RELEASE / NOVEMBER 18, 2013
SCRIVENS, SEGUIN AND HARDING NAMED NHL 'THREE STARS' OF THE WEEK
NEW YORK (Nov. 18, 2013) –
Los Angeles Kings
goaltender
Ben Scrivens
,
Dallas Stars
center
Tyler Seguin
and
Minnesota Wild
goaltender
Josh Harding
have been named the NHL's "Three Stars" for the week ending Nov. 17.
FIRST STAR – BEN SCRIVENS, G, LOS ANGELES KINGS
Scrivens went 3-0-1 with a 0.66 goals-against average, .977 save percentage and two shutouts to help the Kings improve to 14-6-1 (29 points), their best record through the first 21 games of a season since
1990-91 (15-5-1, 31 points). He relieved injured starter
Jonathan Quick
for the final 1:20 of overtime, serving as the goaltender of record in a 3-2 shootout loss to the
Buffalo Sabres
Nov. 12. Scrivens then started the next three games, posting 23 saves in a 3-2 comeback victory over the
New York Islanders
Nov. 14 and recording consecutive shutouts against the
New Jersey Devils
Nov. 15 (26 saves) and
New York Rangers
Nov. 17 (37 saves). The 27-year-old native of Spruce Grove, Alta., has not allowed a goal in his last 155:02 of playing time and leads the NHL with a 1.24 goals-against average, .955 save percentage and three shutouts in eight appearances this season.
SECOND STAR – TYLER SEGUIN, C, DALLAS STARS
Seguin paced all players with five goals and tied for first with seven points in leading the Stars to three straight victories. He scored the insurance marker in a 3-0 win over the
Edmonton Oilers
Nov. 13. Seguin then tallied a career-high four goals, including the game-winner, and five points in a 7-3 triumph over the
Calgary Flames
Nov. 14, becoming the first Stars player to register four goals in a game since Nov. 16, 2007 (
Jussi Jokinen
). He capped the week by collecting an assist in a 2-1 victory over the
Vancouver Canucks
Nov. 17, extending his point streak to four games (6-2—8). The 21-year-old native of Brampton, Ont., leads the Stars, and is tied for sixth in the NHL, with 12-11—23 in 20 games this season.
THIRD STAR – JOSH HARDING, G, MINNESOTA WILD
Harding posted a 3-0-0 record with a 1.38 goals-against average and .939 save percentage to help the Wild improve to 13-4-4 (30 points), their most points through the first 21 games of a season in franchise history. He relieved injured starter
Niklas Backstrom
in a 2-1 win over the
Toronto Maple Leafs
Nov. 13, stopping 19 shots, plus another two in the shootout, in 54:29 of playing time. Harding then recorded 22 saves in a 3-2 victory over the
Florida Panthers
Nov. 15 and 21 stops in a 2-1 triumph over the
Winnipeg Jets
Nov. 17 to extend his home-ice winning streak to 10 games. The 29-year-old native of Regina, Sask., is 12-2-2 in 17 appearances this season and ranks second in the League in goals-against average (1.25), save percentage (.946) and shutouts (tied, 2).
November, 18, 2013
11/18/13
9:37
AM ET
By
ESPN Stats & Information
| ESPN.com
Kings 1, Rangers 0
FROM ELIAS: The Rangers accomplished a truly rare feat over the weekend, posting a 1–0 victory at Montreal and losing by the same score to the Kings at Madison Square Garden. Only one other team in NHL history won and lost (or lost and won) by a 1–0 score on consecutive days. The Sabres won at home against Ottawa and lost at Boston on Jan. 28–29, 2000.
FROM ELIAS:
Ben Scrivens
, who posted a 2–0 win at New Jersey on Friday, registered his second straight shutout with a 1–0 victory over the Rangers at Madison Square Garden on Sunday. Scrivens is the first goaltender in Kings history to record consecutive shutouts in one season, both on the road. This isn't the first time that Scrivens has posted back-to-back shutouts in the NHL; he notched consecutive shutouts for the Maple Leafs last season (Feb. 16 vs. Ottawa, Feb. 18 at Florida).
Capitals 4, Blues 1
FROM ELIAS:
Alex Ovechkin
scored two goals in the Capitals' 4–1 win against the Blues. It was Ovechkin's fourth two-goal game this season and the 80th multiple-goal game of his NHL career. In the last 20 years the only other NHL player to reach 80 multi-goal games as quickly as Ovechkin (620 games) was his fellow Russian,
Pavel Bure
, who did so in March 2001 in his 586th career game.
Blackhawks 5, Sharks 1
FROM ELIAS:
Patrick Sharp
scored two goals (including the first penalty-shot goal of his NHL career) and assisted on a third goal to lead the Blackhawks to a 5–1 win over the Sharks. Sharp got off to a slow start this season, with only five points in his first 11 games (one goal, four assists), but he's tallied 15 points in 10 games since then (six goals, nine assists). The Blackhawks have won eight of their last ten games and the only two games they didn't win were the two games in which Sharp failed to register a point.
Blue Jackets 4, Senators 1
FROM ELIAS:
Ryan Johansen
and
Fedor Tyutin
both tallied a goal and an assist on power plays in the Blue Jackets' 4–1 win at Ottawa. Over the last two seasons, only one other Columbus player recorded two power play points in a game. Rookie
Boone Jenner
did that earlier this season when he scored two power play goals in a 5–3 loss at Montreal.
Wild 2, Jets 1
FROM ELIAS:
Mikko Koivu
scored both goals for Minnesota in its 2–1 victory against the Jets. It was the first time that a Wild player scored two or more goals in a regulation or overtime win in which he scored all of the team's goals since
Owen Nolan
did that in a 2–0 victory at Colorado on Jan. 4, 2009.
Stars 2, Canucks 1
FROM ELIAS:
Kari Lehtonen
stopped 42 of 43 shots on goal in the Stars' 2–1 win at Vancouver on Sunday. Lehtonen's 42 saves were his highest total in a win since March 8, 2012, when he saved 45 of 48 shots in a victory against San Jose in Dallas. Lehtonen has a 26–13–6 career record in the 45 games in which he's faced 40 or more shots on goal, with the wins evenly divided between his two NHL teams (Atlanta 13, Dallas 13).
July, 30, 2013
7/30/13
10:30
AM ET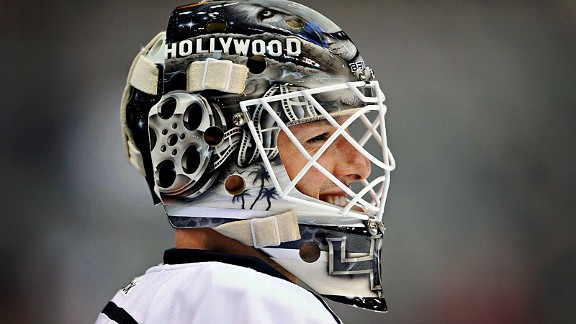 Jerome Miron/US PresswireThe Maple Leafs should be smiling after finally acquiring a superstar goalie in Jonathan Bernier.
Expectations by Maple Leafs fans are usually pretty simple for their Buds: Win the Stanley Cup. Every season. And every month since the preseason of 1967-68, they have had those expectations get absolutely, devastatingly squashed like a wandering raccoon on the Don Valley Parkway.
Such is the environment
Jonathan Bernier
finds himself parachuting into this fall. The netminder, acquired over the summer from the Kings, will feel the massive expectations shift squarely to his shoulders. But, wait, get this: There is every indication he's capable of taking on this burden. Not since the days of
Felix Potvin
and
Curtis Joseph
(the first time around) have the Leafs boasted having a superstar goaltender in the fold during his prime. Every incoming puck saver has been anointed the next savior in Toronto, but the road to ruin is littered with the broken dreams of an odd assortment of characters from
Don Beaupre
to
Tom Barrasso
to
Ed Belfour
to
Vesa Toskala
to
Andrew Raycroft
to
James Reimer
.
Ah, yes, poor James Reimer, projected to be the No. 1 for the next five years by everyone except Leafs fans, who, conditioned to believe in only big names in net, be they good or washed up, just never accepted the concept. Former GM Brian Burke, perhaps the most loyal hockey man in the game, stood behind Reimer until the end, and it's safe to say that loyalty cost him his job. If not, it's a pretty amazing coincidence that new GM Dave Nonis got a massive five-year extension mere weeks after he traded for Bernier.
So, the question on most Leafs fans' minds: But will it work? Sure, Bernier is going to get the most minutes, the most starts, the biggest chance at glory. And even if both Bernier and Reimer will be 25 when the season starts, Reimer is going to watch a lot of games from really good seats while wearing a ball cap. And if Bernier channels his inner Jiri Crha or gets injured? He'll get yet another shot. Doesn't look good for James Reimer.
But the Leafs actually look good in front of Bernier. The D still needs work but
Dion Phaneuf
is still Captain Crunch, and many forget he's just 28. The talented
Jake Gardiner
will get a good look. Up front, the offense looks to be in good shape with
Joffrey Lupul
,
Phil Kessel
,
Nazem Kadri
,
Tyler Bozak
, James van Riemsdyk and new arrivals
David Clarkson
and
Dave Bolland
providing much-needed grit. All this at the disposal of talented coach Randy Carlyle?
We're not predicting a parade down Yonge Street just yet, but let's just say the Leafs' goaltending provides a very good foundation for a decent spring run. And when was the last time you could say that?
February, 11, 2013
2/11/13
10:44
PM ET
TORONTO -- This should have just been an exciting night in these burgeoning times for the Maple Leafs, Randy Carlyle's young Toronto team showing signs of progress not seen in these parts for a long while.
With youngsters such as
Matt Frattin
and
Nazem Kadri
again leading the way Monday night in a convincing 5-2 win over the visiting
Philadelphia Flyers
, the Leafs ran their win streak to four games and further buoyed a fan base craving any tangible sign of progress.
Need I remind anyone there hasn't been a playoff game played here since April 2004?
Oh, there's progress happening here, folks. Whether they make the playoffs or not this season, Carlyle's impact is being felt, the Leafs displaying the kind of work ethic and system structure that leads to success in this league.
It was on display here again early in the second period Monday night, the Leafs' effective forecheck creating three goals in the opening 6:15 minutes to break open a 1-1 tie and essentially decide the game.
A perfect night, however, it wasn't for the fast-improving Leafs (8-5-0). Four minutes into the second period,
James Reimer
went down to the ice in obvious pain, leaving the ice with assistance with what the team called a lower-body injury.
Funny how a month ago before the season started nary a Leafs fan would have batted an eye at this news. After all, Reimer struggled so badly last season, the Leafs and Canucks held on-again, off-again flirtation sessions regarding
Roberto Luongo
and the Leafs didn't hide their desire to upgrade in goal if the right trade could be had.
Reimer didn't even get the opening night nod. That went to
Ben Scrivens
.
But Reimer eventually reclaimed the net and boy did he ever make it his again, to the tune of the seventh-best save percentage in the NHL at .929.
Suddenly, the James Reimer who came on strong in 2010-11 was back. And the Leafs were winning games.
Then came Monday night's injury and we will see what impact, if any, it will have on Toronto's season.
"We don't think it's that serious at this point," Carlyle said after the victory. "He shouldn't miss any extended period of time."
Well, we'll see. More tests will be conducted on Reimer on Tuesday.
Scrivens, it should be noted, delivered 36 minutes of solid relief Monday night, allowing one goal on 33 shots, and now he gets his shot for the foreseeable future.
The injury comes at a time when the Leafs are playing their best hockey under Carlyle.
The young players on this team are beginning to realize if they stick to the game plan set out by Carlyle and his staff, they have a shot. They are believers.
"That's where it starts, before we worry about anybody else, it starts in the room," Kadri said after a two-assist night. "We had one plan, one vision at the beginning of the season and we've tried to stick to that.
"Obviously, some nights aren't going to be our best, but I think for the most part we've come together as a team and really found ways to win."
What you're seeing of late is a Leafs team that's reacting instinctively to what Carlyle has drilled into them; it's becoming second nature. They are quick on loose pucks, make smarter decisions with and without it, and force the opposition into mistakes. They finish their checks and drop the gloves to protect teammates.
In short, the compete level on this team is higher than it's been in ages.
"What we've tried to talk about -- and this is since last April -- that we had to become more competitive in all three zones," said Carlyle. "That's been a mandate that we've put in front of our players. If players don't want to be competitive, then their chances of playing for our hockey club diminish."
(Let's give some credit too, to AHL head coach
Dallas Eakins
, who has groomed several of the Leafs now playing sizeable parts on the NHL squad. If I'm an NHL GM looking for the next coaching star, look no further than the Marlies head coach.)
Carlyle has doled out ice time based on merit. Nobody's pedigree matters. And what it's doing is shattering the culture of entitlement that's plagued this losing team for several years.
"This is a hockey club that is trying to find its way and earn its stripes," said Carlyle. "We're trying to earn our respect back because we felt that that was part of our mandate coming off of last year and through the summer months that we talked about -- that we weren't going to be able to continue along the path that this group had gone before and that we were going to have to change some things. You can credit the players with that.
"The coaching staff can try to put something in place, but it's the people that are out there on the ice performing night in, night out that have to grasp it and live it."
Former Leafs GM Brian Burke was in the building on this night, sitting with visiting scouts in the press box. Let's not forget his little role in all this. I'm sure he was smiling inside when
James van Riemsdyk
skated around
Luke Schenn
and beat
Brian Boucher
to make it 5-1 Leafs early in the third period. Burke, of course, traded Schenn to Philly for JVR last June -- his last trade as Leafs GM some seven months before getting fired. Make it eight goals on the season now for JVR -- three more than any Flyers player.
We're not here to revisit the merit in Burke's firing as Leafs GM last month, but let's also not pretend the veteran hockey man also shouldn't get an ounce of credit for what's happening here of late.
For starters, he hired Carlyle last March. That might have been his best move of all.
January, 19, 2013
1/19/13
11:26
PM ET
MONTREAL --
Nazem Kadri
was flying.
Mike Kostka
was the best defenseman on the ice for either team.
Ben Scrivens
looked right at home.
Of course for these three Maple Leafs, it's the middle of their 2012-13 season, the trio having spent the first half in the AHL.
In what will be a trend to monitor over the first two to three weeks of this delayed, shortened NHL season, teams getting quality minutes from AHL graduates will no question have an edge coming out of the gate.
And I stress the AHL angle, not so much those who played across the pond in other leagues with bigger rinks, where the game is so different from what we have here in North America. Those who played overseas will have an adjustment period reacquainting themselves with the more physical NHL game. Teams that will get key contributions from players who have played in the AHL this season, where the systems are similar to what their parent NHL clubs use and where the rinks are the same size, will get a boost early on.
On this night, in hockey's emotional center of the universe, the atmosphere was playoff-like before the game, but was followed by a game that had preseason quality.
Let's not sugarcoat it: The Leafs' 2-1 win was an ugly display of hockey, very much the equivalent of a September preseason affair, what with broken plays and missed passes galore. What else can you expect when the majority of these players haven't played in half a calendar year?
The difference? The AHL graduates on Toronto's side. Montreal's roster on this night didn't have a single player who played in the AHL this season, and it showed.
So kudos to Leafs GM Dave Nonis and head coach Randy Carlyle, who made the gutsy decision to go with the kids this week in forming their final roster, jettisoning Matthew Lombardi and
Tim Connolly
to make room for kids Kadri and
Leo Komarov
(another player who played in the AHL this season), plus the decision go with Scrivens over the incumbent starter in
James Reimer
(who didn't play during the lockout).
"The factors were: first, that he had a 30-game head start on a lot of people," Carlyle said of starting Scrivens, who appeared in just his 13th career NHL game. "And he looked sharp in practice. We just felt in this situation, that he would be the guy that would give us the best chance at success tonight."
How about Kostka? This was the first NHL game for the 27-year-old, a late bloomer the Leafs scooped away from the Tampa organization via free agency who finished second in ice time on the team, at 22:59.
"I thought Mike Kostka was a dominant player for us," said Carlyle. "He played a lot of minutes for us. He didn't make many mistakes out there. He looked like a guy that was comfortable playing in this type of situation. And hats off to him. He had a great year in the American Hockey League and it really is astounding that he had never played a game before tonight in this league."
Kostka, playing on the first defense pair with captain
Dion Phaneuf
, had an assist on the opening goal while playing in both power-play and penalty-killing situations. Why not, after he put up 34 points in 34 games with the AHL Marlies this season?
"Awesome, pretty sweet," Kostka said with a smile about his night. "Being my first game, being in Montreal, and getting the win -- just awesome."
Kostka wholeheartedly agreed with the notion that having played to this point in the AHL was a definite boost.
"Yeah for me, I felt good, I feel like I'm midseason form," said Kostka.
Carlyle said afterward he felt bad he played Kadri only 9:53, but when the kid did play, he was noticeable. He opened the scoring and was buzzing on every shift.
And, yes, he was also cognizant of the head start he had on some players on the ice thanks to his AHL season.
"I definitely feel that way as well," said Kadri. "I think my legs are there, my lungs are there and we had a pretty good pace to training camp, too."
For Kadri, this is a big season in his fledgling career. After failing to stick with the big club last season, the first-round pick wants to stay up permanently. The Leafs' brass feels so strongly about his potential that sources indicate Nonis has told the
Vancouver Canucks
there's no way he would ever be part of a
Roberto Luongo
trade.
All in all, a big season here for Kadri.
"It is," he said. "That's something I've definitely been thinking about. Especially when the coach is giving me all the confidence in the world and believes in me, that's what I think I needed."
Of course, speaking of the never-ending Luongo talk, the fact that Toronto's goaltender wasn't lit up like a Christmas tree on opening night cannot be ignored.
No question, the Canucks' front office is hoping Toronto continues its goaltending struggles from last season and feels the pressure to deal for Luongo.
On this night, Scrivens looked poised in the Leafs' victory, stopping 21 of 22 shots.
"We don't ask our goaltenders to win the hockey game, we ask our goaltenders to give you a chance," said Carlyle. "And I thought Ben Scrivens gave us a chance."
Just like he has all season long in the AHL.
November, 4, 2011
11/04/11
11:35
AM ET
The Leafs have leaped way out in first place, while the Blue Jackets are nearing a franchise nadir. Scott Burnside and Craig Custance delve deeper into the future of these teams -- and more.
Burnside:
Good day, my friend. To rip off a little Charles Dickens, it was the best of times, it was the worst of times Thursday night as the surprising
Toronto Maple Leafs
swept into Columbus and handed the Blue Jackets their 10th loss of this young season. They chased former rookie of the year
Steve Mason
with four goals on 11 shots en route to a 4-1 victory. With the win,
Ben Scrivens
, who was between the pipes in his first NHL start, and the Leafs now are the top team in the Eastern Conference with a 9-3-1 record.
[+] Enlarge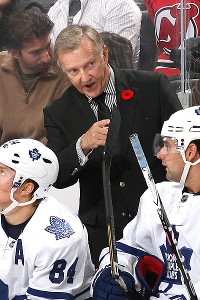 Andy Marlin/NHLI/Getty ImagesLooks like Ron Wilson might have a little stability after all.
It was their second win in 24 hours, having beaten New Jersey in Newark the night before. On this night, it wasn't the league's leading scorer
Phil Kessel
(still weird to say that, no?) driving the Leafs bus, but
Clarke MacArthur
with two goals, call-up
Joey Crabb
with his second and offseason acquisition
John-Michael Liles
with his first with the Leafs. In short, with Kessel chipping in one assist, this was a team effort. Even the Leafs penalty killers were on their game, denying hapless Columbus on four man-advantage attempts.
So, is it time to take the Leafs seriously? Is it time to give coach Ron Wilson some credit instead of perpetually wondering when GM Brian Burke will can his old friend?
Custance
: I'm hesitant to give a team too much credit following a win over the Blue Jackets. I really feel for Steve Mason right now; that was a rough performance. But it may be time to give the Leafs some credit, especially considering they're winning while their starting goalie recovers from whiplash. (We're not calling it a concussion, right?) We all thought Toronto's season would hinge on how
James Reimer
played, and yet it continues to pile up points without him. Scrivens? Are we seeing Reimer 2.0?
I picked the Leafs to make the playoffs this year, and so far they've looked the part. You're right, if they keep it up, we'll be talking contract extension for Wilson instead of contract termination.
According to an NHL source, contract extension talks haven't started yet with Wilson but that will change if he continues to guide this team to the top of the conference. But the one area to watch is the Leafs penalty kill. Right now, Toronto sits at 71.7 percent -- No. 30 in the league. If we're truly going to take this team seriously, that needs to improve. It was perfect Thursday night, but the Columbus power play isn't exactly a test. That's an area to watch.
Can you imagine going to Las Vegas next summer and Kessel is a Hart Trophy finalist and
Dion Phaneuf
in the mix for the Norris?
Burnside:
Well that's a bit of a stretch (the Vegas part) and pretty sure Kessel won't have to worry about having his feelings hurt by being picked last at the All-Star Game. As for the Leafs, we'll now be talking about them in terms of needing a significant collapse to miss the playoffs as opposed to the annual second-half surge that has seen the Leafs fall short, well, every year since the lockout. And now it gets interesting, not just for the Leafs, but for other surprising teams. How do you maintain that winning attitude when you've been accustomed to losing? Edmonton, which blanked Los Angeles 3-0 on Thursday to start its big road adventure, and Dallas or even Minnesota, which spanked Vancouver 4-1 on Thursday, will have to answer that question, too. Still not sure the Leafs can do it, but the league is always a more interesting place when the Leafs are competitive.
As for Columbus, oh my; where exactly is rock bottom for this franchise? All kinds of rumors last week about changes at both the GM and coaching positions. Thursday night's performance won't do anything to alleviate the pressure on ownership to make a change. The Blue Jackets are in Philadelphia on Saturday (yikes), but then don't play again until next Thursday. I hate those win-or-you're-fired scenarios, but how does ownership allow this to continue without some significant move? As for Mason, every day reinforces the notion that a) firing Ken Hitchcock was a monumental misfire for Scott Howson and b) Mason was the ultimate flash in the pan.
Custance:
As you know, Scott, major changes always seem to come during those long breaks in the schedule, so you can't help but wonder if sweeping changes are on the way in Columbus -- regardless of what happens Saturday. This problem is much deeper than Mason, but Scott Howson certainly gambled when he stuck with Mason, while making dramatic changes elsewhere on the roster. Mason has done nothing to reward that faith.
A much better story is the Oilers. You pinpointed this current road trip as the test to see if Edmonton is legitimate, and it certainly passed Thursday night against the Kings.
Nikolai Khabibulin
has been great for Edmonton, but the team in front of him managed his workload against Los Angeles, blocking a bunch of shots.
Ryan Smyth
was booed in his return to Los Angeles but can laugh about it after scoring the game's first goal. As we head into Friday's game, the Oilers and Maple Leafs lead their respective conferences -- just like we all predicted, right?
As a Michigan State alum, I'm required to point out the job
Corey Potter
is doing on defense for the Oilers. He scored his second goal of the season Thursday and now has eight points this season. He's getting more ice time than any other defenseman on the team. Like our friend Mark Spector pointed out on Twitter Thursday night, either his play is going to drop off dramatically or the rest of the league missed out on a pretty good defenseman.
Burnside:
One game into a stretch that will see the Oil play 10-of-12 on the road, and so far so good for Tom Renney's young charges. Before I leave you to your weekend, my friend, I would be remiss if I didn't point out the work of the
Minnesota Wild
this week, a team I know you took a look at this week. I continue to take some guff from my colleagues for having picked the Wild to finish in the playoff grid in the ultra-competitive Western Conference.
But with their 4-1 thrashing of Vancouver on Thursday night, the Wild have won three in a row, including sweeping the Wings in a home-and-home. What is perhaps most interesting to me is that
Josh Harding
has been the guy for all three victories. He's 3-0-1 with a .964 save percentage and 1.22 goals-against average this season. Good for Harding, who has always shown promise but never been able to assert himself as an NHL starter, but not a great situation when
Niklas Backstrom
is making $6 million to open the door at the end of the bench.
Still, rookie head coach Mike Yeo is clearly going with the hot hand, and it's working as the Wild are now 6-3-3 and sit fourth in the Western Conference. Pretty good work considering
Dany Heatley
is off to a slow start with just three goals in 12 games and
Mikko Koivu
has just one goal.
Custance:
They're an interesting team because GM Chuck Fletcher feels like they're going to be much better at the end of the season (and next season for that matter) than they are right now.
"We made some tough choices this summer, made a conscious decision to get younger and add a lot of talent," Fletcher said when we chatted this week. The Wild have been very patient with that young talent and some of the most promising players are still working their way up the organization. I give Fletcher a lot of credit for resisting the temptation to rush Minnesota's prospects.
"You can't rush them. When they're ready, they're ready," Fletcher said. "It's a tough league for young players. As we've seen, only a few of them can stay and be successful at this level."
In the meantime, the veterans are winning games for Minnesota. Like you mentioned, 27-year-old Harding has been outstanding for the Wild. And how about
Matt Cullen
? The Minnesota native now has six goals for the Wild. You mentioned just one goal for Koivu, but it was a big one. He sent a game this week into overtime with a late goal in Detroit then assisted on the game winner. As usual, he's doing everything else to help win games while the scoring comes.
"The way we're building a team for the season, it's going good," Koivu said. "When you look at the goals-against, I think that's something we're very happy with."
I'd still be surprised if this team made the playoffs, but you're looking pretty smart right now, Scott. As always, great chatting with you. Have a great weekend.