Cross Checks:

Brad Marchand
December, 17, 2013
12/17/13
6:10
PM ET
Brad Marchand
's antics in Vancouver didn't sit well with the
Boston Bruins
.
Boston's coaching staff and management were not enamored with his kissing of the ring and kiss of the fake Stanley Cup.
It's been dealt with internally, a source told ESPN.com Tuesday. And while the source would not elaborate on what that meant, I'm guessing there was a chat making it clear those antics are not to be seen again on the ice.
Sens find defensive answer
Over the past month, the
Ottawa Senators
were looking to make a trade for a puck-moving defenseman. The club couldn't get close enough on any deal, as it is so difficult to make a trade in the first half of the season. (For example, the Senators inquired on
Michael Del Zotto
with the Rangers, but it went nowhere.)
For now, it turns out they may have found their answer from within. The call-up of 19-year-old blueliner
Cody Ceci
-- the team's first-round pick (15th overall) in 2012 -- has filled that need. It's been only three games, but his overtime goal against the Blues on Tuesday night plus his overall play is exactly what the Senators were looking for back there. Not to mention the improved play of blueliner
Jared Cowen
of late.
So for now, the trade target has shifted to a top-six forward, although there was nothing imminent on that front as of Tuesday.
Team Canada scouting
As the clock continues to tick toward Jan. 7, Team Canada GM
Steve Yzerman
was in Denver on Monday night to take in the Avalanche's 6-2 dismantling of the Stars. He was also scheduled to be in Dallas Tuesday night for the return match between both clubs.
Dallas left wing
Jamie Benn
, Stars center
Tyler Seguin
and Colorado center
Matt Duchene
were likely the players being scouted by the Team Canada boss, but I'd say mostly Benn and Duchene.
Seguin remains a long shot, I think, even though as of Tuesday morning he was sixth in the NHL among Canadian-born scorers with 33 points (18-15) in 30 games. Still, he's considered more an outside shot in large part because of how deep the team is at center with the likes of
Sidney Crosby
,
Jonathan Toews
,
Ryan Getzlaf
,
John Tavares
,
Logan Couture
,
Patrice Bergeron
,
Claude Giroux
and Duchene ahead of him on the Canadian team depth chart.
I didn't mention
Steven Stamkos
because he'll play right wing on Team Canada if he recovers in time from his injury. And if Duchene does make the team, he'll likely play left wing, just as Couture most likely will do.
Seguin can play right wing, it should be noted. But again, with the likes of Stamkos,
Corey Perry
,
Patrick Sharp
(left or right),
Martin St. Louis
and Giroux (shifting to right?) in the mix for right wing, among others, where would that leave Seguin?
No doubt Team Canada has watched Seguin a bit more closely as of late, but I don't think he's making the team unless there are some key injuries in the next three weeks.
December, 10, 2013
12/10/13
1:10
PM ET
While we await word on just how big a whack Boston's
Shawn Thornton
will get for hunting down and pummeling unsuspecting Penguin
Brooks Orpik
(the guess is a dozen games for sending Orpik to the hospital with a concussion and to the injured reserve list), league disciplinarian
Brendan Shanahan
got it just about right with the five-game suspension handed down to
James Neal
for kneeing
Brad Marchand
in the head in the same game.
In a game with plenty of ugliness, Neal's cheap shot to an equally unsuspecting Marchand was the most senselessly bizarre. One wonders how the suspension will effect Neal's standing with the Canadian Olympic group. It's not just the five games he'll miss, but the question of whether in a tournament in which special teams will play a prominent role, you can afford to have someone on your team who has so little self-control.
[+] Enlarge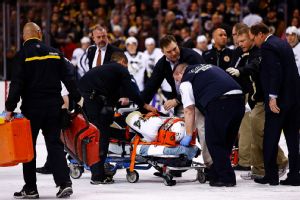 Jared Wickerham/Getty ImagesThe notion that Brooks Orpik should have to defend himself or risk getting injured after a legal play is part of the problem in today's game.
Finally, the Bruins not only lost
Loui Eriksson
to a hit from Orpik in that game, but also
Chris Kelly
to a broken leg courtesy of
Pascal Dupuis
. The replay of Kelly's injury shows that Dupuis isn't even looking at Kelly but is instead trying to make contact with a bouncing puck, but that won't make Kelly or the Bruins feel any better.
One NHL executive at the board of governors' meetings in California suggested that if Orpik had simply fought Thornton -- as Thornton had wanted after Orpik's heavy hit on Eriksson -- none of this would have happened. Oy.
If there is a problem the league's GMs and competition committee need to address, it's the notion that players should have to fight after delivering a legal body check. Whatever happened to simply taking a hit?
The sooner the league moves to punish players who go looking for fights in the aftermath of clean hockey hits -– there was no penalty assessed on the Orpik hit on Eriksson –- the sooner we have fewer incidents like the debacle in Boston on Saturday.
Lightning bitten by injury bug
While the Bruins deal with several injuries and the loss of Thornton (and continue winning, by the way), no team has it quite as bad as the
Tampa Bay Lightning
.
After being relatively injury-free through the first six weeks of the regular season, Tampa Bay lost
Steven Stamkos
to a broken leg in November and has been besieged by other key injuries since.
"It was exactly like the injury dam broke," head coach Jon Cooper told ESPN.com Monday.
The Lightning have piled up 101 man-games lost to injury, and at one point last week had 13 players in the lineup with fewer than 100 NHL games to their credit, and eight with fewer than 50 games.
On the night the Lightning got defensemen
Eric Brewer
and
Radko Gudas
back from injury,
Keith Aulie
and
Victor Hedman
both went down with long-term injuries. The two defensemen join Stamkos and veteran winger
Ryan Malone
among those with significant injuries.
One of the first things Cooper did when talking to his players about the spate of injuries is to make it clear they weren't going to use them as an excuse for on-ice performance.
"The one thing we'll never do is use injuries as an excuse because once you do that, we're done as a team," Cooper said. "The mindset has been, 'These are the 20 guys we're going with on any given night, now how do we get the most out of them?'"
But the rash of injuries that totaled more than 2,800 games of NHL experience has tested the team's organizational depth and forced players to play out of their comfort zone.
Valtteri Filppula
, for instance, is now the team's No. 1 center and
Tyler Johnson
is in Filppula's normal spot on the second line, meaning both are playing against a class of players they're not used to seeing.
Overall, Tampa has four rookies among in the top 30 in scoring among first-year players.
The team has held its own since Stamkos went down, going 5-5-2 overall and 4-1-1 at home. The team defense and goaltending have been excellent, but the team's offense has, perhaps predictably, gone south.
"The problem is we're really struggling to score," Cooper said.
Surprise for Sabres?
Among the interesting names being bandied about for the vacant
Buffalo Sabres
GM job is that of Tim Murray. The current assistant GM in Ottawa, Murray had a hand in building the Anaheim Ducks' Stanley Cup winner in 2007 as director of player personnel responsible for college free agents.
He has also served with the
New York Rangers
and
Florida Panthers
in various scouting capacities. Bloodlines don't hurt, either, and Murray is the nephew of current Ottawa GM Bryan Murray and former NHL head coach Terry Murray.
Fisher making a Selke case
Of all the trophies hockey writers vote on, the one that gives us most pause is narrowing the field for the Frank J. Selke Trophy as the league's best two-way forward. It is always difficult to balance the offensive side of the game with the work a player does killing penalties, taking key draws and shutting down the opposing team's top players.
So we listened with interest as Nashville head coach Barry Trotz talked about his top shutdown center,
Mike Fisher
. The team has struggled and Fisher's offensive numbers (seven goals, 12 points) aren't what he or the team hoped for, but he remains a key figure even though his work goes largely unnoticed.
"He's always been a guy, top centerman in the league, he ends up playing a lot of times head-to-head [against opposing stars] and I think he hasn't got any credit for that here the last couple of years," Trotz said in a recent interview. "He's scored and all that, but he's sort of under the radar and I think this year, especially this year, he's played really back to the level that I think has made him a real hard player, a Selke candidate.
"His numbers are modest, but they're solid for our team. He plays against the top guys almost every night. He plays heavy minutes and he plays a heavy game. He doesn't play a light, shadowy game.
"At the end of the night, you know you played Mike Fisher. At the same time he still operates on the penalty kill, still operates on our power play," Trotz continued. "Plays head-to-head against people, plays in all the key situations, takes key faceoffs, him and
Paul Gaustad
. He really is a guy who is very important to their team, but at the same time contributes on both sides of the puck.
"He's not a pure shutdown guy; that's why I don't think he gets the credit that he deserves. It's a hard league and he's a hard guy to play against."
October, 22, 2013
10/22/13
6:38
PM ET
By
ESPN.com staff
| ESPN.com
Barry Melrose looks at
Brad Marchand
's early-season struggles that has the forward on the third line for the Bruins. Through seven games played, Marchand has just one goal, one assist, and a plus/minus rating of -1.
"This guy has to play on an edge," says Melrose. "He has to be just a little ball of hate, he has to make people mad to play against him, he's got to be yapping, he's got to be chirping, he's got to be slashing... that's not the case right now."
June, 21, 2013
6/21/13
8:06
PM ET
CHICAGO -- It is a measure of
Jaromir Jagr
's place in the game, and his complex personality, that much from Tom Renney's time coaching the Czech star in New York has stayed with the veteran coach through the years.
It is likewise a measure of the two cerebral men that much of what has stayed with Renney is not so much the hockey, but the man himself.
Renney recalled that he and Jagr would have long chats, very little of which would revolve around the game but would include all manner of other topics.
"We'd spend maybe six or seven minutes talking about hockey and then 50 minutes on other stuff. That's a special relationship to say the least," Renney told ESPN.com this week. "There's a real mutual respect there."
Renney, now an assistant coach with the
Detroit Red Wings
, has paid close attention to Jagr's march toward his first Stanley Cup since his second year in the league, with Pittsburgh in 1992. In fact, Renney feels that as much as he might have helped Jagr's career coming out of the 2005-06 lockout, Jagr was a catalyst for Renney's coaching career.
"He really helped me get traction again as a coach," Renney said.
"It obviously helps when you're best player is all-in. I think he kind of felt I had his back and he mine."
It is that way in Boston now, just as it was in Jagr's previous stops in Philadelphia and Dallas. Renney praised the work of Bruins coach Claude Julien and his staff in integrating Jagr into their system and their close-knit dressing room after acquiring him at the trade deadline.
Renney asked how a player could not give his all when he's been shown the respect Jagr's been given by Julien and his staff, but that's easier said than done.
Like any other artist (and he is just that), Jagr does not behave like a run-of-the mill player, and thus cannot be treated like one.
He played for the Rangers from late in the 2003-04 season to the end of the 2008 season. In 2005-06, the first year after the last lockout, Jagr had 54 goals and 123 points playing for Renney, who was the Ranger coach when Jagr arrived and who lasted until late in the 2009 season. Jagr was nominated for the Hart Trophy as league MVP in that season and was voted MVP by his fellow players.
"Jaromir has a little different take on the game," Renney said.
That has led some to malign Jagr at times and suggest he was uncoachable, especially earlier in his career. But if that was ever the case, Jagr is no longer that kind of player.
"He likes to do things a certain way," Renney added.
[+] Enlarge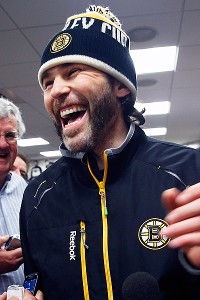 AP Photo/Michael DwyerJaromir Jagr is enjoying his time with the Bruins, even though he's not scoring goals.
Playing on a line with Conn Smythe Trophy candidate
Patrice Bergeron
and
Brad Marchand
this postseason, Jagr has played an important role for the Bruins, although he is far from the dominant player he used to be.
But like
Mark Recchi
for the Bruins' Cup-winning team in 2011, there is something about the presence of the 41-year-old Jagr that transcends the points he produces or the goals he has scored (which is a good thing, given that Jagr has yet to score in this year's playoffs).
That's not to say he hasn't been close.
Jagr rang one off the crossbar in overtime of Game 2 in Chicago, after which he stared longingly at the rafters of the United Center. He made a terrific play to win a puck battle behind the Chicago net in Game 4 and feed Bergeron for a goal.
Jagr has spoken lovingly of his time with Boston and became quite emotional talking about coach Claude Julien's decision to have him on the ice in the waning moments of Game 3 with the Bruins nursing a 2-0 lead. Both he and Julien joked after that it was more about trying to get Jagr his first goal of the playoffs, but Jagr quipped that he doesn't mind the monkey at all.
"I love the monkey, man," he said.
He has offered thoughtful assessment of his own play and the play of opponents.
"[Jagr] doesn't varnish anything. He's a very, very proud man," Renney said.
Still, there remains an element of the enigmatic to Jagr. There are his midnight skates at TD Garden in Boston, often with a weighted vest. We asked the Bruins' communications staff when we might next expect to see Jagr in a media setting and the honest answer was that they didn't know.
He wasn't expected to talk after Game 4, but he did, and then he was not present for media sessions the next two days.
At this stage of his career, though, it's easy to cut Jagr some slack. Even if his star has dimmed slightly, his presence and profile still remain larger than life.
"I played with him for a long time. Started my career playing for Pittsburgh and then playing in New York with him, so I know him very well," Chicago defenseman
Michal Rozsival
said Friday. "In the hockey world back home, he's definitely the biggest figure that has ever been and probably ever will be.
"He has a lot of fans there. He's high profile here and even more in the Czech Republic," Rozsival added.
Andrew Ference
played with Jagr early in his career in Pittsburgh and said he thinks Jagr listens to the coaching staff a lot more now. At the time, Jagr had a reputation as a player who really looked after himself, but Ference said he sees that much more readily now.
"When I was in Pitt, you kind of heard of those stories but never really saw it. Now you see it. You see all the extra work," Ference said.
"Now you almost pull the reins on him a bit to say to back off a little. He puts in so many hours just trying to improve himself on everything, on every little thing," he said.
One conversation Renney recalled happened just as Jagr was about to embark on a three-year, self-imposed exile to the Kontinental Hockey League, with Renney telling Jagr he could come back to the NHL anytime he wanted and play another five years.
Turns out Renney was absolutely right.
June, 20, 2013
6/20/13
5:58
PM ET
SCOTT BURNSIDE:
Well, my friend, here we are, headed back to Chicago for Game 5 of the Stanley Cup finals with nothing decided beyond the fact this is a whale of a series we've got going. But with the series tied 2-2 and reduced to a best-of-three affair, the focus becomes even greater, the pressure to deliver more intense. We saw some of the Blackhawks' big guns step forward in Game 4, but Game 5 looms large and there are lots of guys looking to rebound or step into the breach and to push their teams to within one win of a Cup.
I can't wait to see how
Corey Crawford
rebounds after his worst game of the postseason allowed the Bruins to sneak back into a game the Blackhawks looked to have well in hand with leads of 3-1 and 4-2. And it's no secret that the Bruins believe they have found Crawford's weak spot by targeting him to his glove side. Boston's
Tyler Seguin
joked Thursday that maybe the Bruins would switch it up in Game 5 by going blocker side, and
Brad Marchand
joked he thought the book on Crawford was 5-hole. But look for Boston to continue to try to get pucks up high on Crawford, and he must prove the five-spot he gave the Bruins in Game 4 was merely a blip on the radar, and not the opening of the proverbial floodgates.
[+] Enlarge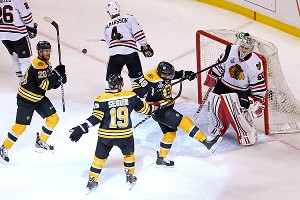 Bruce Bennett/Getty ImagesCorey Crawford's weak glove hand gave the Bruins plenty to celebrate in Game 4.
PIERRE LEBRUN:
There's no question that lost in Chicago's impressive performance as a team Wednesday night was the first real stinker of the playoffs by Crawford, and was it ever a stinker. But it's interesting to read the body language of his teammates after the game when asked about their goalie. Forget the cliches you would expect from teammates protecting their netminder. I mean, it's not like you're ever going to get a guy to admit he's worried about his goalie.
You and I have covered this league for a long time, and I read a lot into the body language of the Hawks players while answering those questions about Crawford. They weren't just saying it, they were meaning it. I don't think anybody on that team is concerned about Crawford, and while I believe Boston does have the edge in goal in this series, I do think Crawford has shown enough poise and confidence that he's going to get back to his norm in Game 5.
BURNSIDE:
Agreed, Pierre. Crawford has shown too much in pressure situations this spring to imagine he'll melt down in the next few days. Similarly, I would expect Boston captain
Zdeno Chara
to bounce back after a pretty ordinary performance in Game 4. He was minus-3 and on the ice for five of the six Chicago goals. That's not typical Chara, although coach Claude Julien pointed out that being on the ice for a goal against doesn't necessarily imply a player made mistakes.
That said, it was interesting to hear Hawks captain
Jonathan Toews
-- who was reunited with
Patrick Kane
and
Bryan Bickell
in Game 4 and played a lot of minutes against Chara -- suggest the big defender is vulnerable and can be exploited. That's an interesting challenge being thrown down, and I am sure Chara will be better in Game 5. He'll have to be, especially assuming Chicago coach Joel Quenneville will keep that Kane/Toews/Bickell line intact and have them unafraid of facing down the Bruins' captain. Who else are you looking to for big things in Game 5?
LEBRUN:
I love the response of Boston's
Chris Kelly
on Thursday when he was told of Toews' comments and asked if he was OK with a best-on-best challenge, meaning Chara versus the Hawks' top line for the rest of the series.
"I love our chances," said Kelly. "If they're challenging Z, that's a good thing. It's really all I can say. Z has been this franchise's best player since he got here."
I think what Toews is really saying, though, is that his team will not be intimidated by the physically superior Bruins. And you could see that on the ice Wednesday night. Boston tried to get into the faces of Chicago's top players after whistles, but Toews, Kane and
Patrick Sharp
gave it right back. The game within the game, if you will.
One guy I'd like to see more from is Hawks defenseman
Duncan Keith
, a player I had as my top Conn Smythe candidate for the Hawks before the Cup finals began. I feel like he's been ordinary so far in the finals, but I have a feeling that's about to change. And it has to for Chicago to win the Cup.
BURNSIDE:
Game 4 definitely wasn't a great night for Canadian Olympic hopefuls Keith and Crawford with Canadian executive director
Steve Yzerman
in the stands. But how about a couple of dark-horse guys for Game 5?
We've seen lots of unheralded players step forward since the final started, but how about Boston defenseman
Torey Krug
? The rookie has had more downs than ups in this final series but has remained incredibly poised. He's also got a cannon shot for a little guy, and Claude Julien continues to use him on a power-play unit that has been much more dynamic than the one the Blackhawks have put out.
I thought
Rich Peverley
was terrific in Game 4 after being a nonfactor the first three games, and on the Blackhawks' side I think
Brandon Saad
is finally hitting his stride in time to perhaps play a pivotal role in tipping the scales.
LEBRUN:
I'll put my money down on Boston's
Jaromir Jagr
scoring his first goal of the playoffs on Saturday night. Jagr's been knocking at the door, and made a great play on Bergeron's second goal in Game 4.
As for Chicago, I think Bickell will make his first real statement of the Cup finals on Saturday night after nearly single-handedly destroying the
Los Angeles Kings
in the Western Conference finals. The big man has been mostly quiet in this series, but now that he's on a line with Kane and Toews, I've got a feeling he has a goal (or two) in him for Saturday.
Now that we've sorted that out, let's get on that plane bound for Chicago now. They're calling our flight to board!
June, 10, 2013
6/10/13
5:55
PM ET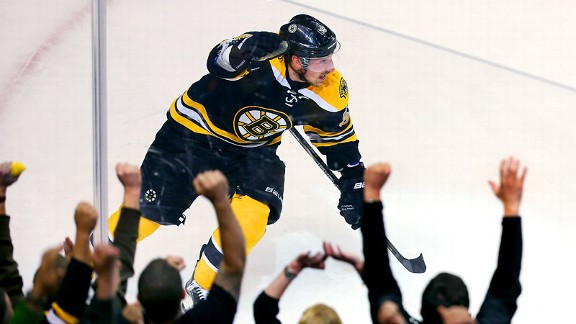 John Tlumacki/The Boston Globe/Getty ImagesThe Blackhawks' focus will be tested by noted agitator Brad Marchand.
CHICAGO -- The
Chicago Blackhawks
are well aware of
Boston Bruins
forward
Brad Marchand
, aka the "Little Ball of Hate," and his reputation heading into the Stanley Cup finals.
The 5-foot-9, 183-pound Marchand has been known to find various ways -- legal and illegal -- of agitating opponents, and the Blackhawks know they can't succumb to that throughout their series which begins Wednesday.
"I've never played against him personally, but I've played against guys like him in the past," Blackhawks forward
Brandon Saad
said after Monday's practice. "We got a couple of players like that on our team. They're good to be on your team and tough to play against. It's something you have to battle through.
"You can go different ways about it, but I think just ignore them, play your game and don't let them get under your skin."
June, 2, 2013
6/02/13
12:26
AM ET
PITTSBURGH -- It was probably the moment when
Evgeni Malkin
and
Patrice Bergeron
, he of the one career NHL fight, decided to drop the gloves and start whaling on each other at center ice that illustrated how very quickly this Eastern Conference finals had gone off the charts emotionally. And while Malkin, a former Hart Trophy winner, scoring champ and playoff MVP, might have won a unanimous decision in his rare bout with the Boston center, it was the Bruins who scored the Game 1 knockout by blanking the Penguins by a 3-0 count.
The game, a curious affair filled with borderline and over-the-line plays, including a hitting-from-behind call against the polarizing
Matt Cooke
, put us immediately in mind of last year's first-round series between Pittsburgh and Philadelphia: a wacky, out-of-kilter series that featured at one point simultaneous fights between
Claude Giroux
and
Sidney Crosby
and
Kris Letang
and
Kimmo Timonen
.
Given how the Philadelphia-Pittsburgh series of April 2012 turned out, with the Flyers getting the Penguins completely off their game and walking away with a six-game victory -- including victories in the first two games in Pittsburgh -- you have to figure Saturday's emotionally charged affair was exactly what the Bruins were looking for to begin the conference finals.
"I don't think the situation at the end of the second period was in our favor," Pittsburgh head coach
Dan Bylsma
said of the Malkin fight and an extended jawing session between the two captains, Boston's
Zdeno Chara
towering over his counterpart Sidney Crosby while exchanging pleasantries near where the fight was taking place.
Although the Penguins trailed just 1-0 at that point, Bylsma pointed to that moment as the one where Game 1 got away from the Penguins and conversely when the Bruins seized control.
The Penguins were on a power play at the end of the second period that would carry into the third, thanks to another potentially dangerous play by
Brad Marchand
, who was called for boarding after hitting
James Neal
from behind near the Pittsburgh bench.
But with the Penguins missing power play mainstay Malkin, off for fighting, as well as
Chris Kunitz
, who was sent off late in the second with
Rich Peverley
for another dustup, the Bruins continued their strong penalty kill, and shortly after the Penguins' power play ended scored their second goal to suck the life out of the Penguins.
"It did get us off our game," Bylsma acknowledged.
Defenseman
Brooks Orpik
suggested the Bruins are the team better suited for those kinds of extracurricular activities and that it did seem to change the course of the game.
"After that, it seemed like they were a lot better," he said.
The Bruins, of course, saw that defining moment through a different prism.
"That sums up this time of year," Boston defenseman
Andrew Ference
said. "Two of the top guys on each team are raising the stakes and will do anything to either fire up the team, to swing momentum, to establish what this series is going to be all about. It's impressive to see guys like that do that dirty work. It's raw emotion and it's good."
Ference returned to the lineup after missing seven games with an injury and added an assist on the Bruins' first goal, a
David Krejci
blast that nicked off the skate of Pittsburgh defenseman
Paul Martin
and squeezed through netminder Tomas Vokoun's pads.
Bruins coach Claude Julien gave the matter little thought, which is most often how these incidents are viewed from the winning side.
"I didn't see everything happen except that there was a fight. I saw Sidney [Crosby] push our goaltender as he's skating off," Julien said.
"This is playoff hockey. Those things are going to happen. You don't whine or complain about it, you just deal with it. What we had to deal with tonight was winning a hockey game. That's all that mattered."
Nine times in their first 11 postseason games, the Penguins scored four or more goals. They did so with a relentless forecheck and at times uncontainable skill. In the latter stages of the
New York Islanders
series and for long stretches against Ottawa in the second round, the Penguins dictated pace, imposing their will upon the game.
One wondered then how the Bruins would or could contain that kind of offensive might, how they might grab the tiller themselves.
As it turned out, they did it by winning the patience game and goading the Penguins into a kind of emotional space they are far better to avoid.
"It's tough. They're letting a lot go out there. The more and more it gets like that, the more it's going to escalate," said Crosby, who was whistled for two minor penalties.
"Keep letting guys do that stuff, they're just going to push the envelope," he added. "That's something we obviously want to stay away from but it's kind of a natural thing when it gets like that."
You never know at the start of a series how the two elements are going to mix.
These two teams have little in the way of relevant history and yet the heightened tension, the short tempers, the borderline and across-the-line hits and post-whistle scrums suggested teams that have had a long-simmering feud that quickly boiled over onto the brightly lit ice.
While there were obvious signs of rust -- to be anticipated when the league inexplicably delayed the start of the series until Saturday evening, giving the two teams a week off from playoff action -- there was no rust in the emotion department.
That the emotion turned ugly and thus prompted more bad blood was, if not inevitable, then at least not unexpected.
Cooke crunched
Adam McQuaid
from behind into the end boards and earned a five-minute major and a game misconduct for hitting from behind before the second period was two minutes old.
Although Julien said during an in-game interview he believed McQuaid might have put himself in a vulnerable position, it doesn't absolve Cooke, of all people, from understanding what is a borderline hit.
That Marchand was whistled for a potentially dangerous hit from behind on Neal but received only a two-minute minor enraged the sold-out CONSOL Energy Center crowd, although the hit had much less velocity than the one administered by Cooke.
Although the penalties had little bearing on the outcome of the game -- the two teams combined to go 0-for-8 with the man advantage, including a three-minute power play the Bruins enjoyed after the Cooke major -- they were certainly part of the emotional tapestry of the evening.
"As far as the emotion, I don't know, it definitely wasn't what we had in the Ottawa series but after what happened at the end of the second there, maybe it'll ramp up," Orpik suggested.
If that's the case, hang onto your hats for Game 2 on Monday.
May, 17, 2013
5/17/13
1:42
AM ET
BOSTON -- John Tortorella may not be the most diplomatic, charming or verbose -- especially come playoff time -- but he has a true knack for diagnosing the team's shortcomings and he spelled it out after the Rangers'
3-2 overtime loss
to the Boston Bruins in Game 1 of the Eastern Conference semifinals Thursday night.
"We got spanked in overtime," he said.
He was right. For as much as the Rangers played a pretty well-rounded road game with the Bruins, they got absolutely pummeled in the overtime period.
[+] Enlarge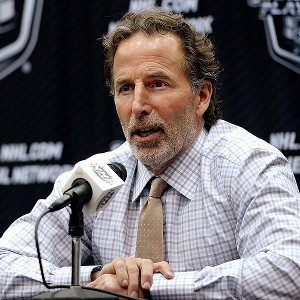 Patrick McDermott/Getty ImagesIt took only five words for John Tortorella to summarize the Rangers' overtime loss.
Well before
Patrice Bergeron
set up
Brad Marchand
on a rush for the game winner 15:40 into OT, the Bruins dominated the Rangers with an offensive onslaught that required goaltender
Henrik Lundqvist
to be nothing short of perfect.
An early power play that resulted from
Derek Dorsett
's interference penalty 2:20 into play allowed the Bruins to pelt the reigning Vezina Trophy winner with five shots and a post.
A strikingly different power play than the Rangers' abysmal unit -- 0-for-3 on the game, 2-for-31 in the playoffs -- the Bruins moved the puck and created a flurry of glorious chances.
New York couldn't recover.
"We never regrouped," Tortorella said.
Entering Thursday's series opener with back-to-back shutouts against the Washington Capitals in Round 1, Lundqvist proved in the opener against the Bruins he is indeed fallible.
After the game, he was left second-guessing himself on Marchand's winner.
"There was a 2-on-1 I guess and I thought I made a bad decision," Lundqvist said. "I mean it's a tough play, but I could play it better."
With Bergeron carrying the puck down the right wing, Marchand managed to manhandle diminutive forward
Mats Zuccarello
out of the way to get in front of Bergeron's pass and tip it in past Lundqvist for the win.
"I've got to see the guy in the middle. I was too focused on the puck," Lundqvist explained. "I kind of knew [Marchand] was coming in the middle, but I just was too locked in on the puck, and that's why I made a stretch move instead of coming with my pads together.
"Sooner or later when you face a lot of chances like that, you're going to make a mistake. It's not a mistake I'm going to sleep less over. I thought we played a solid game, but we just came up short here, in overtime, again."
Lundqvist, who made 45 saves, shouldn't be losing sleep. He shoulders the responsibility of the Rangers' saving grace night in and night out, but he needs help.
Overwhelmed by a furious Bruins attack -- one that included two posts and one crossbar late in the game -- the Rangers didn't do much to help stem Boston's surge.
"It makes it tough on our [defense], tough on everyone when we can't get it out of our zone," captain
Ryan Callahan
said.
Bruins captain
Zdeno Chara
was the first to find an opening against Lundqvist, who was an absolute wall in wrapping up the Rangers' first-round series against the Capitals.
Lundqvist lost track of the puck after Bruins defenseman
Dougie Hamilton
's drive in the first, but recovered to make up for the gaffe. He couldn't do the same on Chara's heavy blast the next period. Chara's shot trickled through and Lundqvist inadvertently knocked in the puck himself, ending his shutout streak at 152:23.
The Rangers tied the game with less than two seconds left in the second period on
Ryan McDonagh
's first career playoff marker, and tallied another quick one on
Derek Stepan
's goal 14 seconds into the third.
But, the home team responded with a power-play goal minutes later to knot the score at 2. Recently recalled defenseman
Torey Krug
, who drew into the lineup with a banged-up Bruins defense, unleashed a shot from the left point for the tying goal in his NHL playoff debut at 2:55.
In fact, it's worth mentioning that all three youngsters on the Bruins' back end -- Krug, Hamilton and
Matt Bartkowski
-- played well in filling in for injured veterans
Dennis Seidenberg
,
Andrew Ference
and
Wade Redden
.
"They did incredible tonight," said Marchand, who finished with a goal and an assist. "Obviously, we're really depending on those guys to step up and play big minutes, and they all did a great job tonight. We're very happy with them."
Bruins coach Claude Julien also praised Marchand for what he called "one of his better games so far in the playoffs."
"He skated well, made some great plays, he took pucks to the net and that's the Brad Marchand we know," Julien said. "It was nice to see him really bring his A-game to the table tonight."
Th Rangers needed a more stout defensive effort in their own end, but they couldn't prevent the deluge against Lundqvist, which left the reigning Vezina Trophy winner to mull what has become a worrisome Achilles' heel.
Lundqvist is now 3-11 in overtime playoff games.
Can those overtime losses pile up and plant some doubt?
"I've got to be really careful to ask myself the right question there, because have I played bad in overtime? No. Can I score? No. Is it frustrating? Yes," Lundqvist said. "My record is terrible in overtime, but I've just got to stick with it, play my game and hopefully turn it around."
September, 8, 2012
9/08/12
12:31
PM ET
The Bruins just got one heck of a deal in signing winger
Brad Marchand
to a four-year, $18 million contract extension Friday -- regardless of the likelihood of a salary rollback from the players under a new collective bargaining agreement. It's possible that Bruins owner Jeremy Jacobs -- a known hardliner for the owners -- could end up not having to pay Marchand the full amount they agreed upon Friday, but let's look at the hockey side of things here.
The 24-year-old Marchand's on-the-edge style of play earned him a fine and two suspensions last season and has at times landed him in the doghouse of Bruins coach Claude Julien, but there's a feeling that he has learned from and responded to his mistakes.

"He went through a couple of incidents last year and through the disciplinary process where we engaged in a couple of philosophical discussions with that office," Bruins general manager Peter Chiarelli said in a teleconference with the media Friday. "But I think that Brad recognizes that part of his game is a valuable part of his game and he's a smart enough player to know that as you get older and learn the ropes a little bit more, you can tweak your game a little bit. Brad had a good year last year but I know he had some struggles. But he will continue to draw that fine line and he's certainly aware of it and that the line has moved a bit. I like the whole package, though."
Players of Marchand's pedigree at such a young age are hard to come by in the modern NHL. The league has clamped down on borderline play that can move beyond physical to dirty. To find a
Claude Lemieux
or
Esa Tikkanen
in today's NHL is a rarity. But in only two full NHL seasons, Marchand has scored 20 goals twice, helped lead his team to the Stanley Cup with 19 points in 25 playoff games (including two goals and an assist in the Game 7 clincher at Vancouver) during the 2011 Cup run, and still found a way to walk the line and lure opponents into the penalty box. Let's not forget he is one of the team's best penalty killers as well.
Marchand didn't become "a whole package" overnight. It's happened via his constant willingness to learn and evolve. His steady progression convinced Chiarelli that Marchand is worth this extension.
"He's like a sponge that way and it's an important progression in being a successful NHL player," Chiarelli said. "You have to learn how to adapt and he's been really good at that. And now he's still 24, so he's still in the prime of his career. It was an interesting journey to watch him get to this point, and as I said earlier, I like the whole package and he plays the way that we want guys to play, in their own way, but to be aggressive and to be strong on the puck and to be enthusiastic."
Chiarelli also acknowledged Friday that he and the 29 other NHL GMs have been trending toward rewarding young players based on potential in their second and third contracts. With this extension for Marchand, Chiarelli and the Bruins didn't just reward potential; they rewarded a proven player who is continually improving. Marchand is and will be worth every cent.
Read more on the Bruins Report »
January, 11, 2012
1/11/12
10:17
PM ET
1. Looking for John Law to get it right
Every week brings more hearings for Judge Roy Bean, er,
Brendan Shanahan
, and every week some other player loses his mind and tries to decapitate (or in the case of
Brad Marchand
, maliciously submarine) an opponent. Not all injuries are the result of reckless play but enough are that it's clear that the league's new office of player safety, of which Shanahan is the head honcho and hangman, isn't really getting the job done in the way it needs to get done. Once again, consistency remains the big bugaboo in getting players to fly right. Shanahan himself told us in the fall that his mandate was to hammer repeat offenders, the guys who don't get it. Does
Andy Sutton
get it? Apparently not. Does
Rene Bourque
get it? Nope. Or
Daniel Carcillo
? Not a chance. But still we pussyfoot around with five- or six-game love taps from the league. (Carcillo got seven for another cheap-shot play that has left
Tom Gilbert
out of the
Edmonton Oilers
' lineup long-term.) The talk is tough but ultimately cheap, and until we see players such as Bourque -- whose cowardly elbow to the head of an unsuspecting
Nicklas Backstrom
left the talented center unable to practice and might ultimately cost the Capitals a playoff berth -- sent to the sidelines for 10, 15, 20 games, then the merry-go-round of eliminating the headhunters and backstabbers will continue to turn in perpetuity. Oh well, maybe the back half of this season will see the league finally make good on its promises, although we must admit we remain doubtful.
2. Shots fired! Shots fired!
Talks between the league and the players' association aimed at creating a new collective bargaining agreement are supposed to begin after the All-Star break. Of course, the two sides have already scuffled in the dirt, with the players refusing to give consent to the league's hard-fought plan to realign the 30-team league into four conferences next season. Does that bode ill for the coming talks? Already pundits are predicting a work stoppage for next fall. Surely, though, two men who boast as many battle scars on their labor briefcases as NHL commissioner Gary Bettman and new NHLPA executive director Donald Fehr do understand that one skirmish does not a war make. Or something like that. Bottom line is that neither man has a reputation to forge here; no one has to make a statement in dragging the other side into a protracted work stoppage. The game is, in many ways, as healthy as it's ever been in terms of on-ice product, revenues and profile. The only way to sour that is to keep spitting in each other's breakfast cereal and deny the fans (Remember them? No? Didn't think so) the game that they keep alive with their money and attention. We'll soon see whether cooler heads will prevail or whether the realignment border skirmish was really the harbinger of dark days many believe it to be.
3. Who will be crowned czars of the Central?
The Central Division is the toughest place to play hockey in the NHL right now. Apart from the embarrassing
Columbus Blue Jackets
, the four remaining teams should be playoff bound and the battle between Detroit, St. Louis and Chicago for the top spot should make for some compelling moments in the second half of the season. Getting home ice is always nice and winning the Central is a pretty big deal because it's likely going to mean the first or second seed in the West and, more importantly, if you don't win the Central there's a pretty good chance the first round of the playoffs will feature a matchup of the second- and third-place teams. Right now that would mean Detroit and Chicago facing off in the first round. Not a bad way to start the postseason if you're a fan but you can bet all three of Chicago, Detroit and the current Central Division leaders, St. Louis, would like to avoid that kind of road through the playoffs. The Blackhawks and Red Wings fancy themselves Stanley Cup contenders and have the pedigree to support that theory. The Blues, meanwhile, are trying to figure out if they can play with the big boys. Their turnaround under Ken Hitchcock has been exemplary and they are the top defensive team in the conference. The Hawks have defensive issues and a tendency to go completely sideways at times, while the Red Wings have struggled on the road although they've been dominant at Joe Louis Arena. Should be fun, right to the bitter end.
4. Who dat?
There are lots of interesting teams occupying playoff spots at the midpoint that most observers felt weren't going to be a factor come springtime. The
Florida Panthers
lead the Southeast Division and the
Toronto Maple Leafs
are hanging around the playoff fray, and even more surprising, the rebuilding
Ottawa Senators
owned second place in the Northeast Division at the turn and were actually only a couple of points removed from fourth and home ice in the first round. Go figure. In the West there was Minnesota, although the Wild had already shown signs of significant slippage. Within a couple of points of eighth were Colorado and Dallas, neither of which figured to be in the vicinity of a playoff berth at the outset of the season. So, who hangs around? Well, that's the beauty of the second half of the season, especially the next four or five weeks leading up to the trade deadline. This is nervous time for GMs and coaches of those teams trying to figure out if they've uncovered fool's gold or the real deal. For us, we like the Panthers to hang around, Minnesota, too. The rest, not so much, even though we tip our hat to Paul MacLean and the Sens, where there is recharged interest in a team that looked to be several years away from being competitive again. And if there are strange interlopers in the mix for a playoff spot, that means some of the mainstays have disappeared, such as Washington, a perennial Cup contender that has lost its swagger. Even firing Bruce Boudreau has done little to restore the fire for a team that was the top dog in the Eastern Conference the past two seasons. Can the Caps make the playoffs? Sure. The Eastern Conference is full of junky teams. But this is a team that lacks confidence and whose best players are either hurt (Backstrom,
Mike Green
) or struggling (Alexander Ovechkin,
Alexander Semin
,
Tomas Vokoun
). Look for Pittsburgh to join this crew of "can't-miss" teams on the outside looking in as the Penguins continue to lose bodies at an alarming rate. At the halfway point, the Pens were looking at life without
Sidney Crosby
,
Kris Letang
and
Jordan Staal
for the foreseeable future. And then there's Buffalo, a team that went hog wild last offseason, lavishing huge contracts on its own young players (
Tyler Myers
will have a check for $10 million waiting for him July 1) and free agents galore. And bless new owner Terry Pegula for injecting some much-needed life into the Sabres. Unfortunately, the team has played like a bag of hammers for most of the season and hasn't managed to win back-to-back games since the middle of November. No way Darcy Regier and Lindy Ruff survive this fiasco if the Sabres can't turn it around in the second half. And given the paucity of leadership shown thus far in Sabreland, there's no reason to suggest anything different is imminent.
5. Should I stay or go?
Ah, The Clash would love the dilemmas facing Nashville's twin defensive towers
Shea Weber
and
Ryan Suter
, and New Jersey's franchise winger
Zach Parise
. What about class acts
Shane Doan
or
Jarome Iginla
? And then there's Columbus captain
Rick Nash
, who might or might not be enticed into waiving his no-movement clause to get a taste of respectability given the disaster that is the Columbus Blue Jackets. The Feb. 27 trade deadline might create even more big names on the move than normal, given the end of the collective bargaining agreement. Anaheim GM Bob Murray has said his team is wide open beyond
Teemu Selanne
and
Saku Koivu
(and who knows whether Selanne might want a shot at playing in the postseason one last time, if indeed this is the last hurrah for the Finnish Flash). Parise is the top forward who could be available. He could be an unrestricted free agent in July and said this week he wants to be where he can win a Cup and make lots of money (OK, we're paraphrasing), and New Jersey doesn't really seem to be that place, not with the ridiculous
Ilya Kovalchuk
contract already in place and the team ensconced in the bottom end of the playoff bracket, assuming it makes it at all. Weber and Suter remain intriguing because Nashville GM David Poile would like to sign both, but Suter is about to become a UFA while Weber will be a restricted free agent in the offseason. If he can't keep both, would Poile try to add offense for a playoff run while dealing Suter to ensure a prized asset doesn't walk away for free? Stay tuned, folks.
Scott Burnside covers the NHL for ESPN.com.
September, 13, 2011
9/13/11
12:10
PM ET
BOLTON, Mass. --
Boston Bruins
forward
Brad Marchand
arrived at the organization's annual charity golf tournament Monday morning without a new contract, but he's hoping it will get done before the first official day of training camp on Friday.

Marchand
"We're working every day and hopefully something will be done before camp," Marchand said.
Bruins general manager Peter Chiarelli and Marchand's agent, Wade Arnott continue to talk.
Marchand, who is a restricted free agent, provided 19 points in 25 playoff games last season, including two goals and an assist in the Cup-clinching Game 7 victory in Vancouver.
"I am a part of this team and there's no reason for me not to be," Marchand said. "I want to be here and I want to show them I'm in shape and I'm ready to go this year. I'm just waiting to see and get it done here.
"I feel very good. I feel very strong. I'm very confident coming into the year. I'm hoping to build off last year and continue moving forward."
Following the 2009-2010 season, Marchand told coach Claude Julien and Chiarelli during his exit meeting that he would score 20 goals during the 2010-2011 season. He accomplished that and more, recording 21 goals and 20 assists for 41 points in 77 regular-season games.
And, he wants a repeat performance in 2011-2012.
"That's the plan," he said. "You want to improve every year and you want to get better every year," he said. "And I'll keep my mouth shut this year. I don't want to shoot my mouth off."
Marchand plays with an edge and has the ability to aggravate opponents on the ice, and he's not about to change.
Despite not having a contract right now, Marchand's teammates don't want him to change.
"I'm sure they're going to get something done,"
Milan Lucic
said. "It doesn't concern me at all. I know he wants to remain a Bruin and that's the main thing."
Bruins assistant captain
Patrice Bergeron
agreed.
"We've talked a little bit about it and hopefully it gets done," Bergeron said. "I don't get into details with him because it's none of my business, but obviously he'll be taking part in camp.
"He showed what he can do and his confidence was beyond his years in the playoffs and the way he handled himself. The way he helped our line was huge and hopefully he's on my side again this year."
December, 17, 2010
12/17/10
10:37
AM ET
By
ESPN.com staff
| ESPN.com
Did you miss P.K. Subban's hit on Boston's Brad Marchand last night? It's worth watching the Montreal defenseman's hip check again (from NHL.com):
November, 4, 2010
11/04/10
12:47
AM ET