Cross Checks:

Braden Holtby
July, 29, 2013
7/29/13
2:32
PM ET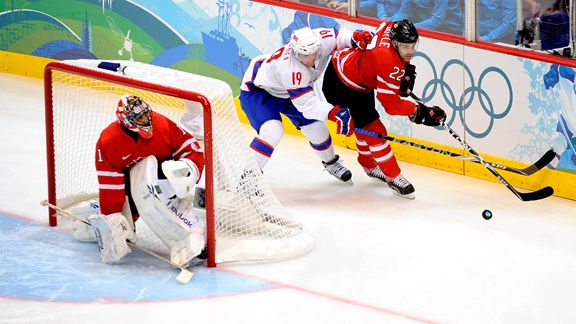 Kevork Djansezian/Getty ImagesWill Roberto Luongo be shrinking or starring in net for Team Canada?
Welcome to the dog days of summer. With free agency pretty much done, there's not much else to talk about until ... Olympics orientation camps, which start in less than a month. Really? Jeepers.
Three of the biggest questions heading into those camps:
Who will be Canada's No. 1 goalie?
Corey Crawford
,
Braden Holtby
,
Roberto Luongo
,
Carey Price
and
Mike Smith
(and not
Marc-Andre Fleury
or
Cam Ward
, who have each won a Stanley Cup, by the way) have been invited to orientation camp. The problem is that whereas the U.S. is heading into camp stacked in the blue paint -- with
Jonathan Quick
,
Cory Schneider
,
Ryan Miller
,
Craig Anderson
,
Jimmy Howard
-- each of Canada's invitees is tainted by a shadow of doubt. You can't argue with Crawford's recent Stanley Cup ring run, but is he truly Canada's best over such a short, intense burst? Holtby is good, but hasn't won much. Luongo is good but ... well, let's not pile on to the poor chap. Price has had his ups and downs while playing in perhaps the most pressure-packed city for a goalie but has battled injuries. That leaves Smith, who has had one great season.
Canada has traditionally had a vague sense of who will be its No. 1; doubts surrounded Luongo heading into the Vancouver Games because the Olympics were in his home market, where he wasn't exactly beloved in those days. The previous time Canada won gold, in 2002, Pat Quinn's decision to start
Curtis Joseph
was seen as NHL-team favoritism and was met with further derision after an opening-game loss to Sweden. Quinn went to golden boy
Martin Brodeur
, as we all now know, but if that hadn't worked out, Quinn was left with
Ed Belfour
, who was on the decline.
This time, it's doubtful there will be a Brodeur bedrock to fall back upon. The positive here for Canada is that it's in the weakest division, playing in the same group as Finland, Norway and Austria, so it should have time to figure things out. The negative: Without being able to play on the big sheet ahead of time, the goalies won't have long to figure out the angles. One bad-angle goal could be the difference in the early going ... So actually, on second thought, scratch that positive bit about having time to figure it out. Which brings us to ...
Can the U.S. or Canada win gold on the big surface?
Geez, good question. Neither team has been able to win gold outside of North America since the NHL's players returned to the Games in 1998. So, it's debatable. (The 2002 Salt Lake Games, where Canada won gold, were held on the bigger surface, however.) If Canada can get solid goaltending, it will have to be considered the favorite. But that's a massive
if
. The U.S. is expected to be stone-cold steady in net, but it has questions elsewhere (Such as: Who is the team's most mobile, experienced defenseman for the big ice?). Weighing just the current factors -- and not including those that might develop between now and February, such as injuries to frequently injured superstars ('ello
Sidney Crosby
!) -- the North American teams will find it tough to bring home gold. Which brings us to ...
So, who will win it all, smart guy?
You can't discount the awesome talent-laden lineups of Canada and the United States -- OK, I guess I just did -- but Sweden, host Russia and maybe the Czech Republic have to be considered all up in there as well. If the Finns settle on the right superstar netminder to start -- they've got
Tuukka Rask
, Pekka Rinne,
Antti Niemi
and
Kari Lehtonen
playing the pipes -- and he gets hot, they could very well skate away with this thing in a huge upset.
The
odds favor Russia
, and there's no debating the awesome firepower the team has up front, but I've got to think the hosts will figure out a way to screw it up.
Sergei Bobrovsky
and
Ilya Bryzgalov
(and/or
Evgeni Nabokov
and/or Anton Khudobin) and an entire defense corp, consider yourself challenged!
May, 6, 2013
5/06/13
1:43
PM ET
At a glance:
Down two games in their first-round matchup against the
Washington Capitals
, the Rangers are desperate to win a game at home as the series shifts to New York on Monday night at 7:30.
Looking to avoid that dreaded 3-0 hole, the Rangers hope to get a lift from the crowd at Madison Square Garden as they try to stop
Alex Ovechkin
and the Caps' venerable power play from striking again.
Here is what to watch for:
Special teams:
In a tight battle projected to come down to special teams, the Capitals have had the distinct edge. Washington has tallied a power-play goal in each of the first two games -- that unit was ranked first overall in the league during the regular season -- and boasts a stout penalty kill that has held the Rangers without a man-up goal this series. The Blueshirts' ailing power play failed to even register a shot on goal during two critical opportunities late in Saturday's 1-0 overtime loss in D.C.
On the mend:
Both
Derek Dorsett
(collarbone) and
Brian Boyle
(lower body) returned to action on Saturday, providing the Rangers some added size and grit. They have two other players who are inching toward a return, as
Ryane Clowe
(believed to be a concussion) and defenseman
Marc Staal
(eye) appear to be making progress.
Staal's presence would be a massive boost for the Rangers' blue line as it tries to contain Ovechkin,
Nicklas Backstrom
,
Mike Ribeiro
and
Troy Brouwer
.
Holt up:
With the reigning Vezina Trophy winner in net, the Rangers enjoy a clear advantage in the goaltending department. But New York wasted a sensational 37-save performance by
Henrik Lundqvist
on Saturday, while 23-year-old Capitals counterpart
Braden Holtby
recorded the shutout. Holtby hasn't had to face the same pressure as Lundqvist, but he has been stellar for the Capitals in limiting the Rangers to only one goal combined over the first two games.
May, 5, 2013
5/05/13
10:31
AM ET
By
ESPN Stats & Information
| ESPN.com
The Capitals, Kings, and Ducks all won via shutout in the Stanley Cup Playoffs on Saturday. The last time there were 3 playoff shutouts on one day came on April 22, 2010 when the Blackhawks, Sharks and Flyers each did it. It was the 1st time the Rangers lost a playoff game that was 0-0 at the end of regulation. The Blues were shutout in a playoff game for the 1st time in 2009. And FROM ELIAS: it was the only the third time in Red Wings playoff history (1ST since 1978) that they suffered a home shutout loss by a margin of four goals or more.
Capitals 1, Rangers 0 (OT) (Capitals lead series 2-0)
*
Mike Green
(WSH): game-winning PPG at 8:00 at overtime (1st career playoff OT goal)
*
Braden Holtby
(WSH): 24 saves (1st career playoff shutout)
* Capitals: 1st-ever win in a playoff game tied 0-0 going into OT (lost lone previous such game to Bruins last year)
* Rangers: 1st-ever loss in a playoff game tied 0-0 going into OT (won previous 2 in 1929 & 1933)
* Rangers: 0-14 on power play in last 4 playoff games vs Capitals
* Rangers: have lost last 4 playoff series in which they trailed 2 games to 0
* Rangers: 1st back-to-back losses since March 28-30
FROM ELIAS: Mike Green's power play goal at 8:00 of the first overtime period gave the Capitals a 1–0 win over the Rangers and a two-games-to-none lead in their series. It was the sixth time in NHL playoff history that a defenseman scored the goal in a 1–0 overtime victory. The most recent of those goals was scored by
Andrei Zyuzin
of San Jose in 1998. But special mention goes to
Uwe Krupp
, who scored in triple-overtime to complete the Avalanche's four-game sweep in the 1996 Stanley Cup Final.
Maple Leafs 4, Bruins 2 (Series tied 1-1)
*
Joffrey Lupul
(TOR): 4th multi-goal playoff game, 1st since 2008
* Maple Leafs: 1st win at Bruins since March 2011 (snapped 6-game losing streak including playoffs)
*
James Reimer
(TOR): 39 saves, 1st career playoff win
* Bruins: 2nd loss in last 15 home playoff games vs Maple Leafs
FROM ELIAS: Joffrey Lupul has scored 16 goals in 41 playoff games in his NHL career but 10 of those goals have come in only four games: a four-goal and a two-goal game for the Ducks in 2006, a two-goal game for the Flyers in 2008, and two goals for the Maple Leafs in their 4–2 win at Boston on Saturday night.
Ducks 4, Red Wings 0 (Ducks lead series 2-1)
* Ducks: 1st playoff shutout since April 23, 2009 (vs Sharks)
*
Ryan Getzlaf
(ANA): 1 goal and 1 assists; 18th career playoff with game at least 2 points
*
Jonas Hiller
(ANA): 23 saves, 3rd career postseason shutout
* Red Wings: worst shutout loss in playoffs since May 24, 1997 at Avalanche (6-0)
FROM ELIAS: Jonas Hiller recorded the third shutout of his NHL playoff career in the Ducks' 4–0 win at Detroit. It's only the third time in Red Wings playoff history that they suffered a home shutout loss by a margin of four goals or more. The other visiting goaltenders with shutouts by that large a margin at Detroit are a pair of Hall of Famers: Turk Broda of the Maple Leafs in 1950 (5–0) and Ken Dryden of the Canadiens in 1978 (8–0).
Kings 1, Blues 0 (Blues lead series, 2-1)
*
Slava Voynov
(LA): 2nd career postseason goal
*
Jonathan Quick
(LA): 5th career postseason shutout
* Blues: shut out in a playoff game for 1st time since 2009 at Canucks
* Blues: 3-14 in last 17 road playoff games dating back to 2002 postseason
October, 12, 2012
10/12/12
11:11
AM ET
By
Sarah Goldstein
| ESPN.com
May, 9, 2012
5/09/12
2:09
PM ET
By
ESPN Stats
and
Information Group
| ESPN.com
Braden "Halt"by? The Rangers might lead the Capitals in the series, but don't expect it to end tonight. Caps goalie Braden Holtby has won each of his last 10 decisions in games following a loss (regular season and postseason combined). That includes a 5-0 record this postseason without allowing more than two goals in any of those games. He hasn't lost consecutive decisions since a three-game stretch in November 2010.
April, 26, 2012
4/26/12
10:23
AM ET
By
Elias Sports Bureau
| ESPN.com
• The Capitals beat the Bruins, 2–1, in overtime to win what was arguably the closest playoff series in NHL history. It was the first series in Stanley Cup history in which all seven games were decided by a one-goal margin, and only the second series to go to overtime in Game 7 with the two teams having scored the same number of goals in the series. (Washington and Boston had each scored 15 goals in the series at the end of regulation time on Wednesday night.) The only other series in which the goals were evenly divided heading into overtime in Game 7 was the first-round matchup between the Sabres and Senators in 1997. Game Seven at the Aud in Buffalo went to OT tied 2–2 on the night and 13–13 in the series;
Derek Plante
won the game and the series for the Sabres when he beat
Ron Tugnutt
with a slap shot from the top of the right faceoff circle 5:24 into OT.
• Washington head coach
Dale Hunter
earned a unique distinction when the Capitals won Game 7 of their series against the Bruins in overtime. He's the first man in NHL history to score a Game 7 overtime goal and coach a team to a Game 7 overtime victory. Hunter scored his Game 7 overtime goal for the Capitals against the Flyers in 1988.
•
Braden Holtby
made 31 saves to lead the Capitals to a 2–1 overtime victory in Game 7 of their series against the Bruins. Holtby is the seventh rookie goaltender to post an overtime win in Game 7 of a playoff series and the first since the Sabres'
Steve Shields
did so against Ottawa in 1997. Two Hall of Famers are among the six other rookie netminders with OT wins in a Game 7: Frank Brimsek (1939) and
Patrick Roy
(1986).
April, 20, 2012
4/20/12
9:40
AM ET
By
Elias Sports Bureau
| ESPN.com
• Rookie
Braden Holtby
made 44 saves to lead the Capitals to a series-tying 2–1 win over the Bruins. In the NHL's expansion era, the only other rookie goaltender to make that many saves while posting a win in a non-overtime playoff game was Montreal's Ken Dryden on April 16, 1971, at Boston. Dryden stopped 46 of the 48 shots he faced in a 4–2 victory.
Washington has won 16 games over the last four playoff years and all of those wins have been recorded by rookie goaltenders: seven by
Semyon Varlamov
in 2009, three more by Varlamov in 2010, four by
Michal Neuvirth
in 2011 and two by Holtby this season. That's one more playoff win than all rookies have posted for other NHL teams combined over the same span.
• It was the first playoff shutout in four days short of three years for
Martin Brodeur
, who will celebrate his 40th birthday on May 6. Over the last 40 years, only two NHL goaltenders as old as Brodeur have posted playoff shutouts:
Dominik Hasek
with two shutouts for the Red Wings at age 42 in 2007 and
Dwayne Roloson
with a shutout at age 41 for Tampa Bay last year.