Cross Checks:

Brandon Dubinsky
December, 24, 2012
12/24/12
12:15
PM ET
By
Devon Heinen
| ESPN.com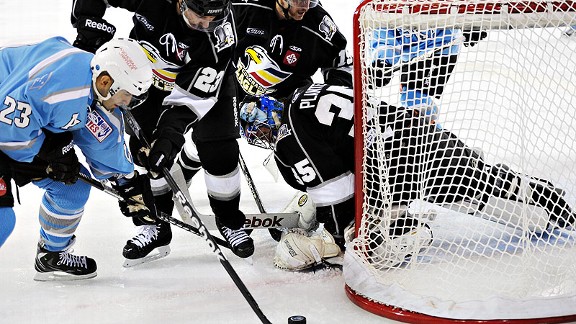 Erik Hill/Anchorage Daily News/MCT/Getty ImagesScott Gomez has taken his hockey act back to his hometown during the lockout.
It started off as a few here, a few there. Over time, more and more players followed suit, packing their skates, their sticks and taking their skills to far-off cities in Europe and Russia during the NHL's lockout. However, for four forwards from Anchorage, the chance to go home was too good to pass up.
"It's a once-in-a-lifetime opportunity," said
Washington Capitals
forward
Joey Crabb
of spending the fall as a member of the East Coast Hockey League's Alaska Aces. "Spending the holidays with my family ... it's been over 15 years since I've gotten to do that."
Despite playing on the game's biggest stage for six years,
Nate Thompson
initially felt the spotlight upon returning to Anchorage's Sullivan Arena.
"The first couple of games I was actually pretty nervous playing at home just because you're playing in front of family and friends," said Thompson, a center with the
Tampa Bay Lightning
.
Brandon Dubinsky
felt it, too.
"The first time I walked on the ice -- you know, first game -- I was extremely nervous," said the center, who was obtained by the
Columbus Blue Jackets
as part of the
Rick Nash
trade.
At first, it was just the three.
Montreal Canadiens
center
Scott Gomez
was in town too, and after skating with the others during practices, the two-time Stanley Cup winner couldn't help himself.
"There's nothing that can ever replicate playing the game," Gomez said. "It was just too hard watching it."
With their stable of NHLers, the Aces got off to a hot start and found themselves with one of the best records in the ECHL.
"There's two ways to look at it," said Aces head coach and former NHLer
Rob Murray
. "These guys could come and just be around and keep playing just so that they can stay in shape, you know, in the event of the lockout ending. But, in my mind, you've got Crabb and Thompson, Gomez, Dubinsky -- all four of these guys -- they're invested in the team."
"You got to give them credit for the willingness to play at a lower level against younger players that are ultimately vying for their job in the NHL," said
Brad Ralph
, head coach of the Aces' Mountain Division rival, the Idaho Steelheads.
"They're certainly not doing it as a financial incentive," said Aces co-owner Jerry Mackie. "Just the insurance that they have to have and they have to purchase themselves is as much, or -- certainly in some cases with the higher contracts -- a lot more than what they'll make playing here."
For Dubinsky, playing at home has come at an additional cost. Twelve games into the campaign, the center's season was derailed when he broke his hand blocking a shot during a penalty kill. At the time, he led the Aces in points. The Blue Jackets could suspend Dubinsky if the lockout is settled soon.
Even though he's been sidelined, Dubinsky hasn't disappeared. Both he and the other three NHLers have taken on leadership roles by helping their younger teammates hone their craft.
"You can say as a coach, 'Hey, this is what you need to do to get to the next level,'" said Murray, "but when you have it illustrated for you on a daily basis by these NHL guys, you know, all of a sudden there should be a light that goes off in these guys' heads."
That light has gone off for one of the younger Aces.
William Wrenn was San Jose's first selection -- taken in the second round -- in the 2009 NHL draft. This season the two-way defenseman attended training camp in Worcester, Mass., with the Sharks' American Hockey League affiliate, but was a camp casualty because of the NHL lockout.
"My exit meeting, they told me that I played well ... but that just basically the numbers are tight this year," Wrenn said.
An Anchorage native himself, Wrenn was given the option to play for San Jose's ECHL affiliate in San Francisco or to come home and begin his professional career with the Aces. He chose the latter, where the veteran Gomez has taken him under his wing from time to time.
"Scott's gotten on me a couple of times about just taking control of the game when I have the puck," Wrenn said. "You know, being confident in my decisions."
The pep talks have paid off. Through 29 games, the young blueliner had 14 points (5 goals, 9 assists) and is just two off from matching the point total he put up in his final regular season of major junior hockey last season.
"It's not coming from me," Gomez of his pep talks. "It's coming from a Scotty Stevens, a
Bobby Holik
,
Scott Niedermayer
,
Claude Lemieux
-- I mean, guys that have ... helped me out."
The time in Anchorage has also enabled the NHL Aces to help out in other ways. Separated from its closest neighboring states by Canada and the Pacific Ocean, Alaska -- made up of 730,000 people, nearly half of whom live in or around Anchorage -- is often left to look from within for leaders and strength in times of need, something the four NHLers from Anchorage haven't forgotten.
"There's no question," Gomez said. "Alaskans, we take care of our own."
It's not just talk for Gomez. His nonprofit foundation is giving 75 boys and girls in the Frontier State the chance to play hockey this season by paying for fees and gear.
Anchorage houses Joint Base Elmendorf-Richardson, the state's largest military installation. In November, the Aces hosted a military appreciation weekend. For Thompson, it was a chance to interact with the base's Air Force and Army members as well as individuals from other service branches who have made a lasting impression.
"They sacrifice so much for us and the country," Thompson said. "Getting to meet them and talk to them and really try and give back to them that weekend was pretty cool."
For Dubinsky, giving back to his hometown took on additional meaning. Like many professional sports teams, the Aces work with area schools to promote reading, exercise, proper nutrition and anti-bullying; however, when the center stepped inside the halls of one Anchorage school, it was done to pay a special visit to his 11-year-old stepbrother's class.
"It was cool," Dubinsky said. "I think he felt ... sort of like the big dog on campus for the next day or two."
"He went and did that all on his own, which I thought was fabulous," said Diane Johnson, an Anchorage School District employee who doubles as the coordinator of the Aces' Skate Into Reading program.
Dubinsky signed autographs, talked to and fielded questions from the group of preteens he deemed to be a "much harder" crowd than the professionals paid to write about his career. One boy even compared stats.
"Did you score any hat tricks last year?" the boy asked Dubinsky.
"No, I didn't," Dubinsky replied.
"Well," the boy said, "I scored two."
Johnson and others in the community recognize the star status that the four players have at home and how their involvement with the community continues to go a long way, yet Dubinsky knows the size of his and his teammates' actions in the big picture.
"I'm not going out trying to save the world here," Dubinsky said. "It's just subtle things."
July, 25, 2012
7/25/12
10:25
AM ET
May, 21, 2012
5/21/12
11:40
AM ET
NEWARK, N.J. -- As the
New Jersey Devils
and
New York Rangers
elevate the level of rhetoric -- if not their downright dislike for each other -- in their Eastern Conference finals, both teams will be introducing lineup changes that could have a significant impact on the outcome in Game 4 on Monday night.
In the 48 hours since the Rangers took a 2-1 series lead with their second 3-0 whitewashing of the Devils on Saturday afternoon, Rangers head coach John Tortorella took issue with what he believed to be the dirty play of the Devils, their propensity for selling calls and illegal picks on the power play.
New Jersey head coach Pete DeBoer simply said the allegations were "comical."
The Rangers also found out they will be without the services of gritty forward
Brandon Prust
, who was suspended for one game for an elbow to the head of
Anton Volchenkov
in Game 3. The play went unpenalized on the ice but was reviewed by league disciplinarian Brendan Shanahan after the fact and announced Sunday afternoon.
Prust averages 1:50 a night in penalty-killing duty for a Rangers unit that has limited the Devils to just one goal on 12 opportunities in this series. That represents the fourth-highest amount of ice time per game among penalty-killing Rangers forwards. It is not overstating the matter to suggest that the Devils' inability to solve the Rangers and specifically netminder
Henrik Lundqvist
with the man advantage has been the single biggest factor thus far in the series.
Brandon Dubinsky
was a candidate to move into Prust's slot, but an injury to his right foot in Game 7 of the Rangers' first-round series against the
Ottawa Senators
will keep him out again Monday night. That means defenseman
Stu Bickel
will play in Game 4.
The Devils, meanwhile, will insert young center
Jacob Josefson
into the lineup in the place of the ineffective
Petr Sykora
. Josefson, the 20th overall pick in the 2009 draft, will be seeing his first-ever NHL playoff action after he suffered a broken wrist late in the regular season. This followed an earlier broken right clavicle that saw him miss 37 games. He registered nine points in 41 games but did have two goals and an assist in his last six games.
But when the 21-year-old has played, he has shown skill and speed that could benefit a lineup that has struggled to score even though the Devils have enjoyed better chances overall through the first three games of the series.
"I had a brief conversation with him yesterday. Basically, just 'Get in, bring us some energy, play like you did the last three, four weeks of the season.' He's had a tough year between the injuries and the adversity, really over the last two years," DeBoer said after the Devils' optional skate Monday morning.
"And I really felt the last two, three weeks of the season he had refound his game and his confidence. And if we can get a version of that player in the lineup tonight, we'll be a better team," the coach said.
Based on practice lines, it appears Josefson will play with
David Clarkson
and
Alexei Ponikarovsky
.
"You know what, he's a great kid who's been through a lot in the last couple of years with injuries," Clarkson said. "You see a kid go through those ups and downs and the way he handles them. He comes back today, I don't know if you've spoken to him, but he's like a little kid in here. He's so excited. It's his playoff game, so it's a great feeling."
"Great skater, great young kid, so it's nice for him to get that chance," Clarkson said.
Josefson admitted it's been both frustrating and exciting to be on the sidelines during the Devils' playoff run.
"Kind of both. Of course, it's frustrating to not be playing but it's a great experience to sit on the side too and watch and learn a little bit," he said Monday morning. "The team has been playing great and it's been fun to watch, but of course you want to be out there and play."
April, 14, 2012
4/14/12
7:56
PM ET
NEW YORK -- The Rangers-Senators series got a little nastier Saturday night as a heated brawl in the opening minutes of play resulted in Senators defenseman
Matt Carkner
and
Brandon Dubinsky
both getting tossed.
Carkner wasted no time going after Rangers forward
Brian Boyle
early in the first, unleashing a flurry of punches on the hulking centerman while he was down on the ice. He earned 17 penalty minutes for his attack, including a game misconduct, but the Rangers lost a player in the melee as well. Dubinsky, who jumped in to help Boyle while under siege, was ejected for being the third man in on a fight.
Dubinsky was livid after being assessed a match penalty; he was screaming at officials on his way from the penalty box to the Rangers' bench and upended a Gatorade cooler as he headed off the the Rangers' training room.
Boyle, who roughed up Ottawa's top defenseman
Erik Karlsson
two nights prior, was targeted again after that in the first by tough guy
Chris Neil
. He accepted Neil's invitation and dropped the gloves against the bruising Senators winger.