Cross Checks:

Brandon Saad
February, 15, 2014
Feb 15
1:44
PM ET
By
ESPN.com staff
| ESPN.com
T.J. Oshie
, the hero of Team USA's thrilling
shootout win over Russia
, might not have been in Sochi at all had it not been for his skill in the shootout.
Oshie was one of a handful of players, including
Brandon Saad
of the
Chicago Blackhawks
, who fought for the final forward spots on Team USA leading up to the Olympics.
ESPN.com's Scott Burnside was embedded with GM David Poile and the other American decision makers throughout the selection process, and
his report from inside
contains a prophetic statement from Poile:
As he has throughout, (Blackhawks GM Stan) Bowman speaks on behalf of his player, Saad.

"I think he's a more versatile player than Oshie," Bowman says.

"I think he's got more to his game than Oshie. He's like a young version of [Marian] Hossa. He's such a strong guy. He's just hard to handle. He's smart. He's a guy the coaches would love," the Chicago GM says.

Poile, meanwhile, knows Oshie and likes his personality.

"Oshie's got that shootout move," he adds.
Burnside also reported that the Team USA coaching staff wanted Oshie, in part for his versatility and chemistry with
David Backes
, as well as his shootout skills.
It appears they put their faith in the right player.
June, 24, 2013
6/24/13
5:23
PM ET
BOSTON --
Chicago Blackhawks
rookie forward
Brandon Saad
had a nap scheduled between the team's morning skate and Game 6 of the Stanley Cup finals against the
Boston Bruins
on Monday.
Whether he'd actually fall asleep, Saad wasn't sure.
With the Stanley Cup headed for TD Garden on Monday night and the Blackhawks just win away from them hoisting it, Saad and his teammates were in a battle Monday afternoon with their nerves leading into Game 6.
"It's amazing," Saad said after the morning skate. "Trying to keep my nerves down and be excited about it. It's going to be a lot of fun. ... [This afternoon will be] pretty routine. Get a meal in me. Take a nap, or try to take a nap and stay relaxed. It's going to be an exciting one.
"[I didn't sleep Sunday night] as good as usually, but I think it was the best I could, and we're all looking forward to it."
Blackhawks forward
Andrew Shaw
was feeling something similar. Shaw thought handling his emotions would be easier once the game arrived.
"There's obviously going to be nerves," Shaw said. "You can't focus on that. Focus on the game. We know they're a great team. They're going to play their best game of the postseason. You know their backs are against the wall. That's when teams are most dangerous. We got to focus on each shift, in and out, just keep moving forward.
"[The nerves] kind of settle when that puck drops. You're not thinking ahead. You're just playing the game. You're just thinking I'm here now and try to keep pushing it and working for each other."
In hopes of relaxing everyone, a number of the Blackhawks who played on the 2010 Stanley Cup team shared their experiences with their teammates on Sunday night.
"[They said] just to stay calm and live in the moment," Saad said. "Enjoy the process. It's not every year, you might not ever be here again. Lay it all on the line and play your best."
Shaw said, "There were obviously some great words said. We ended it off everyone was excited, ready to get the game started."
Blackhawks coach Joel Quenneville remembered his players sharing similar stories prior to winning the Stanley Cup in 2010.
"I think it's very beneficial," Quenneville said. "We look back, back in 2010, we were in the same situation. Johnny Madden had been there, and [Marian] Hossa had been there, and it was nice listening to those guys that had been in that situation.
"I think it prepares the guys with the right frame of mind. And between [Sunday] and [Monday's] game and [Monday,] and basically it's about the approach. You want to make sure you have confidence going into [Monday's] game, but let's make sure the energy is going to be in the right place. Let's make sure there's a purpose with it. But at the end of the day, we all dream about this challenge and this opportunity, and let's go take advantage of it."
June, 21, 2013
6/21/13
7:11
PM ET
CHICAGO -- What's with the
Patrick Kane
-like hockey mullet, I asked
Brandon Saad
?
"He was looking for guys before the year and I decided to tag along," Saad said through a smile on Friday. "It's been fun."
I'm not sure how I feel about the mullet with the lines shaved into the side, but I like what I'm seeing on the ice from the 20-year-old Pittsburgh native in his rookie NHL campaign.
Saad has only one goal and five assists in the playoffs, but he has come on over the past two rounds when the games have grown in importance.
"The way that he started his regular season and the way he finished it, is very similar to the way he started his playoffs and how he's finishing them now," said TV analyst Ed Olczyk, who works Blackhawks games during the regular season.
"Slow start pointwise, slow start generating a lot, and as the year went on, he became a permanent fixture and that's how he's played in the playoffs," said Olczyk. "A mirror image. Not a lot to show for it early in the playoffs, but a lot to show in important situations as the games have gone on."
Saad was nominated for the Calder Trophy as rookie of the year after putting up 27 points (10 goals, 17 assists) and a plus-17 rating in 46 regular-season games.
He played most of the regular season on the top line with
Jonathan Toews
and
Marian Hossa
, some kind of assignment in your first season in the league.
"Playing with Jonny and Hos during the year obviously helped out a lot, just getting that experience helped out tremendously," said Saad.
[+] Enlarge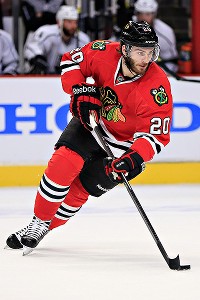 Jamie Squire/Getty ImagesBrandon Saad started the playoffs slowly, but has turned it on lately.
Head coach Joel Quenneville has had him both on the top line and the third line during the playoffs, and Saad has been mostly on the third unit with
Andrew Shaw
and
Viktor Stalberg
of late. For the coach to have that kind of trust in a rookie to play both on the top line or the third line is not something you see every day in this league.
"You don't," Mark Kelley, the director of amateur scouting for the Hawks, told ESPN.com Friday. "But he's a very smart player. He has great character. He's a well-grounded kid. He plays within the whole team concept. He's smart enough when the coach gives him a role he can embrace it, whether that's up on a line with Toews and Hossa or down on a line with Shaw and Stalberg."
To be able to comfortably fit on both the top line and a checking line as a rookie player takes high hockey IQ, agreed Olczyk.
"You have to be a smart player to be able to do it," said Olczyk. "A lot of people think anybody can play with Toews and Kane or Hossa and guys like that, but it's not the case. You have to have a lot of hockey sense and understand how to play with those guys. He just has that ability. He's a real bright kid. His hockey ability allows him to be flexible."
Kelley first saw Saad as a prospect during the 2009-10 season when Saad played for the U.S. national under-18 development team. He was immediately taken.
"He was a dominant player on that team," said Kelley. "At that point, going from his underage year to this draft year, we were as high on him as almost anyone aside from the top few guys in that draft."
Kelley said Saad played hurt for a while during the 2010-11 season, which likely hurt his draft stock a little and allowed the Hawks to get him in the second round in 2011 (43rd overall), which already looks like a steal.
"He was far from being 43rd on our list, I can tell you," said Kelley. "The fact that he was there at 43rd, we were incredibly excited."
Saad's rapid development is something to behold. He went from the Ontario Hockey League last season, to 31 AHL games with Rockford this season during the lockout, to a full-timer with the Hawks right from the start of the shortened NHL season, to a key player in the Stanley Cup finals.
"He's developed unbelievably," said Saad's current linemate, Shaw. "He's a great player now. He was great coming in but he ironed out some kinks. He's done a heck of a job. It's great having him on my line. It's nice having him as a roommate on the road, too. He's a great kid."
Just don't give him the remote control.
"He's pretty bad at flipping through the channels, he channel surfs too much," laughed Shaw. "Sometimes I have to yell at him so he stops and we can just watch something. But we agree on a lot of things, we're great roommates."
Saad admits he's had the odd moment where he's had to pinch himself to make sure this was all really happening, like when the United Center rocked during the anthem for the opening of the Cup finals.
"The anthem is always crazy here," said Saad. "There have been lots of crazy moments in these playoffs. Battling back against Detroit as an example. In general it's been a whirlwind."
At this point, he hardly feel like a rookie anymore. He's played a lot of hockey this year.
"The year's been quick," said Saad. "But with the experience I've had, I feel pretty good out there. I don't feel like a rookie anymore. Can't use that as an excuse. I have to contribute and play well. But it's been a great ride."
June, 14, 2013
6/14/13
5:23
PM ET
Bill Smith/NHLI/Getty ImagesBrandon Saad has one goal and four assists in his first playoff run.
CHICAGO --
Chicago Blackhawks
rookie forward
Brandon Saad
had it pretty easy in the regular season.
Part of that was Saad's own doing by proving he belonged in the NHL. But from the time Saad was thrown on the top line alongside
Jonathan Toews
and
Marian Hossa
in the season's second game up until the playoffs, Saad has remained in Blackhawks coach Joel Quenneville's graces.
But the playoffs have been a rockier road and a reality check for Saad.
When Saad's play began to decline in the first round against the
Minnesota Wild
, Quenneville treated Saad like any of his players. Winning was all that mattered, and Quenneville did what he felt was necessary to accomplish that. He first decreased Saad's minutes and then he demoted him to the third line.
"I thought he was OK at the start of the playoffs," Quenneville said after Friday's practice at the United Center. "I thought he had an outstanding regular season. I thought he started at a pretty good pace. Almost kind of represented the way he started the regular season. He was fine in the regular season. Didn't have any production to show for his play. Started the playoffs kind of comparable."
June, 13, 2013
6/13/13
3:43
AM ET
CHICAGO --
Chicago Blackhawks
rookie forward
Brandon Saad
never stopped believing his first career playoff goal would come this season.
Saad went goalless in five games against the
Minnesota Wild
in the Western Conference quarterfinals, in seven games against the
Detroit Red Wings
in the conference semifinals, and in five games against the
Los Angeles Kings
in the conference finals. Throw in the two playoff games in which Saad appeared in 2012, and he was without a goal in 19 career playoff games.
Going into Game 1 of the Stanley Cup finals against the
Boston Bruins
on Wednesday, Saad joked after the morning skate that he was possibly saving all of his goals for the final round.
Less than 10 hours later, Saad's joke became a reality.
June, 13, 2013
6/13/13
2:17
AM ET
CHICAGO -- Pretty sure if you would have told the
Boston Bruins
before Wednesday night's marathon Stanley Cup opener that
Jonathan Toews
,
Patrick Kane
,
Patrick Sharp
and
Marian Hossa
would combine for just one assist, they would have drawn up a big W in their minds.
Ah, little did they know what
Dave Bolland
,
Andrew Shaw
,
Marcus Kruger
,
Michael Frolik
and
Brandon Saad
had in store for them, the five supporting cast members combining for three goals and four assists as Chicago's bottom-six forwards did most of the damage on this night.
"The checking guys ... those guys have been great for us all year and all playoffs," star blueliner
Duncan Keith
, still catching his breath, said after the triple-overtime 4-3 thriller.
So much has been written over the past few weeks about the deep, four-line Bruins, and that's certainly accurate. It's what has helped Boston get this far, being able to roll four lines with confidence and get contributions from varied sources.
What perhaps had not received as much national attention is a team in Chicago with just as much depth, and the Game 1 heroics of third-liners Bolland and Shaw, in particular, hammered home that point.
You're not guaranteed a win against the Blackhawks, even if you shut down their top-six magic men.
"You always have your star players, but during the playoffs, it comes down to your depth and often to the players on the third and fourth lines," said Bolland, who for my money played his finest game of the playoffs Wednesday night.
Consider what transpired: The Bruins go up 3-1 on a beauty of a power-play goal by
Patrice Bergeron
6:09 into the third period.
Game over, right?
Not so fast.
Bolland ripped a one-timer past
Tuukka Rask
less than two minutes later to cut the lead to 3-2, Shaw with the setup as well as the interception of the puck at the Bruins' blue line moments prior.
The tying goal courtesy of John Oduya's point shot (off
Andrew Ference
's skate) was created thanks to a forecheck by fourth-liners Frolik and Kruger, their work in recovering the puck in the Bruins' zone and getting it back to the point the reason we had a tie game at 12:14 of the third period.
Finally, about two hours later in triple overtime,
Michal Rozsival
's point shot was first tipped by Bolland and then bounced off Shaw for the winner at 12:08, capping a memorable night for the lesser-name players on Chicago's juggernaut squad.
In other words, it felt like the kind of win the Bruins usually pull off.
"It was a grinding game out there," said Sharp. "It seemed like the third and fourth lines were creating stuff out there and contributing some big goals, none bigger than the one by Shawsy. I think it went off his pants or shin pads, but who cares at this point. We'll take it."
Blackhawks coach Joel Quenneville kept rolling his four lines in overtime, having no fear of putting out the fourth unit of
Brandon Bollig
-Kruger-Frolik, even if it was against one of Boston's top two lines.
"All year long, they gave our team ... you're comfortable with them against any line in a defensive-line faceoff, matchups, very responsible," said Quenneville. "They had a lot of energy shifts. Seems like they would always start in our end, end in the other team's end. They haven't been together in a while, but it was like they played all year together today."
Credit Quenneville, who played a hunch in putting Bollig into the lineup instead of
Viktor Stalberg
, which pushed Bolland from the fourth line to the third line as a ripple effect. Both third and fourth lines had an impact. It's the kind of result from a lineup decision a coach dreams of.
Particularly effective was the game's first star, Shaw, who seemed to be everywhere on this night, tying for the team lead with nine hits while picking up two points (one goal, one assist).
"He's a competitor," said Quenneville. "He does things game in, game out. The bigger the stage, the bigger the challenge, he rises to the occasion. He knows where the front of the net is. Doesn't have to be pretty. He's a warrior. He's one of those guys that you appreciate he's on your side, and he's relentless."
Bruins coach Claude Julien is one of the most prepared bench bosses in the NHL, so it makes sense that he would be the last guy surprised by what Chicago's supporting cast could do.
But one thing I've found over the years covering this game is that no matter how many meetings and video sessions you have with your team, the players hear what they want to hear. They have to live it before it really sinks in.
Now the Bruins players know full well that it's going to take more than shutting down the big boys of Chicago to win the Stanley Cup.
June, 10, 2013
6/10/13
5:55
PM ET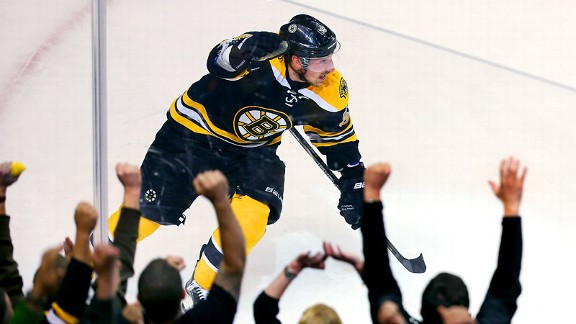 John Tlumacki/The Boston Globe/Getty ImagesThe Blackhawks' focus will be tested by noted agitator Brad Marchand.
CHICAGO -- The
Chicago Blackhawks
are well aware of
Boston Bruins
forward
Brad Marchand
, aka the "Little Ball of Hate," and his reputation heading into the Stanley Cup finals.
The 5-foot-9, 183-pound Marchand has been known to find various ways -- legal and illegal -- of agitating opponents, and the Blackhawks know they can't succumb to that throughout their series which begins Wednesday.
"I've never played against him personally, but I've played against guys like him in the past," Blackhawks forward
Brandon Saad
said after Monday's practice. "We got a couple of players like that on our team. They're good to be on your team and tough to play against. It's something you have to battle through.
"You can go different ways about it, but I think just ignore them, play your game and don't let them get under your skin."
May, 7, 2013
5/07/13
2:54
PM ET
ST. PAUL, Minn. -- In the middle of a hotly contested playoff series and with a crucial game in the offing, individual awards may seem relatively inconsequential.
But when it was revealed Tuesday morning that
Ryan Suter
was a finalist for the Norris Trophy as the league's best defenseman, it was a form of vindication for both the player who made the heartbreaking decision to leave the only team he'd known in the
Nashville Predators
for the franchise that wagered $98 million in salary and 13 years of term that Suter was the kind of player who could help transform an organization.
After a brief period of transition at the start of the lockout-shortened season, the
Minnesota Wild
's Suter has been the league's best defenseman. He led the NHL in total ice time per game at 27:16, was second among defensemen in assists and third in points.
With all due respect to
Kris Letang
and
P.K. Subban
, the other finalists for the Norris, if Suter does not win the award it will be a major surprise.
If you talk with Suter's coaches, teammates and opponents, you find a universal respect for his skill set. He is not a bruising force like
Shea Weber
, his former partner in Nashville, or
Niklas Kronwall
in Detroit. He may not be the game's swiftest skater -- both Subban and Letang possess explosive speed. But Suter is the complete package in a way both understated and impressive and reminiscent of former
Detroit Red Wings
great
Nicklas Lidstrom
.
One Western Conference GM spoke recently about the ease with which Suter plays as much as he does, almost always against opposing teams' top players. Earlier in the postseason, players in another series were marveling at Suter's performance in Game 1 of the Wild's series against the
Chicago Blackhawks
, when he played 41:08.
Wild coach Mike Yeo said it's a shame most Norris voters don't get to see Suter up close and appreciate how important he is to the Wild.
"You don't realize what a good person this is," Yeo said. "You don't realize what a tremendous leader he is, the character that he has. He's been a huge part obviously with his play, but as much with his attitude, his character and his personality in really helping our organization take a big step."
Suter and
Zach Parise
shocked the hockey world last summer when they signed identical 13-year deals with the Wild worth $98 million apiece. In making the move, Suter left the team that drafted and nurtured him and Weber, his longtime defense partner and a former Norris Trophy finalist himself. There were questions about whether Suter could assume the kind of leadership role that he did not necessarily have to play in Nashville given the large shadow cast by Weber.
Yet, as the season wore on, the Wild asked more and more of Suter, including partnering him with rookie
Jonas Brodin
. While he was not a finalist for the Calder Trophy, Brodin's evolution has been dramatic and much of it can be traced to his proximity to Suter.
Although Suter has yet to record a point in the series, he has been playing shift for shift against the Blackhawks' top line of
Jonathan Toews
,
Marian Hossa
and rookie-of-the-year nominee
Brandon Saad
and has helped stifled its point-production.
"When you play against him for a few years, you kind of see everything that he brings to the table," teammate
Kyle Brodziak
said. "He's strong, a good skater and very smart. He pretty much has all the elements you need to be a good hockey player. Can't say that he exceeded expectations, but they were pretty high coming in."
"He's very calm. It's good to have in the locker room," Brodziak added. "He's definitely a guy that doesn't get rattled, and that's important in a game where the emotions get so high. To have a guy that is able to stay composed in those types of scenarios, it's very important for your hockey team."
Not surprisingly, the low-key Suter was more interested in talking about Tuesday's Game 4 than individual honors.
"I'm really honored, I really am. But my focus isn't on that," Suter said. "Maybe someday looking back I say, 'Wow.' But it's preparing for tonight. It's going to be more intense than last game and the game before. Keeping my mind focused on the game is the most important thing."
May, 6, 2013
5/06/13
2:58
PM ET
From the official NHL release:
GALLAGHER, HUBERDEAU AND SAAD VOTED CALDER TROPHY FINALISTS
NEW YORK (May 6, 2013) – Right wing
Brendan Gallagher
of the
Montreal Canadiens
, center
Jonathan Huberdeau
of the
Florida Panthers
and left wing
Brandon Saad
of the
Chicago Blackhawks
are the three finalists for the 2012-13 Calder Memorial Trophy, which is awarded "to the player selected as the most proficient in his first year of competition," the National Hockey League announced today.
Members of the Professional Hockey Writers' Association submitted ballots for the Calder Trophy at the conclusion of the regular season, with the top three vote-getters designated as finalists. The winner will be announced during the 2013 Stanley Cup Final, with more detail on format to be released at a later date.
Following are the finalists for the Calder Trophy, in alphabetical
order:
Brendan Gallagher, Montreal Canadiens
A fifth-round pick (147th overall) by the Canadiens in the 2010 NHL Draft, Gallagher helped Montreal go from a last-place finish in the Eastern Conference in 2011-12 to a Northeast Division title and the second seed in the conference in 2012-13. He played in 44 games, ranking second among rookies with 15 goals and fourth with 28 points. Gallagher, 21, also finished in the top five among freshmen skaters in shots on goal (second, 117), plus/minus (fifth, +10) and game-winning goals (t-first, 3).
Jonathan Huberdeau, Florida Panthers
Selected third overall by the Panthers in the 2011 NHL Draft, Huberdeau played in all 48 games for Florida and ranked second both on the team and among NHL rookies with 31 points (14-17—31). Among first-year players, he finished third in goals, fourth in assists and third in shots on goal (112). His 16:55 average time on ice also led rookie forwards, while his nine power-play points (2-7—9) placed fourth among all freshmen skaters. The 19-year-old Huberdeau set two franchise records, becoming the first Panther to score on two penalty shots in one season (Feb. 21 at Philadelphia and March 5 vs. Carolina) and recording the most points by a teenager in team history (four more than
Radek Dvorak
in 1995-96).
Brandon Saad, Chicago Blackhawks
A second-round pick (43rd overall) by the Blackhawks in the 2011 NHL Draft, Saad led all rookies with a +17 rating, including a +12 rating on the road, to help Chicago earn its second Presidents' Trophy in team history. He ranked fifth among rookies in each of the three major scoring categories – goals (10), assists (17) and points (27). Saad, 20, also placed third among freshmen forwards in average time on ice (16:27) and fourth among all first-year skaters in shots on goal (98) in 46 games.
History
From 1936-37 until his death in 1943, NHL President Frank Calder purchased a trophy each year to be given permanently to the NHL's outstanding rookie. After Calder's death, the League presented the Calder Trophy in his memory.
Announcement Schedule
The NHL is announcing the three finalists for its regular-season awards through May 20. The remaining announcement schedule:
Tuesday, May 7
James Norris Memorial Trophy (top defenseman)
Wednesday, May 8
Vezina Trophy (top goaltender)
Thursday, May 9
Ted Lindsay Award (most outstanding player as voted by NHLPA) *Ted Lindsay Award nominees will be announced by the NHLPA
Friday, May 10
Hart Memorial Trophy (most valuable player to his team)
Monday, May 13
General Manager of the Year Award
Tuesday, May 14
Bill Masterton Memorial Trophy (perseverance and dedication to hockey)
Wednesday, May 15
Frank J. Selke Trophy (top defensive forward)
Thursday, May 16
Lady Byng Memorial Trophy (skill/sportsmanship)
Friday, May 17
Jack Adams Award (top head coach)
Monday, May 20
Mark Messier
NHL Leadership Award presented by Bridgestone (player who exemplifies great leadership qualities to his team, on and off the ice)
March, 6, 2013
3/06/13
9:53
AM ET
By
ESPN Stats & Information
| ESPN.com
Blackhawks 5, Wild 3
* Blackhawks: 23 straight games with point to start season
* Blackhawks: won 10 straight (franchise record)
*
Bryan Bickell
(CHI): 2 goals (5); 1st career multi-goal game
*
Devin Setoguchi
(MIN): Goal (5); 5-game point streak
* FROM ELIAS:
Brandon Saad
scored one goal and set up two more in the Blackhawks' four-goal first period against Minnesota on Tuesday night. Saad was the first Chicago rookie to record three points in the first period of a game since November 30, 2007, when
Jonathan Toews
tallied one goal and two assists in the opening 20 minutes of a game against Phoenix.
Most Consecutive Games with a Point, NHL History
1979-80 Flyers 35
2011-13 Blackhawks 29
1977-78 Canadiens 28
Longest Win Streaks In Shortened Seasons Among 4 Major Sports
MLB '95 Red Sox 12
NBA '11-12 Spurs & '98-99 Jazz 11
NHL '12-13 Blackhawks 10
NFL '87 Saints 9

Longest Winning Streaks In Shortened NHL Seasons (1994-95 and 2012-13)
2012-13 Blackhawks 10
1994-95 Flyers 9
1994-95 Flyers 8

Islanders 6, Canadiens 3
* Canadiens: 1st NHL team to score 20,000 all-time goals (3rd goal was 20,000)
* 6 different players scored for Islanders; 6 goals tied for most they've ever scored vs Canadiens
* Islanders won 3 straight vs Canadiens
* Canadiens: 1st regulation loss since February 9th

Kings 6, Blues 4
* LA: trailed 4-1 in 2nd period
* LA: won 7 of last 8 games
* LA: won 6 straight home games
* Jake Muzzin LA: 2 goals, 1 assist; had 2 career goals in 28 games

Capitals 4, Bruins 3 (F/OT)
* Bruins: led 3-0 at end of 1st period
* Capitals: 4-1-0 last 5 games
* Eric Fehr (WSH): season-high 3 points (Game-winning Goal, 2 Assists)
* Tuukka Rask (BOS): 4 GA in each of last 2 starts
* FROM ELIAS: Before Tuesday's loss, Boston was 89–1–0 since the start of the 2008–2009 season in games in which it led by at least three goals, and not one of those games even reached overtime.
* FROM ELIAS: Eric Fehr scored the first overtime goal of his NHL career to complete the Capitals' comeback from a 3–0 deficit and earn them a 4–3 win over the Bruins. It was the eighth time in the last five seasons that Washington won a game in which it trailed by three or more goals. The only other team with more than four such wins over that span is the Thrashers/Jets with six.

Panthers 4, Jets 1
* Brian Campbell (FLA): Assist; 3 goals, 5 assists in past 5 games
* Jacob Markstrom (FLA): stopped 20 of 21 shots; 1st win this season
* Panthers: 3-0-2 in past 5 home games vs Jets
* Jets: outshot Panthers 21-20
* FROM ELIAS: Panthers rookie Jonathan Huberdeau scored his second penalty-shot goal of the season in Florida's 4 –1 win over the Jets. Huberdeau, who scored on a penalty shot on February 21 at Philadelphia, is the second rookie in NHL history to score two penalty-shot goals in one season. The first was David Vyborny, who did that for the Blue Jackets in 2000–2001, their inaugural season in the NHL.

Rangers 4, Flyers 2
* Rick Nash (NYR): 2 goals (6,7); has 5 goals and 6 assists during 7-game point streak (1st multi-goal game of the season)
* Ryan Callahan (NYR): 2 goals (6,7); 1st multi-goal game of the season
* Rangers: have won 6 straight home meetings
* Jakub Voracek (PHI): goal (10), assist in 24th game; scored 10th goal in his 56th game last season (17 points (7G, 10A) in past 9 games)
* FROM ELIAS: Rick Nash scored a pair of third-period goals to lead the Rangers to a 4–2 win over the Flyers on Tuesday night. Nash has scored seven goals this season and they have all come in the third period. He is the first player in Rangers history whose first seven goals of a season were all third-period tallies.

Red Wings 2, Avalanche 1
* Johan Franzen (DET): 1st goal in last 7 games
* Jimmy Howard (DET): 36 saves, 1 goal allowed (stopped 69 of 71 shots in last 2 games combined)
* Red Wings: 3-0-1 in last 4 home games (outscored opponents 15-5)
* Avalanche: 1-2-3 in last 6 games (2-for-19 on PP)

Hurricanes 4, Sabres 3
* Hurricanes: complete 3-game sweep of season series vs Sabres
* Hurricanes: on 4-game win streak overall
* Alexander Semin (CAR): Goal (6), 2 assists
* Cody Hodgson (BUF): 2 goals (10)

Blue Jackets 4, Oilers 3 (SO)
* Vinny Prospal (CBJ): goal, assist (3-game goal streak, 4-game point streak)
* Sergei Bobrovsky (CBJ): stopped all 21 shots after replacing Steve Mason (allowed 3 goals on 8 shots)
* Blue Jackets: earned point in season-high 4 straight games

Lightning 5, Devils 2
* Lightning: snapped 5-game losing streak
* Nate Thompson (TB): 1st multi-goal game of career
* Devils: 0-5-1 in last 6 games
* Johan Hedberg (NJ): allowed at least 3 goals in 6 of 10 games started this season (0-5-1 in those games)

Sharks 3, Canucks 2 (SO)
* Sharks: 3-0-1 in last 4 games
* Brad Stuart (SJ): 2 assists (entered game with only 1 assist on season)
* Canucks : 1-3-1 in last 5 games (0-13 on power play)
* Henrik Sedin (VAN): goal (4) (point in 5 straight games)