Cross Checks:

Brent Johnson
September, 3, 2014
Sep 3
9:41
AM ET
Recently,
Pittsburgh Penguins
general manager Jim Rutherford indicated that the club's starting goaltender
Marc-Andre Fleury
would enter the 2014-15 season without a contract extension.
Rutherford said it was not an immediate priority to re-sign the 29-year-old netminder, who is heading into the last year of a seven-year, $35 million deal. His agent, Allan Walsh, told the Pittsburgh Tribune-Review that he had no problem with that, saying the decision was "of no consequence at all."
But that doesn't mean that the lack of a new deal won't be in the back of Fleury's mind when he enters training camp next month. His friend and former Penguins teammate
Brent Johnson
can only imagine the impact that situation might have if he were in Fleury's skates.
[+] Enlarge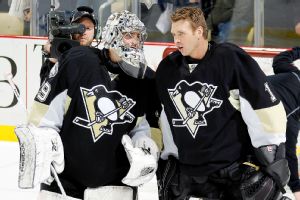 Gregory Shamus/NHLI/Getty ImagesBrent Johnson says Marc-Andre Fleury is a "lead-behind-the-scenes type of guy."
"I believe, if that were me, I'd probably take it worse than Marc [has]," Johnson told ESPN.com in a recent telephone conversation. "It could weigh on your mind. I'm not saying it will, but it could."
The 37-year-old Johnson, who backed up Fleury for three years and knows him about as well as anyone, thinks Fleury will handle it like a true professional. A player Johnson describes as "outgoing" and "affable," Fleury will likely keep any anxiety or unease he may have about the situation private, Johnson said. You won't see him spouting off to the media or griping behind closed doors, he said. Fleury will want to make his statement in the crease, instead.
"His character is unbelievable," said Johnson, who will be working for Comcast SportsNet as an analyst during
Washington Capitals
games this season. "He's a guy that wants to do all his talking on the ice. Every team wants a guy like that. He's a lead-behind-the-scenes type guy."
Johnson was happy to see his buddy bounce back last season after a well-documented implosion in the spring of 2013, when Fleury gave up 17 goals in five games of the team's first-round playoff series against the
New York Islanders
.
Fleury ranked second in the NHL with 39 wins and posted solid numbers, a 2.37 goals-against average and .915 save percentage during the 2013-14 regular season (2.40 GAA and .915 during the playoffs), despite backing a Penguins squad that was pretty banged up for much of the year.
"I think it was very important for him to have a great regular season and to follow up with a decent run in the playoffs, which I think he had," Johnson said.
As Fleury's friend and fellow goaltender, Johnson often encouraged his cohort to let the play come to him, and not lose sight of what got him there in the first place.
Johnson saw much more of that steadiness and consistency in Fleury's game this past season, and he thinks at least a part of that was the addition of new goaltending coach
Mike Bales
.
Bales was the only holdover from Dan Bylsma's coaching staff to be retained when Bylsma was fired this past spring.
"He helped him out and settled him down," Johnson said of Bales. "Which I think he needed."
Johnson was actually a candidate for Bales' job after retiring following the 2011-12 season. That's something he would be open to pursuing in the future, and has enjoyed before -- Johnson has made time for coaching local youth hockey in both the D.C. and Pittsburgh areas in the past.
As for now, though, Johnson is excited about his gig with CSN, working in television despite the requisite nerves that are part and parcel of the job.
He'll look forward to employing his NHL experience and insight as an analyst covering the Capitals. And he predicts his former Penguins squad will remain a tough team to beat in the Metropolitan Division.
And though he is relatively unfamiliar with new coach Mike Johnston and his staff, he knows the Penguins' roster is enough to make them a top team every year.
"You have a team there that has the potential on paper every year to go far in the Stanley Cup playoffs. I don't think that's going to change. It's the small little details throughout the season. I think the big thing in the dressing room is to have character guys," Johnson said, identifying
Pascal Dupuis
as one such leader in that category. "I think they missed [him] a ton last year. I don't know what happened in [the] dressing room at all [last season], but if you're on a 10-game winning streak and you're not having fun winning or it's just ho-hum at [the] office, you tend to lose the excitement."
February, 3, 2011
2/03/11
10:55
AM ET
Scott Burnside and Pierre LeBrun reminiscence about some of the more memorable goalie fights in NHL history, and also provide an update on Ray Emery's potential NHL comeback:
Burnside: Greetings, my friend. Well, it wasn't exactly Patrick Roy and Mike Vernon, but it's always interesting to see goaltenders involved in a dustup. The latest came in the final seconds of Wednesday's 3-0 Pittsburgh victory over the lowly New York Islanders. Brent Johnson followed up a solid 20-save outing with a one-punch knockdown of Islanders netminder Rick DiPietro. DiPietro had gone after Matt Cooke following the Pens' empty-net goal, and Johnson skated the length of the ice and dropped a bomb on DiPietro, who seemed to be smiling just before Johnson landed the punch.
It seems the Islanders can't even get that part of the game right. While I'm not a big fight fan and think the NHL should be taking a harder stand on the appointment fights that are a blight on the game, nothing rallies a team like a goalie who is willing to drop the mitts.
LeBrun: My favorite goalie fight was when Felix Potvin stunned Ron Hextall. What Hextall and many before him didn't know was that Potvin knew his way around the fisticuffs.
"It's funny because people are still surprised by it," Potvin told me for a piece I wrote on him in November 2008. "It's something that will follow me for a long time. It was a good memory. ... My three junior seasons in Chicoutimi, we had a pretty tough team. By the end of practice, guys were joking around and fighting. I guess it helped."
As for DiPietro, you can't blame him for feeling frustrated; another lost season on Long Island, another disappointing season for him. And losing to a Penguins team that had no Sidney Crosby or Evgeni Malkin? Enough is enough. I don't fault DiPietro. (By the way, checked with the league and neither DiPietro nor Johnson face any fines or further discipline.)
Burnside: I happened to be in attendance at perhaps the greatest goalie fight of all time at Joe Louis Arena in March 2008, when the Detroit Red Wings beat the Colorado Avalanche and Patrick Roy and Mike Vernon went toe-to-toe at center ice. That's the night Darren McCarty beat up Claude Lemieux in retribution for his hit on Kris Draper the season before and then came back to score the winner in overtime (how he was still in the game remains a giant mystery, but I digress).
The Red Wings often referred to that emotional win as a springboard to what would result in back-to-back Stanley Cup wins. Not saying this is anything close, but I think Johnson's jumping to Cooke's defense (and remember, it's a long way for a goalie to travel from crease to crease) suggests this is a very tight-knit Penguins team. And you're right, no Malkin, no Crosby, and the Pens again earn two points to keep the pressure on Philadelphia for the top spot in the Atlantic Division. They are a very tough team to play against, on all levels.
LeBrun: Speaking of goalies who like to drop the gloves, Ray Emery appears close to returning to the game. I wrote last fall about his courageous comeback from a hip surgery/condition that should have ended his career.
Late Wednesday night, my "Hockey Night in Canada" colleague Kevin Weekes tweeted that he wouldn't be surprised if Emery ended up with the Anaheim organization. Weekes, a former NHL goalie himself, is tight with Emery. I texted Emery before going to bed, and the former Philadelphia and Ottawa netminder told me he couldn't say anything about any team just yet. His agent, J.P. Barry of CAA Sports, had this to say to me via e-mail:
"He is ready to play. He has worked amazingly hard and feels ready. He wants to join a team next week.'"
The Ducks appear to be in the mix and, given GM Paul Holmgren's fondness for Emery, I'd be surprised if the Flyers didn't at least return a phone call. Having said that, the Flyers have a lot of goalies. I'm told a couple of others teams are also sniffing. Emery would likely begin his comeback in the AHL.
Burnside: Well, that's a nice segue given that we started talking about the Islanders, the new NHL home of Evgeni Nabokov. It was, after all, the Detroit Red Wings that started the Nabokov derby by signing him to a one-year deal. The Islanders then scooped him up, but Emery would not have to pass through waivers since he hasn't played this season. Would the Wings take a chance on Emery? They won 7-5 in Ottawa on Wednesday night, but GM Ken Holland is clearly worried about his goaltending depth because Chris Osgood is on the shelf with a groin problem.
Emery's playoff experience would be a nice addition for the Wings, and if he can stay healthy, he is the kind of goalie who would thrive in Detroit. And what about the Avs? Last in the league in goals against and lots of cap room, plus they wouldn't have to give up any assets to take a run at Emery. If he is healthy, this could be the feel-good story of the season.
LeBrun: Jimmy Howard appears to have lost some of his confidence after a brilliant rookie season. His .904 save percentage is 29th among NHL goalies. Not what the Wings want to see in what is shaping up to be another run at the Cup, and not what Howard wants during a contract year. I agree with you -- Emery could be nice insurance behind Howard and Osgood, especially with Ozzie on the mend. I texted Wings GM Ken Holland this morning and he said they had no interest in Emery. Oh well. Until tomorrow, my friend.
February, 2, 2011
2/02/11
10:54
PM ET
Brent Johnson missed out on a shutout after taking down Rick DiPietro in the final minute of Wednesday's game, but where does this fight rank among some of the best goalie fights in history?
Brent Johnson vs. Rick DiPietro
Felix Potvin vs. Ron Hextall
(courtesy: hockeyfights.com)
Patrick Roy vs. Chris Osgood
(courtesy: hockeyfights.com -- oh the glory days of ESPN2!)
Patrick Roy vs. Mike Vernon
(courtesy: hockeyfights.com)