Cross Checks:

Brian Boucher
January, 13, 2013
1/13/13
12:51
PM ET
The top unsigned player in the NHL is forward
Jamie Benn
, and he wasn't at the opening of
Dallas Stars
camp Sunday.
The restricted free agent was second in team scoring last season with 63 points (26-37) in 71 games and a pillar the Stars were building around.
But the deal has to make sense for both sides, and it doesn't yet.
"I'm optimistic that we'll have him back on the team, but it won't be today," Stars GM Joe Nieuwendyk told ESPN.com on Sunday morning. "We'll focus on the guys we have here because it's a short camp and we need to get ready. But in the meantime, certainly we'll keep working away at trying to get Jamie re-signed."
The No. 2 name among unsigned players is blueliner
P.K. Subban
. Things can obviously change quickly with one phone call, but as of Sunday morning my understanding was that things were not close on that front; both sides were still far apart.
On the flip side,
Michael Del Zotto
was at Rangers camp Sunday as he agreed to a two-year deal worth an average of $2.55 million per season. That's an important signing for the Cup-contending Rangers.
Meanwhile, the
Carolina Hurricanes
were busy Sunday, first dealing veteran backup goalie
Brian Boucher
to Philadelphia and replacing him by signing
Dan Ellis
. Hurricanes GM Jim Rutherford hinted to ESPN.com in the morning that he wasn't done, and he was true to his word, in the afternoon picking up tough guy
Kevin Westgarth
from the
Los Angeles Kings
in exchange for winger
Anthony Stewart
, Carolina's 2013 fourth-round draft pick and a sixth-round selection in 2014.
Westgarth, of course, was a key player in the recent labor talks, but the Hurricanes are more interested in his toughness than his negotiating acumen.
More will happen, starting with the
Roberto Luongo
trade talks. More on that Monday.
April, 23, 2011
4/23/11
1:47
AM ET
PHILADELPHIA -- If we had not borne witness to last spring's remarkable goalie carousel that carried the Philadelphia Flyers to the brink of a championship, the temptation would be to write off this team right here and now.
Having gone through three goaltenders in five games, the Philadelphia Flyers once again face the never-ending question when it comes to the men who wear the masks in this town:
What now?
Veteran Brian Boucher, who came on in relief of shaky rookie Sergei Bobrovsky in Game 2 of Philly's first-round series versus Buffalo, was lit up Friday night for three goals on 11 shots before being pulled at 15:36 of the first period. None of the goals was particularly pretty, but the first two, by Tyler Ennis and Thomas Vanek, were ghastly.
Boucher was playing pass, and Ennis simply shot the puck on net from a bad angle and it snuck through Boucher to give the Sabres a 1-0 lead just 2:24 into the game. Eighty-seven seconds later, Vanek somehow managed to get the puck past Boucher from behind the goal line.
"I take full responsibility for it," the classy Boucher said as he stood surrounded by reporters after the game, answering question after question about his meltdown. "I put my team behind the eight ball. It was on me. Those are goals that can't go in. Like I said, I take full responsibility."
[+] Enlarge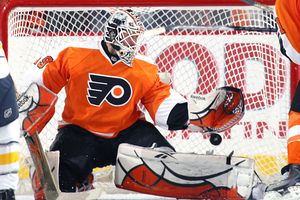 Len Redkoles/Getty ImagesMichael Leighton replaced Brian Boucher at 15:36 of the first period in Friday's Game 5.
That the Flyers stormed back to tie the game with backup Michael Leighton in net, only to lose 4-3 in overtime on Ennis' second goal of the game, might serve to cloud the team's goaltending issues. But where the Flyers' goaltending carousel stops now is the question that remains central to the team's short-term future, and beyond.
Flyers coach Peter Laviolette described Boucher's outing Friday as an aberration.
"It's just a tough start, some funny goals and the way they went in," the coach said. "But Brian Boucher has been a terrific player for us for the entire year. Even in this series, he came in and he settled things down and gave us an opportunity to win some games. It was just an odd start."
The prevailing thought around the team is Laviolette will go back to Boucher for Sunday's Game 6 in Buffalo.
Leighton, playing in just his second NHL game of the season after being placed on waivers and sent to the Flyers' minor league team in Adirondack this season, was fine in relief, giving up just one goal (Ennis' overtime winner) on 21 shots.
But there was a reason Leighton was in the minors, and it was because the Flyers believed Bobrovsky and Boucher gave them the best chance to win. Or at least they did until they struggled down the stretch, and they chanced losing Leighton to another team by bringing him back through waivers so he could rejoin the club on the eve of the playoffs.
As for Game 6, Leighton said he would like to play. But he also said Boucher "has done a great job to get us in this situation and tonight was one of those nights where, for two of those goals, that guy could take a hundred shots in there and he might score one. So, it's a tough bounce. We have confidence in him that he's going to bounce back and play a good one in Buffalo."
A year ago, Laviolette had no choice when it came to his goaltending in the playoffs. With Ray Emery out and Leighton injured, Boucher started and beat New Jersey in the first round. Then, when Boucher got hurt in the conference semifinals, Leighton came back and backstopped the Flyers during their seminal comeback against the Bruins. Leighton played the rest of the way, although Boucher did see action twice in the Stanley Cup finals against Chicago when Leighton played poorly.
Now, of course, Laviolette has a choice.
Does he go back to Boucher, who helped right the ship in Game 2 of this series when it appeared Bobrovsky's nerves got the better of him? Or does he give Leighton the chance to repeat his miracle return during the Boston series a year ago?
"I'm going to sleep on that and then probably give you nothing," Laviolette quipped. "Business as usual."
Business as usual, indeed.
With Chris Pronger iffy to play in this series, as he has taken longer to return from a hand injury, and Jeff Carter not expected to be available for the foreseeable future with what is believed to be a knee injury, the Flyers are going to need much better from Boucher if they're going to stay alive. He is certainly hoping to get a chance to redeem himself.
"I would very much like to redeem myself," Boucher said. "Like I said, it was my responsibility tonight. I take ownership in that. To put your team in a hole like that when it's an important game, they didn't deserve that. I would like to get a second crack at it. We will see what happens."
If we hadn't seen with our own eyes how it all turned out last season, we'd say the Flyers are in big trouble.
April, 22, 2011
4/22/11
8:49
PM ET
Flyers goalie Brian Boucher was pulled at 15:36 in the first period of tonight's Game 5 between Buffalo and Philadelphia.
Coach Peter Laviolette pulled the plug after Boucher allowed three goals on 11 shots, the first two of which were on bad-angle shots by Tyler Ennis and Thomas Vanek.
Michael Leighton, who helped lead the Flyers to the Stanley Cup finals last season, came in as Boucher's replacement.
The best-of-seven series is tied at 2.
Scott Burnside will have more on this and other highlights after the game, but in the meantime, you can follow his Twitter feed here.
April, 18, 2011
4/18/11
10:45
PM ET
Matthew Barnaby says Brian Boucher's veteran play gave the Flyers a break on a 5-on-3 against Philadelphia and helped them win the game.
November, 15, 2010
11/15/10
11:18
AM ET

1. Leadership lacking in Edmonton
It seems everyone is prepared to give the Edmonton Oilers a free pass this season no matter what they do. While the red flares are shooting up all over the league, at least as far as the media are concerned, with teams from Calgary to Long Island to Toronto, everyone seems to pretty much shrug their shoulders at the Oilers' foibles. Fair enough. We get that they are rebuilding after a dead-last finish last season. We are a big fan of coach Tom Renney, and we think he has the perfect temperament to coach a young team that has miles to go before they sleep. But, youthfulness doesn't excuse lethargy and downright incompetence on the ice and there have to be hard questions asked about the ancillary parts of this team and the example they're setting for the team's young cornerstones, Taylor Hall, Jordan Eberle and Magnus Paajarvi.
During a just-completed four-game Eastern road trip, the Oil were crushed 7-1 and 6-2 by Carolina and Detroit, respectively. They blew a 3-1 lead against woeful New Jersey, allowing the Devils to win their first home game of the season. Then to close out the trip, they led the New York Rangers 2-1 before giving up seven unanswered goals en route to a 8-2 shellacking on Sunday. And this with backup Martin Biron in goal for the Rangers.
So, just who is setting the example in Edmonton? Dustin Penner? He was minus-4 on Sunday and has shown little inclination to use his size or his abilities for the greater good. Defenseman Tom Gilbert? Likewise minus-4 on Sunday and minus-10 on the road trip.
The Oilers' sorry plight brings into sharper focus the questionable decision to banish veteran defenseman Sheldon Souray to the AHL after his squabble with management last season.
Could Souray's presence in the lineup (when he's not injured, as he is now) have been any worse an example than what the Oilers' "leadership" core has shown thus far? One would think not.

2. On the road again
Coaches in general don't like to discuss the schedule because, like the weather, what else are you going to do but get your umbrella out when it rains? Yet you could hardly blame Tampa head coach Guy Boucher for shaking his head as he packs for yet another first-quarter road trip.
After dropping a 4-1 decision to the Minnesota Wild on Sunday in Tampa, the Lightning are back on the road this week for games in Long Island, Philadelphia and Buffalo.
Before Christmas, they will have completed their second trip to the West with a swing through Calgary, Edmonton and Vancouver. By the time Canadians finish celebrating Boxing Day on Dec. 26, the Lightning will have played 36 games, 22 of which will have been played away from the St. Pete Times Forum.
Throw in the crippling spate of injuries that has seen the Lightning lose captain Vincent Lecavalier and Simon Gagne long term along with Steve Downie (he returned to action Sunday), and Boucher acknowledged these are difficult times for the team.
"It's survival time. Let's not kid ourselves, until Christmas it's survival time. We know it. We knew it. What we didn't know is that we were going to get all these injuries and all these guys that were sick," Boucher said.
The Lightning began the season as one of the top offensive teams in the NHL but have managed just 13 goals in their past seven games.
On Sunday the Lightning outshot Minnesota 38-18 but couldn't take control of the game when it was there to be taken.
"We want to see through the clouds. We're in a cloud right now," Boucher said.
Not that the Bolts are the only team that longs for some home cooking. As of Monday morning, the New York Islanders had played a league-low five home games and a league-high 12 road games. They have not won a game anywhere since Oct. 21, 11 games ago.

3. Wild becoming legit contender
Slowly but surely, the Minnesota Wild are edging themselves back into a position where they may be more than just a team that hovers around the edge of the playoff bubble.
Although they still rank 27th in goals per game, they have managed to lop off almost a goal per game from last year's weak defensive effort.
They currently rank sixth in goals allowed per game and combine that with two top-rated special teams and it's easy to see why the Wild are pleased with how they've turned things around as they began the week in second place in the Northwest Division, four points back of Vancouver.
"That's the strength of our team right now, our specialty teams play and our goaltending," GM Chuck Fletcher told ESPN.com.
Improving the team's goals against was a top priority from Day 1 of training camp. But Fletcher also understands there is more than a little impatience in the State of Hockey given that the team hasn't won a playoff round since 2003 and has missed the playoffs the past two seasons.
Even though the team has been without five to seven regulars pretty much since the start of the season, they still have managed to ice a squad that boasts the NHL's top power play and a penalty-killing unit that is ranked seventh.
On Sunday, the power play accounted for two more goals in a 4-1 victory, a game in which they were badly out-chanced.
"We bend a lot but we don't break," Fletcher said. "It's hard when you lose skilled players," he said. "It's been a bit of a challenge for us."

4. Elliot earns Senators' confidenceFunny how things go when it comes to goaltending. Two years ago when the Ottawa Senators added Pascal Leclaire from Columbus, they hoped the deal would solidify a position that had been in turmoil since Ray Emery's fall from grace after the 2007 run to the Stanley Cup final. But Leclaire has been prone to injury and when healthy, prone to playing poorly. In his place has stepped Brian Elliott, who was drafted in the ninth round by the Sens back in 2003. How long ago was that? They don't even have a ninth round anymore. Yet Elliott has earned the confidence of a Senators team that has surged back into the hunt for the Northeast Division crown with a 9-4 record that includes five straight victories and seven wins in his past eight appearances.
Saturday, Elliott backstopped the Senators to a 2-0 win over Boston with 31 saves in a game that saw Tim Thomas suffer his first loss of the season.
The victory also saw the Sens leapfrog Boston in the Northeast Division standings.

5. Odd man out in PhiladelphiaJust in case you thought life was fair, we bring you the soon to be uncomfortable issue confronting Philadelphia GM Paul Holmgren.
Netminder Michael Leighton is back skating and will soon be healthy enough to rejoin the Flyers after surgery to repair a herniated disc in his back. When he does, the red-hot Flyers will have three netminders and Holmgren will be in the unenviable position of having to dispose of one of the goaltenders who helped make the Flyers' improbable run to the Stanley Cup final last spring possible. Barring a setback to Leighton, it is likely Brian Boucher will find himself sent to the AHL as the odd man out in the rotation. Of course, it was Boucher who stoned the New York Rangers in a shootout in Game 82 last year to get the Flyers into the playoffs. He was the goalie who helped the Flyers dispose of New Jersey in five games and was the goaltender that started the Flyers' historic comeback from a 3-0 series deficit against Boston before he was injured and Leighton carried the freight the rest of the way.
Regardless of that valiant effort, Boucher will likely be set out with the trash in the coming days thanks to the impeccable play of rookie netminder Sergei Bobrovsky who has 10 wins, tied for second in the NHL, and boasts a save percentage of .932 and 2.08 GAA.
The Flyers could carry three netminders, but that makes little sense vis a vis the salary cap, so when Leighton gets clearance to play one will have to go. Fair? No. Reality? Indeed.
January, 15, 2010
1/15/10
1:08
PM ET
TORONTO -- A young fan in a Flyers jersey waited patiently near the visitors' dressing room at Air Canada Centre. When Brian Boucher finally got off the ice after doing some extra work Thursday, you wouldn't have known this was a guy getting squeezed out in a three-goalie jam.
But with a smile as earnest as can be, Boucher signed an autograph and took a picture with the kid. Sure, things are tough on the job right now, but why take it out on the poor kid (although I know a few athletes who certainly would have)?
Life is not a bowl of cherries for Boucher, who is the odd-man out behind Michael Leighton and Ray Emery in a crowded Flyers crease.
"I'd be lying if I said I wasn't thinking about it, but as a veteran of the game, I know lots of things happen in this game," Boucher told me later as we sat in the visitors' dressing room. "You have to stay patient, work hard, and stay as positive as possible."
This is the thing about NHL goalies -- there's only 60 jobs in the best hockey league in the world. Holding on to one is a feat in itself.
When Boucher signed a two-year, $1.85 million deal last summer, his second tour of duty with the Flyers was good opportunity: provide quality backup netminding to Emery, who was coming back to the NHL after a one-year stint in Russia. And I'm guessing, in the back of his mind, Boucher also figured he might get a solid chance at some point given the demands on starting goalies in Philly and Emery's roller-coaster career.
As it turns out, Emery played well out of the gates. Then, when Emery went down with an injury, finally giving Boucher his chance, the 33-year-old suffered an injury in a game Dec. 21.
"It is what it is, I got some bad luck there," said Boucher. "I got hurt, injured my finger in a game. The next game, we started the winning streak. [Flyers GM] Paul Holmgren had a meeting with the team and it seemed to turn things around for us. We've been good ever since. Unfortunately for myself, I haven't really been a part of it. But more importantly for the team, it's been a great turnaround and got us back in the thick of things."
You don't hear Boucher complain. He puts the team first and fully understands why the team has continued to ride the red-hot Leighton.
"Absolutely," said Boucher. "And you know, we didn't have a 20-point cushion, we didn't have the luxury of working people back in. It was what it was. He was the guy on the spot who got the opportunity and he's made the most of it. If you're the other guy on the outside, you just have to wait patiently. If you play well when you get back in, then you can make the case for yourself."
The 28-year-old Leighton is some kind of story right now (he wouldn't talk to me Thursday because it was a game day.) Will the bubble burst soon? His career numbers aren't grand, so you wonder how long he can keep it up. Then again, Tim Thomas and Craig Anderson were also journeyman goalies who, like Leighton, were once put on NHL waivers. Look at them now.
"He was given an opportunity that he probably hasn't been given in a while, to start games on a regular basis," Flyers coach Peter Laviolette said of Leighton. "He backed up Cam [Ward] in Carolina and usually caught the seventh game in 11 nights, and it was usually a back-to-back game on the road with a tired team in front of him. So this was his first opportunity and he's done a really good job of giving us what we need in net in order to win hockey games."
Let's be honest here, the Flyers got a bit lucky. Leighton actually cleared NHL waivers the first time around before the Hurricanes put him back on re-entry waivers a few days later, and the Flyers taking him at half the price. One of the hottest goalies in the NHL is costing the Flyers about $185,000 pro-rated for the season.
"We were between a rock and hard place with two goalies injured," said Laviolette.
So what now? Three goalies is never a good thing on an active NHL roster. Just running a practice with three goalies is cumbersome, not to mention the roster space dedicated to a guy who's not playing. Boucher could very well be put on waivers at some point and then sent down to the AHL; but so far, he's sticking with the big club.
"I don't know how it's going to play out," said Boucher, who was a solid backup to Evgeni Nabokov in San Jose. "The only thing that's been said to me is to work hard and stay positive. That's all you can do. Things can change dramatically. Things could change any day.
"I've been in three-goalie situations before in Phoenix and Chicago. They have a way of working themselves out, and usually on their own. Just control what you can control and don't worry about anything else."
This isn't a goalie controversy yet. But just wait. It is Philly after all.