Cross Checks:

Brian Burke
December, 12, 2013
12/12/13
6:34
PM ET
It's interesting that two distinguished yet distinct hockey personalities --
Pat LaFontaine
and Brian Burke -- are traveling down the same hockey path at exactly the same time.
Both had the opportunity to become general manager of their respective teams -- LaFontaine, who assumed the role of president of hockey operations in Buffalo, and Burke, who became president of hockey operations in Calgary and immediately and repeatedly insisted he did not want to be the team's GM.
On Thursday, Burke dismissed GM Jay Feaster and assistant GM John Weisbrod after preparing a detailed report for Flames ownership on the state of the franchise.
While there was immediate speculation that Burke would simply step into the GM's chair and assume a title he previously held in Toronto, Anaheim, Vancouver and Hartford, that wasn't why he took the job in Calgary.
He will wear the interim GM tag until a new GM is found, a process he said Thursday already began with a call to a team asking for permission to interview. (ESPN.com's Pierre LeBrun confirmed that Burke asked for permission to interview former Dallas GM
Joe Nieuwendyk
, whom Burke hired in Toronto after Nieuwendyk's Hall of Fame playing career came to an end.) And Burke said by the end of the day there would be calls made to other teams asking for permission to interview others for the Flames' GM spot.
We had a chance to sit down with Burke at the recent board of governors meetings in California to discuss the 2010 U.S. Olympic team. During that interview, he talked about his job in Calgary and reiterated how comfortable he was in his new hockey skin.
Since taking the hockey ops job in Calgary in early September, Burke has been in Toronto several times a month to be with his young family after the breakup of his second marriage. This allows him to take his two young daughters to school on some days and make them meals while working out of an office in a Toronto law firm.
Being able to make time for his daughters was crucial to him in any new job, he said, and it was something he couldn't do if he was the full-time GM, whether it was in Calgary or anywhere else outside of Buffalo perhaps.
Beyond that, Burke said he was relishing his role as president of hockey operations, a title that he believes will become more and more commonplace within the NHL, a role that looks big picture at the relationship between the team's on-ice mechanisms and its place in the community.
That he and LaFontaine share the same job title and description isn't where the similarities to their current lots in life end, similarities that have become more pronounced after Thursday's bloodletting in Calgary.
The Sabres are a terrible team and have become untethered, drifting further and further away from a long-suffering fan base. LaFontaine is tasked with remooring the Sabres and, to that end, has been interviewing clients for the GM opening created when longtime GM Darcy Regier was fired earlier this season.
It is a crucial hire, and from all reports, LaFontaine is being methodical in his search. It is not overstating it to say that if hiring LaFontaine was a seminal moment for the beleaguered franchise, the decision on GM is equally important to the long-term future of the Sabres; one begets the other.
Ditto for Burke.
Feaster was in the final year of his contract, and it was clear from Burke's assessment of the franchise that he couldn't recommend bringing Feaster back after this season. Given that the ending was inevitable, Burke chose to make the move now in an effort to begin the search for Feaster's replacement as soon as possible. Knowing that another team was already combing the hockey woods for someone to lead it to firmer ground was another factor in the timing of the Flames' moves.
It doesn't necessarily mean that Burke and LaFontaine are going after the same people but rather they are looking for people who will produce the same result: restoring direction to franchises that have been without one.
Feaster and Burke have known each other a long time. After Feaster was let go by the
Tampa Bay Lightning
, where he presided over the team's groundbreaking 2004 Stanley Cup win, he praised Burke as a man who had been kind to him in his early days as GM and who had offered support after he was without a job.
But the fact of the matter is the Flames, currently 13th in the 14-team Western Conference, are a team that has long been without any true plan or sense of self.
Some of that aimlessness Feaster inherited when he took the Calgary job in July 2010 from predecessor Darryl Sutter.
And the team did draft well under Feaster, the play of
Sean Monahan
an example of that prior to the rookie's recent injury.
"His fingerprints are going to be on this team for many years," Burke said.
But other areas were problematic, such as the botched trade of
Jarome Iginla
to Boston (the longtime captain ended up in Pittsburgh before signing with Boston as a free agent last summer) and the near-disastrous offer sheet given to
Ryan O'Reilly
, who ended up staying with the
Colorado Avalanche
.
In short, the clock began to tick for Feaster when Burke took over, not because Burke was predisposed to dump Feaster but because ownership wanted an independent set of eyes on where the team was.
Burke said he came to Calgary to win a championship. While he acknowledged it seems far-fetched to talk championship on a day when you're firing your GM and assistant GM, you still have to keep that goal in mind.
Now, like LaFontaine, Burke is faced with a decision that will say much about his legacy with the Flames and the team's future.
Nieuwendyk is an interesting possibility given his strong ties to Burke and Calgary, having been part of the team's only Stanley Cup win in 1989.
It's hard to imagine that Burke wouldn't also look to some of his former colleagues in Toronto, including
Claude Loiselle
, who is considered a top talent evaluator, and
Dave Poulin
, whom Burke brought into the Leafs fold and who is currently vice president of hockey operations in Toronto.
What about Laurence Gilman, a bright hockey mind who understands the Canadian hockey landscape as the assistant GM in Burke's old hockey home of Vancouver?
Jason Botterill
has been rumored to be a candidate for the Buffalo job, as has Tim Murray, the assistant GM in Ottawa whose uncle, Bryan, is the current Ottawa GM.
Paul Fenton in Nashville,
Ron Hextall
in Philadelphia and
Tom Kurvers
in Tampa are all assistant GMs whose work suggests they are worthy of a conversation, assuming they share Burke's vision of how to revitalize the Flames' fortunes.
Burke threw reporters a bone Thursday saying he wanted the Flames to be more blue collar, to play a more black-and-blue style of hockey, to be more "truculent."
"I know you're all waiting for the word; there it is," he said, harkening back to a descriptor he used often in Toronto for how he wanted his Leafs team to play and which was also an apt description of his
Anaheim Ducks
team that won a Stanley Cup in 2007.
Burke's plan will be to hire a GM who would then hire an assistant GM and at some point assess the work of coach Bob Hartley.
We know from our conversation with Burke this week that he has been mightily impressed with the work Hartley has done, and he confirmed Thursday that the coaching staff and other management personnel would remain in their positions for the balance of the season. While the team's record doesn't necessarily reflect it, Hartley has consistently gotten above-average performances from a below-average team talent-wise.
"Today's not fun," Burke said.
But when you're a team that's as bad as the Flames, or the Sabres, fun really isn't a consideration and hasn't been for a while. For men like LaFontaine and Burke, the road to "fun" begins with small steps, the search for the right people.
For Burke, those first steps were taken Thursday.
September, 6, 2013
9/06/13
4:32
PM ET
Flames veteran winger
Mike Cammalleri
welcomed the news that Brian Burke was appointed Calgary's president of hockey operations.
"I've never really talked to Brian and yet it's one of those things where I feel like I know him because I've talked to so many people, mutual friends, I've talked to players who have played for him," said Cammalleri, who spoke to Leafs captain
Dion Phaneuf
on Thursday about Burke.
"I played in L.A. and had to play against those Anaheim teams; those were some really good Brian Burke teams. I like the way his teams play. I thought he did a tremendous job in Toronto, too. Look where they're at now."
Ironically, Cammalleri could have ended up playing for Burke in Toronto years ago when, as an unrestricted free agent, he met with Leafs brass in Toronto on July 1 before ultimately signing in Montreal.
"Brian was actually in Sweden that day on July 1, that's when he signed the Monster (
Jonas Gustavsson
)," said Cammalleri. "But I was dealing with Dave Nonis and met with them down at their office."
The question now is what is in store for Cammalleri on a rebuilding Flames team that has shed many veteran players over the last year. Cammalleri is entering the final year of his contract.
"Who knows? We'll see," he said of his future in Calgary. "We'll see what they want to do. Truthfully, I got a lot of respect for (GM) Jay (Feaster) and (assistant GM) John (Weisbrod), I've had an open dialogue with them. Nothing to report, but we'll see what they want to do. I like it there, it's a good place. I'm open (to an extension)."
September, 5, 2013
9/05/13
12:18
PM ET
By
ESPN.com staff
| ESPN.com
The Calgary Flames introduced Brian Burke as the president of hockey operations on Thursday.

General manager Jay Feaster will report to Burke.

Burke, who recently joined Rugby Canada's board of directors, is currently a part-time scout for the Anaheim Ducks and the director of player personnel for the U.S. Olympic men's hockey team for the 2014 Sochi Olympics.

Fired as general manager of the Toronto Maple Leafs in January, Burke was previously the GM of the Ducks, Vancouver Canucks and Hartford Whalers. He won the Stanley Cup in Anaheim in 2007.

The Flames are rebuilding after trading Jarome Iginla and Jay Bouwmeester last season.
September, 4, 2013
9/04/13
11:19
PM ET
By
ESPN.com news services
| ESPN.com
UPDATED:
Sept. 5, 2013 at 9:35 a.m.
The
Calgary Flames
talked to Brian Burke about a front office role with the organization, sources told ESPN.com's Pierre LeBrun.
The Flames are schedule to make an announcement on Thursday at 12 p.m. ET. Team president Ken King had no comment when asked about the announcement.
Burke, who recently joined Rugby Canada's board of directors, is currently a part-time scout for the
Anaheim Ducks
and the director of player personnel for the U.S. Olympic men's hockey team for the 2014 Sochi Olympics.
Fired as general manager of the
Toronto Maple Leafs
in January, Burke was previously the GM of the Ducks,
Vancouver Canucks
and Hartford Whalers. He won the Stanley Cup in Anaheim in 2007.
The Flames are rebuilding after trading
Jarome Iginla
and
Jay Bouwmeester
last season.
Information from the Associated Press was used in this report.
June, 29, 2013
6/29/13
5:30
PM ET
NEW YORK -- Of the many memorable hours leading up to the epic gold-medal game at the Vancouver Olympics in 2010 between Canada and the United States, this is one that has stayed with us.
It was a conversation with then-U.S. associate GM David Poile the day before that game.
He had spoken earlier in the process about the importance of the Olympics, specifically the impact a strong showing might have on future generations of U.S. players. About how the 1980 Miracle on Ice team became a beacon for a generation or more of American players as well as -- to a lesser degree -- the U.S. team that defeated Canada in the 1996 World Cup of Hockey championship.
As the gold-medal game approached, it was hard not to be swept up in the emotion of what lay ahead.
"I don't think anybody knew how good we'd be. We didn't know how good we'd be," Poile said that Saturday. "Let's call it like it is."
The Americans would be denied a shot at Olympic immortality by the slimmest of margins, a
Sidney Crosby
goal in overtime, from a bad angle at that.
We were reminded of the legacy -- or at least the potential legacy -- of that team Saturday, when we were swept up once again in the quest for Olympic glory as Poile was formally announced as GM of the U.S. team for the 2014 Olympics in Sochi, Russia.
Part of the charm of the Vancouver team was the fact it was the youngest team in the tournament. As GM, Brian Burke was fond of repeating that no one gave the Americans a spit of a chance to earn a medal, let alone battle for gold.
No question the dynamics will be dramatically different in Sochi on a host of fronts.
"In Vancouver, we were turning the page," Poile told ESPN.com on Saturday.
That team was the first that didn't hearken to the glory days of
Brian Leetch
,
Chris Chelios
and
Keith Tkachuk
et al. The idea was that if the team had any success at all, it would provide a good base on which to build for 2014.
The Americans' run to the silver (going 5-1 in the tournament) means they will not sneak up on anyone in Sochi. Not with the past two Conn Smythe Trophy winners on the roster in
Patrick Kane
and
Jonathan Quick
. Throw in top-end talent like
Ryan Suter
, who in our book was the hands-down best defenseman in the NHL this season (finished second to
P.K. Subban
in Norris Trophy voting),
Minnesota Wild
teammate
Zach Parise
,
David Backes
,
Joe Pavelski
,
Phil Kessel
and
Dustin Brown
and there will be a strong core returning from the Vancouver squad.
Still, trying to handicap Olympic contenders based on results from a tournament four years in the past is a mug's game. Yes, some continuity is important. Understanding the routines of an Olympic tournament, the media, the schedule and the ebbs and flows of a short, high-drama competition is critical to how a team comes together.
But each tournament represents a different world, and that is where the management structure and coaching staff are so critical to a team's success.
USA Hockey neatly sidestepped a potential public relations problem early on by structuring its management team in the manner it did. Poile moved up the ladder and will be joined by
Pittsburgh Penguins
GM Ray Shero, who will act as associate. The two worked together for the
Nashville Predators
and were part of the U.S. management committee that helped put together the 2010 team.
But Burke, the architect of that team, has been kept in the fold as director of player personnel. He will accompany the team to Sochi.
It was Burke who came up with the idea of opening the process of selecting teams for international competition to American GMs. He invited colleagues like Paul Holmgren (
Philadelphia Flyers
), Dean Lombardi (
Los Angeles Kings
), Stan Bowman (
Chicago Blackhawks
), Dale Tallon (
Florida Panthers
) and former Atlanta Thrashers GM Don Waddell to join in the process.
The openness and inclusiveness established by Burke was universally praised by those involved, and as Poile pointed out Saturday, the validation of the process was in the result -- a silver medal.
That Burke, dismissed from his post as GM and president of the
Toronto Maple Leafs
on the eve of the lockout-shortened regular season in January, continues to have a strong voice in the building of the 2014 team is an important nod to what he's accomplished. To have marginalized him would have sent a disappointing message.
"He will have a big part in the formation of this team in 2014," Poile said.
But a nod to the past is also being balanced by a nod to the future, which is critical given that neither Canada nor the U.S. medaled in the two Olympics held away from North American soil since the NHL began participation in 1998 in Nagano. (2006 in Torino was the other.)
A bigger ice surface, time issues and different cultures will conspire to make life in Sochi exponentially more difficult than it was in Vancouver and, before that, Salt Lake City in 2002, when Canada defeated the U.S. for the gold medal.
The committee, which represents 150 years of NHL GM experience and six Stanley Cup championships, will have to keep all those things in mind, Poile said, when making selections, just as it did in choosing the Pens'
Dan Bylsma
as head coach.
Burke built a team that could play an NHL-style game with a blend of hard-nosed forechecking, strong defense and goaltending mixed with opportunistic scoring, but the style of play in Sochi may make some of those qualities less important.
Clearly, skating and puck movement will be at a premium on the big ice surface, which suggests players like
Keith Yandle
,
Kevin Shattenkirk
and perhaps
Matt Carle
or
John Carlson
may be more attractive than other, more physical defensemen.
What about a speedy, skilled forward like
Alex Galchenyuk
, who had a strong rookie campaign for the
Montreal Canadiens
?
"Our philosophy is going to be a little bit different because this is in Europe," Poile said. "We have to tune up our thinking a little bit."
One thing Poile made clear is that, while a résumé of strong play has historically been a factor in inclusion on the final roster handed in late in December, getting off to a good start next fall will be key in the committee's final decisions.
In introducing the management team Saturday in New York, president of USA Hockey Ron DeGregorio suggested that an American team is no longer the stuff of miracles but rather the stuff of expectations.
A fine sentiment, and after Vancouver, it would seem it is true. Now it's up to Poile and the rest to meet those heady expectations.
"This is the ultimate honor and challenge," Poile said.
January, 9, 2013
1/09/13
3:02
PM ET
The conspiracy theories will abound about Brian Burke's GM firing Wednesday, but I believe there were a number of factors involved, not just one crystal-clear reason.
And despite the denial from
Toronto Maple Leafs
COO and president Tom Anselmi, I believe the last straw was Burke's reluctance to trade for star Canucks goalie
Roberto Luongo
.
That's a sentiment shared by several NHL team execs we talked to Wednesday, who believe the rest of the Leafs' front office is pro-Luongo, but Burke wasn't sold on him.
(On a side note, expect trade talks between the Leafs and Canucks to heat up big time now that Dave Nonis is GM. Nonis acquired Luongo during his days as Vancouver's GM and has always been high on him.)
There might not have been one singular reason for his firing, but a source close to the situation told ESPN.com that the relationship between Burke and the new owners -- Bell and Rogers -- was not warm and fuzzy, and that some board members didn't appreciate Burke's bombastic style.
The decision by the MLSE board of directors to make a change was in the works before Wednesday -- perhaps in the works going back weeks.
After all, as everyone tries to uncover the conspiracy, sometimes one can't see the forest for the trees.
Fact is, this is a team that's been mediocre in the four-plus years Burke has been at the helm, failing to make the playoffs once, although it showed promising signs last season in holding a playoff spot until crumbling late.
Since Burke's hiring as GM on Nov. 29, 2008, Toronto went 129-135-42, tied for 26th among the 30 NHL teams during that stretch. Also during that stretch, the Leafs ranked 30th in goals-against per game and 30th on the penalty kill.
But if there's a signature moment that Burke was never able to distance himself from, it's the
Phil Kessel
trade. The September 2009 blockbuster that sent two future first-round picks plus a second-round pick to Boston for Kessel simply has backfired to no end.
The Bruins used those picks to draft
Tyler Seguin
, Dougie Hamilton and Jared Knight. We already know what Seguin's soft hands can do in the NHL, and Hamilton will be a stud on defense.
It wasn't all bad, not at all. Burke's acquisition of
Joffrey Lupul
and
Jake Gardiner
in February 2011 from Anaheim for
Francois Beauchemin
was an absolute steal for the Leafs. Burke deserves to get more credit for that deal.
Another positive from Burke's tenure was how he rebuilt the reserve list for the organization. The team has more depth from top to bottom, especially at the minor-league and junior level, than when he took over, in November 2008. No one can argue otherwise. So perhaps in three years when some of those youngsters blossom, people will look back and give Burke more credit.
Still, his inability to get Toronto over the hump -- the Leafs haven't been in a playoff game since April 2004 -- cost him in the long run.
And as too many GMs who have taken office in Toronto have found, the incredible allure of wanting to win overnight and end the Cup drought that dates to 1967 hindered Burke's decision-making. He wanted to win now. He didn't want to rebuild as the
Edmonton Oilers
have done. He made a point of saying that publicly, that he didn't believe in the bottoming-out, traditional rebuild.
Guess which of those two teams has a brighter future.
Still, I have a lot of time for Brian Burke. He's an honest man. He cares about the game. He's passionate about selling the NHL brand and, unlike some GMs, is able to think big-picture while trying to improve the game on and off the ice, and not just think about his own needs.
He's also a Stanley Cup champion from his days as GM in Anaheim, so although Toronto will have been a major disappointment on his resume, you can't ignore his success with the Ducks.
In the end, what I find unfair in the firing is not the fact he lost his job, but rather the timing of it.
MLSE should have either fired Burke in September if it knew this would be the outcome or -- and this is what I would have liked to have seen -- given Burke at least half of the shortened season to see if his team was finally turning the corner.
I believe Burke deserved that chance.
In the end, though, I'm not sure the result would have been any different.
January, 9, 2013
1/09/13
1:55
PM ET
The unedited official Toronto Maple Leafs media release about the firing of GM Brian Burke and the promotion of David Nonis:

MAPLE LEAFS ANNOUNCE MANAGEMENT CHANGES
The Toronto Maple Leafs announced Wednesday that David Nonis has been named to the role of Senior Vice-President and General Manager, effective immediately. Nonis becomes the 14th General Manager in franchise history, having previously served as Senior Vice-President of Hockey Operations since joining the club December 6, 2008. Brian Burke has been relieved of his duties as President and General Manager, but will stay on in a Senior Adviosry role to MLSE President and C.O.O. Tom Anselmi and the MLSE Board of Directors.
"I've worked closely with our Board to evaluate the long-term direction of the Leafs, and as a result of this assessment we have decided to make these leadership changes," said Anselmi.
"We are grateful to have such a deep and talented hockey operations department to allow us to make such significant changes seamlessly. We believe in Dave and the team and their abilities to lead the Maple Leafs out of this lockout and into the upcoming season.
"Brian will not have direct authority over hockey operations, however this new role will allow our Board and I to continue to benefit from his hockey expertise. We want to thank Brian for accepting his new role and staying on with our organization."
Burke became the 13th general manager in Leafs franchise history on November 29, 2008.
In his role as senior vice-president of hockey operations, Nonis served as the general manager of the Toronto Marlies, the American Hockey League affiliate of the Maple Leafs. Nonis also recently served as the general manager of Canada's National Men's Team for the 2011 IIHF World Championship in Slovakia.
Prior to joining the Maple Leafs, the British Columbia native was the senior advisor of hockey operations with the Anaheim Ducks. Nonis began his hockey management career in 1990 with the Vancouver Canucks following a standout hockey career at the University of Maine that saw him captain the team to back-to-back NCAA championship tournaments. While with the Canucks he served in a number of roles before joining the National Hockey League as the League's manager of hockey operations in 1994. He returned to the Canucks in 1998 as the senior vice president, director of hockey operations where directed all areas of the team's hockey operations department. On May 6, 2004 he was named the ninth and the youngest general manager of the club.
While general manager of the Canucks, Nonis' teams compiled a record of 130 wins, 91 losses, and 25 ties.

August, 30, 2012
8/30/12
12:42
PM ET
By
Tim Boughton, Paul Grant
and
David Walton
| ESPN.com
This week, the regular guys offer suggestions to beleaguered GM Brian Burke as to how he can turn that Maple Leafs ship around. That is, if you can turn around a ship that is sinking.
TIM BOUGHTON:
1. Drop the attitude:
Forget about
Kevin Lowe
, start challenging successful GMs to barn fights. Although Burke and Lowe have made up for the public feud over the
Dustin Penner
offer sheet, it was a clown move. OK, we get it, you picture yourself as a tough guy.
2. Use your calculator:
This is simple. You are in charge of a big-market club -- you have lots money -- so trade for Tim Thomas' cap space. Trade draft picks to get him. Also: A club with money can overpay for players from a league like the KHL with no problem. Let those leagues develop the players and then steal them away. Manchester United didn't develop Wayne Rooney, they bought him from Everton.
3. Rescind Freedom 35:
Even though the Trailer Park Boys attempted to make the retirement age 35, it didn't go into law. Enough with the youth movement; you need to make it deep in the playoffs
now
. Bring in big-name, high-risk veterans. You've got nothing to lose. (It worked in Anaheim.) Why weren't you in the
Jaromir Jagr
market, what about
Shane Doan
? Plenty of guys have one good year left. Extra cap space (see Item 2) will allow for a big-risk signing.
4. Resign:
Admit it, even though he proceeded you at the franchise, Ron Wilson was your guy, and Randy Carlyle is a desperate stop-gap in an attempt to keep your job. The whole Wilson contract extension/subsequent firing weeks later might indicate that Burke might not even be in control of the team. When the stodgy old monocle, ascot and top-hat wearing crowd (which is how I imagine the Leafs' board of governors) start making personnel decisions for you, it is time to go.
5. European vacation:
Scour Europe for a set of can't-miss twins whom you can draft.
6. Stay golden:
Let's face it, you are going to have to trade for
Roberto Luongo
. He might be at the fringe of his prime, but he is Canada's golden boy, and I don't think the fans will come down too hard on you for bringing him to Toronto. The media might, but whatever, they already nitpick every move you make. And if Luongo fails, you will be fired, so you don't need to be afraid of his 10-year contract if you are going to last another two.
7. Don't play in 3-D:
You have three decent defensemen on your roster, unless you had the foresight to bring Carlyle in as a player-coach. You might need access to a time machine to make that part work, however.
DAVID WALTON:
Let me get this straight: You ask for suggestions for Brian Burke and Tim writes something that belongs in one of Dr. Evil's ridiculous monologues? Goodness. Well, at least we can go only onward and upward from here, right?
1. First and foremost, you have to go get a goalie. A real goalie. I realize you are waiting until the price is right, but the longer you wait, the more likely it is you'll get a visit from the Whammy and end up on the outside of the playoffs. Again. You gave the Bruins three top draft picks for
Phil Kessel
. Shouldn't you be willing to do the same to keep pucks out of your net? So go get Roberto Luongo or
Jonathan Bernier
. Then you can give the fans at the center of the hockey universe something else to complain about -- beside not making the playoffs.
2. And this is one point I will agree with Tim on: Find a new coach. The writing was on the wall with Ron Wilson. But replacing him with Randy Carlyle was shortsighted. Wouldn't Bob Hartley have looked good behind the Leafs' bench?
3. Trade
Dion Phaneuf
. I've never been a fan of Phaneuf's, and I know Paul just started crying because of his man-crush on the Leafs' captain. But I think in doing so, you could fill some of the remaining holes on this team and turn it into a contender.
4. When all else fails: bobblehead night.
Your turn, Paul. What suggestions do you have for your hometown GM?
PAUL GRANT:
Thanks for nothing, guys. As the senior guy here, I was planning on having you guys submit your ideas, take out the best ones and claim them as my own. I can clearly see you've left me high and dry. Winging it:
1. A goalie, yes, it starts with a goalie:
Our hockey pals Phil or Rayzor would stop more pucks than the current contingent. (Sorry for almost killing you that time, Phil.)
James Reimer
is only 24, so there's still time to make sure he doesn't turn into a goalie version of Jim Benning: a guy with potential who got burned out by being used too much, too soon. But I don't think Roberto Luongo would last 15 games in that market; the intensity is like Vancouver's, only with the caustic East Coast attitude.
Tim Thomas
, while a great goalie, is not the answer here. The Toronto media would feast on his eccentricities. What they need is a guy who is from the Toronto area, wants to win for the Maple Leafs because he grew up idolizing the crest. And since
Rick Tabaracci
is not available, you have to go to Kingston -- about three hours away and the hometown of none other than the legendary
Doug Gilmour
-- for
Mike Smith
. Offer the Coyotes a crazy-good deal that they can't resist. It all starts in net. No goalie, no chance.
2. Don't overpay:
The problem with many Leafs signings is that the players were paid way too much. Once they got into the media miasma, the players got so distracted by the attention, fame and fortune lavished upon them that they forgot about the task at hand. That's why you need to enforce the hometown discount. Bring in area guys who would play for less -- or at least a cap-friendly amount -- are accustomed to the market and don't get dazzled by the bright lights. Guys from Southern Ontario:
Joe Thornton
,
Jeff Carter
,
Drew Doughty
,
Bryan Allen
,
Dennis Wideman
,
Kyle Quincey
,
Corey Perry
,
Mike Fisher
,
Adam Henrique
,
Shawn Thornton
,
Matt Cooke
. All shapes, sizes and roles. Surely a couple of those guys would sign on and be effective.
3. Bring back Wendel Clark:
Now that's a man-crush. Guy could still throw them, I bet. I'd pay to see that.
4. Look to the future:
Don't listen to Tim: Stop signing and trading for guys whose best days are clearly behind them. This is an institutional mindset (see
Eric Lindros
,
Bryan Marchment
, Mike Peca, et al.) that has to go away. Step up the scouting so that you're getting guys who have potential. Heck, the Red Wings have been doing it for years with lousy draft picks. Why not just hire away their staff? Something like that. The point is, make sure you don't become the latest guy brought in who was past his prime.
OK, enough. My special box of ticking cigars from Brian Burke just arrived, so I've got to go. Until next week, good day, and may the good news be yours.
January, 19, 2012
1/19/12
10:39
AM ET
1. Pick a stance and stick with it
Let's begin with this admission: I don't care a whit about who shows up or doesn't show up for the All-Star Game. The fans love it; some players like it, some players avoid it like the plague. Whatever. It is what it is: a love-in for sponsors and a chance for the league to milk the corporate cow. I don't begrudge them that. Hey, it's a business. But as is often the case, the league struggles with its own consistency when it comes to this strange moment on the NHL calendar.
I applauded commissioner Gary Bettman's strong stance at the 2009 All-Star Game in Montreal, when
Pavel Datsyuk
and
Nicklas Lidstrom
declined to show up for the proceedings after they'd been selected to participate. Bettman had previously told his GMs that he didn't want guys pulling the plug after they'd been chosen and that if players were bowing out using the injury card, they wouldn't be able to play in the first game back after the All-Star break. So, in effect, Lidstrom and Datsyuk were suspended for a game after the '09 break. The Wings hated it and it was a tough call given the long years of dedicated service Lidstrom had put in on behalf of the Wings and the league.
Now, though, that hard stance has apparently fallen by the wayside in favor of the "wink, wink" strategy for avoiding the game. Lidstrom and Hall of Fame-bound Anaheim winger
Teemu Selanne
, among others, deserved to be in Ottawa and should have been there based on a host of factors, including their All-Star caliber of play this season. But sources have told ESPN.com those players let the league know they'd prefer not to go -- heck, Selanne came out publicly saying he wanted a break -- and so
Corey Perry
will go essentially on behalf of Selanne, even though Selanne, as captain, would have been a nice bookend to Ottawa captain Daniel Alfredsson's captaincy of one of the All-Star teams. Lidstrom, a captain a year ago in Raleigh, is having another Norris-caliber season but won't be in Ottawa. If you're going to have the event, and it's going to mean anything at all, this turn of events is a definite step back and is a slap in the face for the fans who are, after all, paying the freight. They have been cheated out of a chance to celebrate the appearance of two future Hall of Famers in perhaps their final year of play. And the absence of players such as Selanne and Lidstrom is a slap in the face to the players who will show up in Ottawa but would rather be somewhere else. Like many things, it's all about consistency, or in the case of the All-Star Game, a lack thereof.
2. Blues ownership still a mess
St. Louis Blues minority owner Tom Stillman has the inside track on becoming the next owner of the team, bringing to an end a long and sometimes rancorous process. Multiple sources told ESPN.com that Stillman now has exclusive bargaining rights to buy the team after threatening to sue the NHL over how the sale was progressing. These same sources told ESPN.com that shortly before Christmas, plans for Chicago businessman Matthew Hulsizer to buy the team were on track and in fact the deal was in its final stages. But as a late-December deadline approached without a final deal being struck, Stillman's legal team threatened to take action if the league didn't move to give Stillman an opportunity to get a deal together. The league terminated Hulsizer's purchase agreement and multiple sources confirmed to ESPN.com that the Hulsizer bid to buy the team is dead. Hulsizer had initially been in position to buy the
Phoenix Coyotes
, but an inability to reach a deal with the city of Glendale on a new lease for the team's arena in Glendale and threats of a lawsuit from public interest group the Goldwater Institute scuttled that deal. The Yotes remain in limbo and are in danger of being relocated. After that deal fell apart, Hulsizer was courted by the NHL, which suggested he examine ownership possibilities in a number of markets, including New Jersey and St. Louis. With the Blues deal falling apart, it's believed Hulsizer will take a step back and see how the Stillman bid plays out. A spokesman for the Blues said Stillman is not commenting on his efforts to buy the team.
3. Move 'em or lose 'em
This is the time of year when the discussion turns to players who might have no-trade or no-movement clauses and whether they might be made available before the Feb. 27 trade deadline. Some people, like Toronto GM Brian Burke, take a hard line on this issue, saying they won't approach a player about waiving his no-trade or no-movement clause.
Last year, Burke ended up trading defenseman
Tomas Kaberle
to Boston, but the impetus for the move had to come from the Kaberle camp, given that Kaberle had a no-movement clause. Fair enough. Burke's position is that the player has earned the right through his contract not to be moved, and unless the player is looking to be traded, he won't broach the subject with him. Our perspective is a little less strident. If it makes sense for a player to be moved, why not approach him regardless of the clauses in his contract? Players are often proud creatures and don't want to be seen as abandoning ship, even if the ship is clearly taking on water, as the Leafs were a year ago. The Kaberle move clearly helped the Leafs, who obtained a top prospect in
Joe Colborne
and a first- and second-round draft pick, while the Bruins won a Cup, even if Kaberle was more hindrance than help most of the time. The player clearly has the final say-so if they have a no-trade or no-move clause, so what's the harm, especially if it's clear there's a market for him and his departure would help both the player vis a vis playing in the playoffs and possibly winning a Cup, and the team that will see assets returned? If, as is often the case, the player is heading into unrestricted free agency, there's nothing to stop the team from turning around and re-signing the player in the offseason, as we saw with St. Louis re-signing
Doug Weight
and later
Keith Tkachuk
after trading both at the deadline in recent years. That said, here are five guys we would approach, if we were the GMs of their teams, about waiving their no-move clause because of their desirability on the ice and the return they might bring to a team looking to take a run at a Cup:
Shane Doan
, Phoenix;
Ryan Malone
, Tampa;
Jarome Iginla
, Calgary;
Ryan Smyth
, Edmonton;
Francois Beauchemin
, Anaheim.
4. Traders beware of these guys
On the other hand, here are five guys we wouldn't touch with a 10-foot pole come deadline time, no-trade or not.
Olli Jokinen
, Calgary: Teams are always looking for help down the middle, but one look at Jokinen's meager playoff record -- he's played in just six postseason games in his career and there's a reason for that -- should warn teams off.
Shawn Horcoff
, Edmonton: Another center, but it still boggles the mind how Horcoff managed to get a deal that pays him $5.5 million for the next three years. He has eight goals this season.
Scott Gomez
, Montreal: Ha, ha. OK, so no one will be asking about Gomez, who has two more years at an astounding $7.35 million cap hit.
Brian Rolston
,
New York Islanders
: Even though it's prorated, it remains astounding that the 38-year-old somehow managed to wrangle more than $5 million out of any team. A good guy in the room, Rolston has four goals this season for the always-fumbling Islanders.
Nik Antropov
, Winnipeg: Not sure, exactly, how a player who has accomplished as little as Antropov earns a no-trade clause, even if it is a modified one. Still, he is a center and has shown at times to have terrific hands around the net. But another year at a cap hit just north of $4 million should be enough to keep perspective buyers away.
5. Bourque a stand-up kind of guy
We watched the inevitable on Wednesday night,
Rene Bourque
fresh from his trade to Montreal from Calgary and fresh from his five-game suspension for his cowardly elbow to the head of Washington center
Nicklas Backstrom
, facing off against those same Caps. It wasn't an issue of whether there would be payback but rather just how quickly it would happen. For those in the Bourque Puts 'Em Up pool at home who had 1:15 of the first period or Bourque's first shift of the game, you won that Brendan Shanahan bobblehead. So, was anything accomplished by the bout? We're pretty sure watching designated avenger
Matt Hendricks
tangle with Bourque didn't clear Backstrom's head. The Caps' most important offensive player hasn't been able to play since being clipped by Bourque on Jan. 3. Bourque was handed a five-game sentence by league disciplinarian Shanahan. It was Bourque's second suspension of the season (he rammed Chicago defenseman
Brent Seabrook
from behind, earning a two-game respite earlier this season). So much for making life difficult for repeat offenders. But would it have mattered had Bourque received the 10- or 15-game ban he deserved? Wouldn't Hendricks have been waiting for Bourque the next time the two teams tangled anyway? Hockey players have long memories, and there is something almost comforting about that. It doesn't solve anything other than to say simply, we remember. We remember your bush-league behavior. And to Bourque's credit, he understood that he was expected to answer for his actions beyond the slap on the wrist given him by the league. We suspect that even if the league did a better job of meting out discipline, these moments of frontier justice would still remain. Does it keep players in line? Probably not. But knowing a player will be made to account for his actions sometime, somewhere, may not be such a bad thing.
Scott Burnside covers the NHL for ESPN.com.
December, 7, 2011
12/07/11
1:17
PM ET
The NHL's GM Award enters its third season of existence. Don Maloney of the Phoenix Coyotes won the inaugural award in June 2010, followed by Mike Gillis of the Vancouver Canucks in 2011. What makes this award unique is that you can't look only at a 12-month period in evaluating a GM. I believe Gillis, for example, was rewarded for the work he did in building a contender -- work that took a few years. With that in mind, this week in ESPN.com's Trophy Tracker installment, I take a look at the early candidates through the 10 opening weeks of 2011-12 while incorporating moves over the past few years that have made these GMs candidates:

After three straight seasons out of the playoffs, Fletcher acted with gusto. He made a coaching change and a few blockbuster trades to give the franchise the kind of bolt it needed. He has also patiently overseen the restocking of prospects to restore the organization's depth. The surprising Wild are first in the overall NHL standings one week into December, and the GM is a big reason why. His bold moves in the offseason are paying off.

Someone has to tell Tallon he doesn't get paid by the transaction. He's turned over more than two-thirds of his entire roster since taking the helm of the Panthers in May 2010. This includes another busy offseason over the summer when he changed half his team. Among his inspiring moves, he signed Tomas Fleischmann and acquired Kris Versteeg -- and both are flourishing on the top line this season. But the big picture is Tallon's loading up with draft picks over the past two years. The future is bright in South Florida, both short term and long term. Almost nobody envisioned this team leading the Southeast Division come Dec. 7, let alone sitting just two points out of the conference lead.

This Stanley Cup champion GM did not have to blow up his roster after winning it all. That's because he carefully planned ahead and deftly handled his salary-cap situation to ensure that his team could contend again not only this season but also for years to come. The Bruins have more than $3 million in cap room that they can still use this season, and that's with Marc Savard's $4 million salary still counting against the cap. Chiarelli didn't get nearly as much credit as he should have for winning the Cup last spring. Maybe he'll get it this season in the form of the NHL's GM Award.
Like Tallon in Florida, Burke and his right-hand man, Dave Nonis, have been busy making wholesale changes to this roster since taking over three years ago. Some of those moves are beginning to bear fruit, particularly getting Joffrey Lupul and Jake Gardiner from Anaheim last February. And, of course, the Dion Phaneuf and Keith Aulie acquisitions from Calgary in January 2010 remain one of the biggest fleece jobs of the past several years. All those moves are finally having an impact this season. The surprising Leafs are two points out of the Northeast Division lead one week into December, and few people foresaw that.

Armstrong's decision to bring in Ken Hitchcock less than a month into the season has proven to be pure brilliance so far -- the Blues have surged to a 9-2-3 record since the coaching change. But Armstrong also had a terrific offseason that helped the Blues get to where they are now. This includes the under-the-radar signing of goalie Brian Elliott, whose superb play is giving the club a terrific 1-2 punch with Jaroslav Halak. I also liked Armstrong's decision to bring in some experience with the July signings of Scott Nichol, Jason Arnott and Jamie Langenbrunner.
Honorable mention: Paul Holmgren, Philadelphia; Ken Holland, Detroit; Don Maloney, Phoenix; Ray Shero, Pittsburgh; Joe Nieuwendyk, Dallas.
November, 4, 2011
11/04/11
1:49
PM ET
It took about 35 seconds after Pekka Rinne's seven-year, $49 million contract extension was announced by the
Nashville Predators
for
Montreal Canadiens
fans to flood Twitter with
Carey Price
comparisons.
And yes, there's no question that Price's leverage just went up even more, if it wasn't high enough to begin with.
They are not exact comparisons: Rinne was unrestricted free agent-bound, while Price will be a restricted free agent July 1. UFA-bound players always have a bit more leverage.
Still, they're both MVPs for their respective teams and top-five goalies in the world.
Contract talks haven't begun yet between the Habs and Price's camp, but the plan is for those discussions to begin before the offseason.
"We're expecting to have a conversation with Montreal sometime this season," Price's agent, Gerry Johansson, told ESPN.com on Thursday.
Price is earning $2.75 million this season, and that salary will easily double.
And What About the Preds?
Speaking of the story shifting quickly, it didn't take long for the Predators angle to move from Rinne's deal to the remaining two big free agents on the team.
[+] Enlarge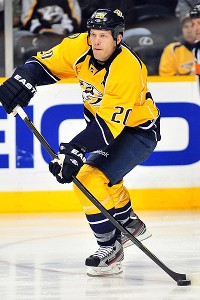 Don McPeak/US PresswireThe future of Ryan Suter in Nashville largely depends on the team's success this season.
Ryan Suter
is eligible to be an unrestricted free agent July 1 and captain
Shea Weber
will be a restricted free agent. We chatted with a half-dozen NHL team executives Thursday in the wake of Rinne's signing, and none of them believe the Preds can sign both. The betting money in the industry is that one signs, and the other one goes.
"I think it's going to be awfully hard to them to get both defensemen done," one NHL GM said.
What those executives may not know is what Preds GM David Poile shared with ESPN.com on Thursday evening: Ownership gave him the financial green light last week to sign all three of his impending free agents to "fair market value" deals. Which means if the Preds pull it off, their payroll will go from the third-lowest in the NHL this season to possibly top 10 next year.
Now, it's one thing for the Preds to have the green light to spend on Suter and Weber, but it's another for both players to agree on what fair market value is, or to want to say in Nashville. How the team performs this season will certainly also play a factor in both players' decisions.
First up for Poile will be Suter since his pending UFA status makes his situation a little more pressing than Weber's. Technically, Weber can't sign a new deal until January anyway, per the CBA rule for players on one-year deals.
As we reported Tuesday, Suter's agent, Neil Sheehy, plans to be in Nashville in mid-November to sit down with Poile and resume contract talks. Suter is earning $3.5 million this season. We'd be shocked if he wasn't looking to make at least $6.5 million, if not $7 million, in his new deal.
If the Preds don't have Suter locked up as the Feb. 27 trade deadline approaches, Poile will have a mighty difficult decision to make. He didn't move pending UFA
Dan Hamhuis
a few years back and saw him walk away to Vancouver in the summer. If the Preds aren't in a playoff spot Feb 27, it's a no-brainer: You move Suter and maximize his asset value. But if Nashville is once again in a playoff spot, it's white-knuckle time. The Preds likely would have to keep him for the playoff drive and swallow hard if he walks away July 1.
Did we mention the
Detroit Red Wings
have more than $20 million of cap room next summer?
Hurricanes Trade Talk
Much has been made of the surplus on defense in Toronto and the eventual and likely trade the Maple Leafs will make using that surplus sometime this season.
But another team that's willing to move a defenseman is the
Carolina Hurricanes
, a source told ESPN.com this week.
The idea is to give more ice time eventually to the likes of
Justin Faulk
or
Derek Joslin
, both promising young blueliners. The Hurricanes need to open up that ice time by moving a defenseman.
It's not clear whom the Hurricanes would be willing to move, but
Bryan Allen
is eligible for unrestricted free agency July 1.
Hurricanes' Ownership
Veteran GM Jim Rutherford added minority owner to his title Thursday when the Hurricanes announced he is among 10 new minority partners joining principal owner Peter Karmanos.
"I feel very good about my longtime relationship with my boss and friend, Pete Karmanos," Rutherford told ESPN.com. "When this opportunity was laid out to local people, I was part [of] it and listening to it and realized it was something I wanted to do and was worthwhile to do."
Rutherford was already a mainstay at board of governors meetings for the Hurricanes, but now he'll attend those meetings with an ownership stake. We asked him, given the specter of a new collective bargaining agreement next year, whether that changed the way he viewed the industry now that he isn't just a GM.
"No, it doesn't change how I look at things," Rutherford said. "Really, over the last number of years I have really been excited about where the on-ice game has gone and where it's going. Also, as franchises get stronger, we see more growth in Carolina. So I'll look at things the same way that I have. I just think the league has done a good job."
Team USA 2014
We wrote a few weeks ago that if Steve Yzerman wants to run Team Canada's 2014 Olympic team, it's his job again.
But what about Team USA?
USA Hockey has not approached 2010 GM Brian Burke about it at this point. It's still early, obviously. We'd be surprised if Burke was not the GM again -- or at least was part of the operation in some capacity along with the committee of NHL GMs that USA Hockey will likely lean on again.
It's behind the bench that it might get interesting. Ron Wilson did a terrific job in Vancouver with a surprise silver medal. But it wasn't gold, so we're guessing that opens up the job.
The betting money from this perspective is on
Pittsburgh Penguins
coach
Dan Bylsma
. Again, a lot can change between now and USA Hockey's decision-making time, but we believe Bylsma is the early front-runner.
Howard Solid
Perhaps lost somewhat in Detroit's recent struggles -- the Red Wings entered the weekend on a six-game slide (0-5-1) -- has been the excellent play nonetheless of netminder
Jimmy Howard
.
"I hate to waste goaltending performances," coach Mike Babcock told ESPN.com this week.
Babcock made the comparison to a pitcher in baseball always throwing gems but still losing.
"If you're Jimmy Howard, you've got to be suing for no run support," Babcock said.
The Red Wings, as of Friday morning, were 25th in the NHL in goals per game. Nothing short of stunning.
Howard, meanwhile, entered the weekend with a 1.99 goals-against average and .921 save percentage.
December, 11, 2010
12/11/10
10:11
PM ET
Tomas Kaberle trade rumors resurfaced in cyberspace this week, but the defenseman's agent told ESPN.com on Saturday that his client had no interest in leaving Toronto at this point.
Any move would have to go through Kaberle and veteran agent Rick Curran because the D-man has a no-trade clause. At this point, it appears Kaberle has no intention of waiving it, which means he could walk away July 1 as an unrestricted free agent and the Leafs wouldn't receive any compensation.
Kaberle would be a nice fit in Montreal now that Andrei Markov is expected to miss the rest of the season, but again, Curran said forget about it.
Speaking of Markov, I was told Saturday that the Canadiens and Markov's camp, led by veteran agent Don Meehan, are planning on talking in the New Year to see if there's a fit contract-wise. Markov is UFA on July 1.

Richards update
It wouldn't be a weekend blog without a Brad Richards update, right? Hey, he's one of the most intriguing situations in the league this season, so why not.
I was told this week that the Toronto Maple Leafs are no longer among the top teams on Richards' wish list come July 1. From talking to different people around the league and connecting the dots, I believe his most desirable destinations are Dallas (staying put), the New York Rangers (he won a Cup with coach John Tortorella), Tampa Bay (back to his roots) and the Los Angeles Kings (team on the rise). Never say never in terms of Toronto, because you never know how much money talks come July 1, but I get the sense the Leafs aren't on the radar for Richards and his agent, Pat Morris of Newport Sports.
In the short term, should the Stars try to move him by the Feb. 28 trade deadline -- and, at this point, I don't know how Dallas even considers that given where it is in the standings -- Montreal could be an intriguing possibility. Because of the Markov injury/cap space, the Canadiens have the capability to do it and I think Richards would waive his no-movement clause for a chance at a playoff run in La Belle Province.
But come July 1, I still think the four teams are his top choices. He really does enjoy Dallas, and the only thing hurting his chances there is ownership instability. The next move for Stars GM Joe Nieuwendyk is to sit down with Tony Tavares, who will soon be announced as the new interim president of the team. Tavares will be the voice of the bank lenders, who now own and operate the Stars. Nieuwendyk's hope is to have a good dialogue with Tavares and get the green light to try to re-sign Richards to an extension.

Flyers goalies
Michael Leighton played his final AHL conditioning game Saturday night. So, now what?
"We'll get him back, get him checked out and see where we're at," Flyers GM Paul Holmgren told ESPN.com on Saturday.
If he's ready physically, the Flyers would activate him from long-term injured reserve. To do that, they would need to clear cap space. They have eight defensemen and 13 forwards on the roster. Somebody would have to be demoted, waived or traded.
Holmgren said the Flyers plan on carrying three goalies for a while, anyway. Given the delicate nature of Leighton's injury (he had back surgery Oct. 11 for a herniated disc), that makes sense. But at some point down the road, the Flyers will finally have to choose. Rookie Sergei Bobrovsky isn't going anywhere, so the choice will come down to Leighton or Brian Boucher, who has also played well this season.
Tampa Bay's goaltending problems are well-documented, but a source told ESPN.com on Saturday the Lightning don't have any interest in Boucher or Leighton.

The struggling Capitals
The Caps carried a four-game winless streak into Saturday night, but I get zero sense of panic from the organization. Quite frankly (and the Caps would likely never admit this publicly), I believe they're happy the team is facing some adversity this season. Last season, everything came so easy to the Caps during the regular season before facing their first real test in the first round of the playoffs (and we know how that ended up). The belief within the team, which is battling a flu bug, is having a few more bumps along the road now will make them tougher mentally.

Sabres sale?
I was told by a source Saturday that billionaire Terrence Pegula continues to show serious interest in buying the Buffalo Sabres. There is nothing imminent, but the source said something could possibly be in place by the end of this season.

The Wild and their coach
One ongoing storyline in Minnesota has been the future of Wild coach Todd Richards. But GM Chuck Fletcher told ESPN.com on Saturday it's not an area of concern right now.
"We don't think we have a coaching problem," Fletcher said. "Our focus is on our players playing better. We've worked hard the last couple of weeks. We've had players struggling and their game is starting to turn around. We're just trying to get our players to play to their capabilities."

The Canucks and Brian Burke
Given the bad blood between rival GMs Mike Gillis (Vancouver) and Brian Burke (Toronto), it was surprising to see the Leafs GM invited to Markus Naslund's banner ceremony in Vancouver on Saturday night. I'm told owner Francesco Aquilini invited Burke, the former Canucks GM who presided over the team during Naslund's finest seasons. It was a real nice gesture and classy move by the Canucks.
Board of governors note
I spoke with an NHL governor Saturday and asked him what he found the most interesting from the recent board of governors meetings in Palm Beach, Fla. He said he was surprised to learn during a USA Hockey presentation that there were more NHL players from the New York State than Russia. A USA Hockey spokesman confirmed there are currently 25 New York-born NHLers compared to 24 Russians. Things that make you go "hmmmm."
Nordiques fans go to Long Island
More than 1,000 Nordiques fans from Quebec took in Saturday night's Thrashers-Islanders game at Nassau Coliseum. Call me a sucker, but this again shows me there should again be NHL hockey in Quebec City.
I asked NHL commissioner Gary Bettman for his reaction to the Nordiques fans' showing.
"No one has ever doubted the passion of hockey fans in Quebec City," Bettman told ESPN.com via e-mail Saturday.
I believe Bettman would like to put teams back in Winnipeg and Quebec City, but he also wants all 30 teams to remain and succeed in their current markets. All of which leads me to believe that sometime in conjunction with the next CBA, you might start hearing talk of expansion. No one has told me that, it's just a guess.
Praise for Price
Consider Red Wings coach Mike Babcock a fan of Carey Price, telling ESPN.com on Thursday that he believes the Habs netminder is the best in the business.
"Price has been the best so far this season," Babcock told me. "No one had more pressure starting the year. He's really impressed me."
Team Canada in Paris
And finally, here's a neat little note: Team Canada is planning to play an exhibition game in Paris before the April 29 start of the IIHF World Championships. How do I find a way to sell that trip to ESPN.com? Man, I love Paris.
November, 18, 2010
11/18/10
2:51
PM ET
Brian Burke figured if there had been e-mail when he was the lord of the NHL's office of discipline, the current firestorm over Colin Campbell's indelicate messages to staffers would look like a single sparkler on a windy day.
"I felt exactly like Colie felt," Burke told ESPN.com on Wednesday. "There were divers and clowns in our league and I called them that."
The only difference is Campbell provided such assessment in electronic mail that lived on long past the moment that spawned the comments which ultimately ended up as evidence in a wrongful dismissal suit and fodder for the media.
"If I'd used e-mail, I'd have used the same language," said Burke, who was vice president and director of hockey operations for the NHL from 1993-98. "Only I didn't get caught because there was no e-mail trail."
Like many league officials, Burke is unflinchingly supportive of Campbell even though Campbell's e-mails to then head of officiating Stephen Walkom in 2006 and 2007 provided a candor about players and officials that have some wondering whether Campbell should continue in his post as NHL's head of discipline.
What sets Burke apart from others in the game is he has done Campbell's job. He understands the challenges Campbell faces.
"I can't imagine how Colie has lasted 12 years because I'd had enough after five years," Burke said.
It's fair to ask whether 12 years is simply too long on a job as relentlessly demanding as this one, but Burke maintains that perspective is needed in the midst of calls for Campbell's head and demands for a system to be overhauled.
"The system works," Burke insisted.
And maybe it is all about perspective when you're talking about something as emotional as how to deal with players' often dangerous actions on and off the ice, what is just and fair, and who is the right person to make such judgments.
Burke took over as the dean of discipline from Brian O'Neill in 1993. He immediately went to the NHL Players' Association to ask what changes the union would make and how to make the job of meting out punishment more streamlined.
"I said, 'I need a system that works for your guys,'" Burke said.
For instance, players no longer travel to league offices for all hearings, but only for longer suspensions. When he took over, Burke said the hot-button issues within the league were head butts and baseball-type slashes by players.
"Three quarters of what I did was stick-related, and we've taken that out of the game," he said.
Different time, different sensitivities, different hot-button topics.
Burke recalled back to the late 1980s during his first stint as an executive with Vancouver when Edmonton's Mark Messier speared Canucks winger Rich Sutter in the face.
"The doctor had to scrape black tape off the roof of Richie Sutter's mouth," Burke recalled.
"Do you know how many games Messier got?"
Six games.
"Do you know what he'd get now?" Burke asked. "Add a zero to that number."
Now, those kinds of ugly stick incidents occur infrequently, and when they do -- think Chris Simon's samurai swing on Ryan Hollweg late in the 2006-07 season -- they are dealt with harshly. Now, the attention is on blows to the head and hits from behind, as it should be. Burke is confident this issue will also be weeded out of the game over time.
We have been repeatedly, if not relentlessly, critical of Campbell and how the disciplinary system works in the NHL, mostly as it relates to consistency. Mattias Ohlund received four games for breaking Mikko Koivu's leg a couple of years ago. James Wisniewski was suspended two games for his gestures toward Sean Avery. Avery received nothing for whacking Mike Komisarek on the feet. And on and on the merry-go-round goes.
But if you're looking for "cookie-cutter" justice like a speeding ticket -- you're 10 miles over the limit, you pay a $40 ticket -- it's just not going to happen, Burke said.
"The incidents are not all the same. There are all kinds of factors," he added.
What was the score of the game at the time of the incident?
Was there a history between the two players?
Was there an altercation earlier in the game that precipitated the incident?
Burke said there is, however, a body of law that is compiled when it comes to discipline and considered with every incident. When there are two incidents that are the same, Burke said he is confident the league hands out "cookie-cutter discipline" that it is consistent as far as it is possible given the fluidity of all of these events.
The San Jose Sharks might argue this point given the recent two-game suspension handed to captain Joe Thornton for a hit the Sharks insist was ruled legal last season.
At the heart of the matter is what makes the game of hockey different than every other game, and that's the speed and constant physical contact between players. Whether it's Campbell or Burke or Joe The Dog ruling on justice, there is always going to be the challenge of making an inherently dangerous game as safe as possible without destroying its integrity.
"We need to keep contact in our game," Burke said.
Think Judge Roy Bean and delivering law west of the Pecos and you'll have a sense of the challenges that will continue to confront those who hold this office. As for the mechanism of delivering justice, Burke said calls for a committee or tribunal are misguided.
"It would make the process hopelessly cumbersome," he said. "It doesn't add to the wisdom of the process."
Perhaps he's right. Maybe it's less about who makes the decision than how the decision gets made. Maybe it's more about opening a window onto the process and making it more transparent. But, in the end, the buck has to stop somewhere.
"It's going to be one guy and people are always going to complain," Burke said. "[When you make a decision on discipline], you're lucky if you're only dumb once."
Burke said you'll mostly hear complaints from both sides, the injured team and the media that cover them, complaining the penalty was too light, and the team and the media covering the suspended player complaining the penalty was too heavy.
"I'd get fried in the media [in both cities]," Burke said.
In the debate over whether Campbell should remain on the job, other potential replacement names have cropped up. Brendan Shanahan, a newly appointed NHL executive (he's trying to fix the All-Star Game, which is a full-time job in and of itself), has been mentioned.
"People say Brendan Shanahan should take over the job," Burke said. "I can guarantee that, within a week, there'll be people demanding someone else do it."
Although he is dismissive of an overhaul that would see discipline handled by a committee or tribunal, Burke points out that Campbell does have help and does not operate in a vacuum.
It's true. Mike Murphy, Kris King and Kay Whitmore -- all with NHL's hockey operations department -- are in contact with Campbell on issues of discipline from the moment an incident takes place.
"I think Colin's done an excellent job," Burke said. "This to me is white noise. It's background noise."