Cross Checks:

Brian Campbell
June, 20, 2012
6/20/12
9:04
PM ET
By
Associated Press
| ESPN.com
LAS VEGAS -- Florida defenseman
Brian Campbell
has won the Lady Byng Trophy for sportsmanship and gentlemanly conduct.
Campbell won the award Wednesday night at the NHL's annual postseason awards show.
Campbell played all 82 games and had only six penalty minutes for the Panthers. He has never recorded more than 35 penalty minutes in a season during his lengthy NHL career.
Campbell noted onstage that he's the first defenseman to win the award since Detroit's Red Kelly in 1954.
Tampa Bay's
Martin St. Louis
won the award for the past two years, and Detroit's
Pavel Datsyuk
won it four straight times before that.
Edmonton's
Jordan Eberle
and the
New York Islanders
'
Matt Moulson
also were finalists for the Lady Byng. All three were first-time nominees.
April, 23, 2012
4/23/12
11:33
AM ET
From the official NHL release:
CAMPBELL, EBERLE AND MOULSON VOTED LADY BYNG TROPHY FINALISTS
NEW YORK (April 23, 2012) -- Defenseman
Brian Campbell
of the
Florida Panthers
, right wing
Jordan Eberle
of the
Edmonton Oilers
and left wing
Matt Moulson
of the
New York Islanders
are the three finalists for the
2011-12 Lady Byng Memorial Trophy, awarded "to the player adjudged to have exhibited the best type of sportsmanship and gentlemanly conduct combined with a high standard of playing ability," the National Hockey League announced today.
Members of the Professional Hockey Writers' Association submitted ballots for the Lady Byng Trophy at the conclusion of the regular season, with the top three vote-getters designated as finalists. The winner will be announced Wednesday, June 20, during the 2012 NHL Awards from Encore Theater at Wynn Las Vegas. The 2012 NHL Awards will be broadcast by NBC Sports Network in the United States and CBC in Canada.
Following are the finalists for the Lady Byng Trophy, in alphabetical
order:
Brian Campbell, Florida Panthers
Campbell anchored the defense corps on a Florida club that posted a 22-point increase over 2010-11 and captured its first division title in franchise history. He took on a heavy workload by appearing in all 82 games and leading the NHL in total ice time (2,205:31), yet was whistled for just six penalty minutes -- the fewest among the 65 NHL defensemen who appeared in at least 77 games. He ranked second among League defensemen in scoring with 53 points (four goals, 49 assists), tying the single-season franchise record for assists by a defenseman, and ranked second in the NHL in power-play assists (30).
Jordan Eberle, Edmonton Oilers
In his second NHL season, Eberle led the Oilers in goals (34), assists (42) and points (76), posting a 33-point increase over his rookie campaign. He received only five minor penalties for 10 total minutes in
1,372:35 of playing time. Turning 22 on May 15, Eberle is the youngest Lady Byng Trophy finalist since
Anaheim Ducks
star
Paul Kariya
captured the award at 21 years, eight months in 1996 after his sophomore NHL season.
Eberle is vying to become the third player in Oilers history to win the trophy, joining Wayne Gretzky (1980) and
Jari Kurri
(1985).
Matt Moulson, New York Islanders
Moulson posted career highs in goals (36), assists (33) and points (69), becoming the first Islanders player to post three consecutive 30-goal seasons since
Zigmund Palffy
from 1995-96 through 1997-98. He also set a career high, led his club and tied for third in the NHL in power-play goals (14). The first-time NHL Trophy finalist played all 82 games for the third time in as many seasons with the Islanders and was assessed just six penalty minutes, tied with fellow Lady Byng finalist Brian Campbell for the fewest among the League's top 75 scorers.
History
Lady Byng, wife of Canada's Governor-General at the time, presented the Lady Byng Trophy during the 1924-25 season. After Frank Boucher of the
New York Rangers
won the award seven times in eight seasons, he was given the trophy to keep and Lady Byng donated another trophy in 1936. After Lady Byng's death in 1949, the National Hockey League presented a new trophy, changing the name to the Lady Byng Memorial Trophy.
OTTAWA -- All-Star Game MVP
Marian Gaborik
had planned it before puck drop.
If he scored on Rangers teammate
Henrik Lundqvist
, the
Artem Anisimov
machine-gun celebration was coming out.
"I was thinking about it before the game that if I scored on Henrik -- I wouldn't do it any other way -- but I wanted to do against Henrik to give him a little Anisimov celebration there. I don't think he was too happy about that," Gaborik said with a smile.
"I was laughing when he pulled it off," linemate
Marian Hossa
said.
"I tried to feed him towards the end of the first to get a hat trick right away," Hossa said. "Hank Lundqvist came up to me and said 'C'mon you can't feed him that much.'"
Gaborik scored two of his three goals against his Rangers netminder, making it seemingly look easy.
"It's not easy," Gaborik said. "I was just fortunate to be lucky against him. I think he's one of the best -- if not the best goalie in the league. But I'm glad I got a couple of goals against him."
Gaborik and Lundqvist were exchanging friendly barbs via Twitter all weekend long. Just for fun, right?
"I think I tried to get into his mind over the whole weekend," Gaborik said with a laugh. "I think it was a pretty good challenge against him but it worked out better for me."
Talk about a line,
Pavel Datsyuk
between the two slick Slovaks.
"With Marian, we've played together on international level," Gaborik said. "With Pavel, I mean, he's one of the best. You can see the pure talent. He's got it all."
-- Pierre LeBrun
Teammates turned opponents
It is always interesting to see teammates end up facing each other in a game like this. Given the low-key nature of the game, there are lots of opportunities for chirping.
Take
Evgeni Malkin
, who took a shot at Pittsburgh teammate
Kris Letang
for allowing him to set up an early Team Chara goal.
"Kris plays sometimes in the offensive zone, not defensive zone -- gives me a chance to score, you know. So I say thank you to him," Malkin said.
Letang shot back that he was counting on taking advantage of Malkin's lack of defensive abilities.
"I was trying to beat him on his defensive part of the game, which doesn't exist, so we'll see what he says about that," Letang retorted.
New York Rangers
teammates
Dan Girardi
and Lundqvist were both victimized by Gaborik, who had three goals and an assist.
"I was obviously on the minus end of two of his goals, so that wasn't too good," Girardi said. "He made a couple of good plays and he just had one of those games that everything was going in for him."
"That line was pretty dangerous out there," Girardi said of the Gaborik-Hossa-Datsyuk line. "Every time they came on the ice the D wanted to change."
-- Scott Burnside
Thomas gets fourth straight win
Tim Thomas
arrived at All-Star Weekend under a cloud of controversy. He left with his fourth career All-Star victory.
"I'm very happy with the end result," Thomas said. "Going into it I was shooting for four [wins], but I didn't really realize how much I wanted it until we got into it. Then my team came up big and scored a couple of goals early for me. Then I said, 'Let's do this ... I might as well.'"
He denied local favorite
Daniel Alfredsson
from completing the hat trick in the third period.
"I wasn't thinking about [Alfredsson's] hat trick," Thomas said. "I just didn't want the other team to get any closer, because all of a sudden, the way goals get scored in these games ... boom, boom, boom ... you could get three goals scored in a minute and a half. I didn't want to let anybody score. It wasn't anything against Alfie, I guess."
-- Pierre LeBrun
Behind the bench
Although this event isn't really about the coaching, both Todd McLellan -- who coached Team Alfredsson with John Tortorella -- and Claude Julien -- whose Boston coaching staff guided Team Chara -- enjoyed the chance to get to know players they see only from the other side of the ice.
"It's an opportunity to get to know these individuals personally," McLellan told ESPN.com. "We really appreciate the skill level they have, but we see it almost every day. There are no secrets. There's a lot of video out there. Where they expose themselves is personally in the locker room. The way they interact with each other and they're all gentlemen, they're all professionals, they all carry themselves extremely well. You see their interaction with their families. For me that's the most rewarding opportunity we get throughout the weekend."
Julien, also, could not say enough about the players involved in this year's game.
"They're not only special players on the ice. They're special players off the ice," Julien said. "All quality people. Even for us to be able to put our competitiveness aside and away for a weekend, and get a chance to talk to these guys individually, they're great people. It gives you a lot more respect for the individual, especially after you get a chance to chat with them."
Most of these players get it. It's a chance to give back.
"The weekend is, first of all, it's for the fans,"
Toronto Maple Leafs
winger
Joffrey Lupul
said. "Everything we do is for the fans, the behind the scenes, the interviews, wearing a microphone during the game, if you're going to do all that stuff, you're not really going to expect a competitive 3-2 game. This event is about more than just the game. It's to show the fans another side of the guys and have fun. I think everyone in the crowd today had fun. I know I had fun today wearing the microphone."
-- Scott Burnside and Pierre LeBrun
Campbell at plus-7
There's not much defense in an All-Star Game, but it still was impressive to look on the score sheet and see
Florida Panthers
defenseman
Brian Campbell
at a plus-7. He finished with the most ice time (21:40) of anyone on Team Chara and assisted on
Phil Kessel
's goal.
"It's one of those games where you don't want to get behind too early," Campbell said. "Everyone is playing to be MVP, but it's tough to get up there and battle with the forwards when they're already at the red line when you are in your zone. It was nice playing with
Zdeno Chara
. That was fun."
Chara is one of the game's biggest competitors, so Campbell didn't want to let his captain down but said the game was about showing off skill more than anything.
"You want to compete as much as you can for the fans. But no, it's not too intense and there's no hitting," Campbell said. "You try to make it fun for the fans and you hope it's close at the end. Usually it's pretty tight and that's when it picks up. It was fun."
--Craig Custance
January, 27, 2012
1/27/12
9:07
PM ET
Ryan Suter's decision to share
the news that he won't be signing with the Predators
before the trade deadline dominated discussion during Friday's media availability with one player a little more interested than most.
Flyers defenseman
Kimmo Timonen
's interest was piqued mostly because Philadelphia could use a replacement for
Chris Pronger
. But partly because he can relate.
Timomen enjoyed playing in Nashville, but his rights were traded to the Flyers in 2007 when the Predators couldn't afford to keep him or forward
Scott Hartnell
.
[+] Enlarge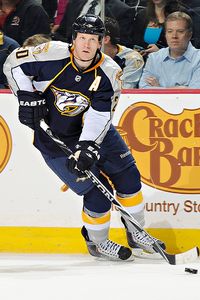 John Russell/Getty Images"I feel it would be more of a distraction than anything," Ryan Suter said of signing an extension now.
"They were going to be unrestricted free agents, demanding and worth more money than we could afford," Predators GM David Poile said.
History might be repeating. And it's not just one franchise defenseman this time around. The future remains uncertain for both Suter and teammate
Shea Weber
.
"It's not easy," Timonen said. "I'm sure these two guys want to stay in Nashville. I wanted to stay in Nashville, too. Sometimes it comes to money and business and that side of things. I'm sure these guys are talking to the team and trying to see, 'Is there any way we can work this thing out?' If not, then you have to move on. It's a bad part of the business but it has to happen."
And if it has to happen, Timonen would love for his current team to be the beneficiary. Pronger has been ruled out for the rest of the season and the playoffs with a concussion, and the addition of Suter would come the closest to replacing him.
It would immediately catapult the Flyers back among the Stanley Cup favorites.
"Obviously if we can get one of [Suter or Weber], we'll be happy to take them," Timonen said. "All the help you can get going into the playoffs and try to win the Stanley Cup -- we need it."
-- Craig Custance
Hossa: Rumors are unavoidable issue
Suter's decision to put contract talks on hold will lead to a frenzy of rumors surrounding the defenseman as the trade deadline closes in.
It's a world
Marian Hossa
remembers well. He made the same declaration about halting talks with Atlanta in 2008 and was traded to Pittsburgh five minutes before the trade deadline that year. Making it worse, Hossa was in Montreal on deadline day, playing against the Canadiens, a team feverishly pursuing him in trade talks with the Thrashers.
Hossa can laugh about it now.
"Lots of questions. Lots of media attention," Hossa said, smiling. "You never know what can happen; I think that's what he's going through right now."
Hossa managed the distraction well but admitted it becomes an unavoidable issue that teammates have to deal with.
"It's a little bit of a distraction maybe in the dressing room," Hossa said.
The best solution was the drop of the puck.
"When I jump on the ice, I was with my teammates and didn't think about what was going on," Hossa said.
-- Craig Custance
Campbell recalls Sabres trade
Florida Panthers
defenseman
Brian Campbell
went through the same situation as Suter with the
Buffalo Sabres
during the 2007-08 season when his contract was expiring before he was slated for unrestricted free agency. He declined to sign an extension during the season and ultimately was traded to San Jose.
Campbell said Friday that he understands the pressure and stress Suter is going through.
"It's not fun at times -- going through all that experience," Campbell said. "It should be a great time, but you never know what's going to happen. I'm not sure. Hopefully, he probably wants to stay in Nashville and have a home there. Myself, it takes time to see what develops. I'm happy. Everything's worked out great for me. I'm sure it'll work out well for him."
Weber is a restricted free agent July 1. Together with Suter, he forms the NHL's top defense pairing, and Campbell finds it hard to picture Nashville without that stud duo.
"It's kind of hard to picture [the]
Nashville Predators
without those two guys in the back end," Campbell said. "They realize how much they mean to that team, and it'd be pretty hard to see them not there."
-- Pierre LeBrun
January, 26, 2012
1/26/12
10:18
PM ET
GATINEAU, Quebec --
Tim Thomas
would rather focus on the NHL All-Star Game, but the controversy surrounding his decision to skip the Bruins' visit Monday to the White House has followed him to Ottawa.
Following the NHL's All-Star draft Thursday night, Thomas met briefly with the media and was asked about the reaction that followed his decision, including that of his teammates.
"They've given me their full and unwavering support, and I really appreciate that," he said.
He declined to comment on another question with a firm "No comment," but paused for a long moment when he was asked whether avoiding the issue altogether only fuels the debate.
"I did address it," he said. "Everything I said in my statement was what I believe to be the absolute truth. I don't believe I need to revisit something I stated so clearly."
-- Craig Custance
Datsyuk Thrilled To Be No. 1
Red Wings forward
Pavel Datsyuk
was perfectly content going last in the fantasy draft. "I want the car," he said last weekend.
But it was quite the opposite.
Zdeno Chara
made Datsyuk the first overall pick, bypassing teammates and fellow countrymen. Chara was going strictly on talent and production. One of the game's elite two-way players, Datsyuk has surged toward the top of the points race with 53 points in 49 games.
The honor of going first trumped winning a new car. Plus, it was a Honda, which probably wouldn't have gone over well in Detroit anyway.
"I'm just more happy. Surprised," Datsyuk told ESPN.com. "A car is a car but I want to be first, too."
He said he's excited to be reunited with former teammate
Marian Hossa
as well as fellow Russian
Evgeni Malkin
.
"I don't play with Russian for a long time, same team," he said. "Now it's a chance. Who knows? We play good and Ken Holland see, [maybe he'll] bring in a Russian guy."
-- Craig Custance
Couture Goes Last
One wouldn't know by looking at
San Jose Sharks
center
Logan Couture
after the draft that he had gone last overall.
You couldn't wipe the smile off his face.
"Being the young guy here and playing on the West Coast, I knew it was a possibility," he said.
Hey, he got a car, right?
"A lot of my friends and my brother are blowing up my phone asking if they can have the car," Couture said, laughing.
Sharks captain
Joe Thornton
was among the callers. We also texted Thornton after the draft to ask him for his reaction to young Mr. Couture going last.
"Love it, his family will love the new car!" Thornton told ESPN.com.
-- Pierre LeBrun
Kessel Not Last
Tyler Seguin
would have been an ironic last overall pick a year after
Phil Kessel
was, given their forever link to The Trade.
Just don't tell Kessel that.
"I didn't think about that until you just said that right now,'' Kessel insisted afterward.
Really? Not sure we believe that one.
There was no car for Kessel this year, with the Leafs sniper going 15th overall. Although he keeps insisting he doesn't care.
"Anything would have been fine," Kessel said, shrugging. "It's an honor to be here. It's not a big deal at all [to go last]. It doesn't matter."
Any Maple Leafs reference got booed mercilessly Thursday night by rival Ottawa fans, so much that Kessel was taken off guard by it.
"I didn't realize it was that bad, to tell you truth," Kessel said of the Senators fans' venom for the Leafs. "When we play here, there's a lot of Leaf fans at the games ... but we're looking to have a good time here this weekend."
-- Pierre LeBrun
That Ol' Softie Zdeno
Zdeno Chara might be among the most imposing of players in the NHL but he definitely has a soft spot or at the very least a strong sense of fair play. Even though it was obvious Chara's counterpart and former
Ottawa Senators
teammate
Daniel Alfredsson
was trying to corner the market on Senators in the draft, Chara allowed that to happen without disrupting the natural order of things by stealing a
Milan Michalek
or
Jason Spezza
.
"I think it's fair enough to have the team guys kind of together especially, you know, for Ottawa fans and people in Ottawa. When they could have their home team players on the same team, I think it just makes it very special for them. Obviously, I didn't want to interfere with that, and respect that," he said.
-- Scott Burnside
Campbell Close To Home
Lots of familiar faces for
Florida Panthers
defenseman
Brian Campbell
this weekend in somewhat familiar surroundings. Campbell played his junior hockey in Ottawa, skating on the Rideau Canal during his leisure time, and he has a dozen family members either in town already or en route.
His inclusion in this All-Star weekend, his fourth All-Star appearance, reinforces Campbell's decision to agree to a trade from Chicago, where he won a Stanley Cup, to the Florida Panthers last summer. Campbell is second in the NHL behind
Erik Karlsson
in scoring among defensemen and is the lone Panthers representative here. But he did hook up with former Hawks teammates
Patrick Kane
and Marian Hossa.
"I think you're always worried when you move to a different team and a different city, but for myself personally, it was the best decision," Campbell said.
He noted that he is getting a chance in Florida to showcase his skills in a way that perhaps he wasn't able to do in Chicago. Still, he was quick to reinforce his feelings about his time in Chicago and specifically playing for coach Joel Quenneville.
"I loved my time in Chicago," he said. "The organization was great, and Joel, I learned a ton from Joel about how to play the game. Now that's the past, and [you] take a lot of good things out of Chicago and you move forward."
As for the curious route of leaving the warmth of South Florida for the chill of an Ottawa winter during the break, Campbell is OK with that.
"There's lots of time for the beach and all that. I know the boys are having fun I'm sure somewhere wherever they are, but I'm happy to be here," Campbell said.
-- Scott Burnside
Home Game For Perry
Corey Perry
is actually from Peterborough, Ontario, but he has family and friends who live here in Ottawa, so this is an NHL homecoming of sorts.
"I've got a lot of cousins here; my dad's side pretty much lives in Ottawa," the reigning Hart trophy winner said after the draft. "It's going to be a fun weekend."
-- Pierre LeBrun
Ottawa Is Living Large
No doubt the Ottawa region and the Senators would have been pumped to host the All-Star weekend, but let's be honest, it wouldn't have the oomph this weekend stands to have if the team had been languishing at the bottom of the Eastern Conference standings as most believed it would be.
Instead, the surprising Senators hit the break in sixth place in the conference and looking forward to the final 30 games of the regular season.
"We're looking forward to a lot of divisional games, a lot of important hockey games, and last year at this point of the year, we didn't have important hockey games, so we're excited to have important hockey games coming into this part of the season," Senators center Jason Spezza said Thursday.
And the team's play has sure made taking part in the weekend's celebrations more palatable for him and his teammates.
"Yeah, I think so," Spezza said. "We feel like we're here on merit and because the team's played well. You want to be a part of something like this but it's nice when you're having a good year and things are going well up to this point. Our fans are excited; we're excited about it. I think because the club's played good hockey, everybody's really excited about hockey right now, and this is really just icing on the cake on it at this point."
As for teammate Erik Karlsson, with whom Spezza sat before being selected by teammate Daniel Alfredsson, Spezza agreed that no one seemed to be having as much fun as the young defenseman, who leads all NHL defensemen in points with 47.
"Erik's a great kid. He's a real light-hearted guy. I think the more and more people get to know him, the more and more they're going to like him. He's a confident kid that believes in himself and he's a heck of a hockey player and he's a great guy in the dressing room," Spezza said.
-- Scott Burnside
Benn's Scare
Dallas Stars
center
Jamie Benn
won't lie. He was sweating it just a little when it was down to him and Sharks center Logan Couture. But he insisted he was also having fun with it.
"A little bit of both," Benn said after Friday night's All-Star draft. "We knew it would come down to the wire. It doesn't matter. We're all here to have a good weekend, and we might as well have fun with it."
You might argue being picked second to last is the worst possible outcome because there's no car as a prize, right?
"Well, it was a little bit of a win-win before those final two picks, either picked or get a car," Benn said, laughing. "I'm happy I got picked."
Benn was activated from the Stars' injured reserve just before the All-Star weekend. We asked him whether he put a little friendly pressure on Stars GM
Joe Nieuwendyk
to do that.
"A little bit, yeah," Benn said, smiling. "He was nice enough to let me come here. He wanted me to come here; it's a good experience for a young guy like me."
-- Pierre LeBrun
Kane Caught On Tape
It wouldn't be an event without Patrick Kane making things interesting.
"That blonde's unbelievable," Kane was caught saying on the telecast.
"It was a little blonde kid in front; that's all I was talking about," a smiling Kane insisted afterward, in no way convincing any of the media on hand.
"I can't believe they put that on," Kane said, knowing he was busted. "No more mic'ed up for TSN."
-- Pierre LeBrun
December, 14, 2011
12/14/11
12:49
PM ET
An interesting race is unfolding for the Norris Trophy this season because former winner
Chris Pronger
is sidelined with injury. Pittsburgh's
Kris Letang
, who had looked like he might step into the Norris discussion earlier this season, also is injured. Despite their absence, the race is again shaping up to be a tight one with no clear front-runner. Here's how we handicap the race as we hit the second third of the season.

Chara was out of action this week but only on a day-to-day basis. That's why we like the former defenseman of the year and captain of last season's Stanley Cup champs to lead the Norris charge at this point in the season. Like many of the Bruins, Chara started slowly -- GM Peter Chiarelli prefers to talk in terms of Stanley Cup haze as opposed to hangover -- but the defenseman has returned to form.
So have the Bruins, who have vaulted to the top of the Northeast Division and are in the hunt for the top spot in the Eastern Conference. Sometimes there is a tendency to overlook Chara because in the past he hasn't produced the offensive numbers that some of the other top defenders have. But Chara's 19 points are more than respectable, and he has four power-play goals, which place him among the league leaders among defensemen. Chara is plus-18 while playing big minutes against the best opposition. What is impressive about Chara's high level of play is that we've seen other Norris winners take a step back, especially after a Cup win.
Duncan Keith
struggled the season after winning the Norris in 2010, for instance. Not so with Chara.
"He just keeps doing what he's always done," Chiarelli told ESPN.com this week. "His game is just so steady and so predictable. That's part of the attraction for 'Z,'" he said. Same old, same old? Good enough for us.

It's been an up-and-down season for the Predators, but they seem to have turned a corner and are again back in the top eight in the Western Conference. As per usual, it's their captain, Shea Weber, who has been the catalyst of good things happening in the Music City. Weber is near the top of all major statistical components among defensemen with six goals, four power-play goals, 21 points and a plus-14 rating. He is averaging 26:12 a night in ice time. But perhaps more impressive is that Weber's defensive game and leadership abilities continue to evolve and mature. A Norris Trophy nominee last season, Weber is on a collision course to earn a place on the final ballot again.

Girardi has emerged as a force along the Rangers' blue line in the absence of
Marc Staal
and has been a leader on one of the top teams in the NHL during the first third of the season. Girardi leads all NHLers in average ice time at 27:33 a night and has produced a surprising amount of offense with three goals and 12 points. He is plus-6, but as with all elite players, intangibles are what have vaulted Girardi into the Norris Trophy discussion. Although the Rangers' blue line has been depleted by injury, they continue to boast the third-best goals against per game in the league, and Girardi's presence is a key reason.

You have to like how Brian Campbell has embraced a leadership role with the remade Panthers. His play has sparked what has been a stellar first 30 games for the Southeast Division-leading Panthers. Campbell is averaging 26:42 a night in ice time, third in the NHL. His 24 points are second among defensemen, and he's plus-8.
GM Dale Tallon has nothing but good things to say about Campbell's play and his importance to the team's instant chemistry, even though the Panthers added a bevy of new faces to their lineup in the offseason. One of the quiet benefits of Campbell's work in Florida is how he's helped
Jason Garrison
emerge as a top triggerman from the blue line. Garrison has nine goals, three more than the next-most-prolific goal scorer among NHL defensemen, and a lot of those goals are the product of sweet Campbell passes. For a guy who took more than his fair share of criticism in Chicago, Campbell has been worth every penny for the Panthers.

5. Ryan Suter, Nashville Predators
In many ways, the careers and fortunes of the two Nashville defensive pillars will be joined -- at least as long as they toil in Nashville. And although the longtime defensive partners play two different styles, their importance to the Preds and their overall value among NHL defensemen is a lot closer than perhaps some people would suggest. Suter, who can become an unrestricted free agent in July, is second among all NHLers in average ice time, and his 20 points are just one behind Weber's total. He is plus-11 and has three power-play goals. Suter exists somewhat in the shadow of the Predators' captain, but he is vitally important to the big goals the Predators score.
Honorable mentions:
Erik Karlsson
,
Ottawa Senators
;
Nicklas Lidstrom
,
Detroit Red Wings
;
Alexander Edler
,
Vancouver Canucks
;
Kimmo Timonen
,
Philadelphia Flyers
; Kris Letang,
Pittsburgh Penguins
.
June, 25, 2011
6/25/11
1:39
AM ET
ST. PAUL, Minn. -- Almost from the moment the Chicago Blackhawks won the Stanley Cup in 2010, they were up against the salary-cap wall.
They were forced to jettison key pieces of their team literally days after defeating Philadelphia and spent all this past season with little cap room with which to maneuver.
GM Stan Bowman appears determined to chart a much different course this upcoming season. He traded forward Troy Brouwer, a restricted free agent with arbitration rights, to the Washington Capitals for a first-round pick (26th overall) in Friday night's first round of the NHL draft. Then, the GM sent high-priced defenseman Brian Campbell to the Florida Panthers for forward Rostislav Olesz. A source told ESPN.com that Campbell had agreed to waive his no-trade clause to facilitate the deal.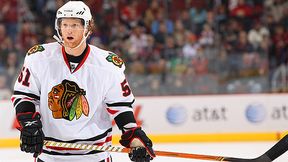 Christian Petersen/Getty ImagesBrian Campbell still has five years remaining on his deal with a $7.142 million annual cap hit.
That move makes sense on a number of levels. Florida GM Dale Tallon was the man who signed Campbell to the whopper eight-year deal worth slightly more than $57 million when Tallon was GM in Chicago. Campbell still has five years remaining with an annual cap hit of $7.142 million. Olesz still has three years remaining on a contract with a $3.125 million annual cap hit, so the net gain against the cap is significant for Bowman.
"It gives us the option to do different things, whether it's through the trade market or through free agency, and I think certainly it's going to be a departure from the last year when we really were kind of [in a] stranglehold all year in terms of being able to do things," Bowman said after the first round was completed. "It's not the worst thing in the world to go into the season with some cap room, as well.
"There are always opportunities throughout the year if you've got some space in your cap," he added. "We didn't have that luxury last year. It'll give a lot of options for us. Once we sort it out, we can figure out how we're going to allocate the money better."
In giving up Brouwer, Bowman said it would create space for some of the team's promising young forwards, such as Kyle Beach and Jeremy Morin.
"We're fortunate in our situation. We've got a lot of young players we need to find spots for," Bowman said. "The time comes sometimes where you've got to make room for players, whether it's Beach or Morin or a lot of other guys in our system that play kind of a similar game as Troy."
Brouwer scored 22 goals during the Hawks' Cup-winning season and was the subject of much interest from a variety of teams, Bowman said.
"He's a player obviously a lot of teams were interested in. We certainly wish him well. He's been a great Blackhawk," Bowman said.
That Brouwer didn't fit the Hawks' long-term plans might be a boon for the Washington Capitals.
Blessed with terrific talent, the Capitals have struggled to get over the playoff hump and were swept in the second round by Tampa Bay this spring. In 2010, they won the Presidents' Trophy and were stunned by Montreal in the first round.
Brouwer's postseason experience should help.
"We like that he's a power forward that plays hard and has played a lot of playoff games and has won a Cup," Washington GM George McPhee told ESPN.com on Friday night. "He's capable of getting 20 goals and can play up and down the lineup, on either left wing or right wing, and seems to be a terrific person and a real good leader."
More notes from Day 1
• Paying tribute: There was a terrific tribute to the late director of NHL's Central Scouting, E.J. McGuire, who died of cancer this spring.
McGuire, whose passion was scouting and the NHL draft, was honored with a video montage before his widow, Terry, and the couple's daughters, Jacqueline and Erin, were introduced and announced the Edmonton Oilers as having the first pick in the 2011 draft.
Likewise, kudos to the New York Rangers, who honored Derek Boogaard by inviting his brother, Aaron, on stage for the team's first selection in the draft. The emotional moment prompted all on the draft floor, and most of those in attendance, to a standing ovation.
Boogaard, who died earlier this spring from an accidental mix of alcohol and oxycodone, was a former Minnesota Wild enforcer who was wildly popular in the community.
• Hometown introduction: A nice touch by the New York Islanders to have Kyle Okposo up on stage when they made their first selection in the draft. Okposo was born in St. Paul and attended the University of Minnesota for two years. He was the seventh overall pick in the 2006 draft.
• Not-so-warm welcome: Good for the local fans to remember the unceremonious departure of the first Minnesota NHL franchise, the North Stars, back in 1993. They booed Dallas Stars GM Joe Nieuwendyk as he made the Dallas Stars' first pick of the draft.
• Sweden stars: Although there has been some concern in Sweden over the state of the nation's hockey development program in the past few years, there obviously remains high-end talent there. Four Swedish-born players were among the first 10 selections Friday, a first in draft history.
Left winger Gabriel Landeskog, a junior player from Kitchener of the OHL, was taken second overall by Colorado; defenseman Adam Larsson was selected by New Jersey with the fourth pick; center Mika Zibanejad was taken by the Ottawa Senators with the sixth pick (that ought to make captain Daniel Alfredsson happy); and defenseman Jonas Brodin went 10th to the local Minnesota Wild. In all, there were six Swedes taken in the first round, tying a draft record.
• And finally: No goaltenders were taken in the first round for the third time in the past five drafts.
February, 25, 2011
2/25/11
10:50
AM ET
Nashville's Mike Fisher put a big hit on Chicago's Brian Campbell behind the net, but the Blackhawks shut out the Predators 3-0 on Thursday night:
March, 14, 2010
3/14/10
2:45
PM ET
Another day, another challenge for the NHL's head disciplinarian Colin Campbell.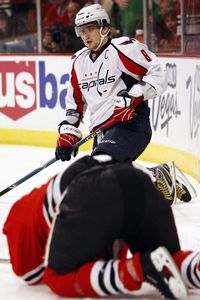 AP Photo/Nam Y. HuhAlex Ovechkin received a game misconduct for boarding with 7:44 left in the first period of Sunday's game against the Blackhawks.
Fresh from his perplexing decision not to suspend Pittsburgh's Matt Cooke for the forward's potentially season-ending hit on Boston's Marc Savard, Campbell will now have to deal with another controversial hit by Washington captain -- and superstar -- Alex Ovechkin.
Here's a suggestion (and we know how much Campbell enjoys suggestions from the peanut gallery): Do nothing, again.
Only this time, Campbell will completely get it right if he simply lets Sunday's call stand -- Ovechkin was ejected in the first period of a key game against Chicago after pushing Blackhawks defenseman Brian Campbell into the boards behind the Chicago net.
Initially, it appeared as though Campbell was merely stunned (Brian, not Colin). Then, he didn't return the game. Finally, late Sunday, the news came that the NHL's third highest-paid defenseman could be lost for the season with a broken clavicle and broken ribs. While difficult for the Blackhawks, who are considered a top candidate to win their first Stanley Cup since 1961, Campbell's injury does not change our view about how the league should view the incident.
Ovechkin was tossed for the third time this season, assessed a five-minute major for boarding and a 10-minute misconduct and game misconduct. We understand the call -- we could have lived with a five-minute major (there is no double-minor for boarding, as we suggested earlier) -- but as for requiring further action, we don't think so.
There was much discussion earlier this season on Nov. 30, when Ovechkin caught Carolina's Tim Gleason with a knee-on-knee hit a week after being ejected for ramming Buffalo's Patrick Kaleta. A day later, Ovechkin was handed a two-game suspension by Campbell.
There will no doubt be calls for Ovechkin to be made an example of following Sunday's hit on Brian Campbell. You know ... "He's a repeat offender" and "Make an example of him" ... that kind of stuff. The kind of stuff that should have factored into Colin Campbell's ruling on Cooke.
We often criticize the NHL's curious method of dispensing supplementary discipline because it is so, well, curious and disjointed and often downright laughable. That flawed process was once again thrown into the spotlight last week with the contentious Cooke hit and NHL general managers' subsequent move to introduce a new rule to protect players from blindside hits to the head.
The Ovechkin hit, though, has nothing to do with any of that. Did he deserve a penalty? Sure. But was it reckless? No. Was it predatory or intended to injure? No.
And so, this Ovechkin incident should pass -- unlike the Cooke hit, which went unpunished -- because it is the right thing to do.