Cross Checks:

Bryan Bickell
June, 27, 2013
Jun 27
10:36
PM ET
The
Kris Letang
camp notified the
Pittsburgh Penguins
on Thursday evening that it was turning down an eight-year extension offer worth around $56 million, a source told ESPN.com.
A source also told ESPN.com that the Letang camp counter-offered with a long-term deal south of $8 million a year and that it was deemed too rich by the Pens.
Where it goes from here remains unclear. Perhaps another offer will come, or the rejection could spur Pens GM Ray Shero into finally putting the All-Star defenseman on the trade market.
Letang has one year left on his deal, which pays him $3.5 million. Only 26, he'd be in huge demand on the UFA market. If Shero decides to move him, the list of teams wanting a top-end defenseman like Letang would be through the roof.
Elsewhere:
• Contract talks have gone on in earnest the past few days between
Bryan Bickell
's camp and the
Chicago Blackhawks
. Bickell is a pending UFA.
• Teams already have reached out to
Vincent Lecavalier
's camp, on the same day he was bought out by the
Tampa Bay Lightning
. Although Lecavalier can't sign with anyone until July 5, the league confirmed to ESPN.com that his camp is allowed to talk to teams now because he's been bought out.
• Spoke with an executive from an opposing team earlier Thursday who said the Blackhawks have made center
Dave Bolland
available for trade. Doesn't mean they'll move him, but they're listening ...
June, 27, 2013
Jun 27
11:29
AM ET
What was shaping up to be a not terribly deep nor exciting July 5 free-agent crop is getting some intriguing names added by the day.
Vincent Lecavalier
brought some pizzazz to the unrestricted free-agent festivities Thursday. After the
Tampa Bay Lightning
announced they were buying out Lecavalier's contract, the star center joined goalie
Ilya Bryzgalov
and forward
Danny Briere
as players bought out and thrown into the UFA mix.
Lecavalier, 33, adds a tempting option in a UFA center class that otherwise was led by the likes of
Derek Roy
,
Mike Ribeiro
and
Stephen Weiss
. At the right price, Lecavalier would be one heck of an addition as the No. 2 center on a good team.
Of course, it didn't take long for Lecavalier's buyout to be announced for people to link him to his native Montreal. Let's be honest: It would be cool to see him in a
Canadiens
uniform after all these years of trade rumors linking him there.
Two questions need answering, though. Do the Habs have interest? And would Lecavalier be willing to play under that kind of spotlight?
One of the reasons Tampa Bay suited him so well was that it isn't a hockey fishbowl.
"Too early [to tell]," one source told ESPN.com Thursday regarding Montreal's potential interest.
Indeed, much can happen between now and July 5, with other players being made available via buyout or trade. The landscape is shifting quickly.
I'd be shocked if the Lecavalier camp, led by agent Kent Hughes, didn't get interest from at least a dozen teams. At the right price, he's a stud, and this isn't a great year for free-agent centers. And you still can't teach 6-foot-4.
Just my own guessing out of the gate, not based on any sourcing ...
• The
Detroit Red Wings
need a No. 2 center as talks with
Valtteri Filppula
are headed nowhere. While Weiss also could be an option, Lecavalier would make a lot of sense.
• The
Chicago Blackhawks
? Cap space is at a premium and re-signing pending UFA
Bryan Bickell
is the priority. But, man, would Lecavalier ever fit well there, especially because you know
Michal Handzus
isn't the long-term answer at No. 2.
• What about Lecavalier's former coach at Tampa Bay, John Tortorella, who is in his first offseason as coach of the
Vancouver Canucks
?
• The
Toronto Maple Leafs
have been looking for a legitimate center with size for about a million years.
We will see a lot of teams linked to Lecavalier because, frankly, a lot of teams could use him.
The Lightning did not come to this decision lightly. I believe this was a very difficult move for general manager
Steve Yzerman
to make.
But at the end of the day, the ability exists under the compliance buyout provision in the new CBA (two per team for the next two offseasons) to extricate oneself from a cap-killing contract. And at $7.72 million a pop for seven more seasons, Lecavalier was a cap hit the Lightning just couldn't live with.
More of a concern for any team with these types of long-term, front-loaded deals that are remnants of the old CBA is the "recapture" rule, which is part of the new CBA. For example, had Lecavalier retired before the end of his deal, Tampa Bay would have faced salary-cap charges moving forward.
It's why the
New York Rangers
are debating whether to buy out center
Brad Richards
. It's why the Canucks should buy out goalie
Roberto Luongo
if they can't find a trade partner.
A source told ESPN.com Thursday that the Canucks don't want to buy out Luongo. They could trade him if they're willing to eat part of his deal or take back a player who's also a cap anchor for another team. Vancouver also could waive Luongo at some point and hope that another team takes him.
Letang update
My colleague Rob Rossi of the Pittsburgh Tribune created a bit of a stir in Toronto when reporting late Wednesday that if
Kris Letang
can't agree to terms on an extension with the
Penguins
, Toronto would be near the top of his trade destinations. Rossi does a solid job covering the Pens, but Letang's agent, Kent Hughes, was adamant no such trade destination conversations had taken place and clearly was not happy with the story.
"Our focus has been on negotiating a contract with the Pittsburgh Penguins and we have not discussed the Toronto Maple Leafs," Hughes told ESPN.com via email Thursday morning. "He remains under contract for one more year if we don't extend his contract. We are not the source of the story, nor were we contacted to verify its accuracy beforehand."
The Penguins have made Letang a substantial offer, but obviously it was not enough; otherwise he would have signed it.
So the clock ticks. Would general manager Ray Shero really allow Letang to enter next season in the final year of his contract? Shero would get way more in a trade this summer than he does at the trade deadline next season.
It's worth noting that the Leafs are in the market for a top defenseman, so if Letang becomes available, it'd make sense for Toronto to be among the suitors.
Tick tock ...
Speaking of the Pens ...
Great job by Shero to get
Chris Kunitz
signed to a three-year extension worth $3.85 million per season. That's a good value. Kunitz has one more year on his deal at $3.75 million, and he would have been a UFA in July 2014.
Credit to Kunitz and agent
Ben Hankinson
, too. Maybe Kunitz gets more money elsewhere, but you like where you're playing and you've found chemistry with
Sidney Crosby
, so why throw that away? It's not always about the money.
Kunitz will be 34 in September, which means he'll be 37 entering the final year of this extension. Getting a three-year term was the real prize for Kunitz and Hankinson.
June, 25, 2013
Jun 25
3:21
AM ET
BOSTON --
Chicago Blackhawks
coach Joel Quenneville has gotten to the point that he has nearly perfected the art of sidestepping questions.
One he skillfully avoided throughout the Stanley Cup finals was why he waited until Game 4 to reunite the line of
Patrick Kane
,
Jonathan Toews
and
Bryan Bickell
. The trio had accounted for three goals and four assists in the Blackhawks' Western Conference finals series-clinching Game 5 win over the
Los Angeles Kings
.
It seemed only logical to keep the line together as the Blackhawks rolled into the Stanley Cup finals to face the
Boston Bruins
. Quenneville opted to split them up, though, and explained it as wanting more balance throughout the team.
But Quenneville wasn't telling the truth then, and he came clean about it after the Blackhawks clinched the Stanley Cup with a 3-2 win over the Bruins in Game 6 on Monday.
June, 23, 2013
Jun 23
12:36
AM ET
CHICAGO -- If you're going to poke the bear, you better back it up.
The
Chicago Blackhawks
did just that Saturday night in a crucial 3-1 win in Game 5, once again victimizing
Boston Bruins
captain
Zdeno Chara
for a pair of goals in the matchup of each team's top players.
It's a tantalizing sight every time
Jonathan Toews
' line goes out against Big Z. It's as if time stands still while the most important matchup of the series plays itself out every fourth shift or so.
Chara certainly responded too, playing one hell of a final 30 minutes as he tried to will his team back, scoring his team's lone goal and hitting every Blackhawk in sight while logging 24:22 of ice time. The Bruins' captain finished extremely strong, which comes as no surprise. You rarely get two average games in a row from the big guy.
Still, he was minus-2 on the night and looked a little unhinged in the opening half of the game as the Toews line buzzed around him.
On the second goal, Chara couldn't get to
Bryan Bickell
, who was circling behind the net, and also left
Patrick Kane
uncovered in front of the net. Kane's goal stood up as the winner, again a play that was very un-Chara-like.
Meanwhile, Bickell hit Chara every chance he got, knocking him down in front of the Bruins' bench in the second period, enraging
Milan Lucic
, who invited Bickell to a fight. The hulking Hawks winger declined, his energy better saved for his next shift, where he had to tangle with big No. 33 on the Bruins.
"For me, I'm the biggest guy on our team and I know we're going to clash at times in games," Bickell, who led the Hawks with six hits, said of Chara. "He logs a lot of minutes and we need to slow him down in any way, whether it's me or someone else. I know he was getting frustrated out there and hopefully we can keep it going."
The focus on Chara began after Wednesday night's Game 4 overtime victory in Boston, a game in which Chara was on the ice for five Hawks goals, turned inside-out by the Toews line. Afterward, the Hawks captain raised eyebrows when he suggested that while Chara was a great player whom the Blackhawks respected, they were not intimidated by him and felt they could outwork him. It was a comment backed firmly by teammate
Brent Seabrook
in the ensuing days off before Game 5.
It's not every day in the NHL that players deliver those kinds of comments. This is a sport famously shy about stirring the pot in the other dressing room, the least of which could give one of the league's most talented and physically imposing defensemen any kind of extra motivation.
But I don't believe it was about trying to get into Chara's kitchen. Everyone knows that's just not going to happen. I think this was more about Toews, as captain of his team, pumping up his own team's confidence by coming out and saying his team is not scared of the challenge that lie ahead.
One Hawks player, who shall remain nameless, told me after practice on Friday that it was "ballsy by Jonny, and it really got us going in here."
Leadership in a different form, if you will.
"There's certainly respect there, no question we respect Chara and the way that he plays the game and the quality of player that he is," Hawks star
Patrick Sharp
said after Game 5. "But we've got some good players on our team, too. At the end of the day, that's how things are going to be settled. There's no disrespect from Seabs or Jonny in what they said, they were more concerned with themselves and how they can play. And obviously that line did a great job tonight."
Indeed, Kane's two goals, with Toews assisting on both before
leaving the game
with an upper-body injury, gave more meaning to what the Hawks had to say between games because they backed up their statements.
"I don't see it as disrespect in any way to Chara," said Hawks blueliner
Duncan Keith
. "We've always said that we've got respect for Chara. He's one of the best defensemen in the league. He showed how great he was tonight, that was a great shot by him. ... I think there's a fine line between being respectful and being overly respectful. Just because you want to have that respect but don't want to be over-respectful, doesn't mean you'll be disrespectful."
Keith says it's about the Hawks, their own confidence, their own approach.
"We got to play our game, you know? We've done that the last couple of games a bit more," added Keith.
You need a certain level of swagger and confidence to win a championship. Both these teams have it.
Consider the context in which Toews' postgame comments came out of Wednesday night. His Blackhawks had just basically saved their season and avoided a 3-1 series deficit, he was on a high, and some of the talk after Game 3 heading into Game 4 was whether the Hawks had that same moxie, that same mental toughness that the Bruins have displayed the last few years. The Bruins had won two straight and people wondered if Chicago had what it took to respond.
So, in many ways, all this Chara talk from the Hawks was more about their own mental approach, their desire to play the way they know they can and rise up the challenge.
Clearly, that was missing in Games 2 and 3 -- both Bruins victories -- when the Hawks couldn't find their game and the same approach that's made them successful this season.
"I don't know if we couldn't or if it was just a different mindset as far as making sure," said Keith. "There's a difference between wanting to do it and making sure you do it. That's a big difference."
What's noticeable in these two straight victories by the Hawks is their ability to create more space for themselves by using their speed and also getting more traffic around
Tuukka Rask
.
"I think a lot of it just comes from being confident with the puck and coming with more speed in the neutral zone," said Keith. "Sometimes it's a matter of getting it in deep. I think a big difference has been trying to get to the net and trying to get inside, not just shooting from the outside. When we shoot from the outside, we have to have guys going to the net. It's the same every team says and we're no different."
But not every team pokes the Chara bear. Gutsy? You bet.
June, 19, 2013
Jun 19
3:18
PM ET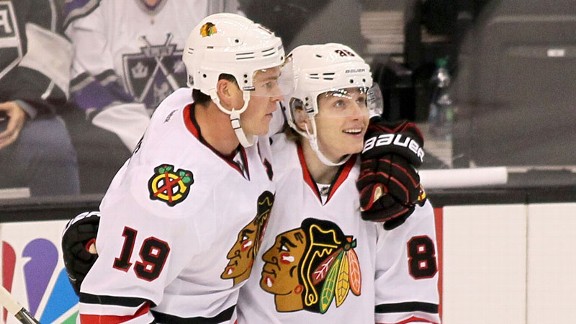 Victor Decolongon/Getty ImagesGood things happened last time Patrick Kane and Jonathan Toews were on the same line in the playoffs.
BOSTON -- The last time
Patrick Kane
and
Jonathan Toews
started together on the same line, Kane scored three goals, Toews tallied two assists and the
Chicago Blackhawks
won.
The Blackhawks wouldn't mind those same results again on Wednesday night.
Kane and Toews again skated together along with
Bryan Bickell
on a line during the team's morning skate prior to Game 4 of the Stanley Cup finals against the
Boston Bruins
on Wednesday.
Blackhawks coach Joel Quenneville wouldn't guarantee Kane and Toews would remain together come game time, but the move wouldn't be surprising. Quenneville has often resorted to combining Kane and Toews when the team's offense has struggled. The Hawks have scored one goal the past two games.
June, 14, 2013
Jun 14
9:17
PM ET
CHICAGO -- A little break from the Stanley Cup finals to dive into a bit of offseason gossip:
Let's start with
Bryan Bickell
, the man I call the Human Cash Register. The pending UFA will be the top priority for the Chicago Blackhawks once the finals are over, with the clock ticking rapidly toward the opening of the free-agent market July 5.
If the Blackhawks are unable to re-sign him, and I'm not saying they won't, but if Bickell does end up in the market, keep an eye on the
Montreal Canadiens
. GM
Marc Bergevin
knows Bickell from Bergevin's days in the Chicago front office and was part of the scouting staff that recruited Bickell. I'm told the Habs covet Bickell, who would bring them the kind of size they're looking to add for their top-six group, although I don't think Montreal will overpay, either, with a contract that tips the scales. Still, there's definitely interest from the Habs.
• Speaking of contracts, look for the Boston Bruins to sign star center
Patrice Bergeron
to a long-term extension. Bergeron has another season left on his deal but the Bruins will ink him this summer and very likely to the maximum eight years allowed in the CBA when re-signing your own players.
•
Jonathan Bernier
will finally escape
Jonathan Quick
's shadow in L.A. A source told ESPN.com Friday that the Los Angeles Kings have spoken with about 10 clubs about Bernier's availability. It wouldn't surprise me if he's traded before or at the draft.
• Colleague Craig Custance had a good blog Friday on the
Kris Letang
situation. To me it's almost a guarantee that if the Pittsburgh Penguins can't soon sign Letang to an extension (he's got one more year on his deal), GM Ray Shero will hit the trade market in a hurry after that. Consider how the
Jordan Staal
situation played out a year ago: Once Staal rejected a contract extension, he was dealt quickly thereafter.
• It appears Alain Vigneault took a step closer to being named head coach of the
New York Rangers
after a source told me Vigneault asked the
Dallas Stars
to take him off their list of candidates.
• There were rumblings recently about whether the Montreal Canadiens would contemplate making
Carey Price
available. Forget about it, not going to happen. No chance.
• And finally, preliminary contract talks have begun between the Philadelphia Flyers and the camp for star center
Claude Giroux
. The native of Hearst, Ontario, has another season left on his current deal but both sides are keen on getting his extension done this offseason.
June, 13, 2013
Jun 13
2:25
PM ET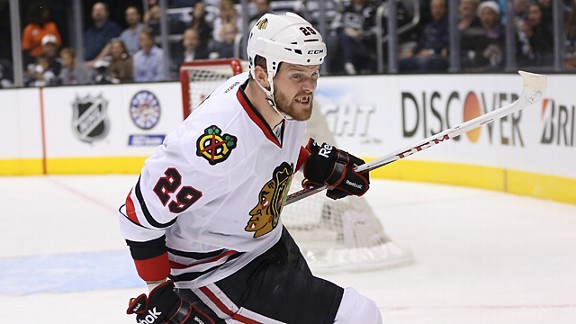 Jeff Gross/Getty ImagesBryan Bickell's play this season and in the playoffs will earn him a substantial raise this offseason.
CHICAGO --
Chicago Blackhawks
forward
Bryan Bickell
said Tuesday he would like to re-sign with the team when he becomes an unrestricted free agent after the season.
"Yeah, definitely [I'd like to re-sign with the Blackhawks]," Bickell said during Stanley Cup finals media day. "I got drafted in '04 with this team. I think this is a second home to me. To be brought up through the minor leagues and being here the last couple years has been an honor. I feel this is a home to me. I have a lot of friends and family with me in the city. I enjoy it a lot here."
Bickell laughed when asked whether he'd be willing to give the Blackhawks a hometown discount. He is making $600,000 this season and is expected to receive a hefty raise due to his playoff performance, which has included eight goals and five assists in 17 games and has him in the running for the Conn Smythe Trophy.
June, 9, 2013
Jun 9
10:39
AM ET
CHICAGO -- Here's a quick look at the
Chicago Blackhawks
' 4-3 double-overtime win over the
Los Angeles Kings
in Game 5 of the Western Conference finals at the United Center on Saturday.

How it happened
:
Patrick Kane
scored the game-winning goal with 8:20 left in the second overtime to put the finishing touches on a hat trick and a dramatic Game 5. The Hawks took a 2-0 lead in the game's first six minutes with goals by
Duncan Keith
and Kane, but they allowed the Kings to tie it with a short-handed goal in the second period and a power-play goal in the third period. The Blackhawks regained the lead when
Bryan Bickell
knocked over Kings forward
Justin Williams
behind the net, gathered the puck and found Kane for a goal at 16:08. But the Kings weren't done. After an icing call with 15 seconds remaining in the third period, the Kings won the faceoff, got the puck to
Anze Kopitar
, who shot it and
Mike Richards
redirected the puck into the net with 9.4 seconds left to tie the game and force the first overtime. Kopitar and
Dwight King
also scored goals for the Kings. It was the longest game in the Kings' franchise history. Blackhawks goaltender
Corey Crawford
made 33 saves, and Kings goaltender
Jonathan Quick
made 31 saves.


Player of the game:
Kane hadn't scored in the series prior to Game 4, and he said he needed to do more. Well, he did more; a lot more. He scored once in Game 4 and three more times in Game 5. He has six goals in the playoffs.
What it means:
The Blackhawks eliminated the Kings in five games and are heading to the Stanley Cup finals for the 12th time in their franchise history. They've won four Stanley Cups, with their last one coming in 2010.
What's next:
The Blackhawks will host the
Boston Bruins
in Game 1 of the Stanley Cup finals on Wednesday. It will mark the first time Original Six teams have met in the Stanley Cup final since 1979 when the
New York Rangers
and
Montreal Canadiens
faced other. Such matchups have happened six times since the 1967-68 expansion, but all came between 1971-79.
June, 7, 2013
Jun 7
1:47
AM ET
LOS ANGELES --
Chicago Blackhawks
coach Joel Quenneville once believed forward
Bryan Bickell
flew under the radar.
These days, Bickell's presence may break the radar.
Bickell added to his ever-expanding 2013 playoff highlight reel with another goal and assist in the Blackhawks' 3-2 win over the
Los Angeles Kings
in Game 4 of the Western Conference finals on Thursday. He now has eight goals and three assists in 16 playoff games.
"I think he's one of those guys that you really appreciate all year long," Quenneville said. "He's one of those guys that maybe flies under the radar. He's got all the assets that could make him a top forward power-wise. He can hit, skate, shoot, he sees plays and is big at the net, physical. All the ingredients you want put together. That process, he'd like to see it come together game in, game out. Probably this playoff round, it seems like he's really progressed."
June, 7, 2013
Jun 7
1:24
AM ET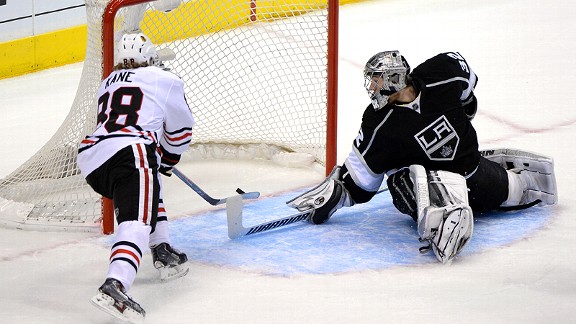 Harry How/Getty ImagesPatrick Kane scored his first goal of the West finals, tying Game 4 at 2-2 in the second period.
LOS ANGELES -- Desperate goal scorers sometimes take desperate actions, and
Chicago Blackhawks
forward
Patrick Kane
was proof of that Thursday.
Kane was goalless in the first three games against the
Los Angeles Kings
in the Western Conference finals and hadn't scored since Game 3 of the Hawks' seven-game series against the
Detroit Red Wings
in the conference semifinals. His eight-game scoring drought was the longest of his season.
So when Kane saw the puck squirt past Kings goaltender
Jonathan Quick
during the second period of Game 4 on Thursday, Kane didn't wait to see whether the puck would travel alone into the net. He surged to the puck and gave it a helping hand with the touch of his stick.
Kane realized later that he had stolen teammate
Bryan Bickell
's goal and even apologized to his teammate, but neither cared too much. Both were just happy to have Kane back on the board and have a 3-2 win and a 3-1 series lead on the Kings.
March, 6, 2013
Mar 6
9:53
AM ET
By
ESPN Stats & Information
| ESPN.com
Blackhawks 5, Wild 3
* Blackhawks: 23 straight games with point to start season
* Blackhawks: won 10 straight (franchise record)
*
Bryan Bickell
(CHI): 2 goals (5); 1st career multi-goal game
*
Devin Setoguchi
(MIN): Goal (5); 5-game point streak
* FROM ELIAS:
Brandon Saad
scored one goal and set up two more in the Blackhawks' four-goal first period against Minnesota on Tuesday night. Saad was the first Chicago rookie to record three points in the first period of a game since November 30, 2007, when
Jonathan Toews
tallied one goal and two assists in the opening 20 minutes of a game against Phoenix.
Most Consecutive Games with a Point, NHL History
1979-80 Flyers 35
2011-13 Blackhawks 29
1977-78 Canadiens 28
Longest Win Streaks In Shortened Seasons Among 4 Major Sports
MLB '95 Red Sox 12
NBA '11-12 Spurs & '98-99 Jazz 11
NHL '12-13 Blackhawks 10
NFL '87 Saints 9

Longest Winning Streaks In Shortened NHL Seasons (1994-95 and 2012-13)
2012-13 Blackhawks 10
1994-95 Flyers 9
1994-95 Flyers 8

Islanders 6, Canadiens 3
* Canadiens: 1st NHL team to score 20,000 all-time goals (3rd goal was 20,000)
* 6 different players scored for Islanders; 6 goals tied for most they've ever scored vs Canadiens
* Islanders won 3 straight vs Canadiens
* Canadiens: 1st regulation loss since February 9th

Kings 6, Blues 4
* LA: trailed 4-1 in 2nd period
* LA: won 7 of last 8 games
* LA: won 6 straight home games
* Jake Muzzin LA: 2 goals, 1 assist; had 2 career goals in 28 games

Capitals 4, Bruins 3 (F/OT)
* Bruins: led 3-0 at end of 1st period
* Capitals: 4-1-0 last 5 games
* Eric Fehr (WSH): season-high 3 points (Game-winning Goal, 2 Assists)
* Tuukka Rask (BOS): 4 GA in each of last 2 starts
* FROM ELIAS: Before Tuesday's loss, Boston was 89–1–0 since the start of the 2008–2009 season in games in which it led by at least three goals, and not one of those games even reached overtime.
* FROM ELIAS: Eric Fehr scored the first overtime goal of his NHL career to complete the Capitals' comeback from a 3–0 deficit and earn them a 4–3 win over the Bruins. It was the eighth time in the last five seasons that Washington won a game in which it trailed by three or more goals. The only other team with more than four such wins over that span is the Thrashers/Jets with six.

Panthers 4, Jets 1
* Brian Campbell (FLA): Assist; 3 goals, 5 assists in past 5 games
* Jacob Markstrom (FLA): stopped 20 of 21 shots; 1st win this season
* Panthers: 3-0-2 in past 5 home games vs Jets
* Jets: outshot Panthers 21-20
* FROM ELIAS: Panthers rookie Jonathan Huberdeau scored his second penalty-shot goal of the season in Florida's 4 –1 win over the Jets. Huberdeau, who scored on a penalty shot on February 21 at Philadelphia, is the second rookie in NHL history to score two penalty-shot goals in one season. The first was David Vyborny, who did that for the Blue Jackets in 2000–2001, their inaugural season in the NHL.

Rangers 4, Flyers 2
* Rick Nash (NYR): 2 goals (6,7); has 5 goals and 6 assists during 7-game point streak (1st multi-goal game of the season)
* Ryan Callahan (NYR): 2 goals (6,7); 1st multi-goal game of the season
* Rangers: have won 6 straight home meetings
* Jakub Voracek (PHI): goal (10), assist in 24th game; scored 10th goal in his 56th game last season (17 points (7G, 10A) in past 9 games)
* FROM ELIAS: Rick Nash scored a pair of third-period goals to lead the Rangers to a 4–2 win over the Flyers on Tuesday night. Nash has scored seven goals this season and they have all come in the third period. He is the first player in Rangers history whose first seven goals of a season were all third-period tallies.

Red Wings 2, Avalanche 1
* Johan Franzen (DET): 1st goal in last 7 games
* Jimmy Howard (DET): 36 saves, 1 goal allowed (stopped 69 of 71 shots in last 2 games combined)
* Red Wings: 3-0-1 in last 4 home games (outscored opponents 15-5)
* Avalanche: 1-2-3 in last 6 games (2-for-19 on PP)

Hurricanes 4, Sabres 3
* Hurricanes: complete 3-game sweep of season series vs Sabres
* Hurricanes: on 4-game win streak overall
* Alexander Semin (CAR): Goal (6), 2 assists
* Cody Hodgson (BUF): 2 goals (10)

Blue Jackets 4, Oilers 3 (SO)
* Vinny Prospal (CBJ): goal, assist (3-game goal streak, 4-game point streak)
* Sergei Bobrovsky (CBJ): stopped all 21 shots after replacing Steve Mason (allowed 3 goals on 8 shots)
* Blue Jackets: earned point in season-high 4 straight games

Lightning 5, Devils 2
* Lightning: snapped 5-game losing streak
* Nate Thompson (TB): 1st multi-goal game of career
* Devils: 0-5-1 in last 6 games
* Johan Hedberg (NJ): allowed at least 3 goals in 6 of 10 games started this season (0-5-1 in those games)

Sharks 3, Canucks 2 (SO)
* Sharks: 3-0-1 in last 4 games
* Brad Stuart (SJ): 2 assists (entered game with only 1 assist on season)
* Canucks : 1-3-1 in last 5 games (0-13 on power play)
* Henrik Sedin (VAN): goal (4) (point in 5 straight games)