Cross Checks:

Bryan McCabe
September, 28, 2011
9/28/11
9:12
PM ET
Bryan McCabe remains unsigned and the stars would really have to align for him to pack his bags at this point.
That's not to say it's not going to happen, but he's settled in South Florida with his family and the kids are in school, so it would need to be a really tempting offer.
A source told ESPN.com that a Western Conference team showed interest within the past week, but it wasn't something that interested the defenseman. He's made plenty of money in his career and has nothing to prove to anyone. If he does sign with a club this season, it has to be a super fit for him.
A source told ESPN.com Wednesday that the New York Rangers are scouring the market looking for help at defense, but they're not interested in bringing back McCabe at this point.
Predators' contract talks
Netminder Pekka Rinne and defenseman Ryan Suter are slated to become unrestricted free agents July 1 and the Predators have no interest in seeing that happen. GM David Poile met with Suter's agent, Neil Sheehy, last weekend and Rinne's agent, Jay Grossman, last week in New York to move talks along on an extension. The Preds will be aggressive in trying to get a deal done on both fronts.
Just like Ilya Kovalchuk's contract talks with Atlanta two years ago were an ongoing story, this has the potential to be the same in Nashville. And that's not even to mention franchise blueliner and captain Shea Weber, who is set to become a restricted free agent this summer. He can't walk free like Rinne and Suter, but it remains a hugely important negotiation that will also draw lots of attention.
Because he signed a one-year deal last summer after going to arbitration, Weber can't sign a new contract until January at the earliest. In the meantime, Weber and his agent, Kevin Epp, will sit back and see how things play out with Suter/Rinne, as well as look at how the team fares this season. All will be factors in Weber's next move.
Doughty update
There haven't been any talks between the Kings and Drew Doughty's veteran agent, Don Meehan, since the eve of camp. But given owner Tim Leiweke's comments to Helene Elliott of the L.A. Times this week and the urgency behind them, it's our guess the NHL club will likely reach out soon to Newport Sports (Meehan's firm) and try to take one last stab at it.
The Kings don't have a choice to try again. It's a big season for them; they want to contend and they need Doughty to do that.
Burke on Simmonds ruling
Toronto Maple Leafs GM Brian Burke, who has become an important voice on gay issues, said he is OK with the league's decision not to discipline Flyers forward Wayne Simmonds.
When asked about it after a recent preseason game, Rangers forward Sean Avery said Simmonds used a homophobic slur toward him on the ice.
"It's like banned substances; you can't suspend a player for using a drug that isn't among the list of banned substances," Burke told ESPN.com. "In this case, we didn't have a rule about homophobic slurs, so you can't suspend Simmonds. But now that the league put out that statement and put players on notice that any future homophobic slur will be punishable, I think that was a real important day for the NHL. It has to stop."
Burke also said he would address the issue with his own players before the regular season begins next week.
Leafs' trade talk
The Leafs' newfound depth, especially on defense, has the club working the phones to see if there's any interest in some of their players. Defenseman Carl Gunnarsson and center Tyler Bozak are among the names that have been discussed, but as of Wednesday, we're told nothing was close with any team. The Leafs could also start the season with eight defensemen on their roster.
Kronwall and the Red Wings
Contract talks are well under way between the Red Wings and star blueliner Niklas Kronwall, who is eligible to become UFA on July 1. Both camps spoke this week. My colleague at TSN, Darren Dreger, also reports the Kronwall camp is looking for a long-term, front-loaded deal similar to what Christian Ehrhoff signed with Buffalo.
Sabres' front-loaded deals
We've encountered some grumbling from a few NHL team executives about the Buffalo Sabres' front-loaded contracts with Ehrhoff and Tyler Myers.
Ehrhoff will earn $18 million of his $40 million, 10-year deal over the next two years. Similarly, Myers' new extension calls for him to earn $12 million of his $38.5 million, seven-year extension in the first year.
"I'm sorry, but that's killing this industry," one NHL GM, requesting anonymity, told ESPN.com. "We have to stop those front-loaded contracts in the next system."
The Sabres didn't break any rules. Other well-heeled clubs have done the same, but mid- to small-market clubs are frustrated, feeling that front-loaded deals have squeezed them out of the free-agent market.
NHLPA's fall tour
Union chief Donald Fehr has begun the NHL Players' Association's annual fall tour. Over the next two months, he'll meet with all 30 teams with the CBA at the top of the agenda. He began his tour last week and so far has met with players on the Flyers, Islanders, Lightning, Panthers and Canadiens.
Emery's future
Ray Emery is slated to get his first full start of the preseason Friday. His performance will go a long way in helping the Blackhawks decide whether they sign the camp invite to a one-year NHL contract to be their backup this season or cut ties and give youngster Alexander Salak the job instead.
September, 12, 2011
9/12/11
3:50
PM ET
Camps around the NHL open later this week and unsigned veteran blueliner Bryan McCabe could possibly still sitting at home.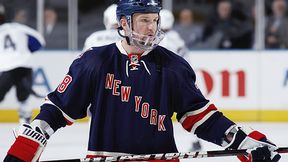 Scott Levy/Getty Images
The 36-year-old unrestricted free agent is hanging out at his South Florida home still pondering his future.
"There have been discussions with several teams," his agent, Ian Pulver, told ESPN.com on Monday. "Bryan is still considering his options."
McCabe had 28 points (7-21) in 67 games with Florida and the New York Rangers last season. He's no longer the offensive force he once was, but he's a solid two-way player and also a popular player in the room.
He has had a few training-camp tryout invites, but at this point that doesn't seem to interest him too much.
At this time of year, what often happens is teams overestimate how deep they are at defense and realize halfway through preseason or early in the regular season that a certain young player hasn't made the kind of jump they had hoped for. Or there would be injuries. Then, teams suddenly feel a need to make a veteran of McCabe's pedigree a real offer. We'll see if that happens.
Of course, McCabe could also just pack it in if nothing interests him.
This and that …
• Speaking of packing it in, it should surprise no one that Mike Modano is leaning toward retirement, a source told ESPN.com Monday. Expect some kind of official announcement from the Team USA legend before the end of September.
• A source told ESPN.com on Monday that star winger Teemu Selanne and Ducks GM Bob Murray continue to keep in touch nearly on an daily basis and the expectation is the Finnish Flash will make his decision on whether to play another season by time camp opens Friday. Selanne wants to use this week to further evaluate how his left knee is doing and whether it can hold up for another season.
• Amazing what little fanfare Cory Stillman's retirement received this past weekend after the Florida Panthers announced they hired him in their front office. Stillman was a clutch playoff performer and will be missed on the ice. From what we hear, Stillman may have played another season had an NHL team closer to his Peterborough, Ontario, home had called; but no one from Toronto, Ottawa or Buffalo showed any real interest.
• Given the market size and 24/7 interest in the Maple Leafs, it's surprising how the Luke Schenn contract situation has created few headlines in Toronto. Leafs GM Brian Burke told ESPN.com on Monday that the club and Schenn's representatives from Newport Sports agreed they wouldn't comment on the negotiations. Schenn, a restricted free agent, remains unsigned, but both sides were going back at it this week to try to find a solution.
• Keep an eye on the Detroit Red Wings next summer. They enter this season at about $5.8 million under the salary cap and have about $21 million further coming off next summer. As my new ESPN Insider colleague Craig Custance noted in his blog Monday, the Wings will likely try to re-sign Niklas Kronwall and Brad Stuart before both players become UFA next summer. But, either way, Detroit will likely have the most cap space it has ever had since the cap system was instituted in 2005. There's some big UFA-bound names, led by Zach Parise, but also including Shane Doan, Ryan Suter, Ales Hemsky and Alexander Semin.
Look for the Wings to be aggressive, especially if Nicklas Lidstrom retires. In the meantime, because of that $5.8 million space, they will also look at what's out there before this season's trade deadline.
• The New York Rangers' choice for a new captain? They nailed it Monday. Ryan Callahan is what you want in a captain when you talk about work ethic and leadership. But more than that, he is the symbol of the post-lockout Rangers, who have drafted and developed their own players and not just relied on July 1 to fill their roster. There was no better choice as captain.
July, 13, 2011
7/13/11
12:59
PM ET
That discussion about Winnipeg being destined for a revamped Central Division for the 2012-13 season? Better cool your, er, Jets.
Despite Minnesota Wild owner Craig Leipold's assertions to a local radio station earlier this week that the realignment question has been all squared away and the Winnipeg Jets would join the Wild in a new Central Division, the relocation issue is far from being resolved.
An NHL source told ESPN.com on Wednesday it was premature to suggest any decisions have been made on how the NHL will look a year from now. Multiple sources have also told us the relocation of the Atlanta Thrashers to Winnipeg will give the NHL an opportunity to rethink its entire structure, so the realignment question will not be resolved until all parties have had their say.
Our colleague Pierre LeBrun previously reported the NHL will take advantage of the Thrashers' relocation and consider paring down from six divisions to a four-division, two-conference set-up that would make it easier to install a balanced schedule.
Regardless of where teams land, the realignment decision promises to be an emotional one.
Detroit and Columbus are both itching to move to the Eastern Conference, while Nashville would also welcome a move from the West given its onerous travel schedule and the difficulty in garnering fans for late-night games on the West Coast.
It's hard to imagine the Wings moving to the East given how strong a draw they are throughout the Western Conference; there is also the issue of competitive balance given that the Jets will almost certainly continue to be a marginal team for the foreseeable future.
Most Eastern Conference teams would be opposed to a Jets-for-Wings swap since the Wings are a perennial powerhouse and would make the road to a playoff spot even more difficult.
Selling points
While the Phoenix Coyotes' ownership situation remains status quo (that is to say, it remains a mess with no end in sight), their former suitor is definitely moving on.
Matt Hulsizer has visited with St. Louis Blues principal owner and chairman Dave Checketts about purchasing the Blues, a source confirmed to ESPN.com.
Nothing is imminent regarding a sale of the Blues, whose ownership situation has been in limbo for some time.
According to a report from the St. Louis Post-Dispatch, Hulsizer isn't the only party interested in buying the team. The chairman of Game Plan LLC, the group handling the sale of the Blues, told the newspaper that there are "five very interested parties."
But with Hulsizer moving on and exploring other NHL opportunities, one wonders if there isn't a lot of second-guessing going on in Glendale. Hulsizer's last proposal to local leaders was to purchase the controversial municipal bonds that were key to a new lease agreement between him and the City of Glendale. That proposal would have put an additional $5 million in the city coffers, a source confirmed to ESPN.com.
But city officials weren't interested -- or, at least, key city officials weren't interested -- and Hulsizer and his more than $100 million in cash may now be headed to St. Louis.
The Blues are in a vastly superior place in terms of the marketplace after rebuilding their relationship with the fan base but are not quite there yet in terms of the on-ice product. It is pretty much the opposite of what Hulsizer was looking at with the Coyotes.
The surprising Heatley-Havlat deal
Of all the interesting, some might even say curious moves this offseason, none is as surprising as San Jose's move to trade Dany Heatley to Minnesota for Martin Havlat.
This is no question a risk for both teams as both players carry significant baggage.
Havlat has battled injury and never quite lived up to the significant talent he possesses. The big winger had just 22 goals this past season, although the drop from the 29 he scored in 2008-09 might be attributed to a decline in ice time and power-play opportunities. (Of course, these are all chicken-and-egg issues; did Havlat see less ice time because he was less productive, etc.?) Regardless, Havlat will be given top-six ice time in San Jose. It will be a major disappointment to GM Doug Wilson if Havlat doesn't get back to the 30-goal vicinity given the talented cast surrounding him. This is all assuming he stays healthy, of course.
Heatley is likewise hoping to rebound after a season that saw his goal production drop to 26 from 39. That was followed by another mediocre playoff performance as the Sharks bowed out in the Western Conference finals for the second straight postseason. While Heatley's health may have been a contributing factor in his playoff performance, he was essentially a third-line winger for the talented Sharks. He will now see his profile jump considerably in goal-starved Minnesota, where his 26 goals would have led the team in the past few seasons.
Heatley is now on his fourth NHL team in less than 10 years of NHL play. Along with former Sharks teammate Devin Setoguchi (he was sent to Minnesota in a separate deal), Heatley will be expected to invigorate a moribund power play and re-energize a fan base that has grown weary of mediocrity.
Setoguchi and Heatley donned their Wild jerseys for the first time this week, and GM Chuck Fletcher said he has no concerns about Heatley's declining production or about his past issues in asking to be traded from Atlanta and later from the Senators. We said this three summers ago when Heatley forced his way out of Ottawa to San Jose, but maybe this is where the talented winger finally gets it right (the Wild are certainly banking big time that it is).
What about McCabe?
Let's be fair, the free-agent pickings left on the table are, well, pretty slim. But the one name that jumps out at us is defenseman Bryan McCabe.
He may never approach his high-water mark as a member of the Toronto Maple Leafs in 2005-06 when he was a late add to the Canadian Olympic team; but he is a big body with a big shot and we still can't quite figure out why he hasn't been signed by someone like, say, the New York Islanders.
No team has as far to go to get to the salary cap floor of $48.3 million as the Islanders ($10.45 million according to CapGeek.com as of Tuesday).
The Islanders are an interesting group given their emerging young talent that includes rookie of the year nominee Michael Grabner and former No. 1 overall pick John Tavares. With Mark Streit returning from a season-ending injury, McCabe might be an interesting complement on a back end that needs to improve if the Isles are going to jump back into the playoffs for just the second time since the lockout.
March, 1, 2011
3/01/11
8:01
PM ET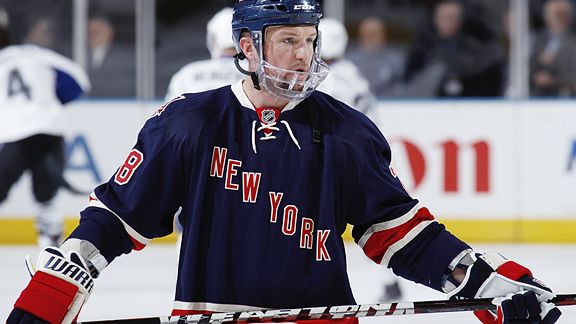 Scott Levy/Getty ImagesNo longer wearing the 'C' for the Panthers, Bryan McCabe may get a chance to play his first playoff game since 2004.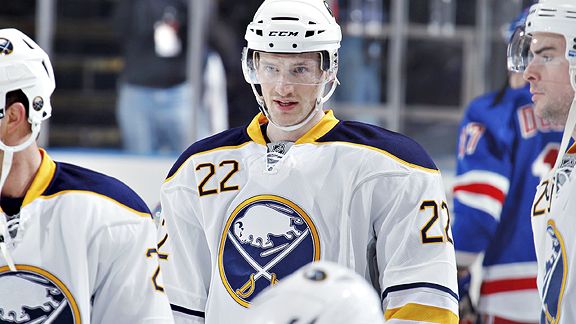 Scott Levy/Getty ImagesBrad Boyes gets to know his new Sabres teammates after getting traded by the Blues.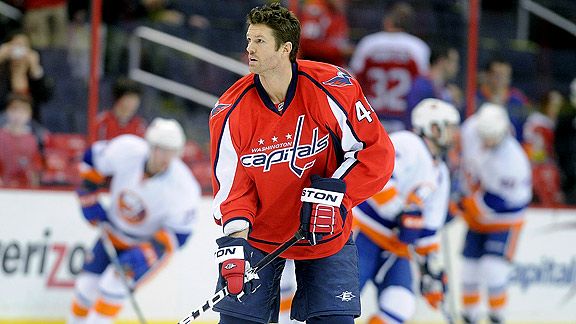 Greg Fiume/Getty ImagesJason Arnott waived his no-trade clause in order to be traded to the Capitals.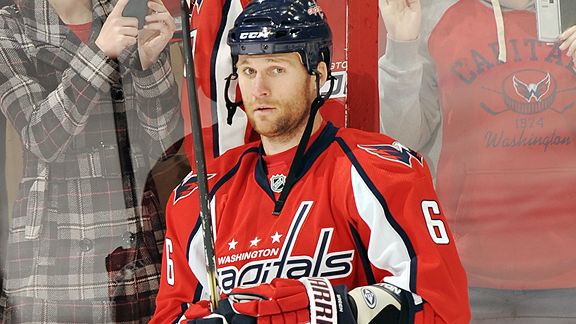 Mitchell Layton/Getty ImagesDennis Wideman gets his first look at the Washington crowd as a member of the Capitals.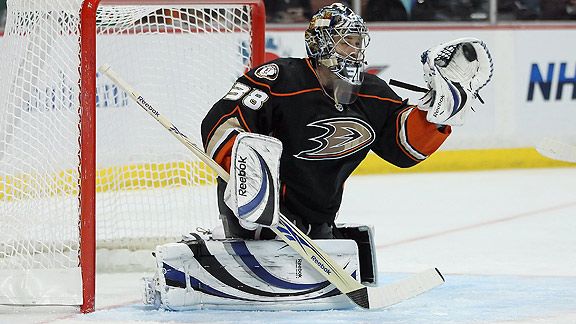 Jeff Gross/Getty ImagesStill wearing his pads in Tampa Bay colors, Dan Ellis took his place in net for the Ducks.
February, 26, 2011
2/26/11
5:30
PM ET
The high water mark for the newest New York Ranger,
Bryan McCabe
, may well have come during the 2005-06 season when he was a member of the
Toronto Maple Leafs
.
Unleashing a massive shot, he roared through the first half of the first post-lockout campaign and was named as an injury replacement for the Canadian Olympic team.
It all seemed a little much for a player who never seemed exactly comfortable in the hot spotlight that hockey success brings in Toronto.
It all went a little south after that, not just for McCabe but also for the Leafs.
McCabe's production dropped in the second half of that season and the Buds missed the playoffs as they would every season since the labor stoppage.
McCabe got back to the 15-goal mark the next season, but slumped to five the following year. He was among a group of players that declined to waive their no-trade or no-move clauses as the Leafs continued to struggle and looked to get younger at the trade deadline.
The group was dubbed the Muskoka Five, a reference to a popular cottage area north of Toronto. It was a stinging jab at the players, implying they would rather enjoy the summer than play in the playoffs.
McCabe ultimately ended up agreeing to a trade to Florida during training camp in 2008, and became the Panthers' captain, toiling away in relative obscurity until Saturday when the Rangers landed him for a third-round draft pick and prospect
Tim Kennedy
.
It was a relatively small price for the Rangers to pay given McCabe's upside, and it's interesting that there is every possibility McCabe could end up playing his first playoff game since 2004 against his old power-play teammate in Toronto,
Tomas Kaberle
.
Kaberle, another member of the Muskoka Five, finally cut the cord with the Leafs just over a week ago, agreeing to go to Boston for a first-round draft pick and a former first-round player, Joe Colborne.
It was a big price for a player with very specific skills.
The Bruins fancy themselves Stanley Cup contenders. With uncertainty in both Pittsburgh and Washington, there is a sense the Eastern Conference is wide open and bringing aboard Kaberle, who likewise controlled his fate with a no-move clause and can become an unrestricted free agent in July, was an acceptable risk.
The Rangers may believe they are in the same boat with the exception that they did not have to dip as deeply into their storehouse of assets to obtain a player with some very specific skills.
McCabe, who can also become an unrestricted free agent, averages 21:01 a night in ice time. He has only five goals, but he won't be asked to carry the kind of burden he was in Florida, where offense has long been a problem.
The Rangers, coming off a 6-0 road win against Washington on Friday, will look to slide McCabe into a three/four role on a blue line that has lacked a veteran presence since the trade of
Michal Rozsival
to Phoenix.
Marc Staal
, out day-to-day after being crushed by his brother Eric in a game earlier this week, has formed a solid front-line duo with
Dan Girardi
. McCabe could mix in with a group of
Steve Eminger
,
Michael Del Zotto
and
Matt Gilroy
, who have floated through the team's third defensive pairing. Or coach John Tortorella could move McCabe up and play him with
Ryan McDonagh
or
Michael Sauer
. Either way, McCabe becomes a valuable depth tool playing five-on-five and should help a power play that was tied for 20th. Only Staal, who has seven goals, has more than McCabe's five among current Rangers defensemen.
"It was a tough day," Florida GM Dale Tallon told ESPN.com late Saturday afternoon. "He was a helluva captain. We did the best we could for the future of the
Florida Panthers
."
McCabe had a no-movement clause and when one team, not the Rangers, expressed an interest in McCabe, the defenseman declined to have Tallon further discuss a trade. But when the Rangers called, McCabe agreed to being moved and a deal was struck.
The Panthers now have a first-round pick, two second-round picks, three third-round picks, two fifth-round picks and a sixth-round pick in this June's draft in Minnesota.
And the Rangers got a player who may finally be ready to emerge from some long shadows.
February, 26, 2011
2/26/11
3:14
PM ET

McCabe
The
New York Rangers
made
a big move Saturday
, acquiring veteran defenseman
Bryan McCabe
from the
Florida Panthers
, sources confirmed to ESPN.com.
In return, the Panthers get
Tim Kennedy
and a third-round 2011 draft choice.
McCabe is earning $4.15 million this season, although his cap hit for the year is $5.75 million. He'll be an unrestricted free agent July 1.
The Rangers have craved a power-play point man all season. McCabe has 22 points (five goals, 17 assists) in 48 games this season. Last season, he put up 43 points (8-35) in 82 games.
Kennedy, 24, has 42 points (12-30) in 53 games with AHL Hartford this season.
February, 26, 2011
2/26/11
11:29
AM ET
Bryan McCabe
could finally be on the move this weekend.
"Something may happen today," a source close to the situation told ESPN.com Saturday morning.
The
Florida Panthers
captain, an unrestricted free agent July 1, had spent the past few days deciding whether he'd be willing to waive his no-movement clause. It appears he's willing to waive it for the
New York Rangers
.
As of 10:30 a.m. ET, a Panthers source said no trade was in place and there was still work to be done. But expect the Panthers and Rangers to try to work out a trade sometime this weekend.
Another Panther, meanwhile, may no longer move. Chris Higgins was injured Friday night in Florida's 2-1 shootout win over Atlanta. He's expected to be out three weeks. An unrestricted free agent on July 1, he was expected to be among those dealt before Monday's 3 p.m. ET deadline and while that could still happen, the interest in an injured Higgins is obviously lessened now.
In Chicago, meanwhile, a source told ESPN.com Saturday morning that the Blackhawks were on the verge of signing defenseman
Brent Seabrook
to a five-year contract extension. Seabrook was slated to be a restricted free agent July 1, but the Hawks were obviously concerned he might get an offer sheet in the summer. Seabrook's deal will be worth between $5.6 million and $6 million a year.
In Ottawa, the Senators continue to talk with the
Chris Phillips
camp. Will he sign or will he be traded? He's nearing a decision, a source told ESPN.com Saturday. Both sides are still not in agreement on terms for an extension as of Saturday morning.
February, 24, 2011
2/24/11
6:02
PM ET
Now that the Florida Panthers shipped veteran winger Cory Stillman to the Carolina Hurricanes, will Bryan McCabe be next?
The veteran defenseman, one of the bigger rental names left on the market, has a no-movement clause and was still pondering his future Thursday.


"There's lots of things for him to consider, including staying in Florida and completing the season there and then deciding what their next steps are [in the summer]," McCabe's agent, Ian Pulver, told ESPN.com on Thursday. "Or he can waive [the clause] to a team where he feels comfortable to finish the season off and possibly laying down roots in the future. So right now that's what he's considering."
McCabe is earning $4.15 million this season, but the cap hit this year is $5.75 million. He is set to become an unrestricted free agent July 1. The New York Rangers are still believed to be the front-runners if the price is right and McCabe wants to waive.
Another Panthers UFA-to-be who could be on the move is goalie Tomas Vokoun, who also has a no-trade clause.
Elsewhere Thursday:
• Craig Rivet, a UFA-to-be July 1, is likely to be put on re-entry waivers Friday by the Buffalo Sabres; there, a team can claim him for half the prorated price of his $3.5 million salary. A few teams (that I can't name) tell me they're now considering claiming him.
"I think there's a pretty good chance I'll be picked up once I'm on re-entry," Rivet told ESPN.com on Thursday. "That's what I wanted. It puts me in a situation where at least I can keep playing."
Rivet deserves credit for not making waves this season despite falling out of favor and getting scratched.
"It's been a very tough season," Rivet said. "There's been a lot of times where I've been scratching my head wondering why I'm in this situation. I feel that I still have lots of hockey left in me. I feel I can still help a team out. I tried to deal with it the proper way, and they've been great with me, allowing me at least to try and get another shot with another team."
• In Nashville, the Predators suddenly have to look to make another move. Center Marcel Goc has been lost for the season to a shoulder injury. This team already is missing centers Matthew Lombardi (concussion) and Cal O'Reilly (broken fibula). Defenseman Francis Bouillon is also out with a concussion.
"The injury bug hasn't been good to us, but it also hasn't been fair to other teams, either," Preds GM David Poile told ESPN.com on Thursday evening. "I'm calling on all fronts just to see what's available and whether there's something that fits."
Good thing he acquired Mike Fisher earlier this month; otherwise, the Preds would really be in a jam.
• One player still on the block in St. Louis is Brad Boyes, a source told us. The winger has one more year on his deal, which will pay him $4 million next season. The Blues aren't going to give him away, but he's available for the right price.
• A source told me Chuck Kobasew was on the block. He's a $2.33 million cap hit this season and a UFA-to-be July 1.
• Eyebrows were raised Thursday when Colorado's Paul Stastny and John-Michael Liles skipped practice, but a team spokesman told ESPN.com they both had "maintenance days."
Liles, who has another year on his deal at $4.55 million ($4.2 million cap hit), is more likely to move than Stastny.
• Funny how a hot streak can turn a seller into a buyer. Riding a 7-2-1 streak and sitting four points out of a playoff spot in the West, the red-hot Columbus Blue Jackets are now certainly buyers.
"We'd be reluctant to take anything away from our team unless it was really significant," Jackets GM Scott Howson told ESPN.com. "We're trying to add right now."
Add what?
"Another depth defenseman, or a center or a forward -- we're looking at everything except goaltending," Howson said.
February, 19, 2011
2/19/11
9:22
PM ET
CALGARY, Alberta -- As we get set for the NHL's second outdoor game this season on Sunday, the debate continues as to whether it is one too many.
Well if you think that, you better sit down for this: The NHL is privately kicking around the idea of whether it shouldn't have three or four outdoor games a season, such is the insatiable demand from corporate sponsors and NHL teams to host these things.
Hey, at this point it's just spit-balling among league officials and governors, but it tells you what the appetite is for these events.
Ownership issues
The ownership situation is getting urgent in Atlanta. We were told this weekend that the league is trying mighty hard to find a new owner who's willing to keep the team in Atlanta. The league's sole focus right now is to keep the team in Atlanta and given its ability to find new owners in Tampa, Buffalo and Phoenix, it's not unrealistic to think the league won't be able to pull it off again. However, should a new owner not be found in the next six to eight weeks, we're told the Thrashers could indeed be up for relocation and Winnipeg would very likely be the new home.
Meanwhile in Phoenix, two sources involved in the transaction believe the sale will close in the next 10 days, so it appears the Coyotes aren't going anywhere.
Kovalev getting interest from Pens
Sens GM Bryan Murray has been a mighty busy man, and he's not done. I was told Saturday that three teams have shown interest in UFA-to-be winger
Alexei Kovalev
over the past few days, and one of those teams is the
Pittsburgh Penguins
. Speaking of the Pens, they had interest in UFA-to-be winger Curtis Glengross of the Flames but that was before Calgary got so hot it stopped listening to offers and is focused on trying to make the playoffs.
Ottawa, meanwhile, is trying hard to move defenseman Filip Kuba (who has one more year left on his deal at $3.7 million) so that they have money to re-sign UFA-to-be Chris Phillips. If they can't move Kuba, Phillips has to decide whether or not he wants to move. I believe Montreal is among the teams still interested in Phillips.
Leafs looking for D-man
Leafs GM Brian Burke hopes he's got at least another move left in him before the trade deadline. The Leafs have been scouring the market hard over the past few days looking for a defenseman. They kicked the tires on
Zach Bogosian
in Atlanta but there doesn't seem to be a fit there. They have zero interest in
Sheldon Souray
, whom the Oilers put on re-entry waivers Saturday (waiver period clears at noon ET Monday).
New concussion protocol to be discussed
The NHL is considering some important changes to the league's concussion protocol for next season. One idea is to force a player to the dressing room to get checked out after he got his bell rung. No more just checking him on the bench. The other more drastic idea also being discussed is not allowing a player back in the game under any circumstance if he looks woozy. Expect this to be discussed at the GM meetings next month in Boca Raton, Fla.
Avs say Hejduk not moving
So what now for the Avalanche after their blockbuster trade with St. Louis? A lot of people are wondering about veteran winger
Milan Hejduk
because he's an UFA July 1. But GM Greg Sherman told ESPN.com Saturday that Hejduk is not moving.
"We're not trading Milan," Sherman said.
McCabe, Vokoun in play at deadline
Bryan McCabe
and
Tomas Vokoun
are both very much in play in Florida. The team discussed contract extensions with both players last month but there won't be any signings. The focus now is trading them. Both players have no-trade clauses, so they control part of their fate. The Panthers hope the
Tomas Kaberle
deal will help set the price for McCabe. The Rangers are among teams interested in McCabe, but I'm told they don't want to pay anywhere close to the price Boston paid for Kaberle.
Thrashers hold on to Bogosian
There's tons of interest in young blueliner Zach Bogosian, but the Thrashers really aren't sure they want to move him. One team offered them two first-round picks plus a prospect, but Atlanta said no because it still wants to make the playoffs this season and would have rather done a true hockey deal for players. Also, blueliner
Johnny Oduya
(one more year on his deal at $4M) is generating lots of interest. If the Thrashers feel they've fallen back in the playoff race by Feb. 28, they might move him.
February, 18, 2011
2/18/11
12:16
PM ET
Scott Burnside and Pierre LeBrun debate which player will leave Ottawa next, plus give updates on Tomas Vokoun and Brad Richards:
Burnside: Good day, my friend. Hope you pack your woolies for your trip to Calgary. I am en route to Minnesota and Chicago for Hockey Weekend Across America.
But before all of that, GM Bryan Murray is making good on his promise to clean house. First, he sent Jarkko Ruutu to Anaheim for a sixth-round pick Thursday, and Friday he swaps goalies, sending Brian Elliott to Colorado for Craig Anderson. And there are still a couple of big pieces left for Murray to move.
Chris Phillips has made noises about wanting to stick around, but my guess is Murray will ask him to take one for the team and then try to trade him to Boston or Montreal. He can always re-sign him in the offseason if Phillips really wants to come back.
The player I never hear much about is captain Daniel Alfredsson. Murray has received top value back for earlier trades -- Mike Fisher and Chris Kelly -- and with a dearth of quality offensive players available, don't you think there'd be a market for the classy captain even if he is starting to show his age? Alfredsson has two years left at a very affordable $4.875 million cap hit, so maybe that's why the Sens keep him. But if this is truly about starting from scratch, will Murray have that discussion with Alfredsson if he hasn't already?
Hey, maybe Murray could get Blake Wheeler out of Boston, a useful player who looks like he's on his way out because of the Kelly acquisition. The Bruins also want to add more quality along the blue line and possibly up front. Just saying.
LeBrun: Scotty, I'm on my way to Calgary this afternoon for the Heritage Classic; should be a blast Sunday. To start with the Sens, Murray told me a few weeks ago he and owner Eugene Melnyk decided Alfredsson wasn't going anywhere. That's not surprising because Alfredsson has a job in the organization waiting for him after his playing career is over; he'll be a Senator for life.
But I exchanged text messages with Murray this morning and he indicated he's hoping he's not done wheeling and dealing between now and the Feb. 28 trade deadline. I think players such as Chris Neil, Filip Kuba and Alexei Kovalev are available. The New York Rangers were linked to Kuba in rumors yesterday because coach John Tortorella liked him in Tampa, but I don't think the Rangers like his contract at $3.7 million next season.
Phillips, meanwhile, continues to be an intriguing situation. Murray won't pressure him to waive his no-movement clause, so the veteran blueliner holds all the cards. Much like defenseman Bryan McCabe does in Florida.
Burnside: Even though the Panthers are on the very edge of the playoff bubble (seven points out of eighth with two games in hand), GM Dale Tallon has never wavered from his plan of getting as young as possible as quickly as possible. That means players like Cory Stillman, Christopher Higgins and Radek Dvorak will all be available and likely with modest asking prices.
But the Panthers also have two big-ticket items in McCabe and netminder Tomas Vokoun. Both have no-move clauses and it's unlikely Tallon will re-sign either one given his budgetary concerns moving forward. He told me he's been getting more calls as the clock ticks toward Feb. 28.
We've talked about how many teams are looking for defensemen, and players who can pound the puck like McCabe will be in demand as a rental. The one guy whose name keeps popping up is center Stephen Weiss. There are very few pivots on the market, but don't look for Tallon to move Weiss even if he's never evolved into the franchise center the Panthers were hoping he'd be. Florida isn't deep down the middle to begin with, and finding a franchise center a la Jonathan Toews will be one of Tallon's priorities. I think Weiss stays unless a deal blows Tallon away.
Speaking of centers, we were discussing yesterday where Brad Richards may or may not land. Any update there?
LeBrun: Yes, Scotty, we speculated Richards may be a fit in Boston, but a Bruins source told me this morning they would not be a player if and when the Dallas Stars made the star center available. So nix that one.
Burnside: Yes, Habs defenseman James Wisniewski went down after taking a puck to the face last night in Edmonton, but reports are he's en route with the team to Calgary for the Heritage Classic. And even though they did add Paul Mara, who wasn't getting in the lineup in Anaheim, the Habs could sure use some help.
And what about Vancouver? A team that looked to have a plethora of defensemen a few weeks ago has now watched its blue line be decimated by injury. Kevin Bieksa is the latest to go out, with a broken foot. The dilemma for GM Mike Gillis is he can't be exactly sure who will be coming back into the lineup and when. The Canucks have a seven-point bulge at the top of the Western Conference, although Detroit has two games in hand. But the last thing Gillis wants to do is enter the playoffs with any question marks along the blue line. This looks like the Canucks' best chance to win a Stanley Cup, but there's more than a little uncertainty on how the team will proceed between now and the trade deadline.
LeBrun: The word out of the Canucks is they will stand pat for now, confident that most of their injured defensemen will be back for the playoffs. There's hope Dan Hamhuis (concussion) and Keith Ballard (MCL) could be back next week. Regardless of what they say, I still think Gillis will keep a close eye on the trade market for blueliners and make his decision closer to Feb. 28 once he has up-to-date medical information on his blue-line corps. Like you said, it's a Stanley Cup year for the Canucks and Gillis won't take that kind of chance. If his blue line looks healthier in 10 days, maybe he does stand pat.
Well, I'm off to Calgary, my friend. Enjoy the weekend in Minnesota!
October, 27, 2010
10/27/10
4:54
PM ET
Two weeks ago the Toronto Maple Leafs demoted Jeff Finger and his $3.5 million salary to the AHL, which served as an unofficial memo to the remaining 29 teams in the NHL: "We have $4 million in cap room now; make us your best offer."
At first, that didn't generate much action. But things have suddenly changed. I was told Tuesday night that things have heated up somewhat, although still no trade is imminent. I hear two unidentified teams have gained traction with the Leafs in talks.
Toronto's desire has been obvious for a long time: pick up another top-six forward. The lure, one that few teams in the league have, is that the Leafs can take up to $4 million in salary and send back little in salary if there's a team in desperate need of cap/budget relief.
Leafs GM Brian Burke and his trusted lieutenants Dave Nonis, Dave Poulin and Claude Loiselle are scouring the league in search of that top-six forward.
"Burkey wants badly to make that move, but he knows he's got to [be] patient," another NHL GM said this week. "He's got one shot at it with the [cap] space he got by dumping Finger. It's got to be right."
Leafs third-line winger Colby Armstrong injured his finger Tuesday night and will require surgery. He is expected to miss four to six weeks.
Backes, Blues shelve negotiations ... for now
David Backes
is another benefit of the collective bargaining agreement's liberalized free-agent rules. The power winger will be eligible for unrestricted free agency July 1 and will turn 27 years old May 1.
There were preliminary talks between Backes' camp and the St. Louis Blues before the season, but those talks have since been shelved ... for now. If I'm a betting man, I believe the Blues will pick up the phone again in 2011.
"It's a dynamic situation," Backes told ESPN.com on Tuesday. "Being an unrestricted free agent, they obviously can't lose me for nothing and not get anything back. I need to have a good year to establish myself. I think they like me, and I love St. Louis. Hopefully something will get done during the season, but obviously there's a business side to this game that if we can't come to terms, then unfortunately we'll have to maybe part ways."
I don't see this guy leaving St. Louis. My money's on GM Doug Armstrong and agent Wade Arnott of Newport Sports Management figuring this out before July 1.
Panthers not talking contracts with McCabe, Vokoun
The
Florida Panthers
have not approached their two most notable UFAs-to-be about a new contract: veteran blueliner
Bryan McCabe
and star goalie
Tomas Vokoun
.
"We'll just see how things go," Panthers GM Dale Tallon said Tuesday, leaving things at that.
Because Tallon is looking to rebuild this team and get younger, it's going to be interesting to see what the Panthers' GM ultimately decides to do with these veteran players.
"Dale just came in, and he's building a young team," Vokoun said Tuesday. "I'm sure he's evaluating people every night. There's no reason to even go there [contract talks] right now. I'm signed for this season, and we'll see how it goes after that. You never know."
Vokoun, 34, has a $5.7 million cap hit this season. He has a no-trade clause as well, which will be key if the Panthers are outside the playoff bubble come the Feb. 28 trade deadline. It'll be up to Vokoun to decide his future.
"You know what? My future is my next game," Vokoun said. "That's how I approach it. I've learned that it doesn't happen to think about what might happen in June or July when you're still in October. I'm trying to play the best I can, and we'll see what happens."
Although I have a feeling Vokoun won't be back with the Panthers next season, McCabe may not be as clear-cut. He's the captain of this team, and as the Panthers get younger, they'll still need a leader. For him to stay, he'll need to take less than the $5.75 million cap hit he carries this season.
"We haven't spoken about it at all," McCabe told ESPN.com on Tuesday, referring to contract talks. "I'm not the type of guy to worry about that. I'm sure it'll take care of itself as long as the team does well. I love Florida, and I'd love to stay."
October, 26, 2010
10/26/10
3:45
PM ET
TORONTO -- What's a nice way of asking the coach of a team whose blue-line corps doesn't blow you away with name recognition just why that ragtag group of defensemen has played so darn well so far this season.
Florida Panthers
head coach Pete DeBoer started laughing as a certain ESPN.com writer fumbled and bumbled his way through the question Tuesday morning.
"Say it nicely," chuckled DeBoer.
He knew exactly what the question was. What's the deal with this group of six defensemen helping Florida carry the NHL's third-best defensive record going into Tuesday night's game at Air Canada Centre?
OK, everyone knows
Bryan McCabe
and
Dennis Wideman
. Those are top-four guys with brand-name stock. But has anyone noticed how well
Jason Garrison
,
Mike Weaver
,
Dmitry Kulikov
and
Bryan Allen
have played?
It's the best-kept secret of the young NHL season.
"You're sort of hidden away in South Florida but I think we've got as good a group of six as any in the league," Allen, 30, said Tuesday. "All six of us play and we all contribute in different ways. It's working right now."
Weaver, 32, a shutdown type who is key on the penalty kill, came over as a free agent from St. Louis. Wideman, 27, was a big addition from the
Nathan Horton
trade with Boston.
"I like the six guys that we've got," DeBoer said. "I think we've changed our identity back there from last year. Adding Wideman and Weaver, Kulikov taking another step, Garrison taking another step -- I think we're a much more mobile group, much better with the puck and smarter. We can break out of our end with tape-to-tape passes whereas in the past we did a lot of rimming and just tried to jam it out."
And you can tell that when you watch these Panthers play. They've become a better puck possession team and it starts on the back end. They're not just hammering it down the ice from their zone like they did so often last season.
Garrison is probably the biggest unknown of the group.
"Garrison is a great player -- he does it all," McCabe said. "He's big, strong, shoots the puck, good both in offense and defense."
Undrafted, Garrison was signed by the Panthers out of the University of Minnesota-Duluth two years ago, with
Joe Nieuwendyk
doing the recruiting for Florida at the time.
"Joe came down and saw me in college," Garrison said Tuesday after the morning skate. "I got to know him a little bit. He's such a great guy. I [was] just in awe when he came down to see me. So were my teammates. It was a cool experience."
A self-described late bloomer, the White Rock, British Columbia, native didn't really think hockey was a serious avenue until his senior year in high school. Then he got focused on it.
"The NHL was a far reach," Garrison said. "I was like 5-6 or 5-7, small and skinny. I started growing in my last year of high school, started hitting the gym every day and started filling out. Every summer I was telling myself I had to get bigger and stronger. I peaked out at 238 pounds and realized I had to slim down a little."
Now at 6-2 and 220 pounds, he was the fittest player in camp for the Panthers. The man is a rock. After missing two games with a groin injury, Garrison returns to the lineup Tuesday night.
"He played real well for us last season down the stretch," DeBoer said of Garrison, who played 39 games last season with the Panthers in his NHL rookie campaign. "He's got a shutdown-type body, he's a big wide body, strong guy, stakes well, can move the puck -- he's a good first-pass defenseman, he's got the physical tools to do that. We've kind of pushed him into that [shutdown] role and he's embraced it. He's done a real good job for us."
Garrison teams up with Weaver right now in that shutdown pair. Weaver has been an unheralded player during stops in Atlanta, Los Angeles, Vancouver and St. Louis. One Panthers observer told ESPN.com Tuesday that he's the guy who has impressed him the most so far. Weaver was plus-10 on a Blues team last season that didn't make the playoffs.
"Real unsung guy," said DeBoer. "He's one of those guys, he's not big, and he's not the quickest guy on the ice, but he's got a long stick and anticipates well. He knows his job, battles hard every night and he's been a key guy for us."
The other pairings feature Allen with Wideman and McCabe with Kulikov.
"Maybe people don't look at the names and say, 'Wow,' but so far we've been really good defensively and our D has been great," star goalie
Tomas Vokoun
, himself brilliant so far this season, said Tuesday morning.
"Our shots against are down, our chances against are way down," added Vokoun. "Blocking shots, playing hard -- they're making my life easier."
The numbers don't lie. Last season, the Panthers were dead last in shots allowed per game at 34.1. Entering play Tuesday night, they were 10th in the league at 27.7. Last season, the Panthers were 19th in goals against per game at 2.85; entering Tuesday, they were third overall at 2.00 goals against per game.
They need to be tight defensively because goals will be hard to come by again this season.
"We do have to take pride defensively, because obviously we go through spurts of scoring goals and then not scoring so many," Garrison said. "But it's part of the game. And we definitely look forward to trying to shut down the other team every night."
There's a chip on the collective shoulder of these Panthers. It's a motivating force.
"Right from training camp we read where people had us dead last in the Eastern Conference and maybe the whole league," Allen said. "Obviously that fuels some ambition. You want to prove people wrong."