Cross Checks:

Calder Trophy
July, 26, 2012
7/26/12
11:24
AM ET
The award given to the league's top rookie each year could only be named after the man who served as the first president of the NHL.

Frank Calder gave his life to the sport of hockey.

Calder was born in Bristol, England in 1877. He immigrated to Canada in the early 1900s and taught at a private school in Montreal before becoming a sportswriter. Impressed by Calder's direct and insightful ways, former Montreal Canadiens owner George Kennedy got Calder elected secretary of the National Hockey Association.

In 1917, the NHA folded and the National Hockey League was formed with Calder picked to be the first president.

Starting in 1933, Calder purchased a trophy and awarded it to the best rookie each season.

Through his 25 years of service to the NHL, Calder is most remembered for helping the league survive during both world wars and the Great Depression, as teams dealt with having fewer players available and franchises were forced to move or fold because of economic struggles.

Calder's health had deteriorated by 1943 partly because of all of the traveling he did to monitor the game. After Calder collapsed at a league meeting, a plan was made to name Mervyn "Red" Dutton the temporary president so that Calder could take a break. Calder died the day after the motion was passed.

The trophy given to the player "most proficient in his first year of competition" was renamed the Calder Memorial Trophy after Frank Calder's death in 1943. Calder was also elected to the Hockey Hall of Fame in 1947.

Information from the Hockey Hall of Fame was used in this report.

October, 19, 2011
10/19/11
4:35
PM ET
Is two weeks into the season too early to discuss the Calder Trophy race? Not at ESPN.com! We're a little crazy that way. So let's take a look at the early race as we see it with our top five contenders as of Wednesday afternoon (Oct. 18):

The 21-year-old native of St. John's, Newfoundland, is tied for the NHL rookie scoring lead with six points (3-3) in five games. The second-round pick (44th overall in 2008) has begun the season centering the top line between Thomas Vanek and Jason Pominville. Not bad at all. At 6-foot-2 and 203 pounds, Adam has the size and strength to stand the rigors of an NHL season.

The Swedish blueliner, drafted fourth overall this past June, doesn't have a point yet, but so what? At 18, he leads all NHL rookies in ice time at a whopping 24:14 per game. That's unreal. He's got tremendous vision and is going to be a star in this league for a long, long time.

The native of Burnaby, B.C., of course, was taken first overall in June. The Oilers haven't officially announced he is here to stay, but we'd be shocked otherwise. He already has a hat trick under his belt (as of Wednesday afternoon he led all rookies with four goals) and is showing terrific chemistry with second-year winger Taylor Hall.

At 25, he's certainly the elder statesman of the freshman NHL class this season, but he's still a rookie. A free-agent signing by the Flyers out of Bemidji State University, Read is tied for the NHL lead with six points (2-4) in five games. He's also plus-4 on the season.

The 18-year-old Swede was taken second overall in June and doesn't look out of place at all despite his age. Playing the wing on a third line with Ryan O'Reilly and Daniel Winnik, Landeskog has displayed a solid, two-way game and his hockey smarts are obvious. He's got three points (2-1) in six games, but his game is more than offense.
Honorable mentions: Sean Couturier, Flyers; Jonathan Blum, Predators; Cody Hodgson, Canucks; Craig Smith, Predators.
Trophy Tracker: Calder Trophy
---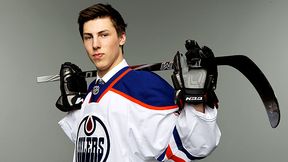 The Oilers must decide whether to keep Ryan Nugent-Hopkins with the big club or send him down to junior before the nine-game mark.
June, 22, 2011
6/22/11
9:54
PM ET
By
The Associated Press
| ESPN.com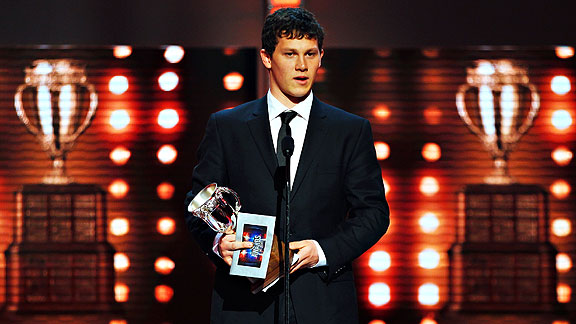 Jeff Vinnick/Getty ImagesJeff Skinner edged Logan Couture for the Calder Trophy by a 1,055 to 908 vote.
LAS VEGAS -- Carolina Hurricanes 19-year-old sensation Jeff Skinner is the NHL rookie of the year.
The Hurricanes forward won the Calder Trophy on Wednesday, beating out San Jose's Logan Couture and Michael Grabner of the New York Islanders.
Skinner, an NHL All-Star in his first season, finished first in Calder voting by members of the Professional Hockey Writers' Association. He led rookies with 63 points.
Grabner scored 34 goals to top his team and fellow rookies. Couture had eight game-winning goals -- including seven on the road.
April, 4, 2011
4/04/11
3:18
PM ET

1. The age-old Calder debate
My colleague and good friend Pierre LeBrun and I have often debated last season's Calder Trophy race, which was won by Buffalo defenseman Tyler Myers. I have no problem with Myers' selection (he won by a veritable landslide, collecting 94 of 133 first-place votes). Myers was terrific as a 19-year-old blueliner.
But where Mr. LeBrun and I often disagree is that part of Myers' appeal was he was a teenager, compared to Detroit goalie Jimmy Howard, who was 25 going on 26 during his rookie season. Howard was second to Myers in voting. I voted for Howard because I believed his performance for the injury-riddled Red Wings (especially in the second half of the season) was exemplary, regardless of whether he was an "old" rookie.
This season, the age issue has again crept into the Calder discussion.
Jeff Skinner, who won't turn 19 until May, is in a dogfight with San Jose's Logan Couture. Couture, who turned 22 at the end of March, has done it all for a Sharks team that is likely the second-best team in the NHL behind Vancouver. At the time of this writing, Skinner had opened up a four-point lead on Couture, although Couture was tied with the Isles' Michael Grabner for the rookie goal-scoring lead (31), two more than Skinner.
Both are centers, and there is no doubt Skinner's performance is wildly impressive. But I have seen others refer to Skinner's performance as it relates to being a "young" rookie and, presumably, his worthiness as a Calder candidate. There's a reason the award's parameters are in place. It seems unjust to penalize Couture, who is marginally more deserving of the award given his overall impact with the Sharks, just because of the calendar.

2. A not-so-grand finale
Check out the last Saturday of the regular season: 11 contests, 22 teams, each tilt a divisional matchup ... all but one.
Yes, Buffalo fans will be storming down the highway to Ohio to get tickets to the Sabres' final regular-season matchup against the Columbus Blue Jackets. Huh? So, play 81 games and the best the schedule-makers can come up with is a meaningless, emotionless contest against a sad-sack team from the other conference?
Hey, we understand the schedule is a monster to manipulate with six divisional games and 15 teams in each conference. But how on earth the Sabres could end up playing their finale against a team that isn't even in their own conference is incomprehensible.
You can bet Toronto, Carolina, the New York Rangers and Montreal -- teams whose own playoff standing could be affected by the Sabres' final game -- were wishing the game had a little more meaning or at least have it be against an Eastern Conference foe.
Boo!

3. Enough already, Georges
Has there been a player in recent memory who accomplished so little on the ice but talked so much off it than Georges Laraque?
It created hardly a ripple when the Canadiens bought out Laraque's contract, which then-GM Bob Gainey foolishly bestowed given Laraque's negligible on-ice impact; but disappearing gracefully has hardly been Laraque's style.
The ubiquitous "expert" has weighed in on various topics in recent days and months, including the Zdeno Chara hit on Max Pacioretty and whether Montreal coach Jacques Martin has lost the Habs' room. We had to snicker when Laraque suggested that had he been on the ice, Pacioretty would not have been ridden into the stanchion at the Bell Centre. Were that true, hundreds of players who played alongside Laraque (well, that's a stretch since Laraque spent many nights stapled to the bench in many NHL cities) owe him a debt of gratitude for having saved them from similar injury. If they only knew how lucky they were.
Then, to suggest in recent days that Martin has lost touch with his players is just more waste material. The coach guided the underdog Habs to a shocking Eastern Conference finals appearance last season and has them pointed toward the playoffs again this spring despite injuries.
Not sure what's more shocking, that Laraque continues to offer up such misguided opinions or that he finds a forum for them.

4. The access debate
What a schmozzle the annual awards voting process has become, thanks to the smallness of the New York Islanders and the failure of the NHL to do the right thing.
You may recall when Islanders GM Garth Snow revoked the credential of writer and Professional Hockey Writers' Association member Chris Botta earlier this season. Botta was a former Islanders PR man who had gone on to write his own blog, first sponsored by the Isles, then independent of the team. The NHL tried through various means to get Snow to back off, but the Isles insisted they had the right to control access by bloggers. Botta now writes a blog for The New York Times, but is still banned from the Islanders' locker room.
What should have been clear-cut from the league's perspective is that Botta is a member of the PHWA, the group that votes on many of the league's top awards, All-Star and All-Rookie teams, and should have been protected by the league.
Instead of telling the Isles the PHWA trumps individual teams' arbitration on access, the NHL allowed the Isles' decision to stand. As small as Snow's decision was, the NHL's response was sadly weak-kneed.
Fast-forward to this past week. This year's awards ballots were issued to members of the PHWA and the three New York-area chapters decided to boycott the voting process this year in protest. The majority of PHWA members will continue to vote on the awards in the next week or so, but those New York-area writers should never have been put in this position to begin with.
It was illuminating to see Snow's response to the boycott, as he suggested it would only hurt the chances of Islanders or Rangers players of being honored. As if local writers would only vote for local players.

5. Scouting ahead of the game
In the days leading up to Ottawa's signing of top college free agent Stephane Da Costa, we were talking to agent Wade Arnott about the pressure on NHL teams to turn over every stone to find talent.
Since the lockout, ferreting out those collegiate or European free agents who fall through the cracks or mature later has been crucial to teams managing the salary cap. Finding these players can save money and help preserve other assets, as they aren't as expensive as traditional free agents and don't use up a draft pick. Consequently, adding these pieces to a roster gives teams more flexibility when it comes to making other roster moves.
"It's a burgeoning part of our industry," Arnott said.
Take the Anaheim Ducks, who turned the good work of assistant GM David McNab into a number of undrafted collegiate players like Dustin Penner, Andy McDonald and Chris Kunitz en route to a Cup win in 2007. Would the Ducks have been able to sign and/or acquire Scott Niedermayer and Chris Pronger without those players in the lineup? Not likely.
Arnott said more than half the teams in the NHL inquired about Da Costa, but he was weighing a number of factors in making his decision.
The time put in by Senators scout Lew Mongelluzzo likely had something to do with the decision and the potential for Da Costa to step into a full-time role next season.
"They all feel that he can play," Arnott said. "It's not a matter of if, it's a matter of when."
Our good friends at the Elias Sports Bureau tell us that so far this year 134 undrafted players have appeared in NHL lineups, down slightly from 144 last season and 149 in 2008-09. But the really telling numbers: There were just 110 in 2003-04, the season before the lockout, and 102 in 2000-01.
January, 12, 2011
1/12/11
2:58
PM ET
As we continue our NHL midseason report this week, Scott Burnside and Pierre LeBrun hand out their midseason awards:
Midseason Report: Team grades | Awards | Second-half radar | Fantasy Focus

Hart Trophy
Burnside's pick: Sidney Crosby, Pittsburgh Penguins
Why: Even though Crosby remains sidelined with a concussion, it does nothing to diminish the stellar season the Pittsburgh captain is having. As of this writing, Crosby still led Tampa Bay's Steven Stamkos by nine points in the scoring race and by a goal in the goal-scoring race. The fact that the Penguins immediately stumbled when Crosby went out of the lineup illustrates how important his impact is on a team that remains a viable Stanley Cup contender.
LeBrun's pick: Crosby
Why: The length of his absence due to his unfortunate concussion might reopen what was no debate for this trophy. But he'd have to miss at least two weeks for that to happen. At the halfway point, it's a slam dunk for Sid; the Hart is his to lose.

Vezina Trophy
Burnside's pick: Tim Thomas, Boston Bruins
Why: There will be those who think Boston netminder Tim Thomas deserves consideration not just for the Vezina but the Hart Trophy as well. They might not be wrong. At midseason, Thomas would seem to be a runaway favorite to win his second Vezina Trophy in three seasons. He leads the NHL in all critical goaltending categories, including save percentage, goals-against average and shutouts.
LeBrun's pick: Thomas
Why: One fights the urge to be different and take Jonas Hiller, Pekka Rinne, Carey Price or Ondrej Pavelec, but you just can't argue with Thomas' ridiculous numbers up to this point. Where would the Bruins be without his standout first half? Not in a playoff spot. He told ESPN.com earlier this season that offseason hip surgery and a mental reset were two reasons for his turnaround from last season.

Norris Trophy
Burnside's pick: Kris Letang, Pittsburgh Penguins
Why: Yes, the sentimental choice is Detroit's Hall of Famer-in-waiting Nicklas Lidstrom, and no doubt Lidstrom is having a terrific season, especially for a 40-year-old. But let's not allow sentiment to get in the way of reality: Letang has emerged as the NHL's best all-around defenseman.
He logs big minutes (23:39 a night) against opposing teams' top players. He has filled the offensive void created by Sergei Gonchar's defection to Ottawa with 37 points, fourth among defensemen and just four points off the league lead for all blueliners. (Lidstrom was tied with Atlanta's Dustin Byfuglien for the lead with 41 points heading into Wednesday's action.) Letang is also plus-20, while Lidstrom is even. Perhaps most impressive for us, though, is Letang has become a key part of a Penguins defense that ranks fourth in the NHL. For the record, Lidstrom and the Wings rank 18th in goals allowed per game.
LeBrun's pick: Nicklas Lidstrom, Detroit Red Wings
Why: I mean, c'mon folks, you don't even need to think about this one. Burnside is on crack. Lidstrom is once again the best of the best on the blue line, and anyone in the Professional Hockey Writers' Association who doesn't give him a first-place ballot come April should have his voting privilege taken away. Of course, the "Perfect Human" has to continue his torrid pace into the second half, and we predict he will.

Calder Trophy
Burnside's pick: Cam Fowler, Anaheim Ducks
Why: This may be the toughest rookie race in recent years because so many first-year players are making significant contributions to their teams, whether it's Jeff Skinner in Carolina or Logan Couture in San Jose or Derek Stepan for the New York Rangers. But right now, we give the nod to Anaheim's stellar young defenseman Cam Fowler. The 19-year-old has made the jump to the NHL after just one year of major junior hockey and ranks seventh among all rookies in scoring (21 points). He leads all rookies in average ice time per night and has played a significant role in the Ducks' surprising bid for a playoff spot. Remember when everyone predicted the Ducks' shaky blue line would lead to a long season defensively? The Ducks rank an impressive 12th in goals allowed per game, and Fowler's impressive maturity is a key part of that improvement.
LeBrun's pick: Logan Couture, San Jose Sharks
Why: We have a feeling Taylor Hall will end up winning this in June with a monster second half, but I'll take leading rookie goal scorer Couture at the midpoint. Hopefully, the injury he suffered Tuesday night from a knee-on-knee hit by Toronto tough guy Colton Orr doesn't knock him out too long. On a disappointing Sharks team, Couture has been the club's most consistent performer this season.
Jack Adams Trophy
Burnside's pick: Marc Crawford, Dallas Stars
Why: Perhaps the most difficult of the major awards to pick given the number of worthy candidates. I love the work John Tortorella has done in New York with the Rangers. Mike Babcock continues to get top-level results regardless of the injuries that befall the Detroit Red Wings. Barry Trotz is again working magic in Nashville. But, for me, the coach of the year right now is Crawford, who has kept a surprising young Dallas team at the top of the Pacific Division when many predicted the Stars wouldn't challenge for a playoff berth at all.
LeBrun's pick: John Tortorella, New York Rangers
Why: There are so many good choices for this award every year. Other good candidates include Guy Boucher, Marc Crawford, Alain Vigneault, Mike Babcock, Bruce Boudreau, Peter Laviolette, Barry Trotz et al. But for my money, the Rangers have overachieved so far, and Torts is the reason.

Frank J. Selke Trophy
Burnside's pick: Ryan Kesler, Vancouver Canucks
Why: This race isn't as dynamic as it should have been with defending champ Pavel Datsyuk out with a foot injury, but Kesler is enjoying a seminal season, adding a dynamic offensive presence to his already world-class defensive abilities. Kesler has 24 goals, including five game winners, and is plus-17. Mike Richards will get some attention, and when Datsyuk comes back in a couple of weeks, he'll push the Vancouver center; but this is, in my mind, another runaway.
LeBrun's pick: Mike Richards, Philadelphia Flyers
Why: He draws the tough matchups all the time and gets it done. Ask opposing top centers which player they most hate to play against in the NHL, and Richards' name invariably will come up. Ryan Kesler is a great pick, too, but he's become more of an offensive force this season, while Manny Malhotra has emerged as the shutdown man in Vancouver. So, with usual champ Pavel Datsyuk out with a long-term injury, I like Richards for this award at the halfway point.

GM of the Year
Burnside's pick: David Poile, Nashville Predators
Why: Every season, Poile and the Predators work within their own budget that rarely approaches the NHL's salary cap, and every season, they ice a team that never fails to surprise with its performance. This season is no exception. Nashville has received surprising production from under-the-radar acquisitions like Sergei Kostitsyn, who is second on the team in point production, and unheralded homegrown talent like netminder Anders Lindback, who delivered yeoman service when starter Pekka Rinne was injured. At the time of this writing, the Preds had won six in a row and were comfortably ensconced in a playoff spot in the ultra competitive Western Conference.
LeBrun's pick: Steve Yzerman, Tampa Bay Lightning
Why: Fresh off handing Canada an Olympic gold medal under incredible pressure, Yzerman jumps into the Tampa Bay job and retools the Bolts into contenders. Impressive. He's shown the willingness to act when he sees deficiencies, adding veteran goalie Dwayne Roloson and blueliner Marc-Andre Bergeron. His biggest test will be re-signing Steven Stamkos.
December, 22, 2010
12/22/10
12:52
PM ET
The Calder Trophy debate is a healthy one this season, but for my money, Logan Couture of the San Jose Sharks has a healthy grasp on the award right now.
His 18 goals are eight clear of any other rookie. Heck, his 18 goals are fourth-best in the entire NHL, period.
[+] Enlarge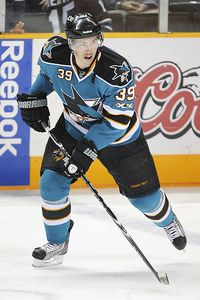 Thearon W. Henderson/Getty ImagesAs of Wednesday morning, Logan Couture led all rookies with 25 points.
"It's been a lot of fun," Couture told ESPN.com this week. "Definitely didn't expect to have the personal success I've had so far. I've enjoyed it and hopefully the team can really get going now. We were inconsistent at the start of the year, but I think we're turning that corner now."
The Sharks have won three straight and are 7-3-1 in December after an inconsistent opening two months of the season. Leading the way night in and night out has been their 21-year-old rookie center.
"He's been our catalyst on our team to this point," Sharks coach Todd McLellan told ESPN.com. "I don't know if any of us would have predicted that at the start of the year, but it's been a pleasant surprise."
Among NHL rookies, Couture's 25 points lead the impressive Jeff Skinner of Carolina by one and his plus-9 rating is second only to Washington blueliner John Carlson.
Carlson and Skinner will continue to challenge Couture for the Calder, as will Colorado's Kevin Shattenkirk, Philadelphia's Sergei Bobrovsky, Anaheim's Cam Fowler and the flashy Edmonton duo of Taylor Hall and Jordan Eberle.
Couture won't lie. He's glanced at other game summaries to see what his fellow rookies are up to.
"I've been keeping an eye on it lately because it seems like I get asked about it a lot," said Couture, who played his junior hockey with the OHL's Ottawa 67's. "But it's still early in the year."
Couture's game has staying power, though. He's not just an offensive force. He does it all. His plus-9 rating is testimony to a player the Sharks can trust at both ends of the ice. Not all rookie forwards can do that.
"Now on a nightly basis, we can use him in any situation, offensively or defensively," said McLellan.
"That's something I've always taken pride in, the defensive game," Couture said. "Ever since I was young, coaches have told me, `Play well in your own end and you'll get to play more in the other end.' That stuck with me."
Playing most of last season in the AHL with Worcester was also key. Unlike Skinner or Hall, who have jumped from junior to the NHL, Couture went the more traditional route and that's been beneficial to his game.
"It was big for me," said Couture. "There's only a select few hockey players that can make that jump from college or junior to the NHL like Taylor did. You have to be a special player to do that. I wasn't ready to do that. Playing four years in junior and playing last year in the AHL was huge for me. I worked on my game a lot. I played a lot of minutes in Worcester last year, got used to the pro game and learned a lot."
That experience in the AHL, said McLellan, is why Couture was able to earn a spot among the top two lines this season. The coach has paired Couture with winger Ryane Clowe for most of the season and the two forwards have really meshed. Clowe, one of my favorite players in the league, combines sandpaper ruggedness with soft hands. He has 30 points (9-21) in 33 games and is on pace to have a career season playing with Couture.
"I love playing with him," Couture said. "He's a very, very underrated passer. He's set me up a bunch of times this year with really nice plays. He's a big body with lots of skill, very underrated player in my mind. Hopefully we can continue to stay hot together."
"The two have a nice chemistry," said McLellan. "Clowey can keep some flies off of him when he has to. They've been really good together. And anybody else we've put on that wing, their game seems to have perked up, as well."
Life is good right now for Couture, who last month moved into a one-bedroom apartment in San Jose and is living on his own. His only concern? There's a team dinner around the corner with the rookies footing the bill.
"Hopefully it's not too big," he said with a chuckle.