July, 25, 2014
Jul 25
11:53
PM ET
As a child,
Boston Bruins
president and Hockey Hall of Famer
Cam Neely
played baseball. He was a left-handed pitcher and played until he was 16.
He jokes that he was never involved in any hockey-style fights on the diamond, but he did smash a few batting helmets in his day.
[+] Enlarge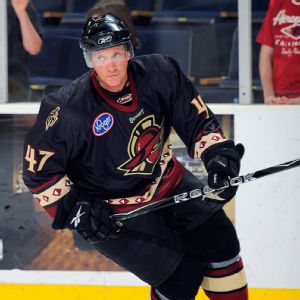 Dale Zanine/USA TODAY SportsBefore he became a Hall of Fame pitcher, Tom Glavine received a scholarship to play hockey and baseball at UMass-Lowell and was also drafted by the Los Angeles Kings.
During his hockey career with the Bruins, Neely always followed baseball. He was a fan of pitching and paid attention to a local kid pitching in the major leagues named Tom Glavine. The Billerica, Massachusetts, native was a starting pitcher for the Atlanta Braves and had just won his first Cy Young Award in 1991.
The southpaw posted a 20-11 record, along with a 2.55 ERA in 246 2/3 innings of work to help the Braves win the National League pennant.
Not only did Glavine excel at baseball, he also was a standout hockey player. He received a scholarship to play hockey and baseball at UMass-Lowell and was also drafted by the
Los Angeles Kings
in the fourth round (No. 69 overall) in the 1984 NHL Entry Draft.
He decided to focus on his baseball career, and this weekend he will be inducted into the National Baseball Hall of Fame in Cooperstown, N.Y.
After winning his first of two Cy Young Awards in 1991, Glavine was invited to practice with Neely and the Bruins at the old Boston Garden.
Glavine was 25. Neely was 26.
"Even back then he certainly was well on his way to a great career," Neely said. "Being a local kid and actually being drafted by another sport was something, I think, a lot of athletes would have made a mental note of, so to have him come out was kind of cool, because he's a guy playing a different sport, and not many baseball players played hockey -- Larry Walker being another one -- but not many played hockey. So, it was kind of cool to have him out there. It's a cross interaction with a different athlete from another sport."
[+] Enlarge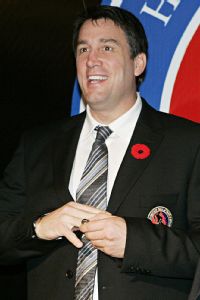 AP Photo Cam Neely, who was inducted into the Hockey Hall of Fame in 2005, said he knows how Tom Glavine feels as Glavine heads to Cooperstown for his induction this weekend.
During one drill, Glavine scored a goal that was assisted by Neely.
"It was more of 'Let's just have some fun with him out here,'" Neely recalls. "Obviously, if you get drafted you have some abilities, right? Someone saw something in you and thought you could play, so I think it was kind of cool to have a baseball player out on the ice with you, knowing he was drafted in the NHL."
The two remained in contact once in a while.
When Atlanta still had an NHL team, the Thrashers before they relocated to Winnipeg and became the Jets, Glavine would attend games when the Bruins were in town. During baseball's offseason, he would attend Bruins games at the Garden, too. He wouldn't ask for tickets, and most times the Bruins didn't even know he was in the building.
"He's a guy, obviously, like most athletes, whether you're a pro or not, you follow the hometown, unless you play against that team, right?" Neely said.
Neely was inducted into the Hockey Hall of Fame in 2005. As Glavine heads to Cooperstown, Neely understands what the days and hours are like leading up to a player's induction.
"You start to reflect on all the people that helped you become the athlete and person to be able to have that great honor," Neely said. "For me, a lot of the guys I spoke to, when you start preparing your speech you start thinking way back, like your parents getting up early to take you to practice. You think about all the coaches, volunteers and parents that helped along the way, and then you get into your teammates at the pro level and everything that they helped you accomplish."
December, 4, 2013
12/04/13
11:30
AM ET
WHAT WOULD THE NHL LOOK LIKE WITHOUT FIGHTING?

Listen, I respect everybody's opinion about our game, but it's a little different when you're on the ice and you have a stick in your hand. That's the thing that's different than any other sport is what you can do with your stick, maybe a little bit behind the scenes. It's hard to say, but my guess is stick work will pick up and there will be a lot more guys that'll be a little braver, a little tougher.

DO YOU GET A SENSE THE TIDE IS TURNING AGAINST FIGHTING?

Listen, I don't believe in staged fights, I don't like them, never have. I don't believe in a fight resulting because of a good, hard, clean bodycheck. You see that a lot and I don't understand that either. I can understand if somebody hits somebody in a position they shouldn't, but when it's a good, clean, hard bodycheck, there shouldn't be a need to come over and protect your teammate. The player that gets hit should take the number, like the old days, just take the number of the truck that just hit you. I still believe there are things that happen on the ice that you want the other player to be held accountable. Two minutes in the box, and I've heard some people say, "Well, a good, clean, hard bodycheck will do the number." Well, it won't do the number. I still believe there's a place in our game for it. I think it's a skill set that there are players out there that can play, but also have that intimidation factor that if they get pissed off and drop their gloves, it's going to make an impact on the game.

WHAT WOULD FANS THINK IF FIGHTING WAS BANNED?

My guess is the majority of the fans like it in our sport. We all know the risks. The players certainly know the risks. Any player that laces up their skates knows the risks of playing the game. Our fans, I think, love the physical part of our sport, whether it's a good bodycheck or a fight that resulted from two guys being upset with each other. I have no idea if they were to take it out what the reaction would be from the fans.

IF FIGHTING WAS BANNED, HOW WOULD IT EFFECT THE BRUINS STYLE OF PLAY AND SUCCESS?

We have to play physical to be successful. That's the way we're kind of built and that wouldn't change. We'd play physical and create our chances that way. The intimidation is gone. It's a little different feeling when you're worried about someone punching you in the face. Unfortunately, it may result in someone slashing you in the arm or in the back of the leg, which still happens, but there's still that fear of accountability that I believe is a part of our game.
June, 6, 2011
6/06/11
9:01
PM ET
BOSTON -- We arrived in Cam Neely's office without a birthday gift.
Not that we could have delivered the gift the Boston Bruins' president truly covets.
Neely, who turned 46 on Monday, would like four straight wins with his team trailing Vancouver 2-0 in the Stanley Cup finals, but he'll take one to start.
"Absolutely, I don't ask for much," Neely said of his birthday wish list. "So maybe I'll use them all up right now."
[+] Enlarge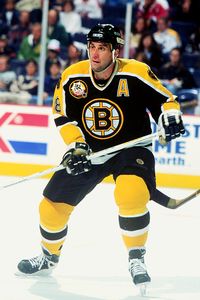 Scott Levy/Getty ImagesBruins legend Cam Neely is now leading from the front office, rather than on the ice.
Chatting with Neely in the hours before Game 3, it was hard not to think of Joni Mitchell's "Circle Game" and the way a life's travels often end up to be as circular as straight.
It is so for Neely.
Twenty-five years ago Monday, Neely celebrated his 21st birthday and was traded from the Vancouver Canucks to the Boston Bruins. That he would spend his current birthday preparing for a game against those same Canucks as the Bruins try to win their first Stanley Cup since 1972 tightens the circle even more.
"To play a game on the day I was traded against that team in the finals, it's hard not to reflect," Neely said. "My hopes are the trade worked out. Hopefully this will work out well. I know, it's crazy. It certainly doesn't seem like 25 years, that's for sure. Maybe the joints do, but not mentally."
For both franchises, the Neely trade was something of a seminal moment. The Canucks, looking for an experienced scorer to help them compete against the big guns in the Western Conference such as Edmonton and Calgary, acquired Barry Pederson from the Bruins for Neely and the first pick in the following entry draft. For a time, it looked like that pick might yield the first overall pick of the 1987 draft (that turned out to be Pierre Turgeon), but the Bruins ended up with Glen Wesley with the third overall selection.
The Canucks, meanwhile, would rue the deal for years, as they made just one Stanley Cup finals appearance since and are still searching for their first championship.
On the day of the trade, though, Neely had no inkling his life and the future of two franchises were about to be inexorably changed.
"I was actually working out with some buddies," he recalled. "It was late morning and we were planning on having a barbecue for the birthday and my younger sister tracked me down. It was pre-cellphones and all that, and they couldn't find me."
One of the teams, he can't recall exactly which one, wanted to announce the deal, but they needed to inform Neely first.
"She knew I was working out," Neely said. "She came to the gym, basically told me I was traded and I should call the GM."
Neely knew his third season in Vancouver hadn't been as productive; his goal total dropped from 21 as a sophomore to 14, but his ice time had been cut, so Neely believed there were reasons for the trade.
"It came out of the blue. I wasn't expecting it at all. Never heard anything about possibly being traded, nothing like that," he said. "I wasn't mad. I certainly knew it was part of the game and you get into a professional sport and trades do happen. I was more disappointed, leaving Vancouver. Both my parents weren't well. But then, fortunately, I was raised to think positive and I quickly went from, 'Well, Vancouver doesn't want me' to, 'Oh, Boston does want me.'"
Not that the move wasn't without its apprehensive moments.
"But then I was also like, 'Wait a minute, Boston's a better team than Vancouver,'" Neely recalled. "I was struggling to get ice time in Vancouver, so what was going to happen to my career going to Boston?"
He didn't need to worry. Neely scored 36 goals and added 36 assists in his first season in Boston en route to a Hall of Fame career that would see him become one of the most beloved Boston sports figures.
"Right from training camp, I got put with some of the better players, if you will. I think they really just said, 'OK, let's see what he can do,'" Neely said.
These past days leading up to Neely's birthday and the 25-year anniversary of his trade have been emotional ones for the Bruins' president. He returned to his hometown in Vancouver, but two one-goal losses, the latter just 11 seconds into overtime, blunted the enthusiasm for the homecoming that might otherwise have been the case.
"The circumstances, obviously, losing the way we lost, was not as enjoyable as it might have been," Neely said. "It was nice to be back and see my family and friends and have them come into the games, but it wasn't quite as enjoyable as we'd have liked."
A fiery competitor as a player, Neely the executive isn't all that different. He lives and dies with each play, each goal, each win and loss. He laughed when asked whether this has been hard, watching his team's march to the finals.
"It is. Every year, I go into it saying, 'OK, Cam, control your emotions a little bit better this year,' and it's difficult for me to do it," Neely said. "I try my best to do it, but I'm a pretty emotional guy to begin with, so it's harder for me than maybe some other guys to do that.
"I am who I am I guess."