February, 10, 2015
Feb 10
5:26
PM ET
[+] Enlarge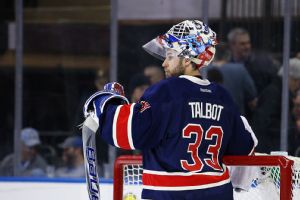 David Hahn/Icon SportswireCam Talbot has allowed eight goals in his last three starts in place of Henrik Lundqvist, but has a 2.28 goals-against average for the season.
The
New York Rangers
feel they have a pretty good handle on
Henrik Lundqvist
's situation, but to be safe, word is the Blueshirts are canvassing the market to see if there's a fit to bring in an experienced goalie to back up
Cam Talbot
.
Right now the backup is 20-year-old
Mackenzie Skapski
, and I think the Rangers would like a little more insurance behind Talbot while Lundqvist is out.
Lundqvist will be out of action for at least three weeks, the result of a vascular injury suffered when he was struck in the neck by a puck last weekend. He hopes to be back before the start of the playoffs.
June, 1, 2014
6/01/14
1:58
PM ET
GREENBURGH, N.Y. -- If
Henrik Lundqvist
struggles at any point during the Stanley Cup Finals, as he did in Game 5 of the Eastern Conference finals against the
Montreal Canadiens
, will backup
Cam Talbot
even be available in relief?
That much remains unclear, as the 26-year-old netminder was absent from practice Sunday at the team's practice facility in Westchester. According to the Rangers he has an "unspecified injury."
After practice, coach Alain Vigneault said that Talbot is "day-to-day" but when pressed further on the issue, he said he did not wish to discuss the situation.
It is not immediately known whether Talbot sustained the injury, or aggravated a pre-existing condition, when he came in for Lundqvist in Game 5 at Bell Centre Tuesday night. Talbot entered the game in the second period after Lundqvist gave up four goals on the first 18 shots he faced.
Talbot surrendered two goals on eight shots during that 7-2 loss. It was his second playoff appearance this spring. He also replaced Lundqvist in Game 6 of the team's first-round series against Philadelphia, stopping all five shots faced from the Flyers.
J.T. Miller
, who sustained an upper-body injury in Game 5, skated on his own and is expected to be available at some point of the Stanley Cup Final, maybe even Game 1 on Wednesday.
The Rangers were still awaiting their opponent with the
Chicago Blackhawks
hosting the
Los Angeles Kings
in Game 7 Sunday night at the United Center.
May, 28, 2014
5/28/14
4:42
PM ET
MSG Network NHL analyst (and former Blueshirt)
Martin Biron
thinks
New York Rangers
coach Alain Vigneault made the right decision to stick with backup goaltender
Cam Talbot
after the coach pulled starter
Henrik Lundqvist
in the second period Tuesday night.
With the Rangers trailing the
Montreal Canadiens
4-1 in Game 5 at Bell Centre, Vigneault decided to replace Lundqvist with Talbot. The Rangers countered with three straight goals to tie the game at 4. At that point, many hoped Vigneault would go back to Lundqvist, but the coach elected against it.
New York ultimately lost to Montreal 7-4. The Rangers lead the Canadiens 3-2 in the best-of-seven Eastern Conference finals. Game 6 is Thursday night at Madison Square Garden.
Biron explained his reasoning during an interview on ESPN New York 98.7 FM's "The Michael Kay Show" on Wednesday afternoon.
"I think they made the right decision; really, it was the only decision," Biron said. "When you've pulled your starter for the backup in the second period, and it's a situation like this, at 4-1, you're kinda telling [him], 'Listen, just go relax. Do whatever you gotta do to get ready for Game 6, because this one, if we win it, it's a bonus. We're just gonna try to change something, and we know Talbot has played well in Montreal, so it's a situation where he can come in and give us a few saves and let's see if he can get us back in the game.'
"Now what I thought was interesting is because of where Talbot is [relative to the bench], it's hard for the coach to tell him you're going in the net; so he's across the bench in Montreal, he's not sitting on the bench, so now it takes about a minute, a minute-and-a-half, almost two minutes after they scored their fourth goal to get Lundqvist out of the net. Now I started thinking to myself, 'What if the Rangers score a goal and they make it 4-2, do you pull Lundqvist?' Because Talbot's already getting his equipment, and the answer was, yes, you still pull him because it's not his night, it's not the team's night, so let's try to change the momentum. And I thought the same frame of mind is coming from me [in terms of sticking with Talbot] for the third period; that's why I thought it was the right decision to keep Lundqvist away and let him get ready for Game 6."
Biron, who used to serve as Lundqvist's backup, knows better than anyone how difficult it is on a goalie to get pulled from the net. A goaltender will check out mentally, and there was no reason for the Rangers to risk injury in this instance.
"Some people don't understand; they say, 'He's their No. 1 goalie, he should be ready to go in whenever you're asked to.' But goalies are totally different. You get so mentally focused to play at the start of the game. If they pull you, it's like the steam comes out of the kettle. You just have to sit and think about the next game, and that's what he was doing."
According to the Elias Sports Bureau, here are Lundqvist's stats in games following a game in which he was pulled:
2013-14 regular season: 3 games, 3 starts, 2-1 record, 3.57 GAA, .879 SV%
Career regular season: 17 games, 17 starts, 12-3-2, 2.41 GAA, .914 SV%
2014 playoffs: 1 game, 1 start, 1-0, 1.00 GAA, .963 SV%
Career playoffs: 3 games, 3 starts, 1-2 record, 3.00 GAA, .887 SV%
May, 28, 2014
5/28/14
12:46
AM ET
MONTREAL -- There will be plenty to mull for the
New York Rangers
in the next 48 hours before Game 6 of the Eastern Conference finals. A wild, wide-open 7-4 loss to the
Montreal Canadiens
in Game 5 left plenty of questions to be answered.
How did the team's notoriously stingy structure simply disappear? How does this loss change the complexion of the series? Can the Rangers still close out the Habs?
But one question that will be turned over and scrutinized and nitpicked by many in the wake of the team's disheartening defeat will be the one coach Alain Vigneault made with his team trailing by a goal, 5-4, heading into the third period.

Vigneault pulled
Henrik Lundqvist
midway through the second period, a move no one will second-guess after the Rangers goaltender surrendered four goals on the first 18 shots he faced. But with replacement
Cam Talbot
in net, the Rangers rallied back from a 4-1 deficit, tying the game before
Rene Bourque
scored his second goal of the night to give Montreal a 5-4 edge heading into intermission.
Many wondered: With the game now within reach, will he go back to his star?
He did not.
After the game, he said he never even considered the possibility.
All he offered on the decision was a simple "no."
In his defense, Lundqvist never quite appeared dialed in Tuesday night. With the Rangers becoming unhinged in the second period, Vigneault yanked the usually steady Swede at 8:58 of the frame in an effort to spark a change with his struggling club.
And it worked, temporarily.
"I pulled him because I thought we needed a little momentum shift and I thought it might catch everybody's attention," Vigneault said after the game. "It did, for a while. Obviously, it didn't work out."
In relief, Talbot surrendered two goals on eight shots, both to Bourque, who led the Habs to victory with a hat trick. It wasn't Talbot's fault, nor Lundqvist's really. Nothing could truly explain to the way the Rangers essentially abandoned their stingy playing style and instead opted to go run-and-gun with skilled, speedy Habs.
"The game just got out of whack, both ways," veteran
Brad Richards
said.
But, people will wonder. Oh yes, people will scrutinize that decision and say, "What if Lundqvist had played? Would the outcome have been different?"
From the sounds of it, however, Lundqvist did not fight Vigneault's decision and angle his way back into action for the third period. He seemed to welcome the mental relief.
"It was better to keep Talbot in there -- for me to get a little break there and start thinking about the next one," said Lundqvist. "Of course, I was hoping for us to get back in the game and get close. But now we're going home for a Game 6 at home, and it's going to be exciting and a great challenge for us."
Lundqvist will have a full two days to shake the nagging memory of that long skate of shame across the Bell Centre ice, a surface that, until this series, has not been historically kind to the former Vezina Trophy winner.
Maybe there are some lingering doubts still about the demons that exist in this building. Bourque even suggested that Lundqvist has been the inferior of the two goaltenders.
"Everybody talks about how he's a great goalie," Bourque said, fanning the flames of a series that has already grown quite nasty. "Has he been better than Ticker [
Dustin Tokarski
] this series? I don't think so."
But don't forget the last time he got pulled in the playoffs, either. He got the hook back in the team's first-round series against the
Philadelphia Flyers
in Game 6 and responded just fine. He came back in Game 7 to make 26 saves on 27 shots, leading the Rangers on to the next round.
There will be no doubt that Lundqvist will be back between the pipes when the Rangers return to New York to host the Habs in Game 6, with a chance to close out the series again, this time at home. Vigneault confirmed Lundqvist is not injured.
Though Talbot has proven himself to be a more-than-capable backup, Lundqvist has played like a world-beater this spring. He gives this Rangers team the best chance to win.
Maybe Vigneault didn't think so Tuesday night, but with a stinging loss to decipher, that will remain a topic up for debate.
December, 24, 2013
12/24/13
9:36
AM ET
Bruins 6, Predators 2
* Jarome Iginla of Boston had two goals (10), his second multi-goal game this season and the 96th of his career.
* The Bruins are 7-2-0 in their last nine games, and their six goals are a season high.
* Boston coach Claude Julien recorded his 400th win, 31st all-time.
* Craig Smith of Nashville has two goals (10), his third multi-goal game this season and the fourth of his career.

Ducks 3, Capitals 2
* The Ducks extend their team-record win streak to nine games, the longest active streak in the league and the longest by a team this season.
* Anahaeim's streak is the longest in the NHL since the Penguins won 15 straight from March 2-30 of last season.
* Hampus Lindholm of the Ducks scored the game-winner with 5:36 remaining in the third period, after the Ducks trailed 2-0 in the first.
* Washington's Alex Ovechkin had five shots but no goals, snapping his four-game goal streak.

Flames 4, Blues 3 (CGY wins SO, 1-0)
* Joe Colborne of Calgary scored the game-deciding SO goal.
* The Flames' Mark Giordano scored a PP goal (5) with five seconds left in regulation to tie game.

Blackhawks 5, Devils 2
* Chicago's Patrick Sharp scored two goals (18), his third multi-goal game this season (29th career).
* Patrick Kane of the Blackhawks had a goal (22), extending his point streak to 12 games (7 G, 14 A).
* The Blackhawks are 6-1-1 in their last eight games.

Rangers 2, Maple Leafs 1 (NYR wins SO, 2-1)
* Derek Stepan of the Rangers scored the game-deciding SO goal.
* Toronto's Nazem Kadri tallied the game-tying goal (11) with 1:24 remaining in the third.
* The Rangers have won two straight after going 1-4-2 in their previous seven games.
FROM ELIAS: Rangers goaltender Cam Talbot recorded a 2–1 shootout win over the Maple Leafs at Madison Square Garden on Monday, 24 hours after he notched a 4–1 win against Minnesota at MSG. Talbot is the first Rangers goaltender other than Henrik Lundqvist to win games on consecutive days since Kevin Weekes on Nov 1–2, 2006, and he's the first Rangers netminder other than Lundqvist to do that while allowing no more than one goal in each game since Mike Richter on Oct. 30–31, 1993.

Senators 5, Penguins 0
* The Penguins had their seven-game win streak snapped (first loss since Dec. 7 at Boston).
* Erik Karlsson of Ottawa had a goal (10) and two assists, tying his season-high of three points.
* The Senators' Craig Anderson notched 27 saves and his second shutout this season (24th career).
* Pittsburgh's Sidney Crosby had two shots and no points, ending his 10-game point streak.

December, 23, 2013
12/23/13
9:59
AM ET
Rangers 4, Wild 1
* The Rangers improve to 2-4-2 on their current nine-game homestand.
* Cam Talbot made 24 saves and is now 7-2 this season, only three fewer wins than Henrik Lundqvist in 17 fewer games.
* New York's Benoit Pouliot scored a goal and now has a four-game point streak.
* The Wild has lost four of its last six games.

Canucks 2, Jets 1
* Chris Tanev of Vancouver scored the game-winning goal with 9:37 remaining in 3rd. It i his fourth goal, and second game-winner, this season.
* The Canucks improved to 9-1-1 in December.
December, 2, 2013
12/02/13
2:19
PM ET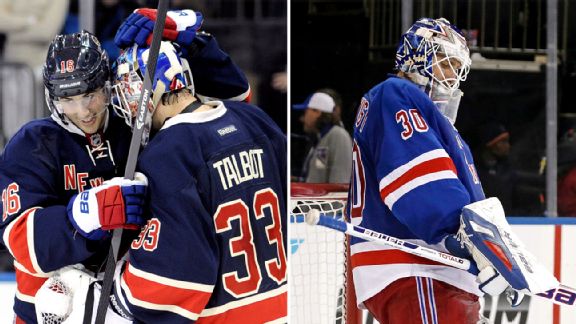 AP PhotoIs Talbot for real, or is he just a pretender to Lundqvist's throne?
NEW YORK -- What we have here is not quite a full-blown goaltending controversy.
Not yet, at least.
But
the decision to start
Cam Talbot
over incumbent
Henrik Lundqvist
was a big one, a bold one for new
New York Rangers
coach Alain Vigneault, and it will surely cause some ripples in the days ahead.
Vigneault, who so expertly left tongues wagging over the weekend after declining to reveal Monday's starter, sufficiently doused the flames when he came out and endorsed Lundqvist as the team's go-to guy -- declaring the former Vezina Trophy winner as "definitely" the team's No. 1 goaltender -- but it would be na´ve not to think that this might change things for "The King."
Because here is the elephant in the room: While Lundqvist's play has dipped and Talbot has emerged as a steady and reliable presence on the ice, there is a potentially contentious situation brewing.
That is, of course, Lundqvist's contract.
The 31-year-old Lundqvist, the team's undisputed MVP in recent years and one of the best goaltenders in the league, is on the last year of a six-year, $41.25 million contract. He's seeking a significant pay raise from the $6.875 million he makes annually, and it's hard to argue that he hasn't deserved it.
Yet, preliminary discussions between the Rangers and Lundqvist's camp have yielded little. How might this recent development change the landscape for negotiations moving forward?
The Rangers seemed to take a hard line in negotiations -- a somewhat surprising stance considering Lundqvist has often been considered their most valuable asset -- but in doing so, may have acquired some leverage. Lundqvist is not performing on par with previous seasons and Talbot is giving the club something to think about. Lundqvist is 31, which may make a max eight-year contract prohibitive. Meanwhile, Talbot is burgeoning into a bona fide NHL goaltender worthy of consideration.
That said, Lundqvist's past performance is not something that should be discounted by any means. Few goaltenders have been as steady, consistent, and durable as Lundqvist has been over the last eight years for the Rangers. Keeping in mind an ill-advised preseason schedule, a grueling nine-game road trip to start the year, and a lingering injury that kept him out for a pair of games in the first month, Lundqvist's brief decline should, in relation to his entire body of work, probably be viewed as an anomaly.
This is a franchise goaltender who has carried the team on his back for many years. Do you risk shattering his confidence, undermining his stake with the team over a rookie who has had a phenomenal, but brief, seven-game debut?
These will be important questions the Rangers must address as the season progresses and contract discussions loom. It seems inconceivable that Lundqvist would ever be traded, but who knows what can happen if a club chooses to play hardball with a guy as fiercely competitive and proud as Lundqvist.
It is premature to call Monday's decision a turning point, for the franchise or Lundqvist's future with the club, but it is fair to consider it a precursor for a developing situation that has the potential to mushroom into something much bigger.