August, 22, 2014
Aug 22
12:29
PM ET
The
Carolina Hurricanes
made significant changes in their front office and behind the bench --
Ron Francis
took over as general manager while former
Detroit Red Wings
assistant coach Bill Peters replaced Kirk Mueller as head coach -- following the team's 13th-place finish last season. But the personnel has not fluctuated much.
And considering that the roster remains largely intact, Carolina's top players really have to step it up, according to former Hurricane Jeff O'Neill.
"When you have a lot of long-term [contracts], guys locked in to big money, there is a philosophy around the league that you are only as good as your bad contracts," O'Neill told ESPN.com in a recent telephone conversation.
And that leaves at least a few players under some pretty intense scrutiny for the 2014-15 season. Chief among them, according to O'Neill, is goaltender
Cam Ward
.
[+] Enlarge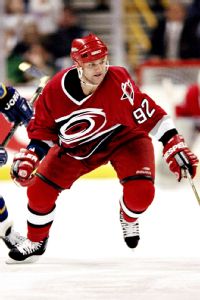 Getty ImagesFormer Hurricane Jeff O'Nell laments a lack of identity and one bad contract in particular in Carolina.
Ward, who is signed through 2015 on a six-year, $37.8 million deal, was hampered by injury for much of last season. But his performance even before that had waned significantly.
"I look at their team and they have some really good pieces there, but Cam Ward, he's gotta be to the Carolina Hurricanes what
Jonathan Quick
is to the LA Kings," O'Neill said. "I love the guy, but he hasn't been good enough or consistent enough to give the team a chance to win every night."
O'Neill, who played seven seasons for the Canes, expects
Anton Khudobin
to push even a healthy Ward for the starting position, leaving Ward in a pressure-laden spot heading into camp.
"This is probably the last chance for him in this organization because he's being pushed to the brink by Khudobin," said O'Neill, who now works as a television analyst.
O'Neill also said that
Eric Staal
and
Jordan Staal
both need to be better to form the power tandem the Hurricanes envisioned when they united the brothers in Carolina. And young defenseman
Justin Faulk
has to be at his best for the 'Canes to truly compete for a playoff spot.
And don't even get O'Neill started on
Alexander Semin
, whose contract he finds "disgusting" and suspects will go down as "the biggest mistake" former GM Jim Rutherford has ever made.
Semin is inked through 2018 on a five-year deal that pays him $7 million annually.
"I like him for five-minute segments, but when the going gets tough, he just doesn't compete," said O'Neill, who is known for both his colorful personality and unapologetic opinions. "If he had any work ethic or intangibles, he'd be better than [Alexander] Ovechkin. He's that talented."
But O'Neill does see some positive things on the horizon for his former club, namely Francis' unwavering desire to win and the hire he made to help lead the way.
Though many suspected that Francis would hire Rangers assistant coach
Ulf Samuelsson
, the GM opted instead for Peters in a move that few expected.
"I give Ron Francis a lot of credit, because I thought he'd go with one of his close friends like Ulf Samuelsson. It's pretty easy to go with someone you know, but he went outside of the box with someone that was talked about a lot in coaching vacancies," O'Neill said. "I really don't know a whole lot about [Peters], but he will have fresh ideas. What I like about [having] a new coach is there are no ties there, it's a fresh start, and it's an opportunity for everyone to prove themselves right off the hop."
O'Neill isn't buying into the idea of a culture change just because of those changes, though. That starts from the top down, but ultimately it's for the players to enforce, and the Hurricanes have to prove they are up for the task.
"I hear the term 'culture change' tossed around quite frequently, but that only happens when you have a visiting coach come in and you hear, 'These guys are tough to play against,'" O'Neill said.
Playing against the
New Jersey Devils
, O'Neill was always aware that there was no margin for error, no leeway for making stupid plays. He sees that in a similar fashion with the
Los Angeles Kings
right now.
"You know every time you touch the puck, they are going to kill you," O'Neill said. "Toronto, Carolina, the Islanders, they just seem to have no culture right now."
November, 25, 2013
11/25/13
10:53
AM ET
By
ESPN Stats & Information
| ESPN.com
SUNDAY
Red Wings 3, Sabres 1
* Red Wings: 9-1-0 in last 10 meetings vs Sabres
*
Johan Franzen
(DET): PP goal (6); 4 of 6 goals this season have come in last 6 gams
* Sabres: lost 4 straight games
FROM ELIAS:
Henrik Zetterberg
reached the 700-point mark for his NHL career when he assisted on Johan Franzen's game-winning goal in Buffalo on Sunday. Zetterberg, who has played his entire career with the Red Wings, hit the 700-point plateau in his 739th game. The only players who needed fewer games to rack up 700 points for the Red Wings than Zetterberg are
Steve Yzerman
(519),
Sergei Fedorov
(638), Gordie Howe (673), and
Pavel Datsyuk
(706).
Hurricanes 4, Senators 1
*
Eric Staal
(CAR): goal (6-EN), 2 assists (1st 3-point game of season)
* Hurricanes: snap 4-game winless streak
* Senators; 2-5-0 in last 7 games
FROM ELIAS: Eric Staal extended his point streak to a season-long six games by recording one goal and two assists in the Hurricanes' 4–1 win over the Senators. It was only the second time in his 24 games this season that Staal registered more than one point. (He tallied two assists against the Islanders on Oct. 19.) Staal had nine multiple-point games through his first 24 games last season, at which juncture he ranked fifth in the NHL scoring race with 30 points.
SATURDAY
Blues 6, Stars 1
* Six different Blues score goals
* Only multi-point players for Blues:
T.J. Oshie
(goal & assist) and
Alex Pietrangelo
(2 assists)
* Blues: on 3-game winning streak overall; 6-0-1 in last 7 home games (won last 3)
* Stars: lost 2 straight games following a 3-game winning streak
Ducks 4, Coyotes 2
*
Dustin Penner
(ANA): 2 goals (6); 4th multi-point game of season
*
Jonas Hiller
(ANA): 40 saves
* Ducks: won last 2 games (were 0-3-2 in previous 5 games)
* Coyotes: 1st regulation loss in last 6 games (3-1-2)
FROM ELIAS: Dustin Penner scored two goals in a game for the first time this season to help lead the Ducks to a 4–2 win over the Coyotes. Penner is the sixth different player to record a multiple-goal game for Anaheim this season; the others are
Corey Perry
(3),
Jakob Silfverberg
,
Kyle Palmieri
,
Emerson Etem
and
Ryan Getzlaf
. The Ducks are tied with the Oilers, Coyotes and Jets for the NHL high in players with multi-goal games this season.
Rangers 2, Predators 0
*
Cam Talbot
(NYR): 17 saves - 2nd career shutout (6th career NHL start)
* Rangers: won 2 straight games (were 1-3-0 in previous 4 games)
* Predators: 3-game winning streak ends
FROM ELIAS: Rangers goaltender Cam Talbot recorded his second straight shutout with a 2–0 win at Nashville on Saturday. Talbot, who blanked the Canadiens 1–0 in Montreal seven days earlier, is only the second goaltender in the last 40 years to post consecutive shutouts in one season for the Rangers, both on the road.
Steve Valiquette
did that with a pair of wins at Philadelphia in the 2007–08 season (Jan. 31 and Feb. 9).
Senators 4, Red Wings 2
*
Bobby Ryan
(OTT): scores go-ahead PPG (11) 3:51 into 3rd period
*
Clarke MacArthur
(OTT): 2 goals (6) (1st multi-goal game since Jan. 24, 2012)
* Senators: snap 3-game losing streak
* Red Wings: 1-3-5 in last 9 games
FROM ELIAS: Clarke MacArthur scored the first and last goals for the Senators in their 4–2 win at Detroit. It was the ninth two-goal game of MacArthur's NHL career and his first since he signed with Ottawa as a free agent last summer. MacArthur's first two-goal game in the NHL was for the Sabres on home ice in November 2007, but his eight multiple-goal games since then have all come on the road (seven for the Maple Leafs and one for the Senators).
Maple Leafs 2, Capitals 1 (SO) (TOR wins shootout, 2-1)
*
James Reimer
(TOR): 49 saves (matches single-game career-high)
*
Alex Ovechkin
(WSH): game-tying goal (20) with 4:10 left in 3rd period (7 goals in last 6 games)
* Maple Leafs: 3-1-0 in last 4 games
* Capitals: 0-2-1 in last 3 games following a 3-game winning streak
FROM ELIAS: Alex Ovechkin became the first NHL player to reach the 20-goal plateau this season when he scored the Capitals' goal in their 2–1 shootout loss at Toronto. Ovechkin has scored 391 regular-season goals in his nine-seasons in the NHL, at least 82 more than than any other player has scored over that span, and he's won the Maurice Richard Trophy as the league's leading goal-scorer three times, yet this is the first season in which he's been the first NHL player to hit the 20- goal mark!
Steven Stamkos
was "first to 20" in the NHL in each of the past three seasons.
FROM ELIAS: James Reimer stopped 49 of the Capitals' 50 shots on goal in his shootout win on Saturday night in Toronto. It's the third time this month that an NHL goaltender has recorded a shootout victory after facing 50 or more shots on goal during the "real hockey" part of the game. The other netminders to do that were the Coyotes'
Mike Smith
(Nov. 2) and the Sabres'
Ryan Miller
(Nov. 5), both in games at San Jose. Before this month no NHL goaltender had pulled off that feat since the Oilers'
Devan Dubnyk
on April 10, 2010 at Los Angeles.
Canadiens 3, Penguins 2
*
Max Pacioretty
(MTL): 2 goals (7); 2 multi-goal game in last 3 games
*
James Neal
(PIT): 2 goals (4) - both in 3rd period
* Canadiens: 5-1-1 in last 7 games (won last 3)
* Penguins: 3-game winning streak ends
FROM ELIAS: Max Pacioretty scored two goals for the Canadiens in their 3–2 win against the Penguins at Bell Centre, after scoring three times in Montreal's previous home game, a 6–2 win over Minnesota on Tuesday. He's the first Montreal player to score two or more goals in each of two consecutive Canadiens home games in one season since
Alex Kovalev
did that in 2007 (March 24–27).
Flyers 5, Islanders 2
*
Matt Read
(PHI): 2 goals (8); has 4 goals in last 2 games
*
Wayne Simmonds
&
Claude Giroux
(PHI): goal & assist each
* Flyers: 6-0-1 in last 7 games (won last 3)
* Islanders: lost 3 straight games; 2-8-0 in last 10 games
FROM ELIAS: Claude Giroux scored the game-winning goal and also recorded an assist in the Flyers' win over the Islanders on Saturday. Giroux has registered 31 points against the Islanders over the last five seasons (7 goals and 24 assists), second-most of any NHL player, behind the man who scored the game-winning goal in the Islanders' loss at Pittsburgh on Thursday,
Sidney Crosby
(34 points). Giroux has tallied two or more points in 12 of his 24 games versus the Islanders since the start of the 2009–10 season.
Wild 3, Jets 2 (SO) (MIN wins shootout, 2-1)
*
Charlie Coyle
(MIN): scores deciding goal in 4th round of shootout (1st career shootout goal)
*
Zach Parise
(MIN): game-tying SHG (11) with 4:55 left in 3rd period (also had assist)
* Wild: 9-1-1 in last 11 games (won last 2)
* Jets: 0-2-2 in last 4 games following a 4-game winning streak
Bruins 3, Hurricanes 2 (OT)
*
David Krejci
(BOS): GW goal (4) at 1:28 of overtime (1st point in last 6 games)
* Bruins: 3-0-1 in last 4 games overall; 6-0-2 in last 8 home games
* Hurricanes: 0-3-1 in last 4 games (were 4-0-1 in previous 5 games)
FROM ELIAS: David Krejci's goal 1:28 into overtime gave the Bruins a 3–2 win over the Hurricanes on Saturday afternoon. Krejci has scored only 14 goals over the last two seasons but eight of them have been game-winning goals (5 of 10 in 2012–13, 3 of 4 this season). He scored 53 goals over the previous three seasons (2009–10 through 2011–12) but only seven of those goals were game-winners.
Avalanche 1, Kings 0 (F/OT)
* Avalanche: 1st shutout vs Kings since March 20, 2006
*
Jamie McGinn
(COL): OT goal (4); 1st goal since Oct. 12
*
Semyon Varlamov
(COL): Shutout (19 saves); 1st shutout since March 30 of last season
* Kings: back-to-back overtime losses following 4-game win streak
November, 18, 2013
11/18/13
10:48
PM ET
RALEIGH, N.C. -- Carolina goaltender
Cam Ward
didn't miss a beat. Or, at most, half a beat.
Unfortunately for the veteran goalie, who returned to action Monday night after missing 10 games with a groin tear, his teammates continued a troublesome season-long trend of failing to generate much in the way of offense as Carolina fell by a 4-1 count to the
Boston Bruins
.
The loss marked the 16th game of the season in which the Hurricanes failed to score more than two goals and was the 11th time in their past 12 games the offense has come up more or less empty, scoring two or fewer goals.
Now, the Hurricanes have done their fair share of winning in spite of the lethargic offense, but it's not sustainable over the long haul, not with the lineup looking the way it does these days.
Carolina was missing
Alexander Semin
, who took a huge hit from
Alex Pietrangelo
in a loss to St. Louis on Saturday, and
Jeff Skinner
remains out. Toss in the fact Monday's tilt was the third game in four nights for this group and that's pretty much the story for this team, according to head coach
Kirk Muller
.
On Monday, the Canes fell behind 2-0 just past the midpoint of the first period, then squandered a lengthy 5-on-3 in the second period, failing to take advantage of an unusually sloppy Bruins team.
[+] Enlarge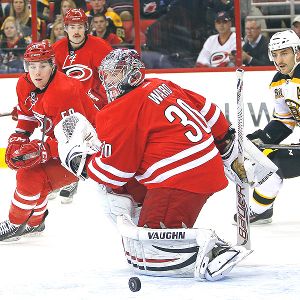 AP Photo/Karl B DeBlakerCam Ward made 26 saves in his first game back from a groin injury.
The power play, ranked 15th in the Eastern Conference, went 0-for-4 on the night.
"It'd just be nice to have the same guys and roll out all the time and be consistent," Muller said.
"When you get these injuries, we're rolling different guys, different trial and error. Eventually we have to capitalize on those chances -- they come back to haunt you."
As for Ward, he was beaten by a power-play goal and a deflection in the first period, but otherwise looked sharp in turning aside 26 of 29 Boston shots. He did look a little out of sorts on the Bruins' third goal, when he was involved in a collision near the net then saw his stick get tangled up with one of his own players below the goal line.
Johnny Boychuk
rammed home his first goal of the season when Ward wasn't looking.
The netminder admitted it's been mentally taxing fighting through injuries that cost him significant time last year (a torn medial collateral ligament) and now this groin tear.
"It's tough to evaluate my game when it's my first game back and only my ninth start of the season, and [I] haven't played a whole lot of hockey when you consider all of last year," Ward said.
"I know I've got to get my game back to where it needs to be. I'd rather look at the positives of tonight rather than the negatives. I hate losing, but in the second and third period I felt a lot better about my game.
"For some reason it's been a real mental test for myself," Ward added. "I tore my MCL last year on a really freak collision in the net, and to have a tear in my groin this time, when I came into camp in the best shape I can. It's tough mentally when you're trying to do what you can to avoid those injuries and they still happen. It's how you deal with it and how you respond. This injury, I was able to get back a lot quicker than people would have anticipated."
The loss was the second in a row for the Canes after they'd managed to go 4-0-1 on a recent homestand with
Justin Peters
more than ably filling in for the injured Ward.
Muller insisted the team isn't frustrated by its ongoing offensive struggles.
"It wasn't frustrating last week when we were winning," Muller said. "It's what our group is right now. We're capable of winning some of these low-scoring games. When we lose bodies though, and we had to shorten (the bench) though, we pay for that. When we have 20 guys going and we're fresh, we're capable of winning these types of games."
October, 17, 2013
10/17/13
5:02
PM ET
TORONTO -- It is easy to forget that
Cam Ward
is only 29 years old.
After years of people lumping him in with the game's elite netminders, lately he's no longer mentioned in the same breath due to people seemingly thinking he's no longer in his prime.
Of course, the fact Ward has played only about six weeks of NHL hockey over a 16-month period before this season, with last season's lockout and a knee injury limiting him to 17 games, has something to do with it.
Out of sight, out of mind?
[+] Enlarge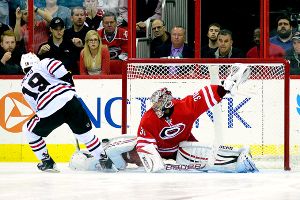 Grant Halverson/Getty ImagesCam Ward stops a shot attempt by Team Canada and Blackhawks star Jonathan Toews.
Still, his omission from Team Canada's summer Olympic camp surprised many, including himself.
"Out of respect, I spoke with someone from Team Canada and they told me ahead of time before the list came out," Ward told ESPN.com Thursday at Air Canada Centre ahead of that night's game versus the
Toronto Maple Leafs
. "That was good, but it's still not what you want to hear. It's in my own hands now, you have to go out and take care of business."
Motivated? Do you think?
"As soon as the summer evaluation camp list came out, I wanted to use that as motivation to not only help better my team but to remind some people what I can do," Ward added. "It was disappointing to be left off that list, but at the same time, I realize there's a lot of great talent in Canadian hockey."
Ward is a soft-spoken guy, he's not going to come out guns a-blazing in the media no matter how much the Olympic camp snub hurt. But it's obvious how motivated he is coming into this season. He wants in on Sochi.
"I've known Cam for a very, very long time," said Hurricanes captain
Eric Staal
. "He may say that didn't bother him a lot, but it definitely added some fuel to the fire that was already there."
The way Staal sees it, it's a win-win for Ward and for the Hurricanes if he plays well enough to get back into the good graces of Team Canada. That means a lot of W's for Carolina in the process.
And despite not going to Canada's camp last summer, Ward never felt out of the running for a shot at Sochi.
"I never looked at it last summer when the camp roster came out that I couldn't make the team anymore," said Ward. "I looked at it as extra motivation and I know that if I can play like I know I can in the first half of the season, they'll be watching and that I'll be in consideration. That's my focus. If I make that team, obviously that means the Hurricanes are doing well, too. That's what I'm striving for, that's my goal."
First things first. For Ward, this season is about re-establishing himself and getting back into the swing of things.
"For me it's about getting the game reps again," said Ward. "When you include the lockout and then my injury, I was basically sitting for a year. Being away from the game for that long, it's difficult to come back. That's why you emphasize on your practices and take advantage of your opportunities."
After a so-so training camp and preseason, Ward seems to be coming along early in this regular season, including a solid start against the Cup champion Blackhawks on Tuesday night in a shootout defeat.
"I actually felt like I was fighting it early on, but by the third period I felt like my old self; also knowing that there's still another level that I want to get myself to and I feel like I'm headed in the right direction," said Ward.
Whether there's enough time for him to make his mark on Team Canada's radar with
Carey Price
,
Roberto Luongo
,
Mike Smith
and
Corey Crawford
, among others, depends on whether he gets on a roll here soon with Canadian management watching.
"Obviously he's a top goalie, been a top goalie for a while in this league. I'm sure he's in that mix," Toronto Maple Leafs captain
Dion Phaneuf
, a Team Canada summer camp invite, told ESPN.com Thursday.
Phaneuf played with Ward for three years in Red Deer in junior and knows first-hand what the goalie is about.
"Having played with him, I know how good he is, and just from playing against him more since I came out East, you see him a lot more and you see how calm he is, that's the biggest thing for me with Wardo," said Phaneuf. "He's always square to the puck and always seems to make those big saves at big moments to keep his team in the game. I can't say enough good things about Wardo."
Don't sleep on Cam Ward. I just get that feeling he's going to return to form this season and make Team Canada notice him again while he's at it.
March, 4, 2013
3/04/13
1:03
PM ET
It is tough enough to take as it is, seeing the star goalie of your team go down.
But for
Carolina Hurricanes
backup netminder
Dan Ellis
, what's eating at him even more is that he was supposed to start Sunday when Ward was injured.
"The way in which he went down when he's covering your start for you because you're not feeling well, it just stinks to see your partner go down in a situation like that," Ellis told ESPN.com on Monday.
Flu-ridden, Ellis figured it was better that Ward should go against Florida on Sunday.
"I wasn't feeling well at all," Ellis said. "I knew Cam was feeling and playing really well, I just figured it was probably better putting the healthy guy in. Now you wish you would have found a way to get through it."
As it turns out, Ellis played the last half of the game after Ward was injured. Now Ellis, 32, will be counted on even more with Ward out six to eight weeks with an MCL injury.
"It's a good opportunity to play some games but at the expense of losing a guy like Cam, it's definitely got a bittersweet type of feeling to it," Ellis said. "You never like to see your partner go down. But I've got to go out there now and pick up where Cam left off."
That four-point lead at the top of the Southeast Division for the Hurricanes will be severely tested after the news about Ward on Monday.
What's unusual for Carolina is that Ward has been just so durable over the years (fourth most games played by a goalie in the NHL since the start of 2006-07), the Canes aren't used to playing without him.
"He's played through injuries and he's been a healthy guy that's given us a lot of games and obviously carried our team at times," veteran Carolina GM Jim Rutherford told ESPN.com on Monday. "So he will be missed. It's just part of our game that you have to deal with."
Ellis has experience as a No. 1 netminder from his days in Nashville. Also, with Anaheim in 2010-11, he became the starter for the injured
Jonas Hiller
.
"It was similar when I was traded to Anaheim when Hiller was out," Ellis said. "I've been given this opportunity in the past. You just want to draw on your past experience from Nashville and Anaheim and go out there and give your team a chance to win every night."
Ellis has rock-solid numbers this season as the backup: a .923 save percentage and 2.53 goals-against average.
Youngster
Justin Peters
has been terrific with Charlotte of the AHL, posting a .921 save percentage and 2.29 goals-against average, and will be the backup.
"It's tough for any team, you can never fully replace your No. 1 guy," Rutherford said. "But we have two capable guys. Peters has had an outstanding season in the American Hockey League."
Rutherford might be on the lookout for goalie depth at the AHL level but don't expect any big goalie trade otherwise. Ward will be back, the Hurricanes just have to survive until then.
Carolina continues, however, to look for help on defense. That's been the main area of focus for a while now and if/when the Hurricanes make a deal, it will likely be for a defenseman.
Panthers hobbling
Meanwhile, in South Florida, there's no truth to the rumor Dale Tallon is coming out of retirement to play.
But the GM of the Panthers is running out of bodies, that's for sure.
Jose Theodore
,
Dmitry Kulikov
and
Scottie Upshall
were all injured Saturday and joined a group that already included
Mike Weaver
,
Kris Versteeg
and
Ed Jovanovski
on the sidelines.
It's not clear yet how long Theodore, Kulikov and Upshall will be out, although it's expected Theodore (groin) is a long-term situation.
"We don't have any firm results yet on anybody, they are getting checked today, we'll have more to say tomorrow," Tallon told ESPN.com on Monday.
Theodore is a sizable loss as the No. 1 netminder, but the reality is that the Panthers were eventually this season going to hand the reins over to 23-year-old
Jacob Markstrom
in net anyway. He's going to be their No. 1 netminder when next season opens. Instead, he gets his shot now.
The Panthers, a surprise playoff team last season, have yet to ice a healthy roster this season and it doesn't bode well for the rest of the season.
"We got off to a bad start; first game of the season, we had six guys out and second game of the season we had four guys out, we've had 4-5 guys out every game almost all year," Tallon said. "Now, we've 6-7 guys out. It's just how it is. The good news, our kids are good.
[Jonathan] Huberdeau
is lighting it up. Every day he's getting better and better.
[Peter] Mueller
has been outstanding and so is
[Drew] Shore
.
[Erik] Gudbranson
was good yesterday. So you know, we look at the bright side."
Huberdeau has indeed been incredible to watch.
The Panthers are last in the East, although five points out of the last playoff spot isn't the end of the world.
"We're still not out of it; we need to get on a little bit of a roll. It's going to be hard to do obviously with our lineup decimated by injuries," Tallon said.
Realistically, the injuries will likely force the GM's hand, in my opinion. It's pretty close to white-flag time. I would look for the Panthers to take calls on some veterans in the not too distant future and turn the page to focus on youth.
Oilers grab some grit
The Leafs moved rugged winger
Mike Brown
to the Oilers on Monday for a conditional 2014 fourth-round pick, which becomes a third-rounder if Edmonton makes the playoffs this season.
It was a tough move for GM Dave Nonis, who liked what Brown brought but, in the end, the return of
Matt Frattin
from injury forced a roster decision. This came down to keeping Brown or
Frazer McLaren
and the latter is a bigger dude who can take on the big guys in this league. Brown is game but more of a middleweight. Mind you, Brown is also a better skater.
The Oilers are in dire need of grit up front. The young Edmonton team is getting pushed around. The Oilers are dead last in the NHL with four fighting majors (Toronto leads the league with 24).
Lots of skill on this Oilers team, but very little sandpaper. Brown will bring that, but I suspect the Oilers aren't done trying to toughen up between now and next season.
April, 4, 2012
4/04/12
10:11
AM ET
By
Elias Sports Bureau
| ESPN.com
• The Rangers completed a clean sweep of their six-game season series against the Flyers with a 5-3 win at Philadelphia on Tuesday night. It's the fifth time that a team has won every game in a season series of six or more games against the Flyers. The other Philadelphia opponents to do that were the Bruins in both 1970-71 and 1971-72 (both six games), the Rangers in 1971-72 (six games) and the Penguins in 2006-07 (eight games).
•
Sidney Crosby
tallied two goals and one assist to lead the Penguins to a 5-3 win at Boston. Crosby has scored 22 points in 12 games (5 goals, 17 assists) since March 15, when he returned to action after being sidelined for more than three months due to a concussion. That makes him the NHL scoring leader since that date, one point ahead of teammate
Evgeni Malkin
(21 points)
• Coyotes goalie
Mike Smith
's 54 saves Tuesday night are the most in a shutout in the expansion era (since 1967-68).
•
Patrik Elias
scored the first goal in the Devils' 3–1 win over the Islanders and he set up New Jersey's second goal with an assist, his 50th of the season. Elias, who will turn 36 years old on April 13, has recorded 50 or more assists in one season only once before and that was 11 years ago (56 assists in 2000–01). He's the first player in Devils franchise history (including the team's years in Kansas City and Colorado) to register 50 or more assists in one season at age 30 or older. Before Elias, the oldest player in team history at the time he notched his 50th assist of a season was 29-year-old
Scott Stevens
in 1993–94.
• Maple Leafs rookie
Matt Frattin
scored a goal, recorded an assist and picked up the first fighting major of his NHL career all in the first period of Toronto's game in Buffalo. Frattin was only the second rookie in the last 18 seasons to register a "Gordie Howe hat trick" in a single period of one game.
Brandon Dubinsky
did that for the Rangers in the first period at Montreal on Feb. 19, 2008.
Derek Roy
's second goal of the game capped the Sabres' comeback from a 3-0 deficit at the end of the first period and earned Buffalo a 6-5 overtime victory against the Maple Leafs. It was the sixth regular-season overtime goal of Roy's NHL and Sabres career, tying the Buffalo team record established by
Thomas Vanek
earlier this season (Nov. 8). Roy's two-goal performance was the 20th multiple-goal game of his NHL career and his fourth multigoal game against Toronto, his highest total versus any opponent.
• Carolina goaltender
Cam Ward
, who made 38 saves in his 2-1 win at Ottawa, is 12-2-6 with a 2.02 goals-against average and .945 save percentage in the last 20 games in which he faced 30 or more shots on goal, dating back to Jan. 12.
•
Andrew Ladd
scored his second overtime goal in five days to cap the Jets' comeback from a 3-0 deficit and enable Winnipeg to post a 5-4 victory against the Panthers. Ladd, who beat Carolina in overtime last Friday, is the first player in Thrashers/Jets history to score two OT goals in such a short time frame. The previous record of two overtime goals in 11 days was set by
Ilya Kovalchuk
in 2002-03 and matched by
Marian Hossa
in 2007-08.
•
Logan Couture
ended his 10-game goalless streak with a power-play goal late in the second period that proved to be the game winner for the Sharks in their 5-2 victory at Dallas. Couture's 10-game dry spell matched the longest previous goal drought of his three-year NHL career. He went goalless in 10 consecutive games in 2009-10.
•
Anders Lindback
made 25 saves and went unscored upon in the shootout that earned him and the Predators a 2-1 win over the
Minnesota Wild
in Nashville. It was the Predators' first regular-season or playoff win on home ice that was recorded by a goaltender other than
Pekka Rinne
since Dec. 15, 2010, when Lindback beat San Jose, 3-2. Rinne, who missed Tuesday's game due to illness, recorded 40 regular-season and two playoff wins in Nashville between those two home-ice wins by Lindback.
March, 6, 2012
3/06/12
11:03
AM ET
Today the guys go at Toronto and the Olympics. Go!
CUSTANCE:
Hey, Pierre. So if we thought the news would slow down once the trade deadline passed, we were sorely mistaken. Just in the last week, there's been a coaching change in Toronto. A serious goaltending injury and interesting possible replacement in Boston and a five-year contract extension for
Mikhail Grabovski
. (He's from Ontario, right?) But I wanted to start with a little Olympic talk before we dive into the other news.
Steve Yzerman
was announced as the GM of Team Canada on Monday and I'd be stunned if anybody other than Brian Burke is named as the American GM when USA Hockey eventually makes their announcement after the CBA is finalized. Burke would no doubt accept the offer. "I will always assist USA Hockey in whatever capacity they request," he wrote in an email this morning. To me, the interesting debate centers around the U.S. head coach, a debate I wrote about this morning on the Insider blog. Ron Wilson is loaded with international experience and led Team USA to the silver medal in Vancouver. He's also no longer coaching in the NHL. I might be more inclined to change directions and go with Pittsburgh's
Dan Bylsma
if I were in charge of USA Hockey. What about you? And any chance anybody other than Mike Babcock coaches Team Canada?
LEBRUN:
Babcock would be my choice, just like Yzerman, because why fix something that isn't broken? He's one of the best coaches in the league and showed incredible resolve in Vancouver when the team struggled early on, making the tough decision to bench
Martin Brodeur
. That's the guy I want back behind the Olympic bench. What I'm hearing, though, is that Team Canada wants to wait until the NHL and NHL Players' Association agree on a new collective bargaining agreement before announcing its Olympic coach. The U.S. coaching situation is interesting. Bylsma has to be considered, but I don't think you can overlook John Tortorella, either. Tortorella was in Vancouver as Wilson's assistant, so he's got that valuable experience to draw on. My guess is that some combination of Bylsma and Tortorella would make the most sense for the U.S. And what about on the ice? Both Team USA and Team Canada will have fresh faces in Sochi, if indeed the NHL decided to send its players again.
CUSTANCE:
The Americans sent a pretty young team to Vancouver, so we should be able to pencil in many of those players for Sochi. But you're right; there's some emerging young talent that will push for spots on both teams. Panthers GM Dale Tallon has been working with USA Hockey for the last year as part of its advisory group, one that will be meeting in Boca Raton the Sunday before the GM meetings. The young American talent is something that has stood out to him over the course of the last year. "I think it's terrific," he said when we chatted Monday. "There's a lot of great young players coming forward. Good young defensemen, a good nucleus of veteran players. It's an exciting group." I'm fascinated by the Team USA goaltending situation. Since the last Olympics,
Tim Thomas
has emerged as the best American goalie but he'll be 39 in 2014.
Ryan Miller
has been great lately for Buffalo but inconsistent since leading Team USA to the silver medal in Vancouver.
Jonathan Quick
certainly is in the mix, and my sleeper choice is
Cory Schneider
, who should be starting somewhere in the NHL by 2014. Is it too much to ask for a Schneider-versus-
Roberto Luongo
gold-medal game?
LEBRUN:
I can't believe you're based in Detroit and you didn't mention
Jimmy Howard
as a potential Olympic goalie for Team USA? C'mon, man! If we had to choose the teams today, I'd go Miller-Quick-Howard for Team USA, and I'd be bold enough to say the Americans would have an edge over Canada in goal. Of course, Miller was tournament MVP in Vancouver and it still wasn't good enough to win gold. What will Canada do in net? I'm not sure Luongo returns. To me it comes down to
Marc-Andre Fleury
,
Carey Price
and
Cam Ward
as the three netminders in Sochi. Because the tournament is still two years away, it will be interesting to see Price's continued development as a high-end starter in this league and whether he'll be the main man in Sochi, or if Fleury can hold him off. Up front, Yzerman will have a bunch of new faces to look at, including the likes of
Steven Stamkos
,
Claude Giroux
,
John Tavares
and
Jamie Benn
-- none of whom were in Vancouver two years ago. Tough choices ahead for Yzerman.
CUSTANCE:
Sorry, Jimmy. You're right, Pierre; Howard should have been in there. But let's talk about some games that aren't two years away. Huge one in your neck of the woods tonight with Boston traveling to Toronto to take on the rejuvenated Maple Leafs. I hope the Leafs still have their legs after a couple of long practices under Randy Carlyle. While other coaches around the league are being careful to monitor practice time during the grueling stretch run, Toronto is in full training mode right now. The Bruins have absolutely crushed Toronto this season, outscoring the Maple Leafs 23-6 in four wins, but this is a different Bruins team that is reeling a bit. Toronto seems to have all the positive momentum heading into this showdown. It has the energy that comes with a new coach, and center Mikhail Grabovski has a new five-year deal with a healthy but not unreasonable $5.5 million annual cap hit. Does the momentum continue tonight?
LEBRUN:
The Leafs are in survival mode, five points out of a playoff spot, and the Bruins are an ornery bunch looking for consistency. It should make for a playoff-type atmosphere tonight at Air Canada Centre between the two Orginal Six rivals. You mentioned the Leafs signing Grabovski. That's a lot of money for a No. 2 center, especially when you consider the $6.1 million cap hit the Sedin twins carry in Vancouver. Then again, we all know the Sedins gave Vancouver a huge hometown discount. That wasn't the case here with Grabovski, who had all the leverage on Toronto as a potential UFA on July 1, in large part because of how incredibly thin the UFA market is for centers this summer. The Leafs had few other options but to bring him back. But I'm not sure they'll like that contract in a few years.
Cheers, Craig.
December, 20, 2011
12/20/11
11:07
AM ET
Some holiday venom on display in this week's Rant Blog. Well done, people. Let's take a look:
shawnp422: So Jimmy Howard just won his 20th game of the year, which leads all goalies, and I decided to go vote for him in the All-Star game...AND HE'S NOT EVEN ON THE BALLOT? How can the goalie for one of the model franchises of this league not be on the ballot?
My take:
Yes, it's very surprising. There are other notable omissions as well. It's never perfect. If the league's hockey operations department (which selects the ballot) put everyone on there so that no one would have any complaints, there would likely be 200 names on it. My own suggestion, since most of the voting is now done online, is to not have a ballot but rather have voters select from the entire 700-plus player pool. What's the difference anyway? As for Howard, who has rocked the house for my fantasy team this year, check out Scott Burnside's Trophy Tracker blog on Wednesday, when he'll focus on the Vezina contenders. Pretty sure you'll be happy.
---
clane33: Hey Pierre, I'm an avid Hurricanes fan and there season so far has been far more than a disappointment. How much of their mediocre start is due to the defense? Cam Ward is an elite goaltender even though numbers may not show it this year. Should I expect him to be a Cane at the end of the season? He does everything in his ability to help the team stopping more than 30 shots a game. I know he must be frustrated about all this. What's the solution for Carolina to begin winning games?
My take:
It's retooling time in Carolina. Forget about trying to win games to get back into the playoff picture. Focus on getting a high draft pick. The Canes will move out some of their UFAs before Feb. 27 to get some assets.
Tim Gleason
,
Jaroslav Spacek
and
Bryan Allen
are among the forthcoming UFAs who could be moved. As for Ward, I agree he hasn't had the kind of season we're accustomed to with him. That's certainly hurt the club. At this point, I don't see him going anywhere, but it's possible, I suppose, that the Canes will revisit that thought come the offseason. At this point, however, I don't see him going anywhere.
---
courv: Scrap the All-Star Game and implement a midseason tournament. There are too many undeserving "All-Stars" and too many great players left in the shadows. Make the tournament single elimination NCAA style brackets and seeding. Award one point to the winners of the rounds of 8 and 4 and then 3 points to the tournament winner and one to the loser of the final. It would only take two weeks to complete and it would be a lot more exciting than what we currently have.
My take:
Well, you certainly had me five words in. Scrap the All-Star Game indeed! I've been saying that for only five years or so. As for your tournament idea, I'll give you credit for some creativity, but the last thing the league wants to do is
add
more games to the season. If anything, with the injuries in today's game and the season-long grind, it would go the other way. Frankly, given the success of the Winter Classic and the way that event has become a way for the league to take care of corporate sponsors, etc., the All-Star Game has lost that much more relevancy. Blow it up!
---
WhnMusicsOver: The one thing I don't like about the new playoff format for next season is that it makes winning your conference/division virtually meaningless. Sure being the 1 seed in your division grants you home-ice advantage through the first two rounds. But as far as playoff matchups go, there isn't likely to be a big difference between playing the 3 or playing the 4 in your own division. Now teams in the regular season are just going to fight to be in the top 4 rather than try and win the division and be guaranteed a top 3 seed as in the current format -- a much bigger advantage. Why would the NHL try to dilute the importance of the regular season?

bmac76er: It seems to be a return to the old system from before the '94-95 lockout. I think it could be a very good change. Those Patrick, Adams, Norris and Smythe Division playoff series were usually awesome. This guarantees plenty more rivalry matchups in the playoffs. I have to admit, a Devils-Panthers or Rangers-Senators matchup isn't as enticing as Devils-Rangers or Bruins-Canadiens.
My take:
Well, bmac76er took care of answering WhnMusicsOver rant for me. Indeed, this is a return to the kind of divisional playoffs in the 1980s and early '90s that some fans still consider the great rivalry period of the NHL because the same teams had to play each other over and over again every spring in the playoffs. The hope is that the new conference setup starting next season will generate much the same kind of renewed rivalries or create new ones.
---
Cofomike17: What happened to the goalie poke check?
My take:
Check out
Jonathan Quick
on
Joffrey Lupul
in Monday night's shootout in Toronto.
---
[+] Enlarge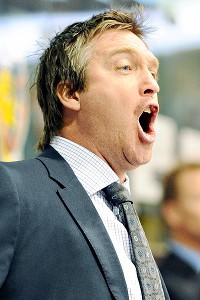 Richard Wolowicz/Getty ImagesWhat do you think about a certain 551-game winner coaching an NHL team near you?
ColoAvs82: A coach's job is to use the players and their abilities to create the best possible outcome for winning games. Yet in Colorado we have Joe Sacco that knows just one system, dump and chase and hope to get lucky bounces. He is a B-rated coach in the AHL at best, but management is dragging their heals to fire Sacco and try to salvage what is left of this pathetic season. Only thing worse than the Avs right now is the way they are being managed upstairs in the office.
My take:
Avs fans continue to burn in their anger. They did beat Philadelphia in a shootout Monday night. Maybe that will appease Avs fan a little for 48 hours. Not sure if you Avs fans noticed, but
Patrick Roy
held a news conference in Quebec after coaching a junior game on Sunday and told reporters he's considering an NHL job for next year if there is interest.
"Once the end of the season arrives and if a team shows some interest in me -- Colorado or Montreal, for example -- it's certain I would listen to see what kind of role I would have in the organization," Roy told the assembled media.
---
chwpgh64: I am so SICK of people hating on Crosby. They say he isn't tough. News flash: Concussions have nothing to do with toughness or skill. Also, most of the people questioning Sid's toughness are ones that have never put on a pair of skates. They say he's a crybaby and he gets too much attention. He himself said that he was sick of cameras coming to his stall every day after practice. He's the best player in the world, so he will get some attention whether he, or other people like it.
My take:
Well said. I'm pretty tired myself of all the Crosby haters. If they got to know the kid as some of us have had the chance over the past several years, they'd have a different impression of him. I can guarantee it. It's why he's won the admiration of the likes of Wayne Gretzky and Bobby Orr et al because of his all-world skill, but just as important because of his work ethic and the way he respects the game. Enough said.
---
Shurikenman23: As a Sabres fan, this past offseason gave me immense hope for the team. Terry Pegula putting up big money, making big moves such as acquiring Ville Leino, Robyn Regehr, Christian Ehrhoff, signing Drew Stafford and Tyler Myers to long contracts. But Regehr and Ehrhoff are the only ones who have even done that well this season. Ehrhoff playing decently on the blue line and Regehr leading with hits and blocked shots keeping our end of the ice safe. The injuries have been huge and costly to the team. Obviously, not too much that can be done about that, but considering so many starters out, wouldn't Ryan Miller try to play better and play harder and put more effort forth?

I guess not, unless an average of five goals allowed in the last three games is considered playing hard and putting forth your best effort. It's clearly time for moves. Some that can't be made until players are healthy. I'm willing to wait another year on Leino. Brad Boyes could be considered useless now since he's still injured, but he can play and will hopefully show that when he gets back on the ice. Patrick Kaleta can be traded off for a decent replacement. If talks of Bobby Ryan leaving Anaheim resume, Jochen Hecht, Kaleta, and Drew Stafford in exchange for Ryan and perhaps a draft pick. Some of the new boys, Kassian and Adam (in his first full season with the team) and McNabb, who's doing a decent job on our end of the ice, have really shown up where a lot of the vets have not, which is really disheartening. Someone needs to light a fire under this team. I think Lindy Ruff can do it, but I don't think GM Darcy Reiger can continue to build a team for Ruff that can be put out on the ice night after nice and play with a fire in their hearts. So Darcy, you've got to go.
My take:
I will have more on the Sabres later today/this evening in my Rumblings blog, be sure to check it out. But indeed, the interesting thing about finally having expectations in Buffalo after years of being limited by small-market financial constraints is that it raises the level of hope. The buzz leading into the season was surreal. The team has been maddeningly inconsistent. Injuries have played a big part, to be sure.
---
prashanthiyer: Hey, Pierre. Obviously the rant of the week is the obnoxious amount of concussions we have had this year. My rant is about why the NHL won't kick it into 2nd gear, realize that they are dealing with a serious issue, and look to the IIHF and some of its rules that they have in place that have minimized concussions and serious facial injuries. First off, why not widen the rink to international size and increase the space behind the nets? Also some form of no-touch icing. In IIHF controlled leagues, all players born after 1974 are required to wear visors and all officials are as well. Match penalties are assessed to players that cause an injury with a direct blow to the head. These rules are found all over the world, except for in the NHL. Why not? Also, even though this doesn't pertain to concussions, the IIHF also has the 3 points for a regulation win, 2 points for an overtime win, 1 point for an overtime loss. Pay attention to them!

goblew14: Then the NHL would turn into the NBA. No contact. Concussions are part of the game, but I'm all for safety of the players. No-touch icing should probably be instituted. Also, I think people are starting to get a sense of what is a hit to the head and what isn't. In terms of visors, I think the players should choose what they want. No one is forcing them to play and if they don't want to wear one they know the risk of what they're doing.

ZZUCRU: I don't want to see the physicality of the game removed. I play in a no-check league and it is simply not the same game. But they need to do something. It seems that given the flimsy design of hockey helmets, they could prevent many concussions by improving the helmet designs. I agree with the match penalty for targeting the head.
My take:
Three concussion posts in a row, illustrating the common arguments involved right now with this gigantic issue. No question, this is the most pressing issue in the game right now. But you can't say the NHL is ignoring it. That's not factual. The league has protocol in place and, more than ever, prevention/treatment is a point of focus for all 30 teams. However, you can still argue that not enough is being done. The key is to continue as a league and players' association to dig deeper and push even harder on this issue. Talk to as many doctors and researchers as you can, continue to gather as much information as possible and be as proactive as possible. The league has taken some important steps, but the battle is far from won.
April, 8, 2011
4/08/11
1:47
PM ET

Stock Up
Cam Ward, Carolina Hurricanes:
The Canes control their playoff destiny, and it's no surprise that netminder Cam Ward, a former playoff MVP, has been at the heart of the squad's unlikely late-season surge. Ward is 5-1-1 in his last seven games and has a 1.97 GAA and .941 save percentage over that period. Those are the kinds of numbers that spell "playoffs."
Kevin Shattenkirk, St. Louis Blues:
A lot of the attention surrounding the mid-season blockbuster trade between St. Louis and Colorado has been on former No. 1 draft pick
Erik Johnson
(now in Colorado) and power forward
Chris Stewart
(now in St. Louis). But the forgotten piece might just be Kevin Shattenkirk, a fine young defenseman from New Rochelle, N.Y., who has collected eight points (one goal, seven assists) in his past seven games for the suddenly trending Blues. Too little, too late for the Blues this season, but this is already a team that looks like it should be in the thick of the playoff debate a year from now, and Shattenkirk looks like he'll be a big part of that future.

Stock Down
Wojtek Wolski, New York Rangers: Lots of blame to go around if the Rangers collapse out of the playoffs on the final weekend of the regular season for the second straight year. Marian Gaborik's one-shot effort in a crushing loss Thursday to Atlanta comes to mind. But with Ryan Callahan out with a broken ankle, the Rangers need someone to step up and one might have thought this would be a good spot for Wolski to shine. Or not. Although he was good in the Rangers' come-from-behind win Monday against Boston, Wolski has simply not delivered the goods since coming over at the trade deadline, failing to score in his past 17 games for the Rangers. Maybe there was a reason the Coyotes were happy to dump Wolski, just as there was a reason the Avalanche were happy to move him a year ago.

Dustin Penner, Los Angeles Kings: Speaking of stepping up, the Kings have secured a playoff berth and still have designs on home-ice advantage in the first round, but they're going to need someone to jump into the breech given the absence of top-six forwards Justin Williams and Anze Kopitar, both lost long term to injury. Memo to Dustin Penner, that would be you. Penner has taken more than a little time to get adjusted to the Kings since coming over at the trade deadline from Edmonton. The big forward has gone without a goal in 11 straight games and has just one assist over that period. That kind of production spells one-and-done for the Kings.
January, 11, 2011
1/11/11
2:25
PM ET
Ask hockey folks to list the top 10 goalies in the NHL this season and you'll hear lots of names, some familiar, some not: Tim Thomas, Henrik Lundqvist, Jonas Hiller, Carey Price, Brian Boucher, Marc-Andre Fleury, Roberto Luongo, Semyon Varlamov.
Wonder how many people you'd have to ask or how far down the list you'd go before you'd hear the name Cam Ward?
Might be more than a few.
Not that that bothers Ward any. Indeed, one of the young netminder's most endearing qualities has been his lack of ego.
[+] Enlarge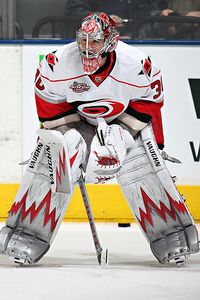 Claus Andersen/Getty ImagesCam Ward's .925 save percentage is sixth in the NHL but third among netminders who have played in 30 or more games this season.
In spite of the fact that he won a Conn Smythe Trophy in his first NHL season as the Carolina Hurricanes won their first Stanley Cup, Ward has remained self-effacing, unflappable, darn near anonymous. In some ways, the netminder mirrors the personality of the Canes themselves: a little bit under the radar but not to be underestimated.
"I think he's always been under the radar because of where he started," Canes GM Jim Rutherford told ESPN.com this week.
With the All-Star Game scheduled to be played in Raleigh, N.C., at the end of the month, it was more than justified for Ward to be selected to play.
But, the new father -- son, Nolan, was born almost seven weeks ago -- was not losing any sleep over the selection process before the remaining All-Stars were announced Tuesday.
"It doesn't bother me," Ward said of his life in relative obscurity in the Raleigh area. "To be honest I don't really need somebody to tell me I'm an All-Star for me to believe I'm an All-Star."
It is that kind of attitude that has served both Ward and the Hurricanes well in the past and appears ready to serve them well in the future.
"I'm not a guy to really seek the spotlight anyways," he admitted.
If Ward keeps playing as he has through the first half of the season, the spotlight will inevitably seek him.
The Canes started the season with a trip to Russia, where the St. Petersburg squad tried to mug them. Then, after games in Finland against Minnesota to start the regular season, the Canes jetted to the West Coast. Historically not a particularly good team out of the blocks, the Canes struggled through their arduous travel docket and fell behind the rest of the Eastern Conference early in the season. A strong December, though, has Carolina back in the hunt in the Eastern Conference.
Where many thought this young team wasn't ready to compete for a playoff spot, it is three points behind eighth-place Montreal with a game in hand as of Tuesday morning. More interesting, perhaps, is that the Canes are five points back of Atlanta, whom they beat in overtime Sunday, with four games in hand.
Ward is one of two suns around whom the Canes and their playoff hopes revolve.
Captain Eric Staal has come on offensively while Ward has quietly turned in a stellar first half of this regular season and appears to have shaken off questions about his durability that may have arisen during the past couple of seasons.
After missing the past two games with a minor injury, Ward is expected to be back between the pipes Tuesday night to face the visiting Calgary Flames.
"I'm probably the healthiest I've been in a very, very long time," Ward said.
Among the workout regimens he found and liked during the offseason was Pilates. "Although I do get razzed about it sometimes by my teammates," Ward said.
In 10 December starts, Ward was 6-3-1 with a .943 save percentage.
At one point in games against Atlanta and Anaheim, he turned in back-to-back 40-plus save performances, both wins.
Ward's .925 save percentage is sixth in the NHL but third among netminders who have played in 30 or more games. Only Anaheim's Hiller has made more saves than Ward.
"He's had stretches of just incredible hockey," Canes coach Paul Maurice told ESPN.com.
How important is Ward's presence to the Canes? Until this past weekend, he had started every Carolina victory this season.
"He's always been a special goaltender in my opinion," Rutherford said.
Like most Rutherford-built teams, this Carolina team is less about flash and dash and more about balance and consistency. After shedding veteran players last season at the trade deadline and with the retirement of longtime captain Rod Brind'Amour, the Canes are counting on a lot of young players to do a lot of grown-up work.
"That's really what's happened to us now," Rutherford said. "We have a long way to go, but I do like where we're situated now."
"I think if you went through that locker room, everybody would feel an important part of what we do," Maurice said.
One of the reasons that those players are able to feel that sense of satisfaction is the leadership shown by guys like Staal and Ward.
"This year we've been able to rebound after a disappointing outing. It's a consistency factor," Ward said. "We believe in what we're doing."