Cross Checks:

Chris Kelly
June, 20, 2013
6/20/13
5:58
PM ET
SCOTT BURNSIDE:
Well, my friend, here we are, headed back to Chicago for Game 5 of the Stanley Cup finals with nothing decided beyond the fact this is a whale of a series we've got going. But with the series tied 2-2 and reduced to a best-of-three affair, the focus becomes even greater, the pressure to deliver more intense. We saw some of the Blackhawks' big guns step forward in Game 4, but Game 5 looms large and there are lots of guys looking to rebound or step into the breach and to push their teams to within one win of a Cup.
I can't wait to see how
Corey Crawford
rebounds after his worst game of the postseason allowed the Bruins to sneak back into a game the Blackhawks looked to have well in hand with leads of 3-1 and 4-2. And it's no secret that the Bruins believe they have found Crawford's weak spot by targeting him to his glove side. Boston's
Tyler Seguin
joked Thursday that maybe the Bruins would switch it up in Game 5 by going blocker side, and
Brad Marchand
joked he thought the book on Crawford was 5-hole. But look for Boston to continue to try to get pucks up high on Crawford, and he must prove the five-spot he gave the Bruins in Game 4 was merely a blip on the radar, and not the opening of the proverbial floodgates.
[+] Enlarge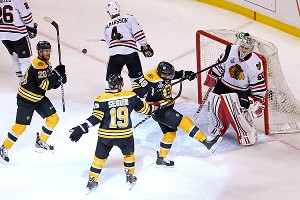 Bruce Bennett/Getty ImagesCorey Crawford's weak glove hand gave the Bruins plenty to celebrate in Game 4.
PIERRE LEBRUN:
There's no question that lost in Chicago's impressive performance as a team Wednesday night was the first real stinker of the playoffs by Crawford, and was it ever a stinker. But it's interesting to read the body language of his teammates after the game when asked about their goalie. Forget the cliches you would expect from teammates protecting their netminder. I mean, it's not like you're ever going to get a guy to admit he's worried about his goalie.
You and I have covered this league for a long time, and I read a lot into the body language of the Hawks players while answering those questions about Crawford. They weren't just saying it, they were meaning it. I don't think anybody on that team is concerned about Crawford, and while I believe Boston does have the edge in goal in this series, I do think Crawford has shown enough poise and confidence that he's going to get back to his norm in Game 5.
BURNSIDE:
Agreed, Pierre. Crawford has shown too much in pressure situations this spring to imagine he'll melt down in the next few days. Similarly, I would expect Boston captain
Zdeno Chara
to bounce back after a pretty ordinary performance in Game 4. He was minus-3 and on the ice for five of the six Chicago goals. That's not typical Chara, although coach Claude Julien pointed out that being on the ice for a goal against doesn't necessarily imply a player made mistakes.
That said, it was interesting to hear Hawks captain
Jonathan Toews
-- who was reunited with
Patrick Kane
and
Bryan Bickell
in Game 4 and played a lot of minutes against Chara -- suggest the big defender is vulnerable and can be exploited. That's an interesting challenge being thrown down, and I am sure Chara will be better in Game 5. He'll have to be, especially assuming Chicago coach Joel Quenneville will keep that Kane/Toews/Bickell line intact and have them unafraid of facing down the Bruins' captain. Who else are you looking to for big things in Game 5?
LEBRUN:
I love the response of Boston's
Chris Kelly
on Thursday when he was told of Toews' comments and asked if he was OK with a best-on-best challenge, meaning Chara versus the Hawks' top line for the rest of the series.
"I love our chances," said Kelly. "If they're challenging Z, that's a good thing. It's really all I can say. Z has been this franchise's best player since he got here."
I think what Toews is really saying, though, is that his team will not be intimidated by the physically superior Bruins. And you could see that on the ice Wednesday night. Boston tried to get into the faces of Chicago's top players after whistles, but Toews, Kane and
Patrick Sharp
gave it right back. The game within the game, if you will.
One guy I'd like to see more from is Hawks defenseman
Duncan Keith
, a player I had as my top Conn Smythe candidate for the Hawks before the Cup finals began. I feel like he's been ordinary so far in the finals, but I have a feeling that's about to change. And it has to for Chicago to win the Cup.
BURNSIDE:
Game 4 definitely wasn't a great night for Canadian Olympic hopefuls Keith and Crawford with Canadian executive director
Steve Yzerman
in the stands. But how about a couple of dark-horse guys for Game 5?
We've seen lots of unheralded players step forward since the final started, but how about Boston defenseman
Torey Krug
? The rookie has had more downs than ups in this final series but has remained incredibly poised. He's also got a cannon shot for a little guy, and Claude Julien continues to use him on a power-play unit that has been much more dynamic than the one the Blackhawks have put out.
I thought
Rich Peverley
was terrific in Game 4 after being a nonfactor the first three games, and on the Blackhawks' side I think
Brandon Saad
is finally hitting his stride in time to perhaps play a pivotal role in tipping the scales.
LEBRUN:
I'll put my money down on Boston's
Jaromir Jagr
scoring his first goal of the playoffs on Saturday night. Jagr's been knocking at the door, and made a great play on Bergeron's second goal in Game 4.
As for Chicago, I think Bickell will make his first real statement of the Cup finals on Saturday night after nearly single-handedly destroying the
Los Angeles Kings
in the Western Conference finals. The big man has been mostly quiet in this series, but now that he's on a line with Kane and Toews, I've got a feeling he has a goal (or two) in him for Saturday.
Now that we've sorted that out, let's get on that plane bound for Chicago now. They're calling our flight to board!
June, 17, 2013
6/17/13
1:14
PM ET
BOSTON -- The
Boston Bruins
were still contemplating Monday what to do about a fourth line that has been lost in the shuffle during the Stanley Cup finals.
For the most part, the fourth unit in the morning skate was
Kaspars Daugavins
,
Rich Peverley
and
Shawn Thornton
, the three guys who ended up there late in Game 2. But I'm not sure Bruins coach Claude Julien is married to it.
Carl Soderberg
may also be an option on that line.
Julien said he was still considering his options and wasn't 100 percent sure. I suspect he's contemplating the possibility of Soderberg as a countermeasure to the
Chicago Blackhawks
deciding to bring back
Viktor Stalberg
for Game 3. Stalberg was scratched the opening two games in favor of
Brandon Bollig
.
Stalberg, who brings more skill but less physicality than Bollig, skated on the fourth line with
Marcus Kruger
and
Michael Frolik
at the Hawks' morning skate.
If Soderberg does come in, I'm guessing it's for Daugavins.
What's been interesting in this series is that the Blackhawks have rolled four lines more consistently than the Bruins, and that's usually a staple for Boston. But since a season-ending injury to valuable checking center
Gregory Campbell
in the last round, the Bruins' bottom six has been a bit in flux.
Julien found some gold midway through Game 2 when he put
Chris Kelly
between
Daniel Paille
and
Tyler Seguin
, with the newly formed third line scoring the tying and overtime goals. That unit stayed together at the morning skate Monday.
Clearly, there wasn't much confidence in what became a new fourth line during Game 2, Daugavins-Peverley-Thornton, as each played sparingly. Some of that was because the Hawks had the last line change and coach Joel Quenneville often tried to put out his second line, centered by
Michal Handzus
(between
Patrick Sharp
and
Patrick Kane
), whenever Julien had his fourth line on the ice. It's a matchup the Bruins' coach obviously wanted no part of.
The reason the Hawks could afford to try to get that matchup is that Quenneville has no problem using Frolik and Kruger on a fourth line against Boston's top lines.
Now that the series has shifted to Boston, however, it's Julien who is armed with the last line changes for Games 3 and 4, and that will afford him chances to better control the matchups and perhaps get his fourth line out there a bit more with more protection.
"There's no doubt it makes it a little bit easier," Julien said. "Doesn't mean it's going to happen all the time, but it certainly is a lot easier. Joel's a pretty good coach, smart coach. When he senses something, he'll take advantage of it.
"I had to be extra careful in Chicago with that. But, again, tonight hopefully it's a little easier. Nonetheless, we're in the finals here, you got to do what you got to do. Sometimes you may play guys a little bit more, but they're capable of handling the ice time."
June, 5, 2013
6/05/13
5:07
PM ET
BOSTON --
Chris Kelly
seems to recall it was in a playoff series between his
Ottawa Senators
and the
Buffalo Sabres
.
A teammate's dump-in shot caught a visor-less Kelly in the eye.
"
Chris Neil
tried dumping the puck in and I was coming out of the zone and it hit me in the eye and it was pretty scary. You get lots of cuts and things like that, but when it's the eye it kind of hits home," said Kelly, now with the
Boston Bruins
.
He went to a visor after that incident and, if you'll pardon the expression, never looked back.
Kelly, like all of the players we spoke to Wednesday morning, applauded the NHL competition committee's decision to make visors mandatory starting next season for players coming into the NHL.
Those already in the league will be allowed to make their own decision as it pertains to wearing the protective shield, and won't be forced to don one if they're not wearing one already.
Most players agreed that in the past there might have been a stigma about wearing a visor, that it somehow denoted a lack of toughness. But that feeling simply doesn't exist anymore.
"There used to be (a stigma) about helmets and people quickly started putting those on," Kelly said.
"I don't think there's the stigma of 'Oh you're not tough anymore.' There's a lot of tough guys that wear visors and handle themselves," Kelly said.
Kelly's teammate,
Jay Pandolfo
, likewise entered the league not wearing a visor and after a close call decided to wear one. Pandolfo supports the league's move, too.
"I think it's a good thing. I think you're seeing more and more eye injuries and things like that. Pucks move fast and guys are faster," Pandolfo said. "I think in the long run it was going to come to that anyways, where everyone was going to be wearing a visor. Now within 10 years you'll see everyone wearing one."
Even
Brenden Morrow
, one of the few
Pittsburgh Penguins
who doesn't wear a visor, believes the league's plan is a good one.
"You don't really have the stigma of a guy wearing a visor. I think taking away the instigator rule kind of got rid of that a little bit. It's not the same as maybe it was 15 to 20 years ago," Morrow said.
"I've had it on, in the Olympics I think I had to wear it, and I broke my nose a few times and I put it back on just so I didn't take a face wash or two when it was still pretty sensitive. But it was something I just couldn't get adjusted to," Morrow said.
"I didn't like cleaning it off every shift. But I think it's the way to go with some of these serious eye injuries we've had lately," he said.
Pittsburgh head coach Dan Bylsma wasn't surprised to see the league take this action.
"I thought it was inevitable, and I'm glad to see them put that in there," Bylsma said.
Boston head coach Claude Julien likened the visor to a seatbelt in a car: Why wouldn't you wear one?
"I'm one of those guys that really believed that when a young player comes up playing minor hockey with a visor and he's used to it, why take it off? I know there's been some accidents with the visor, but there's been more things, incidents saved by the visor than there has been from the other side of it, like a seatbelt in a car," Julien said. "How many lives does it save?"
"There have been some incidents where a player might have been cut by a visor or something similar, but overall this is a good move," Julien added. "To me I think it's a good thing that they're encouraging that visor and that it's going to be grandfathered in. I believe in it."
April, 13, 2012
4/13/12
10:03
AM ET
Oh, this is why we traded for that guy:
Martin Havlat
missed half the season after coming over last summer in a trade from Minnesota. It's not a deal (for
Dany Heatley
) that paid dividends early on for the Sharks. But with 28 points in his last 26 playoff games entering these playoffs, the point of it all was for San Jose to gain from his habit of rising to the occasion in the postseason. Um, good start. Havlat's two goals, including 3:34 into double overtime, led San Jose to a 3-2 Game 1 win in St Louis, fortifying his playoff reputation.
-- Pierre LeBrun
The night of the Martins:
Martin Hanzal
did the trick as the Coyotes clipped the Blackhawks 3-2 in OT.
Mike Smith
stood on his head -- parlance for "he played well" -- as the higher-seeded Coyotes rolled at home. Dog days are not over, thank you very much, Florence.
In other OT news ...
The Bruins struck quickly in OT,
Chris Kelly
firing home the winner with the Zamboni sauce still drying.
Tim Thomas
was sold for the B's in a duel with
Braden Holtby
, whom Thomas praised. Good to see Thomas return to pumping tires again.
Meanwhile, in Gotham:
The Rangers, completely disregarding talk that they might be upset, wiped the rink with the Senators in a 4-2 win. Score was closer than the game indicated, blah-blah-blah. Don't be surprised if the Senators bounce back with a big game Saturday night. The NHL playoffs are funny like that.
April, 13, 2012
4/13/12
9:36
AM ET
By
Elias Sports Bureau
| ESPN.com
•
Martin Havlat
's second goal of the game earned the Sharks a 3-2 double-overtime win in the opening game of their series against the Blues. All seven of the Sharks' playoff series openers over the last three years have been decided by a one-goal margin, including three in overtime. In fact, 13 of San Jose's last 15 Game 1s were one-goal games (six went to OT), and the two games that didn't fit the pattern were 2-0 final scores.
• The Bruins' victory against the Capitals marked only the eighth time in NHL playoff history that a team posted a 1-0 overtime win in the first game of a playoff series. It was the second such win by the Bruins, who posted a 1-0 double-overtime victory in Game 1 of a best-of-five series against the Maple Leafs in 1935.
Chris Kelly
's goal 78 seconds into overtime gave the defending Stanley Cup champion Bruins a 1-0 win in their 2012 playoff opener against the Capitals. Kelly's name in the goal column of the scoring summary was a guarantee of a Bruins victory during the regular season. Boston won all 18 regular-season games in 2011-12 in which he scored. Kelly's 20 goals this season made him the only one of the 246 NHL players with a double-figure goal total in the 2011-12 campaign who scored all of his goals in games his team won.
• The Bruins, Sharks and Coyotes all won in overtime on Thursday. It marked the first time since April 18, 2001, that 3 NHL playoff games went into overtime on the same day.
• The Rangers' top three goal scorers during the regular season,
Marian Gaborik
(41 goals),
Ryan Callahan
(29) and
Brad Richards
(25), each scored a goal in the Blueshirts' 4-2 victory in Game 1 of their first-round playoff series against the Senators. Gaborik, Callahan and Richards scored goals in the same game only twice during the 2011-12 season: Oct. 29 versus Ottawa and Nov. 29 against Pittsburgh.
March, 25, 2012
3/25/12
9:14
AM ET
By
Elias Sports Bureau
| ESPN.com
•
Marian Gaborik
scored two goals for the Rangers. The goals were the 100th and 101st for Gaborik in the three seasons since he signed with the Rangers as a free agent on July 1, 2009. Gaborik is only the fifth player to score 100 or more goals over his first three seasons with the Rangers, joining
Adam Graves
(114), Steve Vickers (105), Phil Esposito (101) and
Mike Gartner
(100) in that exclusive club.
•
Daniel Alfredsson
, 39, scored more points on Saturday night (four) than he did in his previous 12 games combined (three assists). Two other players age 39 or older have scored four points in an NHL game this season:
Teemu Selanne
(age 41, 2 goals and 2 assists on Nov. 1 at Washington) and
Brian Rolston
(age 39, 1 goal and 3 assists last Monday vs. Toronto).
Alfredsson, with one Saturday, now has three shorthanded goals this season. Only two other players have had three shorthanded goals in one season at age 38 or older: Gordie Howe had four in 1969–70 at ages 41 and 42 and
Mark Messier
had three in 2000–01 after turning 40 years old.
• The Red Wings scored four unanswered goals to overcome a 4–1 deficit and beat the Hurricanes, 5–4, on Saturday night. It was Detroit's first win in regulation time in a game in which they trailed by three goals since Feb. 25, 2001, when they defeated the Coyotes, 6–3, at Joe Louis Arena.
•
Chris Kelly
's 19th goal of the season was the game-winner for the Bruins. Boston has won all 17 games this season in which Kelly has scored goals. Kelly is the only NHL player with a double-figure goal total this season who's scored of all his goals in games his team won.
•
Steven Stamkos
scored two goals and one assist for the Lightning in their 4–3 win over the Islanders in Tampa. Stamkos entered play on Saturday with a four-game home-ice point drought, after being held pointless in only four of his previous 34 home games this season.
March, 11, 2011
3/11/11
11:16
AM ET

Stock Up
David Legwand, Nashville Predators:
With the Preds crippled by injuries down the middle, the pressure is on guys like veteran center David Legwand to answer the bell. A former No. 2 overall draft pick who has never produced the kind of offense one expects from such a coveted prospect, Legwand has points in four straight games and has hit the score sheet in six of his last seven contests (two goals, seven assists) as the Predators continue to scratch and claw their way toward a playoff berth in the Western Conference.
Andy McDonald, St. Louis Blues:
If this is indeed the season of the concussion, it is nice to see Andy McDonald bouncing back after his season was marred by a head injury sustained when he fell into the knee of an opposing player in early December. McDonald has seven goals in his last 12 games and seven points in his last four games. The playoffs are a non-starter for the injury-ravaged Blues, but McDonald's ability to return to form as a skilled player in spite of the concussion has to bode well for the revamped Blues next season.

Stock Down
Kimmo Timonen, Philadelphia Flyers:
One of the reasons folks love the Flyers as a Stanley Cup contender is their depth up and down the lineup, and especially along the blue line. But over the past 15 games, veteran blueliner Kimmo Timonen has managed to chip in just three points (one goal, two assists), as the Flyers have tried to fight off the late-season doldrums. Timonen's dry spell may help explain in part why the Flyers' power play ranks a disappointing 20th in the NHL.
Rich Peverley/Chris Kelly, Boston Bruins:
Just to show you how difficult it can be to move seamlessly from one team to another, we look at the struggles of the Bruins' two forward acquisitions at the trade deadline. Rich Peverley and Chris Kelly have 20-goal potential but between them have managed just one goal in a combined 17 games since arriving in Boston from Atlanta and Ottawa, respectively. The Bruins, meanwhile, are winless in three.