Cross Checks:

Chris Kreider
June, 8, 2014
6/08/14
1:50
AM ET
LOS ANGELES -- There will certainly be time over the next two days for
Chris Kreider
to rue that pair of glorious chances in the first overtime period that he just could not bury.
A cross-country flight back to New York, for example, will provide ample opportunity for him to mull them over. He could spent hours replaying those shots, second-guessing his approach, staring down
Los Angeles Kings
goaltender
Jonathan Quick
from within the recesses of his memory.
The 23-year-old forward vowed to avoid that temptation. He doesn't want those regrets to linger, frustration to fester as he readies himself for Game 3 on Monday. Following the
New York Rangers
' 5-4 double-overtime loss in Game 2 Saturday night, there are desperate times ahead for him and his teammates, who now face a daunting task ahead while in a 2-0 hole as the series shifting back home.
[+] Enlarge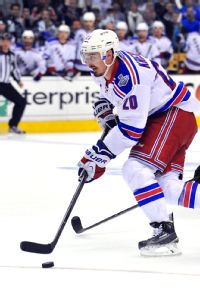 Gary A. Vasquez/USA TODAY SportsChris Kreider had chances to win Game 2 in overtime.
"Nope," Kreider responded, when asked if those chances will be difficult for him to digest in the next 48 hours. "They're difficult to think about 20 to 30 minutes after the game, but on to the next one."
In another heart-racing, white-knuckled ending to an already wild and unpredictable game, the Kings and Rangers traded prime scoring chances in overtime, testing the blood pressure of just about everyone watching.
Kreider, whose speed, size and strength has added a dangerous dynamic to the Rangers' offense this entire spring, had arguably the best of the first overtime period, when he faced Quick on a breakaway at 16:22 of the frame.
It originally looked like Kreider missed wide left, but Quick actually got a piece of the shot.
"He stopped it. Tried to go low [blocker]. Probably should've gone high [blocker]. It was a good save by him," Kreider said. "You've got to finish there. There's nothing else to say."
Kreider had three shots total in the first overtime frame, one that followed a sloppy yet entertaining 60 minutes of regulation during which the Rangers saw another two-goal lead disappear. Neither Quick nor
Henrik Lundqvist
yielded anything in the first overtime period, but the Kings prevailed in the second one with a tip in front from Kings captain
Dustin Brown
.
"I don't think anything changes. I think a couple crazy bounces. A couple crazy plays. Stuff goes in for them. Stuff didn't go in for us," Kreider said. "That's hockey. It's not always fair."
His teammate
Carl Hagelin
can empathize with how Kreider must be feeling right now. The speedy winger had a similarly spectacular chance to end the game in the final minute of regulation in Game 1 on a breakaway, but a rolling puck prevented him from putting the game away and the Rangers lost on a bad bounce and defensive-zone gaffe that resulted in
Justin Williams
' overtime winner.
"It's never fun. It's always good when you're creating chances, but in games like this when it's so close you want to make sure to score on the chances. It's nothing you can think about too much. You've got to just refocus and try to get a goal in the next game," Hagelin said.
Kreider, who picked up a secondary assist on
Martin St. Louis
' power-play goal in the second period, has been a key contributor for the Rangers' deep run this spring. The quintessential power forward has chipped in with four goals and seven assists, and has been an impactful net front presence, particularly on the power play.
The Rangers can't afford for him to dwell on a few missed chances Saturday night. They need him back at it Monday when the Blueshirts host the Kings at Madison Square Garden.
"He'll come back strong in Game 3," said defenseman
Anton Stralman
, who was brooding over his own missed scoring opportunity in overtime as he slunk back in his dressing room stall. "He works hard. He's fast. It's always tough when you can't score. I had a great chance in overtime, so that's obviously bothering me right now. It's a matter of putting that behind us and focusing on the next game."
Kreider plans on moving past it just as swiftly as he dissected Saturday's dispiriting defeat.
"We blew another two-goal lead. We lost in overtime. I had two Grade-A opportunities and didn't finish, so I have to execute better," he said. " I think that's my takeaway, ultimately."
June, 7, 2014
6/07/14
11:55
PM ET
LOS ANGELES -- Just call them the Comeback Kings.
For the second straight game, the
Los Angeles Kings
stunned the
New York Rangers
with a manic and frenzied come-from-behind victory, knocking off the Blueshirts with a 5-4 double overtime win to take a 2-0 series lead as both clubs head back to New York for Games 3 and 4. The Kings have not led in regulation at any point throughout the first two games of Stanley Cup finals, and yet they won both contests.


Kings captain
Dustin Brown
scored the winning goal, snapping a 4-4 draw in double overtime to end what was a wildly entertaining playoff match that spanned more than four hours and featured a little bit of everything.
The Rangers, who squandered a 2-0 lead in Game 1 Wednesday night, held another 2-0 lead Saturday, a 3-1 and 4-2 advantage as well, but they couldn't shut the door on the feisty Kings.
The Kings refused to go quietly despite staring down a 4-2 deficit in the third period, but their third goal did not come without a bit of the controversy.
Dwight King
tipped one in for a goal that ignited a plucky Kings squad intent on staging another comeback, but both defenseman
Ryan McDonagh
and
Henrik Lundqvist
were livid after the play, arguing with the nearest official about King's contact with Lundqvist in the crease -- contact that they clearly felt impeded Lundqvist's ability to make a save.
You could sense the Rangers start to unravel from there, with the Kings buzzing, the crowd getting into it, and the (dreadful) ice tilting in L.A.'s favor. So it was no surprise when leading playoff goal-scorer, and ex-Ranger
Marian Gaborik
tied the game at 7:36 with his 13th playoff goal this spring.
Rangers forward
Chris Kreider
has a pair of Grade-A chances in a enthralling overtime period, but couldn't find the back of the net.
Fast and furious:
Just as they did in Game 1, the Kings made a big push in the second period. Los Angeles cut the Rangers' 2-0 lead in half when
Jarret Stoll
buried the puck into an open net with Lundqvist down on his rear after making an initial save.
Martin St. Louis
continued his terrific spring, one-timing a shot past
Jonathan Quick
on the power-play to reclaim a two-goal Rangers lead -- his seventh goal of these playoffs. But when the Kings threatened again, pulling within a goal for the second time on
Willie Mitchell
's man-up marker at 14:39, the Rangers made sure to snuff out the surge quickly. The Blueshirts responded in just 11 seconds with a goal from
Derick Brassard
to take a 4-2 lead into the third period. According to Elias Sports Bureau, that 11-second span was the quickest between two goals scored in a Stanley Cup finals game in 67 years.
Déjà vu:
Stop me if this sounds familiar: Kings look sloppy with the puck (granted, the ice also appeared horrendous) and an opportunistic Rangers squad build a 2-0 first-period lead. The Rangers got on the board with defenseman Ryan McDonagh's hard slapper from the left point at 10:48 of the first, a goal that was created by hard forechecking pressure that forced Game 1 hero
Justin Williams
to turn the puck over deep in his own zone. A flubbed pass from defenseman
Matt Greene
later in the period resulted in a sequence of scoring chances for New York that was capped by
Mats Zuccarello
's rebound goal at the right post with 7:17 remaining in the period. The Rangers took a two-goal lead in Game 1, but the Kings came charging back for a 3-2 overtime win.
Surprising scratch:
Though Kings coach Darryl Sutter said veteran defenseman
Robyn Regehr
would "probably play" and the 34-year-old himself admitted he was ready to return to the lineup after missing more than a month with a knee injury, Regehr was scratched for the second straight game this series. Though he took part in the pregame warmups, Greene remained in the starting lineup instead. Meanwhile,
John Moore
returned to bolster the Rangers' back end after serving a two-game suspension for his hit on
Montreal Canadiens
forward
Dale Weise
in the Eastern Conference finals.
May, 10, 2014
5/10/14
12:00
PM ET
PITTSBURGH -- The
New York Rangers
' Game 5 win against the
Pittsburgh Penguins
will be remembered for the way the team stood behind teammate
Martin St. Louis
, who played despite the death of his mother just one day prior. However, overshadowed in what was a touching show of support in the 5-1 win was that the team's woeful power play had a terrific night after an extended stretch of failures.
The Rangers scored a pair of man-up markers against the Penguins, finally halting a slump that seemed interminable. Prior to Friday's action, the Blueshirts had been blanked on 36 straight attempts, a skid that lasted nine games.
That ended 9:36 into play in Game 5 when
Chris Kreider
buried a rebound for a 1-0 Rangers lead.
"The big thing is scoring a power play early," veteran center
Brad Richards
said. "That took a little weight off us. We talked about it the other night. You get something to go your way early. It's amazing what it can do. It gets contagious and you start building."
For a team that was riding an emotional spark, trying to avoid elimination, and attempting to keep the Penguins on their heels, Kreider's goal provided the necessary boost of confidence.
From there, they built on that lead and, despite
Evgeni Malkin
's spectacular second-period goal, were able to keep Pittsburgh from scratching their way back into the game. With the game 2-1 in the second period, the Penguins were whistled for a bench minor for too many men on the ice. It took defenseman
Ryan McDonagh
just 16 seconds into the man-advantage to cash in, notching his first goal of the playoffs with his slapshot from the right point that beat Penguins netminder
Marc-Andre Fleury
.
Not only was it a critical goal that effectively stemmed the penguins' surge, it was an important night for McDonagh, who has had a disappointing series.
The young defenseman, who missed the last five regular-season games, finished with a goal and an assist in a strong bounce-back performance.
Rangers coach Alain Vigneault was pleased with what he saw.
"I don't want to say it was the first time we saw Ryan McDonagh in the playoffs," Vigneault said. But that's the way I know he can play, that's the way we need him to play."
In fact, Vigneault preemptively squashed speculation that McDonagh may be playing through injury, a theory that gained steam the more one-on-one battles he lost, and the more lackluster games he had.
"He's not hurt," Vigneault said "And he needs to play that way."
November, 12, 2013
11/12/13
2:41
PM ET
At a glance:
Winners of three straight, the Rangers host the
New Jersey Devils
at Madison Square Garden on Tuesday night looking to avenge the last loss to their Hudson River rivals. Smarting from a grueling West Coast road trip, the Rangers were blanked by the Devils 4-0 back on Oct. 19, but they've regained some swagger in recent weeks with improved play and a record that is now above .500. Meanwhile, the Devils have fallen three points back of the Blueshirts. New Jersey enters Tuesday's match coming off a decisive 5-0 win over Nashville on Sunday night.
Battle of the best:
The last time the two teams met, goaltender
Henrik Lundqvist
squared off with an unfamiliar face in the opposing net. After years of going head-to-head with future Hall of Famer
Martin Brodeur
, Lundqvist squared off against Devils newcomer
Cory Schneider
instead. Tuesday, all will be back to normal as Brodeur gets the start for New Jersey. Lundqvist is 24-7-5 with a 1.97 goals-against average, .926 save percentage and seven shutouts in 36 regular-season games against Brodeur. The 41-year-old Devils stopper is on a roll, however, having posted two straight shutouts heading into Tuesday's clash.
Young guns:
For the Rangers, youngsters like
Carl Hagelin
and
Chris Kreider
have made all the difference as of late. Since his return from injury, Hagelin has eight points in seven games, seven of which have come in the past five. Kreider has two goals and seven points in the past eight. Even
J.T. Miller
is making his mark. The 20-year-old prospect tallied his first goal of the season Sunday night, capping a pretty passing sequence set up by superb plays from Kreider and defenseman
Ryan McDonagh
.
Stingy on D:
Both teams have buckled down on defense and limited opponents recently. The Devils have held teams to two goals or fewer in six of their past seven games, while the Rangers had gone nine straight such games before giving up three to Florida in Sunday's win.