Cross Checks:

Chris Kunitz
April, 23, 2014
Apr 23
12:05
PM ET
COLUMBUS -- Not sure that "puzzler" even begins to describe the current state of offensive affairs for the
Pittsburgh Penguins
and their roster of elite goal producers.
But the black and the white of it is this: through the last seven playoff games,
James Neal
,
Evgeni Malkin
,
Chris Kunitz
,
Kris Letang
and captain
Sidney Crosby
have combined to score (wait for it) zero postseason goals.
Zero.
The big egg.
Still, the Penguins are up 2-1 in their Eastern Conference quarterfinal series against the
Columbus Blue Jackets
despite a lack of scoring from guys whose jobs are, at least in large part, to score goals -- which is a testament to the team's depth, something critics questioned heading into the postseason.
Indeed, trailing late in the second period of Game 3 in Columbus on Monday night, it was defensive defenseman
Brooks Orpik
going Denis Potvin and scoring a crucial goal with 1.8 seconds left to narrow the score to 2-1.
Then, trailing 3-1 in the third, the Penguins shockingly scored three goals on three straight shots as
Brandon Sutter
,
Lee Stempniak
and
Jussi Jokinen
paced the Pens to a come-from-behind victory.
But having success despite the big boys' drought doesn't mean that Penguins coach
Dan Bylsma
is content to sit around and wait for the inevitable to happen. In fact, Bylsma figures that the way the goals were scored in Game 3 -- with lots of traffic around Columbus netminder
Sergei Bobrovsky
, and two of them ending up in the net courtesy of deflections -- is a lesson to the entire Penguins' lineup, big gun or not.
"I don't think you can wait around to quote yourself, for an opportunity or a goal to happen or lightning to strike," Bylsma said after the Penguins went through an optional skate Tuesday afternoon that saw very few regulars take part.
"The important part is exactly how they're going to come. And the goals we got last game were evidence of that.
"I don't think we can expect it to be an easy goal or a flash goal or a two-on-one and an odd-man opportunity. It's going to be dirty and ugly, and that's where we've got to go and that's where we got to get them from. That's regardless of whether it's Brandon Sutter scoring at the net or getting goals from Crosby at the net."
On the other side of the ice, or fence, Columbus coach Todd Richards understands that the math and history and just plain old logic suggests that keeping the big guns silent the longer this series goes appears to be a greater and greater challenge.
"You're right, those are great players you just named and they've obviously had great seasons and they're real important pieces on their respective team," Richards said. "It is tough to think that you're going to keep them [shut down]. I don't know if you can do that if this goes to a seven-game series. They're too good.
"One thing we have to be careful of is we've been putting these guys on the power play. We've been giving them lots of opportunities to be able to finish. The more we can make these guys play in their zone, obviously they're 200 feet from our net and expending some energy in their own zone. So we need to continue to do that."
Indeed, the Penguins have managed to score just once in 14 power-play chances the last two games but believe the momentum they've generated on those opportunities has been crucial to leading to other scores.
"Those are dangerous guys, and we know that -- and at any moment, at any moment," Richards said. "You go back and you look at scoring chances, they're getting scoring chances, so [Sergei Bobrovsky is] making the saves or maybe we're in the right place to block a shot, so we need to continue to do those. This goes seven games, I think at some point you figure that they're going to get one or two, but if we can keep it to a minimum, it will be in our favor."
October, 15, 2013
10/15/13
6:00
PM ET
Martin Biron
was en route home to Buffalo when we caught up on the phone Tuesday afternoon. The trek had already allowed him to do some self-analysis and certainly some decompressing.
"I'm going to take a couple of days to think about things before I make a decision," Biron told ESPN.com. "I want to take some time to think about it all, talk to family and friends, and think about my next step."
Biron, who cleared NHL waivers Tuesday before being assigned to the AHL by the Rangers, has two options: report to Hartford (AHL) and see how things go from there or retire.
At this point, playing in Europe isn't an option.
"No, those are the two options only," Biron said. "But I want to think this through. The last 48 hours have been pretty charged, I want to let the dust settle and then make an informed decision."
Oilers goaltending
I wrote last Friday that the Oilers would probably wait about 10 or so games into the season before taking stock of their goaltending.
It appears, though, that a nightmarish weekend -- in particular Saturday's 6-5 overtime loss at Toronto -- has expedited that process.
My TSN colleague Bob McKenzie reported Monday night that the Oilers have already reached out to teams to look at their goalie options as
Devan Dubnyk
continues to struggle. Nothing is believed to be imminent, but the sense is that the conversations have begun.
So if you're the Oilers, what are your options? Let's take a look at what potentially could be out there:
Certainly there's
Ryan Miller
in Buffalo. At some point you figure the Sabres will trade him this season, although as of Tuesday morning, I'm told the Sabres hadn't approached Miller yet about anything; and you figure they will at some point have to approach him given his modified no-trade clause. To me this is the guy the Oilers should want the most but there's also the sense Sabres GM Darcy Regier wants to wait later in the season and build up a bigger market for Miller.
How deep into the season can Edmonton go without fixing this issue?
There's
Jonas Hiller
in Anaheim; he was available last summer, as the Ducks are stacked in goal throughout the organization and this is the last year of his contract. But he's also off to a great start, so I think it's too early for that kind of move in Anaheim. Not sure the Ducks would want to rock the boat like that.
What about
Michal Neuvirth
in Washington? I say that because Team Canada Olympic camp invitee
Braden Holtby
certainly seems entrenched as the No. 1 man there. Neuvirth is in the mix for the Czech Olympic team this year, so he might be an intriguing target if the Caps ever feel they can live without him.
Brian Elliott
in St. Louis? The Blues have gone back to
Jaroslav Halak
as their clear No. 1 while
Jake Allen
waits in the wings. Elliott is in the final year of his contract, and I don't see how he fits into their long-term view. But again, that might be more of an offseason decision for the Blues unless someone really forces their hand.
There are other possibilities, of course, but those are names that jump out at me.
Wild goalies
Niklas Backstrom
's knee injury early in the season hasn't slowed down the
Minnesota Wild
as some people believed would be the case, and that's thanks in large part to stellar netminding from backup
Josh Harding
.
The 29-year-old Harding is sporting a .948 save percentage and 1.06 goals-against average in four games (three starts) this season.
"He had a good training camp and he's played well," Wild GM Chuck Fletcher told ESPN.com on Tuesday morning. "He got thrown into the fire in Nashville [after Backstrom's injury], was faced with the penalty shot from [Eric] Nystrom who scored on him, but then made 19 consecutive saves after that. And he's finished up three wins where he's given up just three goals [in total]. He's given up four goals in four games and you certainly can't ask for more than that. He's a talented guy and he's battling hard right now."
Harding missed two months last season because of side effects from a new medication treating multiple sclerosis. His healthy return this season is an important factor with the desire not to overwork the 35-year-old Backstrom.
"We're all learning as we're going," Fletcher said of Harding and his handling of his condition. "It's a tough task for any goaltender in this league to go every night regardless of your medical situation. But certainly he's a guy that we're confident we'll be able to play a lot of games for us if need be. The whole idea is that if we can get both guys healthy, both Nik and Josh play on a regular basis, especially in an Olympic year with the compressed schedule you need both guys going."
As for Backstrom, he should be back soon.
"He's skated 4-5 days in a row, so we'll see, hopefully by the end of this road trip he can either back up or play," Fletcher said. "Certainly the way Josh is playing, we can take the time we need right now to make sure Nik gets fully healthy. We're fortunate it's just a muscle strain and nothing structural with the knee, which was lucky."
It's an important reminder from Fletcher about the Olympic impact on the schedule this season. I think what you'll see because of that is an increased role for backup netminders.
Monahan's future
The
Calgary Flames
have a big decision to make soon on rookie center
Sean Monahan
, the sixth overall pick in last June's draft who has looked nothing but at home in the NHL so far.
Keep him with the big club or send him back to junior?
His four goals and two assists in five games had him second in NHL rookie scoring before games Tuesday, so you'd think the decision is obvious. Or is it?
The Flames have not made that decision yet. Instead, they want to see how he fares on the upcoming road trip -- difficult games at Anaheim, San Jose, L.A. and Phoenix -- before deciding what they're going to do with him. He turned 19 just a few days ago.
Once he's played 10 NHL games, he burns his first year of service time on his entry-level contract, which is why all clubs around the league have to make a decision with their rookie, junior-eligible players after nine games played.
It's worth noting that when it comes to Brian Burke, the president of hockey operations for the Flames, his track record as GM had him sending kids back to junior such as
Bobby Ryan
in Anaheim and
Nazem Kadri
in Toronto. But this will be GM Jay Feaster's call.
The other factor to consider is what exactly Monahan's minutes will be once injured forwards
Mike Cammalleri
and
Matt Stajan
return.
On the one hand, the Flames can save one year of service time on Monahan's entry-level contract if they send him back to junior before his 10th game. But on the other hand, where will his development be best served this year?
Tough call.
Talking Europe
As I wrote last week, the NHL and NHLPA are meeting Wednesday in New York to further hash out details on the future of the Premiere Games in Europe, as well as the possible return of the World Cup of Hockey.
Both sides have keen interest in bringing back both events.
Team Canada
Team Canada's Olympic brain trust is keeping a close eye on the performance of
Chris Kunitz
.
Every player's performance over the next two months will be paramount for his chances to make the team, but Kunitz is especially a unique case. My sense is there are those internally who think it's tough to find a player who can mesh with
Sidney Crosby
in time for a two-week tournament, so Kunitz is the perfect fit given the chemistry between the two Penguins linemates. But there are those who just can't buy that he's among the very elite forwards in the world and Team Canada certainly doesn't have a shortage to pick from on that count.
While goaltending will be the most pressing decision for Team Canada, I'd rank the "Kunitz decision" as the second-most intriguing.
Hawks No. 2 center
Michal Handzus
was given the night off Saturday, but I wouldn't read too much into that.
The Blackhawks are not on the lookout for a No. 2 center, they're happy with Handzus given his performance last spring in the playoffs, but the plan entering this season was to limit his games to keep the 36-year-old as fresh as possible for the playoffs.
The other benefit of sitting out Handzus the odd game is that other players will gain a bigger role on those nights, mostly
Marcus Kruger
or
Andrew Shaw
, but other youngsters will also gain more experience depending on the game.
Regardless, the plan is status quo in Chicago with regard to the No. 2 center job, barring any major injury.
August, 26, 2013
8/26/13
6:41
PM ET
CALGARY, Alberta -- A little ball hockey, eh?
Team Canada took to the floor-covered ice Monday for "walk-through" practices, which is the coaching staff's unique solution to a tough situation given the inability to actually get on the ice for real practices.
The 45 players were split into two groups and ran around with their sticks in their hands playing out drills from the coaching staff while wearing track shorts, T-shirts and running shoes.
Kudos to head coach Mike Babcock for the clever solution for a tough predicament.
"I thought it was a real good day for us," Babcock said. "Obviously, I have never done this before. We've put a lot of planning into it. I spent a lot of time talking to people to gather the information -- [head coach] Tom Izzo in particular with Michigan State basketball. He talks about the walk-throughs, and [they are] part of the reason that he believes they've been to six Final Fours in the last 15 years. Todd Downing is a quarterback coach with the Lions. He talked about the plays they walk through each and every day and the muscle memory and the timing and spacing that's going on.
"This is a big sheet, and guys aren't used to it. It's even bigger when you can't move very fast, and you couldn't go very fast today. But I thought it was a good teaching tool. The other thing is when you've got 23 guys on your team, you usually got to teach 23 different ways. Everybody learns different, so when you see it on video, it's one way you see it. In a book, it's another way. You've got a posting on the wall, you walk through it again and then you talk about it. To me, what we're trying to do is get them to understand the way we're going to play, so it meets the comfort for them when they arrive in Sochi."
It's early, folks, but, for the heck of it, here were the lines:
Chris Kunitz
-
Sidney Crosby
-
Patrick Sharp
Eric Staal
-
Jonathan Toews
-
Rick Nash
Logan Couture
-
John Tavares
-
Steven Stamkos
Andrew Ladd
-
Ryan Getzlaf
-
Corey Perry
Jeff Carter
-
Mike Richards
-
Martin St. Louis
Milan Lucic
-
Matt Duchene
-
James Neal
Brad Marchand
-
Patrice Bergeron
-
Jordan Eberle
Taylor Hall
-
Jordan Staal
"Don't read anything into the lines," Babcock cautioned.
Joe Thornton
's absence from the camp (family illness) left Hall and Jordan Staal lined up with a University of Calgary player, Dylan Walchuk.
Talk about a thrill for the college player.
"I know. It's pretty sweet. Maybe I'll see myself on TV tonight if I get lucky," Walchuk said.
So much is going to play out over the next few months before Team Canada picks the team. It's hard to tell a whole lot from these lines when you consider that most of the line combinations at the camp four years ago didn't hold water come the Olympics in Vancouver four months later.
Still, there were some interesting looks Monday, such as Nash back on a line with Toews. That duo was Canada's most effective forward combo by the end of that gold-medal tournament in 2010, with Toews being named the tournament's top forward. So it's natural for the coaching staff to want to see those guys back together.
Crosby had his trusted
Pittsburgh Penguins
linemate Kunitz on his left side Monday, an obvious fit. I still think Kunitz is in tough to make the team, but if he lights it up in the fall like he did last season, he's got a shot, especially when you consider how difficult it was for the coaching staff in Vancouver to find players who could mesh with the world's top player.
"This is the best of the best," Kunitz said. "It's awesome. I've never been to an All-Star Game or one of these things. This is a great thing to be a part of, but if I want a chance to go to that team, I have to play my game and have as much success as I did last year moving on and have to earn my way on the team."
Sharp's inclusion on the line is also intriguing. He's a long shot for most people to make the team, although I would put him on the team if it were up to me. Sharp is a versatile player who can play all three forward positions, and, on a team that's going to have a lot of centers playing out of position on the wing, I think he'd be a valuable addition.
Whether or not Sharp was on the Crosby line for no other reason than
Claude Giroux
not being here in camp, who knows. But I like Sharp on that line.
But easily the most intriguing line Tuesday for me was Tavares between Couture and Stamkos. Wowsers. That's a young and talented combination, and Couture brings in a bit of defensive protection with his two-way game. That's a line I could certainly live with.
But again, so much will change between now and February.
To me, the locks on defense are
Alex Pietrangelo
,
Duncan Keith
,
Shea Weber
and
Drew Doughty
-- and perhaps
Jay Bouwmeester
. Then, the final three jobs are up for grabs among
P.K. Subban
,
Dan Boyle
,
Kris Letang
,
Marc-Edouard Vlasic
,
Marc Methot
and
Dan Hamhuis
.
Canada-Russia rivalry
Crosby is an avid hockey history student. It's not lost on him the chance at hand next February with the Olympic tournament staged in Russia, Canada's historical hockey rival.
Not since the famous 1972 Summit Series between Canada and the former Soviet Union has there been a more meaningful game played in Russia between the two rivals played than if the two countries tangle next February.
"I can remember being 15 in Shattuck [Minn.], and J.P. Parise was there, and I remember some of the stories he would tell," Crosby said. "I was always kind of wondering if I'd even have a chance to play in Russia and, up to this point, I haven't. To have that opportunity and knowing the history is there to be part of that would be definitely very special. It's something we're all well aware of and want to make happen."
Wayne Gretzky has often said that one of his regrets in his career was not having a chance to play an important international game in Russia. The Great One was part of those great Canada Cup games against the former Soviet Union, but those games were always held in Canada.
"That's a pretty special opportunity for those Canadian players if they get to play Russia in Sochi," Gretzky told ESPN.com Sunday.
Old man Boyle
The gray speckles on Boyle's beard reveal the veteran defenseman's experience in this camp. At 37, the
San Jose Sharks
blueliner is the second-oldest player here in camp behind only St. Louis.
"I've got a lot of D-men telling me that I was their favorite D-man growing up,'' Boyle chuckled Monday. "I'm sure I'll be asked about my age from here on in. It bothers me, but what can you do? I play with guys who are 25 who are icing their backs. It's not always about age. Look at Marty."
Don't be fooled, though. Boyle can still play at this level, and he'll be an interesting decision for Team Canada. He's an asset on the big ice, and his experience is important, too. But the Canadian management staff will watch him carefully in the opening months of the NHL season to make sure they don't see any signs of slowing down.
"I know the experts haven't picked me to make the team," Boyle laughed, using his fingers to show quotation marks around the word experts. "I don't put too much thought into that. I've been doing this my whole career, being counted out forever. I'm probably not expected [to make it], but, obviously, I'd love to be part of it. I know what I can bring to this team."
Team Canada will have some new faces on its roster, and having some experience in the room will be important.
"I think so, too," Boyle said. "Oddly enough, the gold-medal game in Vancouver was the calmest I was in the whole tournament. I was more nervous in the preliminary games. I watched the gold-medal game again a few months ago, and I was happy [with his performance]. I think you need that. I think that's where experience comes in."
Smith cuts hair
Barely recognizable Monday was goalie
Mike Smith
. Gone was his long hair.
What's up with that?
"I'm 31 years old with two kids. Time to grow up," he chuckled.
Smith has a solid shot of making this team. Of interest is that he was invited here by Team Canada GM
Steve Yzerman
, whom he played for in Tampa Bay before getting waived and leaving via free agency. Yzerman had hoped to re-sign Smith, but he chose to go to Phoenix.
But as far as Smith is concerned, he left on good terms.
"When I left, there weren't any hard feelings," he said. "I hadn't really deserved the chance to stick around. There were bumps along the road in Tampa, and I never really found my niche. I went to Phoenix and developed more into the guy I thought I could be. But the way it was handled in Tampa was first class. Steve and the whole organization handled it with the most respect they could give me. I'm fortunate for that."
Keith looking for more glory
He's got two Stanley Cup rings, and now he's aiming for a second Olympic gold medal.
Star blueliner Keith is far from satisfied with his current haul.
"They're both very special experiences," Keith said Monday. "When you win a Stanley Cup, I dreamed about that sort of thing when I was a kid. To be able to do that after a long season and a long grind is definitely rewarding. At the same time, when you play on an Olympic team, you're representing your country, and it's a huge honor in itself to have that jersey on. To win an Olympic gold medal, it means you're the best team in the world at that time. It's a special feeling.
"They're both special. They're both unique feelings. Any time you win a championship, it's the best feeling in the world. I mean, a win's a win, right?"
Keith was partnered with Weber in Monday's walk-through/ball hockey practice.
Bouwmeester's back
Bouwmeester was part of Canada's Olympic team in 2006 but was passed over for 2010.
Now he wants back in.
"You'd like to be there," he said Monday. "That's the goal for everyone. I think you learn from that. From that, you learn it's a process, and you can't worry about it. If you're picked and get to go, great. But there are a lot of great players."
It could be an exciting year for him. His
St. Louis Blues
were picked by The Hockey News to win the Stanley Cup, to which Bouwmeester responded Monday:
"I guess that's better than being on the bottom. I think the Toronto Blue Jays were picked to win the World Series, weren't they? I wouldn't put a lot of faith into it."
Ouch, Jays fans.
Still, the Blues are definitely a team that's knocking at the door.
"We're still fairly young, but everybody's kinda past that learning stage," Bouwmeester said. "You've got a group that's probably going to be together at least a few years, at least the majority of guys. It seems like a good opportunity."
June, 27, 2013
6/27/13
11:29
AM ET
What was shaping up to be a not terribly deep nor exciting July 5 free-agent crop is getting some intriguing names added by the day.
Vincent Lecavalier
brought some pizzazz to the unrestricted free-agent festivities Thursday. After the
Tampa Bay Lightning
announced they were buying out Lecavalier's contract, the star center joined goalie
Ilya Bryzgalov
and forward
Danny Briere
as players bought out and thrown into the UFA mix.
Lecavalier, 33, adds a tempting option in a UFA center class that otherwise was led by the likes of
Derek Roy
,
Mike Ribeiro
and
Stephen Weiss
. At the right price, Lecavalier would be one heck of an addition as the No. 2 center on a good team.
Of course, it didn't take long for Lecavalier's buyout to be announced for people to link him to his native Montreal. Let's be honest: It would be cool to see him in a
Canadiens
uniform after all these years of trade rumors linking him there.
Two questions need answering, though. Do the Habs have interest? And would Lecavalier be willing to play under that kind of spotlight?
One of the reasons Tampa Bay suited him so well was that it isn't a hockey fishbowl.
"Too early [to tell]," one source told ESPN.com Thursday regarding Montreal's potential interest.
Indeed, much can happen between now and July 5, with other players being made available via buyout or trade. The landscape is shifting quickly.
I'd be shocked if the Lecavalier camp, led by agent Kent Hughes, didn't get interest from at least a dozen teams. At the right price, he's a stud, and this isn't a great year for free-agent centers. And you still can't teach 6-foot-4.
Just my own guessing out of the gate, not based on any sourcing ...
• The
Detroit Red Wings
need a No. 2 center as talks with
Valtteri Filppula
are headed nowhere. While Weiss also could be an option, Lecavalier would make a lot of sense.
• The
Chicago Blackhawks
? Cap space is at a premium and re-signing pending UFA
Bryan Bickell
is the priority. But, man, would Lecavalier ever fit well there, especially because you know
Michal Handzus
isn't the long-term answer at No. 2.
• What about Lecavalier's former coach at Tampa Bay, John Tortorella, who is in his first offseason as coach of the
Vancouver Canucks
?
• The
Toronto Maple Leafs
have been looking for a legitimate center with size for about a million years.
We will see a lot of teams linked to Lecavalier because, frankly, a lot of teams could use him.
The Lightning did not come to this decision lightly. I believe this was a very difficult move for general manager
Steve Yzerman
to make.
But at the end of the day, the ability exists under the compliance buyout provision in the new CBA (two per team for the next two offseasons) to extricate oneself from a cap-killing contract. And at $7.72 million a pop for seven more seasons, Lecavalier was a cap hit the Lightning just couldn't live with.
More of a concern for any team with these types of long-term, front-loaded deals that are remnants of the old CBA is the "recapture" rule, which is part of the new CBA. For example, had Lecavalier retired before the end of his deal, Tampa Bay would have faced salary-cap charges moving forward.
It's why the
New York Rangers
are debating whether to buy out center
Brad Richards
. It's why the Canucks should buy out goalie
Roberto Luongo
if they can't find a trade partner.
A source told ESPN.com Thursday that the Canucks don't want to buy out Luongo. They could trade him if they're willing to eat part of his deal or take back a player who's also a cap anchor for another team. Vancouver also could waive Luongo at some point and hope that another team takes him.
Letang update
My colleague Rob Rossi of the Pittsburgh Tribune created a bit of a stir in Toronto when reporting late Wednesday that if
Kris Letang
can't agree to terms on an extension with the
Penguins
, Toronto would be near the top of his trade destinations. Rossi does a solid job covering the Pens, but Letang's agent, Kent Hughes, was adamant no such trade destination conversations had taken place and clearly was not happy with the story.
"Our focus has been on negotiating a contract with the Pittsburgh Penguins and we have not discussed the Toronto Maple Leafs," Hughes told ESPN.com via email Thursday morning. "He remains under contract for one more year if we don't extend his contract. We are not the source of the story, nor were we contacted to verify its accuracy beforehand."
The Penguins have made Letang a substantial offer, but obviously it was not enough; otherwise he would have signed it.
So the clock ticks. Would general manager Ray Shero really allow Letang to enter next season in the final year of his contract? Shero would get way more in a trade this summer than he does at the trade deadline next season.
It's worth noting that the Leafs are in the market for a top defenseman, so if Letang becomes available, it'd make sense for Toronto to be among the suitors.
Tick tock ...
Speaking of the Pens ...
Great job by Shero to get
Chris Kunitz
signed to a three-year extension worth $3.85 million per season. That's a good value. Kunitz has one more year on his deal at $3.75 million, and he would have been a UFA in July 2014.
Credit to Kunitz and agent
Ben Hankinson
, too. Maybe Kunitz gets more money elsewhere, but you like where you're playing and you've found chemistry with
Sidney Crosby
, so why throw that away? It's not always about the money.
Kunitz will be 34 in September, which means he'll be 37 entering the final year of this extension. Getting a three-year term was the real prize for Kunitz and Hankinson.
May, 3, 2013
5/03/13
11:45
PM ET
PITTSBURGH -- Penguins captain
Sidney Crosby
must have a different definition of rust than most normal people.
After missing more than a month with a broken jaw, Crosby jumped into the middle of a playoff series and scored twice in the first 7:22 of Game 2 of the Penguins' Eastern Conference quarterfinals series with the
New York Islanders
.
Crosby scored on the power play and then 5-on-5 as the Penguins built an early 3-1 lead, only to see the Islanders storm back and shock the Penguins with three unanswered goals to tie the series at one game apiece with a 4-3 victory.
Crosby could hardly be faulted, though, as he played 23:21 on the night, had eight shots on net and won 14 of 26 faceoffs.
"I thought he didn't miss a beat," Penguins coach
Dan Bylsma
said. "He skated well. He was on the puck. He was very good getting back in there after missing 13 games."
Still, Crosby suggested he wasn't in peak form.
"Definitely a little bit of rust, but there's not a lot of time. So, you've got to find a way to create things out there and be better," he said.
New York Islander netminder
Evgeni Nabokov
came up with a couple of huge saves on Crosby during a four-minute Pittsburgh power play but said he never knew where Crosby was going to be, he is so deceptive.
"Good players find the good spots," Nabokov said. "He's changing his game; he's around the net everywhere. One time he could be around the far post, then he will all of a sudden be right in the slot."
When facing a team as talented and deep as the Penguins, Nabokov said it's best to try not to worry too much about which player is where and just keep your eye on the puck.
"If I'm going to worry about that much skill up front, then my head is going to go nuts. I just try to follow the puck and react where the puck is going. I know that [Crosby's] there, but when you have
Chris Kunitz
or
Evgeni Malkin
somewhere else, you can't just think about Crosby. Obviously, with that much skill, I just concentrate on the puck," he said.
February, 4, 2013
2/04/13
1:14
PM ET
By
NHL release
| ESPN.com
From the official NHL media release:
VANEK, KUNITZ AND LUONGO NAMED NHL 'THREE STARS' OF THE WEEK
NEW YORK (February 4, 2013) --
Buffalo Sabres
left wing
Thomas Vanek
,
Pittsburgh Penguins
left wing
Chris Kunitz
and
Vancouver Canucks
goaltender
Roberto Luongo
have been named the NHL's 'Three Stars' for the week ending Feb. 3.
FIRST STAR -- THOMAS VANEK, LW, BUFFALO SABRES
Vanek climbed to first place in the NHL scoring race by posting a League-best 10 points (five goals, five assists) in four games last week.
Vanek recorded points on 71% of the Sabres' goals, starting with one assist in a 4-3 overtime loss to the
Toronto Maple Leafs
Jan. 29. He notched his second five-point game of the season (three goals, two assists) in a 7-4 victory over the
Boston Bruins
Jan. 31, becoming the first Sabres player in
20 years to record multiple five-point games in a season. Buffalo's
Pat LaFontaine
and
Alexander Mogilny
had six and three, respectively, in 1992-93. Vanek tallied Buffalo's only goal in a 6-1 loss to the
Montreal Canadiens
Feb. 2 and tallied a goal and two assists in a 4-3 loss to the
Florida Panthers
Feb. 3. The 29-year-old native of Vienna, Austria is in his eighth NHL season, all with the Sabres after being chosen fifth overall by Buffalo in the 2003 NHL Draft.
SECOND STAR -- CHRIS KUNITZ, LW, PITTSBURGH PENGUINS
Kunitz tallied eight points (five goals, three assists) in four games, including a pair of game-winning goals, as the Penguins (6-3-0) won three of four starts to take the Atlantic Division lead. He recorded one assist in a 4-1 loss to the
New York Islanders
Jan. 29, tallied one goal, two assists and a +4 rating in a 5-1 win over the
New Jersey Devils
Feb. 2 and he finished the week with the first four-goal game of his NHL career -- on four shots -- in a 6-3 victory over the
Washington Capitals
Feb. 3.
Kunitz, who tallied a career-high 26 goals in 82 games for the Penguins in 2011-12, has a club-leading six in nine games this season.
THIRD STAR -- ROBERTO LUONGO, G, VANCOUVER CANUCKS
Luongo posted a 2-0-1 record, 0.95 goals-against average and .963 save percentage, helping the Canucks (4-2-2) claim first place in the Northwest Division. Luongo began the week by making 26 stops in a 3-2 shootout loss to the
Los Angeles Kings
Jan. 28. He recorded 24 saves for his 61st career NHL shutout a 3-0 victory over the
Colorado Avalanche
Jan.
30 and made 27 saves in a 2-1 shootout win over the
Chicago Blackhawks
Feb.
1. Luongo has posted a 2-0-2 record, 1.46 goals-against average and .944 save percentage in four appearances this season.
February, 4, 2013
2/04/13
11:16
AM ET
By
ESPN Stats & Information
| ESPN.com
Penguins 6, Capitals 3

* Penguins: won 3 straight and 4 of last 5
*
Chris Kunitz
(PIT): 3rd career hat trick (scored 3rd goal on PP with :08 left in regulation)
*
Sidney Crosby
(PIT) 3 assists; 33rd career 3-assist game (2nd most in NHL since 2005-06 -
Joe Thornton
has 43)
*
Mike Green
(WSH): Goal (2); leads all defensemen with 81 goals since 2007-08
FROM ELIAS: A game featuring Sidney Crosby,
Evgeni Malkin
, and
Alex Ovechkin
promises plenty of goals, and that was the case on Sunday when the Penguins beat the Capitals, 6–3. But none of the nine goals was scored by Crosby (who had three assists), Malkin (two assists), or Ovechkin (one assist). It was only the fourth regular-season game in which Crosby, Malkin, and Ovechkin all played without at least one goal by one or more of those three marquee names. Here's the kicker: The nine goals in Sunday's game were one more than the total from the previous three games in which they all played, all won by Pittsburgh (2–0, 2–1, and 2–1).
Devils 3, Islanders 0

*
Johan Hedberg
(NJ): 22 saves (1st shutout of season, 22nd career)
*
Steve Bernier
(NJ): 2 goals (3) (goals were scored 1:10 apart in 3rd period)
* Devils: snap 4-game winless streak
* Islanders: 1st regulation loss in last 4 games (2-1-1)
Panthers 4, Sabres 3

* Panthers: score final 3 goals of game (trailed 3-1 3:49 into 2nd period)
* Panthers: 2nd straight win following a 5-game losing streak
*
Brian Campbell
(FLA): go-ahead PPG (4) 9:27 into 3rd period (Campbell is a former Sabre)
*
Thomas Vanek
(BUF): goal (8), 2 assists; has 9 points in last 3 games (5 G, 4 A)
* Sabres: 1-5-1 in last 7 games after 2-0-0 start
" FROM ELIAS: Thomas Vanek has been a proverbial one-man gang for the Sabres this season and he had a hand in all three of Buffalo's goals in Sunday's 4–3 loss to Florida, recording one goal and two assists. Vanek has scored or assisted on a league-high 70 percent of his team's goals this season (19 of 27, including 9 of 11 in the Sabres' last three games), and he's done so despite missing one game. The only NHL player other than Vanek with points on more than half of his team's goals is
Henrik Zetterberg
of the Red Wings (12 of 21, 57%).
Canadiens 2, Senators 1

* All goals in game scored in 1st period
* Canadiens goals:
David Desharnais
(3) and
Erik Cole
(2)
*
Carey Price
(MTL): 32 saves (stopped 62 of 64 shots in back-to-back wins over BUF & OTT Saturday and Sunday)
* Canadiens: won 5 straight home games since losing home opener to Maple Leafs Jan. 19
February, 4, 2013
2/04/13
10:59
AM ET
• The
Pittsburgh Penguins
are starting to round into the kind of groove many anticipated at the start of the season. After spanking New Jersey Saturday by a 5-1 count for their first home win of the season, they traveled to Washington and spanked the sliding Capitals 6-3 for their third straight win, with
Chris Kunitz
netting the hat trick. Both
Tomas Vokoun
and
Marc-Andre Fleury
are playing well in net.
• It's hard to describe whatever is going on in Buffalo other than to call it ugly. The Sabres are tied for 27th in goals against per game and after shocking Boston 7-4 on Friday night blew a 3-1 lead Sunday against Florida to lose 4-3. They have one win in their past seven games and have given up at least three goals in seven straight. The bright spot for the Sabres, who are last in the Northeast, is
Thomas Vanek
, who has vaulted to the top of the scoring chart with 19 points. The Panthers, on the other hand, have now won two in a row, both of which involved comebacks. Good sign for Kevin Dineen's squad after a miserable 1-5-0 start.
• Pressure is going to continue to build on Ottawa GM Bryan Murray to find offensive help with top center
Jason Spezza
out long term with a back injury. The Sens lost their second straight on Sunday, 2-1 to Montreal after being shut out Friday by Carolina. The Senators did not like a goaltender interference call on rookie
Jakob Silfverberg
early in the third period that waved off a potentially tying goal by
Andre Benoit
. The Canadiens, meanwhile, seem to have accepted
P.K. Subban
back in their lineup without much adjustment. The Habs have won six of seven
• Nice rebound by the
New Jersey Devils
on Sunday as they shut down the
New York Islanders
on the road 3-0 with veteran backup
Johan Hedberg
between the pipes. The Devils had been winless in four. The Islanders, meanwhile, entered the game 3-1-1. The good news for the Isles is that defenseman
Lubomir Visnovsky
is expected to return from Slovakia this week. Coach Jack Capuano has said Visnovsky, who was suspended by the team when he did not return to Long Island after the lockout ended, will need to practice with the team before he plays.
• It's a nervous time around the
Tampa Bay Lightning
as they prepare to head off on their first extended road trip of the season, a four-game swing that will see them visit Philadelphia, New Jersey, Boston and the
New York Rangers
. But what remains unknown is the availability of captain
Vincent Lecavalier
, who is off to his best start in years but suffered a bone contusion on his ankle when he was struck by a last-second shot by teammate
Sami Salo
Saturday night in Tampa. He is listed as day to day.
• The
Columbus Blue Jackets
are also anxiously awaiting word on the health of important defenseman
James Wisniewski
, who crashed awkwardly into the boards during Saturday's surprising 4-2 win over the
Detroit Red Wings
. Wisniewski had scored his first goal of the season for the Blue Jackets earlier in the game but coach Todd Richards did mention "concussion" when discussing Wisniewski after the game. More information is expected Monday.
• It's going to be interesting to watch the goaltending situation in Anaheim. The Ducks have been impressive in rolling to a 5-1-1 record, but
Jonas Hiller
has allowed at least three goals in four of five starts. Rookie
Viktor Fasth
, 30, a two-time goaltender of the year in the Swedish Elite League, is 2-0 and has allowed three goals. The Ducks are getting plenty of offense, but at what point, if any, do we see coach Bruce Boudreau give Fasth more leash in the Anaheim net?
• Maybe it means something. Maybe nothing. But tongues were sent wagging when Vancouver GM Mike Gillis was spied in attendance at Sunday's game in Washington. Gillis, of course, is looking to move netminder
Roberto Luongo
, even though Luongo has started three straight in place of
Cory Schneider
, the heir to the Canucks' goaltending throne. The Caps are off to a woeful start and the goaltending of
Braden Holtby
and
Michal Neuvirth
has not been stellar. Stay tuned.
April, 19, 2011
4/19/11
4:29
PM ET
Just once, it would be nice if the NHL followed up its best intentions with actions that didn't immediately generate ridicule, outrage and a collective throwing up of one's arms in disgust.
Just once that would be nice.
It would have been nice, in the wake of two more reckless, dangerous, on-ice plays that targeted players' heads, to be able to sit down and laud the NHL for having come out and proven with action that it really does care about what happens to the game's most important assets.
Just once.
[+] Enlarge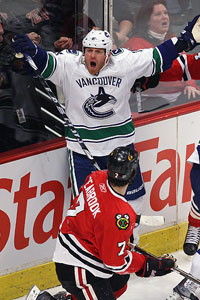 Jonathan Daniel/Getty ImagesVancouver's Raffi Torres did not receive any further NHL discipline after hitting Chicago's Brent Seabrook in Sunday's Game 3.
In a week in which we heard the NHL refer to some mysterious video that apparently legitimizes knocking a player's block off as long as it's somewhere behind the net (not sure if they call it the "kill zone" on this apparently rarely seen video, but they could) to explain why it didn't suspend
Raffi Torres
(again), the NHL announced Tuesday afternoon
Chris Kunitz
and
Steve Downie
were each suspended for one game in the playoffs for plays in Monday's game in Tampa.
One game. Sixty minutes, give or take time for overtime. About three hours. Less time than the NHL GMs met in one session talking about the need to make the game safer and come down harder on players who don't follow the rules.
Now, if the whole hockey world wasn't being bombarded by the NHL's assertions that it is all about reducing blows to the head and making the game safer and punishing repeat offenders, maybe one game would have been enough.
But Kunitz's sneaky elbow to the head of an unsuspecting
Simon Gagne
and Downie's leaping into the air to destroy
Ben Lovejoy
along the end boards are merely the latest examples that the players don't get it.
Respect? It's the playoffs; what do you expect? You think players will hold up when they see a guy with his head down? The playoffs are a time of maim or be maimed, and the NHL seems pretty cool with that, or else surely Kunitz and Downie could have waited until the end of the first round to get back into the ring.
Remember when
Matt Cooke
got 10 games and the first round of the playoffs off for his elbow to the noggin of Rangers defenseman
Ryan McDonagh
?
Seems like a different world altogether, which isn't surprising given the multiple personality disorder from which the NHL's supplemental discipline process suffers. Sybil? She was single-minded and on task compared to the league's handling of arguably the most important issue it has faced since the lockout.
Cooke was supposed to be the reminder that if you cannot control your actions, you're history.
And when the Cooke suspension was followed not so long after by Torres getting the final two games of the regular season and the first two games of the playoffs, well, that seemed almost like a pattern.
Almost.
Then Torres came back and put one of Chicago's top defensemen out of action with a hit that, in spite of the gobbledygook the league put out to explain why it didn't suspend Torres, plainly runs against all the stuff GMs and league executives were talking about in Florida at meetings that at the time seemed as if they might actually make a difference.
Seabrook wasn't scheduled to play in Tuesday's potentially season-ending game against Vancouver. Torres? Sure, get on out there Raffi and just remember, if you're going to decapitate someone, make sure it's in the "magic" zone. Wherever that is.
That returns us to a point we made during those GMs meetings -- that it's time for a change at the top.
No matter how good a guy Colin Campbell is, no matter how much he cares, the past few days have once again revealed the NHL's office of discipline to be unable to stay on topic, sending mixed messages to the fans who pay the freight and the players, coaches and GMs that are trying to figure out just where the lines in the sand are.
Good intentions be damned. Find someone who can come in and, without worrying himself into a knot over the minutiae of every single hit, simply employ the mantra: "If in doubt, throw the book at him."
How could that be any worse than the spectacle this week of a league once again seeing the gap between what it says and what it does grow ever wider?
It's something called credibility, and you'd think the NHL might want to consider getting some when it comes to this issue.
We have been covering the
Washington Capitals
-
New York Rangers
series.
The two teams have combined for 219 hits in three games. There hasn't been an incident that's come close to warranting supplemental discipline. So all those hand wringers, who worry that having the gumption to levy significant suspensions will lead to a more genteel game, need to watch a little bit more closely.
If the league had done the right thing and suspended Torres (again), then given a three or four playoff-game suspension to Kunitz and Downie, maybe we'd be onto something here.
Just once that would have been something to write about.