Cross Checks:

Christian Ehrhoff
July, 1, 2014
Jul 1
12:55
PM ET
What curious days for the
Pittsburgh Penguins
, who have at times looked a little aimless since firing GM Ray Shero and later head coach
Dan Bylsma
after blowing a 3-1 second-round playoff series lead to the
New York Rangers
.
Well, adding one of the top defensemen in the free agent class in recently bought out
Christian Ehrhoff
should calm the nerves of frazzled Pens fans, at least somewhat.
Good work for new Pens GM Jim Rutherford and his new lieutenants,
Bill Guerin
and
Tom Fitzgerald
. The team was expecting to lose two of their top four defenders in
Matt Niskanen
and
Brooks Orpik
to free agency, so adding a top-four defender to the mix in the early minutes of free agency was big.
What was interesting is that Rutherford was able to get Ehrhoff, who signed a 10-year deal with Buffalo in 2011 that saw the former Vancouver standout earn $18 million in the first two seasons, to commit to Pittsburgh for just one year.
For a team that's wrestling with cap issues, limiting the term to one year at an exceptionally cap-friendly $4 million is something of a coup, especially in obtaining a player who was highly sought-after following the Sabres' decision to cut ties with Ehrhoff.
It's believed Detroit and Tampa were among the others interested in Ehrhoff's services.
The move does make the Pens somewhat overloaded with left-handed defensemen, although
Paul Martin
can play either side.
With Ehrhoff, Paul Martin,
Kris Letang
and
Olli Maatta
, the Penguins may be lacking in toughness on the back end, but they will more than make up for that with an impressive group of puck-moving blueliners.
Ehrhoff has 50-point potential and joins a back end that has all kinds of offensive upside, as the Penguins try to remake themselves after five straight years of losing in the postseason to lower-seeded teams.
The process of redefining the team's identity began in earnest at the draft in Philadelphia, where Rutherford dealt sniper
James Neal
to Nashville in exchange for grittier winger
Patric Hornqvist
and depth center
Nick Spaling
.
June, 30, 2014
Jun 30
7:13
PM ET
The weeklong courting period of free agents -- essentially a window for legal tampering -- has added a new dimension to the excitement building up to the opening of the market July 1. The growing list of buyouts over the past few weeks has also added to the intrigue of the upcoming free-agent frenzy. Here is a look at some of the headliners of a class of players who have been cut loose. Where might they end up when the clock strikes noon on Tuesday?
Brad Richards
-- There was no surprise when the 34-year-old center was bought out by the
New York Rangers
, despite the fact his leadership was integral to the team's surprising run to the Stanley Cup finals. Ultimately, the whopping cap recapture penalties the Rangers risked in the event of Richards' early retirement were the factor that spelled the end to the former Conn Smythe Trophy winner's tenure on Broadway. True, Richards is not the most fleet of skaters, but he still has superb vision and creative playmaking skills, not to mention his intangible leadership qualities. It's possible that Richards would welcome a return to Tampa Bay, where he still has roots from his long stint with the Lightning, but the team's already all set at the center position, which makes that an unlikely fit. What are more realistic landing spots? Chicago wants to add more depth down the middle, so depending on what happens with the
Jason Spezza
situation, perhaps this is a move the Blackhawks would consider, though it is difficult to see him fulfill the second-line center role that they covet. The Isles may also be a team that could benefit from his veteran savvy and experience, considering the team has a considerable amount of young talent but few marquee players with Stanley Cup championships on their résumés.
Christian Ehrhoff
-- Similar to the situation with Richards, the
Buffalo Sabres
could not take a chance on the penalties looming should Ehrhoff retire early, since his cringe-worthy 10-year, $40 million contract back dives to just $1 million per year in salary the last three years of the deal. Considering how thin this year's class of free-agent defensemen seems, the 31-year-old defenseman could garner significant interest from teams that lose out on some of the other top names out there, including
Matt Niskanen
,
Dan Boyle
and
Anton Stralman
. Both Detroit and Tampa Bay could use an upgrade on defense. Should be interesting to see if they put in a call.
Mike Ribeiro
-- It's hard to handicap how the comments by Arizona Coyotes GM Don Maloney regarding the buyout of the 34-year-old Mike Ribeiro's contract could impact his list of suitors. Maloney made no effort to conceal that the decision to sign Ribeiro was a risky one that he has since come to regret. Maloney referenced Ribeiro's long-rumored behavioral problems, so that might sour teams that, while interested in adding depth at center, harbor concern that he is not worth the gamble. Have to figure that Ribeiro's prospects have thinned since the banner season he had in Washington during a lockout-shortened 2013. Would Chicago be willing to take a chance on him? He might be a better fit in Nashville, with the Predators looking for help at that position and to add offensive talent.
Ville Leino
-- He's another interesting option for Nashville to consider, especially since the winger thrived under new Predators coach Peter Laviolette while both players were in Philadelphia. Leino has been nothing short of a bust in a dreadful three-season stint with the Sabres, where he wilted under the pressure of an ill-advised six-year, $27 million deal. Can he bounce back under a more modest deal that does not carry the same sort of lofty expectations? If so, could the one-time 53-point player (who recorded 21 points in 19 games during the 2010 NHL playoffs, if memory serves) be a steal for a team looking to do some budget-conscious shopping this week? If so, St. Louis and Ottawa could be intriguing options.

Anton Volchenkov
-- The rugged 32-year-old defenseman does not provide much by way of offense, with only one goal in the past two seasons with the
New Jersey Devils
, but he could provide some physicality for a team looking to add some snarl on its back end. The tough, Russian-born blueliner has battled injuries in recent seasons, but has still proved to be an effective shot-blocker and adds some edge to any lineup. Colorado could use some defensive help, and a little grit wouldn't hurt. We wouldn't rule out Buffalo or a second tour in Ottawa, either.
March, 3, 2014
Mar 3
12:57
PM ET
You know I'm intrigued by bubble teams at this time of year -- it's my favorite thing to write about.
The
Dallas Stars
are another team on the bubble, hanging on to a playoff spot by the slimmest of margins.
But it's not posing any issues for Stars general manager Jim Nill. He's got a clear plan, regardless.
He's open to hockey deals, yes, but he's not going to trade for any pending UFAs.
"Correct, we're not going to be in the rental market," Nill told ESPN.com Monday. "But if there's a hockey deal that makes sense, we'll look at it."
He's got pending UFAs of his own, such as veteran winger
Ray Whitney
and center
Vernon Fiddler
.
Given where the team is right now, the sense is he trades those types of players only if the deal makes sense. He wouldn't do it for the sake of gaining a limited asset in return.
"We're open for business, I'm always looking at things, but I'm not rushing to do something just to move a body to get a pick," Nill said.
Veteran defenseman
Stephane Robidas
, out since late November with that horrific leg injury, could be on the mend and is an interesting trade target for a contender, something TSN colleague Darren Dreger brought up Sunday on air.
My sense is Nill likely will get a read off Robidas, both in terms of his health -- there's a thought he could return within two or three weeks -- and what his wishes are in terms of staying put or moving on. I think there's so much respect for what Robidas has done in Dallas that the GM would take the player's lead there.
But that's just my read on it.
Meanwhile, Nill is excited by his team, which has picked it up in the second half to try to get into the playoff race.
"We've had a lot of guys take a step in their game," Nill said. "You saw
Jamie Benn
in the Olympics,
Tyler Seguin
has become a big part of this team,
Erik Cole
has taken charge,
Jordie Benn
on the back end,
Trevor Daley
and
Alex Goligoski
are playing well, so guys have bought into it. A lot of credit goes to the coaching staff, they've done a good job. There's some real excitement in our room."
Blackhawks standing pat?
Things can always change with one phone call, but the feeling I get is that despite the
St. Louis Blues
' big blockbuster trade on Friday, the rival
Chicago Blackhawks
will stick with their group as is.
The Blackhawks picked up
Peter Regin
before the Olympic break and
Kris Versteeg
earlier in the season, and unless something falls in their lap -- which is still possible before Wednesday -- word on the street is that the defending champs like their team and don't feel compelled to act.
I don't blame them. What's not to like?
Wings chasing Ehrhoff?
The Red Wings are believed to be among the teams interested in defenseman
Christian Ehrhoff
, whom the Sabres are shopping. He's got seven more years on his deal after this season, at a $4 million cap hit. What's better, though, is that $22 million of that 10-year, $40 million deal will have been paid off by the end of this season because it was front-loaded.
I don't think the Wings would overpay to get him, but he would fill a need for a top-four, offensively minded defenseman.
Waiting for Phillips
Still no word as of Monday afternoon on
Chris Phillips
and a decision after being offered a one-year contract extension by the Senators.
It's believed Phillips wanted a two-year extension.
If he doesn't sign, Ottawa could trade him before Wednesday's deadline.
As reported last week, the
Boston Bruins
have interest in Phillips but it's not clear whether Ottawa would be willing to deal him to a divisional rival.
The Bruins also are interested in Islanders defenseman
Andrew MacDonald
, among others. MacDonald is a solid, two-way guy who's a pending UFA, and it's clear the Isles are going to move him.
August, 17, 2011
8/17/11
2:53
PM ET
Christian Ehrhoff
took a long route from Vancouver to Buffalo.
When the defenseman was about to become an unrestricted free agent on July 1, the Canucks traded Ehrhoff to the
New York Islanders
on June 28. Unable to come to terms with Ehrhoff, the Islanders traded his rights to the Sabres late on June 29.
"For me, the No. 1 criteria is that I want to play for a championship, and I didn't see that with the Islanders," Ehrhoff said Wednesday as he was introduced in Buffalo, according to the Sabres' website. "So I decided not to take their offer, which was a great offer."
On June 30, the Sabres signed the seven-year veteran to a 10-year, $40 million contract, which will pay him $10 million this season.
"I was obviously a little disappointed when I got traded from Vancouver," said Ehrhoff, who was in Germany as his rights were being moved around the league.
"Everybody had good things to say about the city of Buffalo being a great place to live with your kids and a good place for them to grow up -- which was another criteria I was looking for. And since [owner] Terry [Pegula] took over the team, he has showed that he is very committed to putting a team together that can win the Stanley Cup."
Coach Lindy Ruff said Ehrhoff will be a great addition to the Sabres' blue line.
"Christian fits the way we play," Ruff said. "We're a team that has our defense involved and [we] get up ice. If you look at the way Vancouver's defensemen played and were involved in the offensive side of the game, it's an automatic fit.
"He also brings another weapon to us on the power play with a great shot. He's just another real good piece for this hockey club and we're excited to have him."
Ehrhoff made $3.4 million in the final year of his contract last year.
He had 14 goals, 36 assists and a plus-19 rating in 79 games for Vancouver last season. He had two goals and 10 assists in the Canucks' run to the Stanley Cup finals, but was a minus-13 while hampered with a nagging shoulder injury.
June, 29, 2011
6/29/11
11:31
PM ET
If this is how it's going to go until free agency opens at noon ET on Friday, there will be a passel of NHL GMs heading straight to the beach with their cell phones on mute.
We've heard the start of the free-agency period repeatedly referred to as "frenzy," yet we can think of nothing less frenzy-like than what is bound to happen Friday given how desperate most GMs are to get their work done before the bell opens.
Here's a recap from Wednesday:
Ehrhoff's rights
Former Vancouver defenseman Christian Ehrhoff will wake up in Germany on Thursday and belong to a different team for the second straight day. Ehrhoff's rights were first traded to the New York Islanders by Vancouver and then were dealt to the Buffalo Sabres on Wednesday. In both cases, Ehrhoff's rights cost a 2012 fourth-round draft pick.
Ehrhoff's agent, Rick Curran, told ESPN.com Wednesday night that he has spoken with Buffalo GM Darcy Regier and Regier will get a chance to make his case with Ehrhoff on Thursday.
Having come from a Stanley Cup finalist in Vancouver and considered to be one of the top free-agent defensemen that could hit the market Friday, Ehrhoff can expect to be in considerable demand. Curran said the all-round defensive player is interested in being with a team that is a legitimate Cup contender.
It will be up to Regier to prove to Ehrhoff that the Sabres are indeed a different team under new owner Terry Pegula.
The Sabres already acquired veteran defenseman Robyn Regehr from Calgary at the draft this past weekend; and with former Vezina Trophy winner Ryan Miller in net, it's hard to imagine the addition of Ehrhoff wouldn't drive the Sabres' Stanley Cup stock up considerably.
That said, it's hard to believe the Detroit Red Wings, who have a hole along the blue line created by the retirement of Brian Rafalski and money to spend, won't be in the hunt for Ehrhoff if he makes it to Friday.
Where's Jaromir Jagr?
We know what Ehrhoff will be doing Thursday. As for five-time NHL scoring champ Jaromir Jagr? Not so sure.
Pittsburgh Penguins GM Ray Shero told ESPN.com on Wednesday night that there was no news on whether Jagr was prepared to sign a deal with the team with whom he had his greatest success.
Detroit GM Ken Holland also told ESPN.com that they had no update on the status of Jagr and his bid to return to the NHL. Even Jagr's agent, Petr Svoboda, didn't seem to know where Jagr was as of Wednesday night.
What a shocker.
It's believed Montreal is another team still hoping to secure the 39-year-old's services.
Shero, meanwhile, signed Arron Asham to a one-year contract extension and said he was busy trying to keep Tyler Kennedy in the fold.
Panthers trying to keep Vokoun
After signing Tomas Kopecky to a big four-year deal worth $12 million and acquiring defenseman Brian Campbell at the draft, Panthers GM Dale Tallon is making a last-ditch effort to keep Tomas Vokoun in South Florida.
A source told ESPN.com on Wednesday that Tallon had made an offer to the veteran netminder, but had not heard back. No word on dollar or term.
If Vokoun hits the market Friday, look for the Colorado Avalanche, one of a handful of teams looking for goaltending help, to make a big push to bring Vokoun back to the Western Conference.
One goalie that won't be hitting the market is Dwayne Roloson.
Sources said he agreed to a one-year deal worth $3 million Wednesday that keeps him in Tampa. The deal had not been signed as of Wednesday night.
Roloson and the Bolts were a nice fit last season. The 41-year-old netminder was a catalyst to the Lightning's surprise march to Game 7 of the Eastern Conference finals against Boston this past spring.
The blue-line market
James Wisniewski, acquired by Montreal from the New York Islanders early last season and a key contributor to the Habs' power play in the absence of Andrei Markov, saw his rights dealt to Columbus on Wednesday for a 2012 seventh-round pick and future considerations, although if the Blue Jackets do sign the man with the big shot, the pick upgrades to a fifth-round selection.
Will the Blue Jackets' recent makeover, which includes adding front-line center Jeff Carter, be enough to entice Wisniewski? Or will Wisniewski hope to catch the eye of Holland on July 1?
The blue-line corps available Friday may not be deep, but you can bet most will be hoping to get at least a look-see from Holland.
Here are a couple of other names to consider if you're Holland, or just about any other GM looking to shore up the blue line in a thin free-agent market.
Ian White is sometimes overlooked, yet played well in San Jose after being acquired from Carolina. He posted nine points in 17 postseason games for the Sharks. White didn't fit in after the acquisition of Brent Burns at the draft, but he's going to find suitors given his grit and ability to chip in on the power play.
And how about veteran defenseman and former Canadian Olympian Ed Jovanovski?
Although he suffered a grisly orbital bone injury this past season, he managed 14 points and was a plus-4 for the Coyotes. He is also terrific with young players (witness the emergence of Keith Yandle in Phoenix this season) and still has some gas left in the tank. Jovanovski is a Windsor, Ontario native, so there is a strong connection to the community if he signed in Detroit. There could also be a repatriation of the veteran to Florida; he was part of the Panthers' glory days in 1996, when they made their only run to a Stanley Cup finals.
June, 28, 2011
6/28/11
11:25
AM ET
The
Tampa Bay Lightning
will continue their efforts to re-sign star sniper
Steven Stamkos
all week, but should he remain unsigned when the market opens Friday, Stamkos could indeed be a target for an offer sheet.
One team to keep an eye on is the
Philadelphia Flyers
.
Frank Seravalli of the Philadelphia Daily News
offered up that possibility Tuesday.
Having jettisoned the big contracts of
Jeff Carter
and
Mike Richards
and cleared the decks with a few more minors moves, a source confirmed to ESPN.com Tuesday that the Flyers internally are debating the merits of slapping an offer sheet on Stamkos come Friday.
That doesn't mean it's going to happen -- repeat, it may not happen -- but we can at least say the Flyers are thinking about the possibility. So what's a 21-year-old center who has 96 goals in the past two seasons worth?
The Lightning, of course, can match any offer sheet that comes the way of their prized restricted free agent. The pressure is on Tampa to avoid this scenario and get Stamkos signed before Friday. Tampa GM Steve Yzerman was slated to talk to veteran agent Don Meehan of Newport Sports on Tuesday, and you can expect that dialogue to be ongoing until Friday unless there's a deal before that point.
Preds won't re-sign Sullivan
Steve Sullivan
was informed last week by Predators GM David Poile that his services won't be retained in Nashville. But it's an amicable split.
"It's time to move on," Sullivan told ESPN.com Tuesday. "It'll be interesting to see what happens once the market opens."
Sullivan, who turns 37 on July 6, had 22 points (10-22) in 44 games last season. The Timmins Tornado professes to feel 100 percent healthy.
"Absolutely," Sullivan said. "The injuries I had this year -- sports hernia and an MCL -- they're injuries a 25-year-old could have easily had as well. They're not chronic injuries, they're just part of the game. Those have healed very well. I'm back to 100 percent. And I haven't had a single issue with my back since I came back."
Sullivan missed close to two calendar years with a career-threatening back injury but made a terrific comeback during the 2008-09 season and hasn't had a back issue since.
He's worth a look for an NHL team needing a power-play boost.
Ehrhoff's future
So what now for
Christian Ehrhoff
?
With
Kevin Bieksa
returning to the Canucks' fold, agreeing Monday to a $23 million, five-year deal, contract talks continue between Vancouver and the Ehrhoff camp. The German defender can become an unrestricted free agent Friday.
A source told ESPN.com there has been an offer and counteroffer between the Canucks and veteran agent Rick Curran.
The general ballpark for Ehrhoff is somewhere between Bieksa's new deal and the one signed by
Dan Hamhuis
last July 1 (six years, $4.5 million per season). But don't look for Ehrhoff to take less than either player.
Does it get done before Friday? It might. Then again, the
Detroit Red Wings
are sitting there with money to spend and a need for a top-four defenseman ...
Laich's new deal
A few eyebrows were raised at the $27 million the
Washington Capitals
shelled out Tuesday for
Brooks Laich
. The most common compliant on Twitter was that it was a lot of money for a guy with only one 25-goal season.
Well, it's the price of business.
David Legwand
signed the exact same deal in Nashville three years ago -- $4.5 million over six years -- and that was the comparable the Caps used in talks with Laich. Tough to tell Laich to take less money than a comparable player in Legwand just three years later.
June, 20, 2011
6/20/11
3:43
PM ET
There's no rest for the Stanley Cup champs, or at least for the architect of the NHL titleholders. Bruins GM Peter Chiarelli took a break from meetings Monday to update ESPN.com on some of the decisions he has to make.
Chiarelli confirmed what Tomas Kaberle's veteran agent, Rick Curran, told us earlier in the day: the two sides plan to meet in Minnesota to discuss whether there's a fit moving forward for the pending unrestricted free agent.
"We want to have further discussions," Chiarelli told ESPN.com. "We're still in the planning stages. We haven't ruled anything out. I told Tomas we're still throwing it around, planning-wise. He brought something that we needed, so we'll see where it goes moving forward."
Likewise, pending UFA Michael Ryder is on Chiarelli's radar.
"Like Kaberle, I said to Mike that we continue to plan right now," the Bruins GM said. "I told him, 'You're a player that came to play every game in the playoffs.' I told him I'd speak with his agent this week or next."
(As an aside: Chiarelli is not getting nearly enough credit for his role in the Bruins' Cup championship. He made difficult and correct moves to make this team a winner. Let's give this guy a little more love.)

Jagr update
Jaromir Jagr and his agent, Petr Svoboda, were scheduled to meet in their native Czech Republic on Monday to discuss the next plan of action.
Svoboda told ESPN.com before the meeting that Detroit and Pittsburgh remained in the mix, plus a few other NHL teams. The KHL, of course, also remains an option for Jagr.
Another source told ESPN.com on Monday that Detroit had coach Mike Babcock speak with Jagr over the weekend.
Jagr, 39, is an unrestricted free agent. He can make more money staying in the KHL, but told ESPN.com last Friday that a return to the NHL is very appealing to him.

The work ahead for Yzerman
Lightning GM Steve Yzerman is skipping the NHL awards in Las Vegas even though he is nominated for GM of the Year. Between the NHL's board of governors meeting in New York on Tuesday and the work that lies ahead at the draft this week in Minnesota, it didn't make any sense for him to try to squeeze that in.
His top priority is to get restricted free-agent center Steven Stamkos back under contract. Once July 1 rolls around, other NHL clubs can make him offers even though Tampa Bay would have the ability to match any proposals.
"We know that after July 1, he's open to offer sheets, we're fully aware of that," Yzerman told ESPN.com on Monday. "But we'd like to get a deal done, and we'd like to get a deal done before July 1. The deal, I understand, has to work for them, but it has to work for the team, too. We'll do everything we can to get a deal done."
In the meantime, another player of note is forward Sean Bergenheim, who revealed himself to be a clutch performer this past postseason. He earned $700,000 this past season and is obviously looking for a big raise.
"We've talked with Sean's agent a couple of times," Yzerman said. "He was pretty honest with me with what they're thinking. At this time, we see things differently."
Other UFAs for the Bolts include Eric Brewer, Dwayne Roloson, Adam Hall, Simon Gagne and Marc-Andre Bergeron.

The Flyers and Bryzgalov
Flyers GM Paul Holmgren continues in his bid to sign goalie Ilya Bryzgalov before he becomes an unrestricted free agent.
"Right now, we are going to talk again tomorrow," Holmgren said Monday on a media conference call. "Like I said on Friday, we know where they're at and what they want to accomplish. I think they know where we're at. Obviously, to make a deal, there is going to have to be some sort of a compromise. It might take some time and we are going to keep looking at it."
Holmgren also expressed his desire to re-sign forward Ville Leino, also UFA. Contrary to widespread belief around the league, the Flyers GM insisted Monday he didn't need to hold a fire sale in order to sign Bryzgalov or Leino.
"There are things that we want to accomplish as we get closer to training camp, but that's a long time from now," Holmgren said. "There is no fire sale going on here. We are going to continue to try and sign Ilya, obviously, and continue to try and sign Ville; then we will see. It's not like we are caught between a rock and a hard place right now."
Translation: Holmgren believes he can clear up his cap issues during the course of the summer and doesn't feel the need to make a bad trade now in order to sign Bryzgalov or Leino.

Hurricanes' UFAs
The Carolina Hurricanes have some big decisions to make between now and July 1. They have several UFAs on their roster, including top defenseman Joni Pitkanen, as well as forwards Erik Cole, Jussi Jokinen, Chad LaRose and Cory Stillman.
I spoke with Canes GM Jim Rutherford on Monday, specifically regarding Pitkanen and Jokinen. The GM said: "We've agreed that they should look into going into July 1, but we haven't closed the door on either guy. We'll see how it plays out."
Cole is a priority for the Canes.
"He's a guy that we want to bring back," Rutherford said. "He's a part of our team. He's a guy that's made his home here. But there really hasn't been any movement on his contract talks."
Rutherford said he also wants to bring LaRose back, but like Cole, there has been no movement in talks. The GM said Stillman was still considering his options, which possibly includes retirement.

Other notes
• The agent for pending UFA blueliner Christian Ehrhoff, Rick Curran, told ESPN.com Monday he has had a conversation with the Vancouver Canucks since the Cup finals ended and the two sides plan on meeting in Minnesota this week to continue that conversation. Maybe it's just me, but with the Detroit Red Wings openly flaunting their intention to be aggressive July 1 on the blue-line front, I'd be keeping all my options open if I were Ehrhoff, even though he does love playing in Vancouver.
• Speaking of Curran, the veteran agent also represents Chicago Blackhawks forward Patrick Sharp, who has one year remaining on his deal before becoming UFA next summer. The Hawks and Curran are slated to talk in Minnesota. "In casual conversations with different clubs, he's the one player that is most often talked about as far as his likely future," Curran told ESPN.com.
• A source told us that the four candidates for the head-coaching job in Winnipeg are Mike Haviland, Claude Noel, Craig MacTavish and Thrashers holdover Craig Ramsay.
May, 23, 2011
5/23/11
5:30
PM ET
VANCOUVER -- Canucks blueliner Christian Ehrhoff skated Monday at Rogers Arena and didn't look out of place.
"He's day to day right now," said Canucks coach Alain Vigneault. "We'll see how he feels tomorrow."
Ehrhoff said there's been some progress after suffering an undisclosed injury in Friday's Game 3.
"Yeah, definitely feel better than Friday after the game, for sure," he said. "But still day to day."
Thornton will play in Game 5
Joe Thornton will lace them up in Game 5 Tuesday night despite suffering a suspected shoulder injury Sunday.
"I expect Joe to play like Joe," Canucks goalie Roberto Luongo said Monday. "It's the playoffs, you suck it up and you play. I'm sure he'll be just as effective tomorrow night as he's been the whole series."
Sharks coach Todd McLellan told reporters in San Jose on Monday that the captain was in for Game 5.
"When Joe Thornton comes to you and tells you he's playing, he's playing," said McLellan.
Sedin twins on roll
Daniel and Henrik Sedin have combined for 15 points in four games in the West finals and have quieted the critics.
"Well, we're still going to feel pressure to score, that's our job here," Henrik said Monday. "So that's always going to be there. Every player will go through a time in the playoffs where you're not scoring, but if you don't have other guys who help, there's no way you can redeem yourself."
Sharks regroup
The Sharks suffered a devastating loss in Game 4 and Monday was about rebuilding the team's psyche.
"Well, yesterday we were down, there's no doubt about it," McLellan told reporters in San Jose. "I wouldn't expect us to react any other way. Coming to the rink today, we worked on the mental part of it right off the bat. We show our players a lot of the good things we did in the game yesterday. We addressed a few things tactically or technically that we think we can do better. We move forward.
"In the playoffs, you have to have short memories. It's about getting through Game 5; that's all there is. Doesn't matter what happened through Games 1 and 4. It's about getting through Game 5 and finding a way to win."
Backing Luongo
After Sunday's Game 4, Vigneault ended his news conference by asking the media why no one had asked him about Luongo. A little sarcasm from the coach.
"He played an outstanding game," Vigneault said Monday when asked to clear up his original comment. "He was one of the best players on the ice, helped us win a game. I get tons of questions when some people question a goal he might have let in. For us, he's a great goaltender, one, if not the best, in the league. His preparation, his commitment to winning, his commitment to this organization is unbelievable. I was curious the way he played such a great game and nobody asked."
March, 18, 2011
3/18/11
3:14
PM ET

Stock Up
Jamie Benn, Dallas Stars: Benn had a goal and an assist in the Stars' 5-0 rout against the Chicago Blackhawks on Thursday night to stretch his points streak to nine games. The 129th pick in the 2007 draft has eight goals over that span and has stepped up nicely since the trade of James Neal to Pittsburgh in advance of the Feb. 28 trade deadline. The Stars, meanwhile, continue to impress. Their win over Chicago moved them into a tie with the defending Stanley Cup champs for sixth place in the Western Conference.
Christian Ehrhoff, Vancouver Canucks: When you think of the Canucks' blue line, you think injuries instead of point production. That's a function of having dynamic scorers up front like Daniel and Henrik Sedin, who are vying for Hart Trophy consideration, and Ryan Kesler, who will likely be a Frank J. Selke Trophy finalist. But Ehrhoff has helped stabilize a blue line that has been ravaged by injuries this season, regularly logging more than 25 minutes a night in ice time in recent weeks. The former San Jose Shark has eight points (all assists) in his past seven games. The Canucks also have taken a stranglehold on the top seed in the Western Conference, as well as the Presidents' Trophy race.

Stock Down
Jussi Jokinen, Carolina Hurricanes: If the youthful Hurricanes are going to reassert themselves as a playoff team in the final three weeks of the regular season, they are going to need to get offense from more than just captain Eric Staal. That means veteran forward Jokinen, always a bit of a streaky producer, will need to get back on track -- and soon. The forward has just two points in his past eight games and has not scored a goal over that period of time. The Canes have just one win in their past six outings and were in ninth overall in the East.
Alexei Kovalev, Pittsburgh Penguins: Hey, we know the Penguins didn't acquire the veteran scorer to put up points in relatively meaningless regular-season games, which we guess is good since Kovalev has managed to score just once and add two assists in nine games since coming over from Ottawa. The big winger has managed only 14 shots with the Pens and has had three shots in one game just once. None of this means anything if Kovalev can somehow find the range come playoff time, but it is mildly troubling given he is regularly averaging more than 17 minutes a night in ice time. Maybe he's just saving up.
November, 13, 2010
11/13/10
9:36
PM ET
With the ink barely dry on Jeff Carter's 11-year, $58 million deal, the Flyers' focus now shifts to Ville Leino, who is slated for unrestricted free agency July 1. Leino doesn't want to go anywhere, so expect contract talks to be held again as early as this week.
"I've talked to them a few times and I'm confident we'll get something done," agent Bill Zito told ESPN.com on Saturday.
Flyers GM Paul Holmgren is certainly taking care of business, eh? Claude Giroux signed a new deal ($11.25 million over three seasons) Monday, a deal anyone in the business will tell you is less than what he could have pushed for. But I'm told the kid wanted to play ball with the Flyers' cap issues and be a part of what he believes is a serious Cup contender.
[+] Enlarge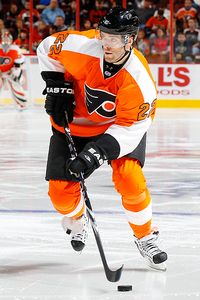 Mike Stobe/Getty ImagesVille Leino is set to become an unrestricted free agent July 1.
Ditto for Carter. Here are the details behind his deal:
2011-12: $6 million
2012-13: $6.25 million
2013-14: $6.5 million
2014-15: $6.75 million
2015-16: $7 million
2016-17: $7 million
2017-18: $6.5 million
2018-19: $5 million
2019-20: $3 million
2020-21: $2 million
2021-22: $2 million
With a $5.27 million cap hit for the next 11 seasons, Carter's deal is a bargain no matter how you slice it. He knows he could have received more elsewhere -- hello, center-desperate teams in Toronto and New York (Rangers)? But Carter made it clear to his agent and the Flyers that Philadelphia was where he wanted to stay.
Now, the Flyers have a nice core for years to come. Impressive.
As a side note, we checked with the league Saturday, and it has no issues with Carter's 11-year deal.
The Canucks and Ehrhoff
Christian Ehrhoff, a slick, puck-moving defenseman, will be in demand should the potential UFA hit the market July 1. The Canucks are trying to prevent that from happening.
In the midst of recent contract talks, I'm told the Canucks have made an offer to Ehrhoff's camp and agent Rick Curran responded with a counter-offer. Neither side has been able to bridge the gap, so both sides agreed to take a break and regroup, with the promise of talking again later this season.
"From a time standpoint, we both recognize there's no urgency and we'll continue to talk and try to close the gap of where our respective positions are," Curran told ESPN.com on Friday.
From a Canucks perspective, they know they can't match what Ehrhoff could make on the open market. What they've told him is they value him as a player, but need him to fit into a certain slot on their payroll so they can remain competitive. It's very similar to the pitch players receive in Detroit: Take a little less, but stay with a great team. But if Ehrhoff wants to cash in, no hurt feelings; that's his prerogative.
More contract talk updates
• Expect Predators GM David Poile to resume talks with Shea Weber's agent, Don Meehan, early this week when his team is in Toronto where Meehan is based.
• Interest in UFA winger Miroslav Satan suddenly picked up this week and several teams inquired about him. The 36-year-old waited until after the Winter Classic last season to sign with the Boston Bruins. While his nine goals in 38 regular-season games weren't that impressive, he posted 10 points (5-5) in 13 playoff games with the Bruins this past spring.
• Brent Seabrook is set to become a restricted free agent July 1 and will be Chicago's top priority at some point this season. But as of Saturday, I was told contract extension talks had not yet begun on that front.
• As I reported last week, Lightning GM Steve Yzerman met with Meehan, Steven Stamkos' agent, to begin contract talks. Know this: it's not going to happen overnight. Expect a long and lengthy negotiation. It's not every day the NHL's leading scorer needs a new deal.
• The Ottawa Senators have begun contract talks with the camp for Chris Phillips, slated for UFA July 1. "We have talked and have an idea where each party would like to be, nothing more," Sens GM Bryan Murray told ESPN.com via text message Saturday.
World Cup of Hockey to return?
Remember the World Cup of Hockey? You know, the on-again, off-again stepchild from those old Canada Cups?
Well, conversations recently took place once again to bring this baby back to life, two sources with knowledge of the situation told ESPN.com on Saturday. The last World Cup was held in September 2004, when Shane Doan's winner put Canada past Finland at the Air Canada Centre in Toronto before the NHL lockout turned out the lights.
There are different ideas being floated around right now, including a plan to hold the next World Cup in September 2013, five months before the 2014 Winter Olympics in Sochi, Russia.
Crazy, you say? I say, why not? Instead of holding those Olympic "orientation" camps 5-6 months out, why not hold a real tournament as an exciting lead-up to the Olympics? Count me in.
Why not hold the next World Cup in September 2012, which traditionally would have been its slot two years out from the Olympics? There is concern September 2004 would repeat itself if the NHL and NHL Players' Association do not reach an agreement on a new CBA. It left fans sour in 2004 and it would leave them sour again.
Again, I will stress the September 2013 idea is conceptual at this point and far from any official proposition, but it's still interesting.
There are pitfalls with the idea, of course. First and foremost, the NHL and NHLPA have yet to commit to Sochi in 2014. If the NHL doesn't go to Sochi, you have to wonder how Russia would feel about playing in a World Cup of Hockey, not to mention the International Ice Hockey Federation, which has urged the NHL to commit to the Olympics once again.
Whatever the case may be, the return of the World Cup of Hockey can't be a "one-off," as one hockey executive told ESPN.com on Saturday. It needs a long-term commitment.
The Islanders and their goaltenders
Well-respected Islanders blogger Chris Botta suggested this week that perhaps the idea of Rick DiPietro going down to the AHL to find his game is a conversation the Islanders should have at some point in time, sooner rather than later.
I reached out to Isles GM Garth Snow on Saturday and asked him about DiPietro possibly being demoted. He said that wasn't in the cards.
Dwayne Roloson was slated to start his fifth straight game Saturday night in Los Angeles.
"There's been no conversation in that regard at all, neither internally or externally," Snow told ESPN.com. "Rollie is just playing well right now. We have two No. 1 goalies, but right now, Rollie is playing really well and we need wins."
DiPietro, who has barely played in two years, has a 4.21 goals-against average and .854 save percentage this season.
Katie Strang of Newsday also pointed out to me Saturday that the Isles' AHL team has three goalies on its roster right now, a point worth mentioning. Also worth mentioning? DiPietro's close relationship with Islanders owner Charles Wang.
Maple Leafs' top job
A radio report in Toronto this past week created quite a buzz, stating that Richard Peddie, the president and CEO of Maple Leaf Sports and Entertainment, would soon be on his way out.
First, let's explain the job for my American friends who I'm sure have better things to do than care about the inner-workings of MLSE, a company that controls the NHL's Maple Leafs, NBA's Raptors and MLS' Toronto FC, plus the Air Canada Centre, a brand-new condo building, a brand-new sports bar and, well, the world as we know it. It's a $2-billion business.
As for the radio report about his impending exit, Peddie said a succession plan has long been in the works.
"It doesn't take a rocket scientist to figure out that at [age] 64 and 14 years on the job that there will come a time where it's time to retire," Peddie told ESPN.com. "This company, some people don't like it, but it has a lot of business discipline, and one of them is succession planning. I've really championed that. We've had a lot of dialogue over the years about the day I leave, and it's been very open, very mutual. So we have talked about it, but we have not finalized a date yet. It will occur when my successor does come in, but that's not immediate and I'm not quite sure when that will be."
Peddie was adamant that search has not yet begun. You can expect candidates will come from inside and outside the company.
One rumor has Leafs GM Brian Burke as a candidate and assistant GM Dave Nonis getting promoted if Burke becomes president and CEO. But from what I'm told, Burke would much rather Peddie stay on in his current role.
One strong candidate will for sure be current MLSE COO Tom Anselmi, who has tremendous respect in the industry. I'm told he's definitely interested in the top job.