Cross Checks:

Cody Franson
January, 27, 2015
Jan 27
5:47
PM ET
[+] Enlarge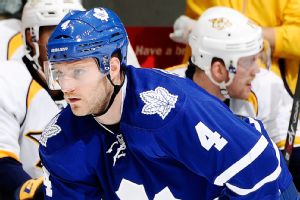 Graig Abel/NHLI/Getty ImagesCody Franson will become an unrestricted free agent on July 1 if the Leafs do not re-sign him.
Cody Franson
's agent, Gerry Johansson, is in Toronto for a few days this week meeting with his pending unrestricted free agent client.
It's also possible that the
Toronto Maple Leafs
have an offer for Johansson on Franson at some point soon, but I would highly doubt it's going to match the parameters in terms of dollars and seasons of what Franson and his camp believe they can get on the open market on July 1. And they're probably right.
It goes without saying that, if there's no chance of getting a deal done, the Leafs will shop Franson ahead of the March 2 trade deadline. And believe me a right-handed, top-four blueliner will garner big-time interest.
September, 26, 2013
9/26/13
4:11
PM ET
Re-signing
Cody Franson
obviously makes the
Toronto Maple Leafs
a better team. But the moment the one-year, $2 million deal was agreed upon late Wednesday night, it also created a bit of salary-cap hell for the Blue and White.
According to capgeek.com, the Leafs sit at $64.816 million with 23 players, a bit above the $64.3 million cap. Mind you, it's really tough to put a precise number on things until you see who gets demoted and who makes the team.
Either way, things are tight with Toronto's cap.
So what now? No question there will be trade talks, but it's a tough time of year to move money with teams cutting down to opening-day rosters.
"Believe me, they'll be getting lots of calls from teams now," a rival team executive told ESPN.com on Thursday, "but they won't be getting any favors."
The Leafs have until Monday to get cap compliant before opening day.
Toronto could pull it off without necessarily having to trade anyone, but it would mean beginning the season with a thin roster, likely around 20 players. That's because David Clarkson's $5.25 million cap hit stays on the books for the duration of his 10-game, 24-day suspension.
The better route would be to pull off some cap-relieving trade with another team.
The guy the Leafs would love to move is veteran blueliner
John-Michael Liles
, but given that he has three years left at a $3.875 million cap hit, there may not be a market out there for him unless the Leafs eat part of his deal or move another asset with him to entice a trade.
It just so happens that the
Calgary Flames
are now run by former Leafs GM Brian Burke (now president of hockey operations in Calgary), who brought Liles to Toronto to begin with. And the Flames have oodles of cap space.
Thing is, why would a rebuilding Flames have any interest in a veteran player at this point? They likely wouldn't unless the Leafs were willing to throw in a young player in the mix, such as
Joe Colborne
. His name has been in the rumor mill of late, and he's the kind of young center the Flames could use.
If the Leafs don't see anything that makes sense trade-wise, they can pull off the math gymnastics by demoting a few players Sunday, like Korbinian Holzer and
Mark Fraser
.
In the previous collective bargaining agreement, the Leafs could have solved this with one stroke by sending Liles and his big salary down to the AHL and it wouldn't count against the cap. But after what happened to
Wade Redden
in the previous CBA when the veteran blueliner was stuck in the AHL for a couple of years so the Rangers could hide his cap hit, the league and NHLPA changed the rule. Now, the only cap savings from sending a player like Liles down would be $925,000. But the Leafs may well do that anyway.
Either way, Sunday should prove to be an interesting day around the NHL, because the Leafs are hardly alone around the league in being up against the cap. A number of teams have some tough decisions to make, and it will involve putting players on waivers that they would much rather not lose with the hope they get to the AHL and aren't claimed.
Other teams with cap room will no doubt sit back Sunday and see who's available in that regard. So watching who gets claimed off Monday's waiver report will be just as fascinating.
In the end, while the Franson signing gives Toronto cap fits for now, it's a no-brainer decision. He was arguably their second-best defenseman last season, his 29 points tied for sixth among NHL defensemen.
Credit both sides for giving in to make the deal happen. The Leafs said they wanted no fewer than two years for term, and it was important for Franson to do a one-year deal so he can get a better deal next summer when the cap goes up. The Leafs gave in on term, but Franson took way less money than market value. He wanted around $3.5 million and settled for $2 million. The Leafs get a real bargain for one year.
Franson, who will be a restricted free agent next summer, just adds to Toronto's offseason list of chores, as contracts for
Dion Phaneuf
(UFA),
Phil Kessel
(UFA),
James Reimer
(RFA),
Dave Bolland
(UFA) and emerging blueliner
Jake Gardiner
(RFA) are also expiring at the end of the season.
Right now, though, it's all about figuring out the cap before Monday's roster deadline.
Take out your calculators, folks.
September, 13, 2013
9/13/13
3:44
PM ET
By
Sarah Goldstein
| ESPN.com
Defenseman
Cody Franson
remains unsigned as the
Toronto Maple Leafs
started training camp.
"I really like playing in Toronto,"
Franson said in a statement to TSN.ca
. "I think we have a great team and we have some unfinished business to take care of. I learned a lot from the coaches last year and felt like my game took a step forward. I understand the cap situation this team faces and have been ready to sign a one-year deal for some time. I hope this gets worked out soon so I can get back on the ice with my teammates."
According to the report, Franson is willing to take a one-year deal for $3 million, while the team wants to sign Franson for two years. Should that happen, Franson would be an unrestricted free agent after the 2014-15 season.
"I understand his position," Leafs general manager Dave Nonis said at a press conference on Wednesday, according to TSN. "He doesn't feel that this is fair. We want him signed, I'd like to have Cody at camp, but he's not here and we just have to move forward with the group we have."
Franson posted career numbers in the lockout-shortened season. He was among the top defensemen in points (29) and helped the Maple Leafs return to the postseason for the first time since the 2003-04 season.
The salary cap drops from $70.2 million to $64.3 million this season, the second year of the current collective bargaining agreement.
April, 25, 2013
4/25/13
8:52
AM ET
There's no other way to put it: The Northeast Division is a train wreck with the playoffs just around the corner.
That may end up meaning nothing once the second season begins, but I doubt the way the
Boston Bruins
,
Montreal Canadiens
,
Toronto Maple Leafs
and
Ottawa Senators
have played of late comforts any of their fans as the postseason approaches.
The Bruins host the
Tampa Bay Lightning
on Thursday night having dropped five of their past six games, unwilling to cement a division title the Habs have tried to hand them on a silver platter. Bruins coach Claude Julien was incensed after the team's road loss to the
Philadelphia Flyers
on Tuesday night, saying among other things in a terse dressing down of his team: "We're running out of time to get this stuff going."
The Bruins should be able to beat a tired Tampa team Thursday night (the Lightning played at home Wednesday night) before visiting the
Washington Capitals
on Saturday, then closing out their season Sunday night at home against the Senators. Odds are the B's should win the beleaguered division, with the emphasis on
should
as a word that doesn't imply certainty.
The Canadiens? Mercy, they've fallen apart worse than any other club in the division -- and not just because, like Boston, they've lost five of their past six games. Rather, it's the manner in which they've lost: clobbered in most of those games and looking nothing like the juggernaut that surprised everyone this season. The team's defensive coverage has been porous and star netminder
Carey Price
has looked downright shaky.
Having said all that, I think the Canadiens finally showed some promise in the final 30 minutes against the
New Jersey Devils
on Tuesday, and perhaps that's what they build on heading into Thursday night's road game against the
Winnipeg Jets
. Maybe.
Otherwise, if Montreal loses again Thursday and the Maple Leafs beat the
Florida Panthers
, the Habs could lose home-ice advantage in the first round if Toronto beats them in regulation in Saturday night's season finale (the Leafs own the tiebreaker on the Canadiens).
Of course, the fact that the Leafs could end up with the fourth seed (and possibly the division title) would also have to suggest they have a clue right now. They've been outshot a whopping 183-114 over their past five games. They've won two of those five, but even in those wins, they were outshot 32-13 by New Jersey and 50-22 by the Senators.
On Wednesday night, with a golden chance to cut the gap to two points on both idle Boston and Montreal, the Leafs fell 5-2 in Tampa against a Lightning team that sits 14th in the Eastern Conference.
Combined with losses to the
New York Islanders
and Capitals last week, Toronto is mired in a mediocre stretch that mirrors that of the Habs and Bruins.
"There's things we have to shore up for sure," Leafs blueliner
Cody Franson
told TSN.ca on Wednesday night after the game in Tampa. "The last thing we're going to do is just hit the panic button over it. We know the mistakes we're making, and it's just a matter of paying attention and shoring them up."
A win in South Florida on Thursday night against the last-place Panthers would make a lot of people in Leaf Nation breathe a little easier. But just a bit.
And finally, what of the Senators?
A five-game losing streak earlier this month had people thinking perhaps the injury-riddled club had finally hit a wall. But four straight wins again made believers out of Sens fans. Then came a demoralizing home loss to the hated Leafs on Saturday, followed by another home loss to a
Pittsburgh Penguins
team missing
Sidney Crosby
and
Evgeni Malkin
, a game Senators players said was one of their most uninspired efforts in a while.
All of which has left the Sens just one point ahead of ninth-place Winnipeg, although with Ottawa having two more games to play than the Jets -- who wrap up their regular season Thursday night -- you have to think the Sens will get in without a problem.
Perhaps the game-changer Ottawa has been waiting for will arrive in the form of
Erik Karlsson
. The reigning Norris Trophy winner is on the verge of returning from what was supposed to have been a season-ending Achilles injury, taking a regular shift at practice Wednesday alongside normal partner
Marc Methot
, which had people in Canada's capital buzzing. Word is Karlsson and the Senators will decide after the morning skate Thursday in Washington whether it's a go that night or if he'll wait for Saturday's game against the Flyers.
The Sens will take any boost they can get, that's for sure.
Frankly, so would any playoff-bound team in the Northeast. It's ugly right now in this grouping. Somebody show the way!