Cross Checks:

Concussions
December, 16, 2011
12/16/11
11:17
AM ET
The concussion saga has taken over all the talk this past week. What can we do with high-profile player after high-profile player dropping like flies?
But despite the bad optics, there was no league memo sent to teams and no new measures discussed, because the league feels it's already doing as much as it can in terms of prevention and treatment.
"The only way you're going to totally eliminate concussions from the game is to stop playing the game," Bill Daly, the NHL's deputy commissioner, told ESPN.com on Thursday. "We're not inclined to stop playing the game, and players aren't, either. There's a certain level of risk that everyone accepts in any profession. If I'm a construction worker, I'm more likely to have health issues than if I'm an office worker. It's just the nature of the job."
[+] Enlarge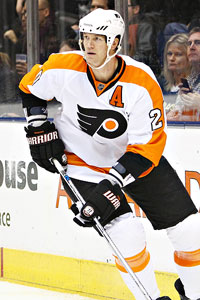 Tom Szczerbowski/US PresswireChris Pronger is the latest player to be sidelined for an extended time because of a concussion.
There are no more concussions this season than last season at this time, but I think because of the big names involved it has given the story more juice, and that's understandable. What could possibly be worse than having
Sidney Crosby
,
Claude Giroux
,
Milan Michalek
,
Mike Richards
,
Chris Pronger
and
Jeff Skinner
sidelined at the same time?
"I'd say that we've been on this regardless of which players are hurt,"
Brendan Shanahan
, director of the Player Safety Department at the NHL, told ESPN.com via email Thursday. "The nature of these latest injuries shows that there's no 'magic pill' that prevents ALL concussions. I'd also say that players and teams are more cautionary now in the identification and treatment than ever before -- which is the right thing to do. Because of the leadership of groups like the Concussion Working Group and the protocols in place, we're catching more of these injuries before a player is placed in the MORE dangerous position of a secondary concussion on top of another.''
Hurricanes GM Jim Rutherford, who has been a leading voice among his colleagues on the elimination of head shots, says the speed of the game has become more than ever a big factor.
"We have a game that's very, very fast now," Rutherford told ESPN.com on Thursday. "Really at the level of speed that it appears that players don't have time to react at times to an opponent coming or a teammate coming. These concussions are happening from good hits, from accidental hits, from accidental hits from teammates, to periodically bad hits. The league has taken this very, very seriously going back a few years and probably ahead of any other league, and the key is to continue to do studies and have conversations about what we're dealing with and what we can possibly do, if anything, to prevent or lessen some of the injuries that are taking place now.''
One theory out there is whether the red line should be put back in for two-line passes to slow down the forecheckers and therefore the impact of their hits. Some even wonder if the league should allow the return of a little more interference in certain areas of the ice to slow down the players. I doubt either idea ever sees the light of day. The game has never been more fun to watch; who wants to regress from there?
"We have to keep this a really good game, which we have now, and we have to think of the safety of the players. Those are the two things we deal with," Rutherford said. "We don't want to go back to the old game because the new game now is much more accepted by fans, media, players -- everybody. But is there something in the game that can be changed a little bit to give players a little more reaction time? I don't have an answer for it. But I know the league continues to talk about it. Everybody continues to talk about it. And hopefully somebody comes up with an idea or two that can help try to prevent as many injuries as we're getting.''
There is no cure-all answer. That's the truth, no matter how hard it is to digest when some of the game's top players aren't on the ice.
All-Star Game Captains
It's as close to a done deal as it gets: Daniel Alfredsson of the host
Ottawa Senators
will be one of the All-Star Game captains. That's a no-brainer.
But what about the other?
If it were me, I'd select
Teemu Selanne
of the
Anaheim Ducks
. The classy winger is more than likely in his final NHL season, and he's been nothing but a tremendous ambassador for the game throughout his career. And I'm told internally that the league has indeed brought up his name as a candidate, although at this point nothing is decided. Let's do the right thing and honor the Finnish Flash.
Conference Games
I can't tell you how many readers or Twitter followers have asked me about the names for the new conferences next season under realignment.
Many fans would love to see Wayne Gretzky,
Mario Lemieux
, Gordie Howe and Bobby Orr honored with the four conferences named after them.
But unless there's a change of heart at the league head office, my sense is that the conference names will remain geographically themed, similar to the current division names.
I think the concern at the league level is the potential political backlash. How would the Flyers and their fans react to putting up a Mario Lemieux Conference pennant in their rafters? Or the Habs celebrating a Bobby Orr Conference title? That's the basic concern.
The league could still be swayed. Nothing is written in stone, but right now the general feeling is to stick with geography.
Sharks Coach
Well, given the two coaching firings in Southern California already this season, I suppose we can't be shocked the San Jose Mercury News
pondered the fate of a certain coach in Northern California
.
What I'm hearing is that
San Jose Sharks
coach Todd McLellan is in absolutely no danger at this point. And frankly, that's the way it should be. San Jose's recent struggles are not on him. They're on the top players on his team who haven't performed up to their level, beginning with
Martin Havlat
and his one goal so far this season. (But I will say I thought Havlat may have played his best game of the season Thursday night versus Colorado.)
Either way, my sense is that Sharks GM Doug Wilson is solidly behind McLellan at this point.
NHLPA/Realignment
The league and NHL Players' Association have gone back and forth on realignment over the past week or so, the league providing materials to the union, which had specific questions about the proposed new format for next season.
The two sides are expected to speak again next week. The league wants to get the union's blessing so it can get to work on next season's schedule. I'll be curious to see whether the NHLPA plays hard ball with this. The NHLPA says it's within its collective bargaining agreement rights to have a say in realignment.
September, 8, 2011
9/08/11
5:07
PM ET
NEW YORK --
Sidney Crosby
's desire to ban all head shots in the NHL got a solid backing from his peers Wednesday during the NHL Player Media Tour.
If Crosby was trying to
create momentum with his comments
, he's got it.
"I think he's right on," former Hart Trophy winner
Martin St. Louis
told ESPN.com.
"I don't disagree with Sid," added new Rangers star center
Brad Richards
. "It's real. Until you go through it you really don't realize what's going on. The game is bigger and faster. It's the same size of ice since a long time ago.
[+] Enlarge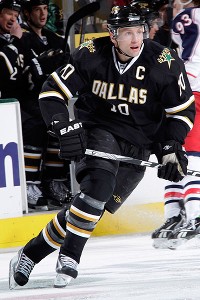 Glenn James/NHLI/Getty Images"I am a physical player but I think if I was able to adapt and change, it shouldn't be that hard for anyone else either," Brenden Morrow said.
"It might be tough to take it out [hits to the head], but I'm a victim of it -- an elbow to the jaw. We have to be aware of it. We have to respect each other. It's our everyday life that gets affected. It's not a broken foot or a broken hand where you can go enjoy your life and get back in a few weeks. This is a real issue. There's no one answer, I know that, but definitely Sid's on the right track. Guys are so big and strong now, it doesn't take much the way the game is now to really cause damage to the head."
Richards and St. Louis are high-end skill guys like Crosby. It makes sense they'd see things the same way. But what about a power forward that makes his living crushing people?
"I know me personally my game has changed a little bit the last few years,"
Dallas Stars
captain
Brenden Morrow
told ESPN.com Wednesday. "We've all in the last few years been more educated on what a concussion really is. It's not just a headache that won't go away. It's more serious than that.
"I think there is going to be a way to get head shots out. I completely agree with Sidney. He's such a big part of our league, we can't have his situation happen again. I completely support him, too. I am a physical player but I think if I was able to adapt and change, it shouldn't be that hard for anyone else either."
As it stands, the NHL returns this season with a revamped, more encompassing Rule 48 that will tackle more illegal hits to the head.
But it stops short of banning all head shots.
"Safety in the game is paramount in importance to us," NHL vice president of player safety
Brendan Shanahan
said Wednesday. "That's why the players have a great vehicle in the competition committee. They are part of these rules. They were part of this current rule [Rule 48]. We worked really hard on broadening the net of dangerous hits. And whether we broaden it again in the future, it's entirely within their capabilities of working with us on that. All the players that have gone through it like Sid, I've had a serious concussion myself, it's all really valuable input."
One wonders, perhaps, if Crosby shouldn't consider a role within the competition committee at some point in time in order to better push for the change he desires. Right now, his sole focus, of course, is to get healthy, so it's out of the question to add that kind of responsibility. But down the road when he's back and fully healthy, it might be just the kind of thing that a player of his stature should consider.
Either way, his voice on the matter will continue to make waves.
"Sid's incident -- you don't want to see that happen to anyone," said Bruins center
Patrice Bergeron
with his own journey back from a serious concussion still fresh. "Obviously, I want to see him get better, for his health first and foremost, and then seeing him on the ice will be awesome. We need him.
"But yeah, I think hits to the head are not necessary. No one wants to be the guy laying out on the ice and going through those concussion symptoms and those issues. You have to think about those consequences and be responsible on the ice. Hopefully, as players, we all think the same way. I think the league is doing some good things about it with the rules to try and avoid those kind of hits."
Devils star forward
Zach Parise
also backed Crosby's idea of banning all head shots, but was concerned players might fake being hit in the head to draw a penalty.
"You want to avoid that," Parise said. "But if they can [get] rid of them [head shots], the players have to be honest, too, and not exaggerate anything."
As the NHL inches closer to an all-out ban on head shots, the debate rages on about what kind of impact it would have on the physicality of the game. It's a violent sport and that's never going to change.
But can you tweak it enough to eliminate head shots?
"I know it's a fast game and there's going to be incidents, but if there are incidents, you should pay the price," St. Louis said. "I think there's a consequence for any action. We have to protect the players and I believe head shots should be out of the game."
The head shot debate rages on, and it's far from over.
March, 16, 2011
3/16/11
3:53
PM ET
BOCA RATON, Fla. -- The NHL will implement its new concussion protocol in NHL games starting Wednesday night, according to Nashville Predators GM David Poile.
Speaking at the close of the three-day general managers meetings here in Florida, Poile described the new protocol that will include a 15-minute break from the game in the dressing room for a player who may have suffered a concussion during play.
The protocol is aimed at keeping players who might have suffered a concussion from doing further damage by continuing to play.
The most notable example of how this protocol might have changed the outcome of an injury, of course, relates to Pittsburgh captain Sidney Crosby, who was clipped in the head by Washington forward David Steckel during the Winter Classic Jan. 1. Crosby played in the third period of that game, and then sustained another big hit in the next game. He has not played since and only this week began to skate again. A timetable for a return to action remains unknown.
"You take a 15-minute timeout. That's a huge change. That's a very caring change to make sure that we're right," Poile said.
"They've got to go into the dressing room to be with your doctor and your trainer and they go over all the criteria. There's a test they're going to have to perform and give them a little bit of time to make sure they get to their senses and they're ready and willing to come back," Poile explained.
The Nashville GM acknowledged that players' symptoms may arise after 15 minutes, but this is an important start.
"But once again it's best efforts to care for the player, to try and put him in an environment that's safe, try to do the right thing. We're not going to be 100 percent when we're doing these things, but I would say it's a big step to ensure that they're healthy," Poile said.
"Usually after 15 minutes, a player's going to know whether I feel good or I don't feel good, that's a real good step in the right direction."
There did seem to be some confusion about the timing of the implementation of the new protocol, though, as NHL senior vice president and director of hockey operations Colin Campbell said they were still working out some details on the mechanics of the protocol.
"Yeah, they're still working on the protocol, but it does take effect and the loose ends are being tied up. It's a pretty tough protocol to deal with. What is deemed a concussion? I don't want to go there yet. We're still trying to nail it down," Campbell said.
Video replay talk ends meetings
Other issues discussed by the GMs before breaking camp Wednesday included expanding the role of video replay at some point in the future.
Currently video replay applies only to whether a goal is legal or not.
But after a couple of incidents where teams were incorrectly assessed a double-minor for high sticking -- it turned out the stick foul was actually from a teammate -- hockey operations asked the GMs to consider expanding whether video replay could be used to make sure those calls are made correctly.
There is also some appetite for looking at other issues like whether a puck hit the mesh above the glass but play wasn't whistled dead and a goal was scored on the ensuing play.
"It's always about getting things right," Ottawa GM Bryan Murray said. "We have some goals, some offsides, some penalties we'd like to see reviewed. We talked about it, but realistically it is a game of human judgment. You have to allow the referees to continue what they do."
It's believed the issue will be discussed again at the June GMs meetings during the Stanley Cup final.
Toronto Maple Leafs GM Brian Burke said he has concern about expanding the role of hockey operations in using video replay.
"I worry about what that does to the time of the game. I worry about how far back in time a review is allowed to go. I worry about the different camera angles in different buildings," Burke said.
"We had a goal scored this year where the puck hit the netting, fell down, no one saw it and a goal was scored. Anaheim scored a goal where two players were offside. Do you add offside to what's reviewable? The whole thing makes me nervous as far as the time of the game," Burke said.
"I think we have to go slowly here."
As for an NFL-style coaches' challenge, something Dale Tallon and others have suggested, that got little traction.
Another offshoot of the video discussion was ensuring that hockey operations is vigilant about watching during shootouts to ensure the puck continues to move forward at all times.
Martin St. Louis recently scored a controversial shootout goal on a dramatic spin-a-rama move during which the puck appeared to come to a dead stop.
"You guys really like the shootouts and I hate them," Murray said.
"It will continue to be discussed, but basically if the puck is moving and the guy spins or whatever that's fine, it's a legal goal," the Ottawa GM said.
March, 15, 2011
3/15/11
5:26
PM ET
BOCA RATON, Fla. -- Once again, the NHL is turning to its own rulebook to try to make the game safer for its players and more palatable for its fans.
Now it's a question of whether the league has the will to make it work as it has in the past.
The NHL GMs agreed that the standards for calling existing charging and boarding penalties need to be toughened and, along with more penalties called on the ice, there needs to be supplemental discipline if warranted.
More frequent calls on boarding and charging are another part of a multipronged effort by the league announced Tuesday at the NHL GMs meetings to reduce the number of concussions. There have been about 80 reported concussions this season.
[+] Enlarge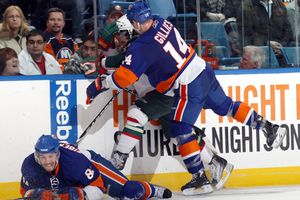 Bruce Bennett/Getty ImagesIslanders Trevor Gillies was suspended 10 games for his hit to the head of Wild forward Cal Clutterbuck.
A lot of the focus is on players who are vulnerable, Atlanta GM Rick Dudley said after the GMs broke for the second day of their three-day meetings.
"I think we're concerned about the charging and the boarding and not maybe changing rules but being strict on some of the hits," he said.
"Sometimes there's a legal hit made and sometimes there's a hit where the player is completely unaware of the player coming, and those are the ones you want to watch, especially when they're in the area of the boards," Dudley said.
Officials will be looking especially for these dangerous hits around and below the goal lines.
Many injuries take place at that part of the rink because forwards are back checking all the way into the defensive zone, sometimes arriving late and taking out unsuspecting players, Ottawa GM Bryan Murray explained.
Now players will have to learn that if they travel a great distance and at high velocity, referees will look to call a charge or boarding penalty.
"I think by tightening up some of the rules we have now, enforcing the rules we have now, especially the boarding and charging calls -- we hardly see charging called anymore -- the play below the goal line, things like that, we're going to help the safety of the players and also keep the fabric of the game intact," Pittsburgh GM Ray Shero said.
The idea harkens back to seminal changes to the game that took place coming out of the lockout. Although new rules were introduced to help enhance the speed of the game, arguably the most significant changes came with how league officials called hooking, holding and other obstruction fouls that had been laid out in the NHL's rulebook for years.
Players adapted to the new standards for calling those rules, and the game has never been faster.
Now players will have to learn a new set of guidelines for what will be acceptable when it comes to hitting other players.
It is more than a little ironic that one of the key players in those important changes that arrived post-lockout,
Brendan Shanahan
, now finds himself working with GMs
Joe Nieuwendyk
and
Steve Yzerman
and another newcomer to the league offices,
Rob Blake
, on a committee to help move recent safety recommendations forward.
"I remember coming out of the work stoppage. We said, these are the rules; we think they will unlock the game. But this isn't the finish line," Shanahan, now an executive with the league, said Tuesday.
"I don't think you ever say here are the rules for the next 100 years," he said.
Along with changing the boarding and charging standards, the NHL will introduce a new head shot rule, although the exact wording of that new rule is still a work in progress.
"There's not support on a widespread basis for a blanket head hit rule, but we are going to look to see if we can come up with a head hit rule in addition to Rule 48 [the rule that prohibits blindside hits] that focuses on dangerous hits, hits when a player is vulnerable or engaged with another player and a third player comes in or when there's excessive force," NHL commissioner Gary Bettman said Tuesday.
"So we're going to see if we can get something more precise than a blanket head hit rule," he said.
The competition committee must confirm changes to the rulebook before they are sent to the Board of Governors for final ratification.
The only reason the league was successful in changing the culture of obstruction coming out of the lockout was a commitment from the officials and league itself to call the game a certain way and the rapid education of the players.
The same dynamic must be in place again if the league is going to be successful in cutting down on the number of injuries in the game.
"I recall the first two years coming out of the lockout, people were calling the NHL the No Hit League. The solution for player safety is not to go backwards. Then we're just chasing our tails," Shanahan said.
The solution isn't to allow more obstruction to slow down players.
"In five years, we'll have another one of these meetings and talk about unlocking the game," Shanahan said.
"It's healthy. Every few years, we have to re-evaluate the game, make tweaks and adjustments. The coaches and players, the game will never stop evolving."
If anyone should know about evolution, it's Shanahan, even if evolving means simply going back to the same old rulebook for answers.
March, 14, 2011
3/14/11
7:32
PM ET
BOCA RATON, Fla. -- NHL commissioner Gary Bettman may have grabbed the early headlines here Monday, but the heavy lifting remains for the NHL general managers.
After watching clips of almost every one of the 80 or so concussions that have been sustained by players this season, the GMs must grapple with how to change a game that seems to have evolved beyond the current rules.
Perhaps the most shocking statistic to come out of Monday's concussion presentation was 44 percent of all concussions this season are the result of what are currently considered legal hits.
[+] Enlarge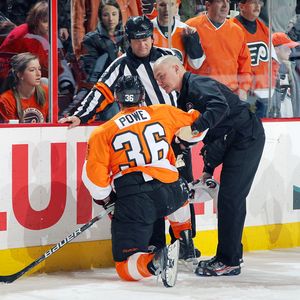 Len Redkoles/NHLI/Getty ImagesThe NHL plans to introduce new in-game concussion protocols, where a player will have to leave the bench and go to an area where a doctor will assess him before he can return to action.
With the game headed for another record number of hits this season, it is clear that if the league is going to reduce the number of concussions its players sustain, it will have to change the rules.
Over the next two days, GMs will debate a number of such changes, including whether all blows to the head should be outlawed.
The Pittsburgh Penguins, who have been without star center Sidney Crosby since Jan. 6 (concussion), support a total ban on hits to the head.
"My position is there should be no head hits. That's the position of the Penguins, that's mine, and I brought it up today in our group," Pittsburgh GM Ray Shero said. "Everybody has varying degrees of what is a head shot. You look at all these videos and there's a lot of different hits, but at the same time, there's over 50,000 hits in a year.
"If there's 10 or 20 questionable ones, is that going to take the fabric of our game away? We're still going to have 49,892 hits in our game and it's not going to change that much, I don't think."
Shero also suggested other existing rules may need to be either modified or called more regularly.
"We've got to look at charging as a call that's hardly ever made anymore," Shero said. "Maybe we have to redefine what charging is."
GMs will also consider at least a minor penalty for any contact with an opponent's head.
However, the breakdown on the concussion numbers revealed a complex problem that may not be solved even by adjusting the rules. For instance, the number of concussions that are the result of accidental events (concussions that result from players falling or running into teammates or opponents or being struck by the puck) has doubled from last season. The number of man games lost due to these concussions has also increased five-fold from a season ago.
"Those are going to be difficult to eliminate or reduce," Tampa GM Steve Yzerman noted. "Accidents happen in the game."
"A lot of what we saw weren't direct hits to the head. We saw body checks, a player's shoulder into a chest, a player falling down," Minnesota GM Chuck Fletcher added. "There were a lot of incidents of pucks to the head or two players colliding from the same team. You've got to be a little bit careful in interpreting the data and make sure you're looking at what's truly happening out there."
As for illegal hits, they account for only 17 percent of all concussions and the percentage of man games lost to them is down significantly (41 percent to 17 percent) from a season ago.
The numbers suggest something different from the public's impression that the league is awash in guys taking each other's heads off at every opportunity.
"This notion that the players have no respect for each other and the players are going around hitting each other in the head on a regular basis and that is what is causing concern just isn't accurate," Bettman said.
The league also said there has been no increase in the number of concussions caused by head shots this season.
"We're not looking to fundamentally change our game. We're looking to make it safer," Bettman said. "And so, you can't do that in a haphazard manner, and you just don't run off and do it in the middle of a season. What you want to do is make sure that you're identifying the issue you're trying to address and that what you do in response will address that issue without fundamentally changing the game in ways that were never intended.
"We're not going to hurtle through this just to get it done," Bettman added. "The key is to get it right."
Over the next couple of days, GMs will wrestle with just what "right" means.
February, 8, 2011
2/08/11
1:04
PM ET
Scott Burnside and Pierre LeBrun debate the concussion issue and get insight from a player who is living with the repercussions of the injury well into retirement:
Burnside: Well, it appears the concussion issue isn't going away with this week's news that Marc Savard is done for the season. Of course, the game's marquee player, Sidney Crosby, remains out with no timetable for his return. And it's not just hard hits or blows to the head that are sending players to the sidelines with concussion problems. Washington defenseman Mike Green, in the midst of a great defensive season, may miss tonight's game against San Jose after taking a Brooks Orpik shot to the ear on Sunday. If fans get bored of hearing about concussions, they shouldn't; I don't think there's been as important an issue since the end of the lockout.
LeBrun: You're bang-on about how paramount this issue has become. Not that any of it is new.
Five years ago, Keith Primeau was forced to call it quits because of his concussion problems and tried his best to bang the drums about the serious dangers associated with the injury. Some listened, others ignored him. He was a high-profile player, the captain of the Philadelphia Flyers. I had a chance to speak with him Monday night and asked him about the issue now that Crosby is sidelined and Savard is out for the season with his career in jeopardy.
[+] Enlarge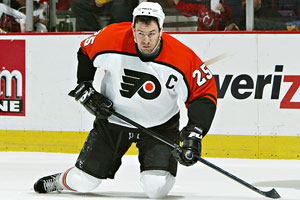 Ezra Shaw/Getty ImagesMultiple head injuries forced Keith Primeau to retire from the NHL in 2006.
"I'm much more comfortable with the position and the stance that the league has taken and shown," Primeau told ESPN.com. "I was very discouraged and disappointed for an extended period of time following my last concussion and the difficulties I've gone through, because I didn't feel they [the NHL] were being proactive enough, and I was really saddened by it."
But last year, Primeau sat down with Brendan Shanahan, who explained the league's research and concussion program and protocol.
"It's something they've taken really seriously, and that gave me some type of solace after going my particular situation," said Primeau. "There's still a long way to go, but I think I understand it a bit more now from the perspective that when you're trying to implement change, it's not just 'make decision and go through with it.' There's a lot of positioning that needs to be cut through to make it happen.
"You're dealing with 30 different organizations, 30 different owners, 30 different management teams, not to mention the players' association. So, at the end of the day, they all have to get on the same page and be proactive and recognize the severity of the situation. Part of me believes that they are taking it seriously."
Burnside: Primeau represents a great cautionary tale about concussions. He had become a dominant player -- remember his Mark Messier-like turn for the Flyers during the 2004 playoffs and that great seven-game series against Tampa Bay in the conference finals? Then, it was over.
One has to wonder what is left for Savard, a gifted offensive player. And what about Crosby? It will be a colossal setback for the game if Crosby cannot return to his former level of play. I thought it was a bit disingenuous for Toronto GM Brian Burke to suggest at the board of governors meeting in Raleigh last month that the concussion debate was being skewed by Crosby's injury, that we wouldn't be discussing it at such a fever pitch if it was a lesser player. Fair enough, but isn't this exactly why we shouldn't be letting the debate die?
The GMs will be looking closely at the issue when they meet in a month in Florida. If there isn't serious discussion during that meeting -- and I'm not saying adopting a new rule, necessarily -- but at least a serious debate on the idea of a total ban on head shots, then they should all hand in their GM decoder rings and let someone else try to tackle the problem.
LeBrun: After the governors broke out of that meeting in Raleigh, it was clear from their tones that the GMs have clear marching orders from their bosses to once again roll up their sleeves and take this discussion to the next level. There is no clear solution, even Primeau admitted that, but the smart minds who run the sport just have to keep chipping away at it.
Primeau isn't sure whether Rule 48 should go further.
"It's such a fine line. It's so hard to distinguish what is too far, what's not enough," Primeau said. "I'm a traditionalist, and we all understand that contact is part of our game and what makes our sport so unique. So where do we find that common ground? I don't know, and that's why everyone needs to continue to be proactive. That's why it needs to be on the docket again when GMs get together and continue to work toward a strong resolution."
As for Crosby, Primeau remembered watching him go down in the Winter Classic and thinking it was probably a concussion. But Primeau doesn't lay blame on the Penguins for letting the franchise star play the next game.
"It was really not anybody's fault that it wasn't diagnosed, because that's the way they work," said Primeau. "There's no real pattern, no real rhyme or reason to concussions. I know that in my situation, my symptoms never showed themselves until 48 hours after the contact."
Sound familiar?
"People are arguing with Sidney whether it was the first hit [from Washington's David Steckel] or the second hit [from Tampa Bay's Victor Hedman]. It doesn't matter," added Primeau. "What matters is that he has a concussion, and now let's treat it and let's handle it in the appropriate matter."
Burnside: There is no easy solution. I accept that. But this is a motherhood issue, or it should be for both the GMs and the NHL Players' Association. Those two sides have fought on this issue in the past, with players pushing for tougher rules on blows to the head and the GMs dragging their feet before last spring's last-minute addition of Rule 48.
This is a good test for new NHLPA executive director Donald Fehr; he will be called on to represent the players' safety while having to balance what most people believe should be heavy sanctions against players who endanger others with reckless play. For once, it would be nice if everyone was on the same page when it comes to protecting the game's most important assets -- its best players -- and not worry so much about the marginal player who takes another player's head off in a misguided attempt to maintain a place in an NHL lineup.
It would also be nice if there were more honest hockey folks like Andrew Ference, who agreed that teammate Daniel Paille's hit on Dallas forward Raymond Sawada was a bad hit. GMs have to stop setting the process back by automatically complaining about suspensions for head shots just because it involves their players. That kind of hypocrisy does little to help move the process forward and is insulting to players and fans.
LeBrun: And let's all remember the stakes here. Five years removed from his last NHL game, Primeau continues to be dogged by on-again, off-again headaches and head pressure. How scary is that?
With that in mind, Primeau is passionate about this issue. It has affected his life on many levels, but also the game he continues to cherish, these days as a coach for his hockey-playing sons. Does he feel better about how the league and the sport are handling the issue now compared to when he retired in 2006?
"I do," said Primeau. "Do we still have a long way to go? Absolutely. And I think all the way through -- right from the grassroots level, right up through junior, collegiate, semipro to pro, in all facets of the game -- there needs to be true symmetry in order to really tackle the issues. Until we find that type of symmetry, we're going to continue to learn, but maybe not at the pace that we'd like to see it happen."