Cross Checks:

Craig Anderson
September, 27, 2013
Sep 27
2:02
PM ET
MONTREAL --
Brian Gionta
thought he had a sure goal near the end of the second period Thursday night, the
Montreal Canadiens
captain on the doorstep for a tap-in, only to be robbed by
Craig Anderson
.
The
Ottawa Senators
netminder did a lot of that last season, especially in a first-round series win over the Habs.
In one of Bryan Murray's most brilliant moves as general manager of the Senators, he acquired Anderson from Colorado in February 2011 in exchange for
Brian Elliott
. While Elliott has gone on to have some measure of success in St. Louis as a 1B to
Jaroslav Halak
, Anderson has been Vezina-like in Canada's capital.
[+] Enlarge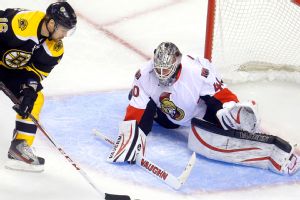 AP Photo/Steven SenneRobin Lehner played 12 games for the Senators last season, posting a 2.20 goals-against average and .936 save percentage.
It was a franchise-altering move.
"We were real fortunate to get a goaltender of Anderson's caliber in a trade, you don't often get a goaltender like that," Murray told ESPN.com on Thursday night at the Bell Centre. "That gave us a chance to do what we had to do with Robin."
Ah yes,
Robin Lehner
, the 22-year-old netminder finally breaking camp with the NHL squad after three years of tutelage in the AHL.
"It's my first season being up here from the start, it feels pretty good," the Gothenburg, Sweden, native told ESPN.com on Thursday night. "You kind [of] get to start a life. The last four years, I've lived with my suitcase from hotel to hotel. Now you have a base and you can start something."
There are some around the NHL that think Lehner is already starter material. Some also believe he's franchise-goalie material in the not-too-distant future.
"I do for sure," a rival NHL team executive said. "He has all of the characteristics, including a great run to an AHL championship [in 2011]. His compete [level] stands out. All he needs is more NHL experience."
All of which makes Ottawa's netminding duo arguably the most potent in the NHL.
Anderson, for one, might have won the Vezina last season had it not been for an injury that made him miss too much time to garner enough votes from NHL GMs. When he was healthy, he put up a ridiculous .941 save percentage along with a 1.69 goals-against average.
Anderson aims to pick up where he left off.
"Every day you go out there you want to prove something," Anderson told ESPN.com on Thursday night. "There's a lot to be proven every season. You're either growing or you're dying in this game. For me, I want to give my team a chance to win every night and, if I do that, the statistics and the accolades will take care of themselves."
While most NHL teams have to live with the fact that on 20 to 25 nights a season, they're giving a goal away by dressing the backup, one could argue the Senators will have a true starter in net for 82 games this season.
"The one thing we do know, they are both very capable, both can win games for us," Murray said. "That's a real strength for an organization."
Going back to the franchise re-birth in 1992, the Senators have always lacked that true, surefire elite No. 1; it cost them in their playoff series losses to rival Toronto, and you could argue it is the reason that a Stanley Cup eluded the club in the late 1990s and 2000s despite all the incredible talent that skated in suburban Kanata.
It was awfully important to Murray when he took over the reins as GM to fix that.
"Hopefully this time, with the two guys, we'll have a chance moving forward," Murray said. "But yes, Ottawa has had that struggle over the years. Which is why we tried to address it with the trade for Anderson and drafting Robin."
Anderson starts as the No. 1 guy, but those around the organization are intrigued to see how Lehner pushes Anderson. My sense is head coach Paul MacLean will ride Anderson early and often and make Lehner force his hand as the season goes on.
Is Lehner ready for the opportunity?
"He's had a great camp," Murray said of Lehner, drafted 46th overall in 2009. "He looks like he's taken another step.
"The one thing about Robin, when he first came in, he was in a hurry to get to the NHL. It would be a 'Why can't I be up there?' type of thing. He understands now the process of becoming a good goaltender in the league. He's had a great summer and it looks like he's really filled out, he's matured, and he's ready to be a good goalie in this league."
Those who aren't sold on Lehner wonder whether he has the temperament to be an NHL star goalie. Lehner says his time in the AHL helped his development immeasurably.
"I had a lot of things that I needed to work on from a technical point, from a psychological point, from an attitude point of view, everything," said Lehner, a 6-foot-4, 223-pound behemoth in net. "It's a process you have to go through. It's a tough league, it's a lot of pressure, and if you're not ready you can break down on a lot of levels. Ottawa has done a great job of that in helping me get better every year."
What will be new for Lehner is beginning the year as a backup. But he welcomes the chance to maximize his opportunities.
"You take the chances you get," Lehner said. "It's all about winning. I'm going to try to do that when I get the chance. I know Craig will do that, too."
Not every netminder loves being "pushed" in net by his tandem mate. Some goalies are peculiar lads, indeed. But Anderson, a likable veteran who has traveled a tough road to gain his well-earned respect around the league, says he's fine with it.
"You need to be pushed," Anderson said. "When you find that comfort zone in your career, when you get in a situation where you're [too] comfortable, you get bitten, you get bitten hard. I learned that once. I choose not to learn that again."
Anderson was referring to 2006 when he was waived three times from January to February, going from Chicago to Boston to St. Louis back to Chicago, trading hands like a bag of popcorn.
"I got comfortable and just accepted being the second guy, didn't feel like pushing [Nikolai] Khabibulin at all," Anderson said. "I had to take a step backward to take a couple of leaps forward."
An obvious strength in Ottawa this season will also be fascinating to watch, as the kid pushes the vet. It's a situation the Senators have dreamed of for a very long time.
June, 14, 2013
Jun 14
7:03
PM ET
The NHL announced its first round of award winners Friday, and ESPN.com's Scott Burnside and Pierre LeBrun break down the winners of the Frank J. Selke (best defensive forward) and Jack Adams (coach of the year) trophies, as well as the GM of the Year award.
BURNSIDE:
Well, my friend, thanks to the lockout the annual NHL awards extravaganza in Las Vegas has been revamped and spread over two days during the Stanley Cup finals, with the first batch of winners unveiled Friday afternoon. The balance of the major awards will be revealed Saturday before Game 2 of the finals. Let's take a look at the three significant awards handed out Friday.
For me, the Selke was the most compelling because it was really a two-man race between
Chicago Blackhawks
captain
Jonathan Toews
and defending Selke winner
Patrice Bergeron
of the
Boston Bruins
. Toews and Bergeron are the heart-and-soul leaders of their teams, and Toews edged Bergeron for his first-ever Selke by a scant 10 voting points. I know you thought Toews should have been a finalist for the Hart Trophy (as league MVP), but he's certainly deserving of the Selke, which some folks consider one of the most prestigious awards in the game given that it recognizes a player's complete game. Now, what will be interesting is which of these two great forwards ends up wearing a Stanley Cup ring in the next couple of weeks. What was your take on the Selke voting?
[+] Enlarge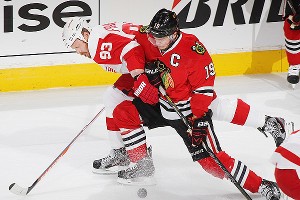 Dave Reginek/NHLI/Getty ImagesJonathan Toews' all-around game earned him his first-ever Selke Trophy this season.
LEBRUN:
I had Bergeron first on my official ballot and Toews second, but I'm not upset that Toews won it. I think they're both equally deserving, tremendous 200-foot players. Total toss-up for me. What upsets me more is that Toews didn't make it as a nominee for the Hart Trophy. I just can't believe that at all. But I guess that's a conversation for Saturday when the Hart is handed out (rumor is that
Alex Ovechkin
has won it). One thing I can tell you is that I was tremendously pleased to see Paul MacLean of the
Ottawa Senators
winning the Jack Adams Award as NHL coach of the year. Like many other media members, I've been touting him all year. Totally a slam dunk given what he did with the injury-ravaged Senators this season. It would have been an absolute travesty had the NHL Broadcasters' Association not voted him the winner.
BURNSIDE:
I fear you and I might come to blows when the Hart Trophy winner --and the NHLPA companion, the Ted Lindsay Award -- are announced, but I can certainly understand the Hart Trophy discussion as it relates to Toews. That's how important he is to the Blackhawks. And I agree entirely on MacLean. This is the second year in a row he was on the final ballot for coach of the year, and he easily outdistanced the second-place finisher, Joel Quenneville of the Chicago Blackhawks. Bruce Boudreau of the
Washington Capitals
was third.
The Jack Adams is a tough one because often it goes to a coach who gets his team to overachieve or does more with less, but there's no question MacLean's job in keeping his team on track without
Erik Karlsson
,
Jason Spezza
and
Craig Anderson
for long stretches of time reinforces that he is one of the keenest coaching minds in the league.
The other award of note announced Friday was the GM of the Year, and the
Pittsburgh Penguins
' Ray Shero earned that honor. I'm sure he'd rather his Pens were still engaged in playoff hockey, but he is full value for the honor given the moves he has made dating back to last June's blockbuster trade of
Jordan Staal
to Carolina, and continuing through his trade deadline acquisitions of
Jarome Iginla
,
Brenden Morrow
,
Douglas Murray
and
Jussi Jokinen
, even if those deals didn't quite pay off the way Shero had imagined.
LEBRUN:
People no doubt will question Shero winning given how the Pens were dominated in being swept by Boston in the Eastern Conference finals, but you have to understand that these are regular-season awards. To me, Shero is absolutely deserving and one of the very top GMs in the game. What I found curious, though, is that Scott Howson, fired as GM in Columbus early in the season, received two third-place votes, while Greg Sherman in Colorado also got a third-place vote. Um, are the GMs not taking their voting duties seriously? Honestly.
BURNSIDE:
I will point out that
Martin St. Louis
won the Lady Byng Trophy as the league's most gentlemanly player for the third time in the past four years. I know you were anxious about how that award voting was going to go. Saturday will be interesting, though, as there are rumors that
P.K. Subban
is going to win the Norris Trophy, which boggles my mind more than a little given the season
Ryan Suter
had in Minnesota. And I know there's going to be lots of debate if Ovechkin does walk away with the Hart, but we'll have plenty of time to kick that around on Saturday.
LEBRUN:
In defense of voters, I will say it was a challenging ballot for many voters given that the Eastern Conference and Western Conference did not play each other during the lockout-shortened season. So voters were limited somewhat in what they were able to witness firsthand from night to night. That's why I reached out to a bunch of scouts, who travel the most, to help form my opinion on the awards I voted on.
And we shall indeed see what Saturday brings, my friend.
May, 10, 2013
May 10
12:31
AM ET
MONTREAL -- Years ago, in another era for the
Ottawa Senators
, they were the talented team that found ways to lose.
Now, they're the team that refuses to die.
The old Senators, loaded with the likes of
Zdeno Chara
,
Marian Hossa
,
Martin Havlat
,
Daniel Alfredsson
,
Chris Phillips
,
Wade Redden
and
Mike Fisher
, somehow never got their bang for their buck, talentwise. They always lost to the rival
Toronto Maple Leafs
, always left you wanting more.
Today's Senators, born out of the surprising team that made the postseason last year and pushed the
New York Rangers
to seven games, and further transformed this season by a ridiculous injury list that should have ended their chances -- well, these guys just find a way.
They are forging a reputation as a team with tremendous character.
Two different eras for this organization, two vastly different teams.
"You're right," the veteran Phillips said when provided with that context and question. And he should know, being in his 15th NHL season -- all spent in Ottawa.
"I look back at my own career and the time I've been in Ottawa, there's a few years there that you look up and down the lineup and you think, 'We have a really good chance here.' And we didn't get very far at all. This year, it's been about proving people wrong. I got to say, it feels pretty good."
[+] Enlarge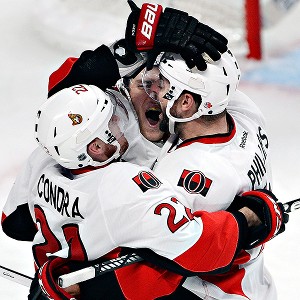 AP Photo/Ryan RemiorzVeteran Chris Phillips once again has good reason to celebrate in the postseason.
It felt mighty good Thursday night in Montreal as the Senators wrapped up a five-game, first-round win over the Canadiens, with the Senators players overheard singing "Ole, Ole, Ole" as they triumphantly entered the visitors room at the Bell Centre after a 6-1 win.
Perhaps a little mocking gesture after a supercharged, emotional series with the rival Habs.
For the Senators, it was their first playoff series win since their 2007 trip to the Cup finals.
It's been awhile.
"It has been," said Alfredsson, the team's captain. "Everyone knows the story about our team, going to the [Cup] finals in '07, and struggling for a few years and then really changing the whole makeup of the team and going in a new direction. Last year was a great learning curve for a lot of the guys just to get into the playoffs.
"Now continuing and building on that, we believe in what we do. We know we're not going to be pretty every night, but we seem to find a way -- and we always believe."
It cannot be ignored, of course, that the Senators took advantage of an injury-depleted Habs team to help secure their first-round win. That's not to say they would not have won otherwise, but it sure didn't hurt.
Montreal in this series would lose center
Lars Eller
; captain
Brian Gionta
; center
Ryan White
; inspirational leader
Brandon Prust
; and, of course, star goalie
Carey Price
, who couldn't finish Game 4 after suffering an apparent knee injury and being ruled out for the rest of the series.
First-line winger
Max Pacioretty
revealed afterward he was playing through a bum shoulder as well.
The Habs were the walking wounded.
It's too bad, because a healthy Canadiens lineup would have given the Senators a tougher test, probably worthy of a seven-game series.
"It's no excuse, it's the playoffs and everyone is banged up," Pacioretty said in refusing to let himself and his team off the hook, despite the injuries.
And don't expect any violins on the Ottawa side for the poor Habs.
For the Senators, the reversal of injury fortunes is proof that the hockey gods do indeed exist.
Their season written off by so many people because of their own seemingly crippling injuries during the regular season -- Norris Trophy winner
Erik Karlsson
, No. 1 center
Jason Spezza
, star goalie
Craig Anderson
, top-four blueliner
Jared Cowen
, winger
Milan Michalek
-- the Senators got all of their guys back (save for Spezza) late in the season and transformed themselves from a team worthy for a seeding far exceeding No. 7 in the East.
Think back to when Karlsson & Co. were all out with long-term injuries. Imagine their reaction had somebody told them they'd be in the second round of the playoffs a few months later. Think any player on the team would have believed that a true possibility?
"Not likely," Alfredsson admitted. "But not out of the question, either."
Alfredsson talked about a conversation he had with Senators head coach Paul MacLean after the injuries to Karlsson and Michalek in the Pittsburgh game early in the season.
[+] Enlarge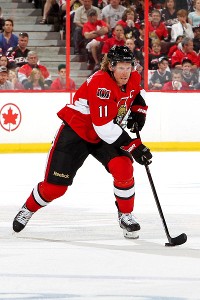 Francois Laplante/NHLI/Getty ImagesLongtime Senator Daniel Alfredsson remains a cornerstone in Ottawa.
"I remember talking with Mac, and he talked about whether he should address the situation with the team, because we were missing everybody. He just came in and said, 'We have a lot of good hockey players right here. We can't do anything about anything else, we got to believe in ourselves.' Once we started to win some games there, we got confidence."
Chapeau to Mr. MacLean. He sure knows how to coach. And he kept the team's spirit and focus in line despite what seemed to everyone else like a hopeless situation earlier this season.
Player by player, the AHL call-ups became NHL regulars. And, astonishingly, it worked.
"The job that our scouting staff has done in finding players that are out on the ice playing for us now, I get lots of credit for playing these young players and having these young players in these situations, but believe me, if they're not good young players -- if they're not good enough -- we wouldn't be in this situation," said MacLean, crediting general manger Bryan Murray and scouting gurus Pierre Dorion and Tim Murray, along with the rest of the staff.
"Their ability to find solid hockey players, that's the reason why the Ottawa Senators are here today in the second round," the head coach said.
Well, there's another major reason, of course.
"Our goaltending probably was the best in the league this year," Alfredsson said. "That gave us some confidence that we don't have to be perfect out there. We seemed to always find a way, and that's a good feeling."
Craig Anderson was superb this season and would have been nominated for the Vezina Trophy had he not missed a significant amount of time due to injury.
Ben Bishop
was terrific before getting dealt to Tampa, and what should scare everyone else in the league is that young backup
Robin Lehner
might be even better than Anderson when all is said and done.
"A lot of times I talk with my coaching staff and also my boys around the cottage and I say, 'We should change the game [name] of hockey to goalie,'" MacLean said. "Because that makes the difference. And I think for our team, Craig Anderson was the MVP of this playoff series.
"He was outstanding in every game. He gives us a chance to bend but not break. And gives us a chance to recover and get our bearings. And once we do that, we seem to be able to establish our game, and I think he's a big part of it."
Come to think of it, when recalling those old Senators teams of the late 1990s and early 2000s, goaltending was often a part of their downfall.
So there's another wrinkle between eras.
The best part for Senators fans is that well-respected holdovers from those old teams like Alfredsson and Phillips now get to enjoy a different feeling.
It's nice to win when you're not expected to.
It's nice to overachieve.
It's nice to prove people wrong, as Phillips said.
It rocks to be the new Senators.
May, 3, 2013
May 3
11:16
PM ET
MONTREAL -- A rivalry that existed only in name for 20 years now has a pulse. And plenty of hate.
Two opening playoff games in back-to-back nights between the
Ottawa Senators
and
Montreal Canadiens
produced enough hits, controversy and verbal jousting to fill a reporter's notebook for a month.
Oh, and the hockey's been pretty darn entertaining, too.
"It's pretty neat," Senators captain
Daniel Alfredsson
, who played in all those Battle of Ontario playoff series, said.
"It's physical, there's a lot at stake, it's two cities that are close to each other," he added after Friday night's 3-1 loss. "There's been a few big hits already, and that's what creates rivalries -- battling all over. You've got two teams who really want this, and you can tell."
Heck, even the two goalies have lost teeth in this series. Anything else this series could have possibly shoved into an opening 27 hours?
"It's crazy. It's the playoffs, and in Canada, hockey is part of our culture," Habs star blue-liner
P.K. Subban
, said. "It would have been special to be part of a Toronto-Montreal [series], being that I'm from Toronto, but being part of this one is just as great. And I don't think it's let anyone down so far."
Ryan White
,
Brendan Gallagher
and
Michael Ryder
scored second-period goals Friday night as the Habs tied their first-round series 1-1 with a much-needed victory before the best-of-seven set shifts to Ottawa.
Game 2 was almost a secondary event to the drama unfolding off the ice in the morning.
The Habs took offense to comments from Senators coach Paul MacLean the night before in the wake of the devastating hit by Ottawa's
Eric Gryba
that crushed Montreal center
Lars Eller
. MacLean mentioned that Canadiens defenseman
Raphael Diaz
made a risky pass that put Eller in a vulnerable position.
Which, by the way, was a position shared by others around the hockey industry as well.
Regardless, it didn't sit well with the Habs, who were understandably shaken by the loss of a teammate in such a gruesome way.
"We don't really care about what that bug-eyed fat walrus has to say," Montreal winger
Brandon Prust
said of the Senators coach.
OK, then.
Habs head coach Michel Therrien also showed his anger Friday morning, saying MacLean's comment was "inappropriate" and that it showed a lack of respect for Eller. After the game Friday night, Therrien didn't back down.
"It was not about the hit, the NHL dealt with that; it was about the comment, the lack of respect," the Canadiens coach said. "That was the reason I was upset. And not only me -- everyone involved with our team was upset about that."
MacLean stood firm when asked again Friday morning about his opinion on the hit, but the NHL obviously didn't agree, slapping Gryba with a two-game suspension in the afternoon.
I can tell you that Thursday night in St. Louis, the hockey people I also spoke with in the press box felt it was a legal hit with an unfortunate result.
But the league's player safety group, in handing out a two-game suspension, felt the principal point of contact was the head, and thus a Rule 48 infraction.
To be fair, regardless of which side you're on with the hit, it was not clear-cut.
What is clear-cut, though, is that the Sens and Habs are en route to what's shaping up to be a dandy of a series.
"This is how it's going to go: It's going to be a tough series," Senators star blue-liner
Erik Karlsson
, who was held in check this night, said.
So far, the goalies have swapped first stars, and that's a storyline that will continue to have a major bearing on the series.
Craig Anderson
stopped 48 shots in Game 1, and you wondered if he would quickly get into the heads of the Canadiens, but the Habs made him look a little more human Friday night. Montreal could ill afford to allow Anderson to steal two games in a row before heading into Ottawa, all the while squeezing their sticks.
"He's a very good goalie," Gallagher, who has tallied twice on him in two games, said. "He makes the saves he's supposed to make. But that said, there's always ways to score, always ways to get in front of him, create traffic and make it tough on him. It's just a matter of doing that more and more as the series goes on."
The Canadiens got to him Friday night with a three-goal second period, while Montreal netminder
Carey Price
responded with a terrific effort in stopping 29 of 30 shots after getting beaten four times in Game 1.
"Carey Price was really good tonight," Therrien said in French after the game. "He made key saves at the right time, which allowed us to gain momentum."
As if losing Eller wasn't enough, the Canadiens also played Game 2 without winger
Max Pacioretty
and captain
Brian Gionta
, both out with upper-body injuries. In came
Colby Armstrong
,
Jeff Halpern
and
Gabriel Dumont
, and the Habs didn't bat an eye.
"It's character," Therrien said. "We showed that tonight, and we've showed it all season long."
The Habs hounded the Senators for most of the game Friday night with a forecheck that produced turnovers, banging bodies with a purpose, led by the likes of White.
"I think they were all over us from the start," Karlsson, whose ill-advised backhand pass in front of his own net handed White the opening goal, said.
"When they got up 3-1 late in the second, it put us [in] a big hole, and it seemed like we didn't have the push we had yesterday," Alfredsson added.
It's a win the Canadiens needed more, but Therrien said he didn't ask his players for a bounceback performance. Given his team's 50-31 shot advantage Thursday night in Game 1, the Habs coach had a simple message Friday before the game.
"I really like the way we played both games. I told our team before the game and this morning when I addressed them, 'I'm not going to ask you to bounce back,'" Therrien said. "'Play the same way. Keep playing the same way.' As a coach, it's the only thing we could ask."
May, 3, 2013
May 3
2:00
PM ET
By
ESPN Stats & Information
| ESPN.com
Senators at Canadiens, 7 ET (OTT leads 1-0)
*
Craig Anderson
(OTT): stopped 109 of 114 shots (.956) vs Canadiens this season (incl. playoffs)
* Canadiens: lost 4 of last 5 at home (incl. reg season)
* Senators: had lost 4 straight road games vs Canadiens before Game 1 win
* 1st all-Canadian series since 2004
Islanders at Penguins, 7 ET (PIT leads 1-0)
* Penguins: allowed 1 goal in last 10 periods vs Islanders at home, outscoring NYI 14-1
* Penguins: haven't lost series when up 2-0 since 2000
*
John Tavares
(NYI): no shots on goal in Game 1, 1st time he didn't have a shot on goal in any game this season
* Islanders: 1st playoff appearance since 2007; lost 4 straight playoff games
Wild at Blackhawks, 9:30 ET (CHI leads 1-0)
* Wild: lost 4 straight playoff games
* Wild: last playoff win was 2008 conf quarters vs Avalanche
* Blackhawks: won 3 straight vs Wild (incl. reg season)
* Blackhawks: haven't lost to Wild in regulation or overtime in last 10 meetings (3 shootout losses)
Sharks at Canucks, 10 ET (SJ leads 1-0)
* Canucks: lost 5 straight home playoff games; last win was in 2011 Final
* Canucks: only higher seed in Western Conference to lose Game 1
* Sharks: won all 4 games vs Canucks this season (including playoffs)
April, 1, 2013
Apr 1
1:07
PM ET
On the
Jaromir Jagr
front, it was still unclear as of Monday afternoon what will transpire. The
Dallas Stars
approached the Jagr camp three weeks ago about a contract extension, and the two sides have gone back and forth since. But still no contract extension.
Why? I'm hearing the Stars' front office is debating whether the team should sign or trade Jagr. And that decision had not been made as of Monday afternoon.
Other teams are absolutely calling with interest on Jagr. No surprise there, as he'd be a perfect rental. Hello,
Boston Bruins
?
But the Stars, who already dealt pending UFA
Brenden Morrow
, have to figure out if they should cash in on pending UFA Jagr or keep him around for another season. After all, the Stars were only two points out of a playoff spot Monday morning.
Sign him or trade him? To be determined.
Sens fielding calls on Bishop
A source told ESPN.com Monday that the
Ottawa Senators
have received "several calls" regarding goalie
Ben Bishop
the past day or so.
The Senators, I don't think, feel pressed in moving Bishop before Wednesday's deadline. They're more than happy to wait until the summer to figure out their three-goalie situation with Bishop,
Craig Anderson
and
Robin Lehner
.
However, if a team made a strong enough push on Bishop (hint, hint: top-six forward), then he could certainly be moved over the next few days.
Meanwhile, pending UFA blue-liner
Sergei Gonchar
is more than likely staying put. The Senators need him for the playoff run.
McBain's name comes up
One new name popped up Monday as potential trade bait: defenseman
Jamie McBain
.
I'm told the
Carolina Hurricanes
would be willing to move him if the offer was right. McBain is not a rental; he has one more year on his deal at $1.9 million in salary and $1.8 million on the cap. He's an intriguing name, to be sure, a guy who can provide some offense from the back end.
Speaking of the Hurricanes, I'm also hearing that, despite clearing waivers last week, forward
Jussi Jokinen
continues to generate interest from other teams that want Carolina to take a player back in return. So he could definitely move before Wednesday's deadline.
Jokinen is a player the
Vancouver Canucks
have on their radar, although I would say he's not at the top of their list.
All quiet for Clarkson, Devils
A source told ESPN.com Monday that the
New Jersey Devils
and
David Clarkson
's camp have still not held any talks regarding the pending UFA. Again, not entirely surprising. Veteran Devils GM Lou Lamoriello traditionally doesn't view the trade deadline as any kind of pressure point when it comes to his UFAs.
Jackets willing to trade a first-round pick
My TSN colleague Darren Dreger was first to report this, but I can also confirm that the
Columbus Blue Jackets
, suddenly in a playoff spot, are willing to move one of their three first-round picks in the June 30 draft if they can get a scoring forward in return. (In today's edition, the Columbus Post Dispatch
also reported
that the Jackets would be willing to move one of their picks.) Mind you, they wouldn't do that for a rental player; it has to be a player with term past this season, a source told ESPN.com.
Still, that's a shift in thinking from when new GM
Jarmo Kekalainen
took over earlier this season and had only the long-term view in mind. It seems the incredible run the Jackets have been on over the past month-plus has forced him to try to throw his team a bone.
It also wouldn't surprise me if Columbus was willing to move a defenseman to get that top-six, scoring forward.
February, 1, 2013
Feb 1
2:40
PM ET
By
Courtesy of NHL
| ESPN.com
Ottawa Senators
goaltender
Craig Anderson
,
San Jose Sharks
left wing
Patrick Marleau
and
Buffalo Sabres
left wing
Thomas Vanek
have been named the NHL's "Three Stars" for the month of January.
FIRST STAR – CRAIG ANDERSON, G, OTTAWA SENATORS
Anderson finished the month with a 5-0-1 record, ranking first in the League in save percentage (.967) and second in both goals-against average
(0.99) and wins. The Park Ridge, Ill., native allowed one goal or fewer in five of his six starts and posted his 20th career shutout in a 4-0 win over the
Florida Panthers
Jan. 21. Anderson's lone blemish came in a 2-1 shootout defeat against the
Pittsburgh Penguins
Jan. 27, a game in which he recorded a season-high 33 saves. Now in his 10th NHL season and third with Ottawa, the 31-year-old has a 136-110-31 career record with a 2.75 goals-against average and .914 save percentage in 300 appearances.
SECOND STAR – PATRICK MARLEAU, LW, SAN JOSE SHARKS
Marleau led the NHL with nine goals and ranked second with 14 points as the Sharks completed a perfect 7-0-0 January. The 15-year veteran also led all skaters with five power-play goals and three game-winners. Marleau became the second player in NHL history – and first since Ottawa's Cy Denneny in 1917-18 – to record four consecutive multi-goal games to begin a season, and became the first player in Sharks history to find the back of the net in each of the team's first five games of a season. The 33-year-old Aneroid, Sask., native has 396-448—844 in 1,124 career games, all with San Jose.
THIRD STAR – THOMAS VANEK, LW, BUFFALO SABRES
Vanek led all skaters with 15 points (six goals, nine assists) in six contests, buoyed by a pair of five-point games. The Vienna, Austria, native opened the season with two goals and three assists in a 5-2 victory over the
Philadelphia Flyers
Jan. 20 and closed the month with his eighth career hat trick and two helpers in a 7-4 triumph at the
Boston Bruins
Jan. 31.
Vanek is the first NHL player to score five or more points twice in his team's first seven games of a season since Pittsburgh's
Mario Lemieux
in 1992-93. Vanek also is the first Sabre with at least two five-point games in one season since 1992-93, when
Pat LaFontaine
had six such outings and
Alexander Mogilny
had three. Now in his eighth NHL season, the 29-year-old has 236-226—462 in 553 career games.
March, 5, 2011
3/05/11
9:14
PM ET
The most critical week in the history of the Phoenix Coyotes franchise is potentially upon us.
I say potentially because, if there's one thing we've learned during this soap opera over the past 20 months, it's never to speak in definite terms when sizing up the situation in Glendale, Ariz.
Just three Saturdays ago, everyone involved in the process believed the sale would close without a hitch. That was before the Goldwater Institute finally made its impact. Now, the whole thing is hanging on by a thread.
After my colleague Scott Burnside did a bang-up job in his column examining the Coyotes situation this past week, I made a few phones calls Friday and Saturday to update things for my "Hockey Night In Canada" Hot Stove segment.
Here are the latest developments, via several sources involved in the process:
• The next 7-10 days may possibly decide the fate of the franchise -- either the bonds will finally be sold and the sale could finally close to keep the team in Phoenix, or the bonds won't be sold and the league will be forced to make a difficult decision on whether to relocate the team to Winnipeg for the 2011-12 season. There is still no official deadline for this to be resolved, but the belief is the process is already living on borrowed time. It doesn't seem this can drag on past the end of March/early April.
• Right now, the team's future in Phoenix seems ominous, but it's not over yet.
"I don't think this is dead by any means," said a source involved in the situation regarding the Coyotes. Said another source, "It could still be salvaged, but my gut feeling is that it's toast."
• The Goldwater Institute believes the terms of the sale to Matthew Hulsizer are a bad deal for local taxpayers, and it won't budge from that stance. The issue now is whether the NHL and the City of Glendale can find investors for the bonds despite Goldwater's legal threats.
• Meanwhile, multiple sources told Burnside the City of Glendale is expected to file suit Monday against Goldwater and specific members of the public watchdog's board.
• Instead of a broad-based bond sale to numerous investors, the effort now is to find two or three big wheels to buy the bonds.
• On the Atlanta front, if there is enough of a grassroots effort to try to find local ownership, it may buy the Thrashers at least one more season in Atlanta. Having said that, one source told us Saturday: "If the Coyotes stay in Phoenix, then the Thrashers may very likely head to Winnipeg unless they can find local ownership in a huge hurry."
• If the Coyotes move to Winnipeg and Thrashers also need to relocate a year from now, Quebec City is not guaranteed to be in line the way Winnipeg is now. Quebec City will have competition from Kansas City, Houston, Seattle and Portland.
• If the NHL decides to pull the plug on Phoenix, it still has to complete a franchise sale with the True North ownership group in Winnipeg. There have been suggestions the NHL and True North already have a "deal in the drawer," but that's not accurate. Still, it's not expected the deal would take long to work out.
• People will ask why Winnipeg may succeed in its bid to land either the Coyotes or Thrashers. The prospective ownership group there has been patient; it played by the rules and kept a low profile. Those are all keys in gaining entry to the NHL's private club.
• Conference realignment is not needed if the Coyotes move back to the Winnipeg. Both cities are in the West. If Atlanta moved to Winnipeg, Detroit and Columbus would be the two clubs hoping to move to the Eastern Conference.
• Finally, the ownership uncertainty has truly affected the Coyotes' on-ice planning. First, the club couldn't add payroll at the trade deadline, which Hulsizer would have allowed had he officially been in charge. Second, contract talks still haven't begun with UFA-to-be Ilya Bryzgalov, and the team risks losing him come July 1 with every passing day.
This and that ...
• The Bruins and Rick Curran, the agent for Tomas Kaberle, recently had a short chat to say: Let's talk again at some point in the future regarding a possible extension. No exact time frame is in place.
• Lightning GM Steve Yzerman and veteran agent Don Meehan, who represents RFA-to-be Steven Stamkos, spoke again last weekend in New York. It doesn't sound like they're close at this point.
• Leafs rookie goalie James Reimer has been the toast of the town during the team's surprising run after the All-Star break. It just so happens he needs a new contract after the season since he'll be a restricted free agent July 1. Both sides have communicated, but it sounds like real negotiations will wait for the offseason.
"I think so," Reimer's agent, Ray Petkau, told ESPN.com Saturday. "They're not in a hurry and we're not in a hurry. Reims is an easy-going kid."
• Speaking of free-agent goalies, Craig Anderson has been gold since going to Ottawa from Colorado. He's an unrestricted free agent July 1. The team and the player's agent, Justin Duberman, have had a few conversations but no real contract talks yet. That's expected to happen over the next few weeks.
• There are big plans in the works for the lead-up to the Toronto Maple Leafs' 100-year anniversary season in 2016-17. There have been preliminary discussions between the Leafs and the NHL that would possibly see the team host an All-Star weekend and an NHL draft leading up to the anniversary. But the Leafs are hoping to make it a trifecta of events by hosting an outdoor game. For that to happen, BMO Field (home of the MLS' Toronto FC) would need to be expanded, something that is tentatively planned to happen at some point over the next five years.
February, 3, 2011
2/03/11
1:47
PM ET
DENVER -- For a long time, you couldn't talk about the renaissance going on in Denver with the Avalanche without talking -- and in reverential tones at that -- about netminder Craig Anderson.
The journeyman netminder came to Denver and stole the starting job at the start of last season from Peter Budaj, and then helped the Avs bolt out of the gate and into the playoffs.
He set a franchise record for games started, minutes played, shots faced and saves made. He had seven shutouts, and his 38 wins were just two off the franchise record set by a guy named Patrick Roy.
But that was then. The "now" part of that equation is significantly less flattering as the 2010-11 season heads into its final third.
[+] Enlarge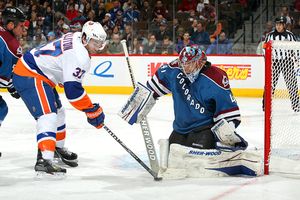 Michael Martin/Getty ImagesCraig Anderson has managed a .903 save percentage and a 3.12 goals against average this season.
Anderson has been beset by groin and knee injuries and has struggled to find that groove. And, so have the Avs, who are last in the NHL in goals allowed per game.
Anderson has split time with Budaj and managed a .903 save percentage and an unhappy 3.12 goals against average.
When you come back from injury as a forward or defenseman, you can ease your way into the lineup, maybe hide a little bit. Not as a goaltender.
"When you come back from injury all your mistakes are highlighted," Anderson told ESPN.com recently.
Anderson noted that the team has also been wracked by injuries up and down the lineup, so he has been trying to adjust to a new cast of faces seemingly every night.
One might have imagined his heroic efforts last season would have provided some sort of job security. But that's not how it's worked out.
Heading into the final year of his contract, Anderson said he and the Avs talked a bit before the season but haven't talked since.
In hindsight and given the numbers Anderson has put up, it looks like GM Greg Sherman did the right thing by not offering Anderson a long-term extension. But the team's uneven defensive play and soft goaltending has put them in a precarious position vis a vis making the playoffs. That has put pressure on Sherman to upgrade the goaltending to keep the Avs in the hunt and likewise upped the ante on Anderson to prove he's still the man.
Sherman insisted in a recent interview he was happy with his goaltending tandem, but really, what else is he going to say?
We remember a similar discussion three years ago with Washington GM George McPhee when veteran Olaf Kolzig was struggling and the Caps turned around and brought in Cristobal Huet, who led the Caps to a Southeast Division crown and into the playoffs.
Regardless of who is manning the twine, it is safe to say the Avs will need better goaltending if they are going to make the playoffs this year.
Maybe it will be Anderson that provides that goaltending. He has shown he can do it, of course, but can he do it again?
Certainly his future, whether it's here in Denver or somewhere else, pretty much depends on it.
"At the end of the day you're always playing for a contract whether it's here or somewhere else," the native of Park Ridge, Illinois said.
"You earn everything," he said.
Ice time, opportunity and contracts.
"It's a business and it's what have you done for me lately," Anderson said.
That said, it would be fitting if it was Anderson who helped this young team back to the postseason. And Anderson would like nothing better than to secure a future here with the Avs.
"I see a lot of potential here. The sky's the limit. We're young, we're fast, we can score," he said.
"It's just a matter of time until we're the Chicago Blackhawks. I see that we're kind of in the same footprint."
January, 6, 2011
1/06/11
4:36
PM ET
Call this the anti-Vezina list.
Next week, we at ESPN.com will hand out our midseason awards. Today, we bring you what we believe are the five most disappointing goaltenders at the halfway point given their pedigree and expectations. In no particular order:

It seems like years ago when he put up 33 wins and a 2.29 goals-against average and won the Calder Trophy as NHL rookie of the year. Well, it was just two seasons ago. Since then, the sophomore slump has extended into a Year 3 malaise. As of Thursday morning, his 3.20 GAA was 40th among NHL goalies, and his .902 save percentage was 32nd. He's played better of late, which is good, because the Jackets need him to turn things around. He's only 22, so I suspect everything will be fine. It had better be after the Jackets extended his contract, a two-year, $5.8 million deal that kicks in next season.

When the Thrashers signed him to a two-year, $3.7 million deal this past summer, it was with the idea that he would be their starter or at least compete with young Ondrej Pavelec for starts. Neither has happened. His .896 save percentage is 39th in the league, and his 3.66 GAA is dead last in the NHL. Luckily for the Thrashers, it hasn't mattered because Pavelec is having a Vezina-worthy season.

No wonder Lightning GM Steve Yzerman felt compelled to bring in Dwayne Roloson via trade. Smith's .883 save percentage is second-to-last in the NHL, and his 3.20 GAA is 41st. Dan Ellis hasn't been much better, but Smith is the guy long viewed as a possible starter after his trade from Dallas. The consistency has never come. He'll be an unrestricted free agent July 1 and won't be in Tampa next season.

How the mighty have fallen. Nominated for the Vezina last season after a sensational campaign, Anderson has the 38th-ranked GAA (3.13) and 33rd-ranked save percentage (.901) in the NHL. Granted, the Avs' blue line isn't Detroit's, so there's plenty of rubber coming his way, but it was the same when he stood on his head last season. Talk about bad timing, especially with Anderson set to be a UFA on July 1. There is plenty of time to turn things around, but if he doesn't, it will be a costly season for him.

It's safe to say we never thought the day would come when we would put his name on this list. We tremble just doing it. But the numbers don't lie -- a .882 save percentage (44th and dead last among all goalies) and 3.15 GAA (39th). Nothing from this season will take anything away from what is arguably the greatest goaltending career in NHL history. And to be fair, it's not as though the team in front of him has been any help. (Still, a bit surprising to see the Devils actually ranked first in the NHL in fewest shots allowed per game as of Thursday morning.) Brodeur has one more year left on his deal at $5.2 million. Let's hope next season is a bounce-back one and he can go out in style.
(Dis)honorable mentions: Pascal Leclaire, Ottawa; Rick DiPietro, N.Y. Islanders; Nikolai Khabibulin, Edmonton; Jonas Gustavsson, Toronto.
November, 19, 2010
11/19/10
5:19
PM ET
Craig Anderson is back and the Colorado Avalanche are still standing. In fact, they thrived during his three-week absence, which speaks volumes about a young team that showed its worth during what could have been a devastating injury to last season's team MVP.
"We responded well as a group with Craig not being there," Avs coach Joe Sacco told ESPN.com on Friday. "You don't want to single too many people out, but Peter Budaj obviously stepped into a situation and did a real good job for us. He was solid every game, gave us a chance to win, and really what else can you ask from your goaltender?"
Starting every game in Anderson's absence, Budaj went 6-3-1 and gave the Avs reliable goaltending and helped save what could have been a disastrous situation in the tough Western Conference.
"The reason why he was able to do that, to me, was his preparation," Sacco said of Budaj. "He's a guy that works extremely hard, all the time, in practice. He works hard off the ice. When the opportunity came, he was ready because of all the work he put into it. He filled in really nice and did a real good job for us."
Budaj also gave Sacco the confidence in knowing the coach can go back to him more often this season than he did in 2009-10. Budaj appeared in only 15 games last season as the red-hot Anderson put on a clinic in a Vezina-worthy season.
"I've said all along that we have two very capable goaltenders," said Sacco, who gave Anderson the start Friday night. "I know that last year Peter didn't play as much as he probably would have liked. That's just kind of how the situation worked out. It wasn't that I didn't have confidence in Peter, it was just that I thought Craig was playing so well that we were going to ride him. But going into this season, as a plan, I wanted to use Peter more, especially on back-to-back nights. I will use Peter more this year, there's no question. It will only benefit Craig to get some rest for the stretch."
While Budaj was key in helping Colorado survive in Anderson's absence, Sacco also credited the play of the rest of the team. We know this: the Avs can score goals by the bushel (they entered the weekend ranked fourth in the NHL in offense), which was a factor during the team's run without Anderson.
"We are a team that plays an aggressive, up-tempo style," said Sacco. "We've been fortunate to have scored a lot of goals and we get a lot of scoring opportunities. We talk about being a team that needs to be a little bit stingier defensively."
Like last season, defense remains an issue -- Colorado entered the weekend ranked 22nd in the league in goals against.
"But what I do is I look at our team now compared to where it was last year. Our shots against are down, our shots for are up and, in turn, our scoring chances against are down and our scoring chances for are up," said Sacco. "So those are all positive signs. We're certainly headed in the right direction."


The Avs were 29th in the league in shots for last season, but are way up to 11th entering the weekend. They're 21st in shots against compared to 25th last season. The killer right now is the penalty kill: 28th in the league entering the weekend.
"The goals against, it's been mostly because of our penalty killing. It's given up 18 goals," said Sacco. "So 5-on-5, we've been a real good team; the power play's been pretty good, but penalty killing needs to pick up."
October, 16, 2010
10/16/10
9:46
PM ET
Ken Holland is pushing forward with his idea for a new overtime format and plans to table it next month at the GMs meeting in Toronto.
The respected Red Wings GM wants to expand overtime to eight minutes from the current five: 4-on-4 for four minutes and 3-on-3 for the remaining four minutes. He also wants to ensure better ice quality for the extended overtime by having the ice scraped (not flooded) after regulation time.
He pushed the original concept this past March at the GMs meeting, and while it didn't fly at the time, Holland believes it's growing on fellow GMs.
"I think there's a groundswell of support," Holland told ESPN.com.
I like it, too. Too many games were decided by shootouts last season and this would ensure more results would come from a more traditional fashion. The shootout would remain, but wouldn't be used as frequently. And besides, 3-on-3 hockey is a lot of fun to watch.
Red Wings' roster issues
Well, here we go again. The
Detroit Red Wings
dressed only 17 skaters for Saturday's game at Phoenix, one below the CBA-mandated 18.
Jonathan Ericsson (back), Justin Abdelkader (ribs), Johan Franzen (head), Brian Rafalski (knee) and Kris Draper (groin) were all out with injuries.
The problem is the Wings don't have enough cap room to call up a player; they used up the rest of that room with Doug Janik's call-up this past week. The only way for the Wings to call up a player now is if one of those injured players goes on long-term injured reserve, in which case the Wings could go over the cap. The problem is, any player on LTIR has to be out a minimum of 10 games and 23 days. Right now, the Wings don't believe any of their injured guys will be out that long.
So like New Jersey on Monday and Wednesday, Detroit had to ice a lineup that's below the mandated 18 skaters and two goalies. The Wings can get away with it because this would be considered an "emergency" situation as defined in Section 16.4b of the collective-bargaining agreement.
The fact is, despite all the attention the Devils got for this last week, a source told ESPN.com on Friday that teams have iced less than 18 skaters "six or seven times a season" since the lockout, it just hasn't got this much attention before other than when Calgary did it in 2008-09.
As for the Devils, the league believes they complied with "emergency" circumstances as defined in the CBA. Having said that, I'm told the league would have been troubled had the Devils continued it for a week or more and would have leaned on them.
The NHL Players' Association has serious issues with the language regarding this rule and I think it's an issue it wants to clean up for the next CBA. But for now, there's really not much the union can do. After all, the Devils' players were OK with playing with a shortened bench; it was better than having a teammate sent down for nothing other than cap reasons.
Thornton's new deal
As I hinted at last week,
Joe Thornton
indeed re-upped with the Sharks on Saturday. He left some money (but especially term) on the table by not exploring free agency on July 1, but he doesn't care. He told Sharks GM Doug Wilson he wanted to sign a deal that helped the Sharks stay competitive. At three years and $21 million, it's a small pay cut from the $7.2 million he's making under his expiring deal.
"Joe's life is in San Jose, and that's his team," brother/agent John Thornton told ESPN.com on Saturday. "He didn't want to even think about going somewhere else."
"No better place to play in the league," Joe Thornton told ESPN.com via text Saturday.
Believe me, a center of Thornton's stature on the open market is looking at between $8-$9 million a season and six to eight years in length. He gave the Sharks a break here.
"This is where the players truly step up for their organization and their teammates," Wilson told us Saturday.
Patrick Marleau could have also played the market last summer, but also chose to stay in San Jose for four years and $6.9 million a year. It's a contract that pays well, but he would have received more term and a bit more salary on the open market (starting with Los Angeles, I believe).
Say what you want about the Sharks, who continue to search for their first championship, but the actions of Thornton and Marleau, and even Joe Pavelski (four years, $16 million), speak volumes. The Sharks don't like the kind of long-term deals that have permeated across the league and have still been able to re-sign their core players without having a single contract go past the 2013-14 season.
"I take that as the greatest compliment," Wilson said of his core players playing ball with him on contracts.
Thornton's contract breakdown: $7 million salary next season plus a $1 million signing bonus; $6 million for 2012-13 season and $1 million signing bonus on July 14, 2012 (the birthday of Thornton's newborn daughter, Ayla); $6 million for 2013-14 season.
The clever thing here is, should there be a lockout in 2012-13, Thornton has $9 million guaranteed in the bank before then.
The latest on Souray
Sheldon Souray
made his AHL debut with Hershey on Friday night, picking up an assist and posting a plus-3 rating in a 7-1 rout over the Binghamton. He likely hopes it was the first of not too many nights in the minors. Here's what I'm told the
Edmonton Oilers
are thinking at this point:
1. Do they eventually put him on re-entry waivers and live with paying him half of the remainder of his contract once another team picks him up at half the price?
2. Or do they continue to wait to make a hockey deal, which they've been doing for more than a year, and perhaps not move him until June, when he's suddenly more attractive to teams because he only has a year left on his deal?
I'm told the New York Rangers are mildly interested in Souray, but likely the only route for them is via re-entry waivers, where he'd come at half the price of his $4.5 million salary (his cap hit is actually $5.4 million this season and next).
Several reports since last summer have also linked the Columbus Blue Jackets to Souray, but two sources told ESPN.com this weekend that as of now, the interest isn't there from the Jackets. Of course, that could change.
It sure will be interesting to see what develops on the Craig Anderson front in Colorado. He's eligible for unrestricted free agency July 1, and other than a brief chat between agent
Justin Duberman
and the team during training camp, real contract talks have not yet begun.
My question is, what's Colorado waiting for? I understand the Avs were busy with re-signing Chris Stewart and Peter Mueller in early September, but the longer they wait on Anderson, the more money it's going to cost them. Last season, the dude proved he's a stud goalie. He made more saves than any other NHL goalie and should have deserved more serious consideration for the Vezina Trophy. His 41-save performance Friday night in New Jersey was further proof.
His cap hit is $1.812 million, meaning he's in for a nice raise. But I suspect he also doesn't want to leave Colorado, the first team to give him a starting gig. Still, if I'm Colorado, I'd get on this sooner rather than later.
The UFA defenseman has an important doctor's visit this upcoming week, which will determine his progress after ACL surgery in late June. He had the same surgery as
Andrei Markov
, but four weeks later. Teams struggling on the power play should be keeping an eye on this guy. The offensive blueliner had 13 goals last season for the Habs and was an important part of the team's second-ranked power play. His defensive deficiencies are obvious, but he's produced double-digit goals from the point four times in his career. He'll come at a bargain-basement price, too.