Cross Checks:

Craig Berube
April, 22, 2014
Apr 22
10:47
PM ET
PHILADELPHIA -- The
New York Rangers
took a 2-1 series lead with a 4-1 win over the
Philadelphia Flyers
Tuesday night at Wells Fargo Center.
Former Flyer
Daniel Carcillo
made his first appearance of the series and it was a memorable one, as he recovered from both a head shot and a questionable penalty call to deliver the dagger against his old club, scoring to give the Rangers a three-goal cushion in the third period.


Flyers goaltender
Steve Mason
, playing for the first time since suffering an upper-body injury on April 12, replaced
Ray Emery
in the third period after the 31-year-old gave up his fourth goal of the night.
Flyers captain
Claude Giroux
managed to register his first shot on goal of the series, but was again held off the scoresheet as Philly's first line was effectively contained.
Change coming?:
Emery, making his third consecutive start this series in place of injured starter Steve Mason, did not have his best outing Tuesday night. He was solid in the first two games, but gave up at least a few in Game 3 that he'd like to have back.
Considering Mason's surprising appearance -- he dressed as a back-up, even though he was initially reported to be unavailable, and entered the game to replace Emery in the third -- he could be primed to make his first start for the Flyers in Game 4 in Philadelphia on Friday.
Big goal:
The Flyers carried momentum into the second period after cutting the Rangers' lead in half with defenseman
Mark Streit
's goal at the end of the first, but they failed to capitalize on the emotional swing. Instead, Rangers' blueliner
Dan Girardi
tallied the Blueshirts' biggest goal to date of the playoffs, beating Emery with a deep slapshot to reclaim a two-goal lead at 5:17.
Lose your cool:
Flyers coach
Craig Berube
stressed in his pregame press briefing the importance of discipline after his club spent a solid chunk of Sunday's 4-2 win down a man on the penalty kill. Apparently, the players did not heed his message, because there was plenty of sloppy, undisciplined hockey right from puck drop. The Flyers took three separate penalties in the first period and the Rangers were almost as bad. For the Blueshirts,
Benoit Pouliot
was the main offender, taking two ill-advised penalties, the latter of which negated a Rangers power play.
Unlikely duo:
Raise your hand if you had
Jakub Voracek
and
Carl Hagelin
as the first two players to drop their mitts in this black-and-blue series. Exactly. The two skill players squared off in the second period and Voracek ended it quickly in a lopsided bout, pummeling Hagelin before the Swedish winger could even land a punch. The crowd approved, erupting in a raucous roar, but again the Flyers failed to channel the surge. A stingy Rangers penalty-killing unit was the unsung hero for New York in the middle frame, snuffing both man-up opportunities for the Flyers in the period.
March, 18, 2014
Mar 18
11:58
AM ET
There was an enthusiasm in the voice of
Philadelphia Flyers
captain
Claude Giroux
we hadn't heard much last season or earlier this season.
But when you're on a 9-2-1 run and you've rescued a season that began 1-7-0, you're certainly in a better frame of mind.
"Man, it's been fun," the star center told ESPN.com by phone Monday night.
No time to rest, though, because a weekend home-and-home sweep of the rival
Pittsburgh Penguins
is already old news and the
Chicago Blackhawks
are in town Tuesday night, followed by other tough tests with the playoff-desperate
Dallas Stars
on Thursday and visits from Stanley Cup contenders St. Louis and Los Angeles.
Quite the home stand, indeed, for a Flyers team beginning Tuesday second in the Metropolitan Division but only three points away from the danger zone.
"It's going to be a good test for us," Giroux said. "I think it's good timing for those teams to come to Philly and play us. We're aware that all of those teams have been playing well this year. We need to get those wins if we want to stay in the playoffs. They're going to be interesting games, and good games, too."
The sweep of the Pens, albeit against a Pittsburgh team missing some key injured players, gave the Flyers an emotional boost.
[+] Enlarge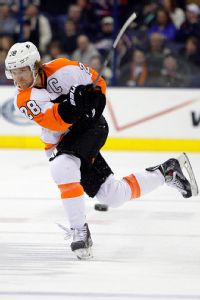 AP Photo/Jay LaPreteClaude Giroux has fueled the Flyers' resurgence this season.
"I think anytime you get a couple of wins in a row against a good team, it builds your confidence, you believe a little bit more in your play," said Giroux, the pride of Hearst, Ontario. "Anytime we play Pittsburgh it's always a good game and I thought we did a pretty good job of it."
Kind of amazing this team began the season 1-7-0, right? It's 34-18-7 since then.
"Once we won a couple of games we started getting our confidence back and we started to believe again," said Giroux, who wore the early season struggles heavily as team captain, just as he did last season when the team missed the playoffs.
No coincidence that the Flyers are soaring just as their top player is, with Giroux entering Tuesday tied for fourth in NHL scoring with 69 points (23-46), playing his best hockey in perhaps two years.
A little motivated after being overlooked by Team Canada for the Sochi Olympics?
"A little bit, but I try not to think about it anymore," said Giroux, who was crushed he didn't make the team that would eventually win gold in Sochi. "Obviously, I was disappointed and wanted to go to play for my country. But now that it's over with, I had a chance to get some rest, had a vacation, mentally and physically it was good and hopefully that's going to help me for the stretch run and the playoffs."
Led by Giroux, the Flyers have been a dangerous offensive outfit and are keeping the opposition on its heels. It's the kind of fluidity in their game that just wasn't there earlier in the season.
"They can get up and go offensively as good as any team in the league," said
Ed Olczyk
, who worked a pair of Flyers games for NBC over the past 10 days. "They're playing a much faster game. Their back end, too, is playing much faster which really helps the way that they're built. That's the one thing that's been very noticeable, they're playing a much faster game. And they're finishing their chances, earlier in the year they were real fragile and weren't doing that.
"The strength of their team is that they can get and up and go and play a real offensive game but they can also play a slugfest, too. If they find a way to make it, and I believe they will, they become a real dangerous team. The only question I have is whether they can defend enough."
Indeed, the team's Achilles' heel remains the blue-line, although veterans
Kimmo Timonen
and
Mark Streit
are playing their best hockey of the season right now and the acquisition of
Andrew MacDonald
has helped stabilize things back there a little.
Still, when push comes to shove, that's going to be their weak spot.
Which is why for the Flyers -- much like the
Colorado Avalanche
in the West -- it's about keeping the puck on the stick of their forwards and spending as little time as possible in their own end.
The Flyers looked slow in transition in early October, but since
Craig Berube
was elevated to head coach three games into the season the club has improved its ability to transition out of its own end.
And it's quite obvious the players on this team are buying what Berube is selling.
"He's good with the players, he really wants to know what we think," said Giroux. "He's really strong on the system and how we play. He's also pretty relaxed behind the bench. People may not think that because of how he was as a player but he's really calm back there."
In a season in which the Eastern Conference appears to be wide open, don't count out this hard-charging Flyers team, folks.
October, 9, 2013
10/09/13
12:28
AM ET
PHILADELPHIA -- The
Philadelphia Flyers
' new coach,
Craig Berube
, who replaced Peter Laviolette behind the bench on Monday, doesn't need to say much when he's unhappy.
He doesn't need to say anything at all.
"That look [is] enough," Philadelphia captain
Claude Giroux
said after the
Flyers edged the Florida Panthers 2-1
Tuesday night at Wells Fargo Center.
But it was far more than Berube's cutting stare that served as a motivating force behind the Flyers' first win of the season. The victory was a necessary response after the quick-trigger dismissal of Laviolette. And though the win wasn't pretty, it had purpose.
Players recognized the gravity of the recent regime change and answered accordingly.
Yes, the Flyers hired from within -- a practice that has earned them scrutiny many times before -- and picked a former tough guy, no less. But make no mistake that there has been a clean break from the previous regime.
Berube, Giroux and everyone in the Flyers' room knew that some things had to change following the team's dreadful 0-3 start.
"All the guys in this room feel responsible for the two guys [Laviolette and assistant Kevin McCarthy] who lost their jobs," said defenseman
Braydon Coburn
, who notched the deciding goal on a fluky bounce 7:31 into the first period.
This was not a team that looked relieved to see someone cut loose. Instead, there was a collective sense of accountability for what happened and acknowledgement of responsibility moving forward.
"It definitely conjures up some different emotions, for sure," Coburn said. "Everybody in here, especially being so young, everyone has a really family feeling about each other. I think everyone in this room cares about each other. It's tough for guys, and it's tough for coaches, too."
Coburn's first-period marker, one that forced Panthers goaltender
Tim Thomas
from the game with a lower-body injury, gave the Flyers a 2-0 lead, but a strong, sustained attack began even before that. The Flyers, who team owner Ed Snider characterized as "lost" on Monday, skated hard, employed an aggressive forecheck and attacked the net with purpose.
They got on the board first when
Jakub Voracek
's hard slap shot took an odd bounce off the end boards for
Brayden Schenn
to bury 4:49 into play.
There were still some hiccups; among them,
Jay Rosehill
's boneheaded decision to jump
Tomas Kopecky
on his detour from the penalty box during the third period.
"That was unacceptable," Berube said sternly after the game.
But, in terms of hustle, Laviolette's successor was pleased with what he saw.
"Overall effort, I have no problem with it," Berube said.
That included an inspired penalty kill to erase Rosehill's mistake -- a short-handed situation in which the Flyers chose to be down a man for four minutes instead of down two skaters for half that time.
Goaltender
Steve Mason
was terrific in his first start under Berube -- he made a fantastic split save to rob
Aleksander Barkov
in the first period and stuffed
Shawn Matthias
on a short-handed breakaway in the second -- but he didn't have to face much rubber while his team killed off Rosehill's roughing double minor to preserve a late 2-1 lead.
"It was huge," said Mason, who finished the night with 33 saves. "When you can kill off four minutes like that, and, really, I don't think they had a quality shot on net during that entire time. Penalty killers did a great job; that's something that's actually been a strong point for us so far."
Berube, whose nickname -- "chief" -- is appropriate for his dry, no-nonsense personality, will be sure to hammer home all those other areas in which the team needs to improve.
He wants the club to be a harder-skating, harder-working team, one with a different personality and tougher mindset. Team defense will require some work, too. The Flyers' blue line isn't exactly the swiftest in terms of personnel, but they'll need to activate in order to aid the team's offensive weapons.
Those things will be points of emphasis in the weeks to come as Berube acclimates to his new position and his charges get used to the new leadership.
Whether the decision to fire Laviolette three games into the season was premature, or far too late, is moot now. The team needed someone different, and not just the shot in the arm that comes with a change of that magnitude.
They are still grappling to forget what got them all in the situation in the first place.
A fresh start?
"I think that's what the guys want to feel like," Giroux said. "There's a taste of last year, not making the playoffs, and starting 0-3 [this season]. I think it's a bad taste. I think guys want to believe it's a new start. Start fresh.
"With a win tonight, obviously guys are going to get more confidence," Giroux continued. "That's how it's going to start."