Cross Checks:

Daily Debate
November, 29, 2011
11/29/11
12:35
PM ET
Craig Custance and Pierre LeBrun debate the Kings, Sharks and the rest of the Pacific Division:
Custance: Good morning, Pierre. Hope you didn't stay up too late watching the Sharks play the Kings, but I know you never miss a San Jose game. So let's start there. I don't think it's a stretch at all to call that the biggest win of the season so far for the Kings. Until last night, they struggled against some of the Western Conference elite. They were already 0-1-0 against their rival Sharks. They have losses to Vancouver, Detroit and Chicago this season and scored a total of seven goals in those four games leading up to last night. So they needed this one.
Jonathan Quick outplayed Antti Niemi, who probably would like Ethan Moreau's bad-angle goal back, one that gave the Kings an early 1-0 lead. Sharks coach Todd McLellan didn't think his team tested Quick nearly enough, especially early in the game, and that's a credit to the Kings' team defense, not to mention a penalty kill that was perfect against five Sharks power plays. Had Dustin Brown's goal been allowed, it would have been a three-goal night for the Kings' struggling offense, and that's plenty for Quick. The statement win by the Kings takes them from outside the top eight to No. 6 in the West, passing San Jose. Suddenly, the Kings are just one point behind the Stars in the Pacific.
LeBrun: I did stay up and watch because Pacific Division hockey is tough to beat in this league. It was a big victory in many ways for the Kings; I agree with you there, Craig. The Kings entered that game only 6-6-1 at home this season, and I know that concerned management. The cream of the crop in this league excels at home. That has to happen in Los Angeles for the Kings to remain with the big boys for the rest of the season.
For the Sharks, it's the first time they've lost two in a row since dropping three straight in the second week of the season. I don't see any real reason to worry. They deserved a better fate Saturday night against Vancouver but got stoned by Cory Schneider and outdueled by Quick on Monday. One concern I do have is with one of my favorite players in the league, Dan Boyle. The veteran defenseman has gone seven games without earning a point. It's not often you see that from the dependable Boyle.
Custance: I thought Sharks beat writer David Pollak did a fantastic job analyzing Boyle's struggles this season in a Sunday story in the San Jose Mercury News. Boyle, as always, was very candid and talked about how the game has changed, and that has forced him to adapt. He said he can no longer generate offense in the neutral zone, which has long been a part of his game, because of the way teams play now. It was interesting to read about a 35-year-old accomplished veteran admitting to struggles with confidence and probably overanalyzing his own game.
Now, let's overanalyze the game of someone else. The Wild won last night in an impressive bounce-back victory against the Lightning. They won despite another underwhelming effort from Dany Heatley. The official box score had him down for two giveaways, but that total was much kinder than my unofficial scoring at home. One Heatley turnover led directly to a Steven Stamkos goal. Late in the game, Heatley had trouble scoring on an open net, a moment that highlighted his offensive struggles. If Heatley maintains his current pace, he'll finish with just 21 goals. The bright side is the Wild keep winning, but can you imagine how they would perform if he could return to All-Star form?
LeBrun: If Heatley was the same All-Star scorer of the past, the Sharks wouldn't have traded him. The thing is, the Wild had to get Martin Havlat out of Minnesota, plain and simple. He wanted out, and a few Wild players wanted him out, so it was a trade that pleased everyone. It's important to remember that from GM Chuck Fletcher's perspective. Still, the Wild are 28th in the NHL in goals per game. At some point, that's going to drag this team back down the standings. When I spoke with Fletcher earlier this month, his belief was that once Heatley grew more comfortable in his new settings, he would take off. But so far, there's no evidence of that.
Speaking of teams that can't score, how about the reeling Anaheim Ducks? They're 29th in the league in goals and just a point out of the basement in the overall standings. From what I have been hearing in the past 24 hours, big changes could be coming, whether that's in the form of a trade or coaching change. One way or another, I think GM Bob Murray is poised to try to do something significant as early as this week.
Custance: Interesting to hear Bobby Ryan's name appear in the trade rumors. Kevin Paul Dupont of the Boston Globe floated the idea of a trade between the Ducks and Bruins that would send David Krejci to Anaheim in return for Ryan. You have to assume Toronto GM Brian Burke, who knows Ryan well, would at least kick the tires. Not sure trading Ryan is a good solution to boost scoring, but it's fascinating to hear that one of Anaheim's big three could be in play.
Let's not forget, it was Murray who got a huge return for Chris Pronger, so no one is untouchable. It'll be interesting to see whether Murray goes the trade route rather than a coaching change to shake things up. Washington and Carolina made big moves behind the bench Monday, and we get to see new coaches Dale Hunter and Kirk Muller in action tonight for the first time. Hunter takes on the Blues, where Ken Hitchcock is proving that a new voice can make a big difference.
I asked Florida coach Kevin Dineen what has impressed him the most about Hitch's Blues after they played the Panthers, and he said it was the consistency from line to line.
"There's not a whole lot of deception out there. He has them playing the way that team has to play," Dineen said. "I would describe it as straightened and very team-oriented, meaning that they come at you and if there's one guy on the puck, there's always someone else in that area code to try and help him out. It's very reliant on players helping each other more than the individual."
Washington and Carolina could use some of that.
LeBrun: Also of interest to me tonight is Vancouver hosting Columbus with Schneider making his sixth straight start in goal for the Canucks. Coach Alain Vigneault insisted Monday that Roberto Luongo remains the No. 1 goalie, but he's just riding the hot hand right now as his team needs wins. It's a fascinating tale, to be sure, given how Luongo's season ended against Boston in June. It also continues to boost Schneider's trade value if the Canucks decide to move him. That's no sure thing, either.
November, 11, 2011
11/11/11
4:32
PM ET
Scott Burnside and Pierre LeBrun break down the success of the Florida Panthers, plus the continued struggles of the Columbus Blue Jackets:
Burnside: Well, my friend, the end of the week is upon us and it can't come soon enough for a few struggling teams. After so much debate and speculation about changes in Columbus, Scott Arniel remains coach and Scott Howson remains GM and the team's inability to win remains the same.
The Jackets were hammered 6-3 against Chicago on Thursday. Arniel was supposed to have introduced a new, more conservative system to coax some wins out of his team, but it's the same old, same old for the 2-12-1 Blue Jackets. Also noticed the announced attendance was 15,048, which is 83 percent capacity. Guess fans have started voting with their feet?
The news isn't much better for the New York Islanders, who were beaten in overtime by Colorado and have just one win in their past nine games, and Los Angeles Kings, whose descent through the Western Conference standings continued with a 3-2 loss against Vancouver. I'm surprised coach Terry Murray went back to Jonathan Quick after Jonathan Bernier got the win in the previous game. The Kings have just two wins in their past nine games.
LeBrun: Goalie Steve Mason struggled again for the Jackets. He let in a Jonathan Toews shot early in the game, the second goal, which should have never gone in. That completely deflates your team. Overall, the Jackets have looked more like a team devoid of confidence.
"Any mistake, it goes in the back of the net," Jackets blueliner James Wisniewski told Aaron Portzline of The Columbus Dispatch. "When you have a fragile team, as we are right now, a lot of guys are hanging their heads. We have to get over that. Just stop feeling sorry for ourselves and start playing some hockey."
Hard to believe Arniel will last much longer. It's certainly more surprising what's going on in Los Angeles, given the Kings' level of expectations. I know from chatting with Kings GM Dean Lombardi earlier this week he isn't totally happy with his "mix." I would expect a few call-ups, perhaps over the next week, to try to shake things up.
But really, did we go this long without mentioning your Florida Panthers? The team you picked to make a surprise playoff run is living up to the Burnside Billing so far with another win Thursday night.
Burnside: Well, as you know, it is all about me. But the 8-4-3 Panthers took over first place in the Southeast with a 5-2 win over Winnipeg in Manitoba on Thursday night. Kris Versteeg had three goals and an assist and has 17 points to lead the Panthers. It wasn't that long ago that fans in Toronto and Philadelphia were less than enthused with Versteeg's play. But I had a chance to talk to him during training camp; he's corrected some longstanding groin injury issues and said he felt fully healthy for the first time in years.
I think everyone wondered how GM Dale Tallon's revamped squad was going to turn out; as you know, when you introduce a lot of new faces, it often takes time to jell, but credit rookie coach Kevin Dineen for getting his squad in sync from the get-go. Kind of makes you wonder how things might have turned out had Columbus hired Dineen a couple of years back.
LeBrun: Consider me totally surprised by the Panthers. Long term, I had no doubt Tallon would make this team better given his track record and nose for talent. But considering the massive amount of offseason roster changes, I thought the Panthers would struggle early as all the new faces got to know each other. That's usually the track record for clubs who make a lot of changes; chemistry can't be forced, but simply forged over time. Somehow, the Panthers have sped up the clock and are playing like they've been together as a group for years. Kudos to Dineen, who should have received his NHL head-coaching chance a long time ago.
Burnside: It's not just Versteeg. Brian Campbell is having a big impact as the Panthers have played surprisingly well defensively. For the first time in a long time, there is a legitimate rivalry in Florida. It will be interesting to see if the Lightning's employment of the 1-3-1 defense that so infuriated Chris Pronger and the Flyers is repeated. I frankly don't understand what all the caterwauling about the incident was about, but I will be shocked if we see anything like that anytime soon.
LeBrun: I chatted with Lightning GM Steve Yzerman about it for my weekend notebook, and he certainly made no apologies for it. And frankly, I think everyone needs to chill. Teams do what they have to do, within the rules, to win games. I have no problem with that.
Well pal, have a great weekend. I'm looking forward to Monday's Hockey Hall of Fame inductions. As a reminder to our readers, we have feature stories on Ed Belfour, Joe Nieuwendyk, Mark Howe and Doug Gilmour running all weekend.
October, 26, 2011
10/26/11
12:32
PM ET
Scott Burnside and Pierre LeBrun look at a few of the surprising goaltending performances early on this season:
Burnside: Well, my friend, it was another interesting night between the pipes Tuesday in the NHL. When Mathieu Garon was signed by GM Steve Yzerman in Tampa Bay, how many people thought he would be the goalie to get the Eastern Conference finalists back on track after an ugly start to the season?
Garon was terrific again in the Lightning's 4-3 win over the Sabres and improved to a 3-1-1 record. Garon now has a 1.78 goals-against average and .942 save percentage after relieving the struggling Dwayne Roloson early on. Garon's play is mindful of Brent Johnson last season for the Penguins when starter Marc-Andre Fleury began the campaign playing like a bag of hammers. Fleury got back on track and finished with impressive numbers over the final two-thirds of the season. Do you expect the same of Roloson? What other goaltending surprises have caught your eye in the first month?
LeBrun: I do think Roloson will settle down, but given his age, 41, Yzerman was wise to bring in some veteran insurance in Garon. It's easy to forget, but Garon outplayed Steve Mason last season in Columbus and was a big reason the Jackets threatened to make the playoffs. The Lightning GM made it a priority to find a quality backup that could play some games behind Roloson. So far, that decision is proving fruitful. Garon is also a good character guy, and Yzerman was mindful of that, as well.
"He's been very good and has given us a chance to win [in] each game he's played," Yzerman told me via email Wednesday. "We did not play well in Buffalo, Mathieu had to make several difficult saves in the first period; if not, we could have been down 5-0. Somehow we got back in the game and we're fortunate to come out with a victory."
Another surprise has to be Nikolai Khabibulin in Edmonton. The veteran netminder looked to be on his way out of the league with his play last season, not to mention his legal troubles off the ice. But he is sporting a 0.97 GAA and .963 save percentage, stopping 35 shots in a 3-2 win over Vancouver on Tuesday night. Simply mind-boggling to me.
Burnside: No question Khabibulin, 38, looks like he's found the fountain of youth, at least early on. Speaking of another old-timer, how about the work of Johan Hedberg in New Jersey? With Martin Brodeur sidelined early with a shoulder injury, the Devils could have gone sideways like they did a year ago when confronted by injuries to key personnel (including Brodeur). But Hedberg, also 38, has been a rock. He stopped all 31 shots Tuesday night in a 3-0 win against red-hot Los Angeles. Hedberg is now 4-1-1 with a .937 save percentage and a 1.86 GAA.
I must admit, I didn't quite understand president and GM Lou Lamoriello's decision to bring back Hedberg since there doesn't appear to be an apparent plan of succession for the Hall of Fame-bound Brodeur; but Lamoriello has proved doubters wrong, at least early on, as has Hedberg, who is one of the most easy-going players in the league.
[+] Enlarge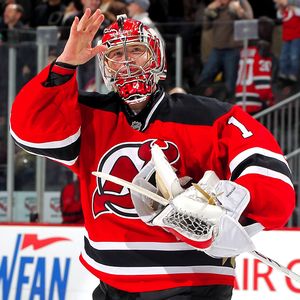 Paul Bereswill/Getty ImagesJohan Hedberg is 4-1-1 with a .937 save percentage and a 1.86 GAA through six starts.
LeBrun: The Devils look like a playoff team right now, just as they did in the second half last season. What about St. Louis? Who could have foreseen Brian Elliott challenging Jaroslav Halak in the Blues' net early this season? Elliott wasn't even assured of a job in camp, as he had to battle Ben Bishop for the backup job before finally winning it. Elliott has been in the pipes of late, and the Blues have turned things around after a slow start. This is the same Elliott who was discarded by Ottawa and Colorado. What gives?
"Coming into training camp, there was competition for a roster spot," Blues GM Doug Armstrong told ESPN.com on Wednesday morning. "He and Bishop both played well, probably to a draw, but we decided to go with experience. When Brian has got a chance here to play, he's been very strong for us. One thing that's impressed his teammates is his mental approach and work ethic. Right now, he's on a roll and it's benefited us."
The question is, how is Halak taking it?
"Jaro understands that we need to win games," said Armstrong. "He's preparing and working real hard in practice. One of the things that we talked about to our team in camp is that we want to have great depth at all positions. We have that in goal, too. Jaro knows he's going to be a big part of things here."
Burnside: Well, in my books, no goalie has been more surprising than Dallas' Kari Lehtonen, who won again Tuesday. Lehtonen is a perfect 7-0-0 with a .955 save percentage and 1.54 GAA, and has made more stops than any netminder in the league. Having watched Lehtonen struggle early in his career in Atlanta, the jury is still out for me on whether he's a true No. 1 goalie, someone who turns in 65-70 starts a season and maintains the consistency that separates the average from the good and the good from the great. But early on, the Stars have been one of the surprise teams in the league, and Lehtonen's play has put them in a great position to secure an unexpected playoff berth. Wonder what we'll be saying about Lehtonen and the Stars at midseason?
LeBrun: Not sure I agree with you that Lehtonen is the biggest surprise. He was the Stars' No. 1 goalie last season and turned in what was for the most part a solid performance. He struggled at times, yes, but he was their No. 1 goalie from wire to wire; so, apart from the fact that he's on fire right now, I don't qualify that as a big surprise. To me, there is no greater surprise than Elliott challenging Halak. An interesting decision awaits Blues coach Davis Payne tonight in Vancouver. My guess is Elliott will get the start because he's on a roll, but how long do you let Halak sit out? Until tomorrow, my friend.
March, 31, 2011
3/31/11
12:00
PM ET
Scott Burnside and Pierre LeBrun debate Detroit's playoff chances and wonder if the Flames are done:
Burnside: Good day, my friend. Angst would be the word of the day in Montreal and Detroit after the Habs and Red Wings were waxed by a combined 16-5 score Wednesday night, fueling concerns about the playoffs for both teams.
But first, let's start in Calgary, where even angst would be preferable to the belief Flames fans have after their team's 4-2 loss to Anaheim on Wednesday. Although the Flames led early, they couldn't match the Ducks' drive to destiny (I'm going to keep using that term for the Ducks until someone shows me a reason not to); now, for all intents and purposes, Calgary is out of the Western Conference playoff hunt.
The Flames were a terrific story earlier in the season, going on a tear after GM Darryl Sutter was forced out of his job and Jay Feaster took over. But the sobering reality today is, without the playoffs, the Flames have a long road ahead of them. They are old, have too many underachieving players with big contracts and little in the way of talent coming down the pipe. In short, Feaster faces big offseason decisions, including whether to try to move pieces like Robyn Regehr, Miikka Kiprusoff or even Jarome Iginla (although Feaster has made it pretty clear he's not interested in parting with his captain).
Still, it's a bit sad; I was looking forward to an all-Canadian Vancouver/Calgary matchup in the first round.
LeBrun: Last night's loss was most likely the nail in the Flames' coffin. They can still put up 95 points, so it's not totally out of the question, but the odds are not great. One sports odds website gives the Flames only a 0.7 percent chance to earn a berth after last night's loss. Ouch. I mentioned it yesterday, but the loss of top center Brendan Morrison on March 2 has really taken a toll, as has the subsequent loss of David Moss. The lack of depth at center hammered Calgary.
Youngster Mikael Backlund recently stepped in between Iginla and Alex Tanguay and has looked overmatched at times, especially last night when going head to head with Anaheim's Ryan Getzlaf. The Ducks, meanwhile, keep rolling, and those were two big points again last night because their remaining five games are no gimmes -- two against San Jose, two against Los Angeles (to end the regular season) and one against Dallas, all Pacific Division matchups. But the Ducks are just two points out of fourth place now in the West. Imagine if I told you a month ago Anaheim could possibly have home ice in the first round of the playoffs?
Burnside: It is a great story, and I love the idea of both Southern California teams looking to be set for the postseason for the first time. I know you are California dreamin', my friend. And to think that early in the year there was talk about Ducks coach Randy Carlyle's job security.
No dreaming in Detroit last night, though, just a nightmare, in a 10-3 loss to the St. Louis Blues. Backup goalie Joey MacDonald started and looked not ready for prime time in giving up seven goals on 39 shots. Starter Jimmy Howard is expected to play this weekend, but Red Wings fans are up in arms after the team's play of late. They sure look like a team that is misfiring on many cylinders. I know he's only one player, but I can't help but think the return of Pavel Datsyuk (perhaps this weekend) will be the tonic for a Red Wings team that was being lumped in with Vancouver as a potential Cup candidate not too long ago. You know Detroit coach Mike Babcock will be searching for answers in the next seven or eight days.
LeBrun: I got a question in my chat yesterday from a Wings fan whose handle was "Panicky," and that was before last night's debacle. If I were the Red Wings, though, a veteran and savvy team, I would just chalk it up as a stinker and move on.
"That's what I'm going to do,'' Babcock told me this morning. "But the great thing about this game is reality: you are what you are, and you are what you are every single day. The bottom line is that yesterday we weren't good enough. The coaches, whatever we did, wasn't good enough. The players, whatever they did, wasn't good enough.
"You can stand in the right spots all you want on the ice, but you have to out-compete the other team and we never did. From the goaltenders to the D to the forwards to the coaching staff, we were poor. Those are the facts."
Listen, the Red Wings would definitely rather be on a roll heading into the playoffs than doing this. But if you eliminate last night's game and focus on the other losses, you'll see a hard-fought 2-1 loss to Vancouver, a tough overtime loss to Chicago and a shootout loss to Pittsburgh. They played well in those games.
But my big-picture concern is with the team's overall defensive play. The Wings are 21st in the league in goals against per game. Last season, they were seventh. Now, a lot of this has to do with all the injuries they've had again this season, no question, but still ...
"It hasn't been good," Babcock said of his team's overall defensive play. "I thought it was real good early in the season, then I thought we were taped together [because of injuries] for a long time. There's lot of things that go into a year. But to be honest with you, I think we know how to play. We've played enough good games that we know how to play. Our focus wasn't there last night, but I liked our focus in a number of games recently before that. I thought we had played pretty darn good even if we didn't get the results."
Datsyuk and Howard are on the mend and should be back this weekend, Babcock said. The Wings play at Nashville on Saturday and host Minnesota on Sunday. Time to get the train back on track.
Burnside: Yes, those losses you pointed out were hard-fought losses, but what is troubling is those are the games the Wings are going to play every night in the playoffs. Whether it's Phoenix or Los Angeles or Anaheim or, gulp, Chicago, it's going to be a grind every night and, right now, Detroit isn't winning enough of those grind games.
You mentioned the recent losses. Well, the Wings have just four wins in their past 14 games. The red flag for me is they are brutal at home, and not just Wednesday night. The Wings have won just once in their past six home games and their 20 home wins this season is tied for the lowest total of any of the top 10 teams in the West.
Before we wrap up, I wanted to weigh in on the Habs' grisly 6-2 loss to the surging Carolina Hurricanes. I still think it's too late for Carolina given Buffalo's clutch 1-0 win over the Rangers sans Ryan Miller, but the Habs have lost three of four, can't score and now can't stop the puck. It looks like they are primed to be knocked off by a top seed in a couple of weeks, no?
LeBrun: I can't think of a team currently sitting in a playoff spot that impresses me less than the Canadiens. First-round fodder is all I think when I watch them play these days. Last season, I thought the same thing because Montreal dropped eight of its final 11 games entering the playoffs. And then, of course, they knocked out the Presidents' Trophy-winning Capitals. Just don't see it this time; they look spent. Hart and Vezina Trophy candidate Carey Price looks tired after playing his league-leading 69th game of the season last night. Many of us were wrong about the Habs last season, but I'm convinced this time it's true: first-round fodder. Until tomorrow, my friend.
March, 30, 2011
3/30/11
11:27
AM ET
Scott Burnside and Pierre LeBrun debate the East and West playoff races:
Burnside: Good day, my friend. I will stop short of calling the Toronto Maple Leafs the cardiac kids, but their huge 4-3 win over Buffalo on Tuesday was their second pivotal victory against their longtime divisional nemesis in less than a month and adds some intrigue to the Eastern Conference playoff race.
With Toronto winning and Carolina stealing an extra point in a shootout win against Washington, the Sabres' eighth-place cushion is just three points over the Hurricanes and five over the Leafs. Buffalo and Carolina are back at it tonight, with the Sabres having to rebound quickly for a visit by the red-hot New York Rangers. Carolina, meanwhile, will entertain Montreal and could, in theory, be just a point back of Buffalo. Interesting stuff.
Glad to see a little drama in the East. Of course, drama is pretty much a nightly staple in your Western Conference, no?
LeBrun: One loss and you're off the Sabres bandwagon? Shame on you, Mr. Burnside. I did have a tweet or two from Sabres fans claiming I jinxed their team with my blog on the "playoff-bound Sabres" on Tuesday. Buffalo will have its hands full Wednesday night against the Rangers. Still, I can't see the Sabres not making it -- book it, Scotty.
The Leafs did prevail Tuesday night, and what a scene it was at Air Canada Centre. The 10th-place team in the East got treated to a standing ovation in the final minute. The Leafs are the second-youngest team in the NHL right now, and I think what you're seeing is a starved market showing its appreciation for a team that finally appears to have serious upside moving forward to next season. Seven years and counting without playoff hockey in this town, so, yes, Tuesday night was as close to a playoff game as they're going to get this season.
You mentioned the West; that's where we should have started our conversation today, but I've long ago learned to accept your Eastern bias. The story of the night was the Dallas Stars extending their winless streak to four games with a 2-1 shootout loss to Phoenix (Ilya Bryzgalov stopped 44 shots for the Coyotes). A single point isn't going to cut it for the suddenly fading Stars, who are three points back of No. 8 Chicago, albeit with a game in hand. The Stars have lost the opening two games of a critical five-game trek that includes stops in San Jose on Thursday, Los Angeles on Saturday and Anaheim on Sunday. They need at least four points in that stretch to keep their hopes alive.
Burnside: Maybe the Sabres are a lock to make the playoffs, but I point you to this weekend, when they are in Washington on Saturday and visit Carolina on Sunday. If Buffalo loses to the Rangers on Wednesday night, those two games could suddenly decide the Sabres' season. But I can tell you're already bored of talking about the Eastern Conference.
Yes, the Stars couldn't get it done Tuesday night, although Chicago's loss in Boston means Dallas is just three back of eighth with a game in hand. But you've got to win; that's the bottom line for the Stars. You have to wonder if there isn't a little seller's remorse going on for GM Joe Nieuwendyk, who could have added some valuable assets for Brad Richards at the trade deadline but opted to try to make a postseason run. The Stars better put up some wins or that decision may come back to haunt the franchise come July 1 when Richards will likely sign in New York or Toronto or Atlanta (OK, just kidding; wanted to make sure you were still with me).
LeBrun: I can't fault Nieuwendyk, and I won't even if his team misses out. He was in a lose-lose situation. He decided to believe in his team at the trade deadline. I know 23 players on that roster who were likely happy he made that decision. Looking back, though, while the Rangers were pushing the hardest for Richards, the Kings were also interested. Imagine, depending on the price, how relieved the Kings would have been to have Richards in their lineup now, with Anze Kopitar out for six weeks. In their first game without their star center on Tuesday night, L.A. responded with a 2-0 win at Edmonton. OK, it's the 30th-place Oilers, but a win is a win in this league.
The real test comes Thursday night, when the Kings are at Vancouver. The NHL-leading Canucks ended Nashville's six-game winning streak Tuesday night in the Music City in a terrific game. Alex Burrows did the damage with two third-period goals. Can anyone can stop Vancouver?
Burnside: Let's not start planning the Vancouver Cup parade just yet, my friend. You know how Presidents' Trophy winners have fared since the lockout -- it hasn't necessarily been a path to glory. I will be watching closely Wednesday night in what will be a must-win for the Calgary Flames. They are running out of games and need to beat Anaheim in regulation to stay in the hunt. But the Ducks -- led by Teemu Selanne, Hart Trophy-worthy Corey Perry and comeback man Ray Emery -- are on quite a roll. This is the game of the night and, when we convene tomorrow, we may be writing the Flames' obit. I predict, however, that the Flames will come up with two big points. Look for Jarome Iginla to score the winner. I know ... gutsy pick.
LeBrun: I believe you picked Pittsburgh on Tuesday night and I picked Philadelphia, so you can send the money in the mail on that one. And I'll take the Ducks with a one-goal regulation victory on Wednesday night, all but ending Calgary's terrific playoff chase. Looking back, I think it's safe to say Brendan Morrison's knee injury really depleted the Flames. Hard to believe a player who needed a training-camp invite to camp became such a critical part of Calgary's fortunes this season after the Flames picked him off the scrap heap. Until tomorrow, my friend.
March, 29, 2011
3/29/11
11:09
AM ET
Scott Burnside and Pierre LeBrun debate Anaheim's Cup chances and the state of the playoff races:
Burnside: Greetings, my friend. Is it too soon to use the term "destiny" when talking about the Anaheim Ducks? Down 2-0 to lowly Colorado in another must-win situation Monday night, the Ducks stormed back and won 5-4, thanks to the magic of the timeless Teemu Selanne. He had two goals, the first on a penalty shot, and an assist in the second period to erase the two-goal deficit. Then, he added another goal for the hat trick and another assist for a five-point night. The Ducks solidified their hold on a postseason berth.
Anaheim's top PR man, Alex Gilchrist, told us Selanne became the first 40 or older player in NHL history to post three goals and five points in a single game. Hall of Fame? You bet. But you know Selanne has his sights set on another Stanley Cup. With the way the never-say-die Ducks are going, Vancouver, Detroit and San Jose are looking at Anaheim and hoping they don't draw it in the first round.
[+] Enlarge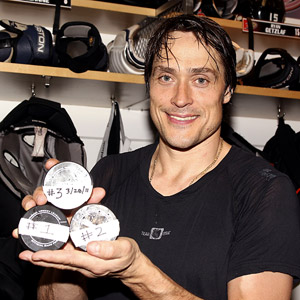 Debora Robinson/NHLI/Getty ImagesTeemu Selanne's historic night helped the Ducks hang on to eighth in the West playoff race.
And by the way, remember when you insisted the Ducks should go back to Jonas Hiller? Ray Emery earned another win for the Ducks (he faced 48 shots in a wild one).
LeBrun: Yes, you were right and I was wrong regarding Hiller/Emery. Oh well ... c'est la vie, mon ami.
But let's focus on Selanne. Not nearly enough has been said this season about the campaign he's having. His 75 points tie him with Jonathan Toews and Jarome Iginla and puts him only one point behind Henrik Zetterberg. Are you kidding me? This is a player who has nearly retired over the past few years. What the 40-year-old Finnish Flash is doing at his age is absolutely sensational. If he were doing it in any of the bigger Northeast hockey markets, this would be a much bigger story. And there may not be a classier player in the game. Mr. Selanne, take a bow, and see you in the playoffs!
Speaking of playoffs, the Chicago Blackhawks also picked up two huge points to stay one point back of Anaheim in a 3-2 overtime thriller against Detroit at Joe Louis Arena.
And since you mentioned I was wrong about Hiller/Emery, I guess it's fair game to mention I predicted a Hawks OT win in the Games to Watch on Monday morning! Ha! The hockey game between the Original Six and divisional rivals was marred somewhat by a controversial hit in the first period, when Detroit winger Todd Bertuzzi got a five-minute major and a game misconduct after leveling Chicago center Ryan Johnson.
This is a tough one. While I don't think any head shot should be tolerated, the hit was more clumsy than vicious. The league seems to agree, since a source confirmed to me this morning there will be no hearing for Bertuzzi. His game misconduct is all he'll get.
Burnside: I didn't mean to throw you under the bus with the Emery comment, even though I was right. And you were once again prescient with your Hawks pick. Detroit got a terrific game from backup netminder Joey MacDonald, so maybe there aren't any worries about its goaltending depth with Jimmy Howard set to return as early as Wednesday.
I am with you on the Bertuzzi hit. Johnson played after the hit, and I thought the on-ice call was the right one. The league got this one right, even though there will be those who think Bertuzzi should have received a game or two because, well, he's Todd Bertuzzi.
Big night for Marian Hossa, who stepped up in the absence of Patrick Sharp and scored the overtime winner (he also had an assist). It doesn't get any easier for the Hawks, who are in Boston tonight.
Chicago-Boston is part of a Tuesday slate that includes a couple of must-see games. I'll be flicking from the Boston game to Philly/Pittsburgh, as the Penguins have a chance to move into a tie atop the Atlantic Division and Eastern Conference with a regulation win. The Flyers have a game in hand with the angst dial turned up to DEFCON 4; a loss to the hated Pens would be big news. What is your prediction on this one, ol' Kreskin?
LeBrun: I think the Flyers take it in regulation. The Penguins have been unbelievable without their top two stars, Sidney Crosby and Evgeni Malkin. Marc-Andre Fleury, in particular, has been all-world in net, but I see Philly urgently wanting to take this one to stay ahead in the standings. If the Penguins end up passing the Flyers for the Atlantic lead, how damaging would that be mentally for Philadelphia, given that Pittsburgh would have done it without Crosby and Malkin?
I'll also be checking out Atlanta-Montreal, if for no reason than to see if the Canadiens can actually score a goal. Three games and counting in the Habs' drought. Mercy. And there's a couple of big ones out West with Dallas at Phoenix and Vancouver at Nashville. The Canucks can do no wrong at the top of the NHL standings, but the Preds are red-hot and have won six straight. We'll see how Vancouver responds without Dan Hamhuis (concussion) in the lineup.
Burnside: Yes, the Montreal situation is intriguing, given that Buffalo (in Toronto to face the fading Leafs tonight) and the New York Rangers can pass Montreal unless the Habs start to put some points on the board. I don't think there is any danger of the Habs falling out of the playoff race, although a loss to Atlanta and a win by Carolina in Washington tonight will certainly make the folks in Habs land more nervous.
This is pretty much last-gasp time for the Canes (five points out of eighth) and the Leafs (seven points back). My guess is when we convene tomorrow morning we can stop talking about who might get in and who's going to finish where in the Eastern Conference; I see the Caps and Habs coming up with wins tonight.
LeBrun: The Stars must win tonight in Phoenix. They are now four points back of No. 8 Chicago. The Stars have played the fewest games (74) of any team in the West, but they have to make that count with points in the standings. Last night was brutal for the Stars and Calgary Flames, who sat idle while the Ducks and Hawks picked up two points apiece. The Flames are three points back of the Hawks but have played 77 games, so they're barely hanging on. Calgary's game against Anaheim tomorrow night is the game of the year. Until tomorrow, my friend.
March, 25, 2011
3/25/11
12:09
PM ET
Scott Burnside and Pierre LeBrun debate and break down the Western Conference playoff picture:
Burnside: Good day, my friend. Well, the situation doesn't get any clearer in the Western Conference, does it? The Los Angeles Kings continue to pull rabbits out their collective hats, as they beat San Jose 4-3 in the shootout at home Thursday night to edge closer to home-ice advantage in the first round. They are three points back of red-hot Phoenix (the Coyotes shut out Columbus 3-0), but the Kings have two games in hand.
The issue for the Kings may be that they have four fewer regulation/overtime wins, which is the first tiebreaker. I guess if you keep getting two points, though, it really doesn't matter what the tiebreaker is, right?
LeBrun: That was a wild affair Thursday night at the Staples Center. A 2-1 Kings lead late in the game suddenly became a 3-3 overtime affair after Patrick Marleau scored twice in the third period, the latter coming with just 4.1 seconds left in regulation. Terrific stuff. But the Kings prevailed for their league-leading ninth shootout win, not a category you want to dominate with the new tiebreaking rules. But as you pointed out, Scott, without those extra nine points earned in the shootout, the Kings would be 11th in the West and six points out. At this point, it's just about getting in and worrying about the tiebreaker later. It might cost them home ice in the first round, but so be it.
Burnside: Let's stay with a California theme today, as I know you have been imagining the possibilities if both Anaheim and L.A. make the playoffs, which would be a first. The Ducks didn't help their cause Thursday night. Goalie Jonas Hiller was chased by Nashville after allowing three goals on just nine shots in a little more than half a period of play. It was his first game back from a bout with vertigo that has hampered him since the All-Star break.
The Ducks fell short 5-4 in a furious rally (I know you talked to Preds coach Barry Trotz on Friday, and he wasn't happy with the team's play), but the loss was crucial for Anaheim. The big question after the loss is whether coach Randy Carlyle can afford to go back to Hiller or whether he has to put all his playoff eggs in the Ray Emery basket. The Ducks have a big test in Chicago on Saturday, and I would be shocked if we don't see Emery between the pipes. The Ducks need to keep gathering points to keep Dallas and Calgary at bay.
LeBrun: I totally disagree. Although I admire what Emery has done for the Ducks since his inspiring comeback to the NHL, you dance with the girl you brought. (Not sure I got that saying right, but you know what I mean.) Hiller is the reason Anaheim was still alive in the first half with the team finding its way, especially on defense, and the Swiss All-Star stood on his head. Yes, he looked rusty Thursday night, but he's earned the right to start Saturday. We'll see what Carlyle does, but if it were me, I'd give Hiller a shot at redemption.
Speaking of redemption, the Flames caught a huge break with Anaheim's loss Thursday night. Calgary plays rival Edmonton on Saturday night before hosting the Ducks on Wednesday in the game of the year for the Flames.
Burnside: In reference to the Ducks' goalies, at this stage of the season, sentimentality is something coaches can't afford to bring to the table. I'd go with Emery in a heartbeat.
Before saying adieu for the weekend, I wanted to touch on the Red Wings. They have been involved in a couple of compelling games this past week against Pittsburgh and Vancouver. They lost both and are winless in three. Worse, the Wings are again nicked up with Pavel Datsyuk and Johan Franzen, among others, out of the lineup. The Wings can afford to be cautious with those players and give them all the time they need to get healthy before the playoffs, but I thought it was interesting that Osgood was back on the shelf and Joey MacDonald is now the Plan B after assuming Osgood would be healthy enough to back up Jimmy Howard.
No slight to MacDonald, who has put up decent numbers in relief this season (4-4-2 record and .926 save percentage); but I'm pretty sure this isn't how GM Ken Holland and coach Mike Babcock envisioned the goaltending situation to be heading into the postseason.
LeBrun: Two seasons in a row now, health has been an issue for the Red Wings. Of equal concern is their defensive play. They rank 17th in goals against in the league; that's not normally Red Wings territory. (They were seventh last season.) The focus right now is on tightening things up before the puck drops in mid-April.
The Wings have an interesting test Saturday night at home against Original Six rival Toronto on "Hockey Night in Canada" as the Maple Leafs try to extend their surprising playoff quest. I'll be taking my regular spot on Hot Stove during the second-period intermission, if you're interested. Enjoy the weekend, Scotty!
March, 24, 2011
3/24/11
11:31
AM ET
Scott Burnside and Pierre LeBrun preview tonight's two big rival matchups: Canadiens-Bruins and Penguins-Flyers:
Burnside: Well, my friend, there are a couple of monster tilts tonight, so let's waste no time in getting to the match du jour (that's game of the day in French, in case you had forgotten).
The Montreal Canadiens will be in Boston for Le Match De Grudge against the Bruins. The NHL is on super-secret alert for this one, warning the respective GMs that it wants no monkey business in the wake of the controversial Zdeno Chara hit on Max Pacioretty earlier this month. They've assigned two veteran referees, including Dan O'Halloran, to police the match. It should be interesting.
Not sure what Mark Recchi was saying, but the NHL's oldest player appeared on Boston radio yesterday suggesting the Habs were maybe trying to embellish Pacioretty's injuries to improve the likelihood that Chara would be suspended (he wasn't). Yikes. The Bruins also canceled today's morning skate and media availability. All of that said, I wondered what you expect out of tonight's tilt. Me, I am guessing just another hard-as-nails game between two teams that really don't like each other much. Nothing more, nothing less.
LeBrun: What exactly Recchi was thinking, I'm not sure. I've always liked the veteran winger, he's a terrific guy, a joy to talk to and quite the story considering he's still playing the game at this level at his age. But to say something like that about the Canadiens and Pacioretty crosses the line. It's a slippery slope when you start guessing at the severity of an injury of an opposing player. Either way, it just spices up what is already a fired-up rivalry. Think anyone will be watching this game tonight? Just imagine another playoff series between these two Original Six rivals.
As for revenge, the Canadiens don't have a traditional tough guy in their lineup, so I'm not exactly sure how much rough stuff they can really drum up other than some physical play. I think Montreal's revenge is going to have to come on the scoreboard. And that's the thing, as much as the B's have been able to push the Canadiens around physically, it's the Habs with a 4-1 series lead this season, and that's the key in this whole thing. Montreal's speed and quickness has proven to be too much for Boston.
Given that both teams might meet up in the playoffs, you have to think the Bruins desperately want to make a statement with a win tonight and not head into the postseason having lost five of six to the Canadiens.
Burnside: Agreed. When we talk revenge here, I don't foresee it being a '70s-style bloodbath, but rather a statement game that may resonate if the two teams do meet in the playoffs.
The Habs have an outside shot at catching Boston for the top spot in the Northeast; they are three points back and the Bruins have a game in hand . But imagine the storylines if the Habs do win tonight and the teams do hook up in the first round. This is a Bruins team that blew a 3-0 series lead against Philly in the second round last spring. They'll have to deal with that when the playoffs start. Now throw in losing five of six to Montreal and there will be a lot of negative karma floating around Beantown to start the postseason.
So, what's your prediction? I say the Bruins come up with a big 3-1 win. But I'd also like to talk about another big game tonight, Pittsburgh in Philadelphia. There's more than a little angst in Philly about the Flyers' goaltending after Sergei Bobrovsky seems to have hit a wall. The Penguins can put a dint in the Flyers' hopes of finishing with the top seed if they win tonight.
LeBrun: Put me down for a Bruins victory, as well -- in overtime. In Philadelphia, the Flyers continue to drive their fans crazy in March, although their shootout loss to the Capitals the other night was a terrific game. Still, can't imagine how Philly fans would feel if the Flyers lose to the Alex Ovechkin-less Caps and the Sidney Crosby-less Penguins. The Flyers have gone 4-3-3 this month, so far failing to get back to the kind of dominating hockey that got them to the top of the Eastern Conference. You just have the sense that a statement win over the Penguins is needed for the Flyers to turn the corner.
Burnside: That game against the Caps was dynamite, that's for sure; but you're right -- the Flyers have fallen back to the rest of the East pack with a thud in recent weeks. Maybe that's a good thing for them, though. A little dose of reality before the playoffs start. You know coach Peter Laviolette will be riding them hard down the stretch to make sure they're ready to go come mid-April. That's why tonight's tilt looms large.
Like Boston, the Flyers will want to hit the postseason with some positive energy, regardless of the fact they look destined to win the Atlantic and finish in either the No. 1 or No. 2 hole. The Penguins, meanwhile, continue to surprise with a 6-2-2 record in their past 10 games. They would like to hold on to home ice with the fourth seed. And with Crosby continuing to skate on a regular basis, there is more optimism he may return this season after all. Prediction? I say the Penguins add to the Flyers' angst with a shootout victory. What say you, oh great seer of all things hockey?
LeBrun: I see the Flyers winning in regulation tonight. You mentioned Bobrovsky earlier; isn't it just amazing how the Flyers get to this point nearly every season and we're still wondering about the goaltending? Michael Leighton got his team to the Cup finals last season, but was questioned in the end. Now, he's not even in the picture. Veteran Brian Boucher has had a solid season and he's my pick to start the playoffs. Come playoff time, he'll be matched up at the other end of the ice against either Henrik Lundqvist or Carey Price or Ryan Miller or Cam Ward. Food for thought. Until tomorrow, my friend.
March, 18, 2011
3/18/11
11:59
AM ET
Scott Burnside and Pierre LeBrun debate the latest playoff races and wonder if the road is over for the New Jersey Devils:
Burnside: Good day, my friend. Three weeks from today, we'll be talking about the last weekend of the NHL's regular season. How many playoff spots will remain in play? Who knows. But after the past couple of days, it may be more significant to ask which players will be healthy enough to contribute when the playoffs do start in mid-April.
The Canucks look to be without Manny Malhotra, one of their top penalty-killing forwards, for the long haul after he had surgery (he took a puck to the eye earlier this week). Reports out of Vancouver indicate it may be some time before the full extent of Malhotra's scary injury is known.
Then, the Red Wings watched two top players get hurt in Thursday's game versus the Blue Jackets, as Pavel Datsyuk and Brian Rafalski left after rather innocent-looking plays. Both have been out of the lineup recently; Rafalski was playing in just his second game after missing time with back spasms. He had three assists in his first game back against Washington on Wednesday. No sense yet on the extent of those injuries, but it's hard to imagine the Wings making a long playoff run without either of them on hand.
GM Ken Holland and coach Mike Babcock will be ultra-cautious with their returns given that the Wings have pretty much locked up the second seed in the Western Conference.
Meanwhile, the Leafs' playoff hopes, slim as they may be, took a blow Thursday when they were shut out by lowly Florida, a game in which top netminder James Reimer did not even dress. No word on whether Reimer was injured, but if he wasn't, it ranks as a curious coaching decision from Ron Wilson since Jean-Sebastien Giguere did little to improve his free-agent market value in another soft performance.
LeBrun: Scotty, it appeared San Jose might join Vancouver and Detroit on the injury front when top blueliner Dan Boyle looked to be in incredible agony with what seemed to be some kind of leg injury, but miraculously returned to the game in Thursday's 3-2 home victory over Minnesota.
"I'm not supposed to bend that way, but I'm happy with the way it came out," Boyle told Mark Emmons of the San Jose Mercury News. "I thought I was done there for a moment, but after a couple of punches on the ice and some deep breaths, the pain dropped."
He's a guy the Sharks absolutely cannot lose if they have any chance of winning the Stanley Cup. He is the Nicklas Lidstrom of San Jose.
Coupled with a loss by Los Angeles, the Sharks' win gave them a little more breathing room in the Pacific Division race. The Phoenix Coyotes are now second in the division after winning their fourth straight Thursday night. The Goldwater Institute may be able to scare off investors, but it can't distract the players. By the way, if the playoffs started today, it would be Detroit-Chicago and Vancouver-Calgary in the first round.
Burnside: Ha! You and your Western Conference matchups. Calgary posted a big win against Colorado on Thursday night; although, frankly, if you and I grabbed three buddies, we would have an even chance of beating the Avs, who have just one win in their past 21 games. Wow. Talk about a fall from grace given their Cinderella run to the playoffs last season.
The Flames, meanwhile, have an uphill battle to stay within the top eight. They've played more games than their competition and have too many shootout wins to count on them in any tiebreaker scenarios.
Turning to the East for a moment ... a big, big game for the Atlanta Thrashers on Saturday in Buffalo as they have a chance to pull within two points of eighth place if they can pull off a win. They are coming off a clutch shootout win over Philadelphia on Thursday, the second time they beat the Flyers in less than a week. But you can count on a lot of other teams who will be rooting for the Thrashers, including Toronto, Carolina and New Jersey (all those teams are going to need help to sneak into the top eight).
By the way, Holland just dropped me a note saying Rafalski is hoping to play Saturday, while Datsyuk isn't sure. Holland referred to him as being day-to-day.
LeBrun: Wow, that's a huge break with Rafalski. He looked worse off than that.
Speaking of worse off, Patric Hornqvist has a hearing today with the NHL for his elbow to the head on Bruins rookie Tyler Seguin. Hornqvist got a five-minute major and a game misconduct on the play. Vincent Lecavalier, meanwhile, won't face any more league discipline for the two-handed slash to Montreal's P.K. Subban that got the Tampa star kicked out of Thursday night's 3-2 shootout loss in Montreal. These days it seems like the NHL has something to review every night.
Minus nearly half their lineup Thursday, including leading scorer Tomas Plekanec, the Habs gutted one out against the Lightning and face the Rangers at MSG on Friday night. Carey Price was outstanding again. He's going to find his way among the five names I put on my official Hart Trophy ballot next month.
Burnside: Yes, I didn't like the Hornqvist elbow, and the Preds were lucky it didn't cost them the game as they hung on to beat Boston in overtime to keep their playoff hopes alive. Given the paltry two-game suspensions handed out to Dany Heatley and Brad Marchand this week for other dirty elbows, we can't wait for next season when the NHL has promised to get tough on blows to the head.
As for the weekend, as I mentioned, I am pumped for the Thrashers' visit to Buffalo on Saturday. I am predicting a Thrashers victory, although they never win in regulation, so it'll be in extra time. And then, I'm looking forward to the Anaheim Ducks-Los Angeles Kings clash. Will Ray Emery keep the magic going for the Ducks? I say yes.
LeBrun: Ducks-Kings is definitely the game of the weekend -- two SoCal rivals playing a big game with a lot on the line. But before we go, I wanted to touch on the New Jersey Devils, who lost 3-1 Thursday night in Ottawa. It is most puzzling that the Devils have now lost twice to the lowly Senators this month. Is this revenge by the Senators for the 2003 Eastern Conference finals? Despite putting together the most impressive second-half run this season, if the Devils miss the playoffs, they will wonder what the heck they were doing losing two games in March to a Senators team ranked 28th in the league. Have a great weekend, my friend.
March, 8, 2011
3/08/11
10:42
AM ET
Scott Burnside and Pierre LeBrun debate whether star players like Steven Stamkos should be on the bench for a shootout, plus they look at the resilient Caps, Pens and Stars:
Burnside: Good day, my friend. It almost feels like playoff time, and there's still a month to go in the regular season. There were three games Monday night and two went to a shootout, with the other decided in overtime.
I'm sure a lot of fans were scratching their heads when they saw the shootout lineup from Tampa coach Guy Boucher: Dominic Moore led off, followed by Adam Hall and Vincent Lecavalier. All three were stoned, while Alex Ovechkin's lone goal in the extra session gave the Caps a 2-1 win and a two-point edge over Tampa Bay atop the Southeast Division.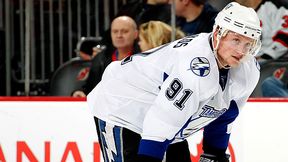 Paul Bereswill/Getty ImagesLightning star forward Steven Stamkos is 4-for-19 in career shootout attempts.
Alexander Semin was the only other shooter for the Caps (Semin scored the tying goal in the third), so you could hardly quibble with Washington coach Bruce Boudreau's selections. But picking shooters for the shootout has always been a bit of a mug's game. Does a coach go to a guy who has success in shootout drills during practice? What about a player who has had a strong game even if he's not noted as a scorer?
Hall has had success in the past, and Moore leads the Bolts with three shootout goals this season. Bottom line is, the strategy works when you win, but when you leave Steven Stamkos and Martin St. Louis on the bench (they have a combined 65 goals this season), it's a little more difficult to explain.
LeBrun: Hard to argue with Guy Boucher. Stamkos and St. Louis are a combined 0-for-8 this season in the shootout. Historically, St. Louis is 5-for-27! The trick event is just not for him. Stamkos is 4-for-19 in his young career. Moore, meanwhile, is 3-for-6 this season, while Hall is 2-for-7, so that is why Boucher did what he did.
"The normal top three for the most part has been [Victor] Hedman-Hall-Moore for about the last 4 or 5 shootouts," Lightning beat writer Erik Erlendsson of the Tampa Tribune shared via e-mail. "He also likes to use Ryan Malone, who is 2-for-3 this year but is injured while Hedman is 2-for-6 ... Those are the only four guys on the roster who have converted a shootout attempt this season."
Stars around the league struggle with the shootout. Remember how Jaromir Jagr didn't want to do it after the lockout? I mean, we're talking about Jaromir Jagr! So, I've got no issue with what Boucher did in the shootout. He's going with the numbers -- that's what coaches get paid to do. I'm sure at some point he'll put Stamkos back in the shootout after the young sniper works on a few new moves in practice; but, for now, I think Boucher went the right route. Many stars around the league get benched for the shootout. That is why I would do away with the silly trick event.
The silver lining for Tampa Bay fans is that the Bolts didn't pick up another shootout win that would be disregarded at the end of the regular season if they require any type of tiebreaker in the standings. The Bolts have five shootout wins, the Caps now have three. For the first time this season, shootout wins are taken out of a team's overall win total in tiebreakers.
Speaking of big playoff-type games, how about Dallas coming back in Los Angeles to take a 4-3 overtime victory? You have to admire the way the Stars are surviving without Brad Richards.
Burnside: Ah, I knew your love of the shootout would shine through.
You're right about the Stars, who went 3-0-1 on their recent four-game road trip and are now fifth overall in the Western Conference. It just goes to show you that the loss of one player does not necessarily mean the end of a season. There is no timetable for Richards' return from a concussion, but the Stars have shown remarkable resilience when it looked like they were going to spiral out of the playoff picture entirely a few weeks ago.
Kudos to coach Marc Crawford for keeping the team on track; the addition of Alex Goligoski has also turned out to be a boon. He had a few more assists last night for the Stars. Dallas' play reminds me of Pittsburgh and how it remains a competitive team even without Sidney Crosby and, more Evgeni Malkin and, most recently, defensive anchor Brooks Orpik, among others.
The Pens are only two points behind slumping Philadelphia for the top spot in the Atlantic Division and are in the hunt for the top seed in the East (they are tied with Boston and Washington with 84 points). Boston has the edge because it has played fewer games. Either way, you have to think Crawford and Pittsburgh coach Dan Bylsma should get some consideration for the Jack Adams Award as coach of the year.
LeBrun: Scotty, I spoke with Buffalo coach Lindy Ruff yesterday for a Sabres blog we're posting today. We talked about the Penguins, and he said one thing he has noticed is how they've adapted without Crosby and Malkin; he thinks they are playing a real grind-it-out game and have forcibly improved their defensive play. In short, the Pens are a hard team to play against even without the same offensive depth. Bylsma has indeed done a tremendous job keeping his team afloat.
Before we go, we should mention Tuesday night's big tilt in Montreal, where the rival Bruins visit. I love Boston's game right now. I think the B's are the league's most physical team, making you pay a price for every inch of ice.
Burnside: I think it will be interesting to see what happens in the postseason for teams like the Pens and Caps, two previously dynamic offensive teams that have now remade themselves into very tough defensive teams. That Tampa-Washington game Monday had a real playoff feel to it, and those were the games the Caps couldn't win last postseason against Montreal.
I know you and many others are banging the Boston drum. I want to see how they respond when the puck drops in the playoffs and they hit some adversity. Maybe last season's epic choke job against Philadelphia in the second round will galvanize the Bruins, but I am going to need them to prove that to me. With the Flyers stumbling a bit (they are still, for my money, the most dangerous team in the Eastern Conference), I wouldn't be surprised to see Boston end up with the top seed.
LeBrun: The Caps have taken a lot of heat all season for their mystifying play, but they've really come on of late with five straight wins and an 8-2-0 record in their past 10 games. You wonder if this was all part of Boudreau's master plan. After all, going wire-to-wire to win the President's Trophy and scoring the most goals last season didn't work for them when the hockey really mattered. So perhaps reinventing themselves as a two-way hockey team at the expense of Ovechkin's offensive totals was part of the plan. A good omen for the playoffs? We'll find out soon enough. Until tomorrow.
February, 18, 2011
2/18/11
12:16
PM ET
Scott Burnside and Pierre LeBrun debate which player will leave Ottawa next, plus give updates on Tomas Vokoun and Brad Richards:
Burnside: Good day, my friend. Hope you pack your woolies for your trip to Calgary. I am en route to Minnesota and Chicago for Hockey Weekend Across America.
But before all of that, GM Bryan Murray is making good on his promise to clean house. First, he sent Jarkko Ruutu to Anaheim for a sixth-round pick Thursday, and Friday he swaps goalies, sending Brian Elliott to Colorado for Craig Anderson. And there are still a couple of big pieces left for Murray to move.
Chris Phillips has made noises about wanting to stick around, but my guess is Murray will ask him to take one for the team and then try to trade him to Boston or Montreal. He can always re-sign him in the offseason if Phillips really wants to come back.
The player I never hear much about is captain Daniel Alfredsson. Murray has received top value back for earlier trades -- Mike Fisher and Chris Kelly -- and with a dearth of quality offensive players available, don't you think there'd be a market for the classy captain even if he is starting to show his age? Alfredsson has two years left at a very affordable $4.875 million cap hit, so maybe that's why the Sens keep him. But if this is truly about starting from scratch, will Murray have that discussion with Alfredsson if he hasn't already?
Hey, maybe Murray could get Blake Wheeler out of Boston, a useful player who looks like he's on his way out because of the Kelly acquisition. The Bruins also want to add more quality along the blue line and possibly up front. Just saying.
LeBrun: Scotty, I'm on my way to Calgary this afternoon for the Heritage Classic; should be a blast Sunday. To start with the Sens, Murray told me a few weeks ago he and owner Eugene Melnyk decided Alfredsson wasn't going anywhere. That's not surprising because Alfredsson has a job in the organization waiting for him after his playing career is over; he'll be a Senator for life.
But I exchanged text messages with Murray this morning and he indicated he's hoping he's not done wheeling and dealing between now and the Feb. 28 trade deadline. I think players such as Chris Neil, Filip Kuba and Alexei Kovalev are available. The New York Rangers were linked to Kuba in rumors yesterday because coach John Tortorella liked him in Tampa, but I don't think the Rangers like his contract at $3.7 million next season.
Phillips, meanwhile, continues to be an intriguing situation. Murray won't pressure him to waive his no-movement clause, so the veteran blueliner holds all the cards. Much like defenseman Bryan McCabe does in Florida.
Burnside: Even though the Panthers are on the very edge of the playoff bubble (seven points out of eighth with two games in hand), GM Dale Tallon has never wavered from his plan of getting as young as possible as quickly as possible. That means players like Cory Stillman, Christopher Higgins and Radek Dvorak will all be available and likely with modest asking prices.
But the Panthers also have two big-ticket items in McCabe and netminder Tomas Vokoun. Both have no-move clauses and it's unlikely Tallon will re-sign either one given his budgetary concerns moving forward. He told me he's been getting more calls as the clock ticks toward Feb. 28.
We've talked about how many teams are looking for defensemen, and players who can pound the puck like McCabe will be in demand as a rental. The one guy whose name keeps popping up is center Stephen Weiss. There are very few pivots on the market, but don't look for Tallon to move Weiss even if he's never evolved into the franchise center the Panthers were hoping he'd be. Florida isn't deep down the middle to begin with, and finding a franchise center a la Jonathan Toews will be one of Tallon's priorities. I think Weiss stays unless a deal blows Tallon away.
Speaking of centers, we were discussing yesterday where Brad Richards may or may not land. Any update there?
LeBrun: Yes, Scotty, we speculated Richards may be a fit in Boston, but a Bruins source told me this morning they would not be a player if and when the Dallas Stars made the star center available. So nix that one.
Burnside: Yes, Habs defenseman James Wisniewski went down after taking a puck to the face last night in Edmonton, but reports are he's en route with the team to Calgary for the Heritage Classic. And even though they did add Paul Mara, who wasn't getting in the lineup in Anaheim, the Habs could sure use some help.
And what about Vancouver? A team that looked to have a plethora of defensemen a few weeks ago has now watched its blue line be decimated by injury. Kevin Bieksa is the latest to go out, with a broken foot. The dilemma for GM Mike Gillis is he can't be exactly sure who will be coming back into the lineup and when. The Canucks have a seven-point bulge at the top of the Western Conference, although Detroit has two games in hand. But the last thing Gillis wants to do is enter the playoffs with any question marks along the blue line. This looks like the Canucks' best chance to win a Stanley Cup, but there's more than a little uncertainty on how the team will proceed between now and the trade deadline.
LeBrun: The word out of the Canucks is they will stand pat for now, confident that most of their injured defensemen will be back for the playoffs. There's hope Dan Hamhuis (concussion) and Keith Ballard (MCL) could be back next week. Regardless of what they say, I still think Gillis will keep a close eye on the trade market for blueliners and make his decision closer to Feb. 28 once he has up-to-date medical information on his blue-line corps. Like you said, it's a Stanley Cup year for the Canucks and Gillis won't take that kind of chance. If his blue line looks healthier in 10 days, maybe he does stand pat.
Well, I'm off to Calgary, my friend. Enjoy the weekend in Minnesota!
February, 9, 2011
2/09/11
10:58
AM ET
[Editor's note: Later on Wednesday, Matt Cooke received a four-game suspension for his hit. The suspension came down after we posted this blog entry.]
Scott Burnside and Pierre LeBrun debate Matt Cooke's latest hit and revisit the Bruins-Canadiens rivalry in advance of tonight's latest clash:
Burnside: Well, the emotion continues to percolate across the NHL, and sometimes that emotion takes on an ugly hue. We saw that again Tuesday night with Pittsburgh's Matt Cooke.
For the second straight game, Cooke was at the epicenter of a controversial hit, this time driving Columbus defenseman Fedor Tyutin headfirst into the glass in Tuesday's 4-1 loss to the Blue Jackets. On Sunday, Cooke and Washington Capitals star Alex Ovechkin went knee-to-knee. Both plays were penalized and both sparked mild melees with opposing players going after the notorious Cooke.
[+] Enlarge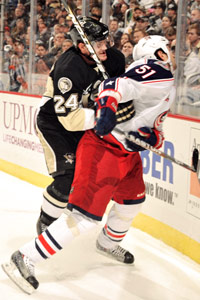 Jamie Sabau/Getty ImagesMatt Cooke received a five-minute major for charging Fedor Tyutin in the first period of Tuesday's game.
Cooke is set to have a telephone chat with league officials Wednesday, and many believe Cooke is among the dirtiest players in the NHL. Still, he represents the gray area of what is acceptable and undesirable in the NHL. At his best, Cooke is a valuable asset, disrupting opposing defensemen with a physical forecheck. He is part of the league's best penalty-killing unit. But he's also a polarizing force. Former teammate Bill Guerin was among those who criticized Cooke's now infamous hit on Marc Savard from last season, a hit brought back into focus this week when Savard announced his season was done after another concussion. Tough call for the league. Cooke is a player many teams would want when the playoffs start.
LeBrun: Anton Volchenkov also had a hearing with the NHL on Wednesday and his agent said the Devils defenseman received a three-game suspension for his elbow to the head of Hurricanes forward Zach Boychuk. But the focus around the hockey world last night was certainly on Cooke, who has revealed himself to be the Dale Hunter/Ken Linseman of his generation. Love him if he's on your team, despise him if he's not.
Coaches want players like Cooke to play on the edge, or else they aren't as valuable to the team. Cooke's job isn't to score goals; it's to be a shift disturber and keep the other team on its toes. Having said that, I think he's gone too far over the last year and needs to be reeled in. He went out of his way to make contact with Ovechkin on Sunday, and it was a clear hit from behind last night, even though some people are saying Tyutin turned into him. A suspension should come from the NHL.
Burnside: I think you are right on. I got a chance to sit down with Cooke during the playoffs last season and spoke with his wife about the fallout after the Savard hit. Unfortunately for me, the Penguins blew their 3-2 series lead against Montreal, and I never got around to writing the piece. It is unfortunate because he is a guy who does a lot of charity work, and I think he genuinely felt bad about what happened to Savard. That said, it is the NHL's job to keep players like Cooke on the right side of the line. We'll see if it unfolds as you expect.
To switch gears a bit, I have to bring up the renewal of one of my favorite rivalries in the game, Boston and Montreal. The Habs are 3-0-0 against their Northeast Division rival this season and can pull into a tie for the division lead with a win tonight. They'd better get their slumbering power play going, although the return of James Wisniewski should help. Still, without Mike Cammalleri (shoulder injury), look for this to be a grind-it-out kind of game, the kind of game the Bruins and Habs like to play.
LeBrun: Only two points separate the Bruins and Habs, and both clubs have 30 wins. I'm surprised Boston hasn't pulled away at this point, but Montreal has hung in there, despite injuries to top-four blueliners Andrei Markov and Josh Gorges. That brings me to my next point. While the Bruins and Canadiens will battle on the ice for the Northeast crown, I was told over the weekend that both teams have made similar overtures for the likes of Toronto's Tomas Kaberle and Ottawa's Chris Phillips, among other blueliners. I would guess nearly every team currently sitting in a playoff spot is looking to add a defenseman of some kind, so it hardly makes Montreal and Boston unique.
But the Bruins are also on the lookout for a top-six forward and may be more aggressive than Montreal because of that.
"Ideally, if I can add without subtracting, I will," Bruins GM Peter Chiarelli told me this morning. "And those are two areas [defense and forward] I'd like to improve. Obviously, with Marc down, it's a little more pressing."
Savard's season-ending concussion has opened up cap space for the Bruins, but Chiarelli's biggest asset might be dangling Toronto's first-round pick (the second from the Phil Kessel deal). The Leafs are playing better of late, so it may not end up being a lottery pick, but it still carries some big-time value.
"I will look at all options, and if it means putting that pick in a package, then I will look at it," Chiarelli said.
Interesting times ahead in Boston.
Burnside: Both teams figure to be active at the trade deadline, although with poker-faced Habs GM Pierre Gauthier you never know, do you? The one thing that has impressed me about the Habs, especially since Georges went down, has been the play of P.K. Subban. He's playing with Hal Gill and has really seen his overall game improve.
Funny how Habs coach Jacques Martin has a reputation of not wanting to foist too much responsibility on youngsters. He has Subban playing a lead role on the blue line, along with fellow rookies Yannick Weber and Lars Eller up front and another youngster, Max Pacioretty, on the top line with captain Brian Gionta and Tomas Plekanec. Regardless of who ends up winning tonight's tilt, I can't help but think the hockey gods will align the final standings so we see another Boston/Montreal playoff clash. Can't think of a better way to kick off the postseason.
LeBrun: Well, don't forget, Martin did make Subban a healthy scratch a few times earlier this season, so the learning process had its bumps. But I agree the rookie blueliner is a treat to watch and has taken giant strides of late.
Before we go, I wanted to close things out by mentioning the Buffalo Sabres. Huge 7-4 win against a terrific Tampa Bay Lightning team. The Sabres are now 7-3-0 in their past 10 games and charging hard for that last playoff spot in the East. They were counted out a month ago, but like the Calgary Flames in the West they refused to roll over and die, and all of this comes after losing top offensive force Derek Roy for the season. The Sabres are four points behind No. 8 Carolina with two games in hand. Don't count out the Sabres!
December, 22, 2010
12/22/10
11:55
AM ET
Scott Burnside and Pierre LeBrun debate whether it's time to blow up the current plan in Calgary and move into "rebuild" mode (give us your take here):
Burnside: Well, my friend, it looks like Santa is destined to deliver an entire load of coal to the Calgary Flames given their play throughout this season. With a 3-1 loss against Columbus on Tuesday night, Calgary has dropped three in a row, lost more games than any team in the Western Conference and sits just two points out of the conference basement (and has played three more games than last-place Edmonton).
When do the roosters come home to roost? This is a poorly constructed team with little in the way of young talent in the pipeline, but it does have assets that would generate significant interest from other teams, most notably Jarome Iginla, even though he has two more years at $7 million a pop. Is it time to start thinking big picture and asking players like Iginla if they'd like a ticket off the sinking ship?
LeBrun: If I were the Flames, I would blow this thing up, putting both Iginla and goalie Miikka Kiprusoff on the market. Those are the two fan favorites, I know, but you need to restock your system with assets and that's the way to start it. The Los Angeles Kings would be interested in Iginla and they wouldn't be alone. He'd look great in Montreal, as well.
The question is whether Iggy, who has a no-movement clause, would want to leave. His play really picked up earlier this season when Flames management told him he wasn't going to be moved. Does that suggest he wants to stay put? Perhaps he believes he will outlast the Sutter brothers? The other thing to remember with Iginla is, he has those two years left at $7 million per. That's a big consideration if you're another NHL team looking at him.
Burnside: Agreed, but Iginla would rival Brad Richards as the most sought-after rental player, and that's assuming Richards will be on the market (the Dallas Stars were in first place in the West as of Wednesday morning). Would a team part with a first-round pick, a top prospect or tidy little package for a veteran winner like Iginla? I'm betting the Kings would.
There are other players, too. Olli Jokinen, one of the game's great underachievers, has actually started to come around and has one more year at $3 million. Alex Tanguay is an unrestricted free agent this summer and has been reborn in Calgary this season. Both Jokinen and Tanguay have no-move clauses (how does that happen, by the way?), but surely they'd be looking to enjoy some playoff play.
Which brings us to the bigger question: What do you do at the top? Does Darryl Sutter fire his brother and go behind the bench to try to salvage the team he has mismanaged into the ground? Remember the Flames were at their best (at least recently) when D. Sutter was running the bench.
LeBrun: I reached out to Flames beat writer Randy Sportak of The Calgary Sun. He's seen the team every day for a long time.
"Where to start?'' his e-mail read this morning.
Sportak begins with the Flames' drafting.
"Since Darryl Sutter became GM in the spring of 2003, the Flames have drafted only four players who have played more than 60 NHL games right now," Sportak wrote. "They are Dion Phaneuf, now with Toronto; Brandon Prust, now with the Rangers; Dustin Boyd, in Montreal's system; and Adam Pardy, the lone one still with the team. None since the 2005 draft. The only one to play more than 50 games is Mikael Backlund, a rookie this season, and next on the list is Brett Sutter.
"Compounding the problem has been trading away second-rounders like candy. Under Sutter's watch, the Flames have drafted twice in the second round, even through there have been eight drafts. One was a major miss -- Tim Ramholt at 39 instead of Shea Weber."
To make matters worse, the Flames didn't have a first- or second-round pick this past June and don't have a second-rounder in 2011.
Then there's asset management.
"Let's see, you deal away Dion Phaneuf and give away the only pick or prospect in the deal in Keith Aulie, who is now making his way in the NHL? Does that make sense?" said Sportak. "GM Darryl Sutter made the situation worse by dealing Ian White to Carolina and getting two players who are older than him and no picks or prospects. Giving away a third-rounder for Steve Staios is another awful move. In the last year, only one trade has brought them a draft pick, Dustin Boyd for a fourth-rounder. Another bone to pick was letting Mike Cammalleri walk via free agency when he was the only player to give them a legit punch alongside Iginla."
Contracts?
"Cory Sarich at $3.6 million, Niklas Hagman at $3M, Matt Stajan has two goals and is in year one of a four-year, $14M deal," said Sportak. "Right now, the Flames have a fourth line -- David Moss, Tim Jackman and Tom Kostopoulos. Moss turns 29 next week and is the youngest of the three. They are all signed for next season for a total cap hit of nearly $2.8 million. How do you integrate new players with that staring at them?
"The Stanley Cup window has slammed shut and this team needs to make sweeping changes, starting in the GM office.'"
Well, we know how Mr. Sportak feels!
Burnside: It's unusual to see a GM canned in the middle of a season, but Randy's analysis supports the widespread belief that this team has been managed into the ground and needs a new hand on the tiller. Assistant GM Jay Feaster has the credentials to step in and help rebuild this team if that's what ownership wants. He helped transform Tampa Bay from a laughingstock into a Cup champion. Could he do the same in Calgary? Well, it would be a monumental task given the mess there, but why not?
Bottom line is, it couldn't be worse. If you decide that Darryl Sutter has to go, either now or at the end of the season (for me the question is, why wait?), what do you do with the other Sutter? Brent fled his responsibilities in New Jersey ostensibly to be with his family, but immediately assumed the Flames' coaching job and has failed to get this team to respond. Bob Hartley had his greatest successes in the Western Conference, where he won a Cup with Colorado, and has a long relationship with Feaster.
LeBrun: I wonder if Flames ownership doesn't want the embarrassment of firing a GM and/or the coach before they host the Heritage Classic outdoor game in February. You never know.
As for Brent Sutter, I think he's a great coach. He's working with a marginal roster; it's hard to blame the coach for that in my mind. But he may be caught in the sweeping changes if and when Flames ownership finally acts. Until tomorrow, my friend.